If you want (or need) to set some SEO objectives for upcoming projects, you're in the right place.
Whether you're pitching to get more clients or figuring out focus areas for an internal team, the fundamentals are similar.
SEO can be a broad discipline, and you can't work on everything at once. Having (& communicating) your objectives & their importance will improve focus, results, and it'll help stakeholders understand the value in your work too.
Let's start by clarifying the difference between objectives & KPIs, then get into some types & examples.
Objectives vs KPIs
Objectives are broad areas of improvement.
KPIs are a numerical target that indicate progress for the goals or objectives you set.
In most cases, the two work together. Your objective will dictate which are the most important KPIs to track.
Here's some quick SEO objective examples
Example 1
Objective: drive more revenue from organic search
KPIs: organic traffic, organic conversion rate, search visibility for target keywords
Example 2
Objective: improve our website's backlink profile
KPIs: number of backlinks built, average referring page traffic, number of outreach emails sent
Example 3
Objective: audit & implement a technical SEO strategy
KPIs: Core Web Vitals, number of pages with issues (e.g. canonicals, duplicates, 404s, load speed etc.)
With both objectives and KPIs, remember that your SEO work does not exist in a silo. If you're in charge of setting objectives for SEO, make sure they align with the overall company direction.
Tracking SEO KPIs
One note before we get into more SEO objective ideas.
Each objective is going to come with at least one associated KPI, typically. I'd strongly recommend setting up an SEO dashboard of some kind. By connecting your main data sources (e.g. Google Analytics, Google Search Console), you can easily create shareable charts.
With them, it saves a lot of time on checking/reporting, and it makes the data easily accessible to others in the team.
I typically use Google Data Studio. There's lots of good alternatives though like Databox, DashThis, and others. They all have templates for a quick setup.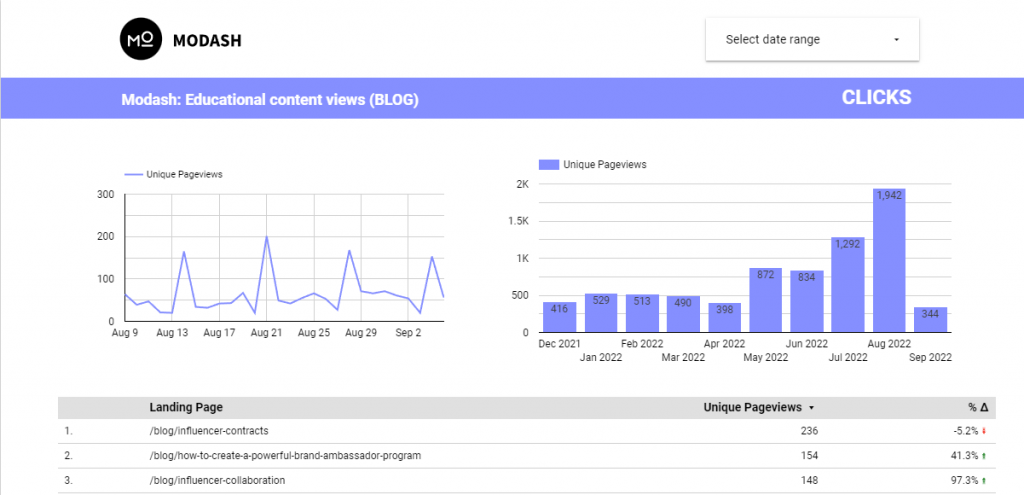 9 types of SEO objectives
1. Increase non-brand conversions
When you're working on driving new organic traffic to a site, quite often you'll be focusing on non-brand keywords.
Therefore, in order to effectively measure the results of your SEO work, it's a good idea to separate out non-brand and brand keywords. Using your dashboard tool of choice, you could either:
Make a segment of all the pages you're working on, or
Just exclude the pages that have predominantly branded clicks (e.g. home, pricing, etc.)

Now, you can use your conversion events from GA or whichever tool you use, and accurately track non-brand conversions. This is likely a common overall objective for SEO teams.
In this case, the KPI is straightfoward. Pick a conversion (e.g. sign ups, enquiries, leads, whatever), and shoot for a meaningful increase over a specific time period.
2. Increase keyword rankings
While keyword rankings are not usually the ultimate goal, they can be a good early indicator of success. If you made some improvements and positions increase from 100 to 11, that's a good sign. That progress won't yet be seen in bottom-line conversions, however.
To set objectives around keyword rankings, you could pick a focus area. Let's say you're an email marketing tool. You have content surrounding all kinds of topics:
Welcome emails
Upsell emails
Reactivation emails
Email marketing for e-commerce
Email marketing for small business
(etc.)
Depending on the business focus, you could create a group of keywords (e.g. everything to do with welcome emails), and track your progress there. The KPI could be number of top 3 rankings, or if your SERP tracking tool has it, you can use a metric like 'visibility'.
3. Grow organic traffic
Similarly to keyword rankings, organic traffic is a good leading indicator that you're doing something right. Although likely not the ultimate goal, unless perhaps you're a content publisher monetizing primarily through CPM ads.
As such, it is similarly helpful here to have some degree of focus. For example, you could pursue:
Overall organic traffic growth
Overall non-brand traffic growth
Traffic growth to a subfolder (e.g. /blog/ or /templates/)
Traffic growth in a key area (e.g. /blog/welcome-emails/)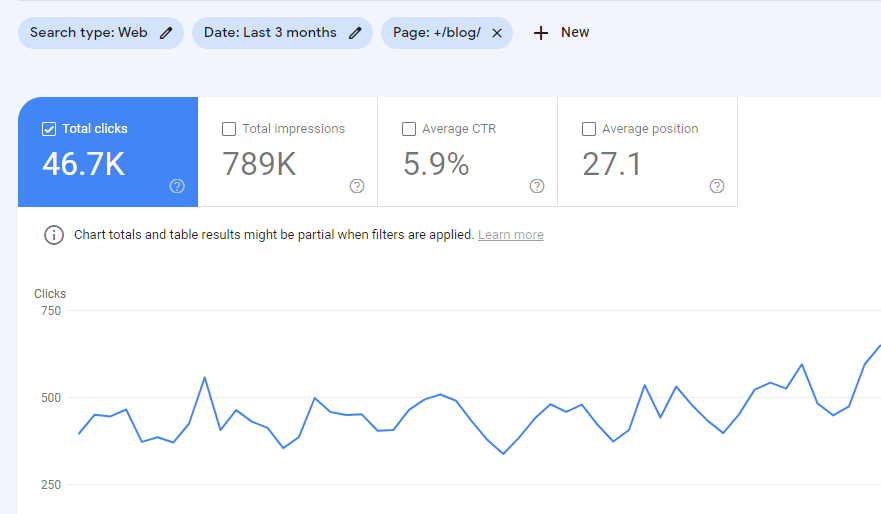 4. Update & optimize existing content
Quite often, when working with an established site, you'll get more bang for your buck by updating old posts vs. creating new ones.
There are many cases where this might be a worthy objective. For example:
You have posts that previously ranked, but recently slipped
You have keywords in 'striking distance' of driving traffic (e.g. ranking #7-12th ish)
Something changed, and some top performing pages are no longer accurate or up to date
You can research search intent, ensure all sources are up to date, and ensure your on-page SEO targets the right keywords. Plus add internal links, add FAQs, examples — whatever is required to adequately cover the topic.
Some people choose to use SEO content writing tools like SurferSEO or Frase. I think it's a good idea if you're working with lots of freelance writers, to keep people on track with rough target word counts & important topics to cover. That said, if you're an experienced SEO writing yourself, it might not be necessary.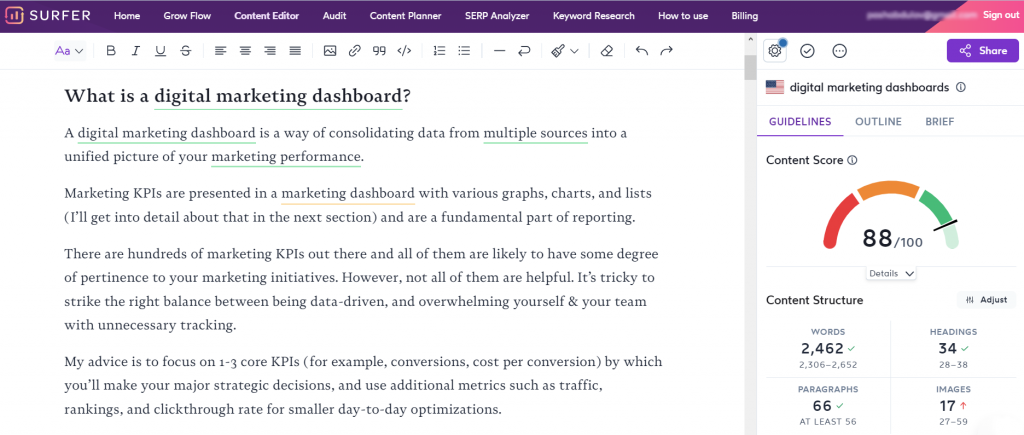 For this objective, I'd create a segment of all the posts you're updating. The KPI could be the collective uplift in organic clicks to the group of posts that were updated.
5. Optimize user experience
We all know by now that SEO is largely about user experience. Improving that is still often neglected in SEO work, partly due to the fact we often can't control it fully ourselves. It relies on other teams.
An objective here could be related to things like page load speed or Core Web Vitals, or it could be site architecture, design, and internal linking.
Take your SEO hat off, and practice empathy. Try to put yourself in the shoes of a web visitor. What could make their experience better? Think like a product manager.
You can pitch projects to your design/development team that will improve the overall experience, and your SEO metrics will likely grow as a result.
Relevant KPIs here could be engagement metrics like time on page, bounce rate, pages per session, or conversion rate.
6. Build external backlinks
Despite what you'll hear about content & UX being king, you still won't be able to compete for the toughest (highest value) keywords without backlinks.
There's many different ways to build backlinks, and as such, the KPIs you choose could differ a lot.
For example, if you're launching a guest posting program, your KPIs will include outreach numbers, response rates, and successful posts published.
If you're doing relationship-based exchanges, you can track new relationships established, and links exchanged. Plus outreach is still relevant here.
Otherwise, you may be earning links via producing linkable assets — in which case you can set content production KPIs.
7. Build internal links
Internal links are undervalued by a lot of SEOs. They're an important part of the user journey, for navigating a website, and they're great for establishing topical authority on a subject.
So, how do we set objectives around internal linking — or what could those look like?
One place to start is to audit your site for orphan pages (pages with zero internal links). Make sure you have no important pages which are 'orphans'. Similarly, consider the internal linking depth. That means, starting from the homepage, what is the minimum number of links required to get to each page? Your important pages should be as high up in the site structure as possible.
Make a list of your priority pages, and start looking for internal linking opportunities. You could set a goal to build 3 new internal links for each page on your list, for example.
If I were trying to find internal link opportunities for this post, for example, I could search on Google something like:
site:marketingarsenal.io objectives or site:marketingarsenal.io KPIs
That way, I'll quickly find posts that mention similar topics.
8. Improve reporting processes
The success of your SEO work can be influenced heavily by how it is perceived by clients or internal stakeholders.
If they can clearly see that the work is impactful and valuable, you'll likely get more resources, and have more success with pitching new ideas. And if you're an agency, you'll retain clients for longer, and perhaps even get expansion revenue.
It's tricky to assign a KPI to this one, and that's okay. Not every objective does need a KPI, but be sure to align your team around what success looks like. That might be simply qualitative feedback from report recipients.
Here's some examples of report-focused objectives:
Implement a new white label client reporting software
Redesign our report template to simplify the overview
Automate Slack notifications for ranking reports
Create & implement a new weekly meeting format between SEO & content
9. Find new high value opportunities with keyword research
If you're just getting started, or entering a new planning phase of an SEO project, there's a good chance fresh keyword research is required.
Finding the right keywords for SEO can make or break your projects. Targeting the wrong keywords can either lead to a complete failure to rank, or a bunch of useless organic traffic, or anything in between.
To satisfy a keyword research objective like this, your outputs could be, for example:
Identify 20 new keywords with the potential to drive 5+ new leads per month
Prepare & prioritize a list of high intent topics for our next 12 blog posts
Review our product landing pages to ensure they're targeting the right keywords
For this you can use Ahrefs, or any other alternative tool like Semrush or KWFinder.