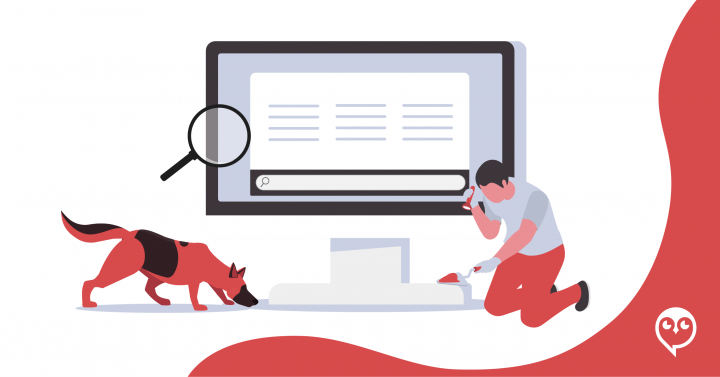 If you don't choose the right keywords, everything that comes after is a waste of time. All the money and resources that goes into creating content, promoting it, and building backlinks: none of it will drive revenue if you're shooting for the wrong keywords.
Let's skip the painfully long introduction; if you're here, you know why this is important and the benefits of getting it right.
In this article, you'll find 7 ways to come up with keyword ideas for SEO:
At the end, I'll also leave you with a few tips on how to determine which are the best opportunities, which I strongly recommend reading before you start your content plan.
Let's go!
How to find keywords for SEO: 7 techniques
1. Use your Search Console data
This first technique becomes more useful the more established your site is. Even if you have a new site though, this is worth paying attention to. It's my favorite free method of finding new keyword ideas.
In the Search Console, your site will be getting impressions for keywords that you didn't intend to rank for. Even if they're on page 5+, impressions data will start to show up.

The downside of this strategy is that its quite a manual trial-and-error process. That being said, when I do this for large client sites, I find new ideas without fail. Even after doing keyword research with a paid software; there's still always gems left to be found.
The trick is to simply throw in filters for "query contains" to find good high intent keywords.
Here's an example. By adding 'query contains how' to this data, and sorting by impressions, I can surf through a bunch of relevant questions. Some of them we already intended to rank for, by many we ended up on page 2 or 3 accidentally with another piece of content.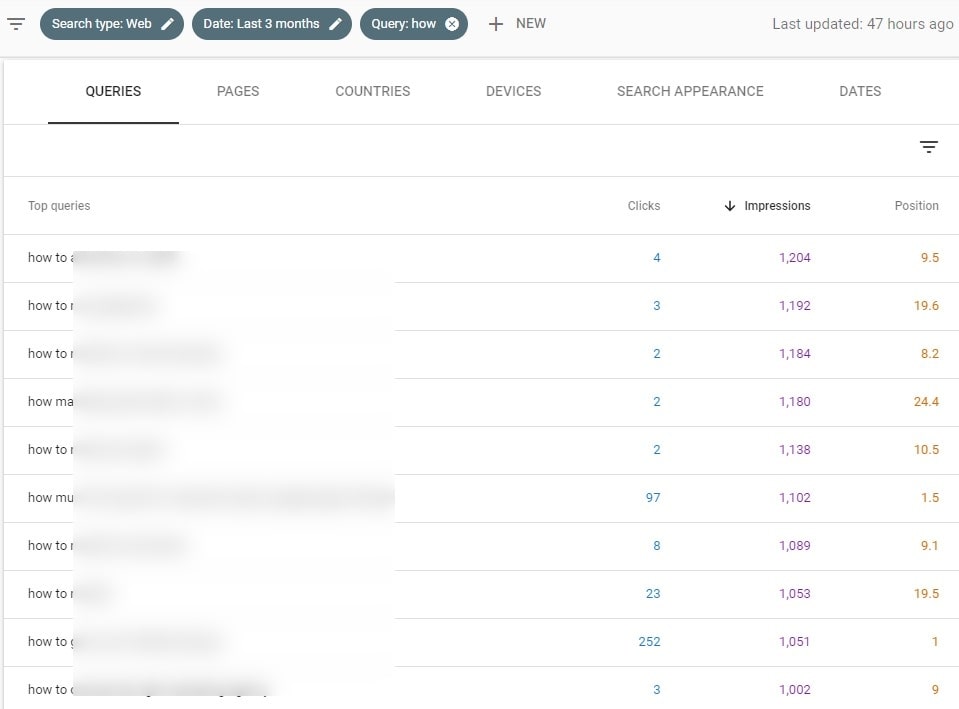 Giving these queries their own dedicated article to answer in-depth, in most cases, will give us a great shot at ranking. Don't forget to add an internal link from the page that was initially ranking, too (assuming it's relevant enough).
Let me give you a few more ideas to search for some high-intent keyword ideas:
How to
Best (best ways to, best tools for, best company, etc.)
Software, tool(s), platform(s)
For (e.g. leather boots for cowboys, wind meter for sailing)
Alternative (e.g. 'Trello alternatives', 'GoPro alternatives')
Template
P.S.- I optimized this post for 'best ways to find keywords for SEO' instead of something like 'how to do keyword research' because it's easier to rank for. I found that keyword in my Search Console impressions 😉
2. Use a keyword research software
Using a paid software tool for keyword research is probably the most reliable and commonly used technique. Search Console impressions are great, but obviously you're limited to only finding keywords you already get data on.
There are several good keyword research tools out there; perhaps in another post I'll compare more of them. For now though, I'm going to assume that:
1. You're relatively new to this, and would appreciate an easy-to-use software, and
2. You don't have a huge software budget, and need accessible pricing
With those two things in mind, I'd recommend either using:
In case you're on a tight budget, I'll show you here how to find keywords for SEO using KWFinder by Mangools. If you're able to spend $119+ per month, I'd suggest using Semrush instead for a more robust SEO platform overall.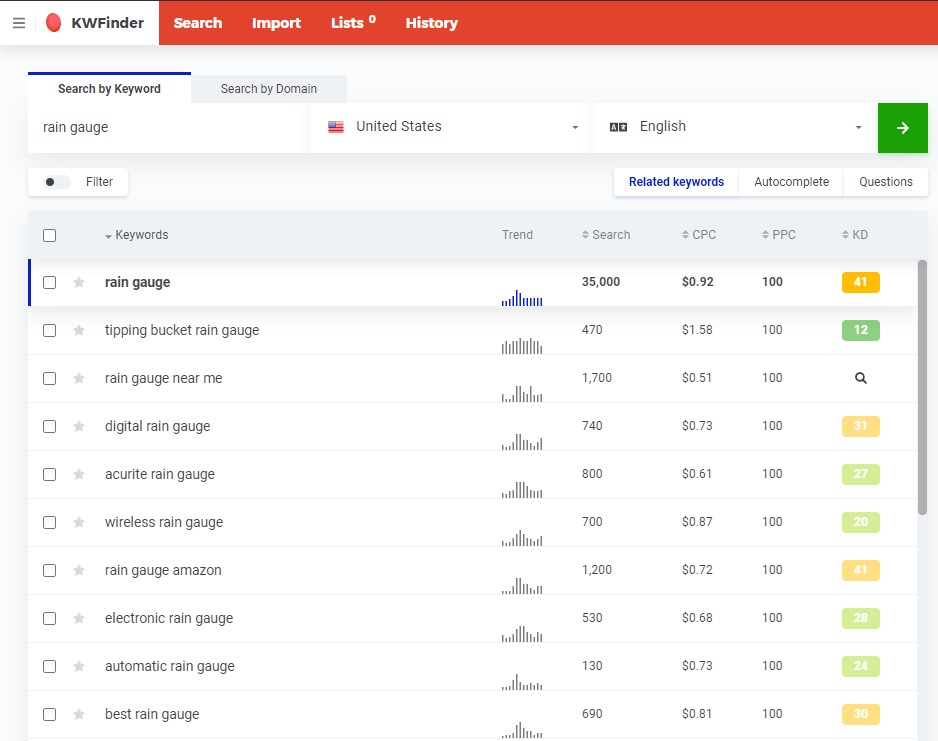 There are other keyword research tools you could consider for this (for a higher price). Whichever you choose, though, the fundamental process is similar.
I'll show you two ways to find new keyword ideas for SEO using a paid tool.
Starting with a seed keyword to find new ideas
Looking up which keywords drive traffic for your competitors
Start with a seed keyword to find new ideas
This method lets you drill down from a generic idea (that's probably too broad, and too competitive), down to something usable for your SEO & content plan.
Let's say, for example, you're an e-commerce store selling dog food.
We can start off as simple as literally just dropping 'dog food' into KWFinder:

You get a list of related keywords, the keyword difficulty, and search volume (with trends over time). There's also the SERP preview so you can see who ranks for that keyword, their domain strength, how many backlinks their page has, etc.
Next, you can filter the results.
We can apply some of the keyword ideas from above (e.g. 'best', 'for', 'alternative', etc.) together with other filters like minimum search volume, and maximum keyword difficulty.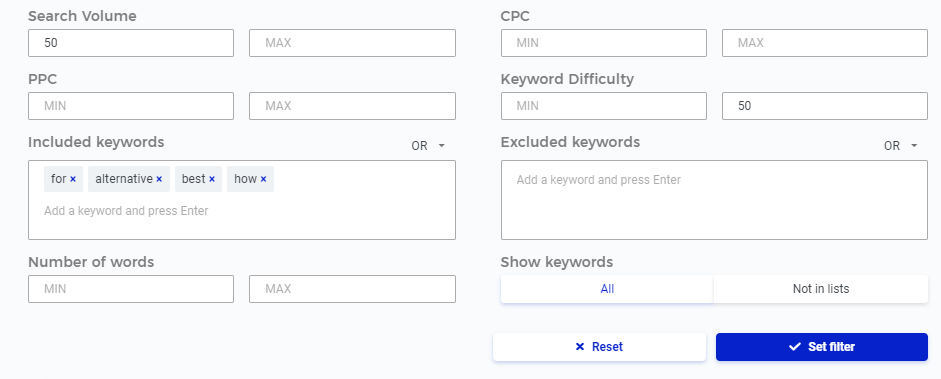 Straight away you'll get a bunch of viable ideas that are much more specific, and easier to rank for.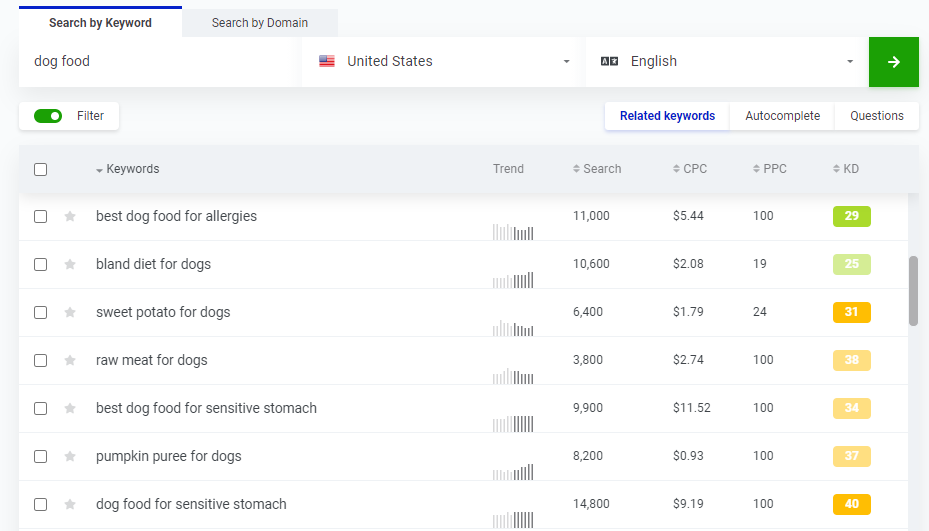 For example, in this case, you could plan to write things like:
X best dog foods for allergies (and X to avoid)
Is sweet potato good for dogs?
Best foods for dogs with a sensitive stomach
And so on.
You can repeat this process, add further filters, and refine your ideas down until you find something that looks good. Remember if you're on a newer domain without much traffic & backlinks, choose your battles wisely. Stick to lower difficulties & volumes.
Look up which keywords your competitors get traffic from
Another way to go (though I recommend you do both) is to check out competitor domains in your niche.
Find out which pages drive the most traffic for them, and which keywords drive traffic to those pages. See if you could reverse engineer their success.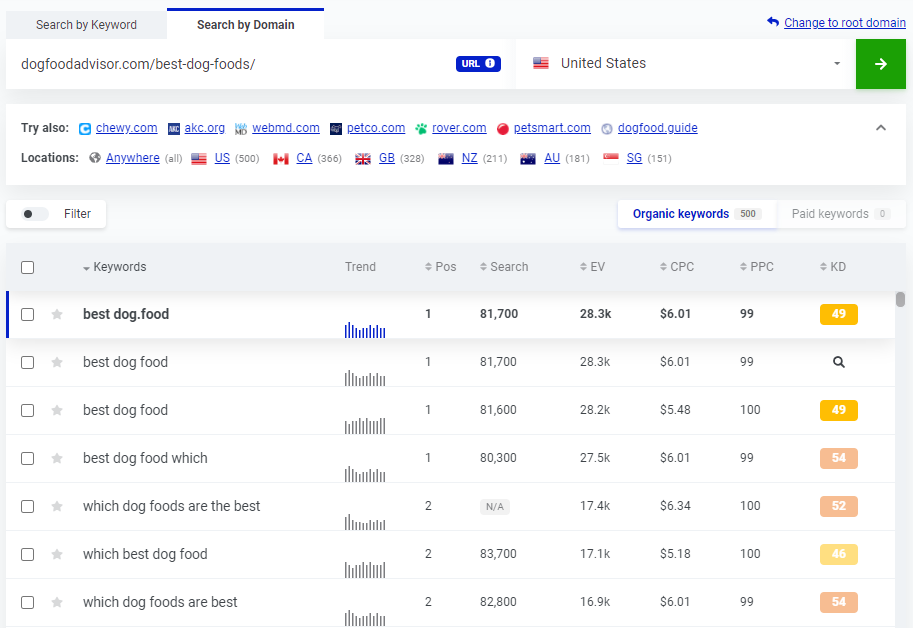 This is fairly straightforward to do; simply switch to the tab titled 'Search by Domain', and drop in a URL. You can use the root (homepage), or a specific URL / folder like this.
You'll get the keyword list, search volumes, and EV which is 'estimated visits'. How much traffic Mangools expect this URL to get for the keyword based on their position and the volume.
Once again, you can apply your filters. For example: keyword difficulty = <40.

One downside to looking up competitor keywords is that you're limited only to ideas someone else has already found. To be honest, that's going to be most of your opportunities, unless you're working in a particularly low-competition niche.
But there still should be a few golden nuggets. Completely untapped ideas with no real competition. That's where this next tactic comes in…
3. Check forum, Reddit, and Quora rankings
Generally, if there's something like a forum, Reddit, or Quora thread ranking highly for a search term, that's a good indication of an easy keyword. Something that isn't too tricky to rank for, but yet people within that niche are still talking about online.
There are a couple of quick ways to do this. The first is exactly the same as how we looked at competitor keywords above. Instead, though, you'll check for keywords in your niche that these forum sites rank for. Fairly straightforward.
In addition, I wanted to highlight a specific tool that excels in identifying when a SERP has forums ranking: LowFruits.io.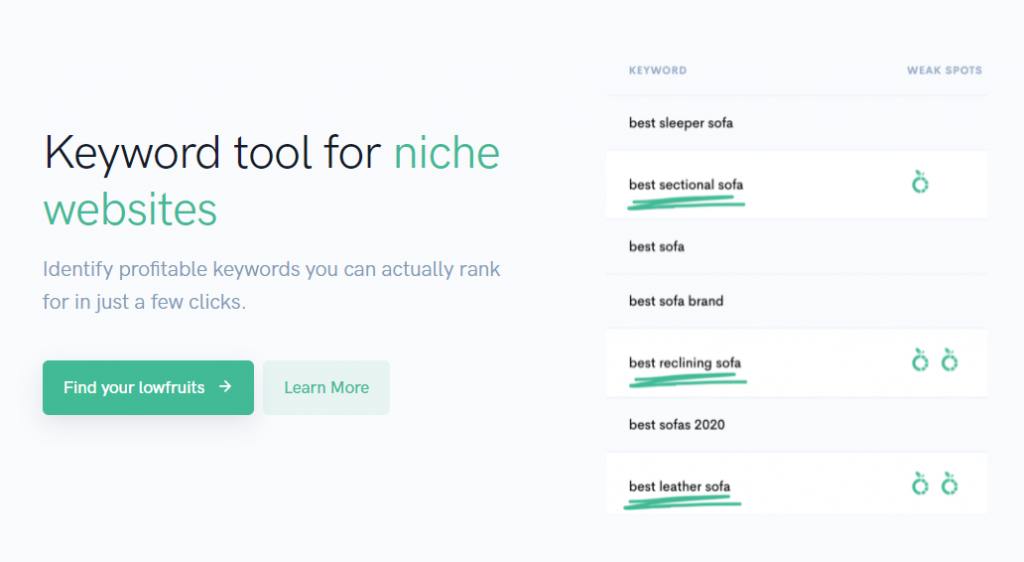 In LowFruits, you start searching with a seed keyword. For example, if I searched for 'best * bike' like this: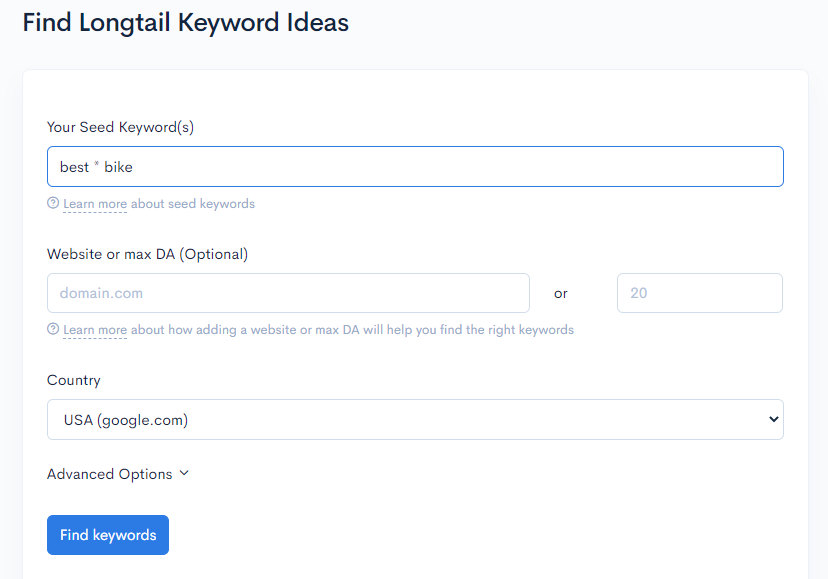 The software will return ideas like:
best affordable hybrid bike
best aluminium road bike
best balance bike for 2 year old
best bike for city riding
These are all specific longtail keywords, that would be much easier to rank for compared to 'best bikes' or 'best road bikes', etc.
But now the best part. When you create any report, you can add filters such as:
SERPs with a 'weak' site (e.g. DA<20) ranking top 3
SERPs with a forum ranking top 3
It looks like this. You can see that this niche is filled with opportunities for comparison keywords: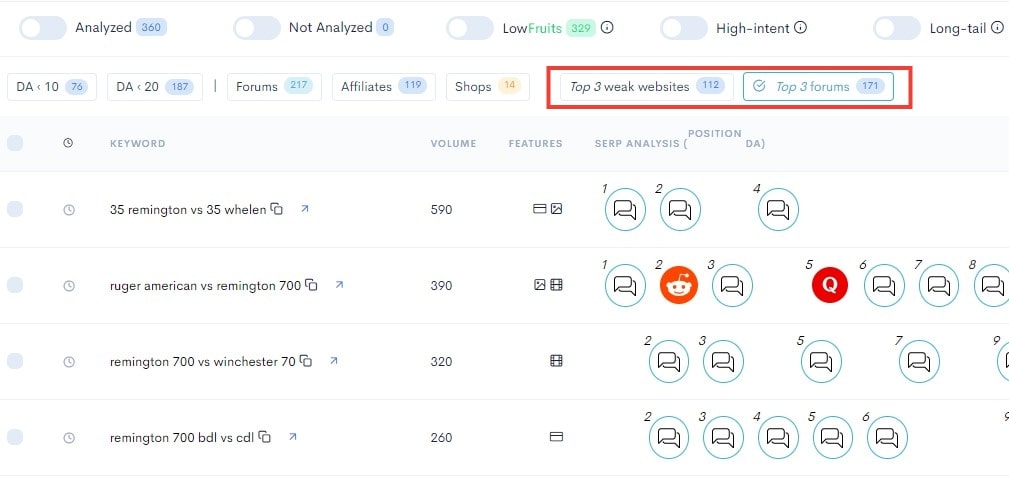 That makes it quick and easy to filter out the best opportunities from a big list of keywords.
I've heard of people exporting their lists from KWFinder, Ahrefs, or Semrush and running them through LowFruits for a quick analysis.
That's viable because LowFruits works on a credit-based system. No ongoing subscription; just pay per keyword that you analyze. There's a limited free version too.
You get 250 credits to use as a free trial. Well worth a shot to see if there's big opportunities in your niche.
4. Dive into your PPC keywords
Naturally, this is only relevant for those of you who are running paid search ads. If you are though, and you haven't yet analyzed that data for organic keyword ideas, you're missing a trick.
Paid search can be a great guinea pig for SEO projects. Paid search ads, collectively, contribute around 27% of web traffic. While that's not negligible by any means, it does mean there's a big slice of the pie left over to win with organic positions.
If you find a keyword that is reliably converting from PPC traffic, there's a good chance it would convert organically too.
Dig through your top PPC convertors, and make a list.
Once you have those at the ready, you can head into your keyword research tool to start analyzing keyword difficulty and figuring out what you should pursue.
5. Listen to your customers
Depending on your role & business model, there's a variety of ways that talking to customers & listening to their challenges & habits can lead to keyword ideas for SEO.
Some of these will only be relevant to certain business models (e.g. e-commerce, SaaS, services, etc.), but here's some ideas:
Just ask them
Starting off easy: if you're striking up a conversation with a customer or prospect, just ask them how they found you, or what problems they're seeking to solve. When there's a rapport of any kind, this won't feel awkward.
Read through support tickets
For e-commerce, SaaS & other digital businesses, you're likely to learn a thing or two from reading support tickets. Look for common challenges or questions that your customers have which you can solve. Do any of them make for good content ideas?
Listen to sales or customer service calls
This is effectively the same tip as the previous one, but if you have recordings of demos, sales calls, or customer service calls for training purposes, put them to use.
Read through customer comments and reviews
Keep track of what people are saying about your brand (or competitors) online. You could consider:
Reading through 3rd party review sites (e.g. G2, Capterra)
Look for social media post comments
Search for independently written reviews
Setting up a brand listener such as Brand24 to be alerted when anyone mentions you online
6. Check for 'People Also Ask' questions
The 'people also ask' box can be a good source of inspiration for new keywords & questions in your niche.
In case you're unfamiliar, they look like this:

And according to Ahrefs, 43% of all SERPs have this feature now.
This is a completely free keyword research technique, but it's quite slow & manual. Just type your seed keyword or question, and see what comes up. Clicking into one question brings up more, seemingly infinitely.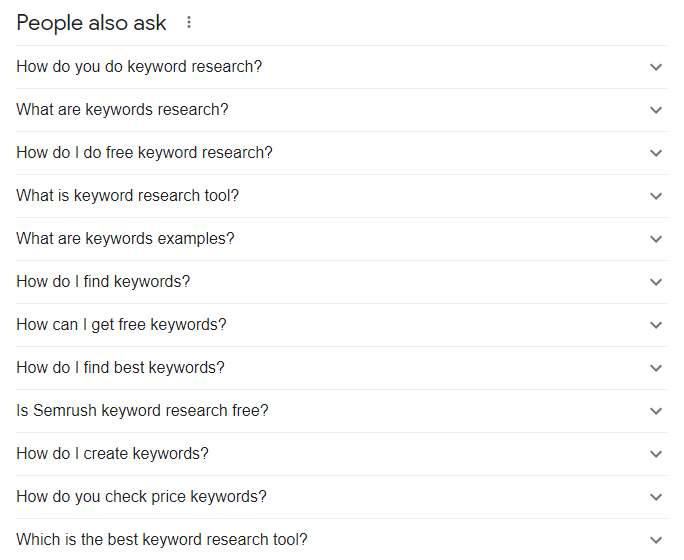 Once you find some relevant ideas, you could:
Dedicate an entire article to answering in-depth
Add an FAQ section to the end of another article, addressing these
Use these to inspire subheadings or sections for other content
7. Look for ideas using Google's autosuggest
Similarly to using People Also Ask, this technique will give you SEO keyword ideas for free, but it's slow and limited.
Nevertheless, worth considering, especially if you have no budget for a software tool, and no existing Search Console data.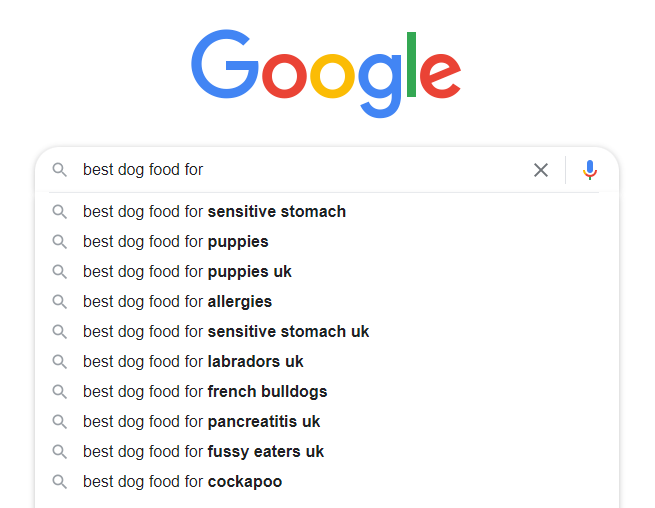 Very straightforward; head to Google and start typing in a seed keyword idea.
All the suggestions are likely things that other people are searching, and may inspire new content ideas. For example, 'best dog food for pancreatitis'.
Use trial and error to test different ideas.
As an extra little tip, try placing the cursor at the start of the search term. That way you'll get queries that end with your query, rather than only those that start with it.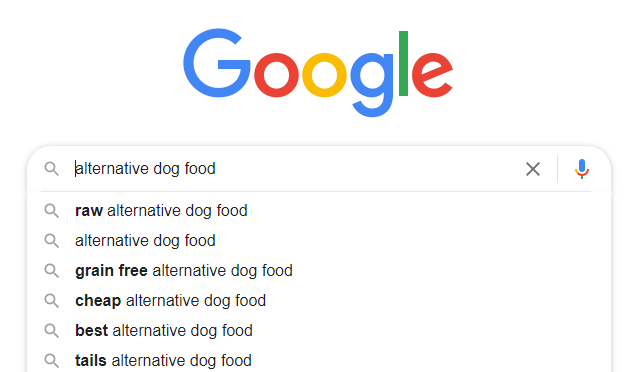 How to determine which of your SEO keyword ideas to pursue
After you've put in all the work to find your keyword ideas, the next thing to do is assess which are the best opportunities.
So how do you make that decision?
Well, there are a few factors that I consider.
Search volume, trends, and secondary keywords
How many times is this keyword searched per month?
Is it rapidly trending up? Is it declining? Is it seasonal, spiking in summer every year?
Are there other keywords which have a similar SERP that I could expect to rank for too?
How hard will this keyword be to rank for? Will I need to build backlinks?
Assessing keyword difficulty can sometimes be more than just looking at the actual third party metric in your software tool.
Those metrics are based entirely on backlinks alone, which has limitations. Well, Semrush's is more advanced now, but still not bulletproof.
Sometimes a SERP will be harder than the KD leads you to believe, and sometimes it will be easier. Try to look for an underserved SERP.Does the current ranking content really satisfy the intent of the searcher?
Is there room to be more specific?
If an article on 'best dog food' ranks #1 for 'best dog food for sausage dogs', then maybe an entire article dedicated to food for sausage dogs would outrank it.
How likely is this keyword to convert for my KPI?
Think about intent. How close is this searcher to taking my desired action? Buying a product, making an enquiry, booking a demo, taking a free trial. Whatever it is. Here's some similar keywords to give an example:
Brand awareness
What is brand awareness
How to measure brand awareness
Software for measuring brand awareness
If I were forecasting the KPI impact of keywords, I'd estimate the conversion rate of these keywords to be very different. So even if 'software for measuring brand awareness' had fewer searches, it's probably still going to drive more customers than 'brand awareness' and be easier to rank for.
What type of content do I need to rank for this keyword?
Not all keywords require the same type of content. Here's more example keywords to demonstrate:
Trello alternative (requires a blog article: list of tools)
Free SERP checker (requires a landing page with a free tool)
How to measure brand awareness (step-by-step instructions, blog article)
Adobe create free tools like this Facebook cover photo maker to rank for relevant 'make' and 'template' keywords related to cover photos. A blog post wouldn't be able to compete for that type of intent.
And so on.
Don't simply assume that a blog post or a landing page can rank for every query. Check out the current SERP. What's ranking right now?
Which resources will be involved in creating that content?
In relation to the last point… What do you need to create that content?
Writing resources
Graphic design (featured images / other illustrations?)
If a landing page is involved, can you do that independently?
Do you need developers to build a tool or template gallery?