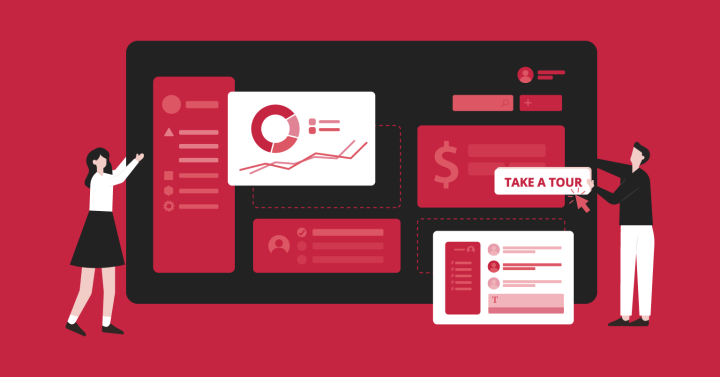 If you're in B2B SaaS sales or marketing like me, no doubt you'll have seen the interactive demos trend emerging in the past couple of years in SaaS.
The general premise is:
Switch that 'book a demo' CTA to 'take a tour' or similar
Let the 95%+ of folks who don't sign up actually see your UI
Increase the quality of your sign ups by cutting away the fluff who were just curious
It's even more impactful for a sales-led product where you can't actually sign up at all.
Let's look at 11 of the leading & emerging software options that'll help you get those benefits ☝.
Here are the 11 best tools to create an ungated interactive product demo
Navattic
Tourial
Storylane
Demoboost
Walnut
Reprise
Saleo
Demostack
Arcade
Consensus
Lancey
Let's take a look at the differences.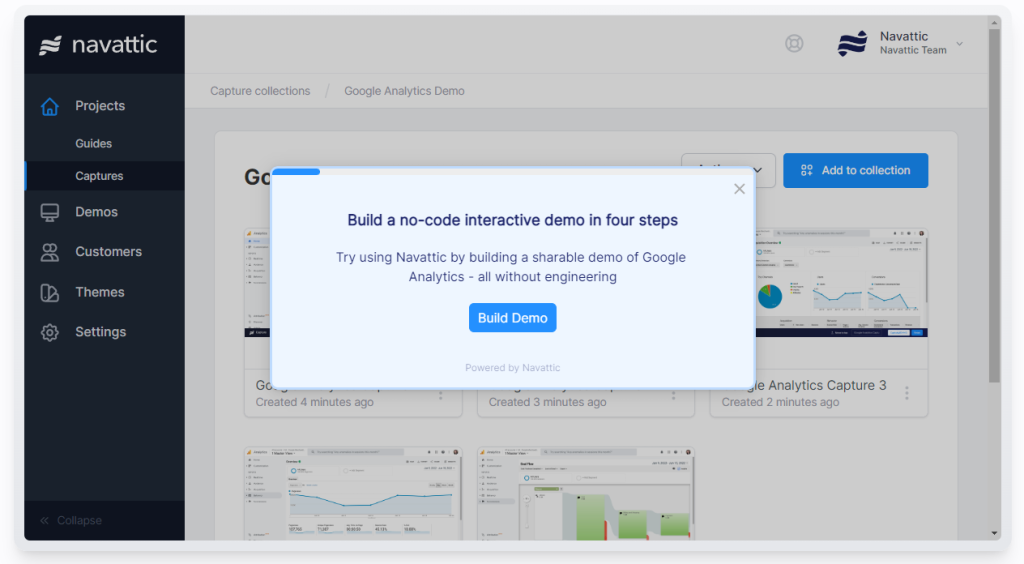 Best suited for: embedding an interactive demo on a website, or for sharing with prospects
Free trial: No, request a demo here.
Starting price: $500/month (startup plan also available, price unknown). See pricing.
Key features
Navattic lets you build an interactive product demo without engineering resources. It can be embedded onto a website, or used for any other purpose (e.g. to send directly to prospects async without needing a call).
It lets you create guided product tours, or a 'choose your own adventure' style of demo with checklists & options for users to explore.
You can play around with their live interactive demo to get a feel for how it works.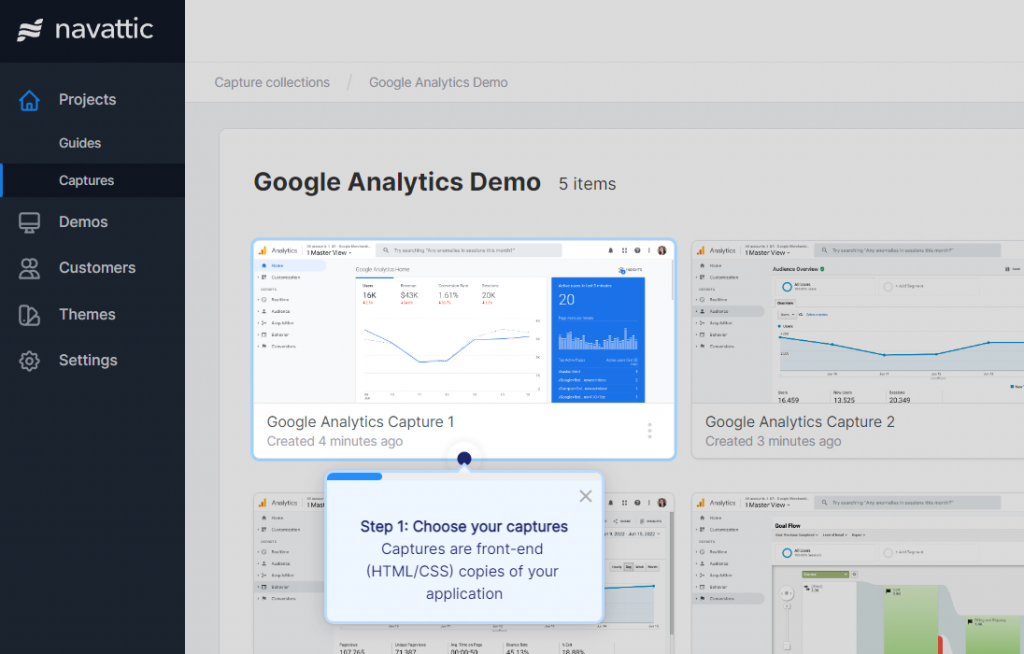 There are integrations with Hubspot, Salesforce, Marketo, Segment, and Google Analytics — making it easier to see how demo interactions impact metrics further down the funnel.
It's intuitive to use & fast to get a demo set up, even for non-technical people. Our marketing team at Modash (my full-time gig) recently started to use it.
Lastly, they have an SOC 2 type 2 certification — which checks the boxes for mid-market & enterprise security requirements.
Pricing
Navattic's base pricing is publicly available: $500 for 'Base' (company size up to 100 employees & base features), and $1,000/month for larger companies, plus extras like SSO & dedicated success managers/coaching. View pricing page. Monthly plans from $600/month.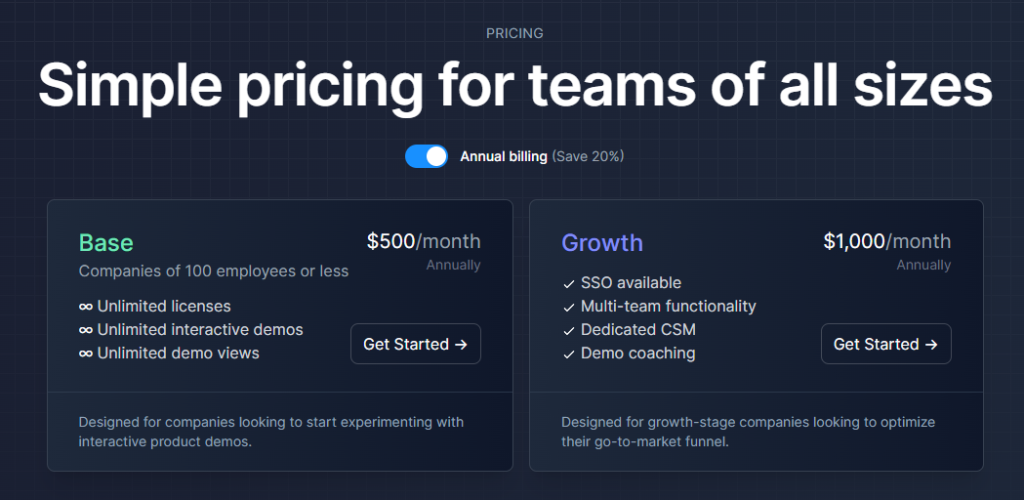 There is also a lower cost startup plan, and they can offer customized pricing.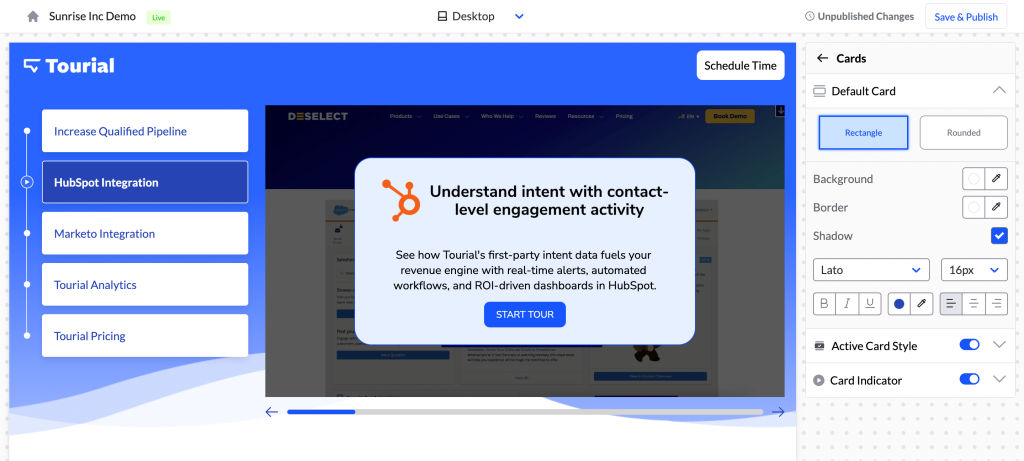 Best suited for: creating interactive demos for marketing use cases with screenshots/videos
Free trial: No, request a demo here.
Starting price: $790/month (paid annually). See pricing.
Key features
Similar to Navattic, Tourial lets you create interactive demos & embed on a website, or share via a URL.
It works using a Chrome extension to capture screenshots & videos, rather than capturing HTML / CSS. That method might be more suitable for tools with:
Lots of complex workflows → you can add video captures to save on click fatigue
Mobile apps & mobile traffic (it's much easier to mobile optimize)
Lots of JavaScript functionality → HTML capture will miss actions e.g. drag n drop
Tourial has integrations with HubSpot, Marketo, & Pardot which allow you to convert visitors directly within the demo and track all high intent activity without having to gate it with a lead form first. Additionally, you can use a Slack integration to send alerts to your team.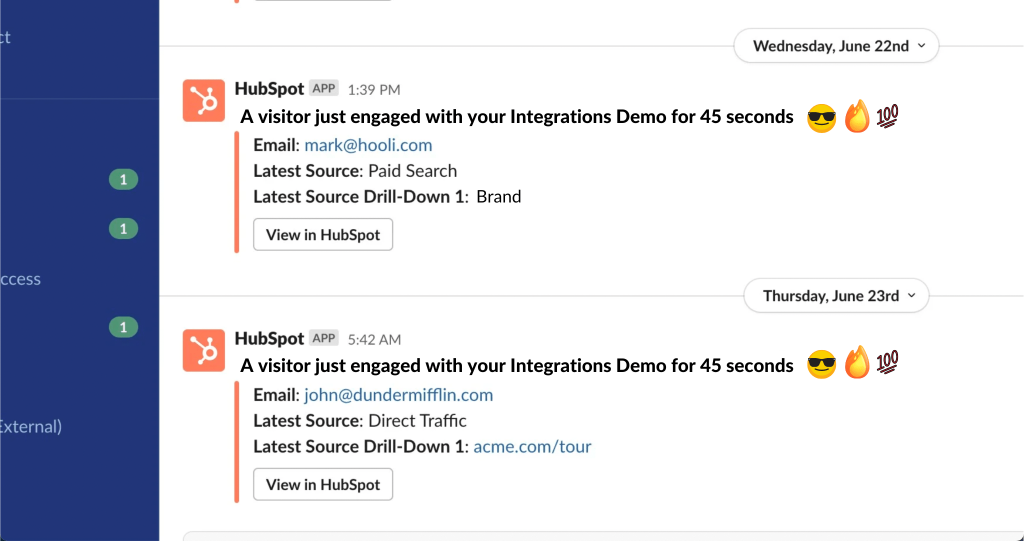 You can also integrate with your scheduling platform (Chili Piper, Calendly, HubSpot) to offer call bookings directly within your demo, create custom tracking links, add demos to your G2 or Trustradius listing, and demo engagement analytics.
Lastly, Tourial has a feature called Live Workflow Capture which really speeds up creating demos. You click a button, go through the workflow, and it automatically captures every click as a screenshot & things like typing & scrolling are captured as video.
Take a look at their own demo center for more on how it works (Live Workflow Capture is shown under Product –> Chrome Extension).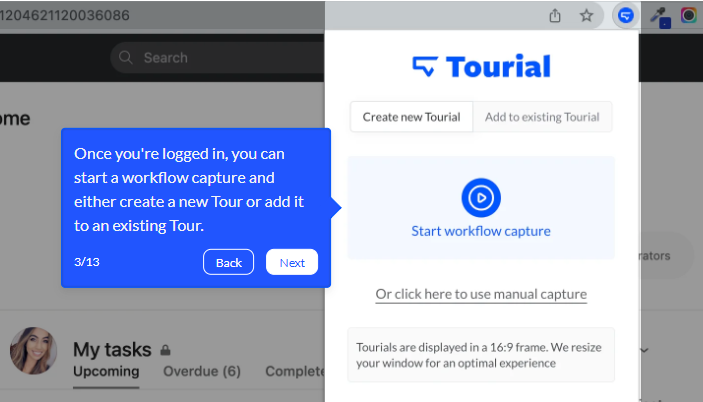 Here's a more detailed comparison of Navattic vs Tourial, if you're interested.
Pricing
Tourial offers 1 simple base platform package that comes with unlimited demos, user seats, demo views, integrations, forms, support, and TourPlayers. View full plans page here.
Their Startup package is available for companies with < 50 employees and includes all features, onboarding, and digital support.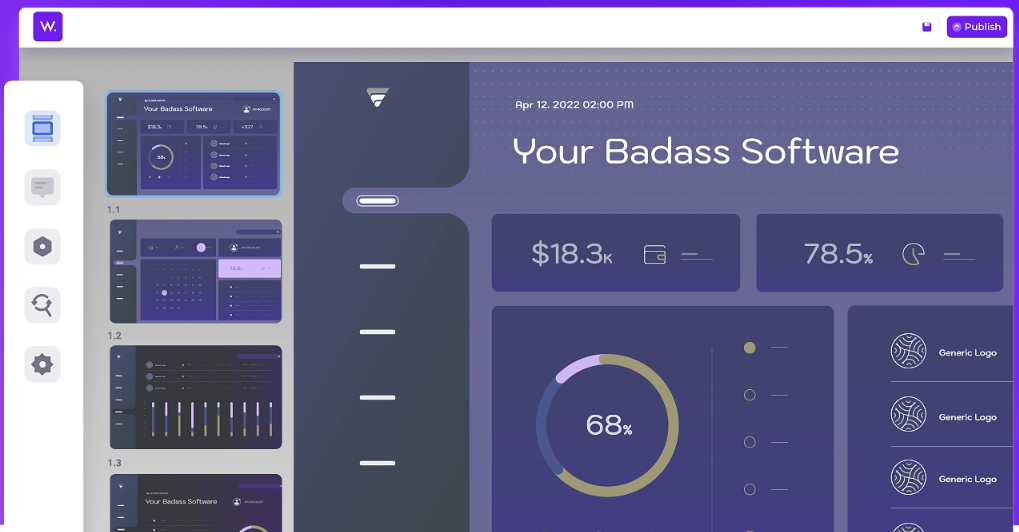 Best suited for: a unified demo creation platform for marketing & sales teams.
Free trial: No. Request a demo here.
Starting price: Unknown.
Key features
Walnut is one of the most well-known product demo tools on the market. It excels in serving sales/pre-sales teams to deliver personalized demos quickly, and it can also be used to create great embedded demos for marketing.
If Navattic or Tourial didn't suit your needs because of a lack of sales focus, Walnut might be a better fit.
The capture tool works very similarly — it lets you capture your front-end. You can create templates, and quickly produce multiple tailored demos for specific use cases/pages. Editing can be done entirely no-code, but it allows advanced demo editing with HTML coding too.
Their 'Beyond Demos' feature set includes analytics & performance insights, which provides an easy way to analyze & test different demos.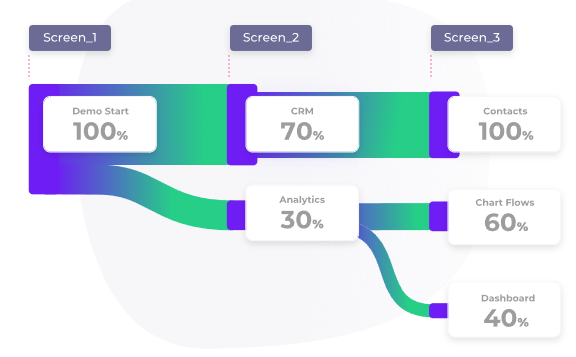 It also serves teams very well, with team collaboration features, demo libraries & templates, permissions control, and security.
It has integrations with Salesforce & Hubspot, but lacks a couple of others (e.g. Google Analytics, Zapier, Segment), which is one reason you might look for a Walnut alternative.
Pricing
Walnut determines its pricing based on user seats. Every plan comes with unlimited demos created and unlimited demo views.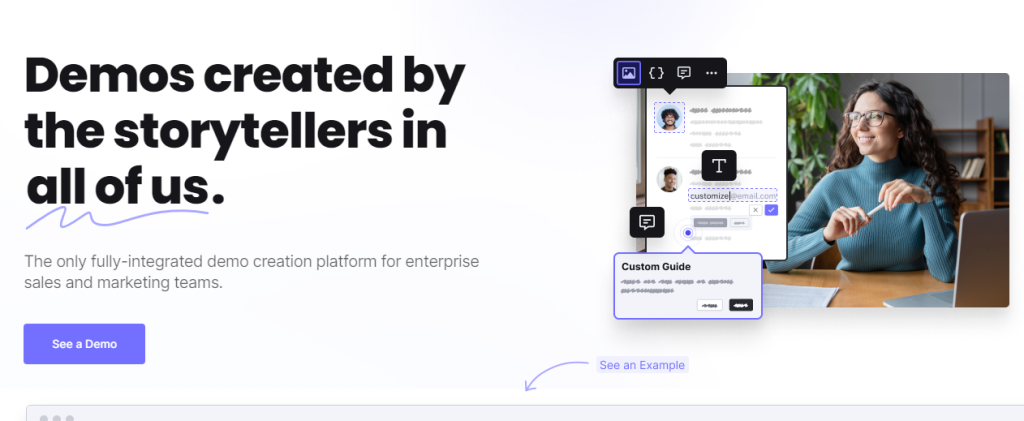 Best suited for: teams of 300+ with significant requirements in both sales & marketing use cases with enterprise security
Free trial: No. Request a demo.
Starting price: unknown.
Key features
Reprise offers a versatile demo creation platform that you to build three types of demos: product walkthroughs (like Navattic & Tourial above), plus live demo overlays for sales, and complete explorable sandbox environments to give to prospects.
This versatility makes Reprise particularly useful for organizations that need a unified platform for their sales and marketing teams, and have the budget for a more expensive platform.
They're built for enterprise, and focus on team sizes of 300+.
Reprise also has enterprise-grade security, including being one of the earliest platforms in this space to get SOC 2 type 2 certified, and having a dedicated in-house Direct of Information Security.
You can see an example of an interactive demo made with Reprise here.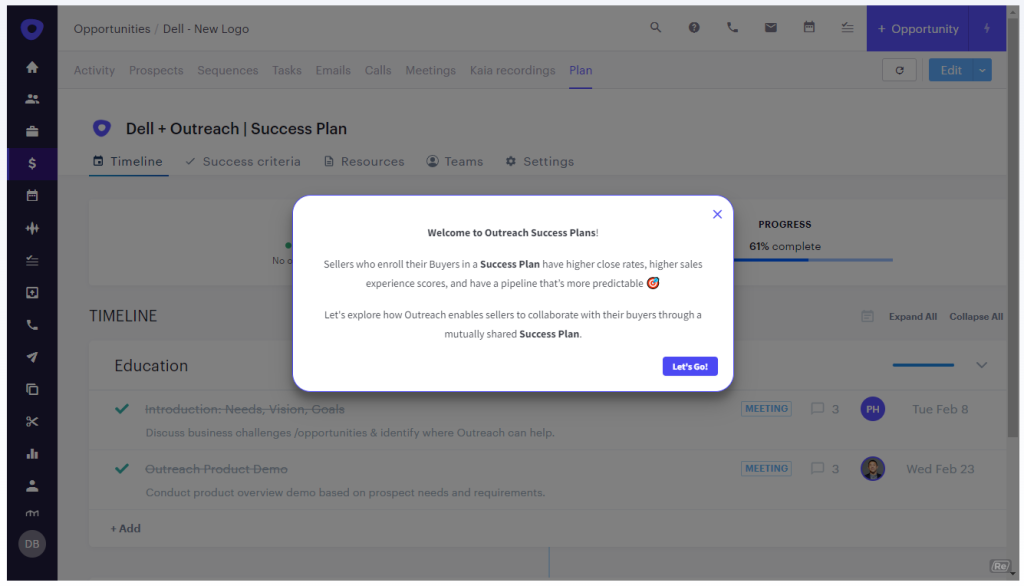 The platform also includes native integrations with analytics tools such as Google Analytics, Salesforce CRM, or Hubspot Analytics.
Typically, Reprise customers would report a longer time-to-value to get set up initially compared to similar platforms. Once everything is in place, though, it gets much faster to replicate your demo templates (e.g. an AE can prepare for a sales call quickly).
Pricing
Reprise pricing isn't publicly available; get a tailored quote by requesting a demo. Unlike Walnut & Navattic, Reprise does not include unlimited seats & demos in plans.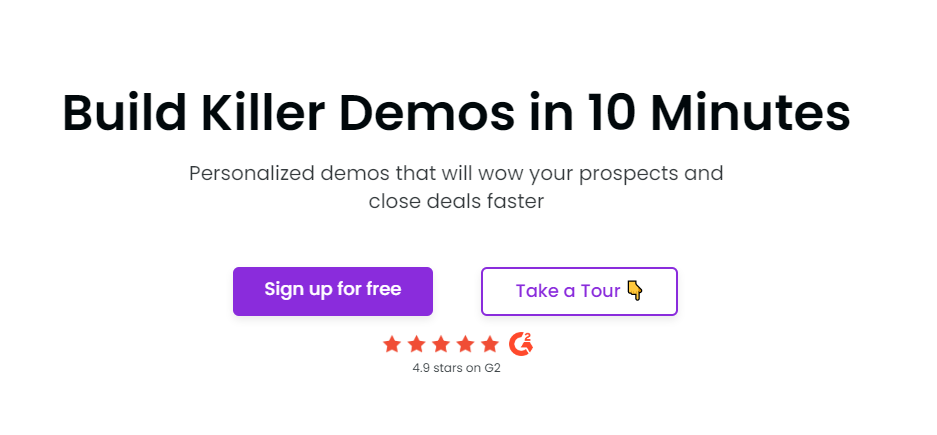 Best suited for: A scalable tool that handles both screenshot & HTML capture for marketing & sales.
Free trial: offers a freemium model. Request a demo here.
Starting price: Free. Paid plans from $40 per seat per month.
Key features
Storylane is the first tool on our list to support both HTML & screenshot capture. It has a scalable pricing model — starting at $40/month (for screenshot + video capture), or $500/month (to include HTML capture).
It also has a self-serve option; you can sign up and try building 1 demo for free.
Here's some interesting features worth knowing about:
Use AI to generate product tour text, voiceovers, and even translations
Include various types of lead capture forms, and Intercom live chats within demos
Option to integrate video clips within the demos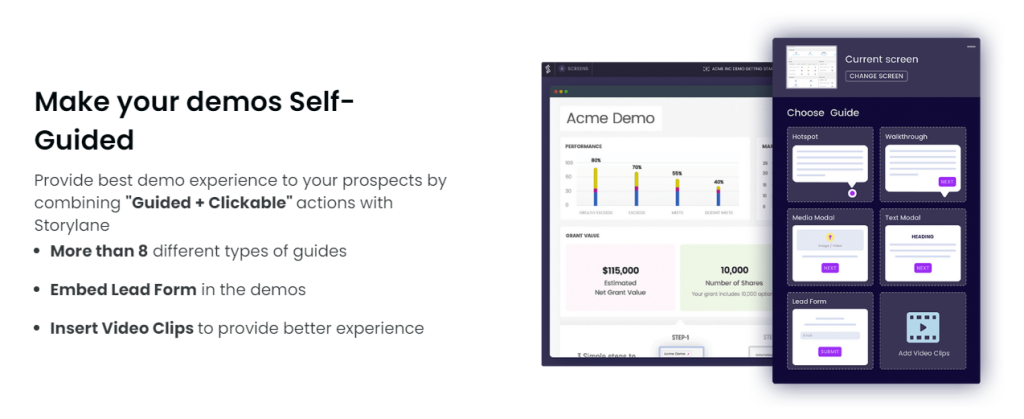 Storylane is pretty comprehsensive with integrations, having HubSpot, Salesforce, Pardot, Zapier, Segment, and Intercom. It also has a unique Clearbit integration. If you're using Clearbit, you'll be able to get data on who's engaging with your demos (even if they don't fill in the lead form).
It also checks the security boxes with SOC2, SSO, and white labeling.
Pricing
Storylane's pricing is based on features & seats. It has a scalable pricing model — starting at $40/month per user seat (for screenshot + video capture), or $500/month to include HTML capture (includes 5 user seats, +$100/seat).
The $500+ plan adds extra features like custom lead forms and more integrations.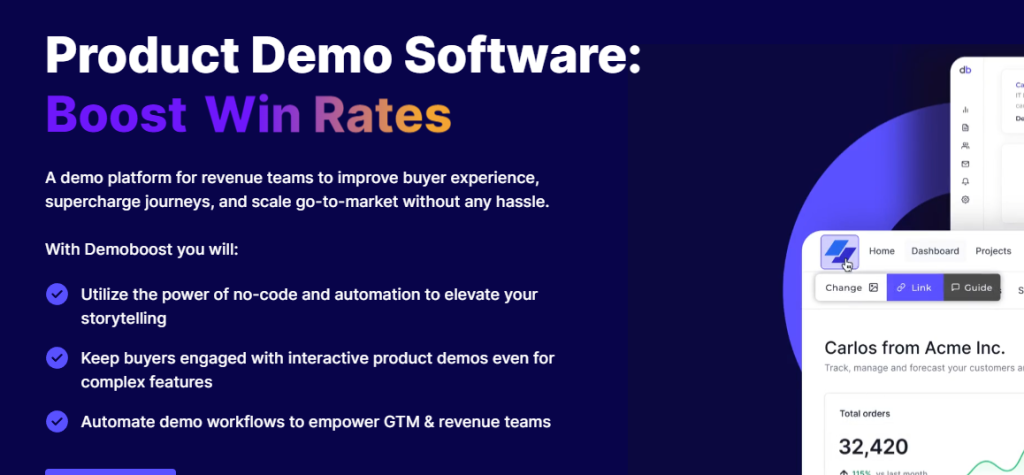 Best suited for: a single platform to cover marketing, sales, and success demo use cases
Free trial: No. Request a demo here.
Starting price: Unknown.
Key features
Demoboost works for marketing product walkthroughs, as well as live calls for sales teams.
Fundamentally, the way Demoboost works is quite similar to the tools above, but prioritizes supporting sales teams rather than marketing. It uses HTML & CSS, rather than screenshots, for captures.
Here's some notable features:
Internal feedback: add comments Google Docs style to collab on demo creation
Multi-media: incorporate images/videos alongside your product UI during product tours
Speaker notes: AEs can add notes that wouldn't be visible to prosects during calls
Built-in A/B testing for CTAs & messaging
Regarding security features, Demoboost is GDPR compliant, ISO certified, and has SSO & role-based access.
Demoboost's customer success team are offering unlimited support in helping to build demos, even before you sign up as a customer. If you're looking to create a demo library for a sales team, it's worth speaking to their team.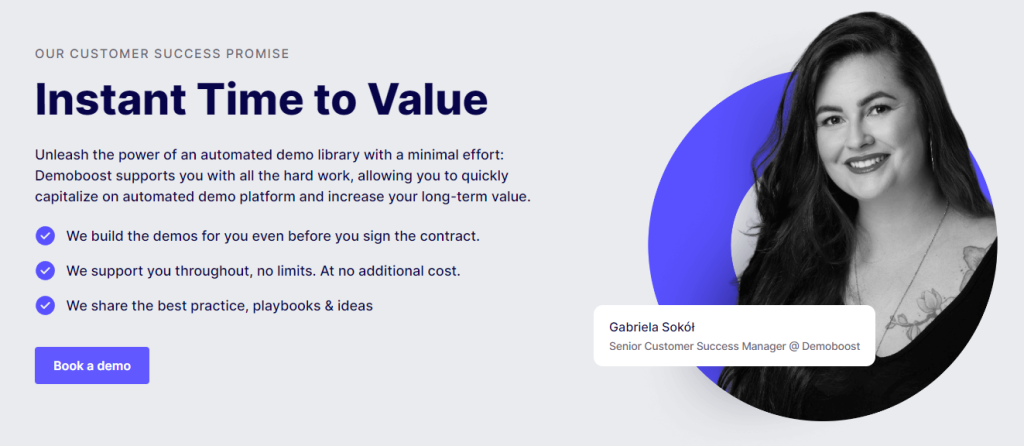 Pricing
Demoboost pricing isn't publicly available. Contact their team.

Best suited for: sales teams to create personalized demos using your live demo environment
Free trial: No. Request a demo here.
Starting price: Unknown.
Key features
Instead of taking an "interactive screenshot" of your original product environment, it utilizes your existing live environment and lets you directly edit & overlay it.
It's more similar to Reprise's 'Reveal' product, than to Navattic or Tourial.
It's built for sales teams doing live calls, and eliminates the common problem of demos encountering bugs & issues when using the live platform. Additionally, it lets sales people really *show* their prospects exactly how the UI would look/feel with their own data, rather than asking them to imagine that X & Y were different.
Saleo's other big selling point is its easy-to-grasp but powerful interface, which provides enough features and options to fill the needs of smaller teams as well as larger organizations.
Pricing
Saleo's pricing isn't publicly available. Contact the team for a demo.
8. Demostack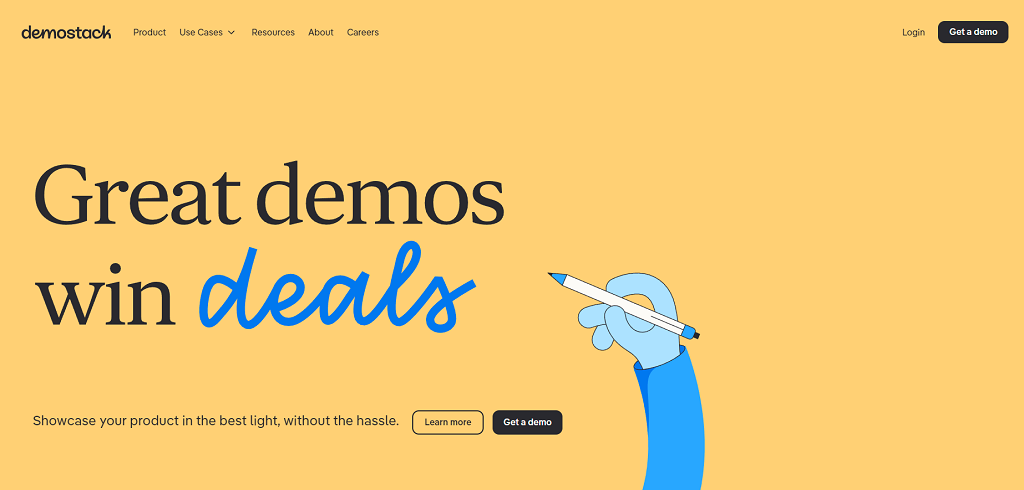 Best suited for: a comprehensive demo creation platform for presales, sales, & marketing
Free trial: No. Sign up here.
Starting price: Unknown.
Key features
Demostack is a comprehensive platform with a big focus on sales/presales. It's primary use case is to clone your product into a bulletproof personalized demo environment for live sales calls & sandboxes, though it can serve website embeds for marketing/success too.
One unique feature is their Demo HQ, which aims to operationalize all things demos. Like the name suggests, it provides one place for everything demo-related: customizing templates, managing sandbox environments, measurement & analytics, sharing/embedding, etc.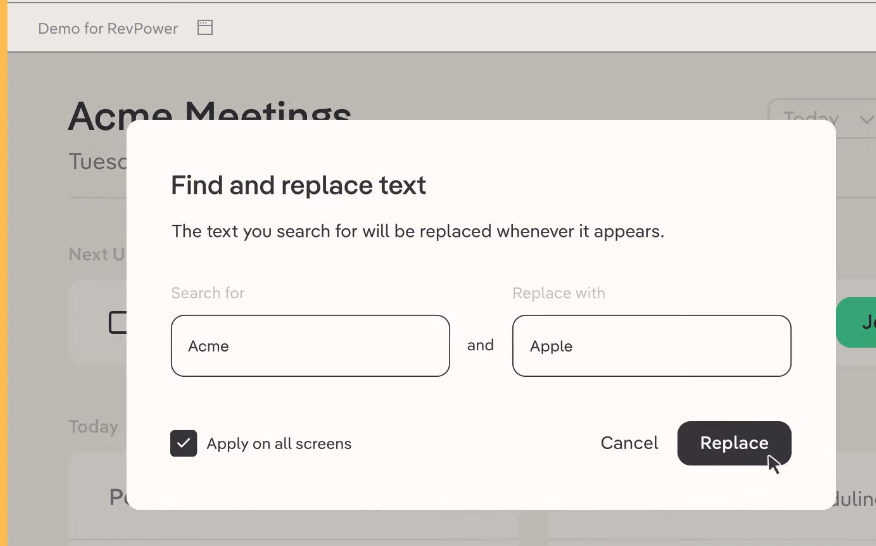 Demostack are hot on security, being SOC 2 certified, and compliant with all acronyms: GDPR, CCPA, HIPPA. They also do regular pen tests & have transparent system status updates. Learn more in the Trust Center.
While they have relatively few intgrations overall, Demostack do have a Salesforce integration which lets you understand better how demos are affecting metrics further down the funnel
Pricing
Demostack's pricing is based on a platform fee plus seats, and product differentiation (tours, live demos, sandbox environments). Every plan comes with unlimited tours.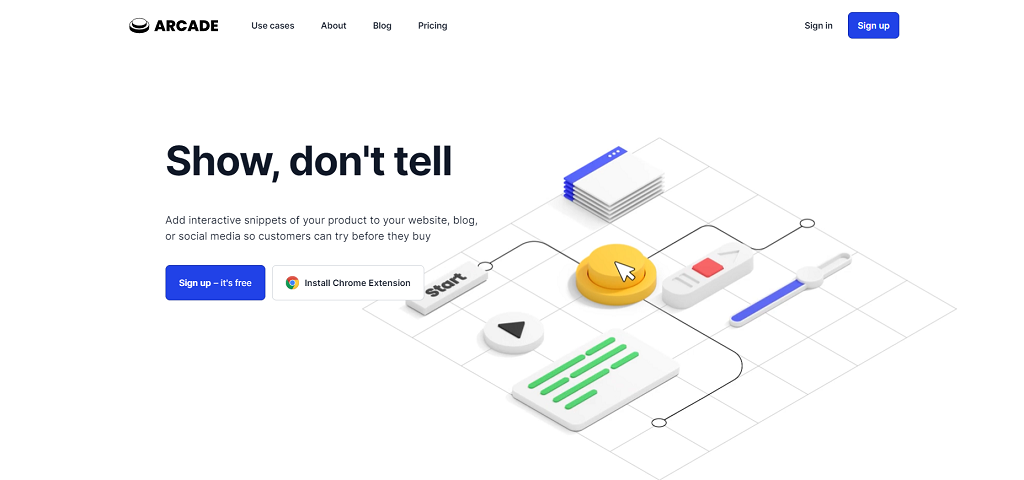 Best suited for: marketing teams in need of marketing demos that can easily be embedded onto websites, blogs, and social media.
Free trial: offers a freemium model. Sign up here.
Starting price: Free. Paid plans from $38 per month.
Key features
Arcade is a PLG platform geared towards marketing and sales teams. Its strong suit is the ability to create light, HTML5-friendly demos that can be easily embedded onto virtually any modern website or social media platform.
Arcade is notable for its accessibility, user-friendliness, and light weight, with most of the platform's functionality available through a simple Chrome extension. Despite being among the lightest of popular demo software solutions, it doesn't sacrifice any extra functionalities, with a built-in analytics tool and vital integrations. However, its use is largely limited only to the creation of embeddable marketing showcases.
Pricing
Arcade uses a freemium model, with the free version letting you create up to three publicly shared demos. The $38/month Pro package removes the demo limit, watermarks, and adds premium features such as analytics or CTA's. Custom plans are also available for larger organizations, with a negotiable price.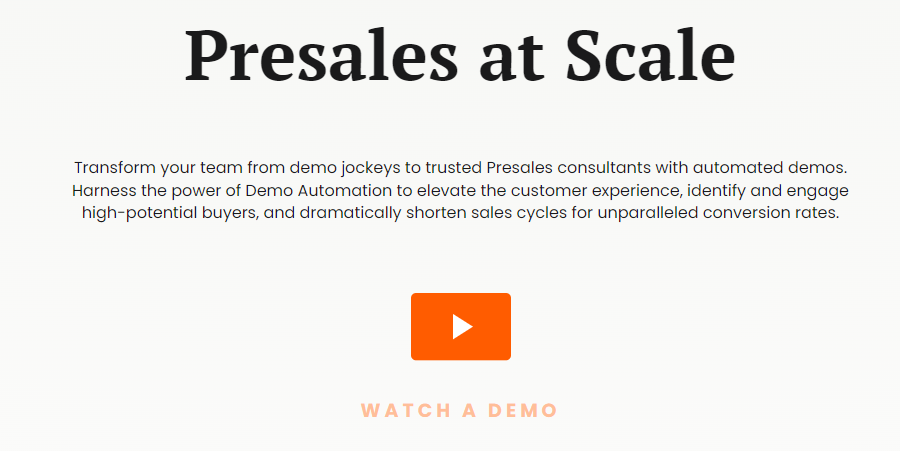 Best suited for: mid-market & enterprise looking to use interactive demos for pre-sales / sales
Free trial: No. Get a quote here.
Starting price: $12k annually.
Key features
Consensus is a mature solution that prioritizes pre-sales & sales use cases, but can cater for marketing too.
It lets you build demos with a series of videos, interactive tours, forms & other resources. You can create a reusable template library to save time. Take a look at their own interactive demos here.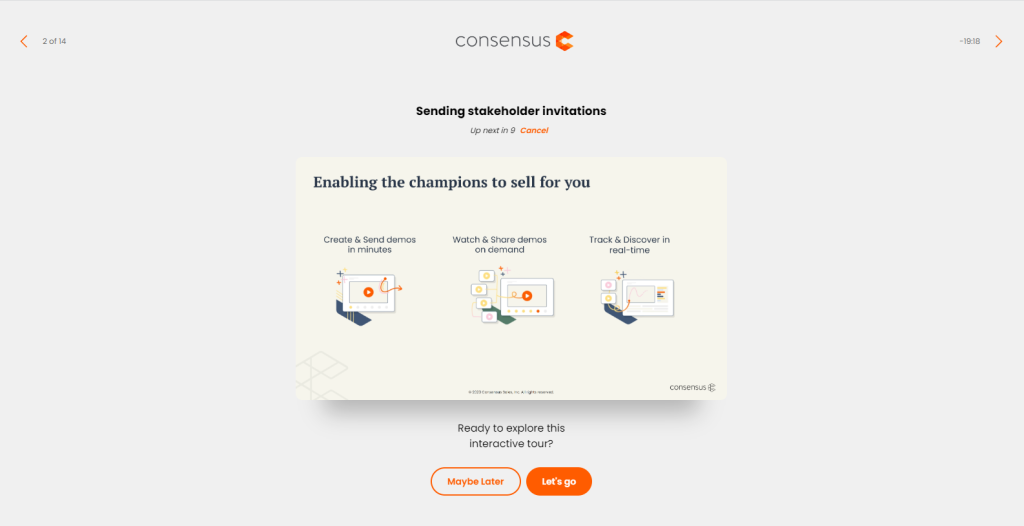 A unique feature worth mentioning is personalization & branching logic for product tours: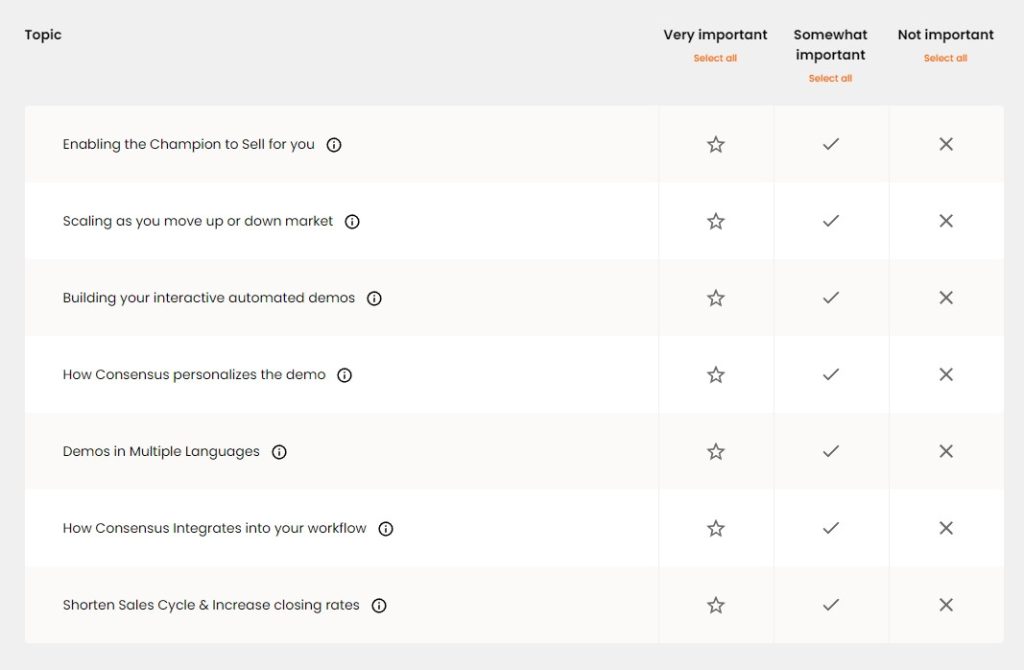 That lets you take a generic template and make sure prospects get shown the things that are most important to them. Additionally, you gather a ton of extra data from prospects, and AEs can get great data ready to prepare for sales calls.
A second unique feature is the 'BuyerBoard'; this gives your Champion a dashboard to learn how/when their colleagues engage with the demo they share with their team.
Consensus have several useful integrations including Salesforce/Pardot, Outreach (embed demos in email templates), and Zapier/API for custom stuff.
Pricing
Consensus pricing starts from $12k annually, but specific pricing isn't available publicly. Pricing increases with user seats.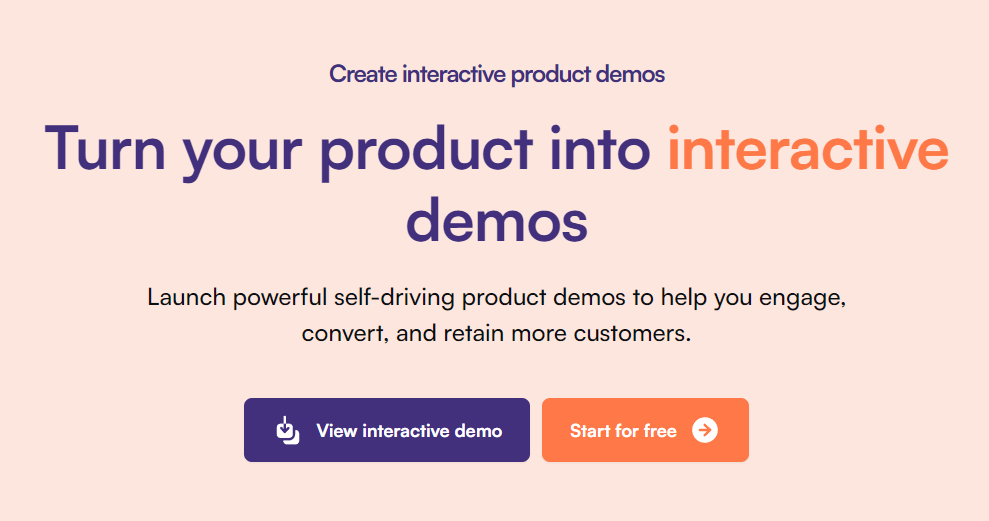 Best suited for: simpler tool with ease of use, fast time-to-value, and lower entry price (without some bells & whistles). monthly plans available.
Free trial: Yes, 14 days. Sign up here.
Starting price: Free. Paid plans from $36/month (monthly) or $29/month (billed annually).
Key features
Lancey is a newer tool in this category, and recently closed seed funding. They offer monthly plans where some competitors don't, and an accessible entry price for smaller teams.
You can see an interactive demo made with Lancey on their product page.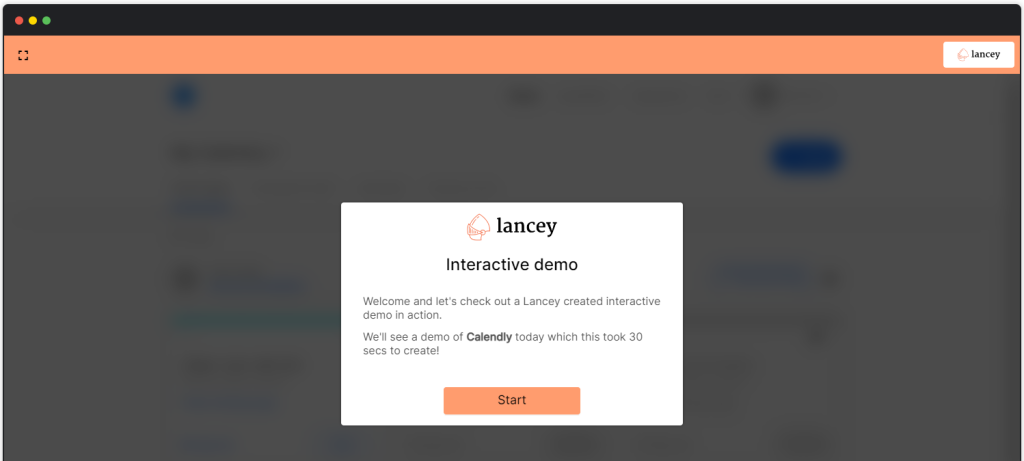 Some things you might want to know:
Lancey has a very fast time-to-value, including a self-serve offering & free trial

There are features available for personalization, and AI text-to-speech for audio overlay — but these aren't on the entry pricing plan

As an earlier stage product, some features & integrations might be missing. For example, Segment integration is missing.
Overall though, it's a clean & accessible product with all the core offerings that you may want to consider.
Pricing
You can publish 3 demos for free. Lancey also has monthly plans available, unlike some other tools in this list.
Paid plans stat from $29/month per seat.
Watch the video
Prefer video format? Here's my 10-minute overview of 5 of these tools 🙂
A SaaS PLG Trend: Interactive Product Demo Software