In the past couple of years in SaaS, we're seeing a new category being created: interactive product demo tools. Tools that allow you to embed an ungated version of your product on the website for visitors to play around with, without signing up.
TL;DR? Skip down to the tools 👇
It's a young but growing space. Let's talk about why these tools are growing in popularity, and 8 of the leading & emerging software options in the space.
Ungated product experiences = no-strings attached value
Andrew Capland first put this category on my radar via LinkedIn. He has a SaaS growth background, and now runs DeliveringValue, a consultancy/coaching business for growth leaders.
You can read about why he & others are bullish on ungated interactive product demos here, but here's a summary of the top reasons:
If your conversion rate is, for example, 2%, that means an overwhelming 98% of your website traffic never gets the chance to experience your product & see the value.

When users do sign up, they've already seen value. They're more likely to activate & convert.

Your activation & retention data is more useful when you pre-filter out the garbage before they actually sign up.
Here's another useful resource: Guide To Ungated Products by OpenView (Kyle Poyar).
In addition, implementing such an interactive demo is becoming more accessible by the tools in this list. No-code solutions exist which reduce the reliance on engineering.
Here are the 10 best tools to create an ungated interactive product demo
Navattic
Walnut
Reprise
Demoboost
Saleo
Demostack
Arcade
Consensus
Storylane
Lancey
Let's take a look at the differences.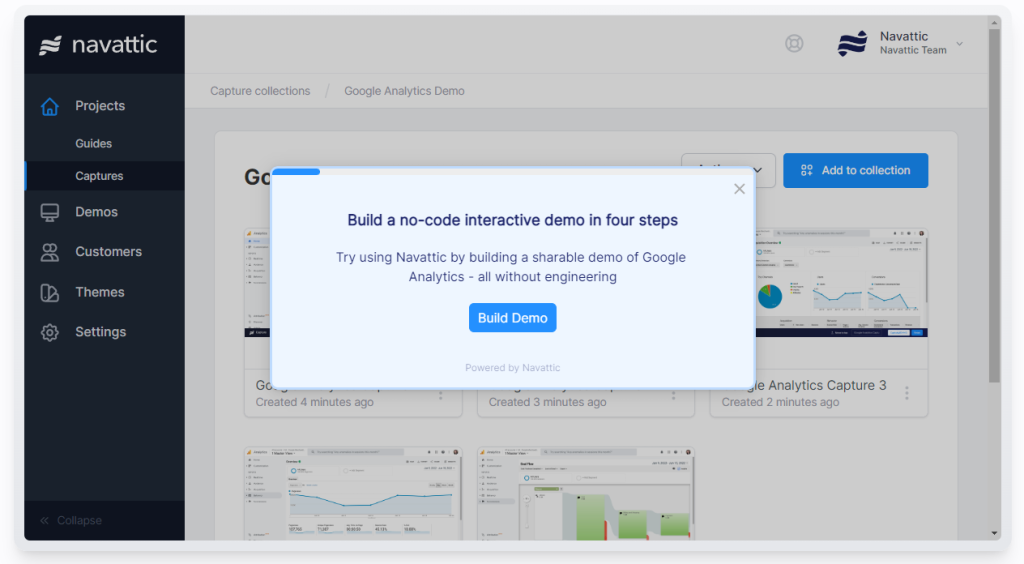 Best suited for: embedding an interactive demo on a website, or for sharing with prospects
Free trial: No, request a demo here.
Starting price: $500/month (startup plan also available, price unknown). See pricing.
Key features
Navattic lets you build an interactive product demo without engineering resources. It can be embedded onto a website, or used for any other purpose (e.g. to send directly to prospects async without needing a call).
It lets you create guided product tours, or a 'choose your own adventure' style of demo with checklists & options for users to explore.
You can play around with their live interactive demo to get a feel for how it works.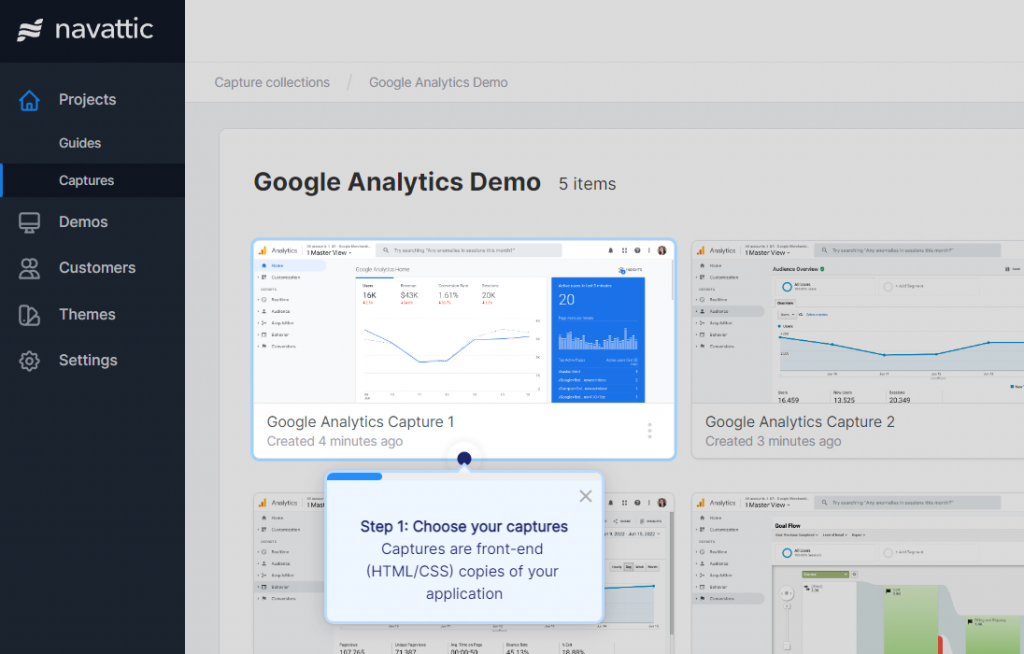 There are integrations with Hubspot, Salesforce, Marketo, Segment, and Google Analytics — making it easier to see how demo interactions impact metrics further down the funnel.
It's intuitive to use & fast to get a demo set up, even for non-technical people.
Lastly, they have an SOC 2 type 2 certification — which checks the boxes for mid-market & enterprise security requirements.
Pricing
Navattic's base pricing is publicly available: $500 for 'Base' (company size up to 100 employees & base features), and $1,000/month for larger companies, plus extras like SSO & dedicated success managers/coaching. View pricing page.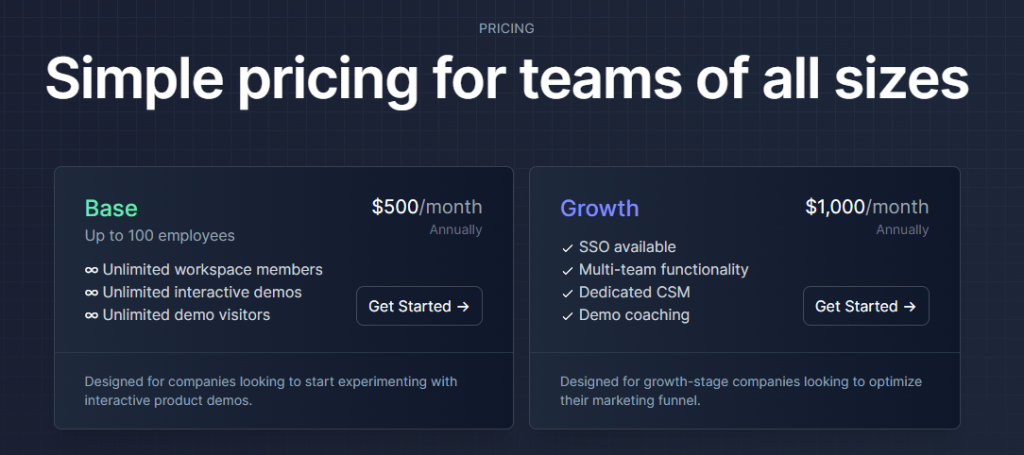 There is also a lower cost startup plan, and they can offer customized pricing.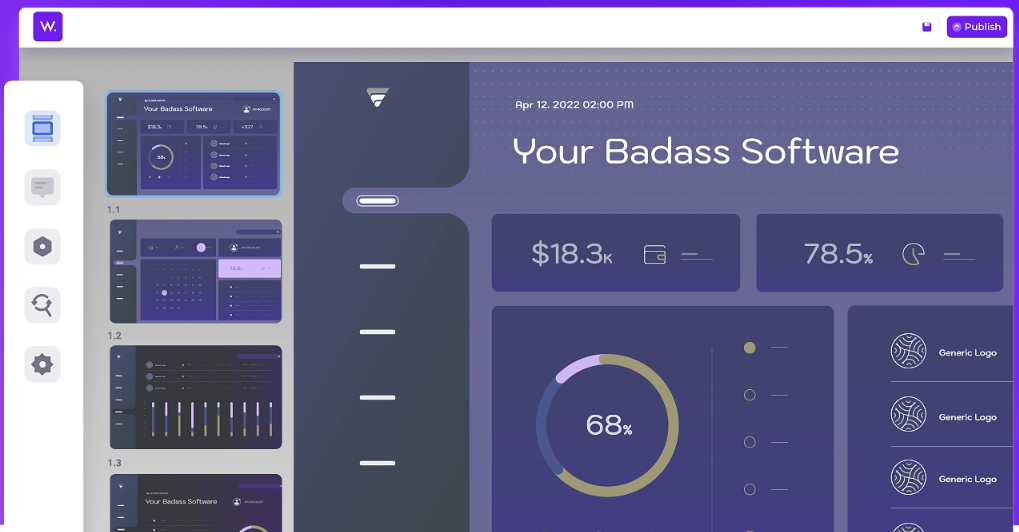 Best suited for: a unified demo creation platform for marketing & sales teams.
Free trial: No. Request a demo here.
Starting price: Unknown.
Key features
Walnut is one of the most well-known product demo tools on the market. It excels in serving sales/pre-sales teams to deliver personalized demos quickly, and it can also be used to create great embedded demos for marketing.
The capture tool, aided by a Chrome extension, lets you quickly capture your product's front-end. You can create templates, and quickly produce multiple tailored demos for specific use cases/pages. Editing can be done entirely no-code, but it allows advanced demo editing with HTML coding too.
One thing that sets Walnut apart from other tools is their 'Beyond Demos' feature set. One great feature for marketers is performance insights, which provides an easy way to analyze & test different demos.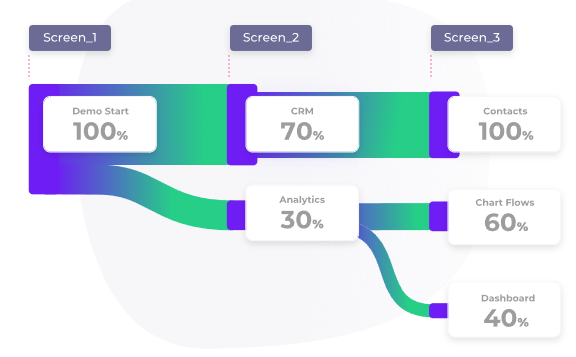 It also serves teams very well, with team collaboration features, demo libraries & templates, permissions control, and security.
It has integrations with Salesforce & Hubspot, but lacks a couple of others (e.g. Google Analytics, Zapier, Segment), which is one reason you might look for a Walnut alternative.
Pricing
Walnut determines its pricing based on user seats. Every plan comes with unlimited demos created and unlimited demo views.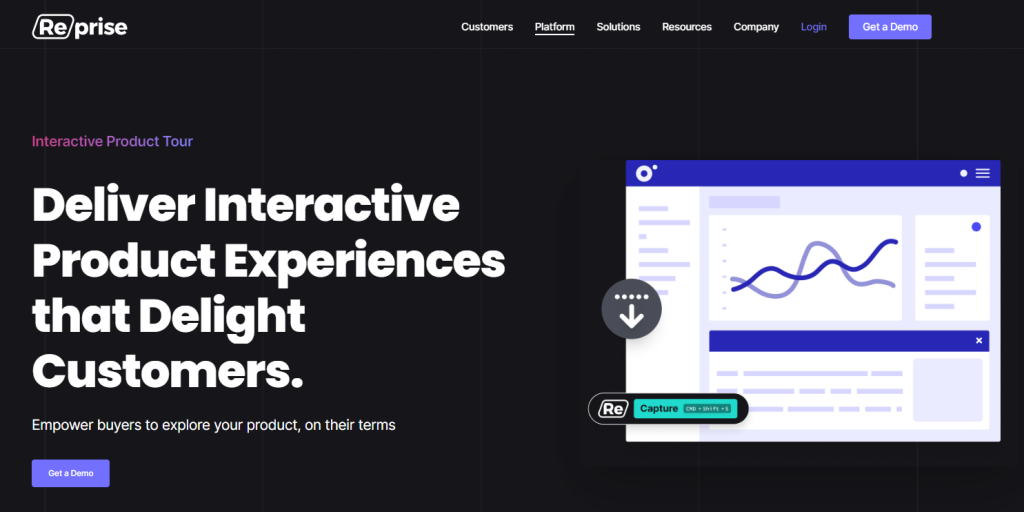 Best suited for: marketing and sales teams looking for an integrated solution that can easily share assets between themselves.
Free trial: unknown. Request a demo.
Starting price: unknown.
Key features
Reprise offers a versatile demo creation platform that you to build two types of demos: live 'simulation' demos, and self-guided product tour demos.
This versatility makes Reprise particularly useful for organizations that need a unified platform for their sales and marketing teams, eliminating any potential hassle with asset incompatibility.
Reprise comes with a complete suite of tools that you may need for all of your demo creation purposes: application capture, screen capture, analytics, as well as a set of capable security tools.
Reprise also has enterprise-grade security, being certified SOC 2 type 2 (basically — they safeguard customer data very well).
You can see an example of an interactive demo made with Reprise here.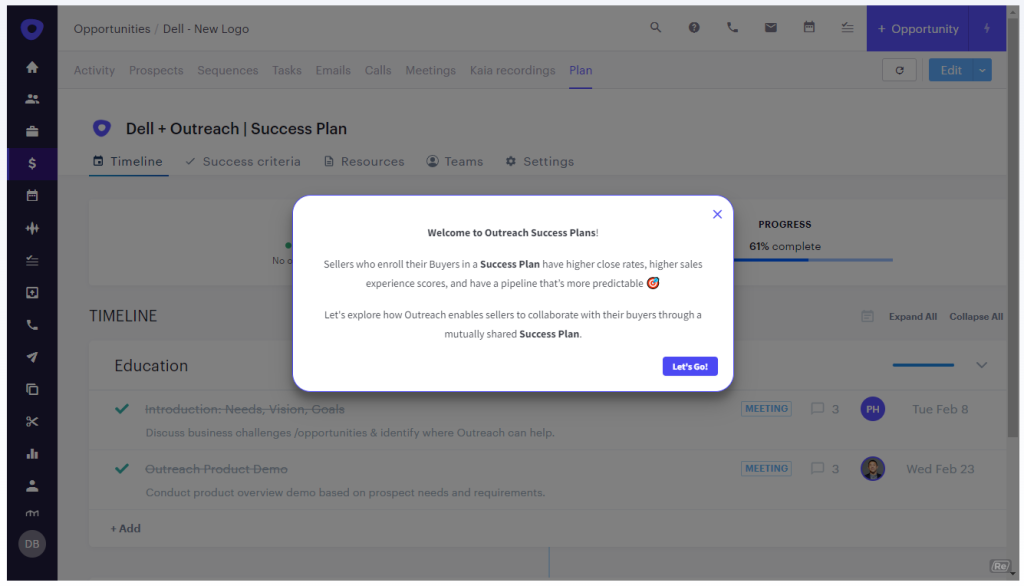 The platform also includes native integrations with analytics tools such as Google Analytics, Salesforce CRM, or Hubspot Analytics.
Despite a somewhat steep learning curve and a potentially cumbersome interface, the final product is very powerful and effective. Reprise allows for a high degree of customization, which makes it possible for any organization to finetune the demo according to their exact needs.
Pricing
Reprise pricing isn't publicly available; get a tailored quote by requesting a demo.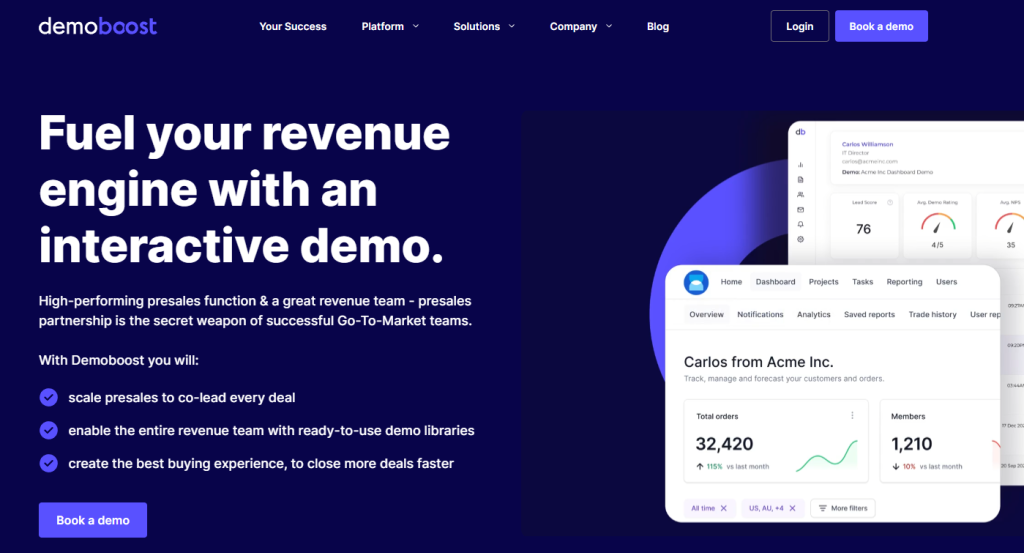 Best suited for: small businesses aiming to create personalized pre-sale demos with a high degree of customer interactivity.
Free trial: No. Request a demo here.
Starting price: Unknown.
Key features
Demoboost's greatest advantages are its ease of use and a high capacity for personalization, which make it ideal for small businesses or individual enterpreneurs. The demos allow for a great degree of interactivity on the end-user's part. This puts Demoboost above many other demo software solutions in terms of directly integrated capacity for buyer-seller interaction.
While offering just enough to satisfy most potential clients, Demoboost is fairly limited when it comes to features. The software includes basic extra functionalities such as analytics, lead capture, multi-channel distribution and ROI tracking. Native integration with Salesforce also proves to be handy.
Pricing
Demoboost doesn't offer any fixed pricing packages, instead offering individual deals tailored to each partner's needs.

Best suited for: sales teams to create personalized demos using your live demo environment
Free trial: No. Request a demo here.
Starting price: Unknown.
Key features
What makes Saleo unique is that, instead of taking an "interactive screenshot" of your original product environment, it utilizes your existing live environment and directly transplants it into the platform. This eliminates the common problem of demos "breaking off" from all of the data that powers the full product, which tends to create functionality issues.
Saleo's other big selling point is its easy-to-grasp but powerful interface, which provides enough features and options to fill the needs of smaller teams as well as larger, more ambitious organizations. What absolutely stands out is the rich library of industry templates that can easily be shared and reused.
It's a solid option for sales teams looking for a way to make fast and easy-to-create SaaS demos.
Pricing
Like Demoboost, Saleo doesn't offer any fixed pricing packages. Instead, the price of service is determined individually, based on the customer's precise demands.
6. Demostack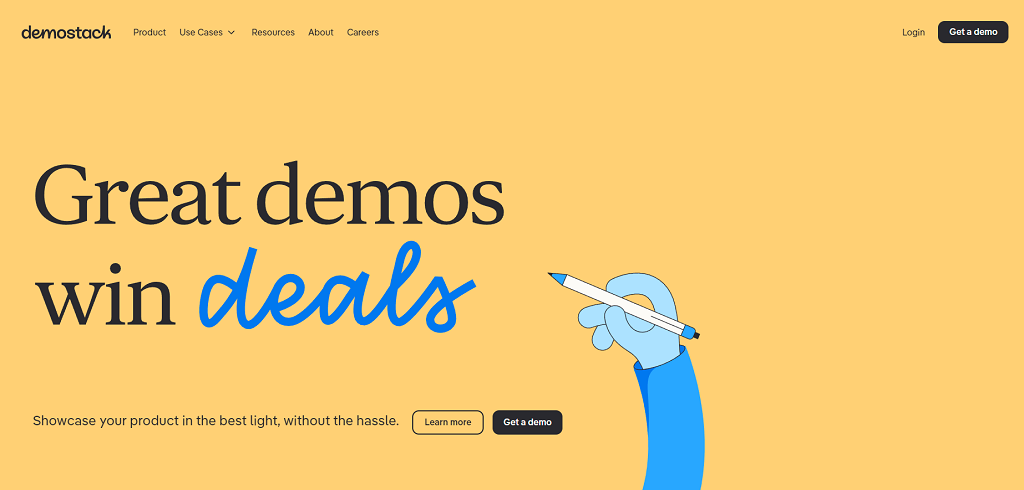 Best suited for: revenue teams that wish to gain complete control over their product demos.
Free trial: No. Sign up here.
Starting price: Unknown.
Key features
Demostack prides itself on being the demo creation platform offering the greatest amount of control over the final product temo to sales and revenue teams. This greater level of control should leave the organization more time to focus on building the product rather than managing the environment.
The platform truly delivers as promised, with the ability to fully customize the demo within only several minutes, in a very convenient point-and-click format. It also includes basic extra features such as analytics and customer insights. However, it may feel a bit oversimplified and limited in comparison to many other competing platforms.
Pricing
Similar to the previous two platforms, Demostack offers individually tailored pricing plans, based on the buyer's needs and demands.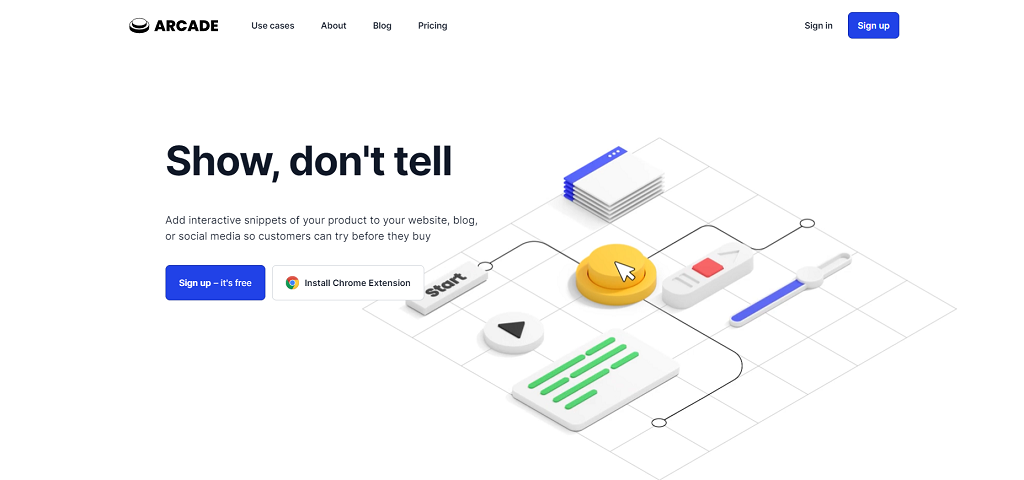 Best suited for: marketing teams in need of marketing demos that can easily be embedded onto websites, blogs, and social media.
Free trial: offers a freemium model. Sign up here.
Starting price: Free. Paid plans from $38 per month.
Key features
Arcade is a PLG platform geared towards marketing and sales teams. Its strong suit is the ability to create light, HTML5-friendly demos that can be easily embedded onto virtually any modern website or social media platform.
Arcade is notable for its accessibility, user-friendliness, and light weight, with most of the platform's functionality available through a simple Chrome extension. Despite being among the lightest of popular demo software solutions, it doesn't sacrifice any extra functionalities, with a built-in analytics tool and vital integrations. However, its use is largely limited only to the creation of embeddable marketing showcases.
Pricing
Arcade uses a freemium model, with the free version letting you create up to three publicly shared demos. The $38/month Pro package removes the demo limit, watermarks, and adds premium features such as analytics or CTA's. Custom plans are also available for larger organizations, with a negotiable price.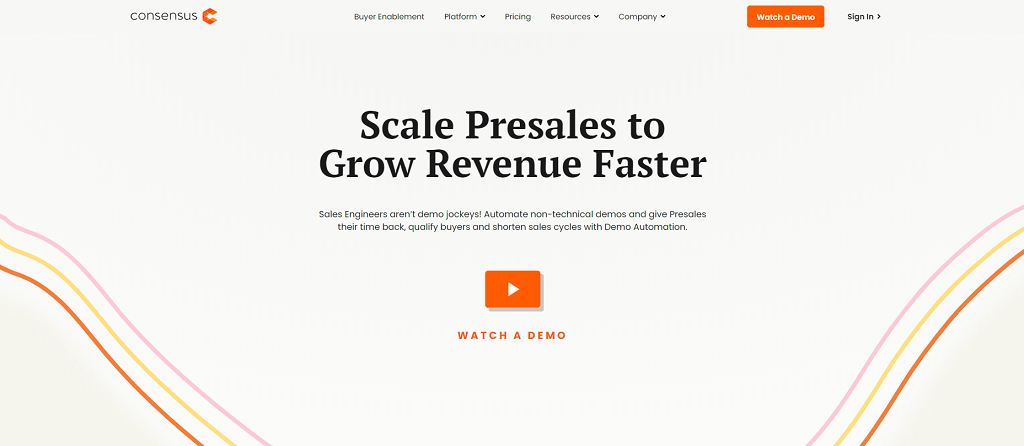 Best suited for: large-scale enterprises looking for a solution that lets them organize demos for larger buying panels.
Free trial: No. Sign up here.
Starting price: Unknown.
Key features
Consensus is a powerful solution that lets organizations work on their product demos through the entire pre-sale and sale process, which allow for a great deal of customer interactivity. The ability to automate the demo creation process makes Consensus perfect for large-scale enterprises that need to juggle several product demonstrations at once.
Another feature that makes Consensus perfect for large-scale enterprises is its capacity for advanced video management, which enables integrated, interactive video presentations with a whole panel of prospective customers. The panel presentations come with a collection of tools keeping track of the prospective customers' feedback, which makes Consensus couple as a limited-scale marketing analytics solution.
Consensus is the first software solution that introduced a new type of lead qualification gate, called the Demo Qualified Lead (DQL). It judges the level of the lead's engagement with the demo, determining if they're interested enough to qualify for a presales resource.
Pricing
Consensus offers a wide variety of premade pricing packages, depending on the customer's initial plan for using the service, as well as the license quantity.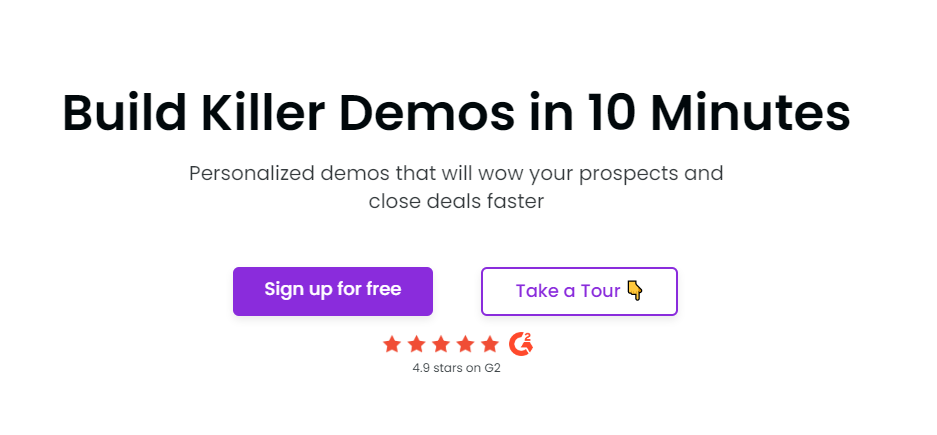 Best suited for: SaaS company marketing and sales teams in need of easy-to-make interactive demos to showcase their software.
Free trial: offers a freemium model. Request a demo here.
Starting price: Free. Paid plans from $40/month (paid annually).
Key features
Storylane provides a simple demo creation platform that particularly focuses on providing services to other SaaS companies, especially for web apps. It's a lightweight service that's easy to learn and easy to handle, with all of the functionalities needed for basic demo creation, editing, and publishing purposes, as well as essential extra features such as analytics.
Still, being a brand new platform, Storylane incorporates many of the features offered by high-profile competitors into a simpler and lighter package better suited to smaller organizations. The most notable of those features is direct HTML editing, previously made available by Walnut.
Pricing
Storylane is a freemium platform, with a limited free version (1 user, 1 published 'story'). There are two paid pricing tiers, both billed annually — starting at $40/month for 1 user.
The 'Growth' plan (higher tier, $500/mo) adds extra features like HTML application capture, custom lead forms, and more. There's a discount available on this tier for startups.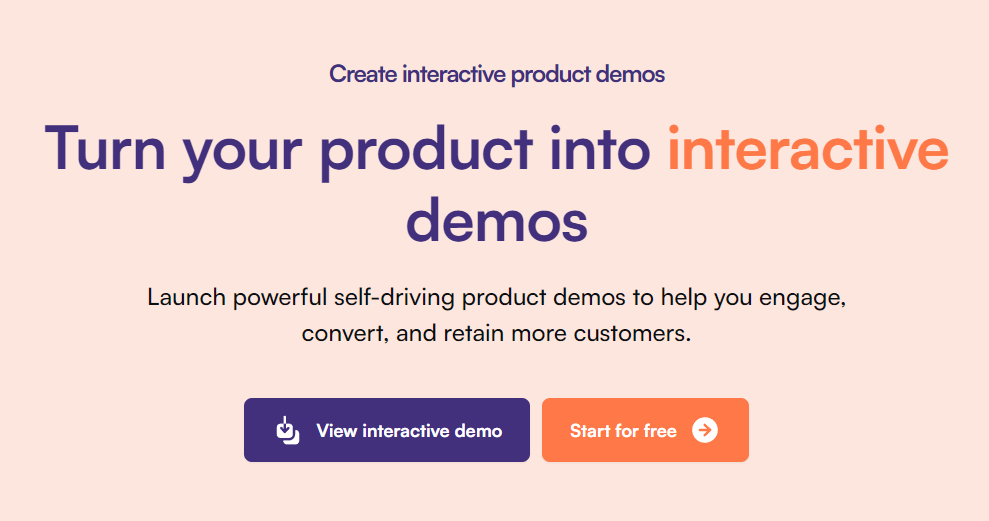 Best suited for: simpler tool with ease of use, fast time-to-value, and lower entry price (without some bells & whistles). monthly plans available.
Free trial: Yes, 14 days. Sign up here.
Starting price: Free. Paid plans from $249/month (monthly) or $199/month (billed annually).
Key features
Lancey is a newer tool in this category, and recently closed seed funding. They offer monthly plans where some competitors don't, and an accessible entry price for smaller teams.
You can see an interactive demo made with Lancey on their product page.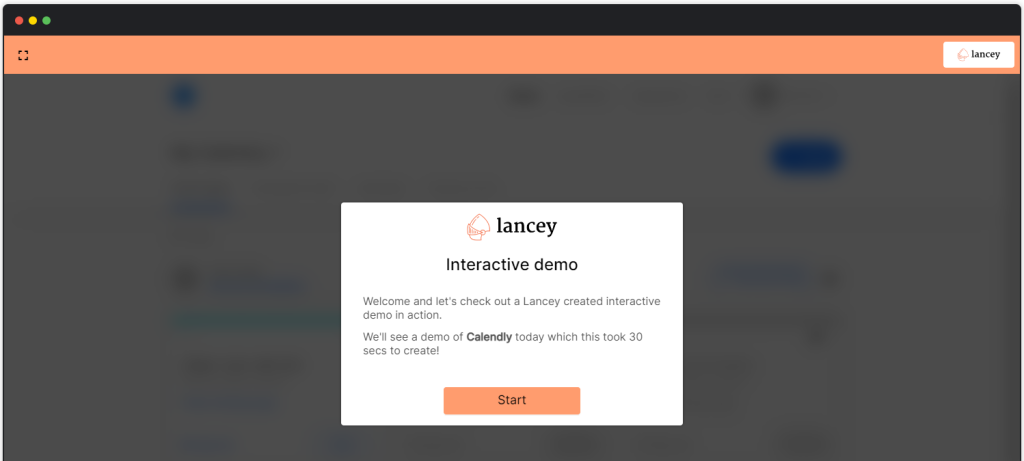 Some things you might want to know:
Lancey has a very fast time-to-value, including a self-serve offering & free trial

There are features available for personalization, and AI text-to-speech for audio overlay — but these aren't on the entry pricing plan

As an earlier stage product, some features & integrations might be missing. For example, Segment integration is missing.
Overall though, it's a clean & accessible product with all the core offerings that you may want to consider.
Pricing
You can publish 1 demo for free. Lancey also has monthly plans available, unlike some other tools in this list.
The first tier ($249/month) gives 10 users & unlimited demos, but the limiting factor is 5k monthly demo views. Also, some features are missing. Lancey branding is also on your demos in this tier.
Advanced ($799/month) adds more features like audio overlay, personalization, and integrations (with Salesforce, HubSpot, & some others), plus increases the demo view count to 10k. Still pretty low.