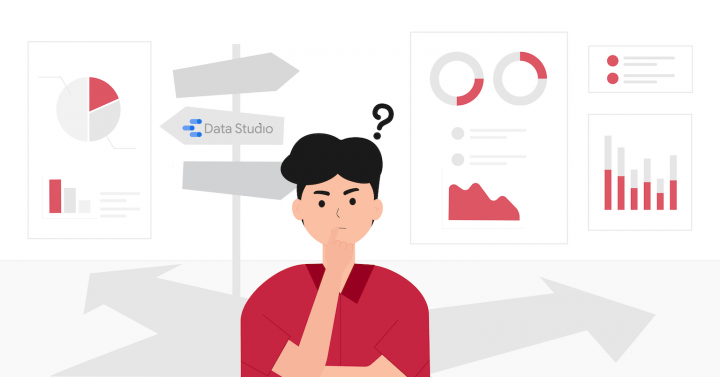 Marketing reporting tools take your scattered data and turn it into something that you can interpret to make better decisions. One of the reporting tools that you'll inevitably come across is Google Data Studio, a free tool for converting raw data into detailed reports.
Although it's a great free tool for creating a reporting dashboard, it isn't without limitations. Depending on your skills, use case, and priorities, you may wish to find an alternative.
As a full-time content marketer, I've tried several reporting and dashboarding solutions so far to assemble marketing data and display it in different visual forms. In this article, I'll review 8 Google Data Studio alternatives and show you what use cases these tools are best suited for.
Here are the 10 best Google Data Studio alternatives
DashThis

Grow

Databox

Geckoboard

AgencyAnalytics

NinjaCat

Cyfe

TapClicks

Klipfolio

Power BI
We'll start by clarifying the reasons to look for an alternative in the first place.
Or, click here to skip straight to the tools 👇
Google Data Studio drawbacks: reasons to look for an alternative
Learning curve (without customer support)
First off, it'll take you some time to get up to speed with Google Data Studio and include it in your workflow. As a marketer, the last thing you want is to put aside your daily tasks and learn how a new tool works.
Since it's a free tool, there isn't a dedicated customer support team available to help when you get stuck. If you're a beginner, or if you simply value speed of execution, you might prefer a paid tool with a support team.
Although it's still relatively intuitive when compared to some complex intelligence & analytics tools, there are easier options out there.
Limited data sources for some use cases
Although there are hundreds of native integrations built for Data Studio, it doesn't connect with everything out of the box. To synchronize with some tools, you'll need to pay for third-party connectors.
A good example of this would be paid social data like Facebook, Instagram, and LinkedIn ads. To get this data into Data Studio, you'll need to pay monthly for a connector like Supermetrics.
Less functional
Google Data Studio lacks some reporting features with respect to pivots and more sorting options. At times, it's slow in pulling and rendering data when the file size is huge, so building up your first reports can be very time-consuming and frustrating.
8 best Google Data Studio alternatives
Best suited for: marketers who value ease of use, one-click integrations, and easy shareable dashboards
Free trial: yes, 15 days. Sign up here.
Starting price: from $33/month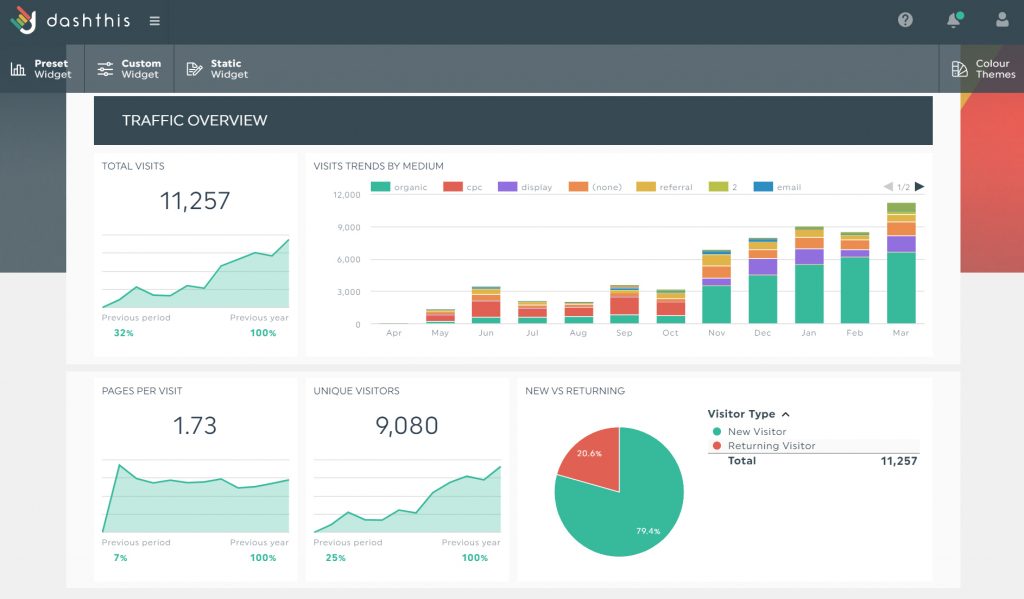 Key features
DashThis is a marketing reporting tool that allows users to build custom dashboards for SEO, social media, SEM, email, and paid campaigns reports.
Unlimited data sources are one of the biggest strengths of DashThis. You can add as many data sources and integrations in each of your dashboards as you may need.
The multi-source dashboard is another strength of DashThis. DashThis automatically pulls data from all of your tools, so you don't have to jump from one marketing channel to the next to see all of your data.
There are a bunch of dashboard templates that you can use to get going super quickly too. You can see them all during the trial, but here's a few specific ones you can check out depending on your use case:
There's a bunch of dashboard templates available for marketing including all organic/paid social channels, email marketing, local marketing, etc. See them all here.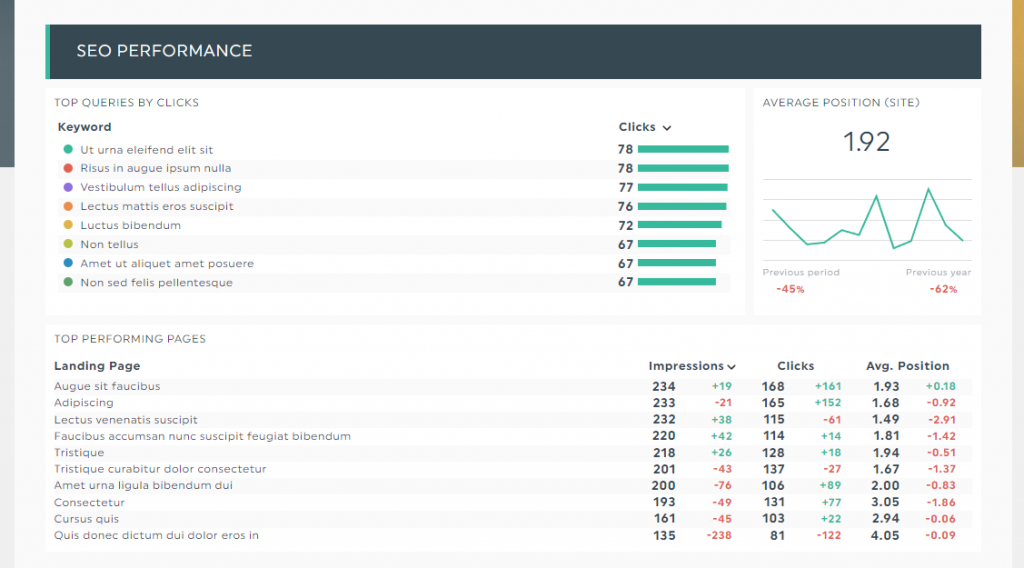 Unlike free tools like Data Studio, you'll get a great customer support/success team to help you out too.
DashThis vs Google Data Studio
DashThis is quicker & easier to use for marketing reports, so your time is maximized. There's a bit more of a learning curve to properly get started in Data Studio, whereas DashThis has focused on building a simpler UI

DashThis focuses on doing marketing integrations better than Data Studio. It has fewer integrations overall but includes several that Data Studio lacks without extra connectors (e.g. Facebook/Instagram ads, Mailchimp, Google Sheets)

Data Studio comes without customer support, whereas DashThis offers excellent support

Data Studio is entirely free, whereas DashThis is a paid tool
Pricing
DashThis offers 4 subscriptions: Individual, Professional, Business, and Standard. The 'Individual' plan starts at $33 per month (billed annually) or $39 per month (billed monthly). To benefit from white-labeled dashboards and custom domains, you'll need to upgrade to the 'Professional' plan, starting at $109 per month (billed annually). See full pricing here.
2. Grow
Best suited for: small to midsize organizations that are building from the ground up and have data coming from multiple sources
Free trial: Yes. Sign up here.
Starting price: Unknown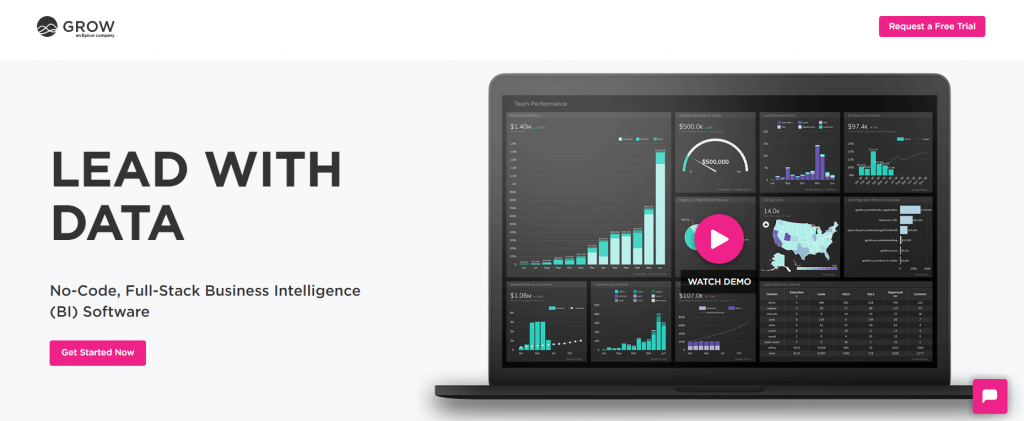 Key features
Grow is a full-stack reporting platform that provides 3 main solutions under one roof: data integration, data warehousing, and visualization. The tool allows marketers to build reports without developer support to navigate complicated data queries.
Grow is so powerful in its ability to pull in data from many classic platforms such as HubSpot, Google Analytics, Mailchimp, and others.
Another great feature of Gros is that you can specify which users have access to which dashboards, and what their permission levels can be.
Grow vs Google Data Studio
It's much easier with Grow than Google Data Studio to combine disparate data sources, and then filter, and discover different visualizations as you navigate your data to find the best way to surface insights for your business

The intuitive ETL interface with no-code options is great for transforming and joining data from all the company systems into an easy-to-use data environment, giving a lot of flexibility
Pricing
Pricing information for Grow isn't available, you can request a demo here.
3. Databox
Best suited for: marketers that are willing to pay extra for a rapid out-of-the-box dashboard that doesn't require much customization
Free trial: yes. Sign up here
Starting price: from $72/month (+$250 for white label features)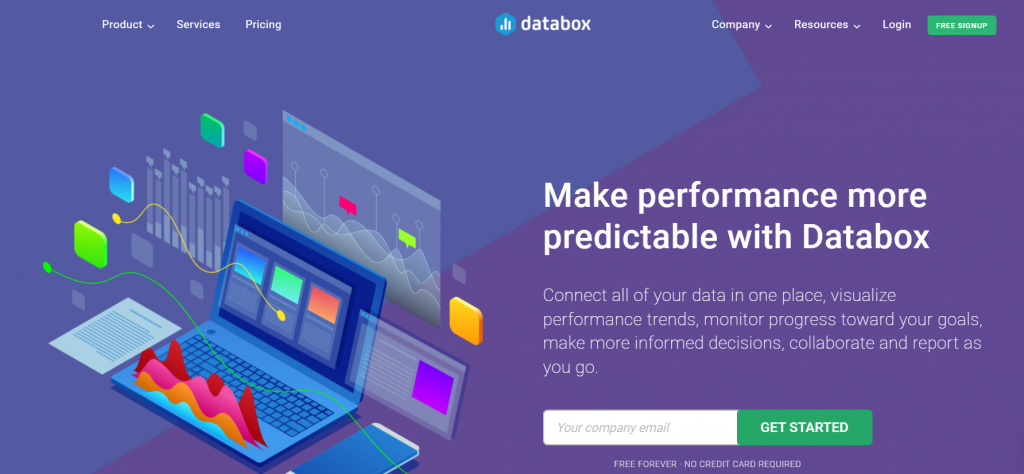 Key features
Databox is a business analytics and reporting platform that pulls all of your data into one board so you can monitor performance in real-time.
Commonly-used metrics may not do the trick all of the time. With Databox's query builder, you can use dimensions/filters to develop custom metrics that allow you to retrieve more granular data.
Databox is highly customizable, allowing for white-labeling and custom reporting. In that way, you can present fully branded dashboards to your clients without needing to code.
Databox vs Google Data Studio
Databox offers over 70 integrations with many marketing, social media, and analytics platforms that are preloaded with thousands of default metrics, while Google Data Studio pushes a reliance on third-party connectors

Google Data Studio is hard to set up and find out how to use, but the setup for Databox is so simple

Additionally, Google Data Studio doesn't provide a report delivery automation, but Databox's automated reporting feature will give you more accessibility and productivity
Pricing
Databox offers four subscriptions: Free-forever, Starter, Professional, and Performer. The 'Free-forever' tier is limited to only 3 data source connections. The 'Starter' plan starts at $72 per month (paid annually) or $91 per month (paid monthly) that offers 4 data integrations and 4 dashboards. See full pricing here.
4. Geckoboard
Best suited for: small businesses that have minimal time to set up and require high-level sharing of data between teams
Free trial: yes, 14 days. Sign up here.
Starting price: $28/month

Key features
Geckoboard is a dashboarding platform that helps businesses present important data and metrics on a configurable dashboard.
Geckoboard's most considerable capability perhaps comes from its integrations. With over 80 pre-built integrations, you can connect quickly to your everyday tools. It connects to some marketing data sources, including Linkedin/Facebook/Google ads, Campaign Monitor, and Mailchimp.
You can incorporate a Geckoboard dashboard into websites or other corporate platforms like Microsoft Teams channel, Confluence, and Miro using a sharing link and the most common way of doing this is using iFrames.
Last but not least, Geckoboard takes the security of your data very seriously. IP restriction functionality allows you to restrict access to a shared dashboard.
See also: Geckboard alternatives
Geckoboard vs Google Data Studio
Geckoboard offers simplicity and has a great user interface. Compared to Google Data Studio, it isn't overly complicated and is fairly simple to use

If you're using Slack, Geckoboard allows you to schedule daily/weekly/monthly snapshots to deliver to your Slack channels, which Google Data Studio can't
Pricing
Geckoboard offers 4 pricing alternatives to suit every team: Starter, Team, Team Plus, and Company. The 'Starter' plan starts at $28 per month (billed annually) or $35 per month (billed monthly). See full pricing here.
5. AgencyAnalytics
Best suited for: marketers or agencies with tight budgets who need a robust solution to build automated and real-time dashboards without a ton of manual work
Free trial: yes, 14 days. Sign up here (no credit card required).
Starting price: from $8.33/month (per client)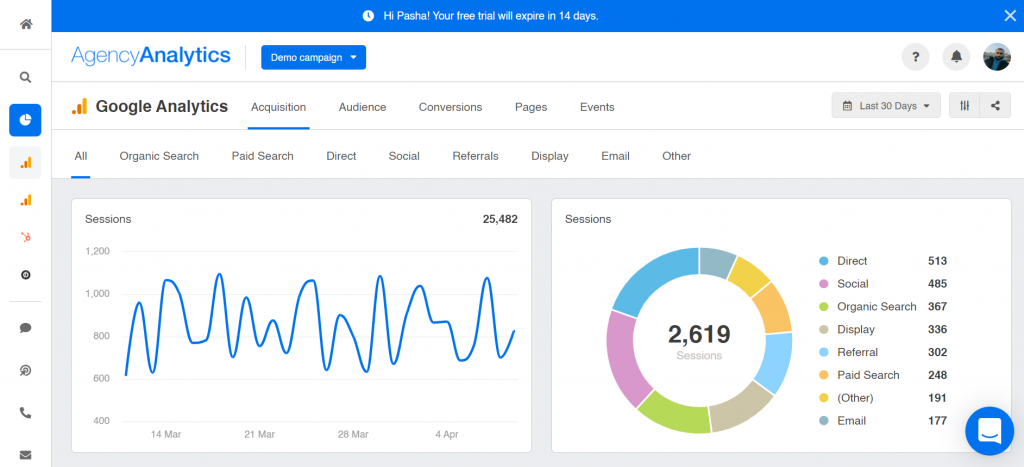 Key features
Agency Analytics is an SEO and marketing dashboard solution that lets you monitor all of your client's marketing channels in one seamless dashboard. It integrates with over 60 channels.
The platform's SEO-related features like SEO auditing, backlink monitoring, and daily rank tracking allow you to keep up with the competition and remain on top of the changing dynamics of the SERP world.
AgencyAnalytics allows you to keep your team up-to-date on all clients at once. You can even set up a weekly internal report, demonstrating each clients' key metrics to make sure you're achieving all your goals
AgencyAnalytics vs Google Data Studio
With AgencyAnalytics, you can provide each client with unique login credentials to a real-time dashboard so they can access it at any time

Google Data Studio doesn't have a report approval feature, but Agencyanalytics's report approval lets you keep undesired surprises out of client reports
Pricing
AgencyAnalytics offers 3 pricing tiers: Freelancer, Agency, and Enterprise. The 'Freelancer' plan starts at $8.33 per month (billed annually) or $10 per month (billed monthly), giving you access to over 60 integrations. See the full pricing here.
6. NinjaCat
Best suited for: mid-size and large companies/agencies that need a high degree of reporting and dashboard customization options tailored to different client's requirements
Free trial: Unknown
Starting price: Unknown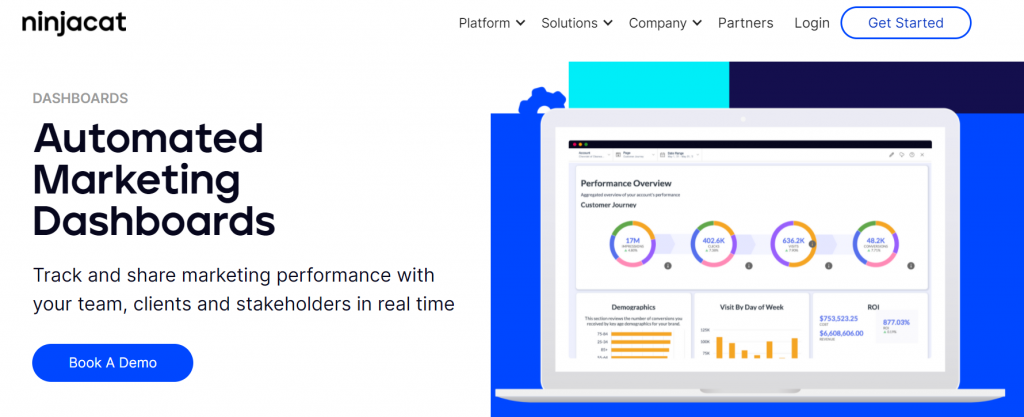 Key features
NinjaCat is a marketing performance reporting tool that can help simplify your reporting tasks and increase the quality of the insights you deliver to your stakeholders. It's an all-in-one solution for data analysis, KPI monitoring, and reporting.
If you're an agency with hundreds of clients, looking to streamline and automate your reporting process for diverse digital marketing initiatives such as pay-per-click, display advertising, and Facebook ads, NinJat would be a great alternative to try.
With NinjaCat, keeping your campaigns on track is easy. It allows you to monitor advertising budgets in real-time and optimize them for winning results.
NinjaCat vs Google Data Studio
NinjaCat's interface allows for a massive amount of data manipulation without holding expert knowledge of data engineering

Unlike Google Data Studio, NinjaCat has extensive native digital advertising integrations like Bing ads, Google ads, Youtube ads, and Yelp to fetch all of your marketing metrics into one report
Pricing
NinjaCat doesn't provide pricing information for its product. You can request a demo here.
7. Cyfe
Best suited for: small to midsize companies that manage multiple campaigns and social media accounts to monitor all marketing channels
Free trial: yes, 14 days. Sign up here.
Starting price: from $19/month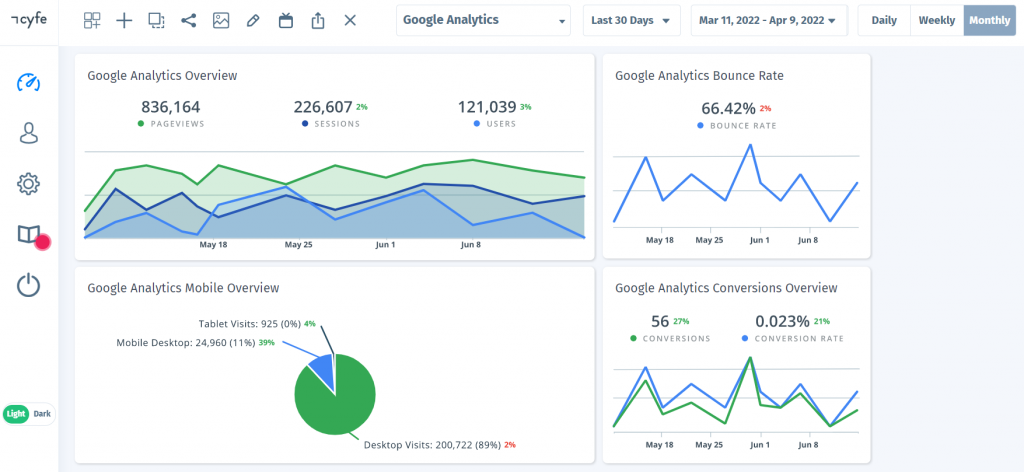 Key features
Cyfe is an all-in-one dashboard tool that enables users to track all marketing channels like SEO, search advertising, email marketing, web analytics, and social media.
It's a solid tool that lets you pull data from popular services like Google Search Console, Facebook Pages, and HubSpot with over 100 integrations and 250 metrics included out of the box.
Another noteworthy feature of Cyfe is that with its widget alerts and automated reports, you can schedule email reports in different formats like PDF and JPEG. Furthermore, you can set up email reporting so that your reports will be sent on a daily basis, allowing you to keep a constant eye on real-time scenarios.
Cyfe vs Google Data Studio
Visualizing your data is more flexible with Cyfe. Instead of re-directing your clients to Cyfe, you can easily take your entire dashboard and embed it where your clients already are

With Cyfe, you can select from various chart types to display your data, including Gantt, funnel, cohort, and gauge. Google Data Studio is limited to tables, scorecards, time series, bar charts, and treemaps

Furthermore, Cyfe comes with a single sign-on or SSO authentication method that allows users to safely log in to numerous apps with only one set of credentials
Pricing
Cyfe offers 4 plans: Starter, Standard, Pro, and Premier. The 'Starter' plan starts at $19 per month that comes with only 2 dashboards. See full pricing here.
8. TapClicks
Best suited for: advertising agencies or big marketing departments looking to consolidate marketing, SEO, advertising, call tracking, and CRM data into one centralized platform.
Free trial: yes, 14 days. Sign up here (no credit card required).
Starting price: from $499/month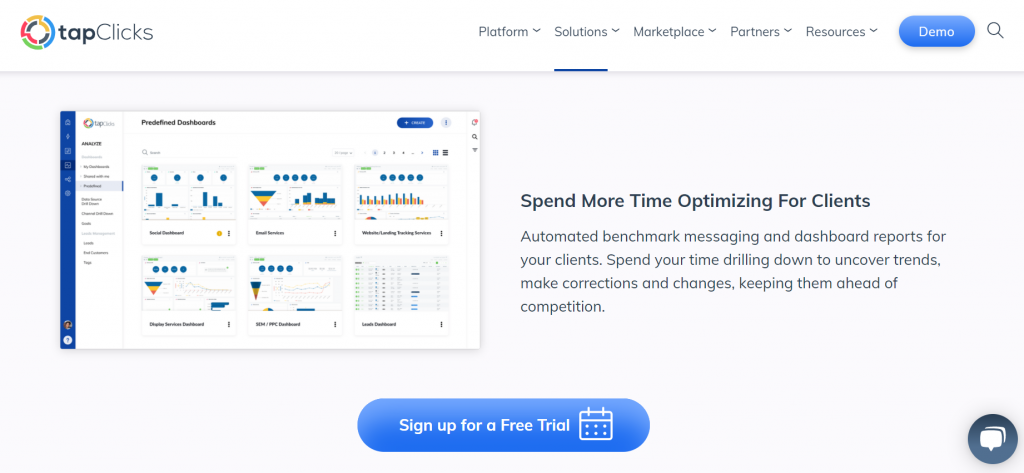 Key features
TapClicks is a marketing reporting and analytics tool that consolidates marketing campaign data and performance metrics into a unified dashboard.
This tool lets you bring data from over 250 sources into the TapClicks system so that you can blend data with your other marketing sources for easy reporting.
Created with digital agencies in mind, TapClicks will be very helpful in distributing the actual reports to your clients, allowing them to access their campaigns in real-time. The underlying business problem it solves is that it'll save you a lot of money by eliminating the need for bespoke development and the resources required to manually retrieve reports for your clients.
TapClicks vs Google Data Studio
TapClicks's integration capabilities are superb. It integrates with numerous platforms without any problem. If it doesn't have the exact integration you need, you can easily set up one yourself via its 'Smart Connector'

Thanks to TapClicks Academy, it's so easy to learn TapClicks with official tutorials and course bundles. Google Data Studio only provides surface-level training which may not be enough

Unlike Google Data Studio, TapClicks has an intuitive interface that works exactly as the user expects it to
Pricing
TapClicks offers 3 packages: Basic, Pro, and Elit. The 'Basic' plan starts at $499 per month (billed annually) or $599 per month (billed monthly) that comes with limited data connectors and email support only. See full pricing here.
9. Klipfolio
Best suited for: creating shareable KPI dashboards for marketing, sales, or SaaS
Free trial: yes, 14 days. Sign up here
Starting price: free.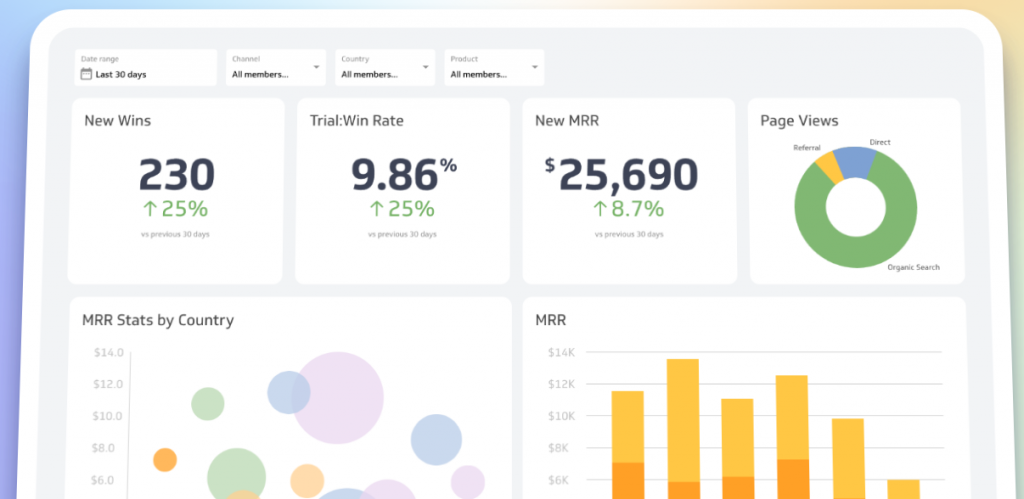 Key features
Klipfolio is a dashboard tool that helps you to connect & share KPIs. It can be used for marketing, sales, & product — but also has integrations that are relevant for customer service, e-commerce, and more.
There are 100+ native integrations built with various popular tools and data sources. That means you can connect up your scattered KPIs easily (no coding), and create a single source of truth for the team to check on.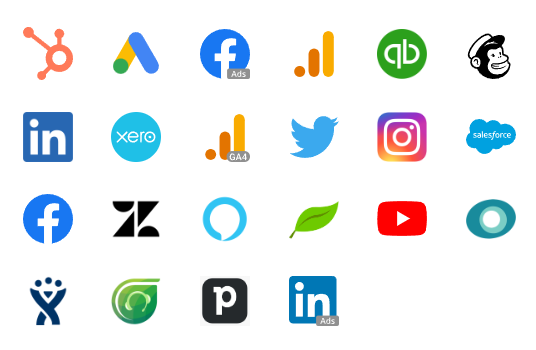 There's a bunch of templates available to start, although customizing outside of those can be a little tricky without any technical resources available.
Still, though, the free version is great with 4-hourly data refreshes & unlimited metrics. It's a solid alternative to Google Data Studio with a free plan, customer support, and different native integrations & templates available.
Klipfolio vs Google Data Studio
Klipfolio comes with customer support, whereas Data Studio does not

Klipfolio has some integrations which are not available natively with Data Studio. For example, Asana, Buffer, or Facebook Ads.

The free version of Klipfolio isn't quite as generous as Data Studios' being limited to two data sources.
Pricing
Klipfolio has a limited free-forever version available. After, pricing plans start from $99/month (paid annually), or $139/month (paid monthly). See full pricing here.
10. Power BI
Best suited for: teams using the Microsoft eco-system
Free trial: free-forever version.
Starting price: free for personal use. $9.99/user/month for Power BI Pro.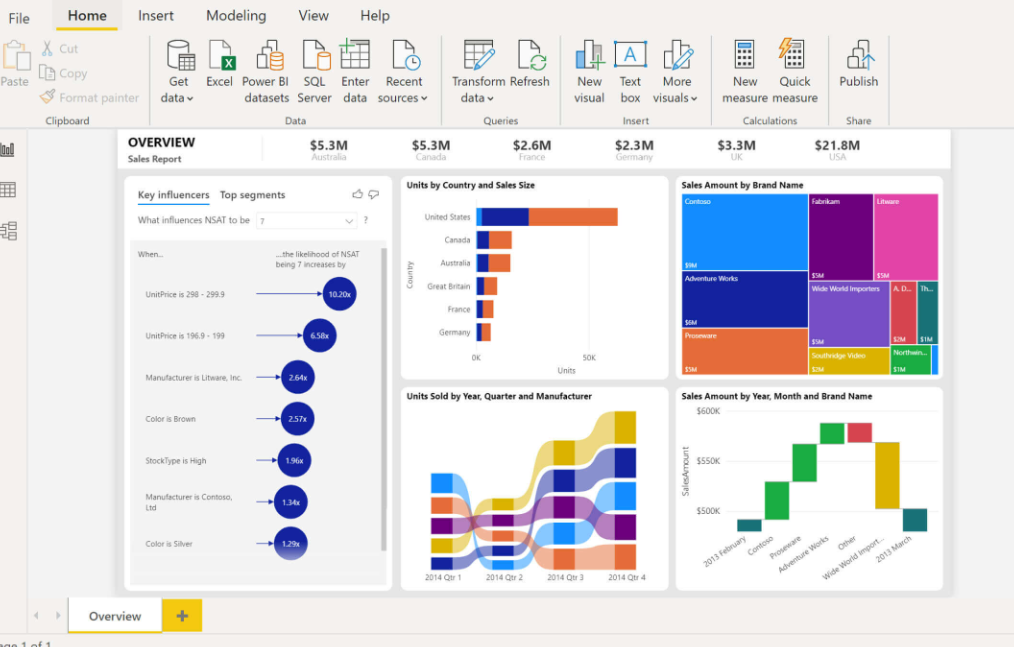 Key features
Power BI is a business intelligence dashboard tool made by Microsoft. It has a steeper learning curve than most of the other tools in this list, but naturally works well within the Microsoft eco-system.
It's a popular tool, with a free version available, and some pretty advanced visualization capabilities.
It is better than Data Studio when it comes to transforming & cleaning data to get it how you need it with Power Query, an ETL tool.
Some drawbacks include lack of data sharing — you can't generate a public shareable link as with Data Studio.
Power BI vs Google Data Studio
Power BI has more mature features for data cleaning & transformations

Data Studio has an easier learning curve, and an easier UI for beginners vs. Power BI.

The free version of Power BI is more limiting than Data Studio's

Power BI makes it harder to share reports (requiring a Power BI login)
Pricing
Power BI is free to download for personal use. For cloud-based plans, you can pay per user per month from $9.99. For a dedicated server, you'll pay $4,995+ per month. See full pricing here.
Use Google Data Studio alternatives to tell your data's story in a more powerful way
Google Data Studio still lags behind other reporting tools on the market, therefore you may need to look for a Google Data Studio alternative. I provided 8 reliable tools above that are more scalable, allowing you to take on a multitude of data sources and build even more insightful dashboards.
What is your favorite Google Data Studio alternative? Share your experience in the comments below.