Are you striving to give live data to managers, team members, and other users, so they have the opportunity to see key metrics in real-time? One dashboard solution that takes complex data and distills a clear message for better decision-making is Geckoboard.
Although it's a good solution, it isn't without its limitations. As a content marketer, I've tried a number of dashboard solutions to aggregate and visualise data from multiple sources. In this article, I'll introduce you to the 9 Geckoboard alternatives that will help you build a purpose-filled KPI dashboard around your specific functions like marketing, product, sales, and other use cases.
Geckoboard drawbacks: why look for an alternative?
Lack of customization
Geckoboard doesn't offer much customization until you reach a certain billing threshold. Some of the graphs lack customization, the font size can't be changed, and some of the visuals may not be useful depending on your use case.
Relatively expensive price point
Compared to some other dashboard tools, Geckoboard is on the pricier side ($49/month for 1 dashboard, or $159/month for 5). Some of the solutions below offer a lower price per dashboard, and/or more features in lower pricing tiers. For example, DashThis allows 3 dashboards for $39, or 10 for $129.
Limited support
Once again, compared to some other tools in this list the customer support is quite limited. Combined with hit-and-miss documentation to figure it out yourself, and you might find yourself getting frustrated & seek an easier solution.
Here are the 9 best Geckoboard alternatives
DashThis

Klipfolio

Cyfe

Slemma

Whatagraph

Screenful

Grow

Ambition

Plecto
Best suited for: marketers who value ease of use for reporting marketing KPIs
Free trial: yes, 15 days. Sign up here.
Starting price: from $33/month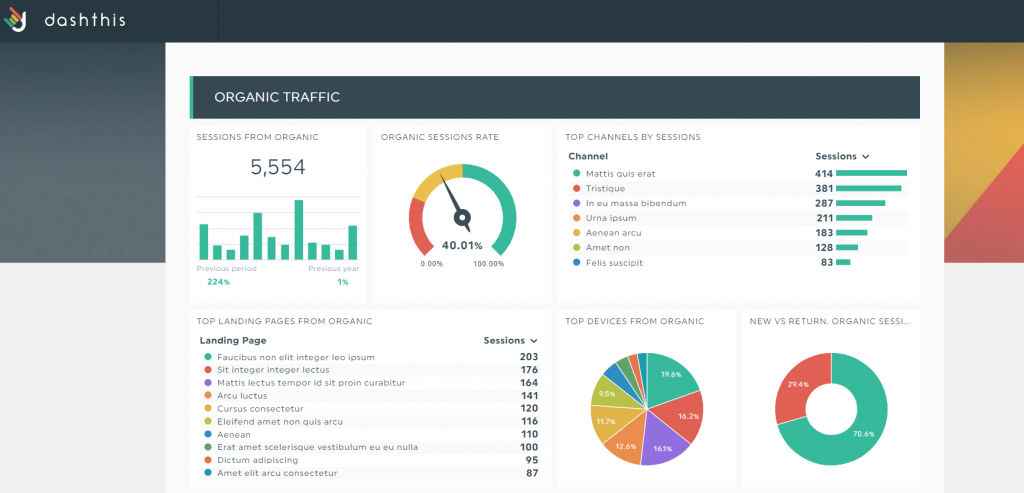 Key features
DashThis is a marketing dashboard tool for reporting. It helps you to connect & display multi-channel marketing KPIs easily, and share simple dashboards with your team.
First off, the ease of use is what marketers love the most about DashThis. Unlike many other reporting solutions, DashThis has an intuitive user interface that makes it quick & easy to both build dashboards, and to understand them.
DashThis provides a solid set of built-in connectors to integrate with the most popular tools for all marketing channels. They include all social media platforms (including paid ads), Google Analytics & Search Console, Semrush, Moz, Mailchimp, Facebook ads, Instagram Ads, Linkedin ads, and more. All these integrations can be set up in minutes, without coding.
With DashThis, you don't need to create individual dashboards for each integration anymore. Its multi-integration dashboard functionality is for having multiple integrations in one dashboard which allows you to get a more accurate picture of your marketing processes.
Furthermore, 100% white-labelling and custom domain features for agencies is another big strength of DashThis. Fully customize your dashboard with your brand or your client's brand.
DashThis vs Geckoboard
DashThis is easier to use for automated marketing reporting and it has built a simpler user interface than most of its competitors.

DashThis is a great tool for quick deployment with which you have high control over the metrics and how they are displayed. If you require a lot of customization, then DashThis is a better alternative than Geckoboard.

While DashThis limits the number of widgets per dashboard to 50, you can include over 250 on one particular dashboard with Geckoboard. Perhaps a consideration if you're looking for large, complex dashboards.

DashThis has far superior customer support to help you get setup, and for ongoing help.
Pricing
4 plans are currently available on DashThis: Individual, Professional, Business, and Standard. DashThis pricing starts at $39 per month (paid monthly) or $33 per month (paid annually), with unlimited integrations, multi-integration dashboards, and data blending across multiple integrations. View pricing here.
Best suited for: small businesses that are looking to build dashboards based on different data sources
Free trial: offers freemium version. Sign up here.
Starting price: from $99/month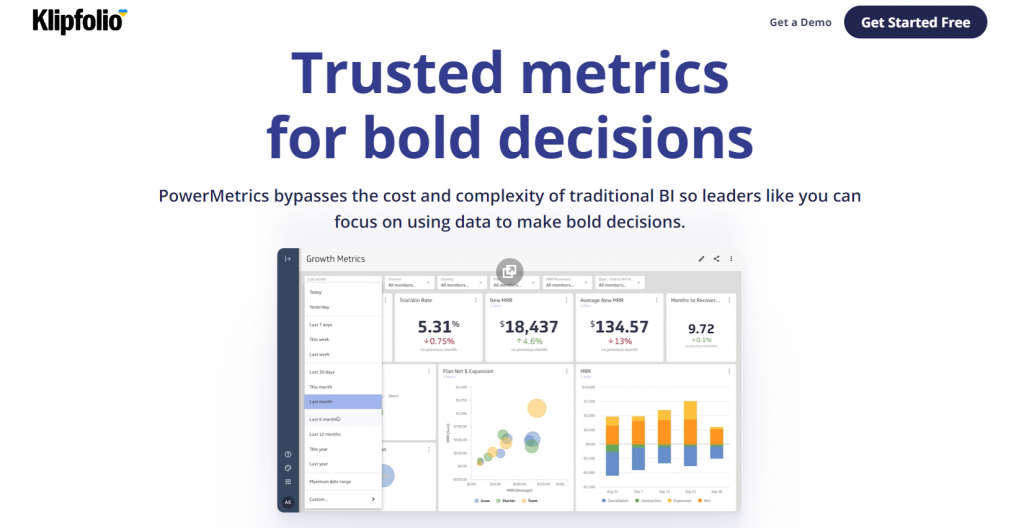 Key features
Klipfolio is a reporting and dashboard solution that's well-known for its rich pre-built visualizations, real-time dashboards, agency solutions, and data-source connectors for different databases.
Unlike many dashboard software, Klipfolio is easy to set up and cuts down the getting-started time drastically.
Its automatic data update feature is so helpful. You can achieve the task of real-time decision-making with automatic data retrieval and report updates and can also set the frequency at which you wish your data to be updated.
Data sharing and collaboration with Klipfolio are easy. You can share your dashboards with groups or individual team members or you can share them with everyone in your organization at once.
Lastly, Klipfolio has a separate product, called Klips, developed for client management which allows you to customise and automate your client reports. Choose a dashboard from the gallery and incorporate your client's custom themes to leave a professional impression. Furthermore, you can share your dashboards with your clients via view-only links, PDFs, scheduled emails, or Slack messages.
Klipfolio vs Geckoboard
Klipfolio integrates with over 100 platforms and the number of connectors is increasing whereas Geckoboard supports 80 integrations

Klipfolio may have a steep learning curve since to perform some functions, you may need to possess basic skills in understanding the data

Although Klipfolio offers a freemium version with limited features, its paid plans are more costly than the Geckoboard plans
Pricing
Currently, 4 plans are available on Klipfolio: Free, Plus, Pro, and Custom. With the 'Free' plan, you can benefit from unlimited dashboards and a 4-hour interval of the data refresh. If you wish to download PDF reports, you'll have to upgrade to the 'Plus' plan. See full pricing here.
Best suited for: digital agencies and small businesses who need to visualise a wide range of marketing intelligence data
Free trial: yes, 14 days. Sign up here.
Starting price: from $19/month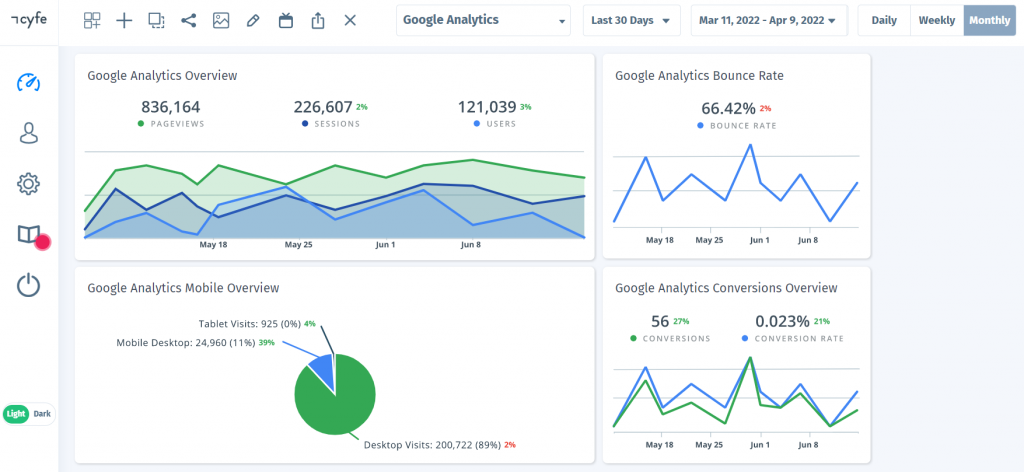 Key Cyfe features
Cyfe is an all-in-one business dashboard solution that enables users to analyse and report data from different marketing channels such as SEO, pay-per-click marketing, email marketing, web analytics, and social media.
It's a powerful tool that allows you to pull data from popular services like Google Analytics, Google Search Console, Facebook/Twitter ads, Mailchimp, HubSpot, and many more.
With Cyfe, it's easy to schedule email reports in PDF and JPEG formats, thanks to its widget alerts and automated reports. Additionally, you can set up email reporting so that your reports will be sent on a recurring basis.
Cyfe vs Geckoboard
As a dashboard solution Cyfe (the cheapest plan costs $19/month) is more affordable than Geckoboard (the cheapest plan starts from $39/month)

Some of the Geckoboard charts and tables lack customisation features, whereas Cyfe happens to be more customisable

If you're working with fine-tuned and extremely specific marketing metrics, then Geckoboard might a much better alternative
Pricing
Currently, 4 plans are available on Cyfe: Starter, Standard, Pro, and Premier. The 'Starter' plan allows you to create only 2 dashboards and starts from $19 per month. See full pricing here.
Best suited for: small marketing teams and startups who need to perform everyday monitoring of marketing KPIs
Free trial: yes, 14 days. Sign up here.
Starting price: from $89/month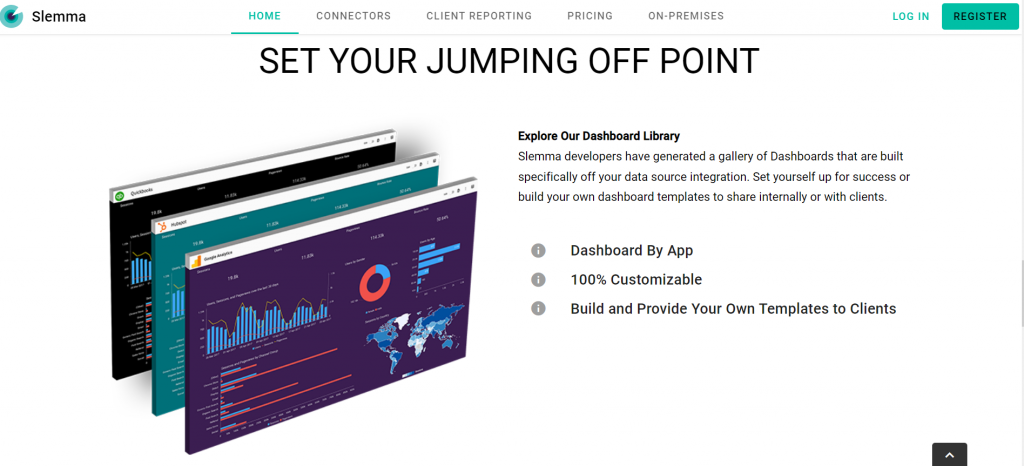 Key features
Slemma is a data analysis and reporting solution that connects to over 70 databases, third-party services, and tools.
Slemma's biggest strength is its connectors – it natively integrates with Facebook ads, Google Analytics, Google AdWords, HubSpot, Mailchimp, Moz, and many more. Furthermore, it has an easy data API to send custom analytics for anything it doesn't integrate with.
It is equipped with a gallery of 100% customizable dashboards that are designed specifically for your data source integration. Slemma supports some powerful chart features like custom functions to further process the data before display.
Lastly, it comes with full white-label solutions which will make your client reporting process easier. The tool also allows you to segment client data with dynamic filters. In that way, you keep a single dashboard that's distributed among all your clients, but each client will only see the data that pertains to their business.
Slemma vs Geckoboard
Slemma is a simple-to-use tool that can be used even by employees without any technical knowledge

Geckoboard may be a much better alternative than Slemma when it comes to working with large datasets that contain millions of records
Pricing
Slemma offers 3 plans: Small Business, Standard, and Client Reporting. The 'Small Business' plan costs $89 per month (billed annually) or $99 per month (billed monthly) which comes with dynamic filtering and data export features. If you wish to use white-label options, you'll have to upgrade to the 'Client Reporting' plan which starts from $539 per month. See full pricing here.
Best suited for: marketing agencies who need to deliver marketing campaign results to their clients
Free trial: yes, 7 days. Sign up here.
Starting price: from $199/month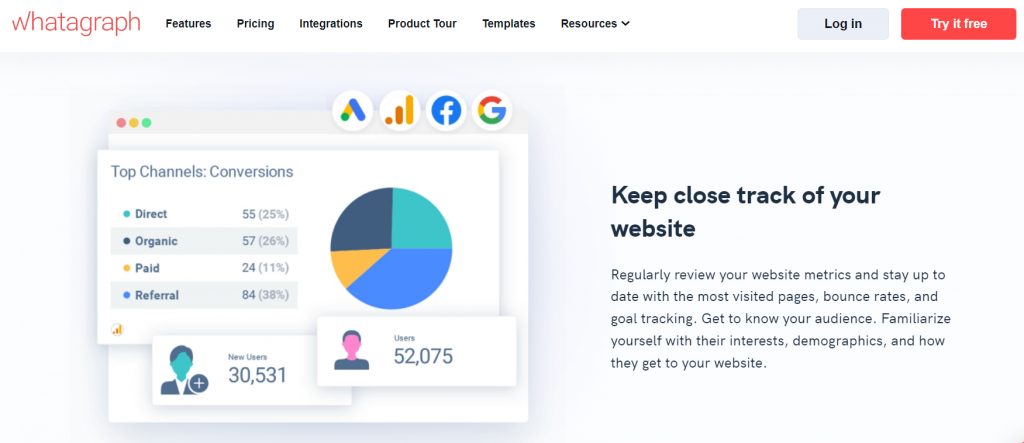 Key features
Whatagraph is a marketing visualisation, performance monitoring, and automation solution that enables the effortless data collection from numerous channels.
Its first important feature is cross-channel reporting. Whatagraph dashboard gives you an in-depth view of your online marketing activities and their effects on your conversion metrics.
Whatagraph's automated report delivery makes sure that the insights are proactively delivered to the right users on a regularly scheduled base. This eliminates the need for manually generating dashboards.
With its fully custom branding, you can create customised or unique reports for your client's data. In addition to selecting the information you'll show in your report, you can also customise a report's metrics or dimensions, and its appearance.

You can add more team members to manage your reports on Whatagraph. You can you can give your team members access to specific folders so they'll only see the assigned folders.
Whatagraph vs Geckoboard
Whatagraph is so easy to set up for reporting and integration with other platforms is quick

Perform your real-time monitoring of different marketing campaigns all through a single platform with Whatagraph

Geckoboard is much more affordable option for small businesses than Whatagraph
Pricing
3 plans are available on Whatagraph: Professional, Premium, and Custom. The 'Professional' plan comes with over 40 integrations and unlimited reports. See full pricing here.
Best suited for: managers and small businesses who want to see the overall health of their projects in one place
Best suited for: managers and small businesses who want to see the overall health of their projects in one place
Free trial: yes, 21 days. Sign up here.
Starting price: from $39/month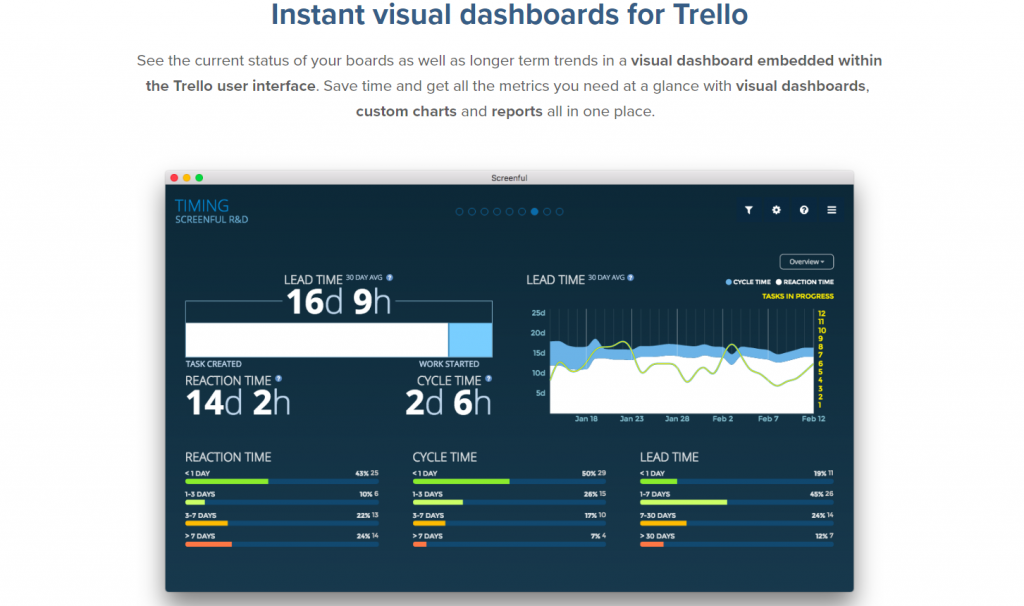 Key features
Screenful is a visual business intelligence solution that offers a set of project management dashboards to track projects in real-time and keep your team constantly informed of their progress.
With Screenful, you get instant visual dashboards for Trello, Jira, Asana, GitHub, GitLab, and Monday.com. Being able to integrate with your project management tools allows you to see what others are working on and what has been resolved recently. Furthermore, you can easily track your cycle times and see your average lead time and uncover bottlenecks.
In case your tasks are scattered over multiple boards and your projects are split into multiple separate boards, Snreenful's data aggregation feature lets you monitor and visualise activity over multiple data sources in one dashboard.
Lastly, its weekly reporting feature provides you with a thorough view of what happened during the previous calendar week. In that way, you can see the metrics like a list of completed tasks, the number of open tasks, and a bar chart that shows the weekly performance of your team.
Screenful vs Geckoboard
Screenful is more geared towards project management dashboards to detect issues and keep projects on schedule

In terms of the user interface, Geckoboard offers a more beautiful visual experience than Screenful
Pricing
You can choose from 4 plans to use Screenful dashboards: Starter, Pro, Silver, and Gold. The 'Starter' plan costs $39 per month (billed annually) or $43 per month (billed monthly) and allows you to join 2 data sources max. See full pricing here.
Best suited for: organizations who need to anlyse their marketing efforts across all of their main channel
Free trial: yes. Sign up here.
Starting price: Unknown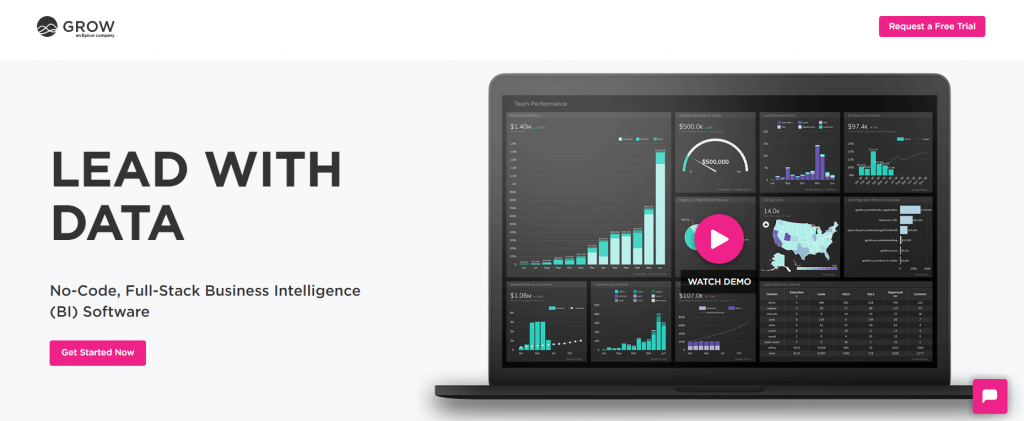 Key features
Grow is a reporting and business intelligence solution that pulls data from most of the platforms and CRMs and show insights in a single location. Grow enables marketers to develop dashboards without developer support to navigate complicated data queries.
Grow comes with a variety of series and non-series chart types and it allows you to create custom views with features such as filtering, slicing, data comparison, and sorting.
With its ETL and data preparation capabilities, you can transform your data across multiple data sources to fuel powerful metrics and dashboards.
Grow vs Geckoboard
Grow is an easy to use application that is known for its ability to manipulate the data within the tool itself

Grow comes with a collaboration-centric user interface, so you and your team can regularly collaborate over the data included in Grow

When it comes to integrations, the experience with Geckoboard is more seamless as some Grow integrations can be buggy
Pricing
Pricing information for Grow isn't available, you can request a demo here.
Best suited for: sales managers and executives who need detailed reports to monitor KPIs for specific sales activities
Free trial: Unknown
Starting price: Unknown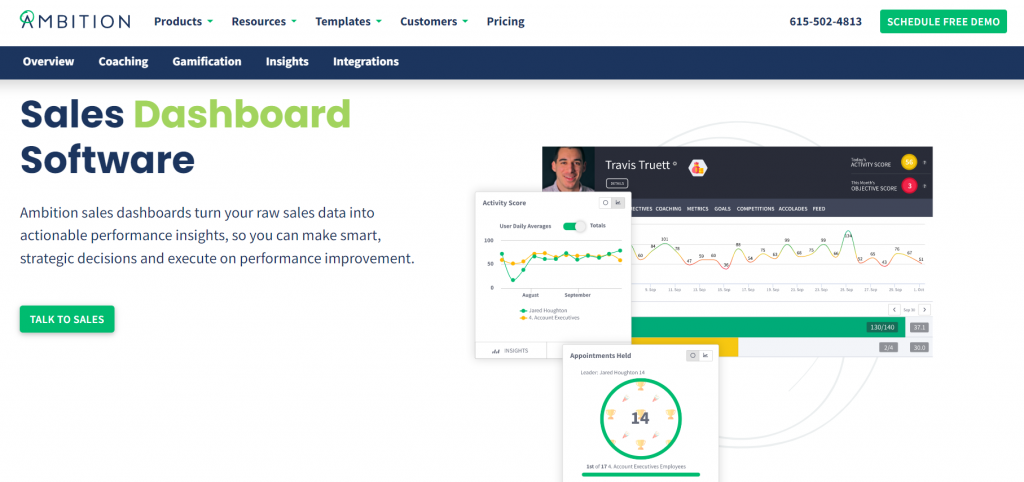 Key features
Ambition is a sales dashboard software to quickly build tailor-made dashboards to track sales performance and gain insights into the important sales processes and activities.
Ambition allows you to improve your sales performance by moving away from static sales dashboards and into a dynamic sales dashboard solutions that can automate goal tracking and be broadcast into sales leaderboards that are visible to the entire organization.
In case you have multiple data sources already synced into your Salesforce CRM, they will seamlessly integrate into Ambition as part of that Salesforce installation process.
The Ambition data API provides companies with the ability to programmatically send Ambition data to be processed and displayed across the platform which is a great option for connecting data warehouses and a variety of third-party solutions.
Ambition vs Geckoboard
With Ambition, you can detect trends and patterns in your data in real-time and drill down into reports to get more details

Navigation with Ambition isn't always intuitive and it may frustrate salespeople at first sight
Pricing
The pricing information for ambition isn't available on the website. You can schedule a demo here.
9. Plecto
Best suited for: customer services and sales teams who want to enhance engagement and motivation by visualising business KPIs
Free trial: yes, 14 days. Sign up here.
Starting price: from $200/month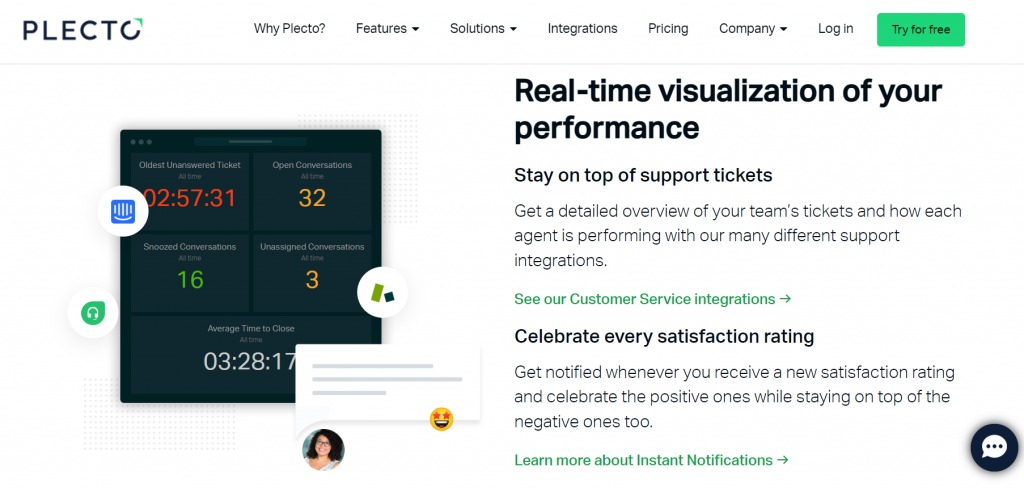 Key features
Plecto is a dashboard solution that displays your customer service and sales KPIs in real-time. It integrates with the most popular tools and CRMs, including Salesforce, PipeDrive, HubSpot, Zendesk Support, and many more.
With Plecto, you don't need to write your reports manually anymore. The reports show real-time data, which is automatically updated directly from the usual systems you sync with.
You can send out daily/weekly/monthly reports via email in either Excel or PowerPoint format to share the overview with the rest of your team.
Plecto vs Geckoboard
Plecto is mainly for tracking customer service and sales figures in real-time

All Plecto plans offer unlimited users, unlike Geckoboard

Price-wise, Plecto might be a costly alternative for small businesses
Pricing
Plecto offers 3 plans: Medium, Large, and Enterprise. The 'Medium' plan starts from $200 per month (billed annually) or $250 per month (billed monthly). All plans come with unlimited dashboards and data sources. See full pricing here.
Final thoughts
Dashboards present help you present complex data in easy-to-comprehend ways so that users can uncover patterns and trends on a single screen. Choose from the 8 Geckoboard alternatives discussed above and experiment with built-in templates, data sources, and visualisations specific to your industry.