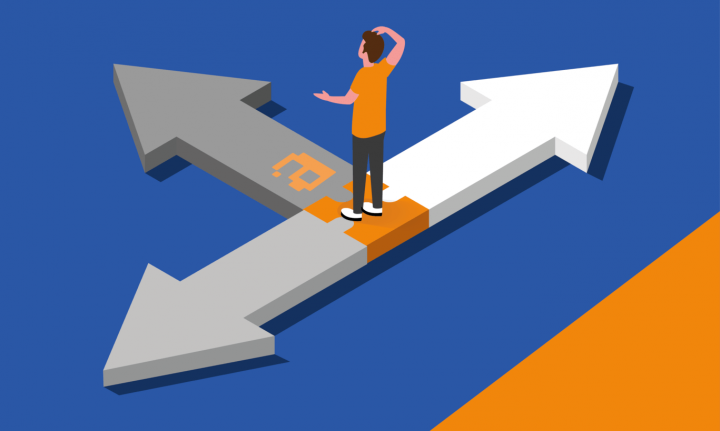 Ahrefs is a solid tool. I've been a happy user for over 4 years, and I don't plan to cancel any time soon.
That being said, it's not for everyone. So if you're on the hunt for an alternative, I'll do my best to recommend a tool. Let's start with this:
Why are you looking for an Ahrefs alternative?
Naturally, my recommendation will change depending on why you're looking. There's a ton of SEO tools out there, and many of them have their place. Which of these cases fits you best?
Use the links above to skip to the most appropriate section for you.
Cheaper multi-feature SEO toolkits
Ahrefs plans start at $99, and a lot of functionality is locked into higher pricing tiers. If you're looking to get as many of the features as possible, but at a lower price point, here's some options.
I'm going to suggest two tools: Nightwatch and Mangools.
🌃 Nightwatch's biggest strengths are it's rank tracking and reporting functions. You should know that it doesn't have a keyword research feature, and doesn't explain things well for novices. Prices start from $24 per month, and there's a 14 day free trial.
🥭 Mangools' biggest strengths are it's keyword research function, and it's user-friendly UI. It's also good for beginners. You should know that it doesn't have a site audit feature, and it feels a bit awkward to switch between the 5 tools it offers. Prices start from around $35 per month, and there's a 10 day free trial.
Keep reading for the details.
Nightwatch.io
Nightwatch is more accessible than Ahrefs with prices starting at $24/mo. Here's a tl;dr:
🤩 Nightwatch.io has excellent rank tracking and reporting features, and is good value for money. It's a great option for agencies.

🤔 The UI is quite busy, and doesn't offer as much guidance as Ahrefs, which isn't great for beginners. The tool doesn't offer a keyword research function.

💲 From $24 (annual) or $39 (monthly). 14 day free trial 🔗
Here are some things worth knowing:
They cover all bases, except keyword research
Nightwatch have a rank tracker (their best feature), plus a backlink monitor, a site auditing tool, and reporting features. Not all of these are quite as good as the Ahrefs equivalent, but it covers most needs. The big thing missing is keyword research.
If you don't need keyword research, or already have that covered by another tool, Nightwatch is a really solid lower cost choice.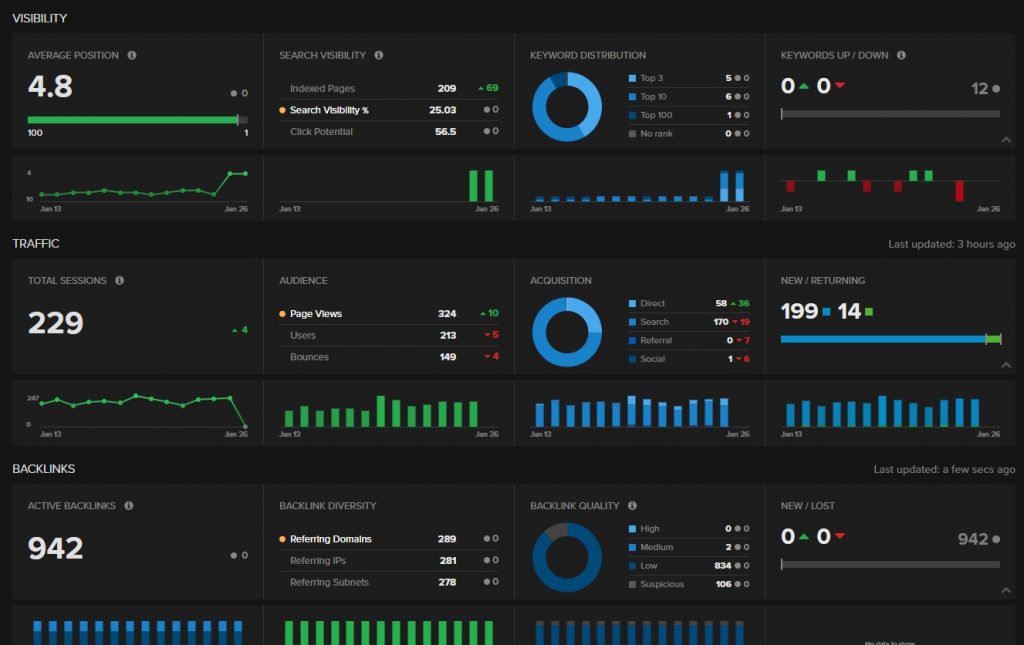 Their rank tracking & reporting is really good
These are Nightwatch's best features. The area where, even regardless of price, I prefer Nightwatch to Ahrefs.
The rank tracker is accurate, and it updates daily (vs. every 3-7 days depending on your plan with Ahrefs). You can also get a SERP preview for any keyword in one click. Reporting is good too. You can easily create reports that:
Only show rankings that went up (or down)
Focuses on things that have changed (a progress report)
Focus on your performance in relation to specific competitors (competitor report)
Have Google Analytics/Search Console data overlaid (e.g. showing actual traffic growth)
Are automatically scheduled, and white labelled with your logo
I also especially like how you can make a graph with whichever data you want in a few clicks, and grab a 1-click report for anything: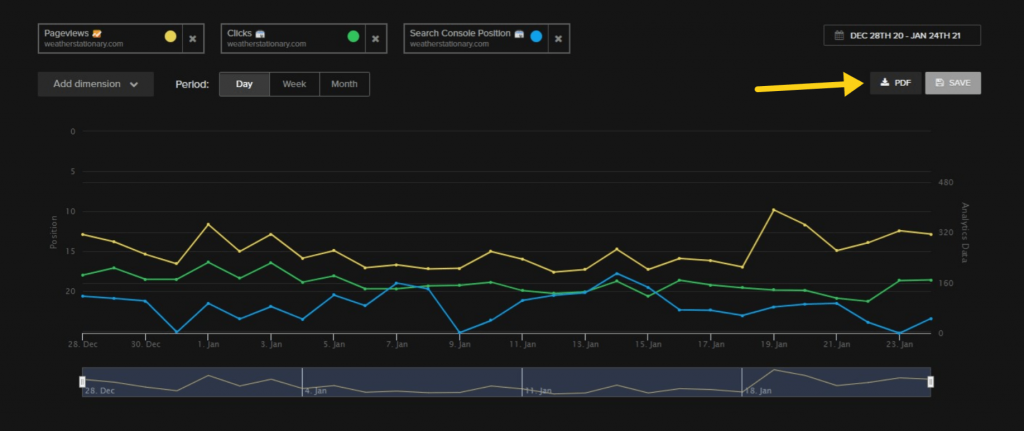 One other thing I'm really loving is being able to segment / tag keywords.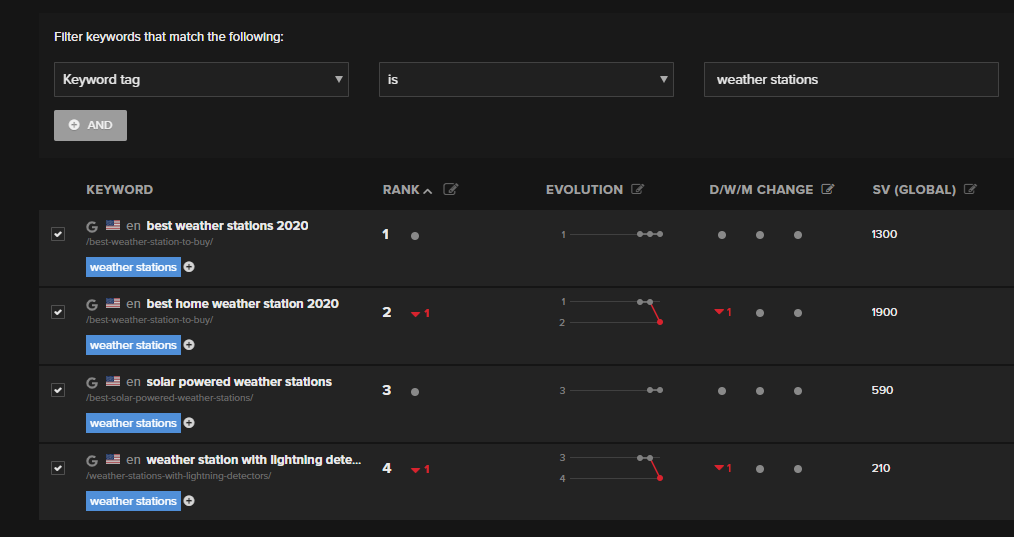 You can use this to take a look at how you're doing in a specific category, group of keywords, and separate brand / non-brand keywords.
Backlink monitoring
Nightwatch have a backlink monitoring feature. As you would expect, it can discover backlinks to your sites, and provide information on the quality of them.
Ahrefs have a crazy number of backlinks indexed (almost 3 trillion), and boast the second most active web crawler after Google. Tough to compete with. Nightwatch have various unspecified data sources for links, including their own crawler plus 3rd parties. Regarding volume of links, Ahrefs are the clear winner when it comes to the most comprehensive link profile.
The other difference is the UI and how they're displayed. Ahrefs does a better job of that.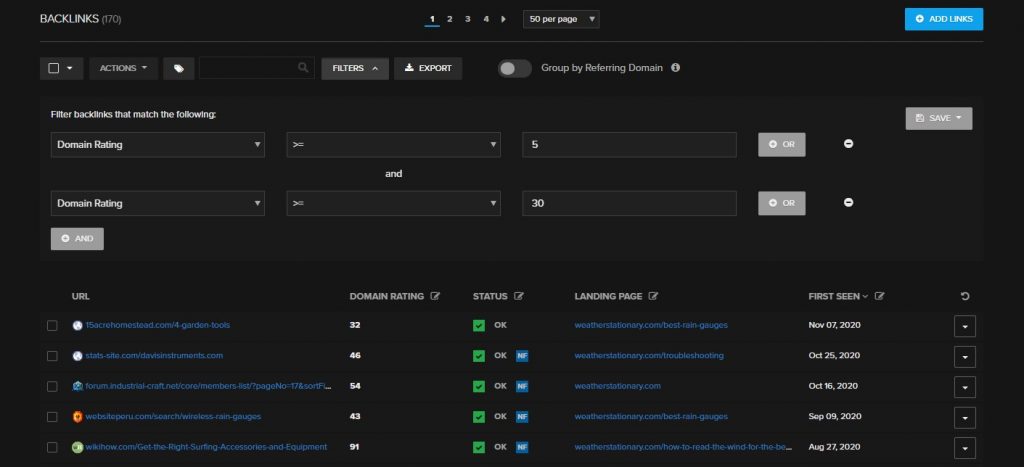 It's not terrible by any means, and all the data is there. You just can't quite see everything you would like to in one view.
In Ahrefs, you would be able to find the DR, referring domains, traffic (and more) for the referring page and the anchor, all in one view. In Nightwatch, you would customize the column titled Domain Rating (in the screenshot above), and see each of these one at a time. Well, not all of those metrics; you can't find referring domains and traffic for the referring page in Nightwatch.
All in all though, it's solid, and good value for money. Here's some extra things I like about Nightwatch's backlink monitor tool:
Filtering options are good
You can identify 'suspicious links' in one click (defined as UR <2)
Other functions you would expect work well: exports, alerts, new/lost links
Site auditing
Here, we have a pretty similar story again.
Nightwatch has a decent site audit tool. It covers most of what Ahrefs does, but it isn't displayed as nicely, and it isn't as helpful.
If you know what you're doing, then you'll probably find everything you need in Nightwatch's audit feature. It's not always as intuitive as you might like, but it doesn't take long to get used to. For example, it was a minor frustration that I can't click into the 'warning' pages: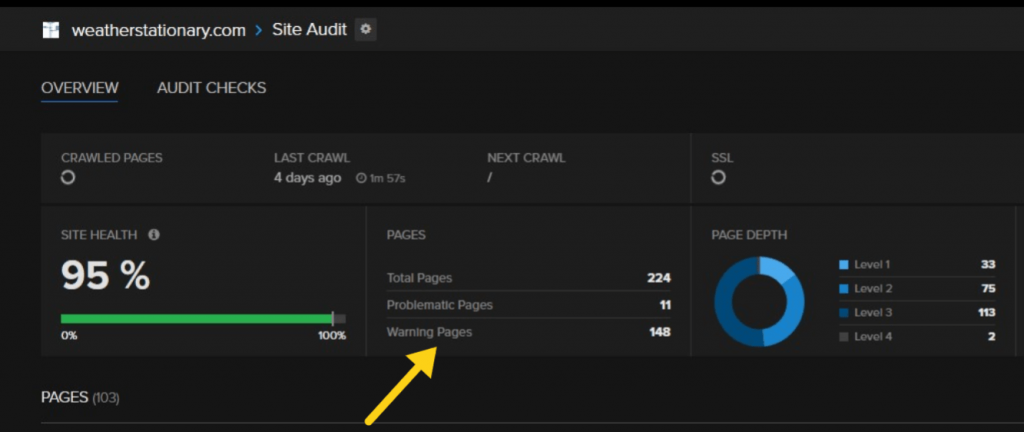 But I quickly realized I can find that information in the 'Audit Checks' tab.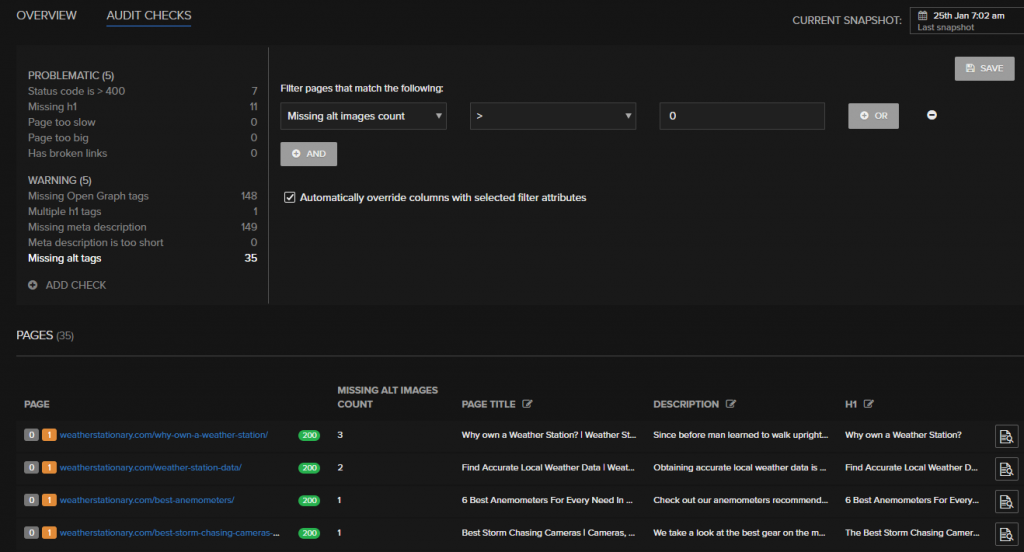 I can see beginners getting lost here too. Ahrefs has helpful explanations and direction for each issue it flags up: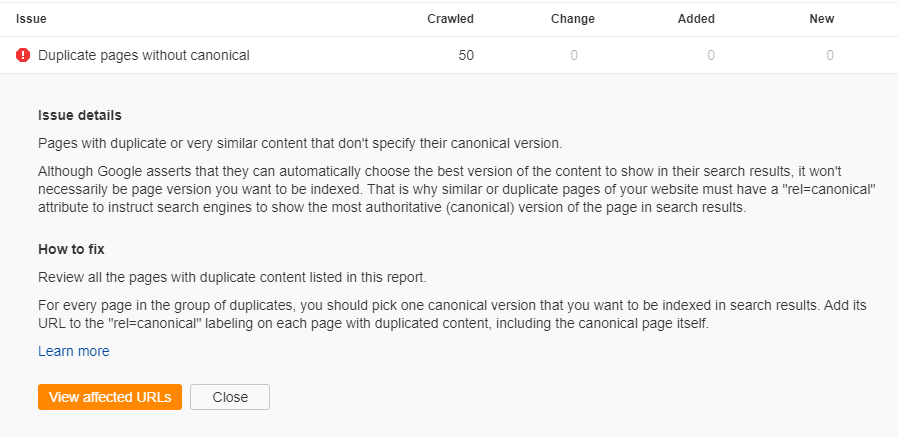 There isn't an equivalent in Nightwatch currently.
So overall, once again, I'd say this tool is very good value for money. Priced lower than Ahrefs, and providing a little less, but nicely covers the fundamentals an experienced SEO needs.
Plans & pricing
Their pricing starts at $24 per month when paid annual, or $49 paid monthly. That makes it more accessible than Ahrefs, which starts at $99. Link to pricing page 🔗
One thing I'd comment on is that I find the ratio of 'websites tracked' to 'daily keywords tracked' is a bit odd. In the Optimize package, you can get 200 websites tracked (more than an average agency needs), but only 1,000 keywords tracked (less than an average agency needs).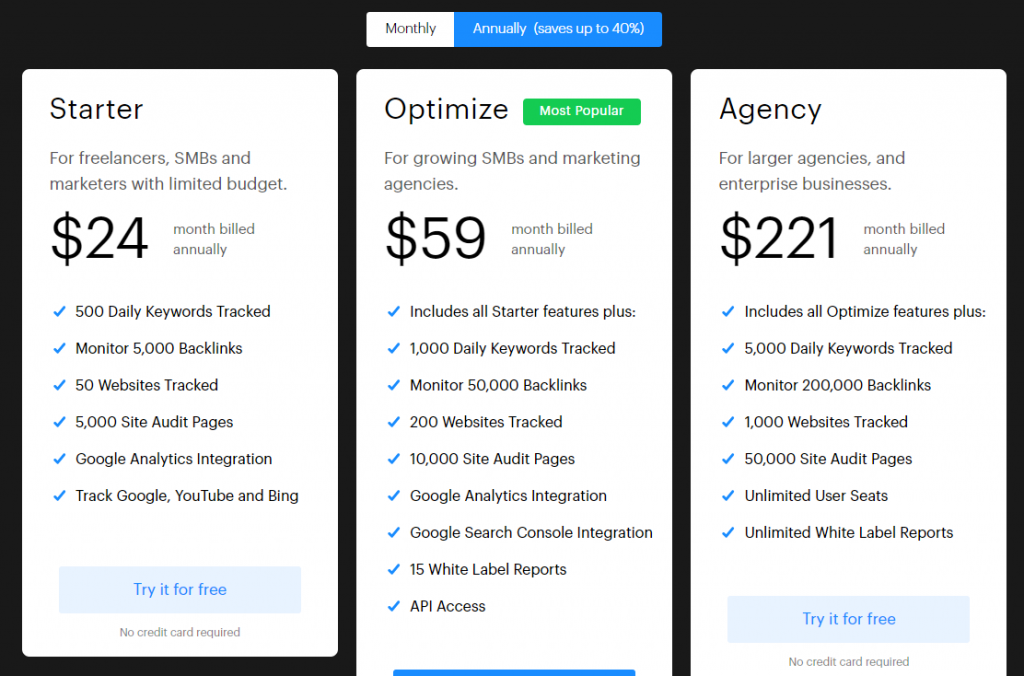 Thinking back to my agency days, I think I'd have contacted them to ask for custom pricing. The Optimize package, but with more keywords, would have been perfect.
40% savings when going for an annual plan is very attractive, too. On the middle plan, that's a saving of $480 per year. Not bad!
Extra points to be aware of
You can't run on-demand updates in the rank tracker (though, you can't in Ahrefs either)
Once again, to be clear, there's no keyword research feature
Check the number of keywords you can track on each pricing tier
The GSC integration and white label reports are only in the middle pricing tier or above
In case dark mode isn't your thing, it does have a 1-click toggle for a lighter UI!
Little bonus
I noticed, and liked, that Nightwatch offer good privacy controls. Being able to opt out specifically from Mixpanel tracking for example, is nice.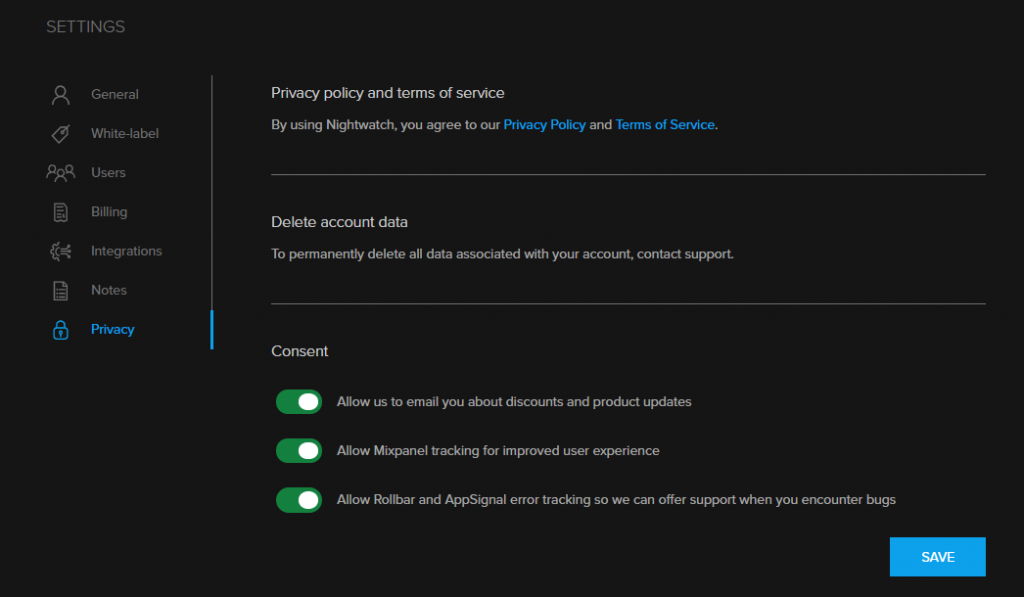 See here for a more comprehensive comparison: Nightwatch vs Ahrefs
Mangools
Moving on, let's take a look at Mangools.
Mangools has 5 SEO tools, of varying usefulness. The major difference between Mangools and Nightwatch, is that Mangools has a (very good) keyword research tool, and doesn't have a site audit tool.
If you combine Mangools with the free version of Screaming Frog for site auditing, you'll have a pretty solid SEO tools setup for cheap.
🤩 Mangools is a great SEO toolkit for beginners, with a user-friendly UI. It's good value for money, and the keyword research tool rivals more expensive options.

🤔 Switching between the tools feels a bit awkward, and some of the individual tools aren't as good as Ahrefs' equivalent. There's also no site auditing function.

💲 From around $35 (annual) or $60 (monthly). 10 day free trial 🔗
Mangools provide a suite of 5 SEO tools:
As a general comment, the UI is more beginner-friendly than Nightwatch. It's easier to digest what you're looking at, and there are helpful tooltips which explain metrics & features.
Let's briefly check out each of the tools.
KWFinder
Mangools' best tool, and the main reason why I decided to buy an annual plan. KWFinder excels in helping you find keywords for SEO.
I'm finding that the keyword volumes are accurate, and the suggestions are relevant & useful.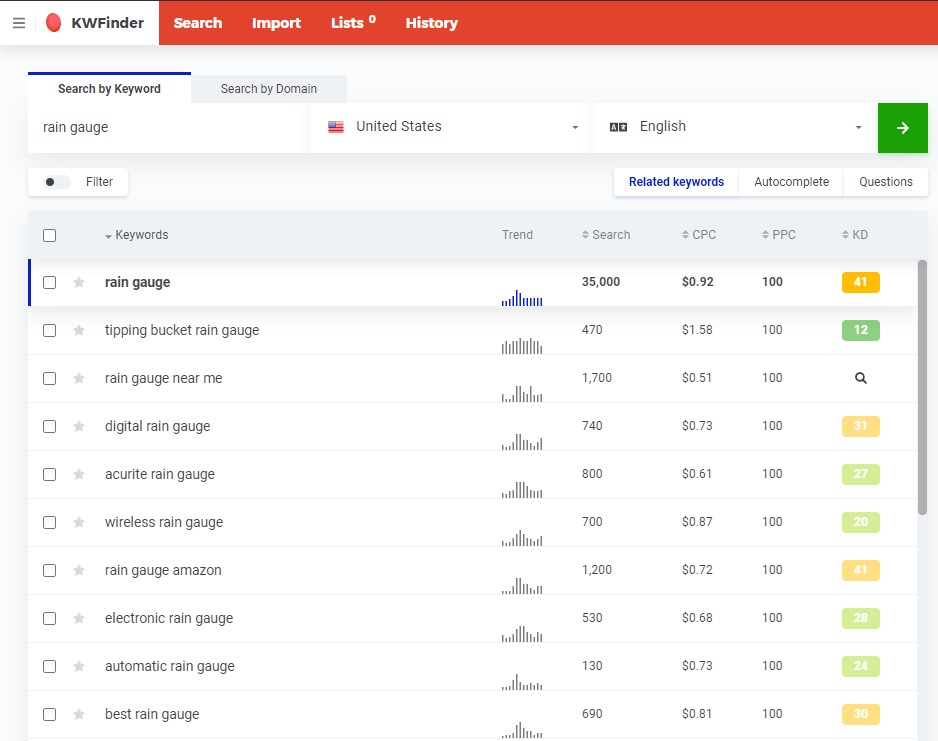 In a study, Brian Dean from Backlinko found that KWFinder typically finds fewer total keywords than it's competitors. I don't see that as a problem though; my experience is that even though it spits out fewer suggestions, they're useful & relevant.
One thing I really like here, that is something you won't find in Ahrefs, is data on seasonality. You can switch between last 12, 6, or 3 months and get trends data.


There's a substantial difference in those two screenshots, owing to the seasonality of Christmas. Ahrefs calculates based on the last 12 months average, which means it's not that great at picking up recent trends, and figuring out when search demand peaks.
For a specific example, here's my research for this exact article (main target keyword = 'ahrefs alternatives').
Here's what Ahrefs shows (350 global searches):

And here's what KWFinder shows (1,500 global searches):

Since the search demand has rapidly grown over time, Ahrefs' calculation based on historical data is way out. I love Ahrefs for keyword research in general, but this is a huge weakness.
This is a big deal for keyword research, and a major selling point for me ☝ I go into more detail on this, and give more examples, in my Ahrefs vs Mangools post.
Moving on.
When you select any of the keyword suggestions, you'll get more information on the right side of the screen (as in the example above). Once again, you get the trend graph, together with a basic SERP overview. You can click into SERPChecker to analyze further.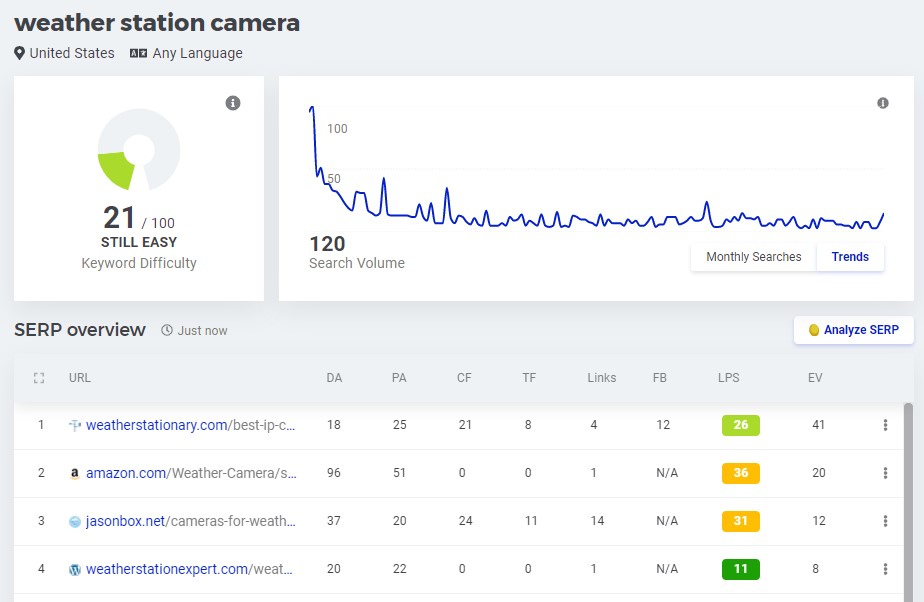 SERPChecker
This is a decent tool, but I do wish that SERPChecker & KWFinder could be combined.
When using Ahrefs, while browsing through keyword ideas, you can easily open the SERP in one click. There, you'll get all the information you need: SERP features, who ranks, their traffic / referring domains, etc.

Whereas here, you need to open a different tool in a different tab to get the same information. It's still important to note that it is mostly the same information though. Which is another vote towards Mangools if you don't mind a slightly poorer UX to save a few $$$.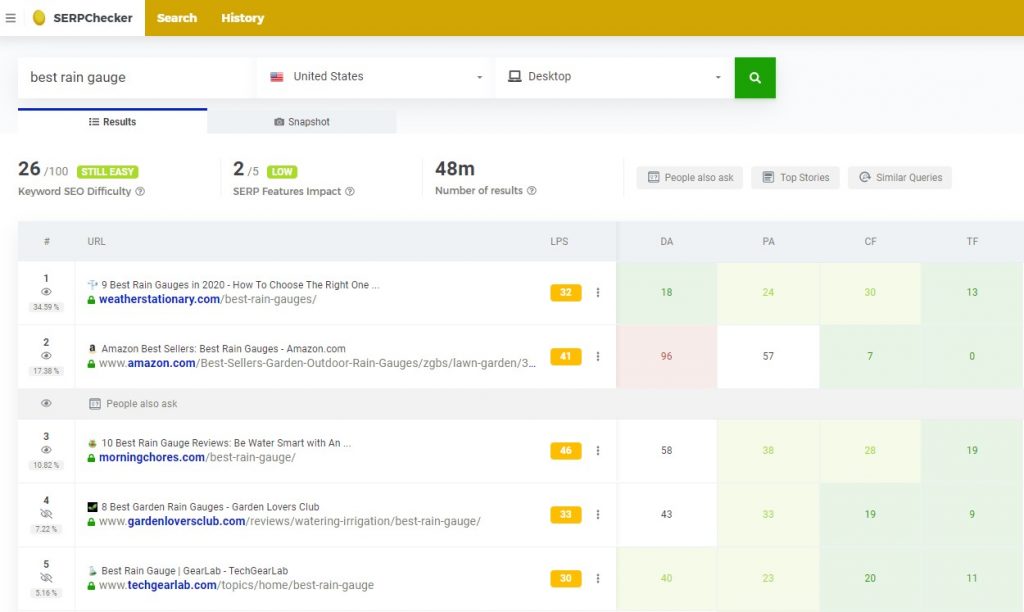 Mangools also pulls 3rd party data to display: Alexa ranking, DA/PA (Moz), and Trust Flow / Citation Flow (Majestic). How useful is that in practice? Honestly, not that useful in my opinion, but it's there.
Another difference here is that Ahrefs can provide some very useful information about the current search results. For example, you can already see without clicking how many links / referring domains each result has, plus a traffic estimate. Then with two more clicks, you can go in and uncover which other keywords that URL ranks for.
With SERPChecker, the initial data on traffic isn't available (although links are shown). And when you click through and choose 'URL profile', you end up in SiteProfiler, which gives very little useful information. If you want to find other keywords the URL ranks for, like in Ahrefs, you'd have to manually open another tab again and put the URL into KWFinder. Not the best UX.
Lastly, I like the 'snapshot' tab, which lets you actually see what the first SERP looks like. You kind of get this in Ahrefs, but it's not quite the same. This is much clearer, and doesn't require any visualization. Especially useful if you're reporting or sharing information with non-technical colleagues / clients.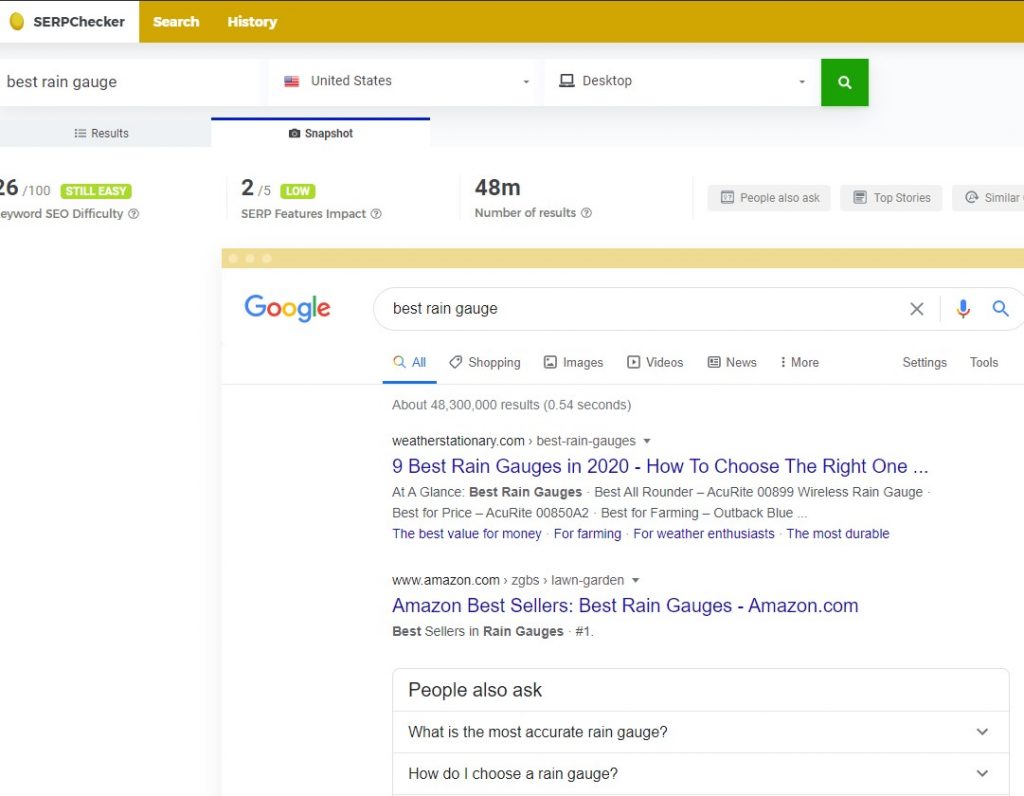 All in all, a decent tool with room for improvement. Not as good as Ahrefs, but similar value for money considering the lower price.
SERPWatcher (Rank Tracker)
The rank tracker in Mangools is mostly what you would expect. Nothing special, but it does the job. It will:
Track multiple websites
Track mobile & desktop rankings
Give a good overview of gains & losses at-a-glance
Allow for tagging & filtering
That being said, I've been pleasantly surprised with it. Here's some things I especially like:
1. It shows search volume history per keyword. This information is more useful during keyword research than rank tracking (KWFinder does show 'trends' too), but it's still nice. You won't find this in Ahrefs, or in Nightwatch.

2. Like in SERPChecker you can preview the SERP. This, again, is a nice feature which let's you preview how the SERP actually looks for any keyword without leaving the tab:

3. You can generate a shareable tracking link. This could be great for reducing the amount of work involved in reporting. Sure, not everybody will use this (let's face it, sometimes we want to cherry pick what we share), but it's nice to have the option: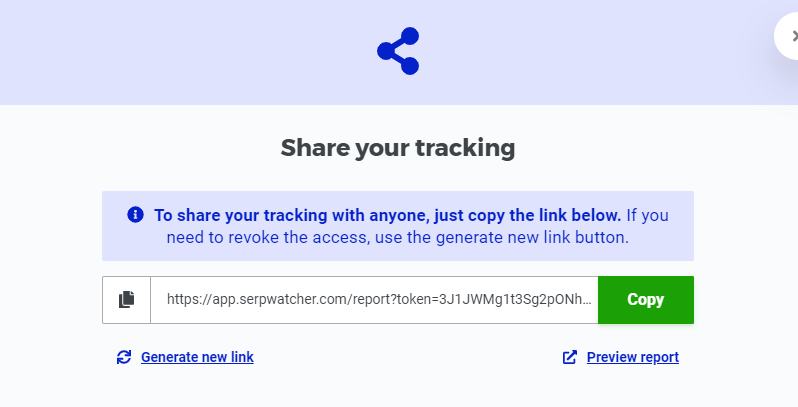 Some things which aren't as positive:
1. You can't easily compare rankings to a competitor. In Nightwatch particularly, it's easy to overlay competitor rankings in the same graph. Here, you can still track competitors, but you'll have to do it separately, using up keyword allowances (which vary per pricing plan).
2. Reporting and alerts are a little limited. It's not a deal breaker for me, but once again, I find myself comparing to Nightwatch, which have pretty nice daily email summaries. You can get a weekly or monthly report, or some limited options for custom alerts: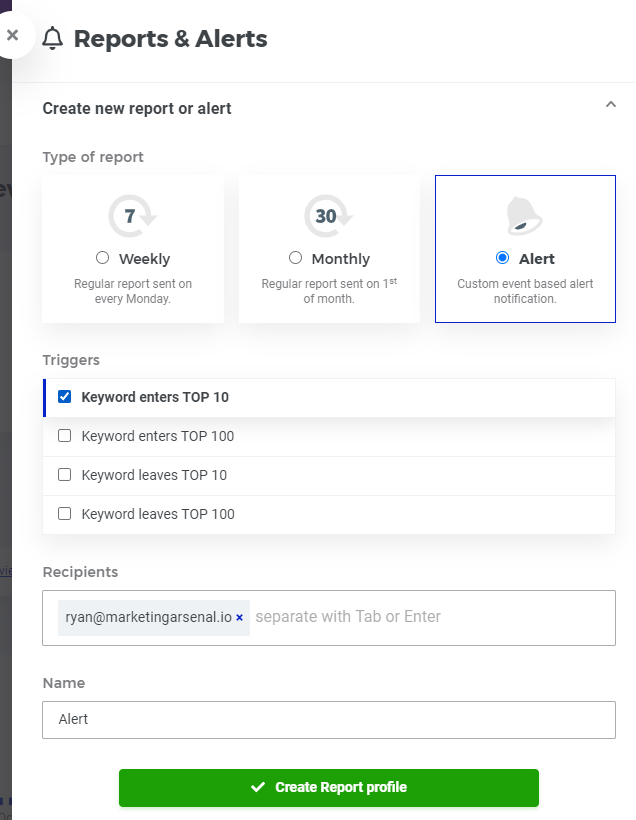 It does the job, but lacks a few bells and whistles. When comparing SERP tracking tools, I'd say that at this price point, if your primary priority is tracking keyword positions, go with Nightwatch instead.
Nevertheless, this tool offers good value considering the price, and alongside other excellent tools like KWFinder.
LinkMiner
LinkMiner is Mangools' backlink analysis tool. And the first thing to take note of here, is that they actually use Majestic API, instead of using their own crawlers.
That's a good thing, overall. Majestic isn't quite up there with Ahrefs for crawling backlinks, but it's good enough. I can imagine that choosing not to invest in market-leading backlink monitoring is one of the things that keeps the price down for Mangools.
And like their rank tracker, it's pretty much what you expect. Nothing fancy, but it'll do a fine job for what most people need.
You can see at a glance the total number of links & referring domains. You also get some extra metrics about each link, including CF/TF/Alexa rank again. The most useful metric here I find is LS (link strength), which is an overall indication of strength based on the other metrics.
Something I really like here is the preview. By clicking on any of the backlinks, you'll be able to render a mobile preview to the right which shows you the anchor in situ. This is unique to Mangools, as far as I know: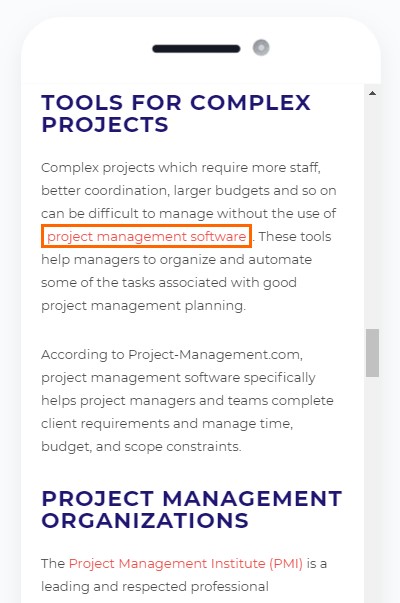 Other than that, you can quickly separate dofollow and nofollow links, and apply various filters to find what you're looking for. Not much more to say on this tool. Not as good as Ahrefs for backlink monitoring, but it'll do.

SiteProfiler
When I've used Mangools, I've rarely bothered with SiteProfiler. It's not that useful.
The reason why I say that is because it's mostly just displaying things you already find elsewhere. It shows metrics like: DA/PA, TF/CF, Alexa rank & information on backlinks & social shares.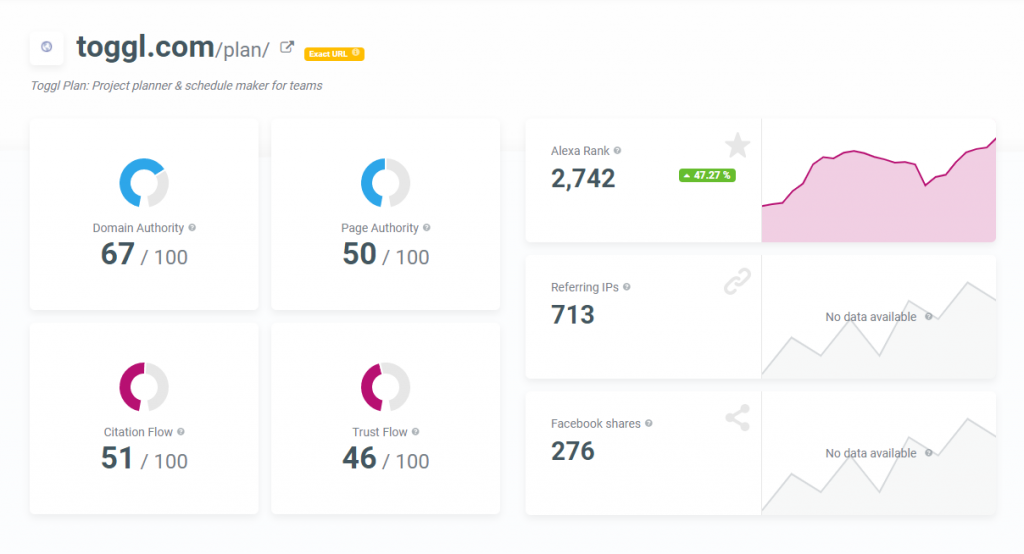 This stuff you can already get in LinkProfiler, and/or you would come across it in a SERP analysis. You can also uncover top content when searching by domain in KWFinder.
It is nice to be able to grab a quick at-a-glance view of a URL if you're interested. But the information here isn't unique, and it mostly isn't actionable either in this format.
Overall, it doesn't detract from the other tools in any way – I just don't find it adds much value.
Plans & pricing
Considering the amount of functionality, Mangools is super affordable, even on the higher tiers. I'd recommend it to anyone on a budget, especially if they're newer to SEO. Like Nightwatch, they offer a big discount for choosing annual (40%). Link to pricing page 🔗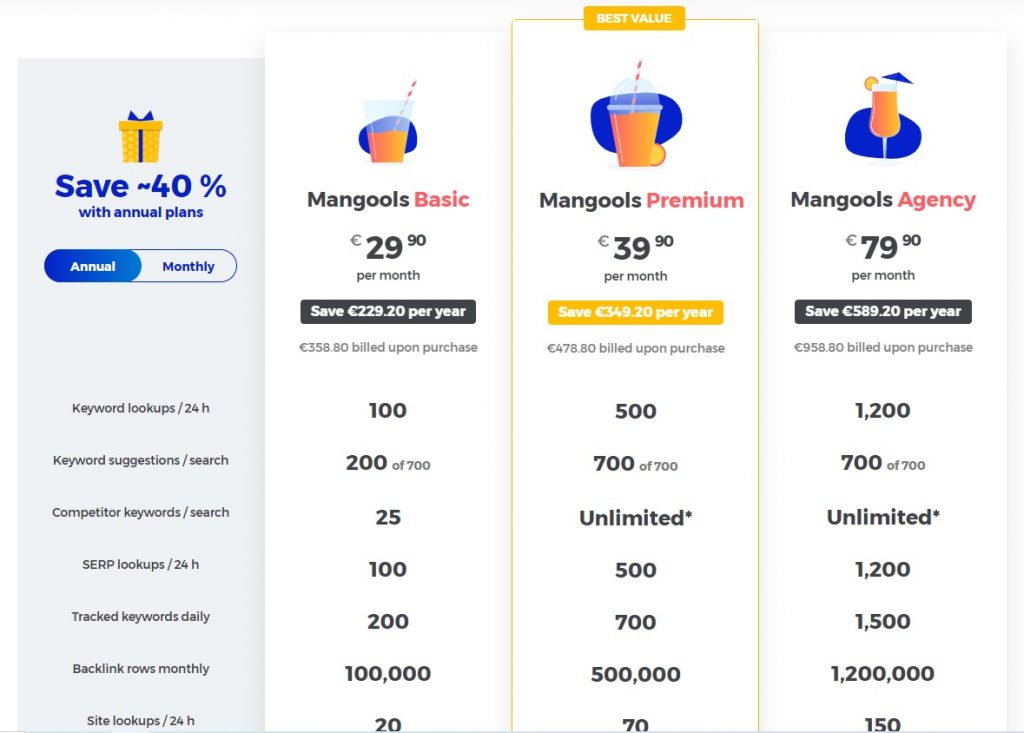 I'd like to highlight once more that Mangools don't have a site audit feature. That's the one thing that prevents this from being an 'all-in-one' tool.
If you're concerned about that, I'd highly recommend combining this with the free version of Screaming Frog to complete your SEO toolkit.
Single purpose alternatives
Since Ahrefs has built an all-in-one SEO feature set, it's sometimes overkill. If you're looking for only one or two of the functions Ahrefs has, then it will feel overpriced. Here's an option or two for each of the features you might seek to replace.
Let's get into it!
Keyword research tools to replace Ahrefs
There's not many dedicated tools for keyword research that are worth it, that I've found. Many of them go on to build out other features. KWFinder is an example of that from above, as they went on to build other tools and create the Mangools brand.
That being said, here's an option you can check out.
LowFruits.io
LowFruits is a relatively new tool, and it comes with both a free and a paid version, plus a trial of the premium features.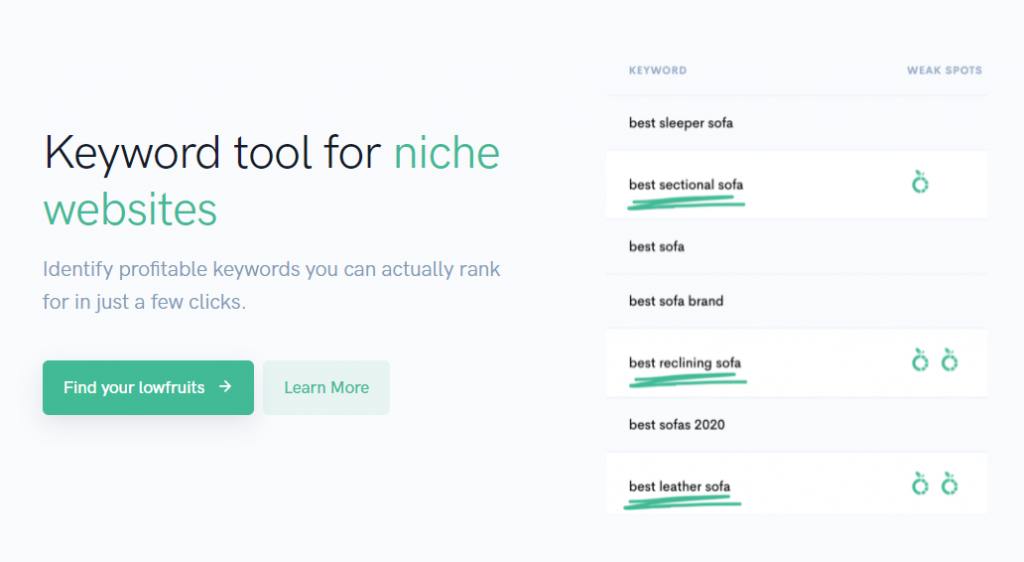 As the name suggests, it's built specifically for the purpose of finding low-competition keywords.
It does that primarily by giving you easy filtering options, such as finding SERPs that having low DA domains in the top 3 results, or even forums & reddit threads. In my experience, these are sure signs of an easy win for established sites.

There's also a handy filter for 'high intent' keywords. These are terms containing words like 'review, best, how to', etc. which indicate some level of buying intent.
To find these keywords, you'll need to start with a seed keyword. LowFruits allows you to use a * wildcard, add in negative keywords, and set a max DA that you consider weak.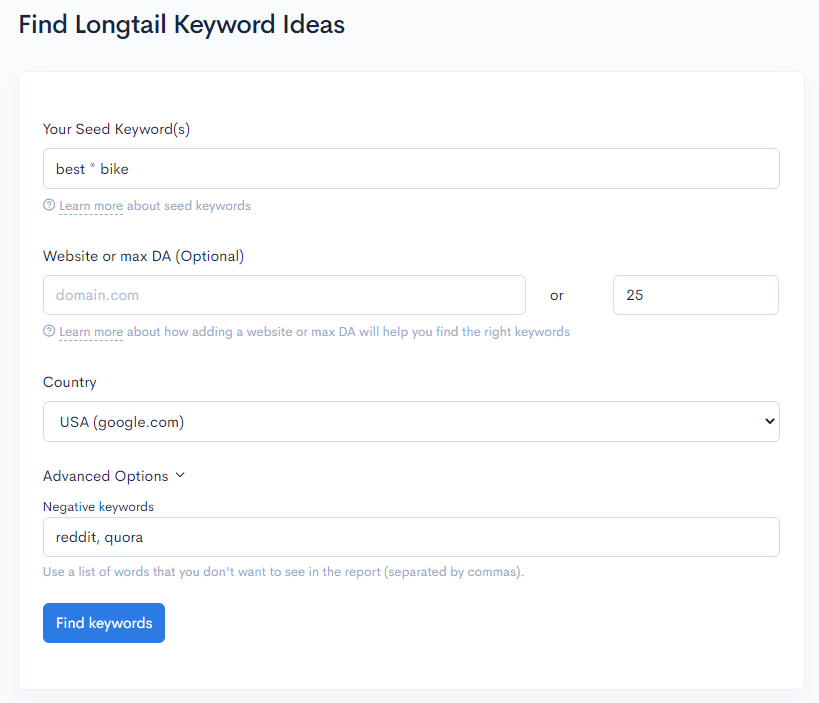 A search like this one above for example yields longtail results like 'best 20 inch mountain bike', 'best aero road bike' and so on. It provides you with search volumes, and then those filters come back into play to get the best opportunities.
Pricing
The handy thing about LowFruits, especially if you're using it in addition to other SEO tools, is that it works via credits. That makes it possible to use ad-hoc, and very scalable for when you need to step it up.

You can buy credits starting from $25, and they go as low as $0.005 per keyword when buying bulk.
You can use the free version of LowFruits, or grab a 250 credit free trial.
Rank trackers to replace Ahrefs
Rank tracking is a feature of Ahrefs, but it's not a strength. It only updates every 7 days on entry level plans, and only every 3 days on the most expensive pricing.
Here I'm going to mention a few options, and dive a bit deeper into just one of them.
1. Nightwatch.io. I went into detail on this above, but here's a quick recap. Nightwatch has several features, including rank tracking, reporting, site audits, and backlink monitoring. Rank tracking & reporting are it's biggest strengths though. And with prices starting at $24/mo, it's pricing is similar to what you'd pay for a tool that only does rank tracking.
2. AccuRanker. This is a really great dedicated rank tracking tool. With prices starting at €89 per month, and rising rapidly, it's not super accessible. If you have the budget for it, I'd recommend it. But if you've Googled 'ahrefs alternatives' and landed here, the chances are you're not looking to spend that much just for rank tracking! See also: AccuRanker vs Ahrefs.
So with that in mind… One affordable option to consider is Wincher.
Wincher
Wincher is a cheap rank tracker, with prices starting at €10 per month. I used this tool for a year or so for tracking my personal projects. Ultimately I cancelled after buying a Mangools plan, since they have rank tracking too — but if you just need rank tracking on a budget, Wincher works fine.
They offer a 14-day free trial. Link to website 🔗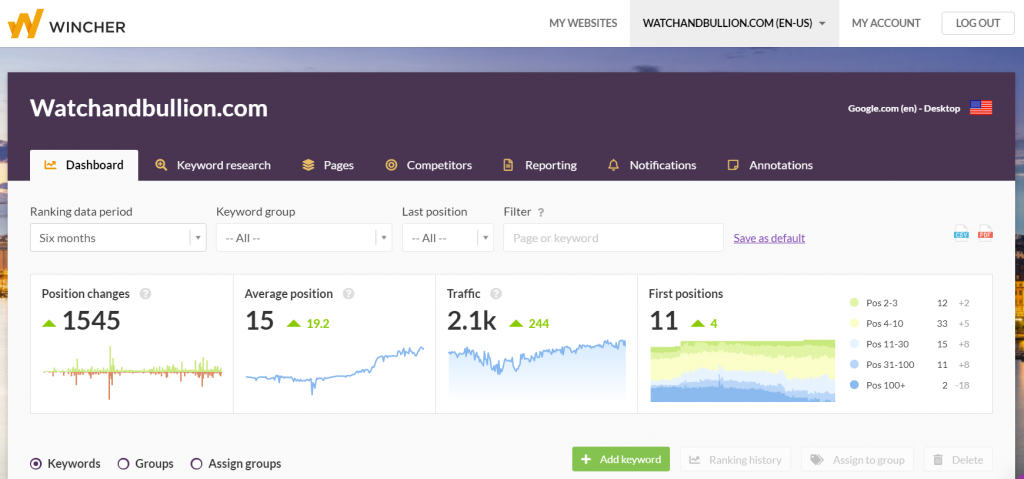 It covers all the basics that you would need:
Daily ranking updates
Email alerts for changes
PDF & .csv exports
Competitor tracking
It does a great job of displaying ranking history over time, and the ability to overlay competitor rankings is a nice touch.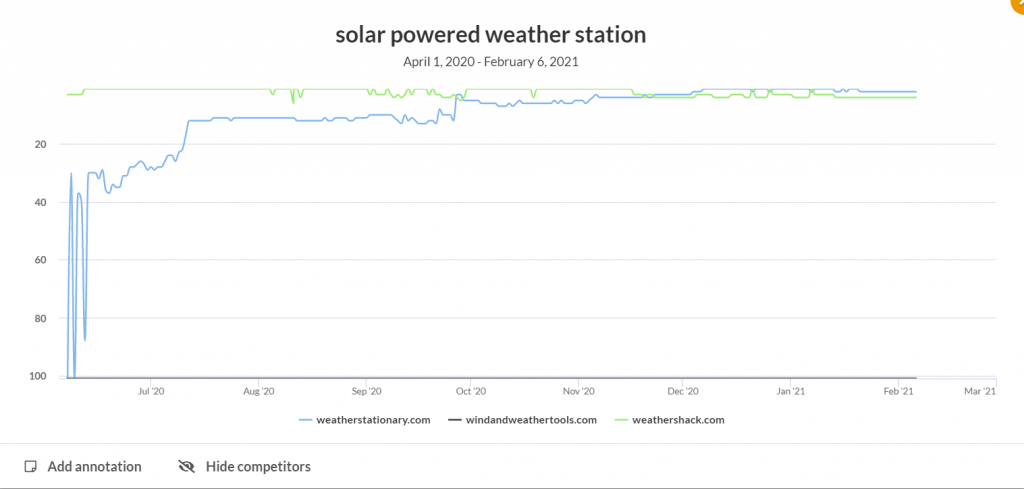 Another cool feature is being able to add annotations. If you remember to make annotations, it can be really helpful to analyze your ranking history. For example, you could flag up a core algorithm update, or when you gained or lost key backlinks.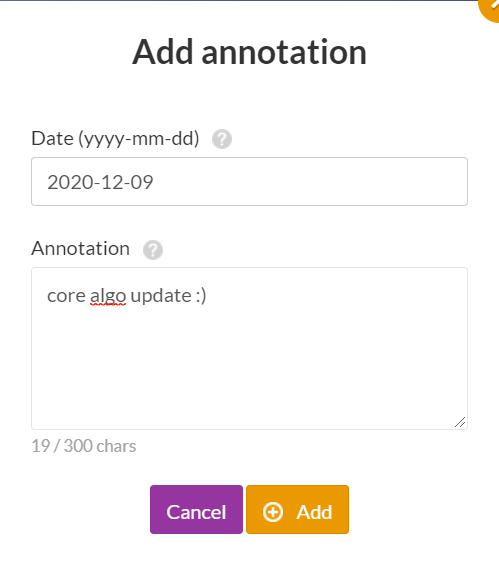 One thing I'd make you aware of:
Some of the keyword volumes are inaccurate. I haven't discovered any particular pattern to when or why, but a lot of the keyword volume estimates are wrong. That includes both underestimates and overestimates. This doesn't detract from the tool's ability to track whether your rankings are going up or down though, which is the main point.
Wincher Pricing
Wincher starts at €10 per month, and you can add more sites for +€3 per month each. With that, you get 100 keywords per site. That will most likely be enough if you only track the important stuff, but you can pay extra to get more keywords tracked too.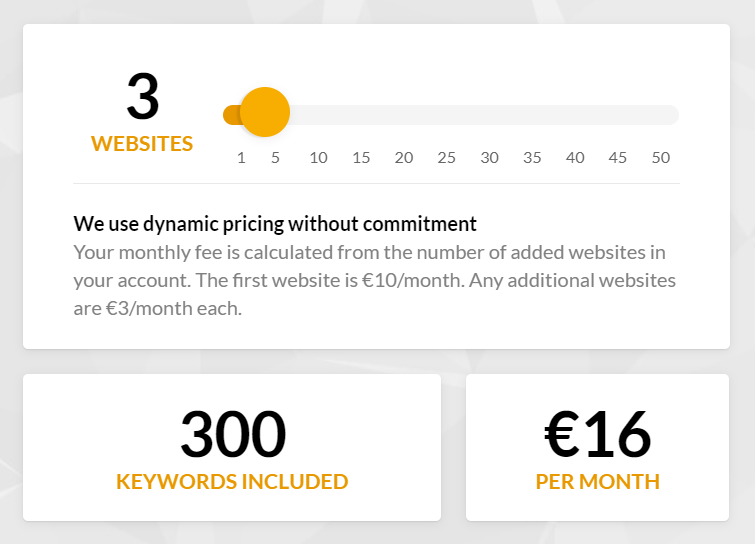 Overall, it's a nice, but basic, rank tracking tool with a really accessible starting price. If this doesn't do enough for you, I've written about other rank tracking tools such as AccuRanker, ProRankTracker & others too. Find that article here.
Wincher offers a 14-day free trial. Link to website 🔗
A site audit tool to replace Ahrefs
Screaming Frog SEO Spider is a widely used site auditing tool. It comes with an excellent free version, and a reasonably priced (£149 / ~$199 per year) paid version. It is specifically for site auditing, and comes without any other functionality.
In case you visit the website and find yourself wondering… Screaming Frog are a marketing agency. SEO Spider is the site auditing tool they built. This is a good thing in my eyes for two reasons:
1. This tool isn't their only source of income, so they're not squeezing every penny out of it like a saas business would have to in order to grow.
2. It's built by people who are still 'in the trenches', and is therefore likely to be kept up to date regarding functionality and best practices.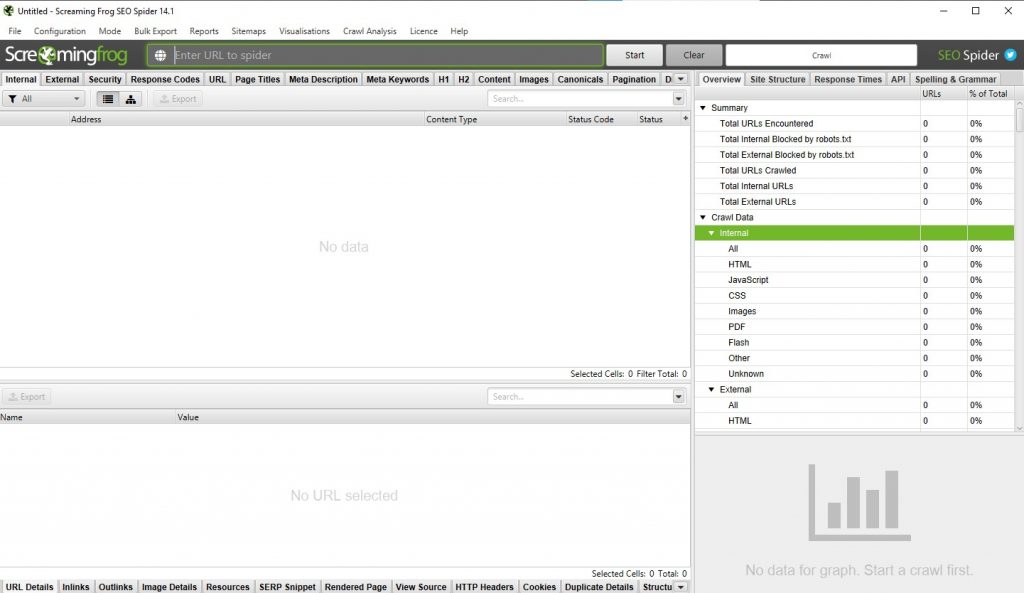 Screaming Frog's SEO Spider does everything that Ahrefs can when it comes to site auditing, plus a bit more:
Check page meta tags (character lengths, duplicates, etc.)
Find broken links
Find redirects
Identify slow loading pages
Check crawl depth and find orphan pages
It's less intuitive, and certainly less helpful than Ahrefs. In Ahrefs, you'll find it easier to navigate, and you'll also find helpful tooltips explaining each issue.
Screaming Frog can identify all the same issues, but it's best used by someone already knows at least the basics of technical SEO.
A significant thing to consider is that it's not a cloud-based application.
Especially for the younger SEOs among us who are less accustomed to dealing with non-cloud based tools, it might feel intimidating to set up: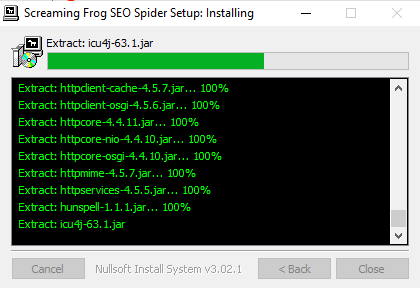 In addition, that also means that you can't share the paid version with teammates like you might be able to with an account login. So if you're getting the paid version, and working in a team, you'll need to buy multiple licenses.
All things considered though, it's hard not to recommend Screaming Frog. The free version is solid, and if you do need the paid version, it's very affordable for a solo user.
To summarize, and highlight some potential downsides to be aware of:
It only works with Windows, Mac & Ubuntu
It's not cloud-based
The UI is quite outdated
It won't give you guidance on how to fix the issues
You can't pay monthly for the premium version
Free version only crawls 500 URLs at a time (but you can start further down, e.g. mysite.com/blog/)
Pairing this tool with Mangools (for keyword research, rank tracking, backlink monitoring and competitor analysis) gets you a super affordable SEO stack that covers all bases.
You can download Screaming Frog SEO Spider for free. Link to website 🔗
Backlink analysis tools to replace Ahrefs
If I'm being honest, I haven't found a scenario yet where I've wanted to recommend paying for a standalone backlink tracking tool.
If you're going to pay for such a tool, chances are you won't be spending less than $20-30 per month (minimum). And by that point, you may as well spend a little extra and shoot for one of the all-in-one options from above like Nightwatch, Mangools, or Ahrefs for 5x the functionality.
There are some free tools for checking backlinks, but they're limited. For that, you could try:
And for a paid tool that is cheaper than Ahrefs & just for backlink monitoring/analysis, you could check out Monitor Backlinks.
Monitor Backlinks
This tool covers all the backlink analysis basics. You can find:
Anchor text analysis
Dofollow vs nofollow ratio
Majestic metrics (trust flow & citation flow)
Changes to your links (new, broken, lost)
Links with 'low quality signals'
That's great, but there isn't much that is unique here. For the most part, it just pulls through data from 3rd party sources like Majestic.
A couple of nice extras that you get are:
1. A disavow tool. This is a helpful function that helps you add bad links to a disavow file as you find them. The UI then offers a link through to where you can submit to Google. The only other place I've seen this in a backlink tool is Semrush.

2. Backlink traffic. After connecting your Google Analytics account, you can find all-time referral traffic data per link. It's nice, but a little limited in usefulness. Partly because it's nothing unique again, since it's just pulling GA data. Beyond that though, if it's a good link, you'll already be glad to have it. I can't see it helping with any analysis or decision making, unless it's a monthly/annual paid link.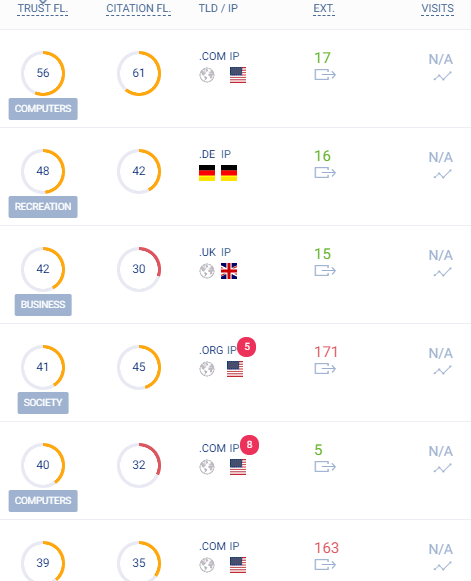 Monitor Backlinks pricing plans scale according to how many links, how many domains, and how many competitors you want to track. There's also a rank tracking function now, which I haven't tried & won't comment on.
The lowest price you'll get is $16.50 per month with no competitors, 2500 links, and an annual commitment.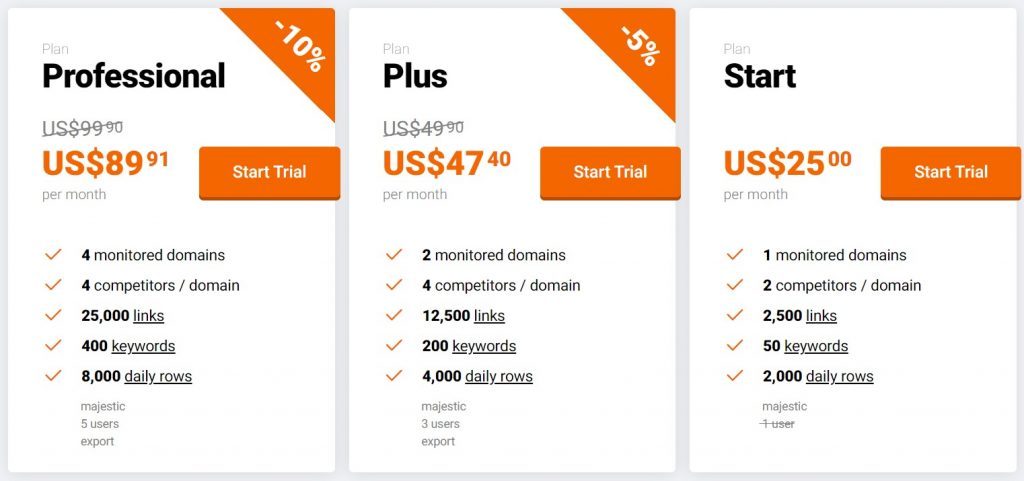 For comparison, Ahrefs' $99 plan gets you 100k backlink rows. Nightwatch.io's middle plan ($59/mo for annual plans) gets you 50k backlinks monitored, along with other better features outside of link analysis.
Overall, I don't find it likely that buying this tool is a better choice for you vs. picking up Ahrefs, Nightwatch, or Mangools.
Monitor Backlinks offers a 30-day free trial. Link to website 🔗
Alternatives for more than just SEO
If you're looking for something that not only replaces Ahrefs, but does more, then my list is fairly short.
Only one suggestion comes to mind that would properly replace the majority of Ahrefs functionality, then go further. That would be Semrush.
Semrush: SEO, PPC, social media & more
I've written an article that explains the difference between Ahrefs and Semrush extensively. I'll summarize the differences here, including which additional features Semrush has to offer.
Regarding SEO only, Semrush is better than Ahrefs for:
1. Rank tracking. The main advantage here is having daily updates on all plans. Ahrefs starts with 7 days, and still only offers updates once every 3 days even on the top pricing tier.
2. Site audits. The functionality is very similar. But based on small improvements UI, and in how the information is organized and delivered, I find Semrush better.
3. Identifying toxic links. Semrush has a tool that flags up potentially toxic links for your review. It can also generate a .txt disavow file ready for the Search Console. There isn't an equivalent tool within Ahrefs for that right now.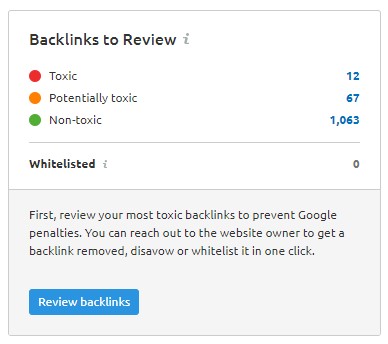 4. Reporting. There's a great drag-and-drop customizable report builder. It's particularly useful for agencies and consultants delivering white label reports to clients. In addition, you can connect to a Google Data Studio dashboard.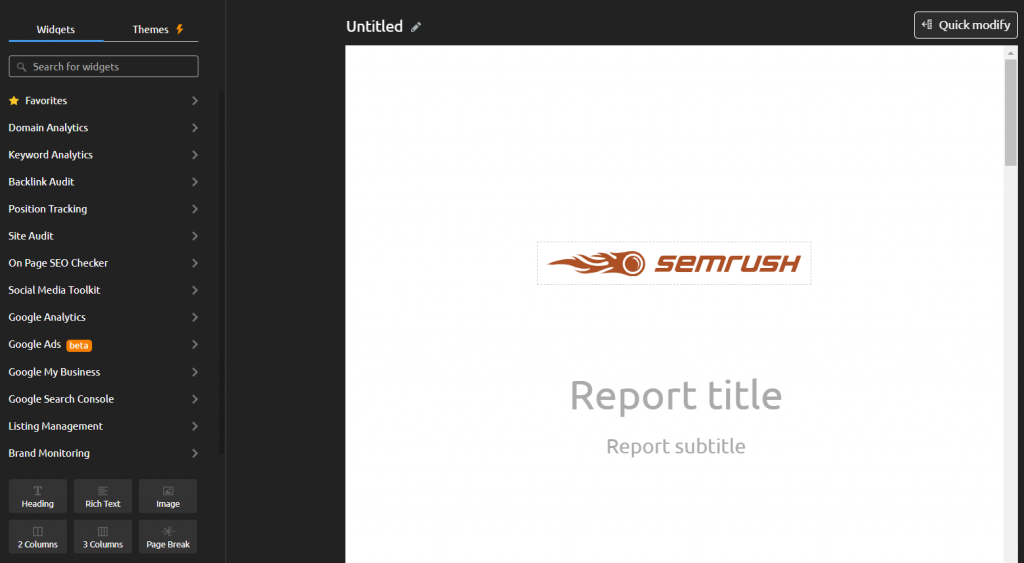 And to provide a balanced view…
Ahrefs is better than Semrush for:
1. Tracking multiple search engines. Ahrefs works with Bing, Amazon, YouTube, Yahoo and more. Semrush only tracks Google. You can decide for yourself if that matters to you.
2. Keyword research. Most of the things you can do in Ahrefs for keyword research, you can also do in Semrush. In my opinion though, Ahrefs' UI is more intuitive for this, plus there is some additional data available. For example, 'return rate', for how often a search is repeated within 30 days. Or clicks data, that displays how many clicks there are in relation to search volume.
3. Backlink analysis. Ahrefs crawls and updates backlink data daily, whereas Semrush do so weekly. There are also other minor advantages, for example the Link Intersect tool allows you to compare up to 10 domains, vs 4 on Semrush. Again, you can decide if this is important to you.
Finally, here's a short glimpse at what Semrush does outside of SEO.
PPC, social media, and other Semrush features
I'm won't explain these here, but at-a-glance, here's some things that Semrush can do.
Schedule posts on social media (excluding Instagram)
Conduct PPC keyword research & competitor analysis
Track mentions of your brand (and competitors) across the internet
Plan, manage, and collaborate on tasks with your team in Marketing Calendar
There's a full list of features here. If you're seriously considering Semrush, I recommend reading my full comparison: Ahrefs vs Semrush.
Semrush offer a 7 day trial of their premium plans. Link to website 🔗