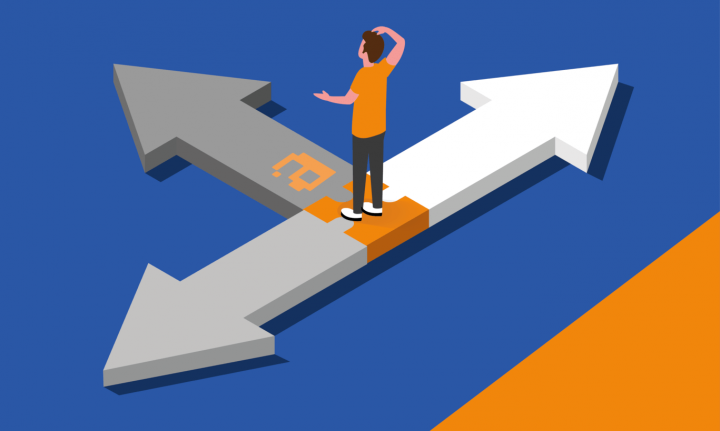 Ahrefs is a solid tool. I've been a happy user for over 6 years, and I don't plan to stop using it any time soon.
That being said, it's not for everyone. Especially since the pricing changes back in 2022.
So if you're on the hunt for an alternative, I'll do my best to recommend a tool. Let's start with clarifying what we're looking for.
Criteria to find an Ahrefs alternative
I'm going to make some assumptions about what you're looking for. There's a reason you searched specifically for 'Ahrefs alternatives' instead of 'SEO software', right?
Ahrefs has a lot of strengths, including keyword research, competitor analysis, backlink monitoring and more.
It has some drawbacks:
Relatively high starting price isn't ideal for smaller projects/budgets
Rank tracking doesn't update daily
Search volume estimates can be quite far off (though getting better)
Limited features for other channels, e.g. PPC
Lacking some features like white labelling for agency/freelance reporting
In addition, some recent pricing changes make the platform even more expensive for heavy users, with credit usage adding up to some hefty fees. That has led to a storm of user complaints like this one: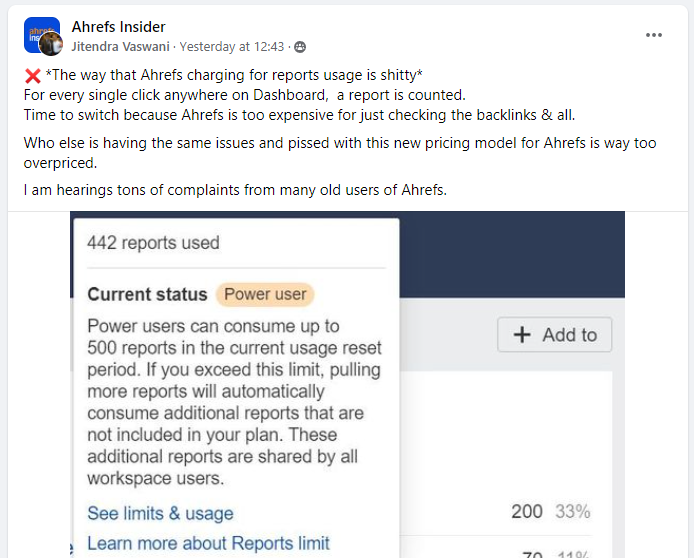 Chances are you're looking for something that offers some or all of the same functionality, but is either cheaper, fixes a specific drawback that you've encountered, or need more than just SEO tools.
With that in mind, I'll start with the solutions I believe are most likely to be a good fit (all-in-one tools), then go into tools that could replace a specific function of Ahrefs (e.g. standalone rank trackers or keyword research tools).
TL;DR if you want an all-in-one tool that's cheaper than Ahrefs, try SE Ranking. If you want something that's more comprehensive and reliable, regardless of price, try Semrush.
Here are the 11 best Ahrefs alternatives
SE Ranking
Semrush
Mangools
Nightwatch
Sitechecker
LowFruits
Wincher
ScreamingFrog
Monitor Backlinks
AnswerThePublic
Ubersuggest
These are the SEO tools I'll be detailing in this post. Scroll down to get the details.
SE Ranking is an affordable SEO platform with a ton of features. It can replace most of what Ahrefs can do, and adds a few new features too, at a much lower price.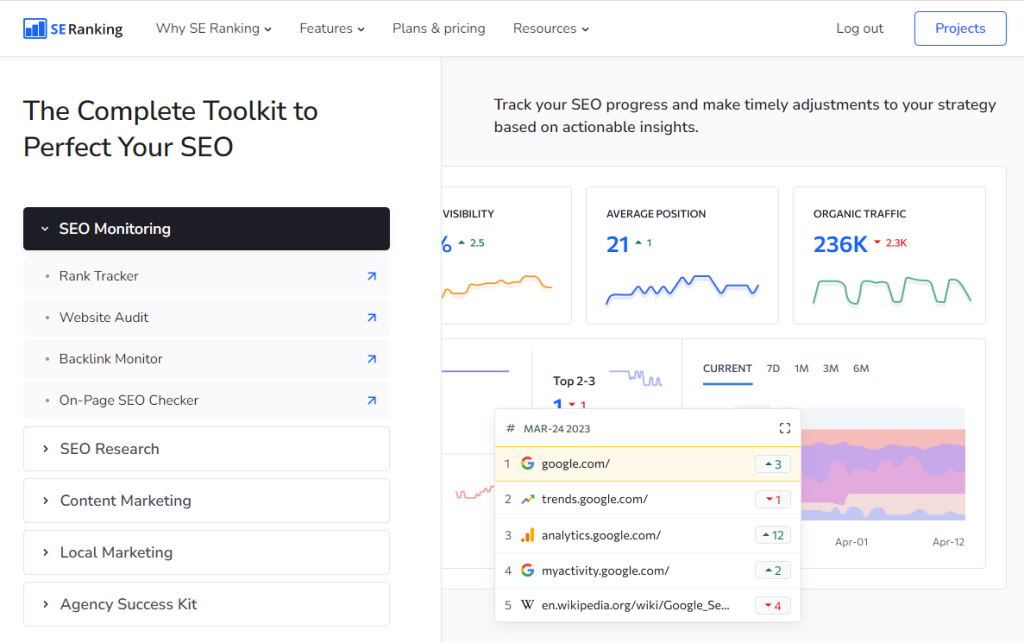 With SE Ranking, you can cover a ton of needs & use cases for SEO work. Here's some (but not all) of them:
SERP tracking / rank tracking
Backlink analysis, monitoring, & auditing
Keyword research tools to replace Keywords Explorer
Competitor tracking & analysis
White label reporting & other agency-focused tools
Technical site auditing
Reporting is particularly great in SE Ranking. There's a great white-label drag and drop report builder. You can connect to Google Analytics & Search Console to provide a holistic view of rankings, traffic and conversions & other SEO factors (e.g. site audit issues, backlinks) all in one place.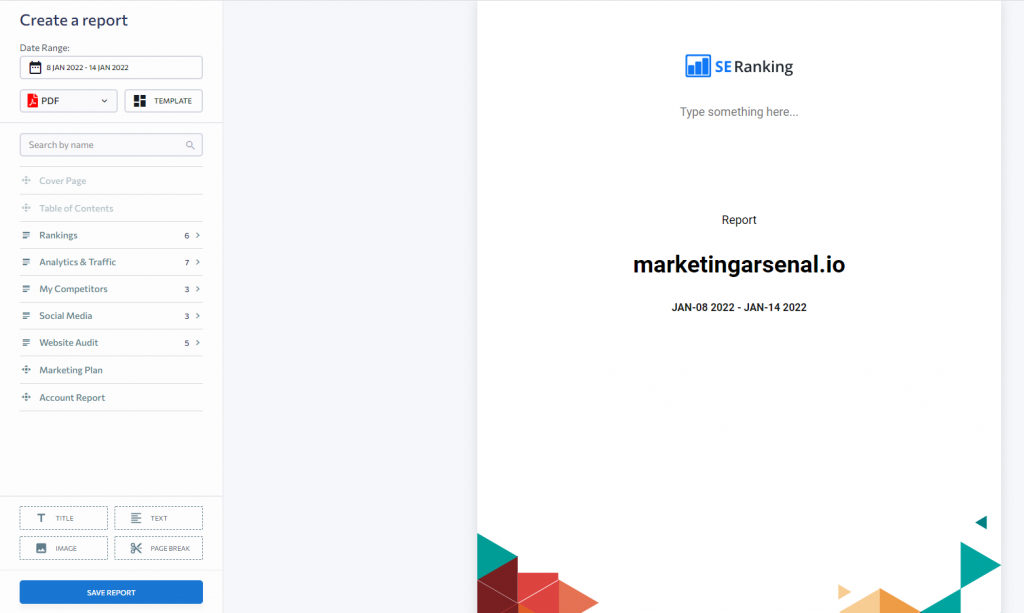 Pricing
SE Ranking's pricing starting from around $32 per month (paid annually) or $40 (paid monthly), which makes it a much more accessible alternative to Ahrefs.
Higher prices raise limits like number of keywords tracked, backlinks monitored, web pages audited etc., and add new features like the agency toolkit, and historic data.
Semrush is arguably the only tool which can completely replace Ahrefs, and do more. Lately with Ahrefs' reliability & pricing issues, I've seen quite a lot of customers switching from Ahrefs to Semrush.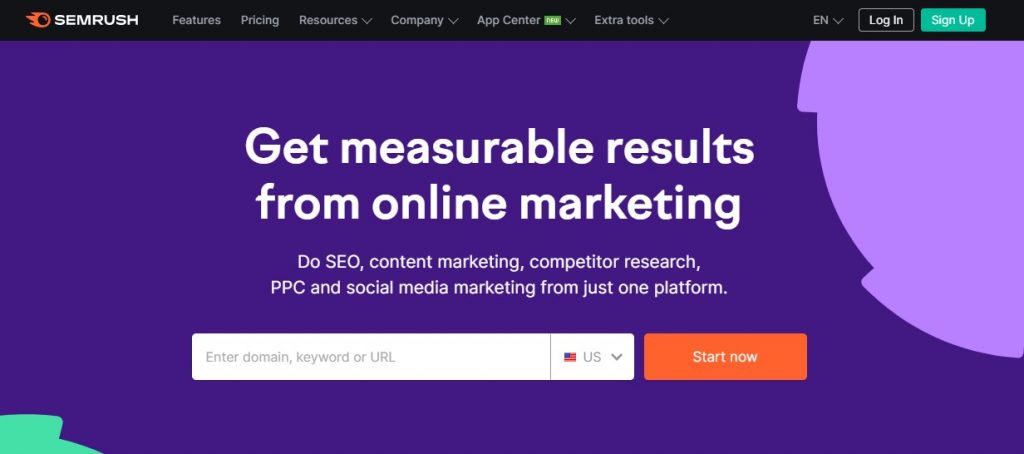 There are small differences between Ahrefs & Semrush when it comes to SEO features, but in my experience, people are usually happier to just go with whichever UI feels more familiar.
Three very quick things that I think Semrush is better than Ahrefs for though:
Reliability
Daily rank tracking updates
Non-SEO features (PPC, social media, task management, etc.)
And reporting
There's a great drag-and-drop customizable report builder. It's particularly useful for agencies and consultants delivering white label SEO reports to clients. In addition, you can connect to a Google Data Studio dashboard.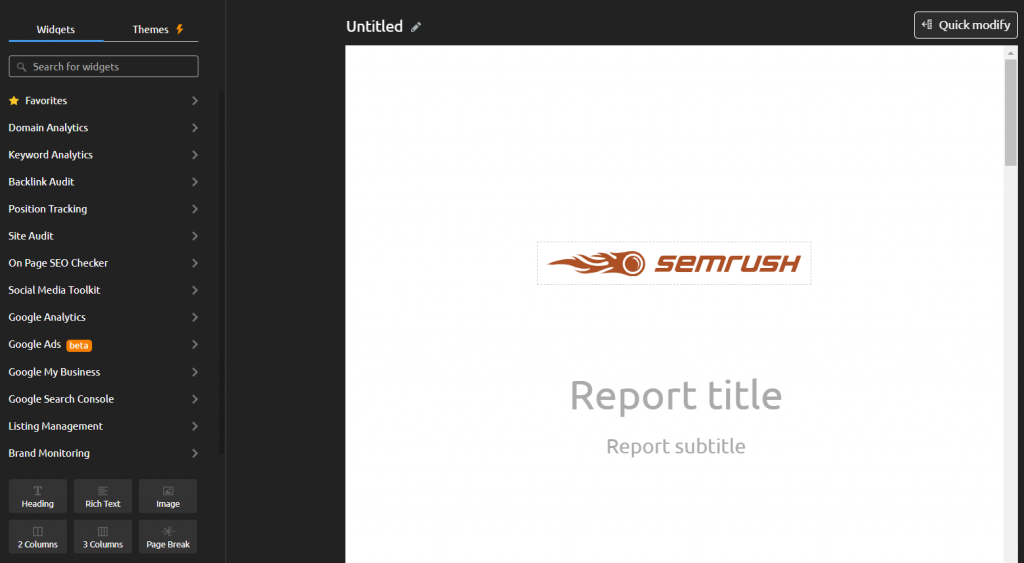 One more note is that Semrush are investing a lot in their keyword difficulty formula. Ahrefs keyword difficulty is based only on backlinks, whereas Semrush are working on introducing more factors: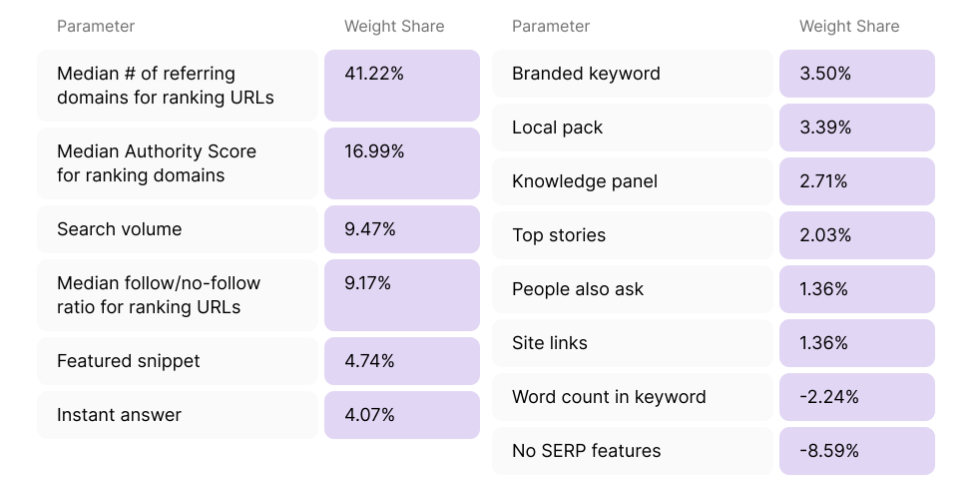 Read more about keyword difficulty software, or about Semrush's formula.
Pricing
Semrush pricing starts slightly higher than Ahrefs, at $108 per month (paid annually) or $129 (paid monthly). And like with Ahrefs, some functionality is locked away into higher tiers.
Mangools is a suite of 5 SEO tools that comes in at a much lower starting price than Ahrefs. It fixes a couple of specific drawbacks, but has fewer features overall. It's more beginner-friendly than Ahrefs or Semrush.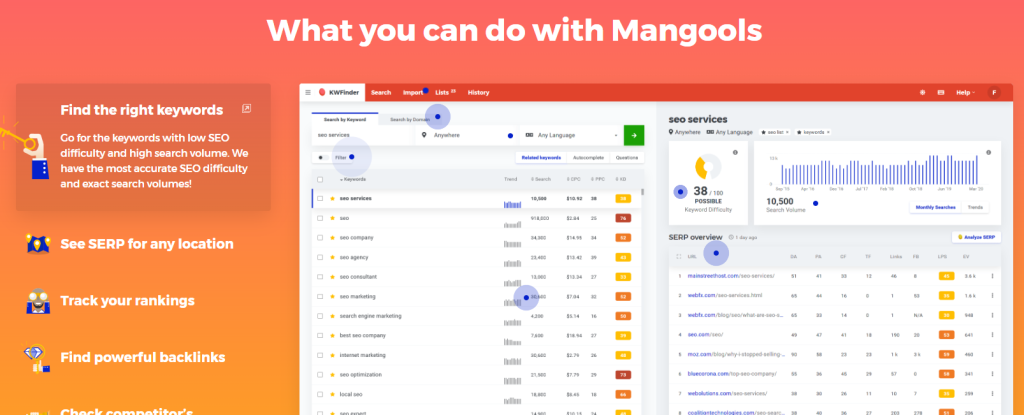 With Mangools, you get these features:
Keyword research: volumes, trends, difficulty
Competitor research
Backlink monitoring & analysis
Daily rank tracking & reports
SERP checking/previews
The biggest reason to buy Mangools, in my opinion, is their keyword research tool: KWFinder.
In my post Mangools vs Ahrefs, I give examples where the search volumes and trends data is better than Ahrefs, especially when working with long-tail low competition queries.
Here's one quick example to illustrate using the keyword 'weather station with lightning detector':
Ahrefs: 90 global searches, with no trends data

Mangools' KWFinder: 220 searches, with month-by-month breakdown.

Overall, Mangools doesn't do quite as much as the tools above. But it does cover the core use cases of keyword research & rank tracking well, at a lower price, and while being very easy to use.
Pricing
Mangools pricing is accessible, starting at $19 per month (paid annually) or $29 per month (paid monthly). They're one of the more affordable Ahrefs alternatives. There's a big 35% discount for choosing annual plans.
Higher pricing tiers unlock more daily keyword searches, more tracked keywords, and more backlink rows. See their pricing page here.
Nightwatch is an affordable SEO tool. It's biggest strength is rank tracking, but it also covers reporting and site auditing.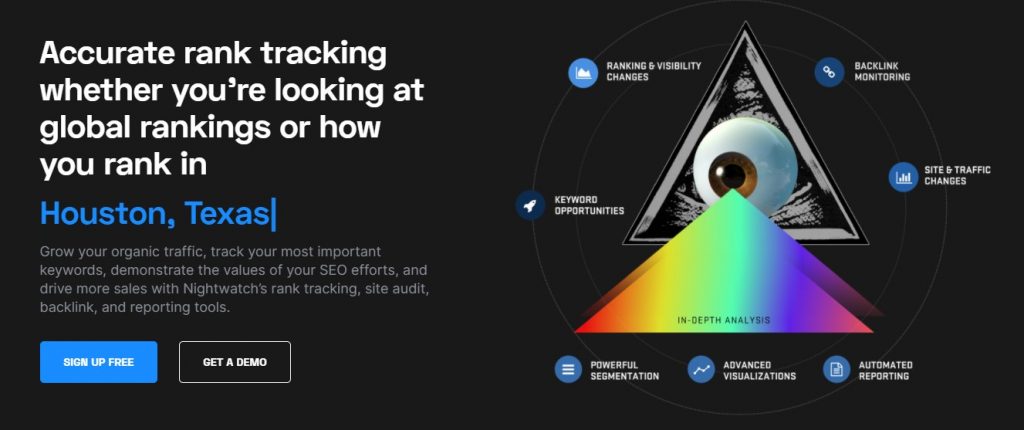 Nightwatch started out as a rank tracking tool, and that continues to be it's strongest feature.
With Nightwatch, you can get accurate daily rank tracking for multiple search engines (including Google, Bing, YouTube), and it is very good with local rankings too (including map packs).
The UI provides a nice straightforward overview of keywords moving up and down, and you can create tags, segment by landing page/URL, and more.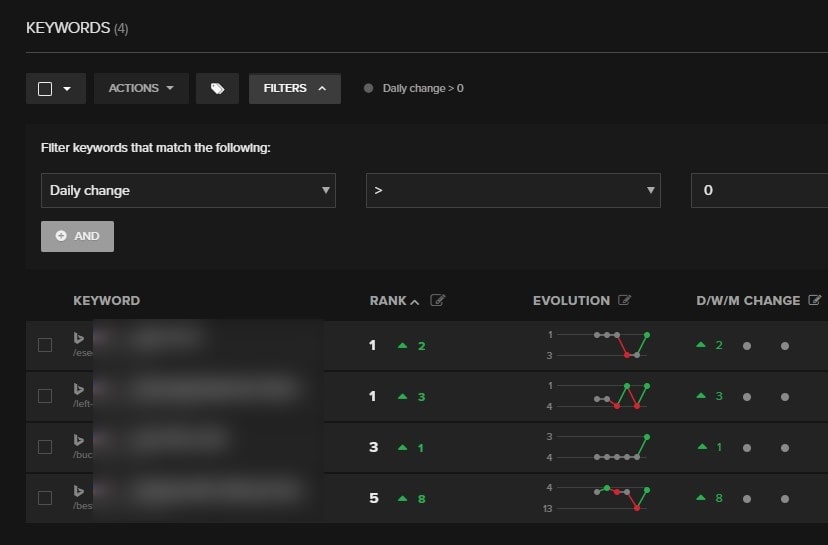 Reporting is good too. You can overlay your Google Analytics & Search Console data to correlate ranking increases with traffic, and easily 1-click export any graphs to share/report: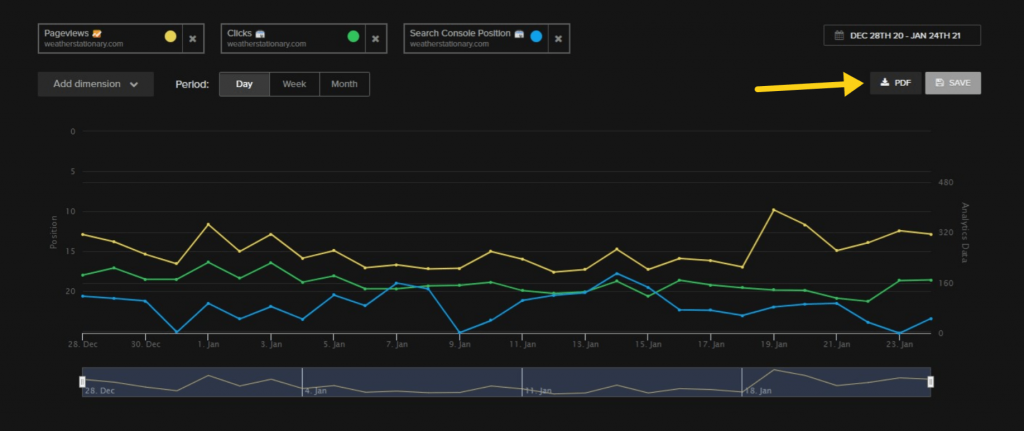 It's worth noting that Nightwatch doesn't have a keyword research function, or competitor analysis (beyond tracking their rankings). If you don't those features, or already have them covered by another tool, Nightwatch is a really solid lower cost choice.
See here for a more comprehensive comparison: Nightwatch vs Ahrefs
Pricing
Their pricing starts at $32 per month when paid annual, or $39 paid monthly for 250 keywords tracked. That makes it more accessible than Ahrefs, which starts at $99. Link to pricing page 🔗
Sitechecker is an SEO toolkit. Their biggest strengths are in technical auditing, ongoing site monitoring, and rank tracking.

Sitechecker's SEO software doesn't replace all of the features Ahrefs has to offer, but it could be a viable alternative to consider to save money if you don't need every feature Ahrefs has. It would be a good choice if your primary needs are relating to site auditing & rank tracking, but not competitor analysis or keyword research.
The features this tool offers includes:
The rank tracking tool is good, low-cost, and provides daily updates. There's a clean UI with good summaries, plus the details if you want to dig in further.

One feature that I really like about Sitechecker's rank tracker is the SERP history. You can open up a keyword, and take a look at how the full SERP has been changing; both your site plus competitors.

Lastly, their Site Monitoring tool is very useful. It can be used to keep a log (a feed & a timeline) of every change happening on your site. New pages added, pages deleted, page titles changed, site downtime, and more.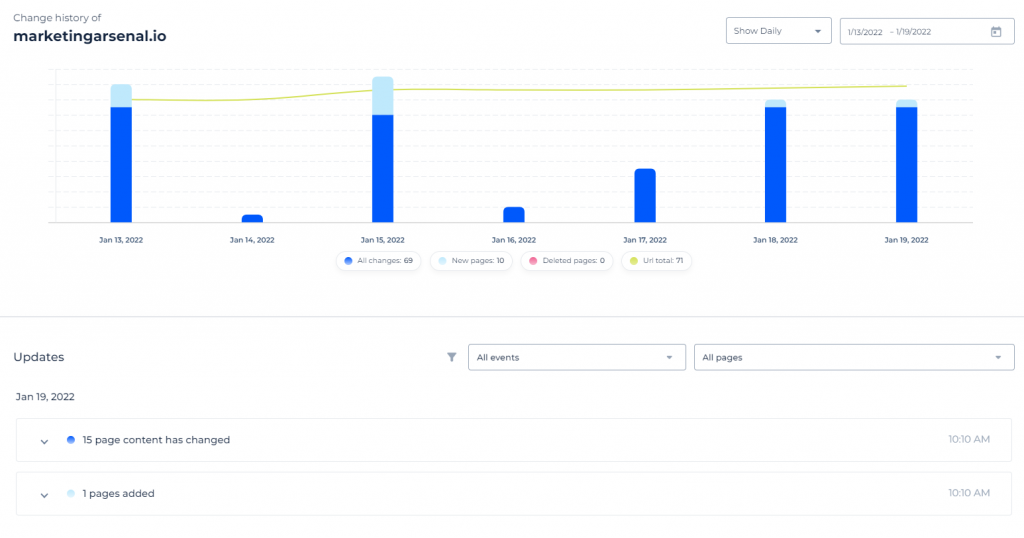 Pricing
Sitechecker is a pretty budget-friendly Ahrefs alternative, with prices starting at $29 per month (paid monthly) or $23 per month (paid annually).
Higher pricing packages simply increase limits (pages monitored, keywords tracked etc.).
LowFruits is an Ahrefs alternative to consider specifically for keyword research.
It's relatively new tool, and it comes with both a free and a paid version, plus a trial of the premium features.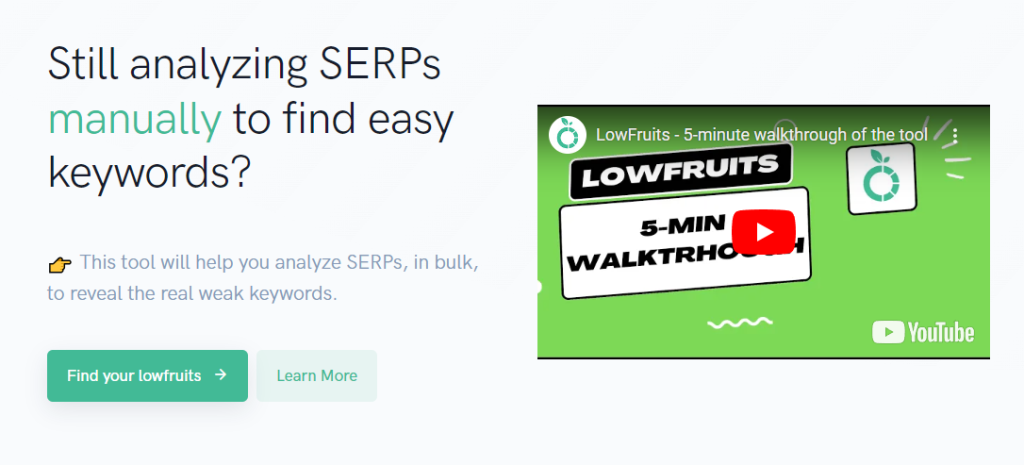 As the name suggests, it's built specifically for the purpose of finding low-competition keywords.
It does that primarily by giving you easy filtering options, such as finding SERPs that having low DA domains in the top 3 results, or even forums & reddit threads. In my experience, these are sure signs of an easy win for established sites.

There's also a handy filter for high intent keywords. These are terms containing words like 'review, best, how to', etc. which indicate some level of buying intent.
To find these keywords, you'll need to start with a seed keyword. LowFruits allows you to use a * wildcard, add in negative keywords, and set a max DA that you consider weak.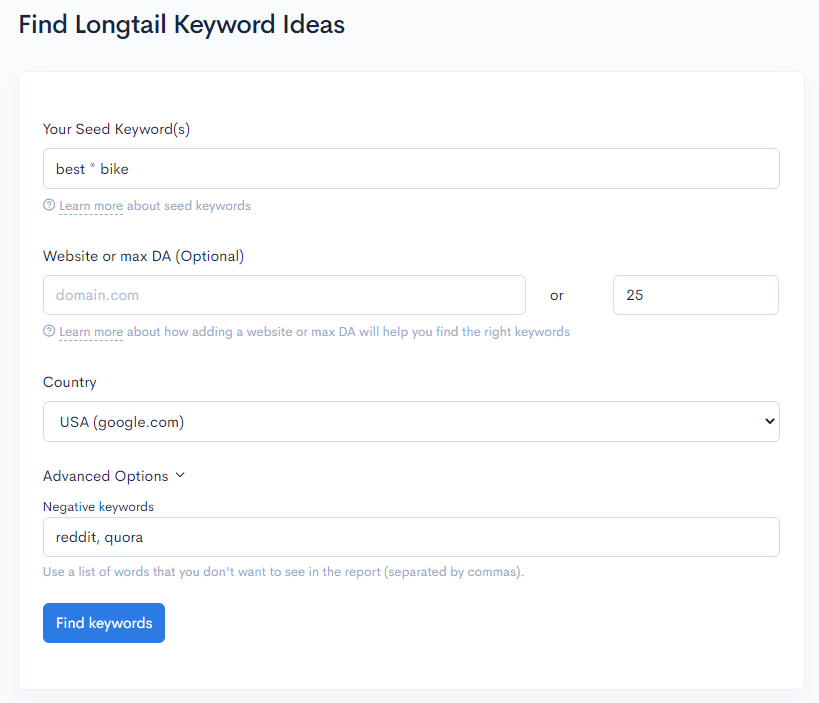 A search like this one above for example yields longtail results like 'best 20 inch mountain bike', 'best aero road bike' and so on. It provides you with search volumes, and then those filters come back into play to get the best opportunities.
Pricing
The handy thing about LowFruits, especially if you're using it in addition to other SEO tools, is that they offer credits. That makes it possible to use ad-hoc, and very scalable for when you need to step it up. There's also a subscription option starting $249/yr.

You can buy credits starting from $25, and they go as low as $0.005 per keyword when buying bulk.
Wincher is an alternative to consider for low-cost rank tracking, with prices starting at around $35 per month.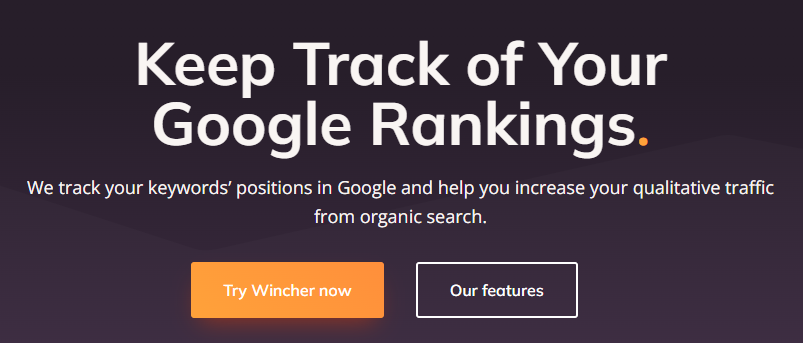 It covers all the basics that you would need:
Daily ranking updates
Email alerts for changes
PDF & .csv exports
Competitor tracking
It does a great job of displaying ranking history over time, and the ability to overlay competitor rankings is a nice touch.
The reporting is pretty good. It's what you would expect from a rank tracking tool: automated email alerts
White label branding is a nice touch (available on higher pricing tiers).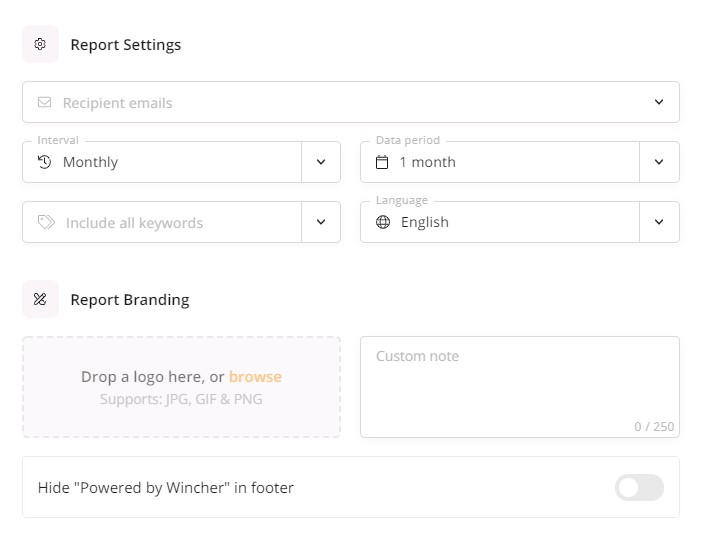 Pricing
Wincher starts at €32 per month (paid annually) or €39 per month (paid monthly). There are a few features only available in higher tiers, like Data Studio integration, and API access, which makes it a nice scalable tool — with more advanced features for those who need it.
Screaming Frog is an alternative for technical site auditing.
It is a widely used tool which comes with an excellent free version, and a reasonably priced (£149 / ~$199 per year) paid version. It is specifically for site auditing, and comes without any other functionality.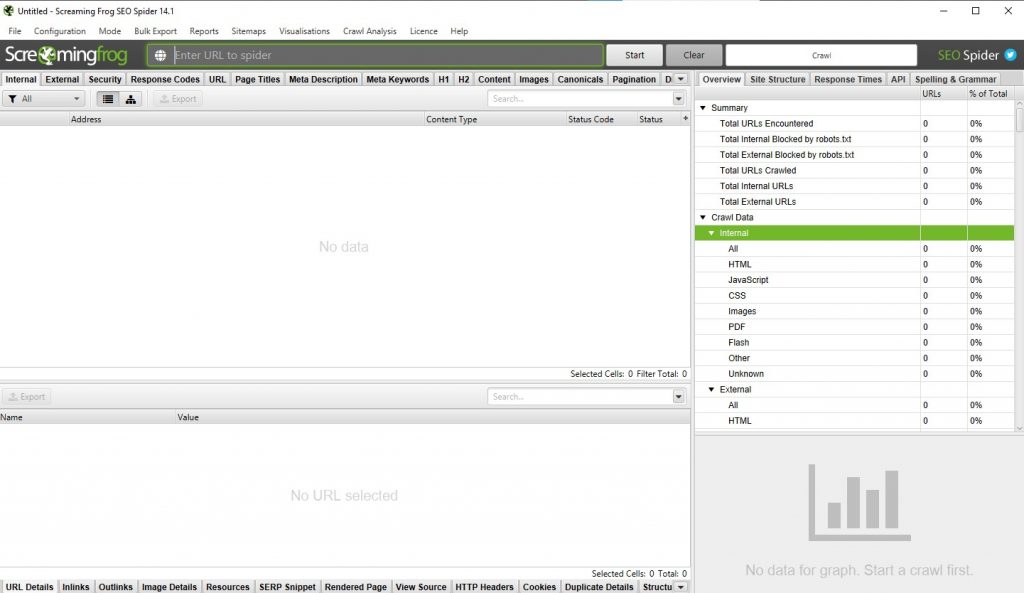 Screaming Frog's SEO Spider does everything that Ahrefs can when it comes to site auditing, plus a bit more:
Check page meta tags (character lengths, duplicates, etc.)
Find broken links
Find redirects
Identify slow loading pages
Check crawl depth and find orphan pages
It's less intuitive, and certainly less helpful than Ahrefs. In Ahrefs, you'll find it easier to navigate, and you'll also find helpful tooltips explaining each issue.
All things considered though, it's hard not to recommend Screaming Frog. The free version is solid, and if you do need the paid version, it's very affordable for a solo user.
Here's a summary to highlight some potential downsides to be aware of:
It only works with Windows, Mac & Ubuntu
It's not cloud-based
The UI is quite outdated
It won't give you guidance on how to fix the issues
You can't pay monthly for the premium version
Free version only crawls 500 URLs at a time (but you can start further down, e.g. mysite.com/blog/)
Pairing this tool with Mangools (for keyword research, rank tracking, backlink monitoring and competitor analysis) gets you a super affordable SEO stack that covers all bases.
Monitor Backlinks is an alternative for, you guessed it, monitoring backlinks.
I want to start with a quick caveat here that I haven't actually found a scenario yet where I've wanted to recommend paying for a standalone backlink tracking tool.
If you're going to pay for such a tool, chances are you won't be spending less than $20-30 per month (minimum). And by that point, you may as well spend a little extra and shoot for one of the all-in-one options from above like Nightwatch, Mangools, or Ahrefs for 5x the functionality.
Anyway, if you do still want to explore this, here's the summary.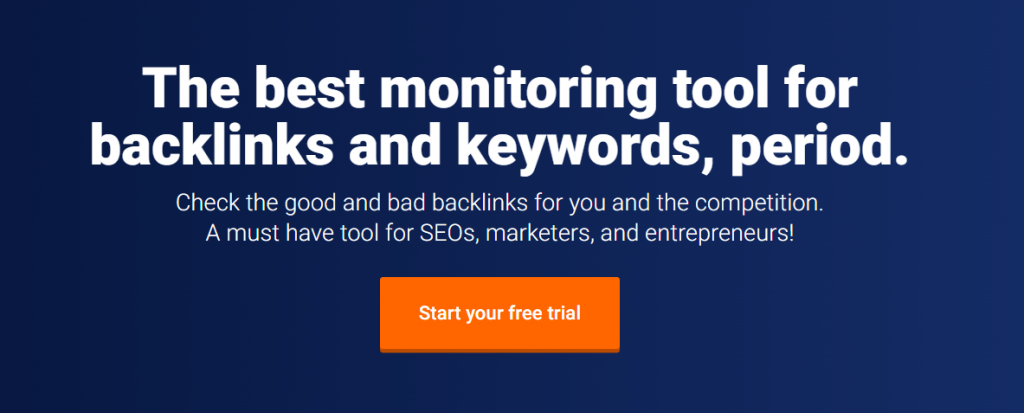 This tool covers all the backlink analysis basics. You can find:
Anchor text analysis
Dofollow vs nofollow ratio
Majestic metrics (trust flow & citation flow)
Changes to your links (new, broken, lost)
Links with 'low quality signals'
That's great, but there isn't much that is unique here. For the most part, it just pulls through data from 3rd party sources like Majestic.
Pricing
Monitor Backlinks pricing plans scale according to how many links, how many domains, and how many competitors you want to track. There's also a rank tracking function now, which I haven't tried & won't comment on.
The lowest price you'll get is $16.50 per month with no competitors, 2500 links, and an annual commitment.
AnswerThePublic is a freemium tool that can be used as a free Ahrefs alternative for keyword research. It does have a paid version, but they're well-known for providing a generous free option.

Starting with a seed keyword, AnswerThePublic will give you a bunch of questions generated from Google's autocomplete and 'people also ask' features.
The questions are segmented by type (e.g. which, why, where, who etc.), and displayed in a graphic like this: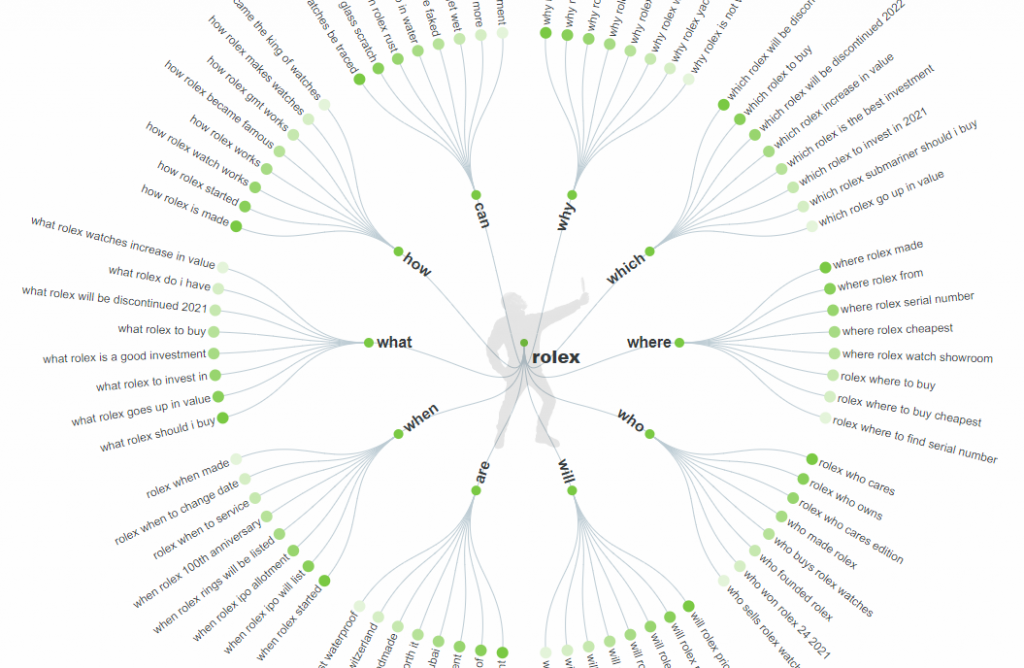 This can be a super quick, easy (and free) way to get some content ideas, or some ideas to add FAQs to existing content.
One additional use case, which is very useful, is to find comparisons (vs keywords)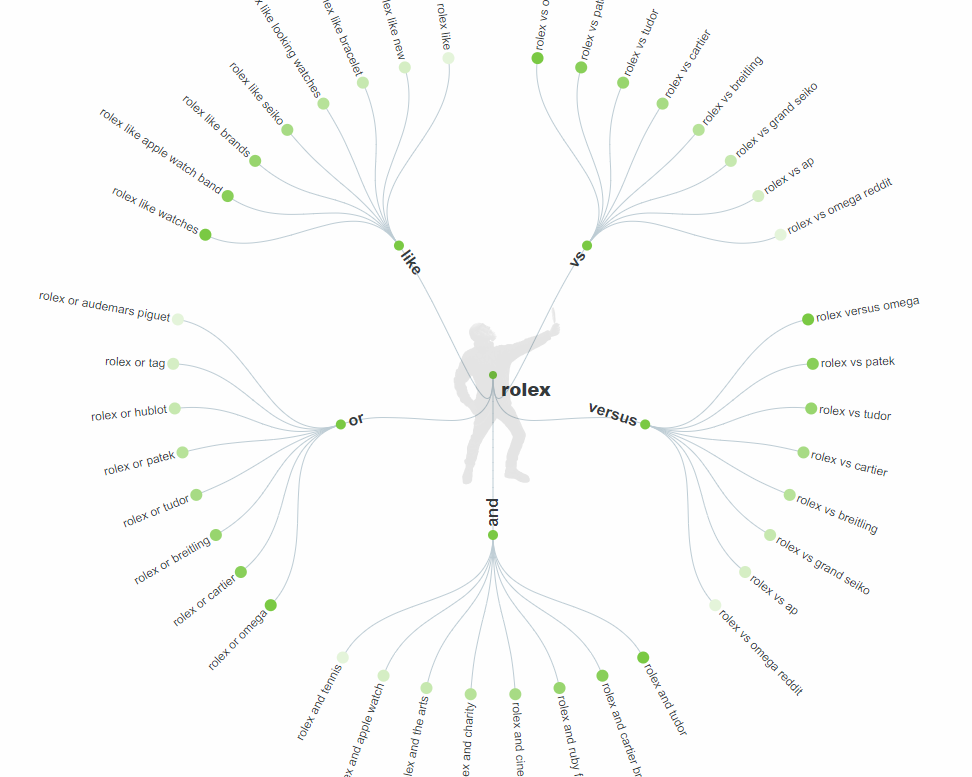 The big downside is that you don't get keyword search volumes or keyword difficulties to adequately assess the opportunities & prioritize your content.
But hey, it's free. Can't complain, right?
Owned by Neil Patel, Ubersuggest is a cheap Ahrefs alternative with various SEO features for keyword research, competitor analysis, link monitoring and more.
It's not as good as Ahrefs, but if you're on a tight budget, it might just do the trick for you. You might be able to argue more value per dollar, too.

When the tool first launched, there was a completely free version which helped with gaining traction. Now, there are lifetime deals available, plus monthly subscriptions like other tools. It's a lot cheaper than Ahrefs either way.
Regarding functionality, Ubersuggest has pretty good data for longtail keywords. Something that Ahrefs sometimes misses, especially on low volume & low competition keywords. Ubersuggest also has features for:
Rank tracking
Backlink monitoring
Competitor analysis
Technical site auditing
The subscription also comes with some beginner-friendly SEO training courses.
Pricing
Ubersuggest offers monthly plans & lifetime deals, plus a 7-day trial. Monthly plans start from $29/month, and lifetime deals start from $290. View pricing here.