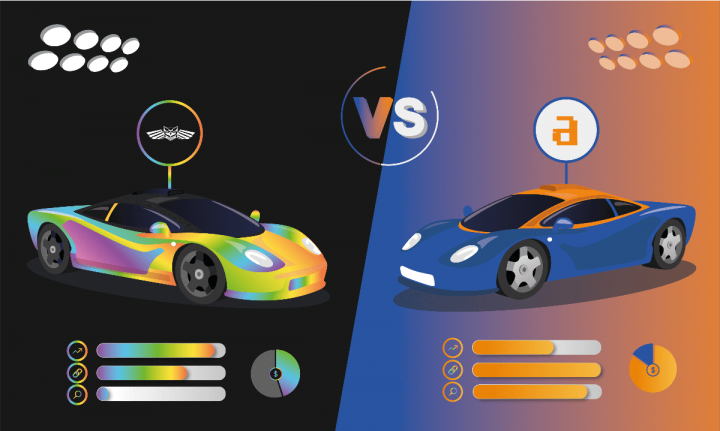 Nightwatch started out as a standalone rank tracker, literally called RankTrackr. Since then, they've launched subsequent features for reporting, backlink monitoring, and site audits. This last year in particular they've been gaining popularity, after a successful Product Hunt launch.
Although the product has evolved, the rank tracking feature remains their core strength & focus. That's a good thing in my view, and still the biggest reason to buy. Introducing the other features now though means that, for some people / circumstances, it could be a worthwhile Ahrefs alternative (or addition, even).
If you want the short version, then here's the key points about Nightwatch.io in relation to Ahrefs:
It's substantially cheaper
The rank tracking is better overall, being more accurate and updating more frequently
Reporting is good, and you can overlay Analytics/Console data to your ranking graphs
The backlink monitoring & analysis is decent, but not as good as Ahrefs
The site auditing tool is good, but doesn't have the helpful tooltips you get in Ahrefs
Nightwatch doesn't offer a tool for keyword research or competitor analysis
Ahrefs is a more complete toolkit, offering far more features overall
I'll dig deeper into each of these things during this comparison. But first, to summarize before we go any further:
🥇 For better rank tracking (especially local)

🏆 For white label agency reporting

🎉 For a lower cost solution (without the need for keyword research)
Nightwatch offer a 7 day free trial. Link to website 🔗
Reasons to choose Ahrefs
🥇 For keyword research & content planning

🏆 For beginners who value user-friendly UI and more direction

🎉 A more comprehensive SEO feature set overall
Ahrefs offer a 7 day trial for $7. Link to website 🔗
Now that the short version is out of the way, let's dig in for the folks who want the details. I'll compare the tools based on each of Nightwatch's core offerings, followed by details on what Ahrefs offers that Nightwatch cannot, and lastly pricing.
Use these links to skip down if you prefer.
Rank tracking
Backlink monitoring & analysis
Site auditing
Things Ahrefs can do that Nightwatch can't
Pricing comparison
Rank tracking
In Nightwatch you have everything you would expect to get in a rank tracker. These are the basics you'll find almost anywhere:
Daily position updates
Options for automated email reporting
Track mobile & desktop rankings separately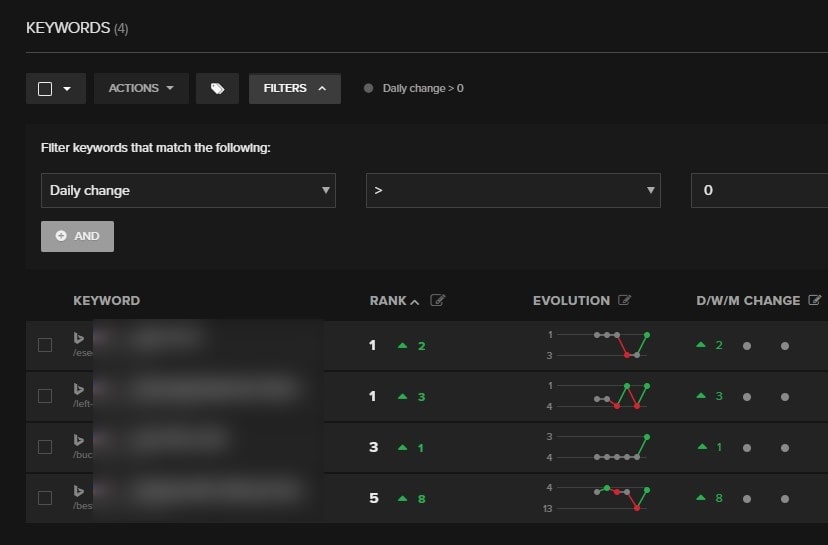 Beyond that, here are some extra features they offer. These aren't unique to Nightwatch, but also aren't found in every rank tracker.
White label reporting
Local rankings, including map packs
One-click views for only keywords that went up, or the same for keywords going down
Track Bing, DuckDuckGo, and YouTube rankings
Tags to group keywords (& ability to create a new view to see those groups alone)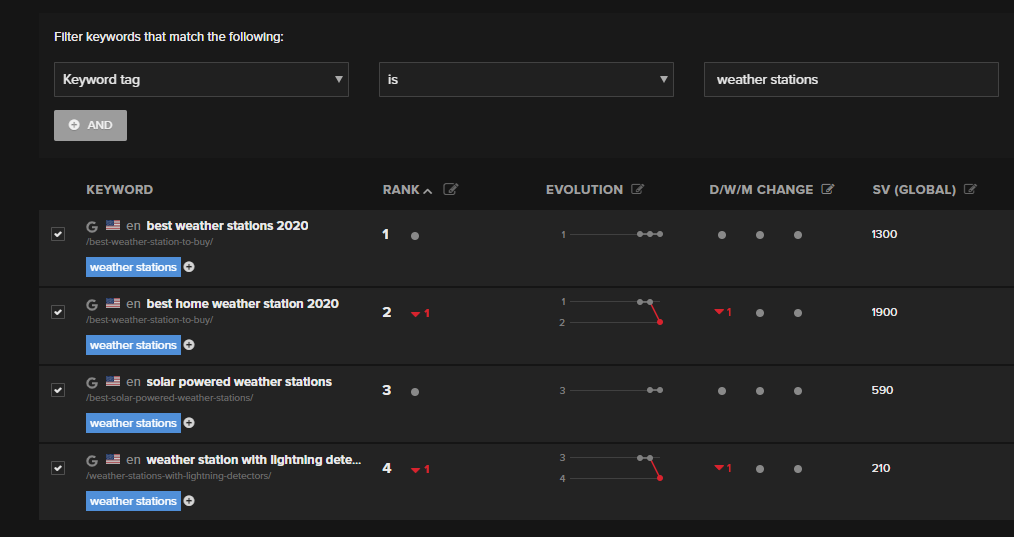 Another thing that deserves a specific mention is the ability to connect your Google Analytics & Google Search Console accounts. That lets you overlay traffic data with rankings, so you can display the impact of position updates.
Even better, you can one-click export the graphs you make to send to a client or colleague.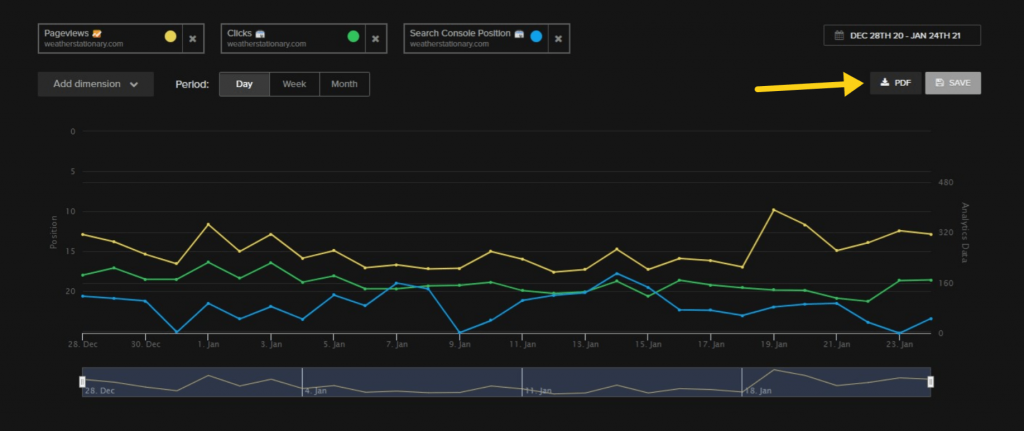 I believe there's scope to improve this further too. Currently, I miss the ability to see traffic data for one specific page (the URL that ranks for that keyword), which would be more useful. And if you could overlay Google Analytics goals data for conversions, that'd be even better again. In it's current state though, it's still useful.
Lastly, Nightwatch also have a great reputation for accurate localized rank tracking. I don't do any local SEO myself currently to comment further. You can connect a Google My Business profile to track Maps rankings, which isn't something you see in every rank tracker.
Ahrefs vs Nightwatch for rank tracking
Overall, I prefer Nightwatch for rank tracking, and it's not just because it's cheaper (though that's a nice bonus). I'll start by explaining why that is, then acknowledge some of the great features Ahrefs' rank tracker does have.
A big weakness of Ahrefs rank tracker, for me, has been the infrequency of updates. Here's how often the rank tracker updates for each plan:
| Plan | Update frequency | Price |
| --- | --- | --- |
| Lite | Every 7 days | $99 |
| Standard | Every 5 days | $179 |
| Advanced | Every 3 days | $399 |
| Agency | Every 3 days | $999 |
The majority of Ahrefs users I know are on the $99-$179 plans. Having ranking updates only every 5-7 days is just not enough.
They now offer Rank Tracker Pro, which lets you pay extra for daily updates. Nice to have, but it gets expensive fast. For example, if you're on the $179 standard plan, the minimum extra fee would be +$100 per month for 1,000 keywords. And the updates frequency is the only thing you get — there aren't actually any other new features or functionality.
And a lastly for the negatives… you also can't:
Track other search engines (e.g Bing, YouTube)
Track local rankings (country is the most specific it gets)
Now, onto the good stuff.
Things Ahrefs rank tracker is good for
1. Get other helpful metrics
In the 'keyword metrics' tab within the Ahrefs rank tracker, you can get a ton of data, including:
Search volumes
Cost per click (if paid advertisers are bidding for that keyword)
Clicks & clicks per search (some queries are answered without a click, while other times people will check out several results)
Return rate (how often the same person repeats a search within 30 days)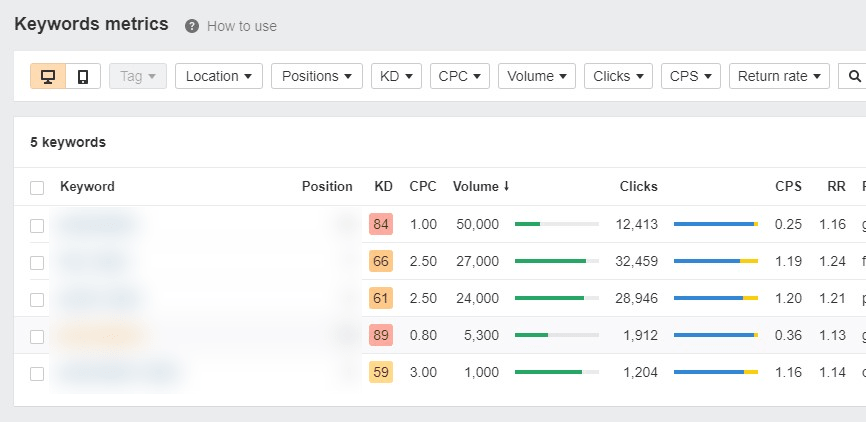 In general I don't trust the accuracy of these, but it helps you to prioritize. For example, the search volumes aren't bang on, but you can see that one keyword has more searches than another.
Equally, the CPC won't be right, but if it's higher, it probably has more commercial intent. If there's a really low CPS, maybe there's a snippet which provides enough information. You get the gist.
2. Finding featured snippet opportunities
Exactly as it sounds, this feature lets you bring up a list of SERPs where a snippet exists, but you didn't win it yet.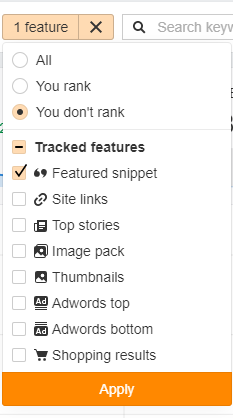 A similar thing exists in Nightwatch. You can filter by SERP features, for example: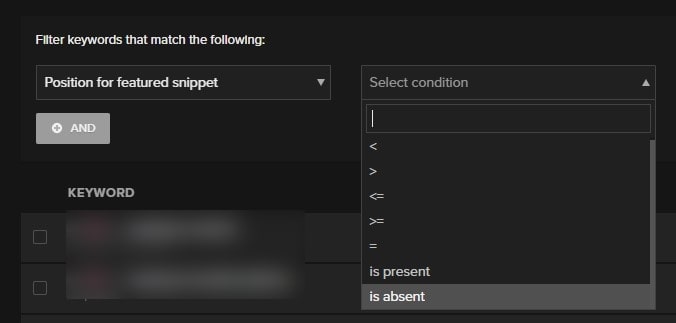 The main difference is that Ahrefs can display only SERPs that definitely have a featured snippet, whereas this Nightwatch filter will display all SERPs where you don't have a snippet (regardless if one even exists). So you can still do the same job, but it's pretty painful. Much easier in Ahrefs.
3. In Ahrefs, you can analyze the SERP & keyword difficulty
You could argue this is going a little outside the scope of a rank tracking comparison, but if you're trying to rank higher in Google, then it's relevant.
If you're trying to diagnose why another result might be ranking above you, you can expand the SERP and get a quick look at things like:
Number of backlinks & referring domains each competitor has
Each competitor's domain rating
Keyword difficulty rating
Then, with 1-2 clicks, you can dig deeper in whatever interests you. The other keywords that URL ranks for. View their backlink profile, and so on.
Again, straying a little away from just rank tracking here, but worth a mention.
Cost of tracking keywords: Ahrefs vs Nightwatch
I'll end this section with another table which shows the plans & number of keywords tracked. Keep in mind that, for both tools, each plan includes more than just keywords tracked. I figure if you're reading this though, tracked keywords has some level of importance for your buying decision.
| Plan | # Keywords tracked | Monthly price | Annual price | $ per 100 keywords tracked (monthly) |
| --- | --- | --- | --- | --- |
| Nightwatch Starter | 500 | $39 | $24 | $7.80 |
| Nightwatch Optimize | 1000 | $99 | $59 | $9.90 |
| Nightwatch Agency | 5000 | $369 | $221 | $7.38 |
| Ahrefs Lite | 500 | $99 | $82 | $19.80 |
| Ahrefs Standard | 1500 | $179 | $149 | $11.93 |
| Ahrefs Advanced | 5000 | $399 | $332 | $7.98 |
| Ahrefs Agency | 10000 | $999 | $832 | $9.99 |
Nightwatch pricing page
Ahrefs pricing page
Backlink monitoring
Both tools allow for backlink monitoring & analysis.
For this, Ahrefs is better. Ahrefs have the larger link database, with nearly 3 trillion external backlinks indexed. I don't believe the specific details are available publicly for Nightwatch, but Ahrefs' is the second most active web crawler after Google — safe to say their database is more comprehensive.
Here's the tl;dr for this section
Ahrefs have more links indexed
Ahrefs tracks internal links; Nightwatch doesn't
Both have great filters for analyzing backlinks
Ahrefs gives you more information about each backlink
Both Ahrefs and Nightwatch let you filter & analyze your backlinks pretty easily, having filters such as:
See only dofollow or nofollow links
Filter & sort by domain/URL rating
See newest or oldest links
Search by anchor
In Ahrefs, you'll find you can take backlink analysis one step further though. After finding links to your site, you can then find useful information about that link. In Nightwatch, you'll pretty much only find the URL rating (equivalent of domain rating). Here, you'll see how many links that page has, as well as an estimate of how much traffic it has, how many outbound links it has, and more.
Even if Nightwatch did have that capability, the fact that Ahrefs has more links in the database would make that more reliable and useful anyway.

Cost of backlink monitoring: Ahrefs vs Nightwatch
Making a direct comparison of the costs per plan is trickier here than with rank tracking.
In Nightwatch, each plan gives you an allowance for how many backlinks you can detect & monitor:
| Plan | # Backlinks tracked | Monthly price | Annual price |
| --- | --- | --- | --- |
| Nightwatch Starter | 5,000 | $39 | $24 |
| Nightwatch Optimize | 50,000 | $99 | $59 |
| Nightwatch Agency | 200,000 | $369 | $221 |
Ahrefs works differently. You can effectively track an unlimited number of backlinks for all your sites, since it's crawling them anyway. The limitations come with exporting data, and getting alerts.
| Plan | # Backlinks exported per report | # Alerts For New/Lost Links | Alert Frequency | Monthly price | Annual price |
| --- | --- | --- | --- | --- | --- |
| Ahrefs Lite | 100,000 | 5 | Monthly | $99 | $82 |
| Ahrefs Standard | 1,000,000 | 15 | Weekly | $179 | $149 |
| Ahrefs Advanced | 5,000,000 | 40 | Daily | $399 | $332 |
| Ahrefs Agency | 10,000,000 | 100 | Daily | $999 | $832 |
In Nightwatch, you can export all the backlinks you're tracking — which is determined by your plan allowance. There are no export limitations beyond that. And regarding alerts, you can get in-app alerts without limitations. They'll appear daily alongside other alerts to do with traffic, rankings, and site audit issues: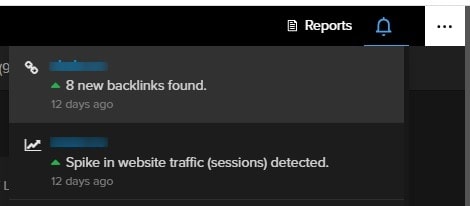 Managing the backlink allowances in Nightwatch
So, having the limited allowances per plan in Nightwatch is a pretty big negative here. A large site is likely going to have hundreds, if not thousands, of spammy scraper links and other rubbish coming through that wastes link budget.
Luckily though, they offer a couple of ways to manage this to make sure you're actually getting value out of the 5k, 50k, or 200k links you can track.
Use a prefilter
Exactly as it sounds, this feature lets you prefilter backlinks before they land in your account. It's based entirely on URL rating, so not completely customizable, but it still does the job. You can remove all 'suspcious' links (UR <2), or all 'low quality' links (UR 2-20) for example. This could be better, but it still clears out a lot of rubbish.
Disable backlink discovery per URL
If you're working on several different URLs, you might not need all the features on all URLs. For example, maybe you're tracking rankings for 10 URLs, but you only need to track backlinks on 5 of them. You can easily disable backlink discovery on the ones you don't need to save budget.
Site auditing
Both tools have good (and similar) functionality when it comes to site auditing. My conclusion here is that Ahrefs is better overall.
For beginners, Ahrefs is a lot better due to helpful tooltips in the UI
Ahrefs is able to make a few more technical checks than Nightwatch too
Nightwatch is still a good auditing tool, doing a fine job for most sites
Nightwatch vs Ahrefs for site auditing
If you know what you're doing, and don't need direction within the UI, then Nightwatch is almost as good as Ahrefs for site auditing.
If you don't have much experience, then you might feel a little lost in Nightwatch to begin with. There aren't the helpful tooltips and explanations for each check, and the UI is generally just a little 'busier'.
I'll give one example to explain my point. Let's say you're checking for orphan pages on a site.
In Ahrefs, this will be identified. When clicking on the issue, you'll get an explanation of what it is, and a link to see the affected URLs. Fairly straightforward.

In Nightwatch, if you know what you're doing, it's very easy to run the same check, by adding a filter for 'internal links = 0':

If you don't know to look for that, or why it's important, it could have been easily missed. You see similar things across a number of other checks.
That said, the general overview and functionality is solid overall.

Nightwatch does have all the basic checks covered:
Titles, descriptions, h1s (missing, too long, duplicate, etc.)
Load speeds per page
Internal links (e.g. orphan pages, or pages with only 1 internal link)
Missing image alt text
Check for redirects, 404s, and other response codes
Noindex tags
… etc.
Nightwatch also makes it easy to report on the progress of your site audit fixes for a client. When generating a report, you can choose to show a comparison between your latest crawl vs a past one, highlighting the differences and (hopefully) improvements.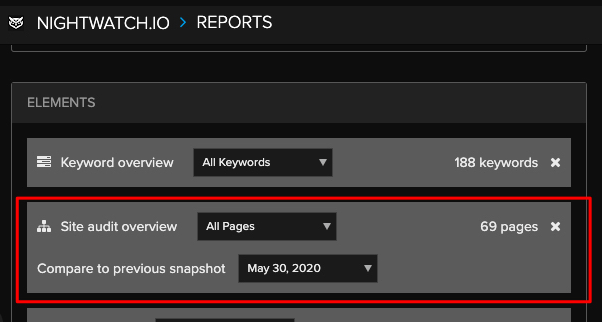 As mentioned, as well as the UI improvements & guidance, there are a few additional checks that Ahrefs site auditor can run. It can check for all the things mentioned above, plus here's some things that Ahrefs can check for (that Nightwatch can't):
Hreflang tags
Javascript generated content (see here)
CSS files (e.g. large CSS file sizes)
Mixed https & http content (e.g. if an image is loaded with http)
Canonical tags (e.g. canonical points to redirect)
Generally, these things will be less impactful than the ones mentioned earlier, however they can still be important. So, for the extra money you're paying with Ahrefs, you do get a more comprehensive audit.
Ahrefs also delivers a high-level overview of your audit crawls over time, which is useful. If you're actively working on resolving technical issues, you'll get a nice chart here of issues going down over time — and you can get the same for site health score.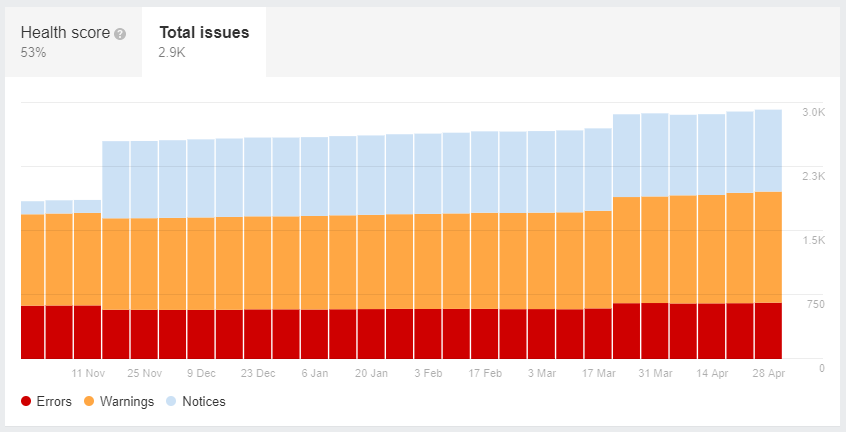 In summary for this section, I'd say that value for money is similar. Perhaps marginally better with Nightwatch.
Ahrefs gives you a more comprehensive audit, and better UI, for a higher price. Nightwatch covers off all the basics & most important checks, and offers less guidance, for a lower price.
Costs & page allowances for site audits
The plan allowances work differently in Nightwatch vs Ahrefs.
In Nightwatch, you are given a pages budget, which means you can track a fixed number of pages across all your URLs per month. You can recrawl these unlimited times.

In Ahrefs, you are given a crawl budget, which means if you recrawl the same page 5x, it is counted 5x
So for that reason, we can't draw a direct comparison per se. The value for money depends on how many times you would recrawl your pages in Nightwatch. Any more than weekly seems unnecessary in general, so you'll probably find better value (per page crawled) in Ahrefs for this (starting from the $179+ plans, anyway).
| Plan | # Pages Allowed | Monthly price | Annual price | $ per 1,000 pages (monthly) |
| --- | --- | --- | --- | --- |
| Nightwatch Starter | 5,000 | $39 | $24 | $7.80 |
| Nightwatch Optimize | 10,000 | $99 | $59 | $9.90 |
| Nightwatch Agency | 50,000 | $369 | $221 | $7.38 |
Cost per 1,000 site audit pages in Nightwatch, per plan
| Plan | # Crawls Allowed | Monthly price | Annual price | $ per 1,000 page crawls (monthly) |
| --- | --- | --- | --- | --- |
| Ahrefs Lite | 10,000 | $99 | $82 | $9.90 |
| Ahrefs Standard | 500,000 | $179 | $149 | $0.36 |
| Ahrefs Advanced | 1,250,000 | $399 | $332 | $0.32 |
| Ahrefs Agency | 2,500,000 | $999 | $832 | $0.40 |
Cost per 1,000 site audit page crawls in Ahrefs, per plan
Things Ahrefs can do that Nightwatch cannot
The important comparisons have already been made, so this will be brief. Since Ahrefs costs more & generally has a broader feature set, it makes sense to highlight more things that it offers which Nightwatch.io does not. This isn't an exhaustive list.
Some of these have already been mentioned above to varying extents.
1. Competitor analysis
You're able to dig into your competitors' traffic, best pages, backlink profiles and more.
Find a site's best pages by most traffic, or most backlinks
See which queries drive the most traffic to each page
See whether new links appear with the page (e.g. guest posts), or are edited later (e.g. link inserts outreach) in Backlinks 2.0
2. Get content ideas
Content Explorer lets you find topics within your niche that are popular, based on backlinks, social shares, and so on. You can also get content ideas from checking your competitors' top pages, as above.
3. Check internal links
Ahrefs has an internal backlinks report, and a separate view in 'best by links' to see only internal links. This makes it really easy to find pages that a) have 'juice' to pass on, and b) don't have many existing internal links.
4. Additional SERP metrics
There are several extra useful metrics found in Ahrefs, including clicks per search, and return rate.
5. Keyword research & difficulty analysis
Ahrefs can be used for analyzing keyword difficulty and gathering search volume data for content planning; Nightwatch cannot.
Pricing comparison
You can simply visit each tool's pricing pages for this, but I'll pull out some key details.
The main differences
These differences in pricing structure might influence your buying. Again, this won't be exhaustive — just some prompts to think about.
Nightwatch has a much lower entry price. Ahrefs starts from $82/$99 per month, and Nightwatch starts from $24/$39 (annual/monthly).

Nightwatch has a cap per plan for how many backlinks you can monitor. Ahrefs does not (other than for exporting data & alerts).

In Nightwatch (for Optimize/$59+ plans) you can add extra users with permission levels. In Ahrefs, each extra user is billed +$30 per month.

The lower tier plans have similar site audit crawl credits, but once you get to the $179 Ahrefs plan (and up), the site audit allowances are much more generous.

The cost per keyword tracked is much better in Nightwatch. E.g. 500 keywords is $39 in Nightwatch, and $99 in Ahrefs. Though of course there's other features included in the higher price, if rank tracking is a key focus, that's important.
I hope that helps you to make your decision! Both offer a risk-free way to try them out, so naturally I'd recommend you do so.
Nightwatch offer a 7-day free trial: link to website
Ahrefs offer a $7 trial for 7 days: link to website