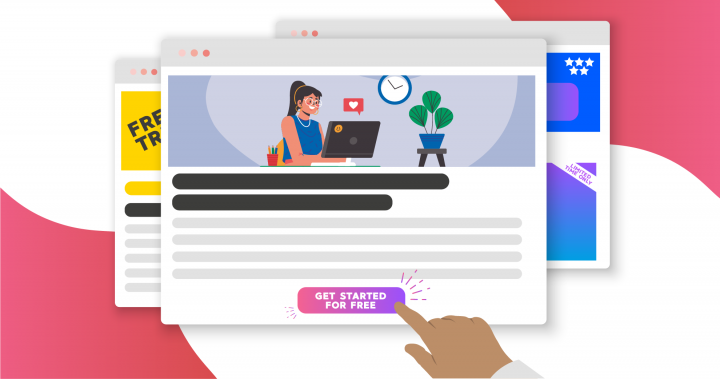 High intent keywords are the key to getting an ROI on content & SEO, especially early on.
For early stage brands especially, it often isn't financially viable to focus on top-of-funnel content and create elaborate nurturing sequences that might generate customers in 3-6+ months.
There are a bunch of keywords, though, with commercial intent. People who are ready (or nearly ready) to buy a solution.
In this type of content, you can be aggressive with CTAs. Drive trials & demos directly, rather than beating around the bush with long-term plays like webinars and e-books.
So, what kind of keywords could be relevant for you? Instead of offering a redundant list telling you to look out for keywords including things like 'buy', 'purchase', 'sale' and so on, I'll try to give you concrete, actionable content ideas. Plus, tips on how to find the specific keywords for your niche, how to rank for them, and some content examples.
We'll take a look at:
How to find high intent keywords for SaaS
Before we get started with the keyword ideas, I want to very quickly explain 3 quick & easy methods for finding these keywords. The process is very simple. I'll demonstrate with some specific examples for each method, but this works for any of the categories below.
1. Filter your Search Console data
One of the methods I see utilized the least, yet very effective. Simply go into the performance report, and add a filter for queries containing 'how' or 'how to'. Sort by impressions, and see what you find.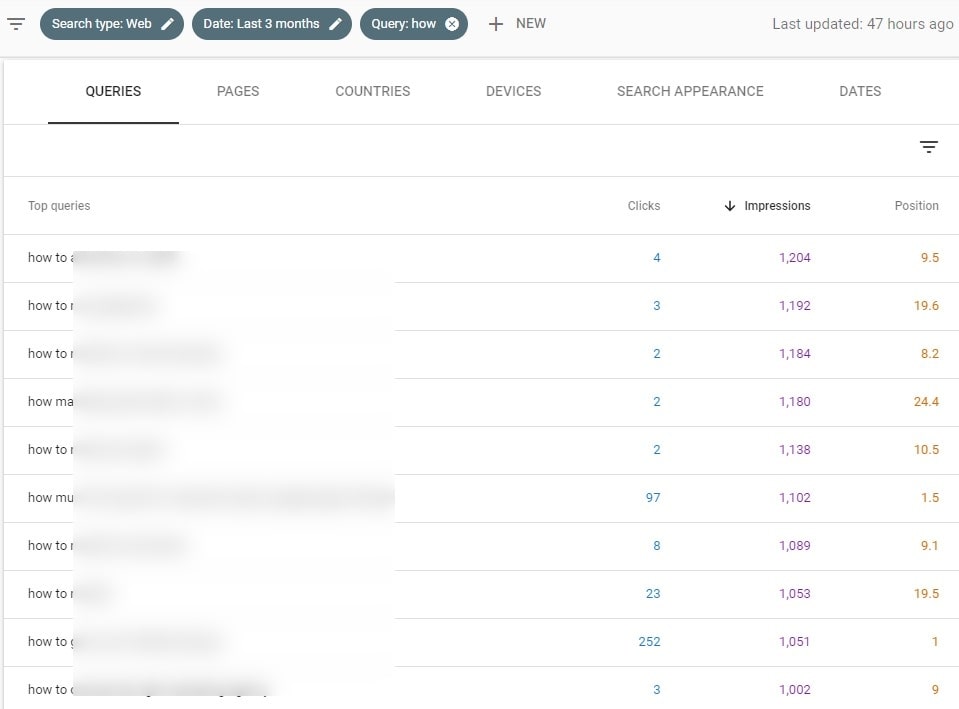 Repeat this process for the type of keyword you're looking for. For example, queries containing 'template', or 'software', or 'tools'.
On a brand new site this won't work very well, but the more content you have, the more data you'll get. You're likely to find that you've accidentally ranked in positions 20-100 for keywords you weren't even aware of!
2. Look up competitor rankings & add the appropriate filter
Drop a competitor URL into a tool like Ahrefs, and add a filter for 'how' or 'how to' like this: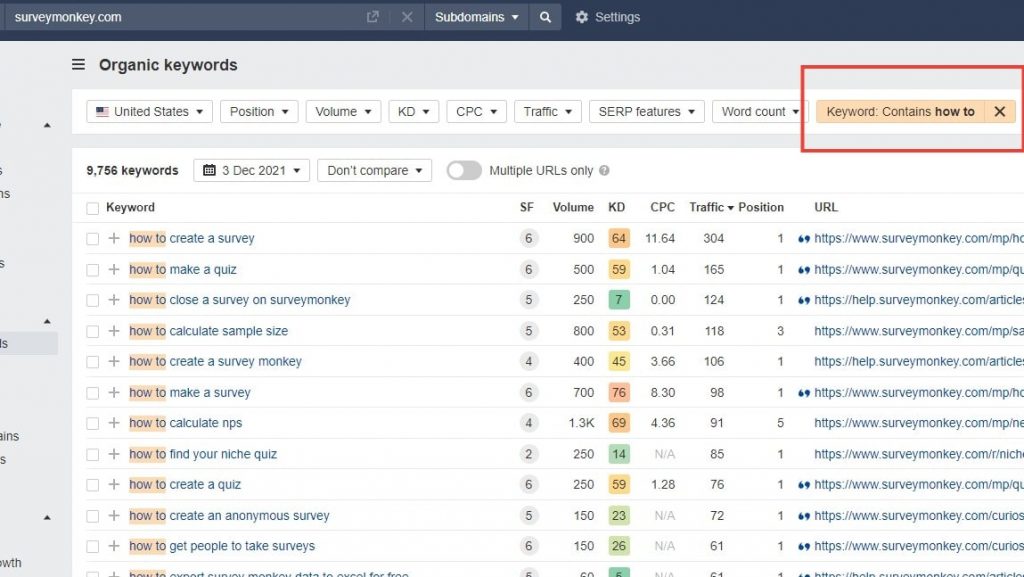 They're less likely to be super low competition (because, obviously, your competitors already have relevant content), but they could still be good opportunities.
Replace 'how to' with 'vs', 'software', 'platform', or whatever you're looking for.
3. Search using seed keywords
Other than using your own Search Console data or competitor rankings, you can try throwing a seed keyword into a keyword research tool. Here's what happens when you search 'Mailchimp vs' in KWFinder: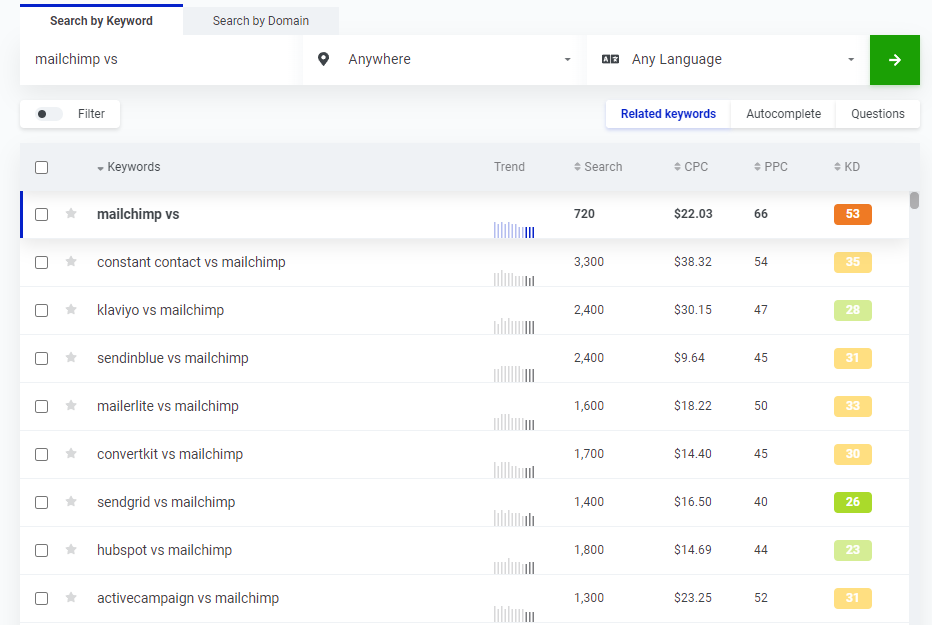 These are all quick & easy methods that are worth being aware of. Some work better than others for different instances.
With that out of the way, let's get into the keyword ideas 👇.
1. Software & tools keywords
These are keywords where the searcher is clearly looking for a software solution. Usually, the intent here requires a listicle (a blog post listing products), but sometimes a landing page will rank too.
It's important to check the SERP for your target keyword & see what the search intent requires.
Software: employee engagement software, project management software
Tools: task management tools, email outreach tools
Platform: SEO platforms, influencer marketing platforms
App: annotation app, online calendar app
For example, if you search 'project management software' you'll mostly get listicles like this one.
Tool keywords in this next list tend to require a landing page.
Generator: privacy policy generator, form generator
Maker: infographic maker, contract maker
Builder: landing page builder, document builder
Checker: backlink checker, grammar checker
For example, if you search 'privacy policy generator', you'll get single-product landing pages like this one. You may also need to embed free interactive tools like Ahrefs do here with their backlink checker.
Modify these keywords to find lower competition variants
If you're looking for short-medium term bets, try to be as specific as possible. Longtail variants of these keywords will be easier to rank for, plus they'll probably convert better.
In my SaaS SEO Quick Wins article, I gave some examples of how you can modify high-intent software keywords to find easier variations. Here's a similar table to illustrate different ideas for modifiers:
Modifier
Main keyword
Longtail variants
Company size
market research tools
market research tools for startups
enterprise market research tools
Industry
scheduling software
construction scheduling software
scheduling software for healthcare
Use case
rank tracking software
rank tracking software for Bing
mobile rank tracking software
Technology
form generator
html form generator
django form generator
Continuing with the last example of 'form generator', here's some of the suggestions when you drop 'form generator' into KWFinder: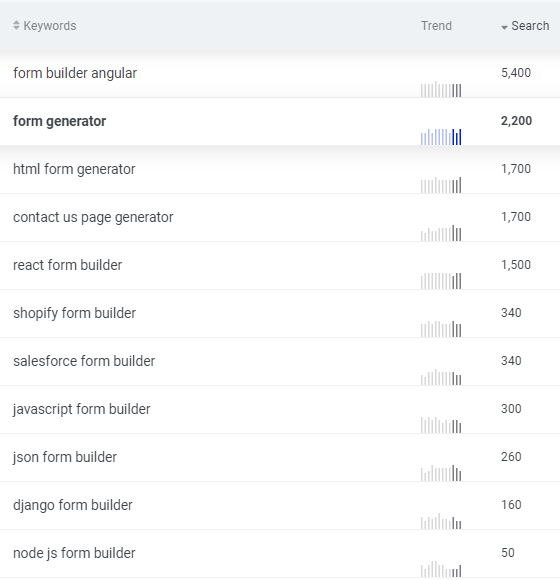 Even though they're lower volume, you're more likely to have success with something like 'django form builder' or 'shopify form builder' if those are relevant to you. Keep digging, and find some low competition keywords for quicker wins.
2. 'How to' solution-focused keywords
These keywords can help you to present your SaaS solution to your target personas' problem.
This category can vary a lot depending on your exact solution, but let me give you some examples for inspiration.
How to measure: how to measure brand awareness, how to measure net promoter score
How to track: how to track Google rankings, how to track conversion rates
How to increase: how to increase product adoption, how to increase employee engagement
How to reduce: how to reduce customer churn, how to reduce bounce rates
How to find: how to find an influencer's email, how to find low competition keywords
How to build: how to build an app without coding, how to build an ecommerce store
How to create: how to create an abandoned cart email, how to create a recurring invoice
How to do: how to do a business plan, how to do an SEO proposal
… (and so on)
You'll find different types of content ranking for 'how to' keywords. Sometimes it'll be a listicle (such as '10 ways to measure brand awareness). Other times you'll find a detailed step-by-step process. Analyze the SERP to see what's working.
In case you skipped past the part where I explained how to find these keywords for your niche, scroll up.
3. Competitor keywords
Search queries with a competitor brand name included are usually bottom-of-funnel, high intent searches. The person already clearly knows that they need this type of software, plus they're far enough along their decision-making process that they're now weighing up the options.
Alternatives
These keywords almost always require listicles to rank. The current standard approach in SaaS is to list a bunch of software options with yourself or your client in #1.
Here's some example variations to look out for:
Mailchimp alternatives
Mailchimp competitors
Cheap Mailchimp alternatives
Free Mailchimp alternatives
Software like Mailchimp
Tools like Mailchimp
Here's an example of an 'alternatives' piece done well: Canva Alternatives by Piktochart. Notice how they don't just blindly list out tools, but genuinely try to identify scenarios in which each tool is the best.
Doing so prevents this from looking like a 'cheap' demand generation play too, and turns it into genuinely useful content for the reader.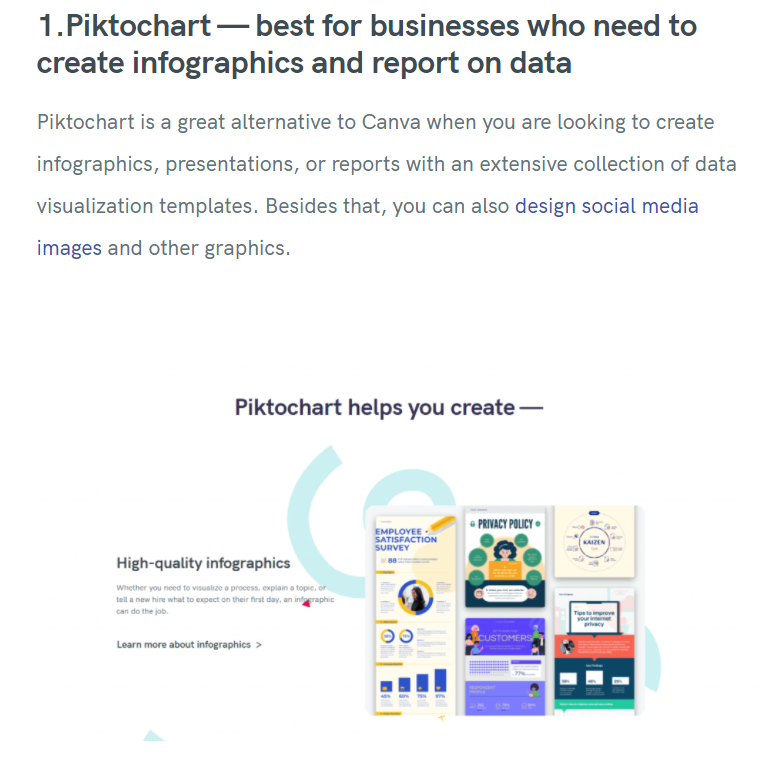 Another tip for 'alternatives' content is to add in some criteria for what you're looking for. Start by establishing what's good about the brand (we want to retain these strengths in alternative solutions), and what are the specific drawbacks we're trying to solve.
Is the pricing too high/restrictive?
Are they missing key features for your ICP?
Are they missing key integraitons?
Is the tool too complex to use?
Is their customer support poor?
Identifying those criteria makes it easier to recommend solutions, and write a more compelling case.
Comparisons
As well as 'alternative' keywords, you're likely to come across 'vs' keywords too. Anyone searching for a 'brand A vs brand B' keyword is, once again, pretty far along in their decision making process. They're almost ready to buy a tool.
Remember this example from earlier? Here's what comes up when dropping 'Mailchimp vs' into KWFinder: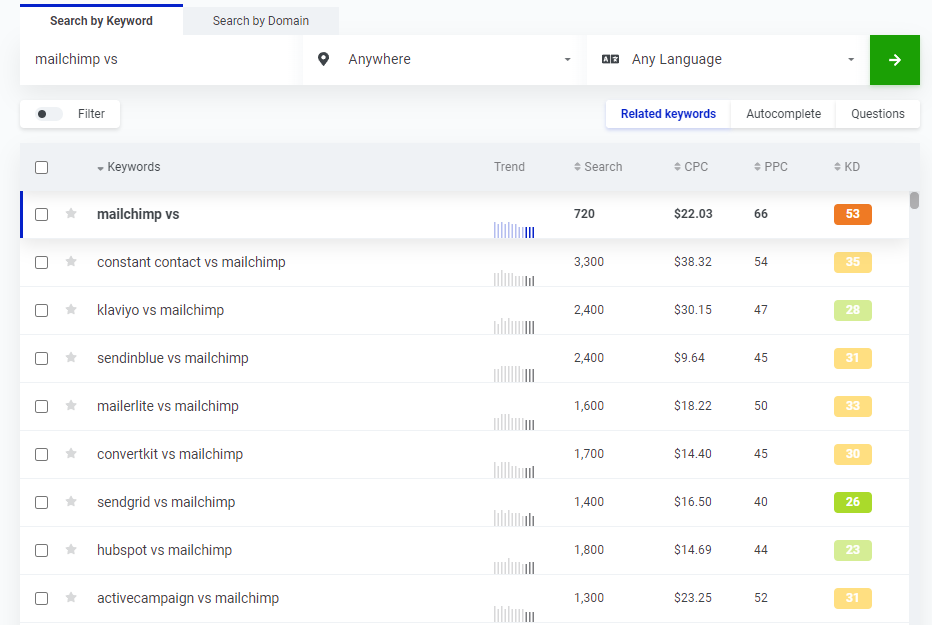 Lots of viable comparison content ideas.
If you're an established brand, it's important to have a presence in the SERPs when someone looks for these comparisons.
But what if your brand has no search demand for comparisons yet? Good news: newer brands can still tap into this by leveraging competitor searches.
If there's search volume to compare two of your competitors, you can tap into that volume, and throw your hat in the ring at the same time.
Here's one example by Toggl Plan, who rank #1 for 'trello vs meistertask':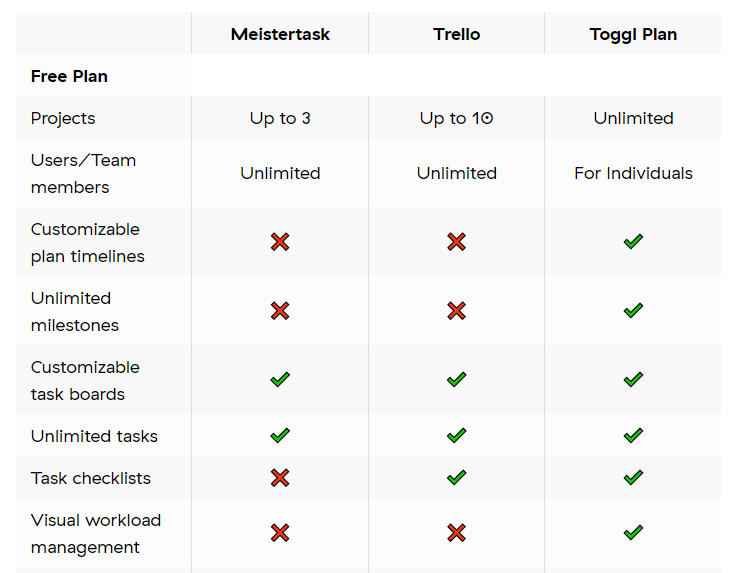 They're able to rank for the keyword by satisfying the intent (comparing Trello vs Meistertask), but also generate sign ups by pitching Toggl Plan as a third option to consider.
ClickUp also do this a lot. Take a look at Notion vs. Evernote, or Bear vs Evernote for example.
As above, I recommend dropping '[competitor] vs' into KWFinder and see what comes up. If there's some big players in your niche, you should find a few decent volume / low competition keywords to try. Here's one last example using Notion: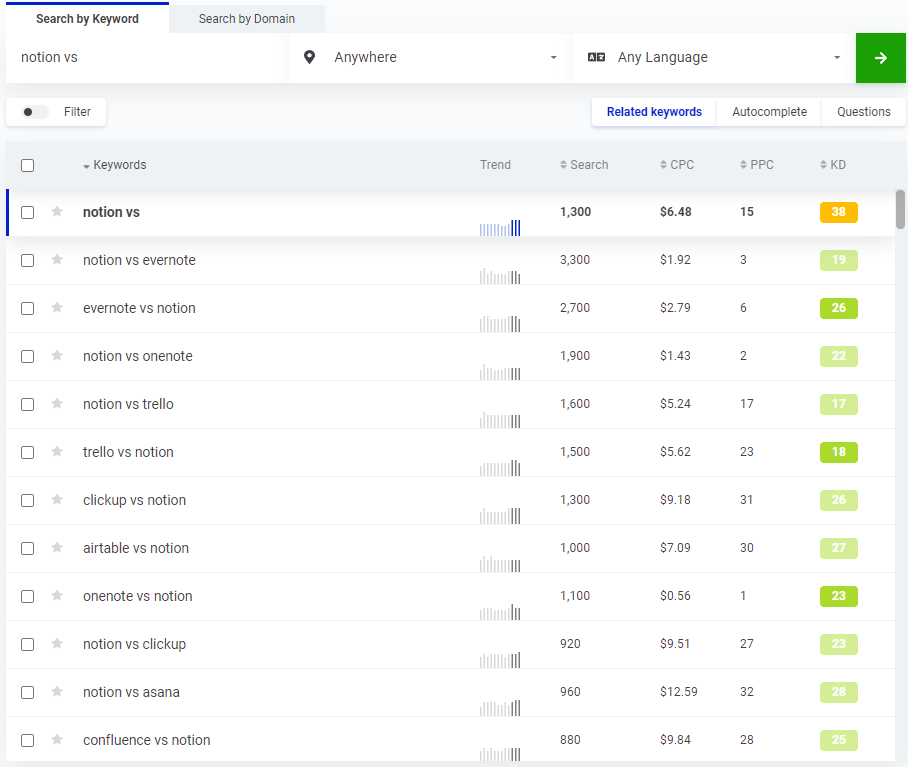 4. Schemes & programs
I couldn't think of a creative name for this category, so it's 'schemes and programs'…
So far, I've mainly seen these keywords in niches like HR, and customer loyalty/referrals. I'd be glad to hear about examples from other industries too, if you know of any! 🙂
Here's some examples:
Employee discount scheme
Employee benefits scheme
Customer loyalty scheme
Ecommerce referral program
Employee wellbeing programs
Here's an example landing page that I've worked on that ranks #1 & reliably generates MQLs: Perkbox employee discounts scheme.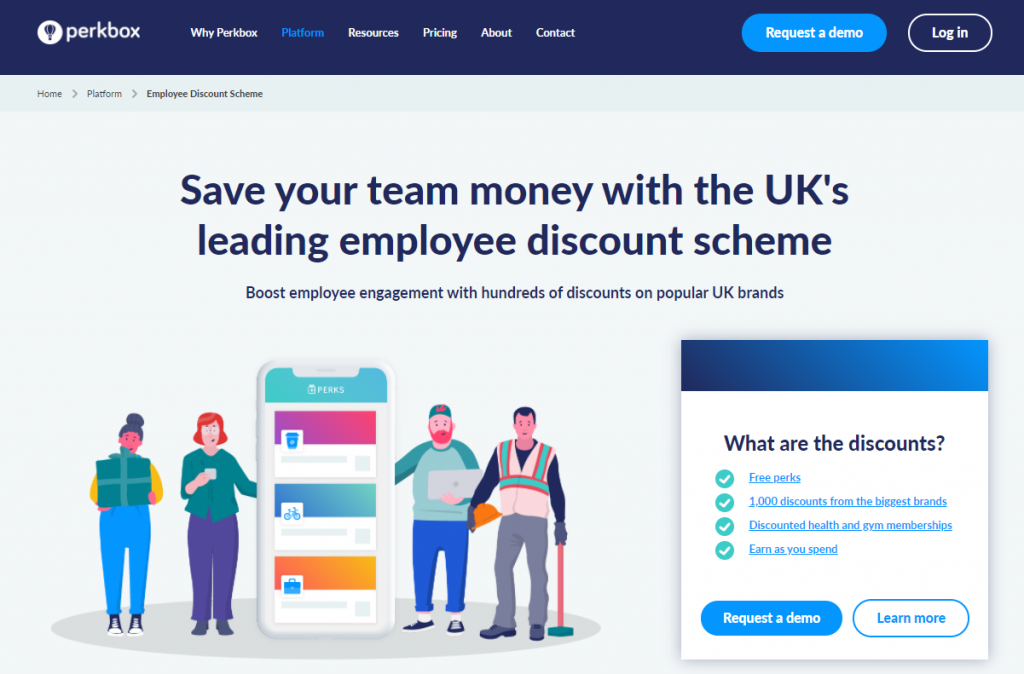 As always, check the SERP to see what's currently ranking. In the case of 'employee benefits scheme', it's a landing page. For 'employee wellbeing programs', it's a listicle. Plan your content accordingly.
5. Templates
Template keywords can be a great source of sign ups for SaaS products. Templates are not only good for sign ups, but great for quick activation too, helping users find value quicker.
Sometimes you'll find actual template galleries, but other times you'll find blog posts too. That means that even if you don't have the dev resources for a public template gallery, you can still explore this.
For example:
The results for 'welcome email templates' deliver lists of examples like this
The results for 'facebook cover templates' however, delivers actual template galleries, like this
Depending on your niche, you may find broad template keywords like 'order form template' can be used as categories. Within that category, there are hundreds or thousands of more longtail keywords to find (e.g. cake order form, stationary order form):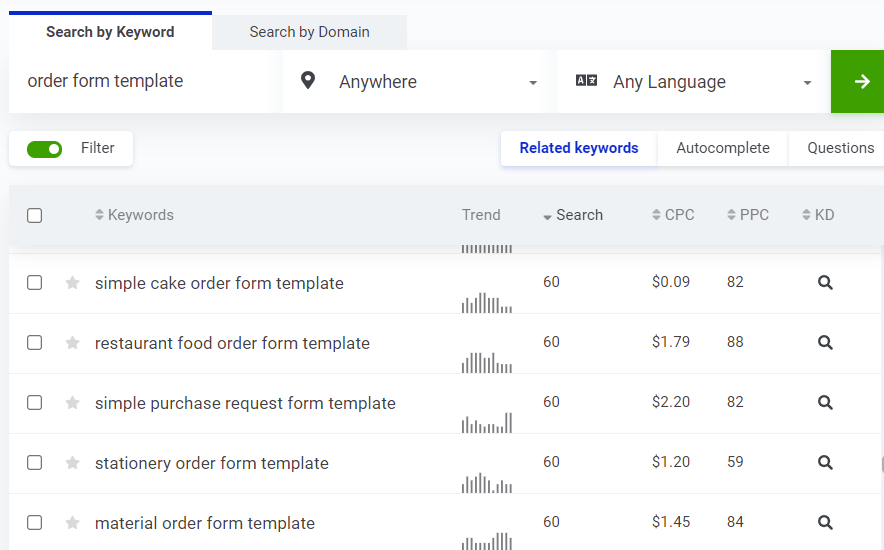 If you're planning to develop a template gallery for lead generation, I recommend reading this comprehensive guide to SaaS template libraries by Mihai Sterian.
6. Integrations
Integrations keywords are another big opportunity for some SaaS products. They represent an immediate need to connect to a tool the searcher is already (probably) using. That means it can be an easy sell, and your solution can quickly become an integral part of their work.
Something to look out for is brand + use case keyword combinations. Here's some examples where searchers are looking for a solution to fit their existing tool:
There's also a ton of search demand for keywords containing two brands (e.g. 'metabase github' or 'jira toggl'). These are only relevant though if you're either a) one of those brands, or b) a connector like Zapier.

To learn more about driving organic results with SaaS integration pages, check out this guide by Michael Smith at Powered By Search.