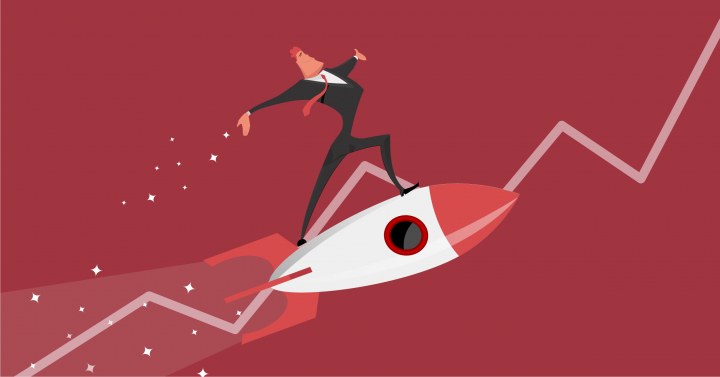 In SEO, a big part of the challenge is actually getting things done. Getting resources to push our ideas forward around the countless other priorities that people & companies have.
One of the best ways to get more resources in the long-term, is to prove results in the short-term. Prove that this SEO thing actually works, so that you can work on bigger / longer-term projects.
In this post, I'll propose ideas that can generate these short-term results. Ideas that:
Require little (or zero) resources from other teams (e.g. design/dev)
Are likely to have a measurable impact within one month
Take up as little of your time as possible
I won't say 'build a template gallery', because this is a high-effort initiative that requires buy-in and resources across teams. I'll also avoid listing tactics like:
Claim unlinked brand mentions
Improve E-A-T
Add image alt text
While they're worth doing, they're unlikely to really drive your KPI anytime soon. My goal is that you finish reading this article with at least one solid actionable idea that you're eager to get started on right away.
Most of these ideas aren't necessarily SaaS-specific, but I'll be writing about them from a SaaS perspective, with SaaS examples.
Lastly, you'll notice that some of these ideas cross over into the world of CRO. I'm going to assume that you're responsible for the business results driven from organic search. That means not only generating the traffic, but making sure it actually converts too.
8 Quick wins in SaaS SEO to grow your KPI
Here's the summary. Feel free to skip down if one catches your eye!
Let's jump in.
1. Increase organic CTR by writing better meta titles
In PPC, it's common practice to be constantly testing & iterating headlines. SEO testing is not so popular (yet).
This is a low-effort initiative that can have results within days, without any new content, and even without position increases. Although, a CTR increase can lead to position increases too. If the #3 result starts getting more clicks than the #2 result, it makes sense for Google to swap them around, right?
Prioritize pages that are generating conversions, especially if they're not yet ranking #1 for their main keyword.
How to write better meta titles
If you're the first person in the company to properly start optimizing meta titles (e.g. first full-time SEO, or brand new SEO client), there's likely some really easy opportunities.
You could:
Add secondary keywords to increase longtail rankings
Dig into your PPC campaigns and find top performing copy
Talk to your sales & support teams to learn about key pain points & USPs
Test modifiers like price, volume, speed, and freshness*
*This one requires a little elaboration. It's quite an old article now (2015), but I still like this model from Siege Media:
To give an example:
Speed is a reference to how quickly something will happen. That could be how fast your product will impact the user, how long it'll take you to use it/do something, etc. Here's one real-world example that Piktochart have had a lot of success with:
How To Make An Infographic In 30 Minutes (2021 Guide). This one successfully combines speed with freshness (see: 2021), and there was a significant CTR & ranking increase after implementing.
Very quickly, here's some other SaaS-ier examples of the other modifiers that might inspire you:
| Modifier | Old Title | New Title |
| --- | --- | --- |
| Speed | How To Make An Infographic In 7 Steps | How To Make An Infographic In 30 Minutes (2021 Guide) |
| Volume | Free Welcome Email Template Gallery | 109+ Welcome Email Templates | Try For Free |
| Price | Project Management & Communication Software | Project Management Software | Unlimited Seats For $99/mo |
| Freshness | 50 Most Popular TikTok Influencers | 50 Most Popular TikTok Influencers For Winter 2021 |
How to measure organic CTR tests
The easiest way is to use a software tool. Something like SEOTesting or ClickFlow that has a dedicated feature for this & relatively accessible price point.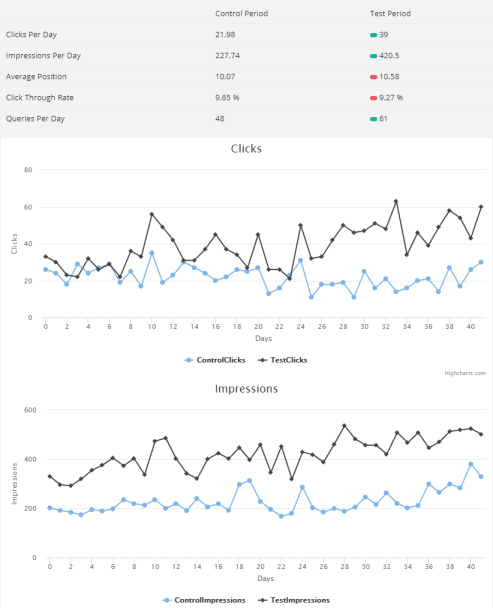 If you don't have access to a tool though, don't let that block you from getting started. You can simply select a few trial pages, implement the changes, and manually analyze the results with Search Console data (CTR, positions, clicks). Note down the change dates, add a couple of days to allow recrawling, wait 2 weeks, and compare before/after.
It's not a precise art, as there could have been other factors at play, but you should get an idea of impact. The more pages you test, and the higher their traffic, the more likely you are to reach statistical significance.
Once you have some wins, you can justify investing in a tool to help scale up your efforts quicker.
Useful further reading:
2. Review the CTAs / next steps on high traffic pages
If you're responsible for the organic channel KPIs, there's a good chance you're going to have to put some work into converting the traffic you generate. Even if you're not the one to implement, making recommendations & building a business case will lead to better results for you.
Try skipping the funnel
It's common in content marketing to focus entirely on lead magnets, gated reports, email signups and other lower value conversions. Someone isn't going to sign up for a trial or a demo just from reading one article, right?
…Right?
Well, I'd say test it. What if you could get someone to jump straight in for a trial? It saves a ton of work on nurturing, plus makes attribution easier.
This is particularly relevant for higher intent content, where we can assume that the user is close to taking action. Keywords/topics like:
Kanban board software
How to use kanban boards
Trello alternatives
Trello vs Asana
…etc
Let's say your content download CTA was converting at 5%. You might test a more direct / higher value CTA like a trial signup or pricing request that only converts at 2%, so you're only getting 40% of the conversions. Which is better?
Unless more than 40% of the content download leads eventually sign up from your nurturing sequences, it's better to just have fewer conversions of a higher value.
Plus, in my experience, a lot of SaaS companies don't even know how well their nurturing funnels convert in the first place. It's tricky to attribute.
Simply add more CTAs
As well as the copy & offer, think about the positions of your CTAs. Especially on blog posts.
It's not uncommon to see blog posts, even high intent topics, that have only one single CTA at the bottom of the article. A place where most readers probably don't even reach. Or worse still, no CTA at all.
Naturally we want to maintain the content quality & user experience, but remember that the ultimate goal is generating revenue.
Add additional CTAs in higher, prominent positions.
Take a look at this example by Databox: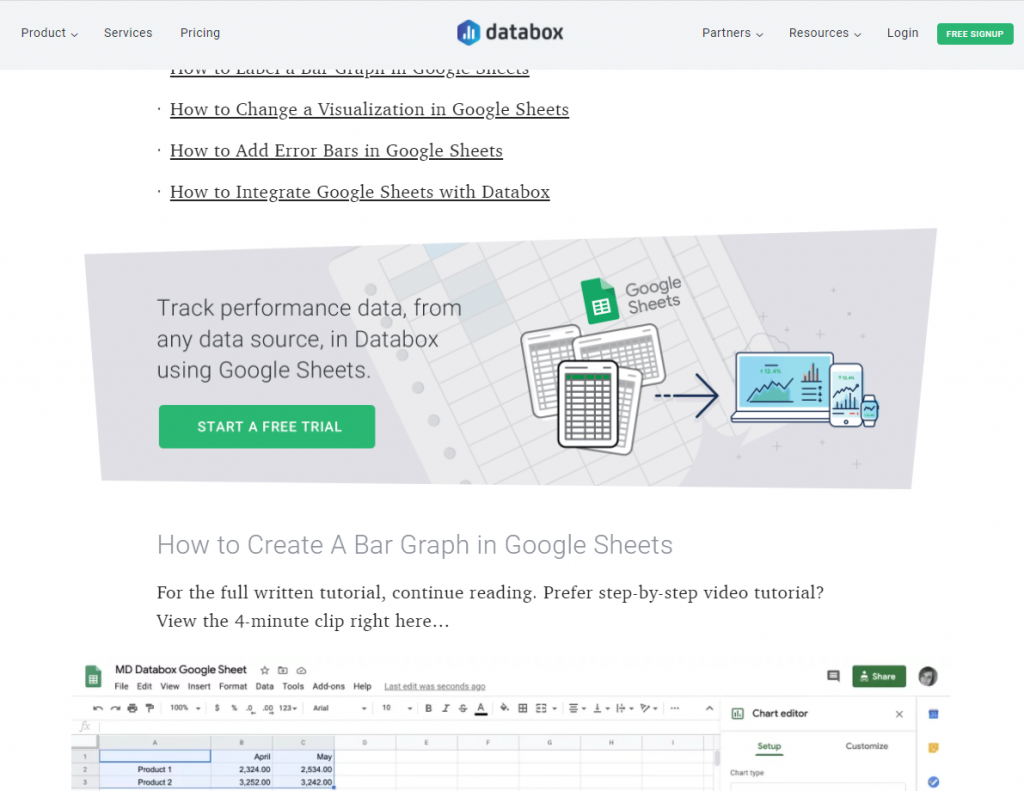 A user reading this article isn't necessarily searching for Databox's solution, but as a Google Sheets user creating charts & graphs, they may well be the right target market. Databox add big, boldly designed CTAs high up, even before the first H2.
In my experience, this approach is effective, and it's the best way to squeeze more revenue out of existing content.
Start by prioritizing pages that either have high traffic & low conversion rates and/or are ranking for high intent keywords.
3. Prioritize low competition, highly relevant content
If you want to start generating conversions quickly with new content, it's going to have to be low-competition stuff.
Keywords that you can confidently rank top ~3 for without any backlinks. They're probably going to be very specific longtail search terms with low volume, but high relevance.
Many high-intent software keywords can be modified to find a lower competition, more specific keyword for your content. Here's a few ideas & modifiers to inspire your keyword research:
Modifier
Main keyword
Longtail variants
Company size
market research tools
market research tools for startups
enterprise market research tools
Industry
scheduling software
construction scheduling software
scheduling software for healthcare
Price
mailchimp alternatives
free mailchimp alternatives
cheap mailchimp alternatives
Use case
rank tracking software
rank tracking software for Bing
mobile rank tracking software
You can also try looking for keywords with business model identifiers (e.g. xyz software for agencies, for freelancers, for SaaS, etc.)
Quick tooling tip: I prefer to use Mangools' KWFinder for finding low-competition longtail keywords. It's pretty cheap, and seems to be better for volume accuracy & trends when it comes to less popular keywords. I explained why here.
Look for underserved SERPs in your niche
Take a look at this SERP. The main keyword is 'product demand analysis'. Compare the number 1 & number 2 ranking pages.
The page with the lower DR & fewer referring domains outranks the other due to relevance. This is the only page in the SERP that is specifically covering product demand analysis. The others address the more general topic of demand analysis.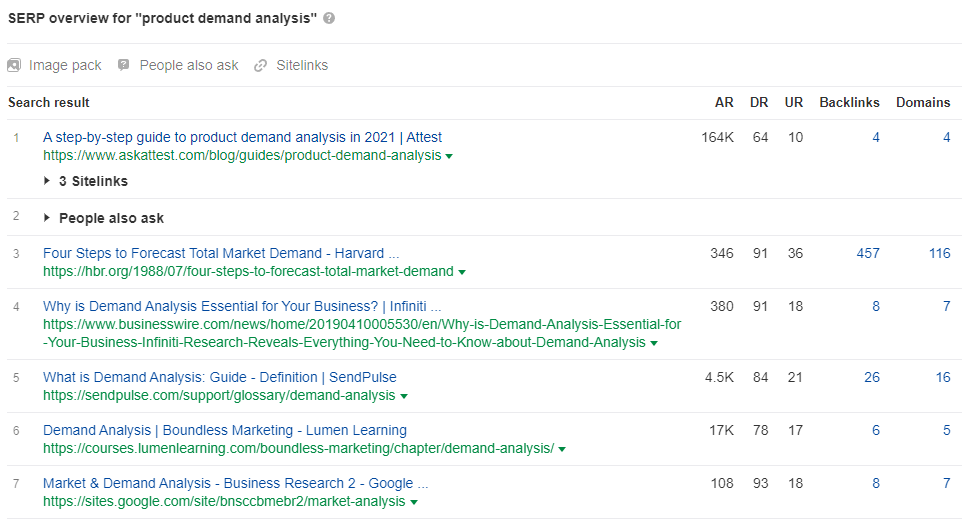 This page started to generate a small number of sign ups within one month of publishing. You can see in the position history how quickly it ranked (blue line, far right).

New content often isn't a 'quick win' in reality, but if you can spot underserved SERPs like this one, it can be. Where there's an opportunity to product more relevant content which better satisfies the search intent, you can rank fast.
Useful further reading:
4. Boost key pages with internal backlinks
Internal linking is simultaneously simple & complex. Something that is easy to do in theory, but very difficult to properly understand & 'master'.
One thing that we do know though, is that internal linking does matter, and it can influence rankings.
Here's a straightforward exercise that you can do to boost key pages.
Identify target pages
Make a shortlist of key pages that either already generate conversions, or have a high potential. The number of pages you test this with could depend on the size of your site, and the time/resources you have available. If you're flying solo, maybe stick to 5-10 important pages for an initial test.
Identify internal linking opportunities
There's a few places you can start to look. If you're doing this in bulk you'll want to use a tool (for example Ahrefs link opportunities feature inside Site Audit). Otherwise, you can do this manually without too much time/pain.
a) Sitewide links (navigation/footer). Could you add a 'resources' section in the footer & link to key posts? Or if you're ranking competitor comparisons, for example how about a 'Compare To' or 'Us vs Them' subheading?

b) Existing related content. You could try using a search operator like: site:mywebsite.com "keyword". This will quickly bring up any indexed instances on your website where your target keyword is mentioned.

c) Top pages by backlinks. Take a look at your pages which have the most external backlinks. These likely have the most authority to pass onto other pages. As long as the context is relevant, you should make sure that authority reaches your highest priority pages through internal links.
Implement & measure the impact
Like many other SEO tests, this won't be an exact art. There's a good chance you're already working on other factors to boost these pages (e.g. external backlinks, content refresh, on-page optimizations).
Still, you can record some baseline data (traffic, main keyword positions) to compare a before/after.
Additional tips on internal linking
Use descriptive anchor texts. Rather than 'see more' or 'click here', help both users & search engines understand where that link is leading to.
Also, remember you can remove internal links too. The more internal links you add from each page (including the homepage), the more you'll dilute the authority that you're passing. Consider removing links to pages which are less important from an SEO (and UX) perspective.
Userful further reading:
5. Optimize your sign up or demo page
In many SaaS websites, all users are funnelled through to a single page to sign up or book a demo. That includes your SEO traffic, and every other channel too.
I'm going to demonstrate this with a trial signup page, but the same applies to demo or pricing pages in a sales-led model too.
If that page sucks, you're in trouble, and it'll hold back the results from your hard work everywhere else.
Here's a quick and dirty way to see if there's any impact to be found.
Simply go to Google Analytics and check how many users visited your signup page. Then, check how many total trials started you tracked in the same time period. What's the difference?
| Sign up page visits | Trials started | Completion rate |
| --- | --- | --- |
| 15,000 | 10,500 | 70% |
Like everything when it comes to attribution, it's probably not going to be exact, but you'll get a good idea of how many users are completing this journey.
In this example, if you could increase the completion rate to 71%, you'll get 10,650 (+150) trials. It could be as simple as changing one heading. Or adding one line of micro-copy (e.g. no credit card required).
It's also a lasting benefit which becomes more and more valuable the more traffic you get.
Some optimizations are easier than others
When it comes to optimizing a sign up page, some things are trickier than others. For example, you might be able to get new copy implemented immediately. Other ideas might get stuck waiting for design/dev resource though. That being said, here's some things you can explore.
a) Add product UI shots/gifs to the page. Let people see how the software looks, and get them excited to get inside & start exploring. You can even try an ungated interactive product demo.
b) Assure the user that the process is frictionless. Perhaps the user is only two clicks away from getting started, since you designed such an amazing sign up flow. Let them know about it. 'You're only X clicks away from xyz. 'No credit card required', etc.
c) Actually make the process frictionless. If you do currently require a credit card, can you remove it? Maybe the person signing up doesn't have access to the company card, and has to get permission to sign up. That's friction. It also probably means that if they do come back it might be direct or branded (no credit for your organic channel in last-click attribution!). What about adding one-click sign-up with a Google account?
d) Make sure the user understands the process. Be sure to clarify what the user gets (e.g is the trial X days long, or is it usage based), and what's about to happen next after they submit their details.

And so on. General landing page best practices such as social proof can also apply here.
If it does turn out that you need dev time to work on this, it could be easier to build a business case for it. The impact is relevant company-wide for all channels, and it's relatively easy to forecast the potential gains.
Useful further reading:
6. Re-optimize existing content
Sometimes, you'll find quick wins in just re-optimizing landing pages & blog posts for another keyword.
Let me give you one real example from a Skale client, Perkbox. Their landing page's meta title & h1 had previously focused on the main keyword 'employee experience platform'. This describes the benefits offered by their product, but the search term has no search volume in the UK.
Their page already ranked #4 for 'employee benefits platform', and it had many more backlinks than any competitor in the SERP. Simply changing the title & h1 to optimize around this new keyword (which does have search volume) meant a jump to position #1 overnight, and an increase in MQLs.

This was an example of re-optimizing for a new keyword with more search volume, but it can also work the other way around.
If you have older content that failed to rank for it's target keyword due to high keyword difficulty, try re-optimizing for a longtail variant (as in tip #3 above).

Let's say you tried to rank for 'project management software', but you're not ranking on page one. And without a big link building budget, you don't expect to be any time soon.
A quick win could be to edit a few tools in this listicle, and re-optimize metas & headings to rank for something like enterprise project management software, or interior design project management software. Both of these have a lower KD & volume, and a higher likelihood of generating traffic in the short to medium term.
Go into the Search Console, and see which queries your pages get impressions for. There's a good chance you'll see keywords you didn't find in the keyword research tools, and didn't intend to rank for.
7. Update decaying content
If you're planning your content SEO efforts, it's tricky to figure out whether you should be producing more new content, or allocating some time to updating old content too.
I'd recommend taking a look at content that has dropped traffic recently.
You can do that by using a tool such as ClickFlow's content decay feature, Animalz' Revive tool, or even just manually comparing your Analytics/Search Console data.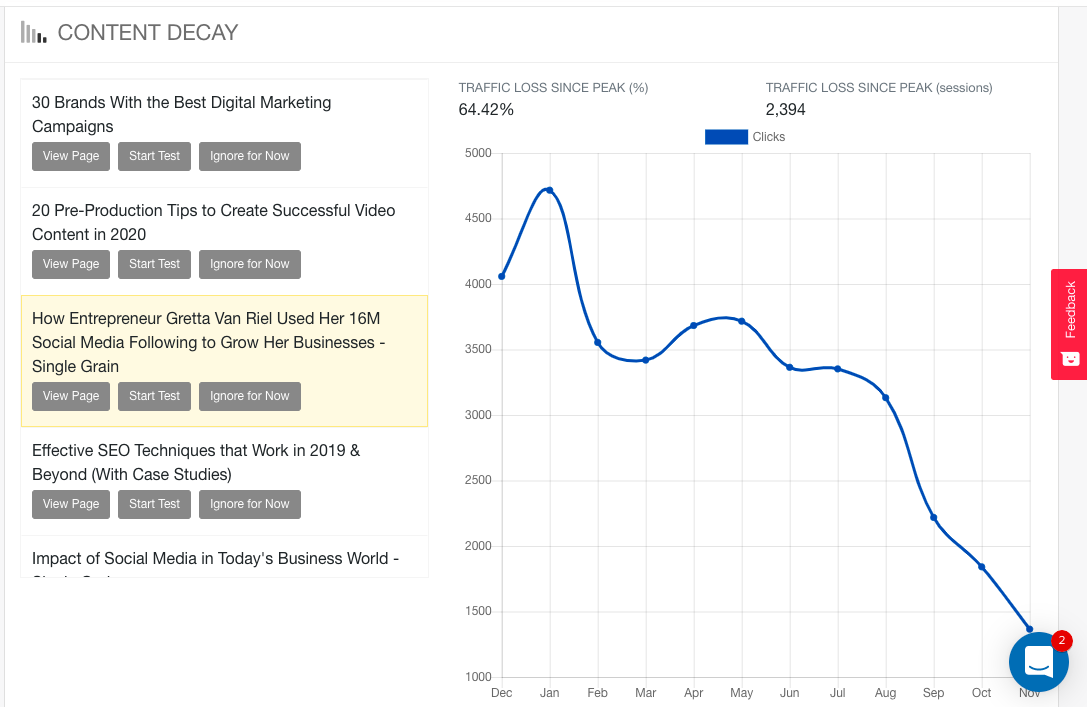 Once you've got a list of pages that have dropped, it's time to decide whether or not they're worth your efforts in updating.
Here are some things to think about to assist with making your decision:
Have your positions actually dropped, or did search demand drop?
If positions did slip, why? Did search intent change? Did a competitor build more links?
What would be required to regain #1? Is this a content issue? A backlinks issue? Something else?
Does this page generate revenue?
What would be the potential uplift if we regained positions?
Working through this process will help you critically analyze whether or not it's actually worth your time. Hopefully you'll find some good opportunities where refreshing content can lead to a big traffic & conversions uplift.
8. Add FAQ schema
FAQ schema can increase CTR by simply taking up more space on the SERP. This is what it looks like when implemented:

Even for non-technical SEOs, it can be relatively straightforward to implement.
If your content already has FAQs included, then great. If not, I'd suggest using a keyword research tool, or manually looking in the People Also Ask boxes to identify relevant questions.

Start by writing short answers, and include them in your content.
Next, for the actual implementation, the process depends on your CMS.
If you're on WordPress, it's super easy. Yoast for example has an FAQ schema block which does this for you. You just copy/paste the question & answer.
If you need to generate the schema markup yourself, use a tool like this one from technicalseo.com.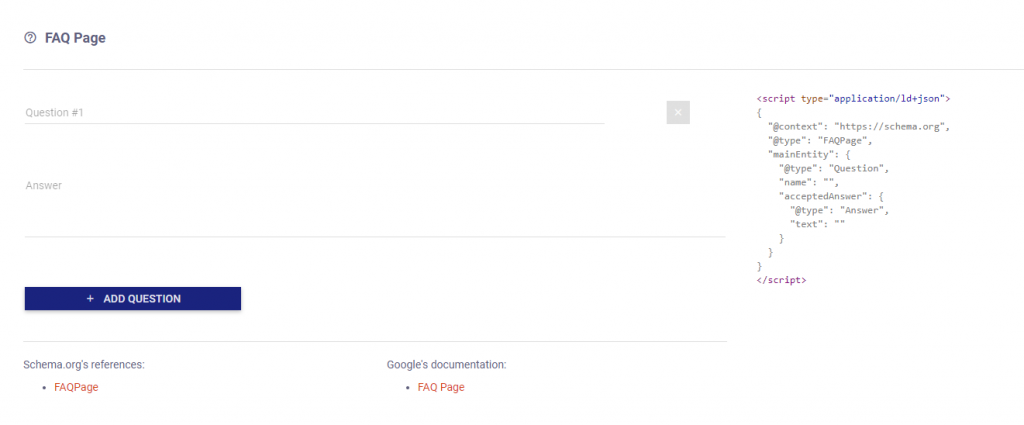 By doing this, you've improved your content by adding the FAQs (and maybe even increased traffic directly). Plus, you're likely to see a small CTR benefit for each page that successfully shows the FAQs in the SERP.
A few useful tips to know:
FAQ schema will only show up on page one
You can include links within the answer snippets that show in the SERP
A maximum of two FAQs per page will show up
Useful further reading: