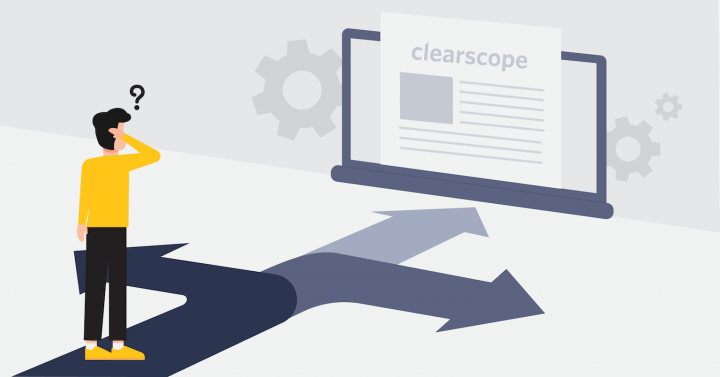 Clearscope is a popular content optimization tool that empowers writers and marketers to enhance their content's visibility and performance in search engine rankings.

While Clearscope offers great value to its customers, it may not suit everyone. For example, it can be overwhelming for users who are unfamiliar with SEO. Plus, Clearscope's keyword search tool has limited data.

In this article, I'll introduce you to 10 Clearscope alternatives, discussing their features and pricing to help you find the right solution for your needs and budget.
Here are the 10 best Clearscope alternatives
SurferSEO
Frase
SE Ranking
Outranking
Semrush Writing Assistant
Page Optimizer Pro
WriterZen
Dashword
Marketmuse
NeuronWriter
I'll provide the major (and minor) details on what makes these alternatives good choices.
First, let's clarify what we're looking for in a Clearscope alternative in the first place.
Or, skip straight to the tools 👇
Criteria for an alternative to Clearscope
The reason for choosing Clearscope or any other SEO writing tool is the same: maximum SEO efficiency.
Most SEO and content optimization tools are quite similar to each other. They offer suggestions for titles, headings, and main content, along with SEO scores and sometimes additional factors. However, there are various features and pricing variations that can lead to a completely different user experience.
When looking into Clearscope alternatives, we consider:
how the basic goals of SEO writing can be met with the tool
the ease of use relative to Clearscope
how their features compare to Clearscope's
how they facilitate teamwork between writers and their colleagues
Why consider alternatives to Clearscope?
There are several reasons why someone might consider trying a different tool instead of Clearscope.
Firstly, the basic Clearscope plan costs $170/month, which is expensive for small teams. There are cheaper alternatives for both large and small organizations, as well as for anyone seeking a simpler plan.

Secondly, Clearscope's keyword research tool is limited compared to other options. It provides basic suggestions, which may be enough for some users. But there are alternatives that offer more detailed keyword research.

Clearscope just might not be right for you. Small details like their interfaces and how you interact with the tool are arguably less significant. Since you'll be working with your chosen SEO content writing tool for many hours, it's important that it's the right fit for you.
It's time to review the details of the alternatives you should consider.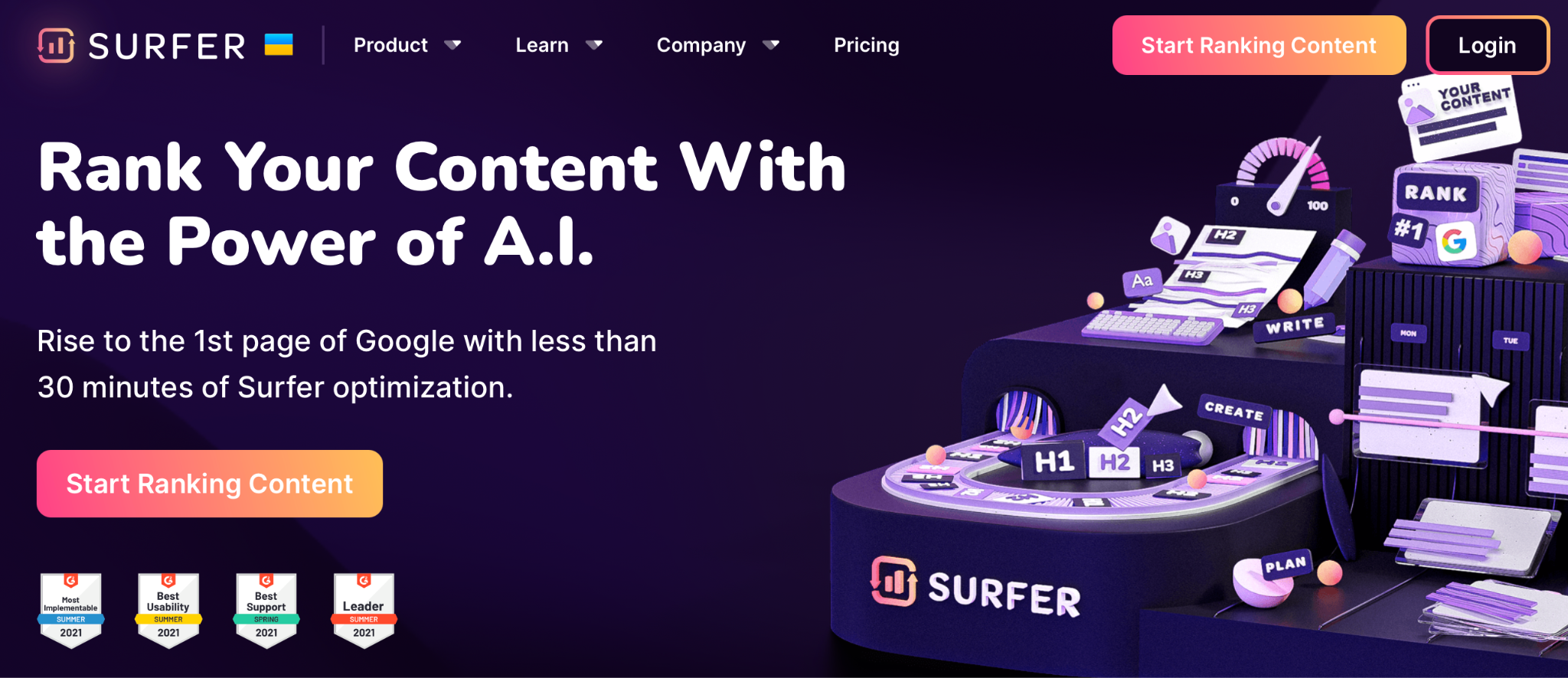 SurferSEO is a content optimization platform that's been adding many new features recently. It's one of the more rapidly advancing alternatives to Clearscope.
Features
SurferSEO's AI-driven feature set covers SEO writing, SEO editing, collaborating with writers, content planning, and more.
Content editor
The core feature of SurferSEO is to help you write and edit content that is optimized for SEO. It analyzes the top search results for your chosen keyword and provides suggestions. Its user interface is simple and can be used by people who are new to SEO.
Collaboration
You can easily share the guidelines you receive by creating a link that can be shared. This allows writers and other marketing colleagues to work with you in Surfer, even if they don't have to log in.
There's also a cool Google Docs extension that brings Surfer's data into your document. This makes it even simpler to work together with writers because you can easily add comments, discuss, and provide feedback.
Additional features
Compared to Clearscope and other tools for optimizing content, SurferSEO offers a wider range of features. In addition to optimizing and editing content, Surfer can also assist with:
Keyword research & content planning
Creating SEO content briefs
Auditing feature for finding SEO errors and repurposing old content
Missing backlink suggestions (internal & external)
Grow Flow: an AI tool that recommends tasks to enhance SEO strategy
Differences: SurferSEO vs Clearscope
In general, SurferSEO has more features than Clearscope. Both tools share the most important features, but SurferSEO goes beyond by providing additional features that assist with SEO writing.
SurferSEO offers more features and costs less to start with at $29 per month compared to Clearscope, which has an entry price of $170 per month. That's almost 6x expensive than Surfer SEO.
If you're looking for good collaboration features, a more affordable entry price, or extra SEO features, SurferSEO is definitely worth considering.
SurferSEO pricing
Pricing starts from $29/month (on a monthly plan). Below is a detailed overview. See Surfer's plans & pricing for yourself.
| Plan | Monthly price | User seats | Reports | Cost per report |
| --- | --- | --- | --- | --- |
| Lite | $29 | 1 | 3 | $9.66 |
| Essential | $89 | 3 | 7 | $12.7 |
| Advanced | $179 | 6 | 25 | $7.16 |
| Max | $299 | 11 | 50 | $5.98 |
| Enterprise | custom | custom | custom | custom |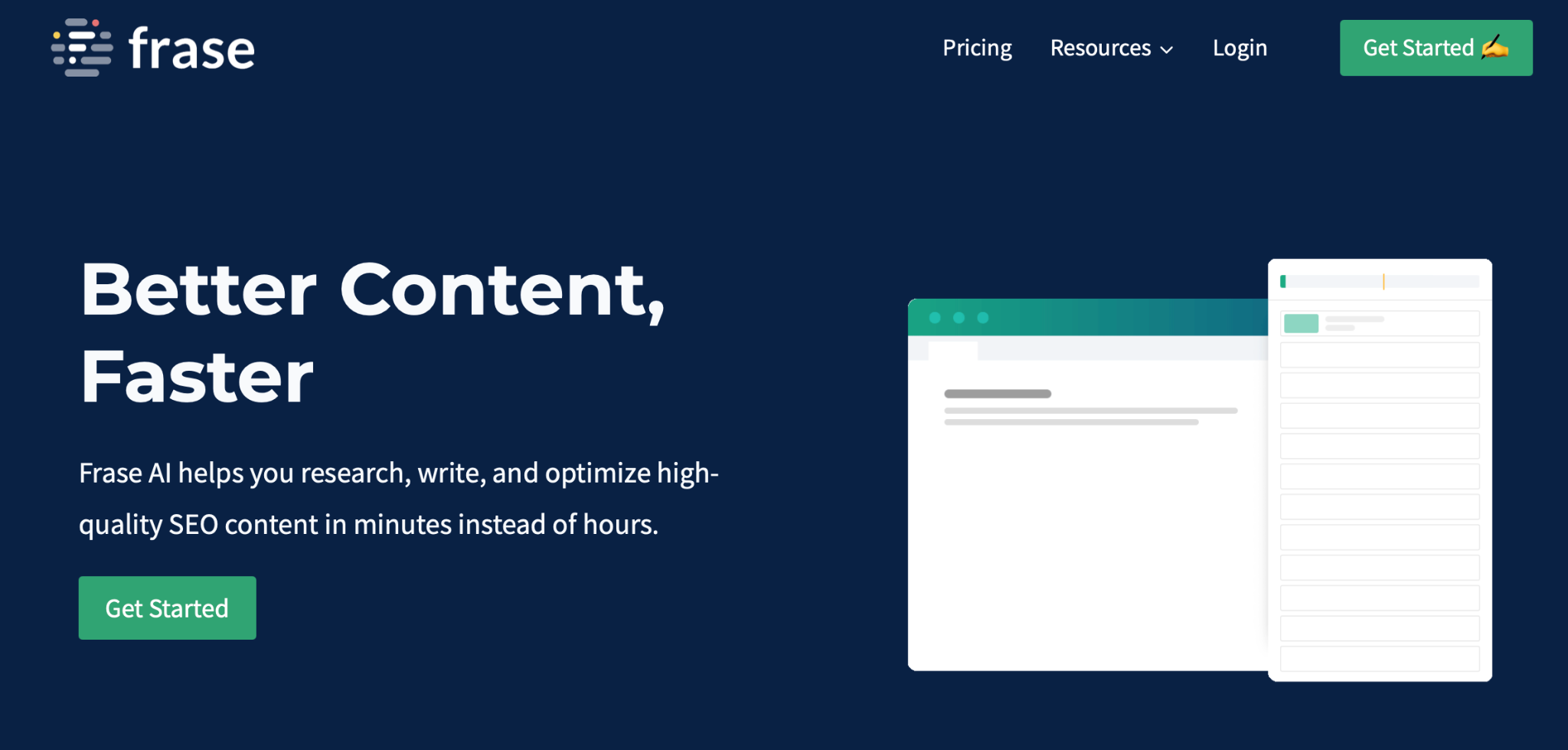 Relative to other content optimization and AI SEO tools (especially Clearscope), Frase is less expensive.
Features
Frase is similar to Clearscope but focuses more on content briefing, generating ideas, and using AI to create content.
Content brief builder
The Frase brief builder provides:
a list of all headings (H2 and H3) that your top competitors are using
the keywords you should use to improve your ranking
the authority links frequently mentioned by your top competitors
commonly asked questions surrounding your targeted keyword
a sharing feature that allows SEO writers and other marketing staff members to use this data.
It assists you in quickly analyzing what your competitors are doing and summarizing their best features. Then, you can assign it to a writer using a shareable link, which helps to maintain a focus on SEO.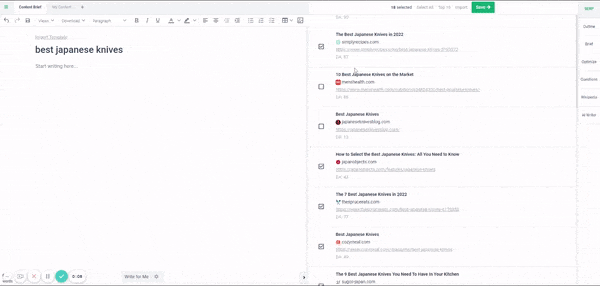 SEO writing tool
The most important aspect of any content optimization tool is the feature you or your writers use to write the actual content. It provides helpful suggestions and updates in real-time and also has a feature for auditing your content.
AI writer add-on
Whereas SurferSEO offers AI writing through integration with Jasper.ai, Frase has its own built-in tool. It's great for quickly putting together outlines, paraphrasing, generating ideas, and even generating full drafts.
Just like any other AI tool, it won't create a flawless, ready-to-publish article. But it does generate a somewhat coherent draft that can be edited to speed up the production process.
Differences: Frase vs Clearscope
Firstly, Frase is a more affordable alternative to Clearscope. Frase's monthly price starts at $14.99, while Clearscope's starting price is $170/month.
Secondly, Frase is more user-friendly for solo professionals and small businesses. Clearscope's lowest-priced option, which costs $170, may not be affordable for many teams. In contrast, Frase offers a starting package for $44.99 and includes a generous allowance of 30 document credits.
Also, I must note that Clearscope is a user-friendly writing tool that is easy to use, especially for beginners. On the other hand, Frase may seem complex because it focuses more on content briefing, planning, and generating ideas rather than being a full-fledged writing tool.
Frase pricing
Frase offers three packages, which is in line with how most SEO tools break down their services.
| Plan | Monthly price | User seats | Reports | Cost per report |
| --- | --- | --- | --- | --- |
| Solo | $14.99 | 1 | 4 | $3.74 |
| Basic | $44.99 | 1 | 30 | $1.49 |
| Team | $114.99 | 3 or $25/mo per extra) | unlimited | – |
SE Ranking's content marketing platform covers the whole content creation cycle. You can generate content ideas, research SERP competitors, analyze keywords, and write and edit your texts.
Features
Content idea finder
The Content Idea Finder tool makes it easy to generate ideas for your website content. It analyzes a keyword closely related to your desired topic and uses the information from that keyword to suggest a group of relevant keywords for your new article.
Each suggested keyword includes details such as search volume, keyword difficulty, cost-per-click, and competition level.
Content brief creation
Give this content optimization tool a target keyword, and it'll analyze the SERP to create a brief.
Using a unique AI algorithm, the tool analyzes top-ranking competitive content. It then provides you with a list of 10 natural competitors, along with their Domain & Page Trust scores, the total number of referring domains, and word count.
Based on that information, you'll see the suggested word/character count, number of paragraphs, headings, images, and keywords for your article.
In the content structure tab, you will find the H1-H6 headings used by your competitors. You can either incorporate them into your article as reference points or create new headings of your own.
In addition, the Content Marketing Tool provides detailed information on each keyword, including:
Search volume
Ranking difficulty
Recommended count for your text
Density
Once you've built a brief, you can begin writing an article. You can either write directly in the editor or paste your text and make edits. You can use the "Share" feature to collaborate with colleagues or copywriters in real time.
Content editor
The content tool analyzes your content and evaluates its optimization and quality. It shows:
How many times each keyword was used
How many words, headings, and images you need to add
Grammatical errors you need to correct
Content score, readability, and overall text quality
Differences: SE Ranking vs. Clearscope
Both instruments used a similar approach when creating their content brief and editor tools. Still, there are some differences:
Clearscope has a WordPress integration, while SE Ranking does not.
SE Ranking provides all the necessary SEO information for every keyword and keeps it up to date.
SE Ranking offers a sleeker design and user interface compared to Clearscope. It's easier to use and more intuitive.
On top of that, the two solutions are very different in price. SE Ranking offers a more affordable starting price, beginning at just $39 per month.
SE Ranking pricing
The Content Marketing Module subscription is available for paid SE Ranking accounts. The platform offers three simple pricing models, as shown below.
| Monthly price | Documents | Plagiarism checks | Cost per report |
| --- | --- | --- | --- |
| $29 | 15 | +3 | $1.93 |
| $49 | 30 | +5 | $1.63 |
| $99 | 120 | +10 | $0.82 |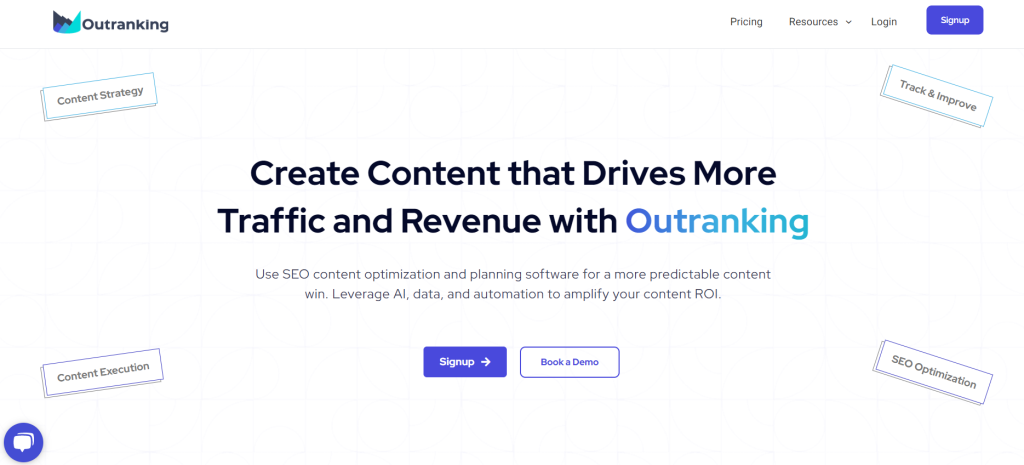 Outranking lives up to its name with the help of AI-powered SEO writing assistance and SERP analysis. It helps with outline creation, the writing process, snippets, and ultimately, higher search rankings.
Features
Outranking offers a list of simple and practical features.
Existing page optimization
This is very similar to the auditing features offered by other SEO tools. It's marketed as a tool that can help you or your writers keep your articles up-to-date and competitive, although it doesn't provide a full content audit.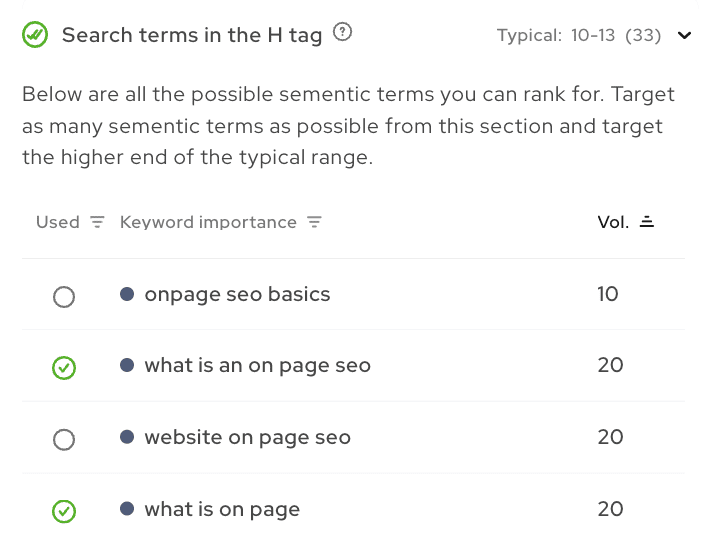 Integrations & teamwork
Outranking simplifies the process by integrating with Google Docs and WordPress, making it effortless to upload optimized content to your WordPress site. It also works smoothly with the Grammarly browser plugin to ensure cleaner content.
Moreover, Outranking offers a built-in team management framework, enabling writers to collaborate with colleagues or clients seamlessly.
AI content writer
Another great Outranking feature is its AI content writing. This feature helps you come up with titles, create SEO outlines, and write initial drafts supported by research. It uses prompt writing techniques to help you find and write exactly what you need with the help of AI.
What's interesting about Outranking is that they claim to be the only AI on the market that combines automatic background research with AI writing, showing you even the source URLs.
Differences: Outranking vs Clearscope
Outranking has a few more features, most notably the AI writer, and a lower entry cost.
In comparison, Outranking is much cheaper than Clearscope. With Outranking, you only pay $7 for the first month and then $69, while Clearscope's pricing starts at $170/month.
Clearscope is a better choice for big organizations because they have options to customize their packages. On the other hand, Outranking is more suitable for smaller companies that prefer to keep things simple and efficient.
Outranking pricing
| | | | |
| --- | --- | --- | --- |
| Plan | Price (Monthly) | Documents Per Month | Teams |
| Solo | $7 first month, then $69 | 10 | 0 |
| Pro | $129 | 30 | 1 |
| Company | $249 | 70 | 3 |
| Custom | custom | custom | custom |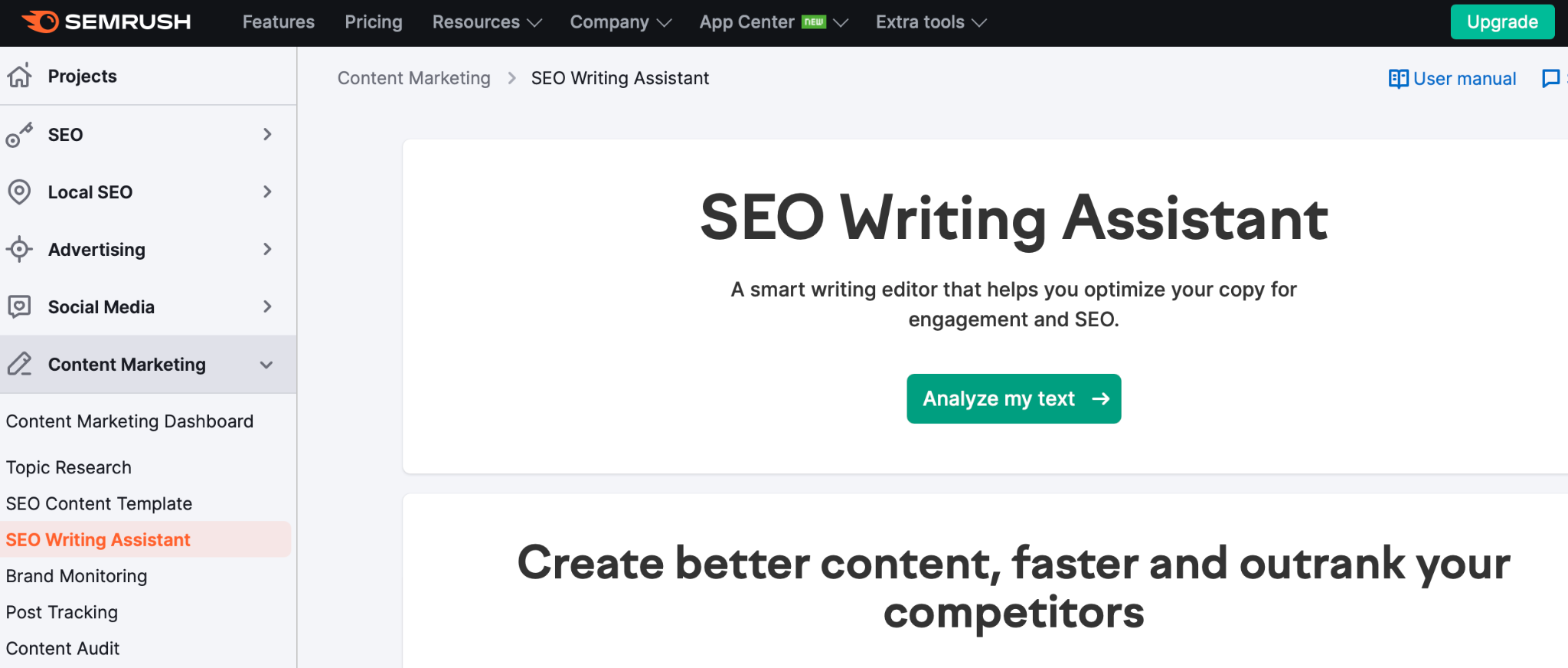 Semrush Writing Assistant offers an optimization editor meant for writers and editors. It's part of Semrush's broader marketing toolkit. Although it may be expensive, it offers a wide range of features that help teams optimize their content.
Features
Content optimization, research, and analysis are all covered by Semrush's features.
SEO Writing Assistant
Users use the writing assistant to ensure that the content they create is competitive compared to their top competitors. This means organizing the text in a way that includes the right keywords and meets the needs of the target audience.
Integrations
Semrush works well together with Google Docs and provides helpful suggestions for improving readability and SEO. These suggestions are based on the most successful content found in Google's search results.
Other SEO features
It's worth noting that Semrush is a comprehensive marketing & SEO platform. If you're familiar with Ahrefs, you'll find that it's one of the top Ahrefs alternatives but has even more features (covering PPC, social media etc. too).
It can help with rank tracking, backlink analysis, and much more.
Differences: Semrush vs Clearscope
The Semrush Writing Assistant lets you try it for free for 7 days. It's also a good option for small businesses because it's more affordable than Clearscope and can be easily adjusted to their needs.
Both Clearscope and Semrush have modern and user-friendly interfaces. However, Clearscope is generally more popular due to its simplicity and excellent customer service. If you are a large company that frequently deals with changing content and values superior customer support, Clearscope's business package would be the better choice for you.
Semrush ricing
Semrush Writing Assistant is included in plans from Guru and above. View Semrush pricing plans here.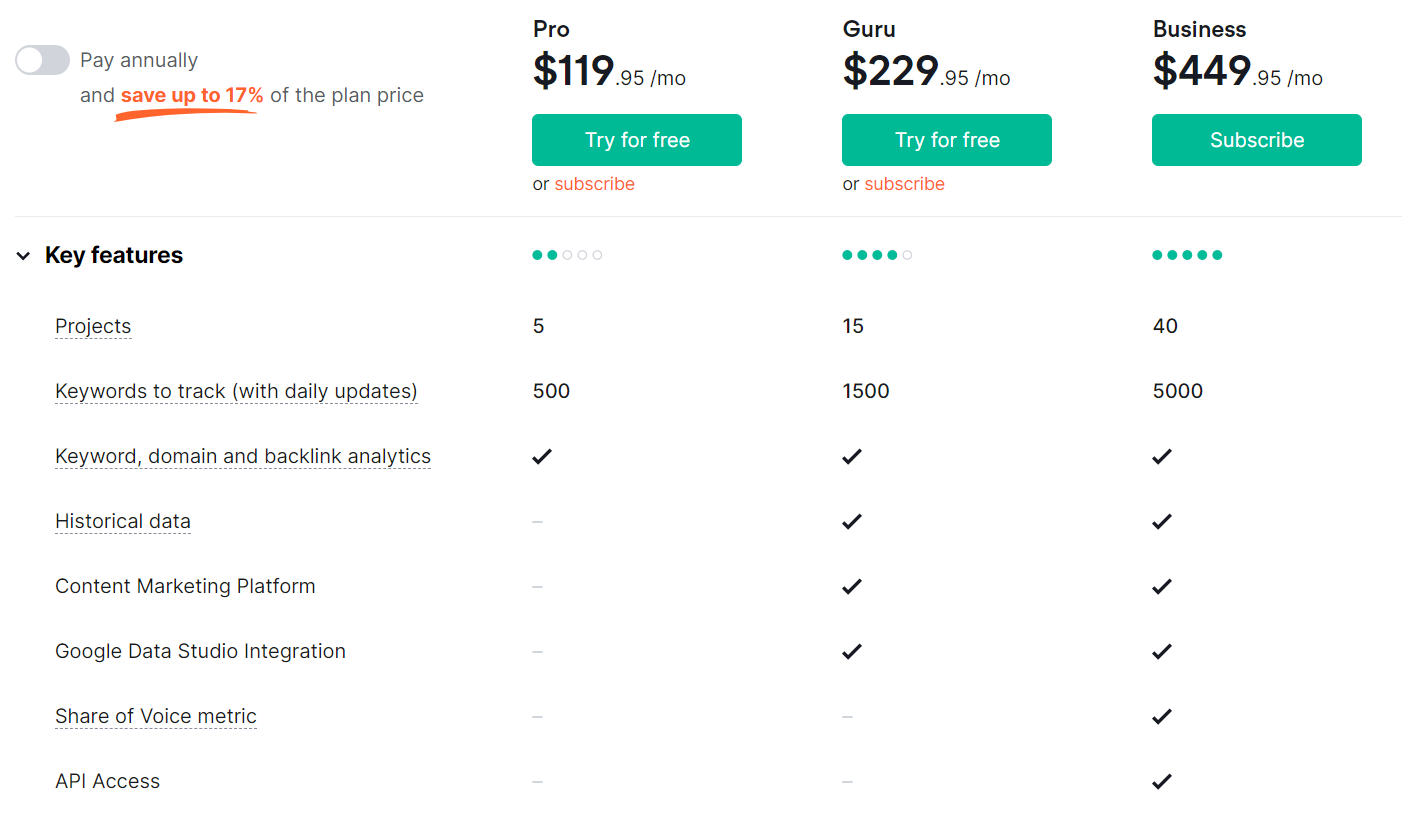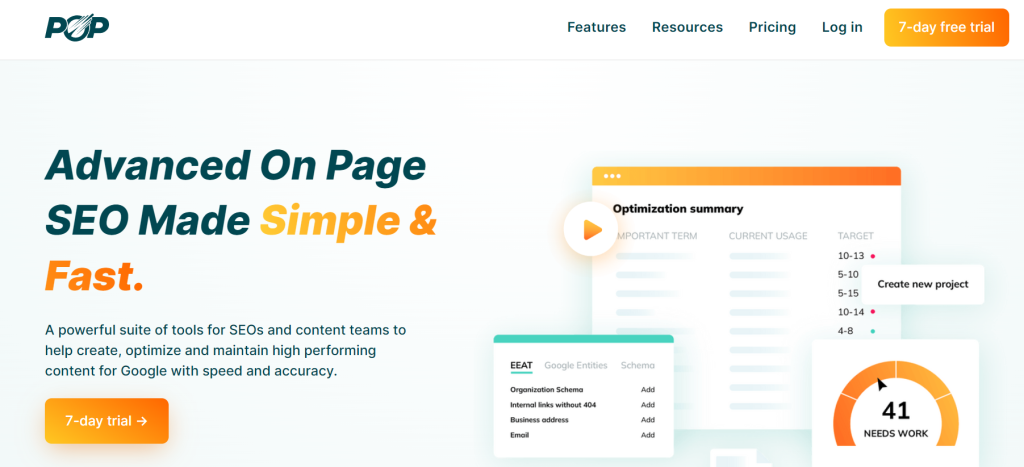 Page Optimizer Pro is a tool that helps improve websites. Popular companies like SurveyMonkey and HubSpot use it. It has many useful features, and it has its own special way of doing things.
Features
Page Optimizer Pro focuses on on-page elements and thorough competitor analysis.
Competitor analysis
Page Optimizer Pro provides competitor analysis to help you understand what your competition is doing well and where they're making mistakes. Their analysis is actually more beneficial for its simplicity than it is for being some secret recipe for undercutting your competitors.
Even if you or your team are new to SEO competitor analysis, I can tell that it's easy to get started with Page Optimizer Pro.
Precision
Page Optimizer Pro includes a few metrics surrounding each keyword:
exact keyword optimization
keyword variation optimization
LSI optimization
Page Optimizer Pro uses total word count as one of its SEO metrics. In simple terms, if you want highly accurate suggestions, their product is a great option.
Customization
Page Optimizer Pro can be challenging to understand due to its range of options. This means it is more suitable for SEO experts rather than beginners.
For example, you can select 10 competitors manually if you're trying to compete in a niche market. Or, you can have the tool identify 10 competitors more broadly. Page Optimizer Pro is also good if you want to dive into finer details like:
bolds
italicizations
images
number of headings
None of these are individually Page Optimizer Pro's strengths but in combination, they provide a tool that makes it easier to be thorough in your work.
Differences: Page Optimizer Pro vs Clearscope
Page Optimizer Pro provides a flexible system for analyzing your competitors. It helps you identify areas where you can gain an advantage over them. It has user-friendly features and offers a wider range of tools compared to Clearscope.
Clearscope is generally easier to use than Page Optimizer Pro. However, if you have a skilled SEO team, you'll probably find Page Optimizer Pro more useful.
But, if you're concerned with scalability and onboarding difficulties, Clearscope might be a better option because it's relatively simple. For example, an SEO expert can make full use of Page Optimizer Pro's competitor analysis. But in the hands of a beginner, it can easily target the wrong competition, omit important details, or make similar mistakes, harming your SEO strategy.
Plans and pricing
| | | | |
| --- | --- | --- | --- |
| Plan | Price (Monthly) | Reports Per Month | Additional Report Cost |
| Basic | $27 | 20 | $1.35 |
| Premium | $38 | 40 | $0.95 |
| Unlimited | $49 | 50 | $0.98 |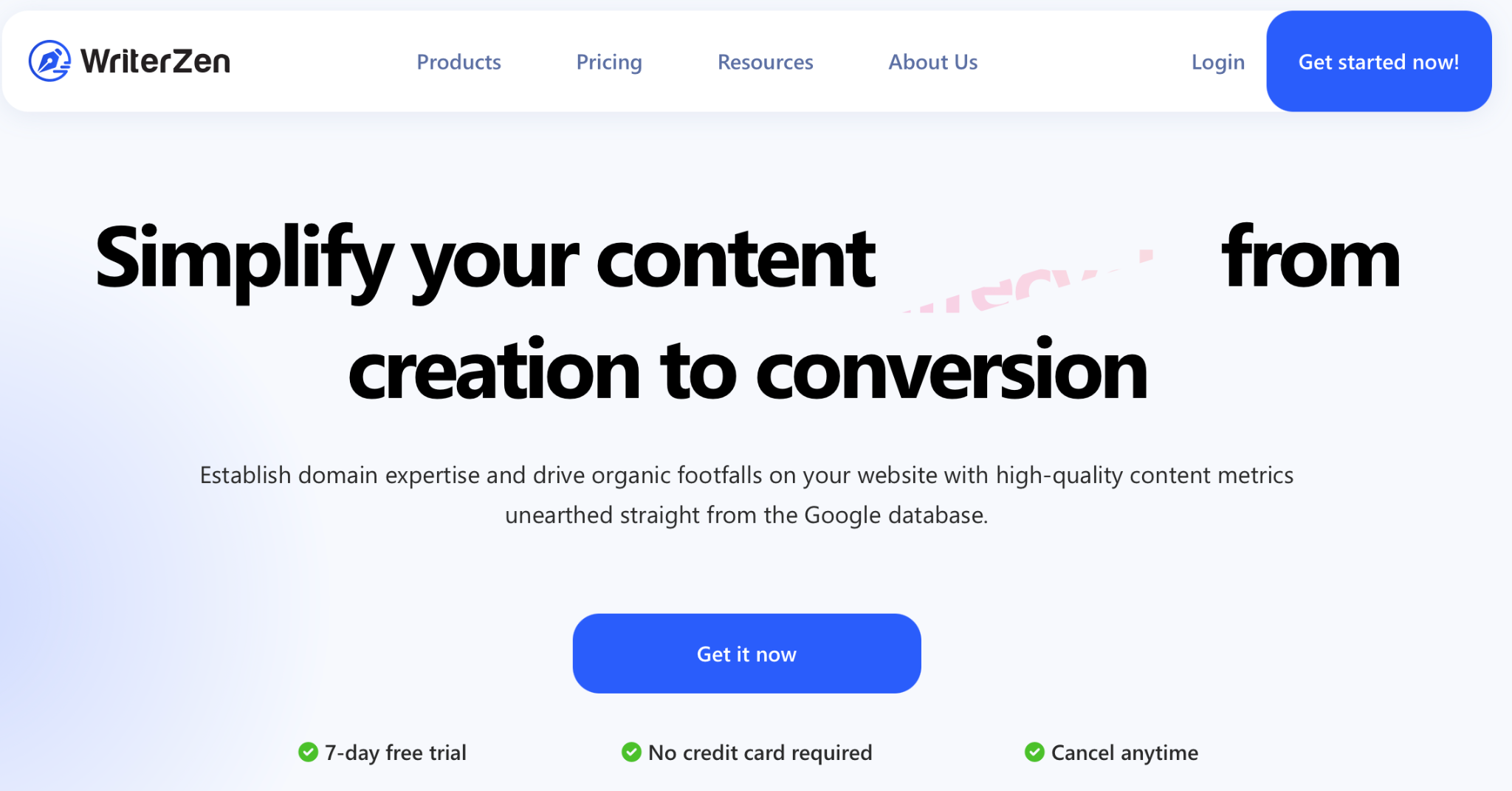 WriterZen was introduced in 2018, which means it's a fairly recent product. WriterZen focuses on keyword research and content optimization.
Features
WriterZen comes with several key features for the content workflow: planning, outlines, writing, and optimizing.
Outline creation
Similar to Frase' outline builder, WriterZen finds hidden topics that represent strong SEO opportunities. Once the opportunities are found, it offers topic clusters and keyword research to improve the writing process.
Low-cost AI writing
WriterZen offers different service packages for AI writing. The basic package allows users to write up to 5,000 words per month, while the advanced package offers 15,000 words per month.
Content optimization
WriterZen uses a content optimization tool powered by GPT-3, functioning similarly to other content optimization solutions.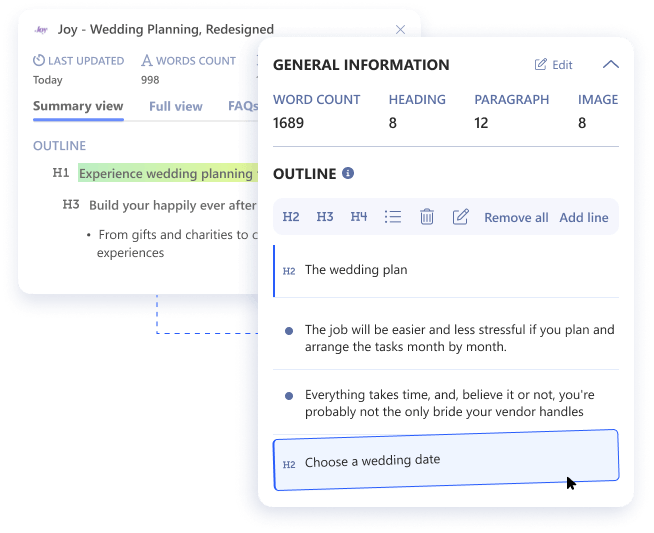 Differences: WriterZen vs Clearscope
WriterZen is similar to Clearscope in terms of features and functionality. However, there are a few key differences. Firstly, WriterZen is much cheaper. Their lowest-priced plan starts at only $23/month, 7x cheaper than Clearscope.
Without solid data to back it up, it's hard to be 100% sure, but I think Clearscope's suggestions are more reliable. But WriterZen is a newer company, so things could change in the future.
Overall, if you're looking for a low-cost alternative to Clearscope, then consider using WriterZen.
Plans and Pricing
WriterZen has a simple, three-tier pricing model. View pricing here.
| Plan | Monthly price | User seats | Reports | Cost per report |
| --- | --- | --- | --- | --- |
| Lite | $23 | – | 20 | $1.15 |
| Plus | $89 | – | 50 | $1.78 |
| Pro | $219 | – | 100 | $2.19 |
| Ultra | $399 | – | 300 | $1.33 |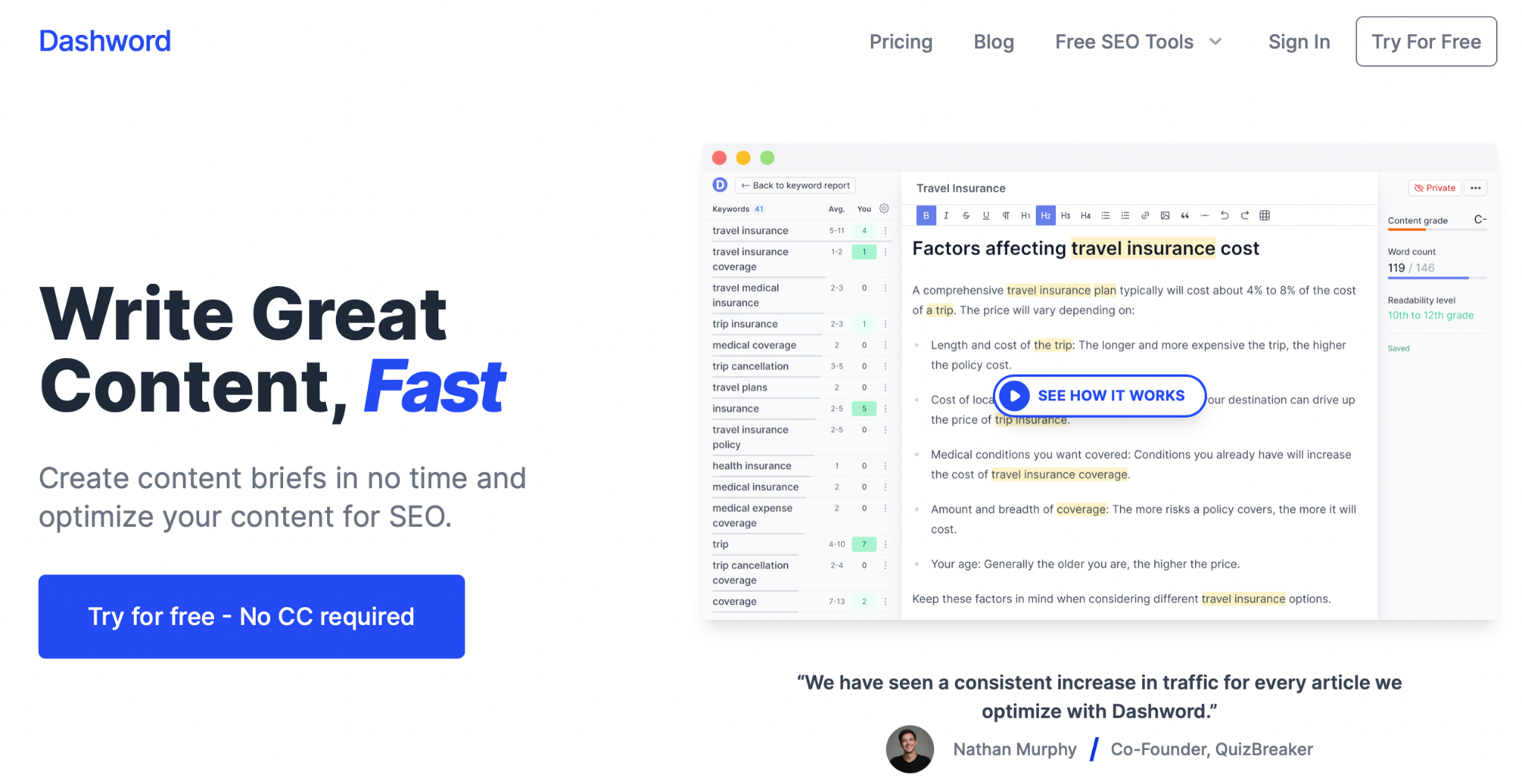 Dashword is another very similar tool to Clearscope.
Features
Dashword's features are simple and in many ways comparable to Clearscope's. However, it stands apart with better collaborative functionality and a lower cost.
Content brief builder
The content brief builder works hand in hand with the content optimization tool. You can see headings, subheadings, and keywords used by your competitors. Its interface is neat and user-friendly, similar to Clearscope.
Content monitoring
Dashword monitors your content and notifies you if your content is losing traffic or not receiving any. You can also generate weekly keyword reports to re-evaluate your content based on the latest results.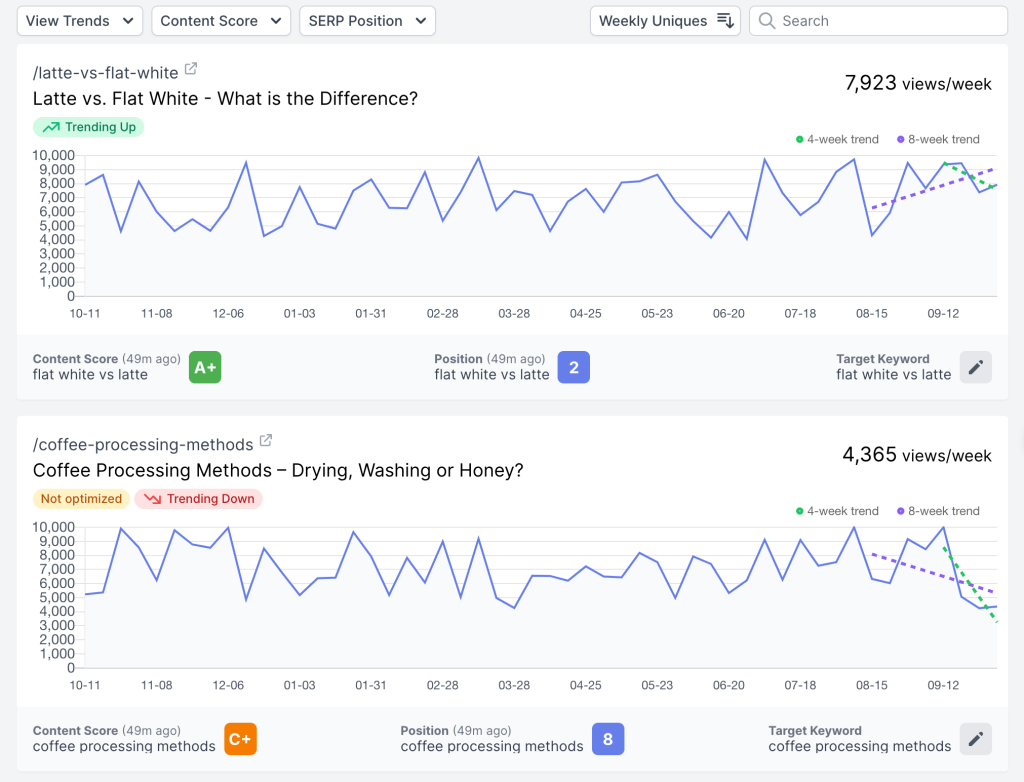 Collaboration
Dashword is specifically designed for dynamic teams. This tool allows groups of up to 5 people to work together on content strategy. It also includes helpful features for temporarily adding guest writers.
Differences: Dashword vs Clearscope
Dashword is another lower-cost alternative to Clearscope. Dashword has fewer features or metrics than Clearscope, but the most important and familiar ones are present.
Arguably, Dashword simplifies writing for inexperienced writers, allowing them to focus on creating optimized content. It also emphasizes collaboration features and offers affordable pricing for additional users.
Lastly, Clearscope provides additional benefits to enterprise customers. These include dedicated onboarding and training, facilitated by their larger and more experienced teams.
Plans and pricing
Dashword offers a two-tier subscription model for pricing.
| Plan | Monthly price | User seats | Reports | Cost per report |
| --- | --- | --- | --- | --- |
| Startup | $99 | 5 | 20 | $4.95 |
| Business | $349 | 10 | 100+ | $3.49 |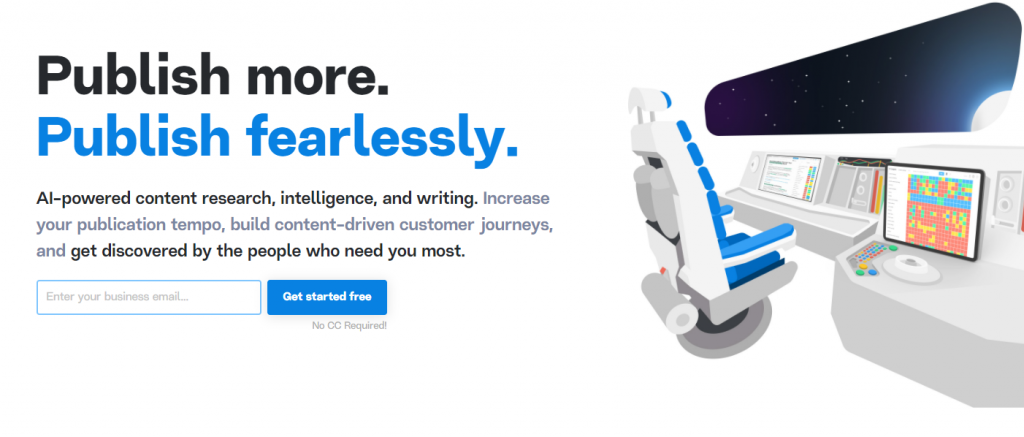 Marketmuse is one of the most well-established players in this space. As such, they're one of the very few tools in this list that can compete with Clearscope for enterprise customers.
Their positioning leans mostly towards medium-to-large teams, as their unique features like Inventory are only available on premium plans.
Features
MarketMuse is all about competitive content analysis, content optimization, and keyword research.
Content inventory
This feature helps you organize and prioritize your content tasks. It finds content that is missing or needs improvement and evaluates its quality and performance.
There is also a feature called Personalized Difficulty, which takes into account your expertise in a particular topic. The more knowledgeable you are about a topic, the easier it should be for you to handle related queries. I haven't personally used this feature extensively, so I can't comment on its accuracy.
Topical modelling
This is another thing that MarketMuse has been doing for a long time and does very well. When you input a seed keyword, it generates relevant ideas to help you establish expertise in a particular topic and cover the entire niche.
A content optimization tool
MarketMuse's content optimization feature is really helpful. It allows you to compare your content to the top 20 ranked pages and identifies areas where you can provide more information on a particular topic.
Differences: MarketMuse vs Clearscope
MarketMuse has a free plan that allows you to run 10 queries per month. It isn't much, but it provides a starting point for users to explore the platform's capabilities.
If you want additional features like a brief builder, AI writer, and unlimited content optimization, choose MarketMuse. If you simply need a high-quality content optimizer and aren't concerned about plan limitations, go with Clearscope.
When it comes to user-friendliness, both Clearscope and MarketMuse offer equally simple and easy-to-understand interfaces.
See also: Marketmuse alternatives
Plans & pricing
Here's an overview of how MarketMuse's pricing works.
| Plan | Monthly price | User seats | Reports | Cost per report |
| --- | --- | --- | --- | --- |
| Free | $0 | 1 | – | – |
| Standard | $149 | 1 | – | – |
| Team | $399 | 3 | unlimited | – |
| Premium | custom | custom | unlimited | – |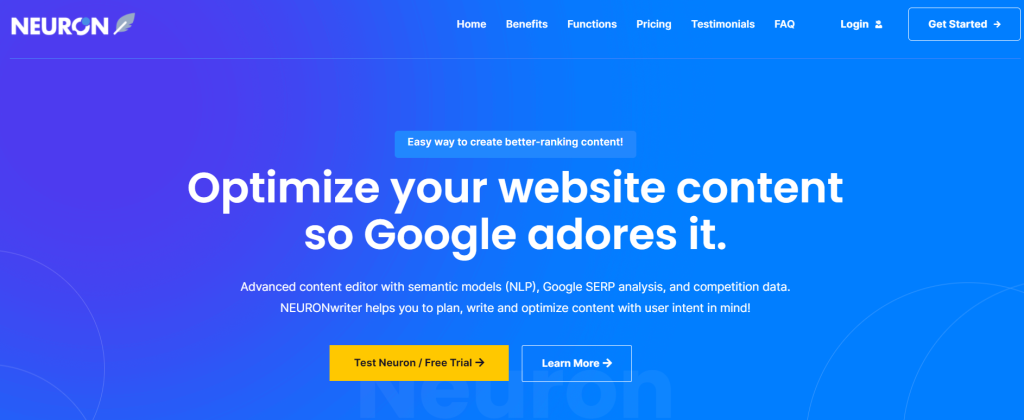 NeuronWriter is an AI-based SEO writing tool that helps with improving your content and ranking higher on search results.
Features
Key features of NeuronWriter include a content editor, outline builder, and AI writer.
Content editor
NeuronWriter has a strong content editor with advanced tools like semantic models and Google SERP analysis. It uses NLP to give you easy-to-follow suggestions that help you cover the topic comprehensively and fill any gaps in your content.
Outline builder
NeuronWriter's outline builder uses AI to generate article outlines quickly. In under a minute, you'll get AI-generated suggestions for headers and questions to include in your content.
What's cool is that these suggestions come from various sources, including forums like Reddit and Quora. To include these content ideas in your draft, just click the add button next to them. You can then rearrange and modify them as needed.
AI writer
With NeuronWriter's AI writer, you can effortlessly generate search engine optimization (SEO)-optimized content in a matter of seconds.
Differences: NeuronWriter vs Clearscope
Firstly, I find NeuronWriter's interface slightly simpler that provides a seamless writing experience, with features like real-time suggestions and readability analysis.
Secondly, NeuronWriter is a cost-effective content optimization solution, priced at only $19/month. It's 9x cheaper than Clearscope.
In terms of scalability, NeuronWriter has 5 pricing plans, making it more scalable than Clearscope, which only has 3 pricing plans.
Both NeuronWriter and Clearscope come with Google Docs integration.
NeuronWriter pricing
NeuronWriter pricing is summarized below.
| Plan | Monthly price | User seats | Reports | Cost per report |
| --- | --- | --- | --- | --- |
| Bronze | $19 | 1 | 25 | $0.76 |
| Silver | $37 | 1 | 50 | $0.74 |
| Gold | $57 | unlimited | 75 | $0.76 |
| Platinum | $77 | unlimited | 100 | $0.77 |
| Diamond | $97 | unlimited | 150 | $0.64 |