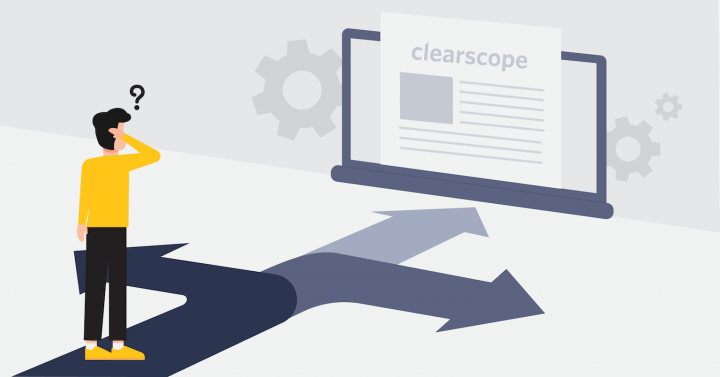 Clearscope is a great content optimization tool that hundreds of teams are using to write SEO-friendly content.
What Clearscope offers ultimately is a simple SEO writing tool that helps your content rank better & faster. It's a popular tool, and it's one of the most well-established names in the content optimization space.
Despite the value Clearscope offers to its customers, it isn't necessarily the right option for everyone. Different tools come with many similarities, but features and pricing can make one SEO tool more attractive than its alternatives. Let's look at the best alternatives to Clearscope and see how they compare.
Here are the 9 best alternatives to Clearscope
SurferSEO
Frase
SE Ranking
Outranking
Semrush Writing Assistant
Page Optimizer Pro
WriterZen
Dashword
Marketmuse
I'll provide the major (and minor) details on what makes these alternatives good choices.
First, let's clarify what we're looking for in a Clearscope alternative in the first place.
Or, skip straight to the tools 👇
Criteria for an alternative to Clearscope
The reason for choosing Clearscope or any other SEO writing tool is the same: maximum SEO efficiency.
As we've mentioned, most SEO tools are quite similar to each other. They provide suggestions for titles, headings, and main content along with scores for SEO and often other factors as well. But then come a slew of features and pricing differences that can add up to an entirely different experience.
When looking into Clearscope alternatives, we're considering:
how the basic goals of SEO writing can be met with the tool
the ease of use relative to Clearscope
how their features compare to Clearscope's
how they facilitate teamwork between writers and their colleagues
any additional utility provided
Why consider alternatives to Clearscope?
Several factors can easily make someone consider finding an alternative to Clearscope.
For starters, although a minimum cost of $170 per month for the basic Clearscope package can be justified, it's a relatively steep price for small organizations. Alternatives are available that are less expensive for large organizations and small, and for any organization looking for a simpler package.

Clearscope's keyword research tool is limited when compared to many alternatives. A list of basic suggestions may be sufficient for some, but you can find alternatives with more in-depth keyword research.

Clearscope doesn't try to utilizing backlinks. E.g. internal linking recommendations, or pointers on backlinks to look for to rank higher. Some alternatives do this.

Clearscope just might not be right for you. Small details like their interfaces and how you interact with the tool are arguably less significant. Since you'll be working with your chosen SEO content writing tool for many hours, it's important that it's the (right fit) for you.
With these factors in mind, it's time to look at the details of the alternatives you should consider.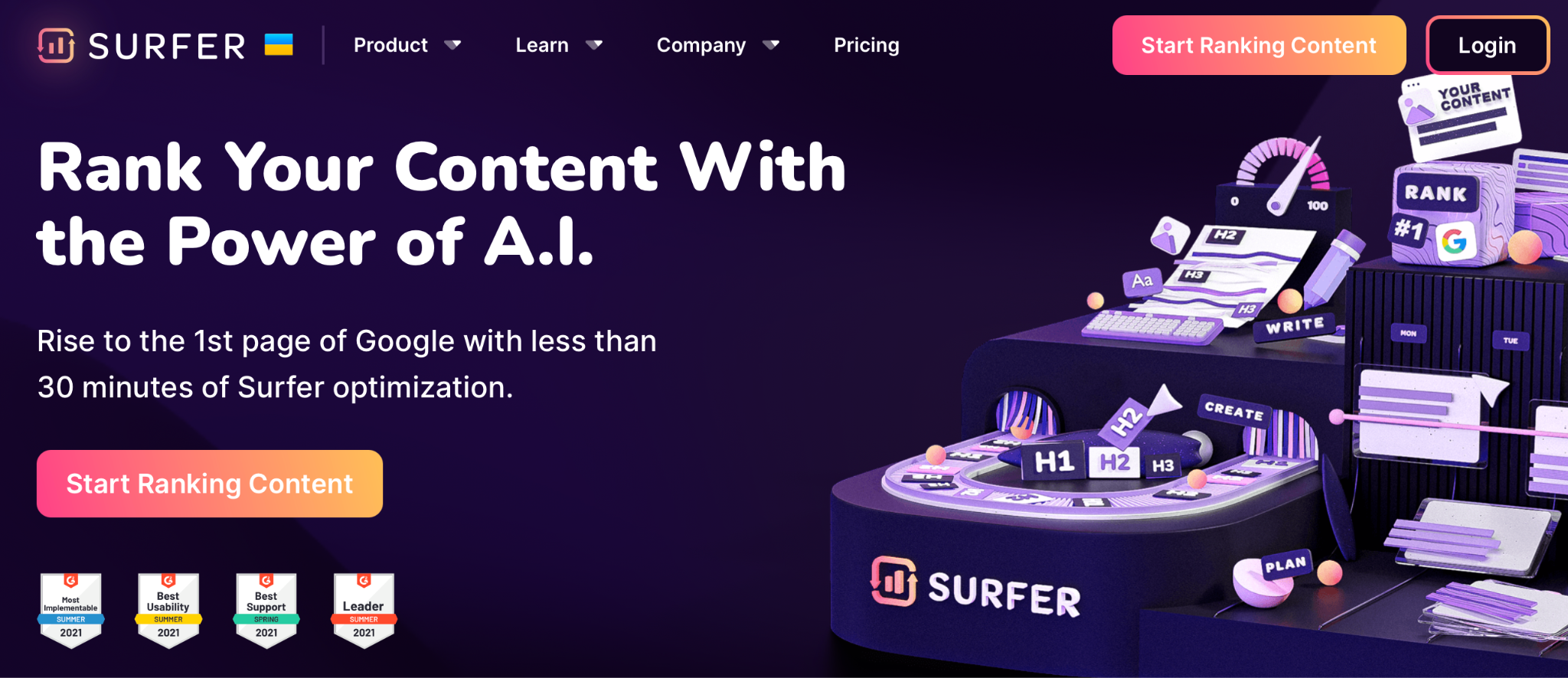 SurferSEO is a content optimization platform that's been adding many new features recently. It's one of the more rapidly advancing and developing alternatives to Clearscope.
Features
SurferSEO's AI-driven feature set covers SEO writing, SEO editing, collaborating with writers, content planning, and more.
Content editor
SurferSEO's core feature is used to write & edit SEO-friendly content.
It analyzes the top current results for your target keyword, and makes suggestions. It's a simple UI, that can be used by beginners & non-technical writers.
Importantly, you can customize the data used to generate optimization recommendations. That means you can remove outliers that might skew your data.
Collaboration
The guidelines you receive can be easily shared by generating a shareable URL. That means writers & other marketing colleagues can collaborate with you in Surfer, even without logging in. For features that do require login, there are plan options with additional team seats.
There's also a cool Google Docs extension that pulls Surfer's data into your doc. That makes it even easier to collaborate with writers, as you can add comments & discuss / give feedback more easily.
Additional features
Compared to Clearscope and other content optimization tools in this space, SurferSEO have a broader set of features. As well as content optimization/editing, Surfer can help with:
Keyword research & content planning
SERP analysis
Creating SEO content briefs
Auditing feature for re-optimizing old content
Missing backlink suggestions (internal & external)
Grow Flow: an AI tool that recommends tasks each week that could boost performance
Differences: SurferSEO vs Clearscope
Overall, SurferSEO offers a wider feature set than Clearscope. The two have the most critical features in common but SurferSEO goes further, adding more features to help with the SEO writing process.
In terms of value, SurferSEO provides more features, and has a lower entry cost at $49/month (vs. Clearscope's $170/month entry price). With SurferSEO, you get 10 content editors for your $49, whereas with Clearscope you only get 3 user seats.
If you're looking for good collaboration features, a lower entry price, or additional SEO features – SurferSEO is definitely worth considering.
Plans and pricing
Pricing starts from $49/month. Here's an overview. See Surfer's plans & pricing for yourself.
| | | | | |
| --- | --- | --- | --- | --- |
| Plan | Price (monthly) | Content Editors | Team Members | Audits |
| Basic | $59 | 10 | 1 | 10 |
| Pro | $119 | 30 | 3 | 30 |
| Business | $239 | 70 | 10 | 70 |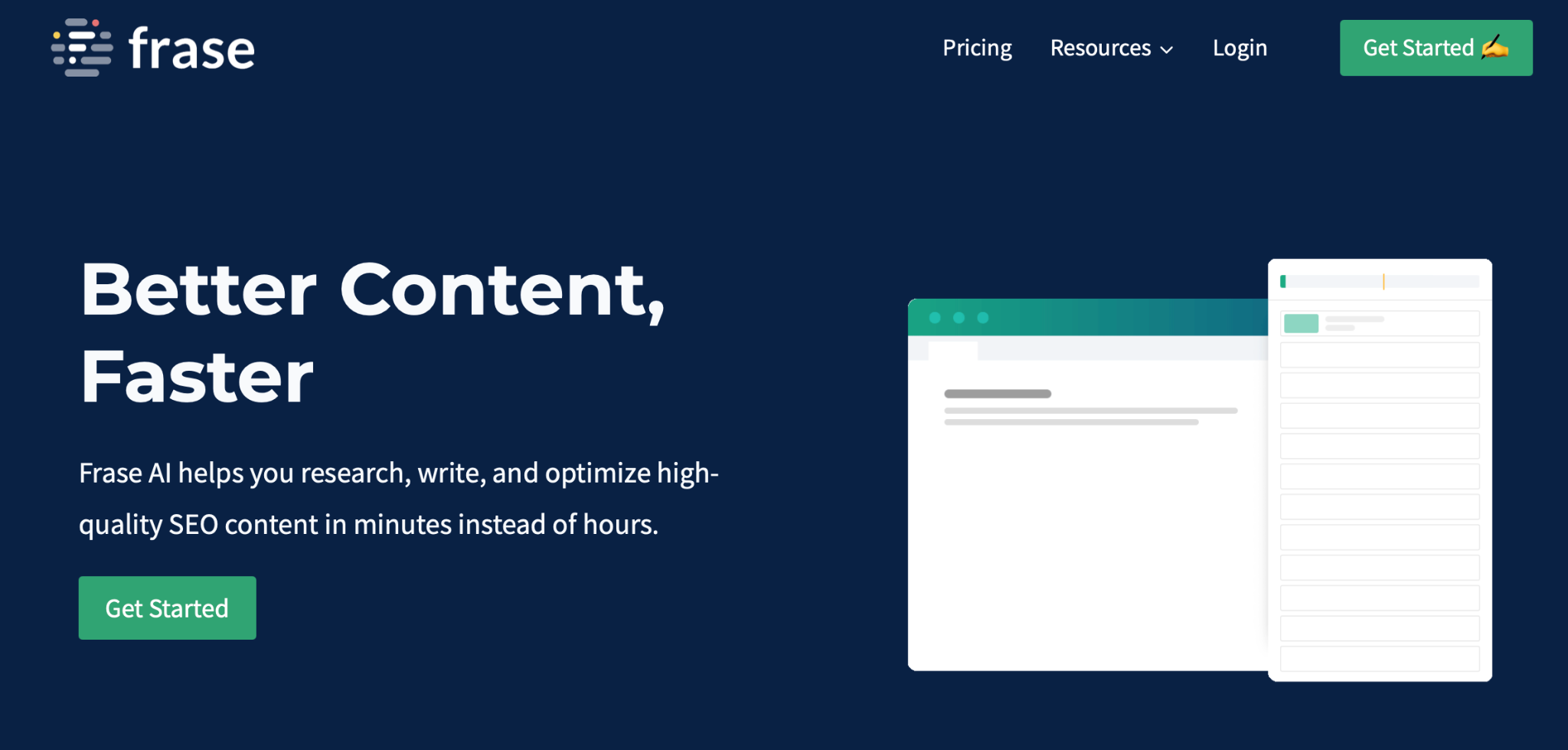 Relative to other content optimization & AI SEO tools (especially Clearscope), Frase is less expensive & more scalable. They have a smaller list of flagship features but those features offer a unique kind of utility.
Features
Frase comes with similarities to Clearscope, but with an increased emphasis on content briefing, ideation, & AI content generation.
Content brief builder
This feature helps SEOs assign work to writers seamlessly and in a way both parties understand.
The Frase brief builder provides:
a list of all headings (H2 and H3) that your top competitors are using
the keywords you must/can use to rank
the commonly cited authority links your top competitors are using
commonly asked questions surrounding your targeted keyword
a sharing mechanism that makes this data applicable not only to SEO writers but to most of your marketing staff
It helps you quickly analyze what competitors are doing, and pull together an outline of all the best bits. Then, assign that to a writer with a shareable link in a way that helps to keep on-track from an SEO perspective.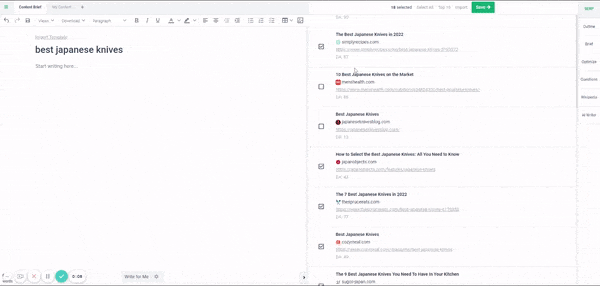 SEO writing tool
The main feature of any content optimization tool, this is what you or your writers use to write the content. It comes with the typical suggestions and real-time updates alongside a content auditing feature.
AI writer add-on
Whereas SurferSEO offers AI writing through an integration with Jasper.ai, Frase has it's own native tool. It's great for quickly putting together outlines, paraphrasing, generating ideas, and even generating full drafts.
Like any AI tool, it won't generate a perfect ready-to-go article, of course, but it does provide a loosely coherent one that can (and definitely should) be edited if you want to speed up production.
Differences: Frase vs Clearscope
Frase is cheaper than Clearscope and, in a few key ways, more comprehensive.
In terms of price, Frase is friendlier towards solo professionals and small businesses. Clearscope's cheapest package at $170 isn't accessible for many teams, whereas Frase starts at $39.99 with a generous 30 document credits.
It's important to note that Clearscope is arguably more beginner-friendly and easy to use as a writing tool. In this regard, Frase can seem complex. However, Frase focuses more on briefing, planning, and ideation vs. being a complete writing tool.
Plans and Pricing
Frase offers three packages, which is in line with how most SEO tools break down their services.
| | | | |
| --- | --- | --- | --- |
| Plan | Price (Monthly) | Users | Documents |
| Basic | $44.99 | 1 | 30 |
| Team | $114.99 | 3 | Unlimited |
| Enterprise | Customized | Unlimited | Unlimited |
SE Ranking's content marketing platform covers the whole content creation cycle. You can generate content ideas, research SERP competitors, analyze keywords, write and edit your texts, and more. 
Features
Content Idea Finder
This feature helps you come up with a topic for your content if your idea is too broad and you don't know specifically what to write about. Just enter the keyword you have in mind, and the tool will analyze and cluster related terms around it.
In the cluster, you'll see semantically-close terms for the keyword with the highest search volume and the titles of competitors ranking in the top ten for it. Click on a competitor to read their content and get some ideas and references.
Each keyword in the cluster contains the search volume, keyword difficulty, cost-per-click, and competition level. This way, you can assess whether a topic is worth creating content for.
Content brief creation
Give this content optimization tool a target keyword, and it'll analyze the SERP to create a brief.
Using a unique AI algorithm, the tool evaluates top-ranking competitive content and chooses ten organic competitors who write about similar topics. Each competitor comes with Domain and Page Trust scores, the total number of referring domains, and word count.
Based on this, you'll see the recommended number of words/characters, paragraphs, headings, images, and keywords for your future article.
The content structure tab contains the H1-H6 used by your competitors. You can add them to your article structure as reference points or create new ones.
In addition, the Content Marketing Tool provides detailed information on each keyword, including:
Search volume
Ranking difficulty
Recommended count for your text
Density
List of competitors using the analyzed term, etc.
You'll also get a list of terms that were collected using NLP technology. These are the most relevant words and phrases used by your competitors. Having them in your content increases the likelihood that your content will rank higher.
Content editing and optimization
The content tool analyzes your content and evaluates its optimization and quality. It shows:
How many times each keyword was used and where.
How many words, paragraphs, headings, and images you need to add.
Punctuation and grammatical errors that need to be corrected.
The number of stop words to remove.
Readability score, and more.
You can also share the article guest link and edit it with your team.
If a part of the text needs to be rewritten, the platform offers an AI rewriter. It'll rephrase the piece for you, but the limit is 2000 characters per article. 
Differences: SE Ranking vs. Clearscope
Both instruments used a similar approach when creating their content brief and editor tools. Still, there are some differences:
Clearscope has a WordPress integration, while SE Ranking does not. But they promise to have a Google Docs Add-On in the near future.
SE Ranking shows all the essential SEO data for each keyword and regularly updates it.
SE Ranking has a more modern design and navigation than Clearscope. It's arguably easier to use and more intuitive.
On top of that, the two instruments are very different in price. SE Ranking has a lower starting price.
Plans and Pricing
The Content Marketing Module subscription is available for paid SE Ranking accounts. The platform offers three simple pricing models:
with how most SEO tools break down their services.
| | | |
| --- | --- | --- |
| Plan | Price (Monthly) | Documents |
| Essential | $29 | 25 |
| Pro | $49 | 30 |
| Business | $99 | 120 |
Outranking lives up to its name with the help of AI-powered SEO writing assistance and SERP analysis. It helps with outline creation, the writing process, snippets, and ultimately, higher search rankings.
Features
Outranking offers a list of simple, easy-to-use and meaningful features.
Existing page optimization
This is very similar to the auditing features offered by other SEO tools. It's accurately marketed as something short of a full content audit but nonetheless is a tool that helps you or your writers keep your articles fresh and competitive.
Integrations & teamwork
Outranking also uses simple but important integrations with Google Docs and WordPress. Their WordPress plugin makes it easy to work within Outranking and upload optimized content on your WordPress. For cleaner content, it also integrates with the Grammarly browser plugin.
Team management is provided with a built-in framework that makes it easy for writers to work with their colleagues or directly with clients.
Differences: Outranking vs Clearscope
Outranking has a few more features, most notably the AI writer, and a lower entry cost.
Overall, Outranking is far less expensive than Clearscope. The most expensive Outranking package ($157/month) is cheaper than Clearscope's cheapest package ($170/month).
Given that Clearscope offers customizable enterprise packages, and for other reasons, it's far better suited to meet the needs of large, complex organizations. Outranking keeps things small and simple for leaner companies.
Plans and Pricing
| | | | | |
| --- | --- | --- | --- | --- |
| Plan | Price (Monthly) | Documents Per Month | Searches Per Month | Teams |
| Mega | $40 | 10 | 50 | 0 |
| Giga | $82 | 25 | 150 | 1 |
| Tera | $157 | 50 | 400 | 3 |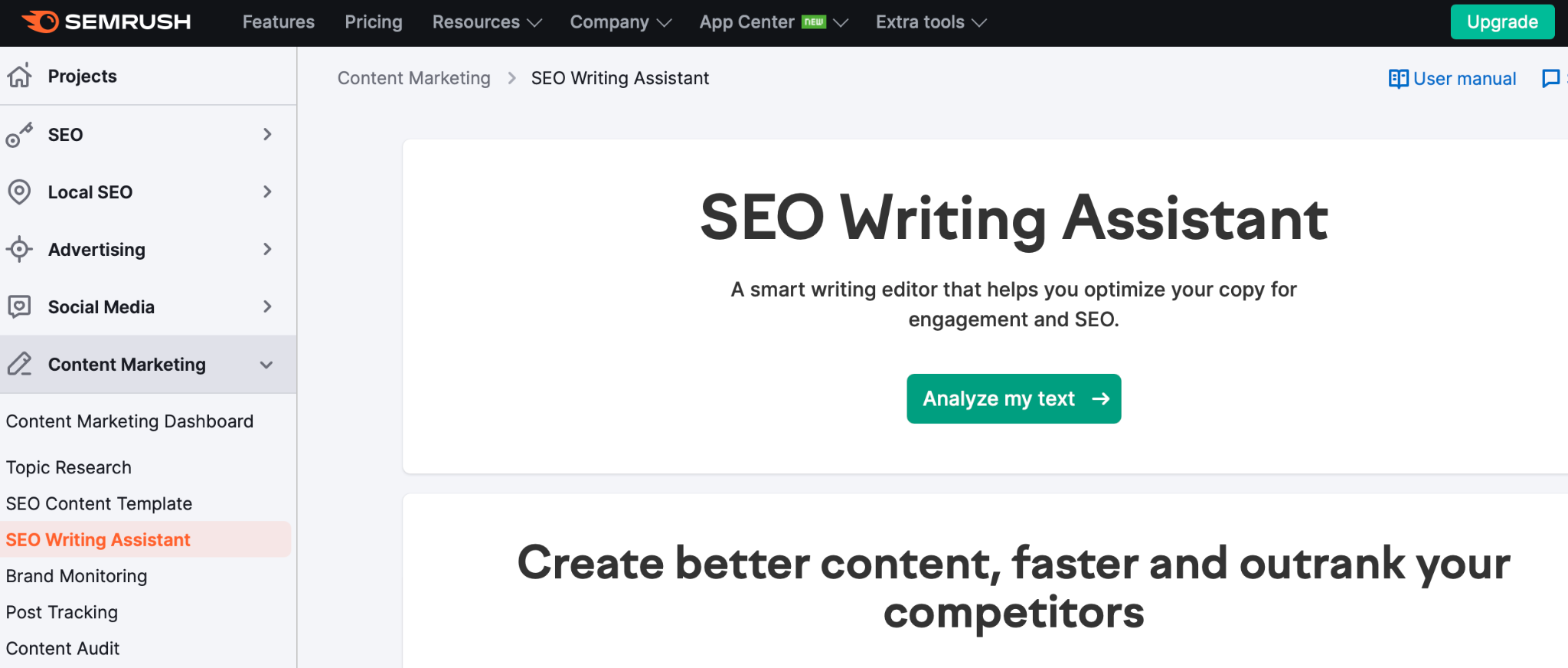 Semrush Writing Assistant offers an optimization editor meant for writers and editors. It's part of Semrush's broader marketing toolkit. While it isn't cheap, it comes with a rich array of features for teams to optimize their content.
Features
Content optimization, research, and analysis are all covered by Semrush's features.
SEO Writing Assistant
Users hop on the writing assistant to make sure the content they draft is competitive against their top competitors. This involves text structured perfectly for keywords, satisfying all relevant user intents.
Strong Integrations
The typical Google Docs integration comes included. But users can also work with Semrush Writing Assistant through the tool's WordPress plugin.
Other SEO features
It's worth noting that Semrush is a comprehensive marketing & SEO platform. If you're familiar with Ahrefs, you'll find that it's one of the top Ahrefs alternatives, but has even more features (covering PPC, social media etc. too).
It can help with rank tracking, backlink analysis, and much more.
Differences: Semrush vs Clearscope
Semrush Writing Assistant doesn't have a free version to try. However, Semrush offers decent scalability for small businesses at a lower minimum cost than Clearscope.
Based on hundreds of reviews on G2, while both offer crisp interfaces, Clearscope is more widely preferred for its ease of use, and especially for customer service. Large companies with dynamic content needs and a need for better customer service will get more out of Clearscope's business package.
Plans and Pricing
Semrush Writing Assistant is included on plans from Guru and above. View Semrush pricing plans here.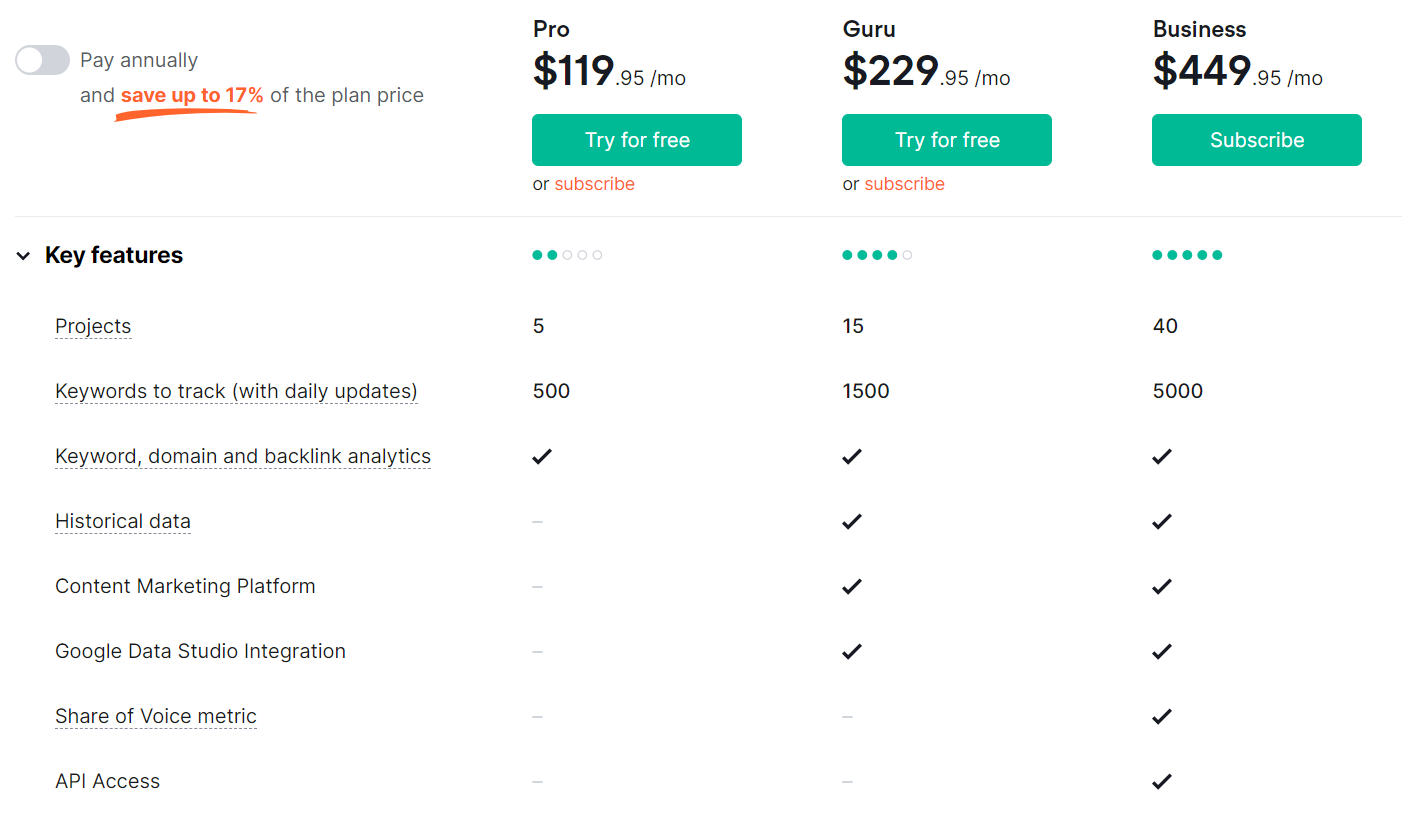 Page Optimizer Pro is an optimization tool with big-name brands like SurveyMonkey and HubSpot using it. It offers a familiar roster of features with a few other interesting ones, and a unique approach.
Features & benefits
Page Optimizer Pro focuses on on-page elements and thorough competitor analysis.
Competitor analysis
The competitor analysis offered by Page Optimizer Pro looks for what your competition is getting right. What's key, though, is that it also looks for what they're getting wrong. Their analysis is actually more beneficial for its simplicity than it is for being some secret recipe for undercutting your competitors.
If you or your teams are new to SEO competitor analysis, that's fine. Onboarding is easy and Page Optimizer Pro makes exercising the skill easier.
Precision
Page Optimizer Pro includes a few metrics surrounding each keyword:
exact keyword optimization
keyword variation optimization
LSI optimization
The last of the metrics Page Optimizer Pro uses for SEO is total word count. All of this adds up to their product being a good choice if you're looking for super precise recommendations.
Customization
The variability of Page Optimizer Pro makes it a bit difficult to grasp. It means that it caters better for SEO experts compared to beginners.
For example, you can select 10 competitors manually if you're trying to compete in a niche market. Or, you can have the tool identify 10 competitors more broadly. Page Optimizer Pro is also good if you want to dive into finer details like:
bolds
italicizations
images
number of headings
None of these are individually Page Optimizer Pro's strengths but in combination, they provide a tool that makes it easier to be thorough in your work.
Differences: Page Optimizer Pro vs Clearscope
Page Optimizer Pro offers a versatile competitor analysis system allowing you to pinpoint where you can gain a competitive edge. Each of its individual features is easy to use and it offers more tools than Clearscope overall.
Overall, Clearscope is far easier to use than Page Optimizer Pro. But if you have an experienced team of SEO professionals, you are likely to get more use from Page Optimizer Pro. However, if you're concerned with scalability and onboarding difficulties, Clearscope may be the better choice for its relative simplicity. For example, an SEO expert can make full use of Page Optimizer Pro's competitor analysis. But in the hands of a beginner, it can easily target the wrong competition, omit important details, or make similar mistakes, harming your SEO strategy.
Plans and pricing
| | | | |
| --- | --- | --- | --- |
| Plan | Price (Monthly) | Reports Per Month | Additional Report Cost |
| Basic | $22 | 12 | $1.65 |
| Premium | $33 | 25 | $1.20 |
| Unlimited | $44 | Unlimited | $0 |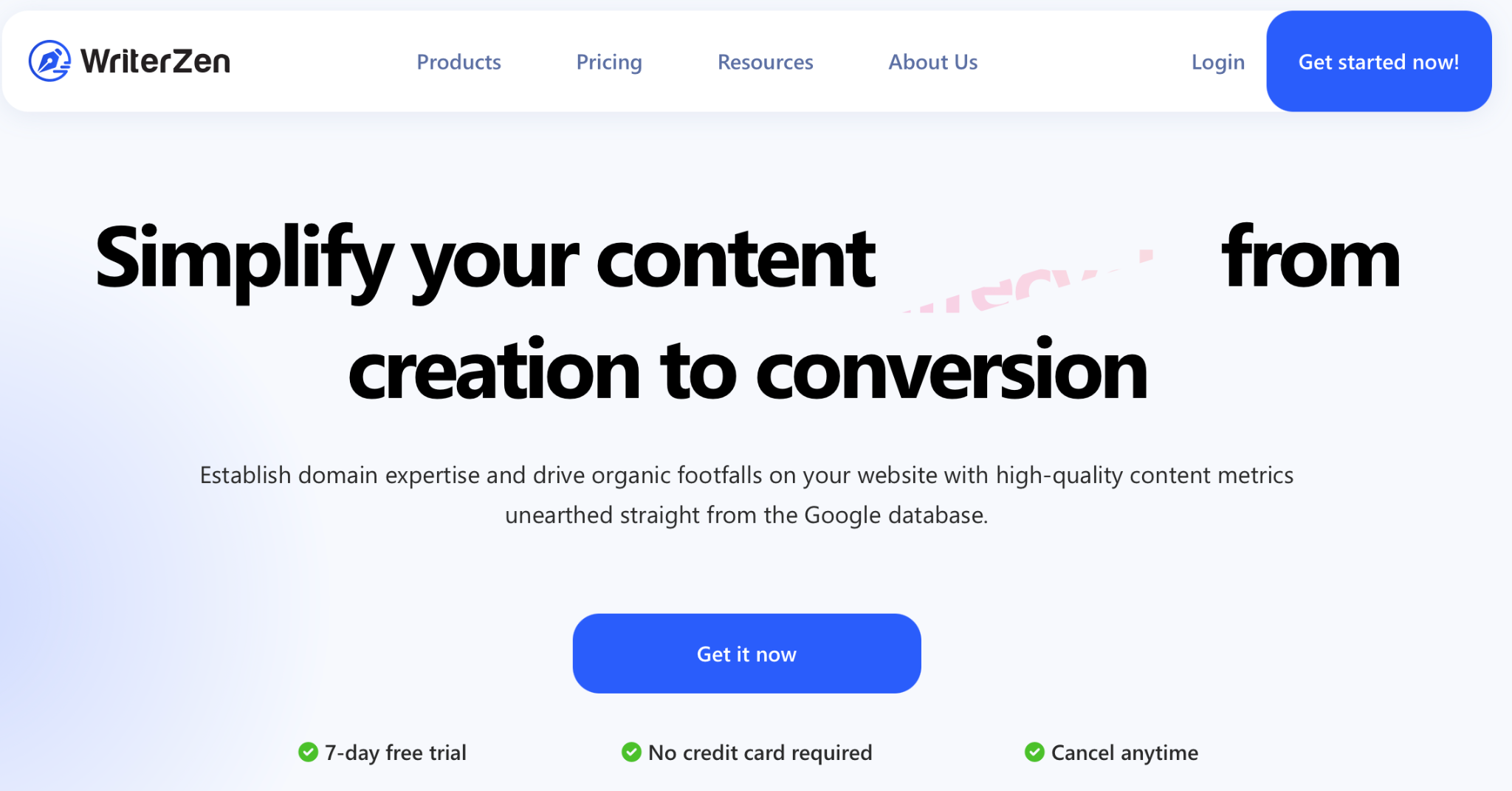 WriterZen focuses on the content optimization process.
Features
WriterZen comes with several key features for the content workflow: planning, outlines, writing, optimizing.
Outline creation
Similar to Frase' outline builder, WriterZen finds hidden topics that represent strong SEO opportunities. After finding opportunities, they provide the writer with topic clusters and keyword research to enhance the writing process. Opportunities that are shared are those most able to improve your site's content ranking and drive more traffic to it.
Low-cost AI writing
Even WriterZen's most basic service package comes with AI writing for up to 5,000 words per month. With the most advanced package, users get 15,000 words per month.
AI writing helps speed up the content creation process but it cannot cut out the need for human attention entirely. What it provides is a very rough draft that's topically appropriate and SEO optimized. It's then the work of the human writer to edit the article to make it readable and complete.
Content optimization
Like Clearscope, SurferSEO etc., WriterZen has a content optimization tool powered by GPT-3 which works in the same way.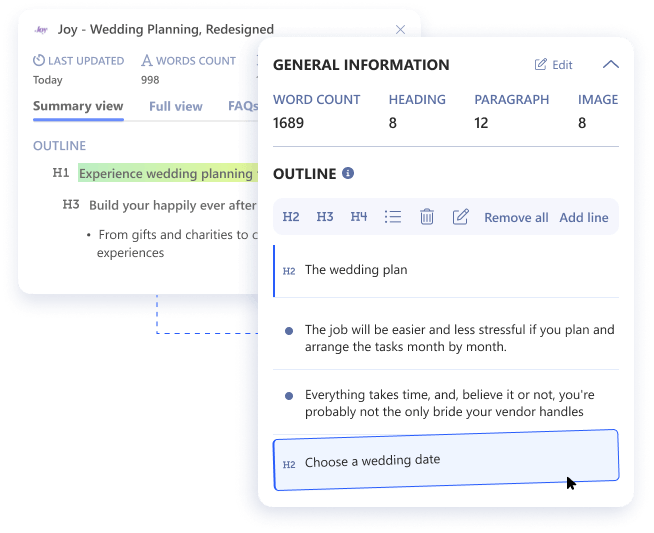 Differences: WriterZen vs Clearscope
WriterZen is quite similar to Clearscope in terms of features and functionality. WriterZen differs in a few major ways, though.
First, WriterZen is far less expensive. Their cheapest package is just $27 per month and they offer a free trial if you want to test the tool.
It's tricky to say for sure without a data-driven study to prove it, but I believe Clearscope's recommendations are more accurate. That might change over time, as WriterZen is a relatively new company.
WriterZen is worth considering as an alternative to Clearscope if you're looking for a low-cost option with AI writing built-in.
Plans and Pricing
WriterZen has a simple, three-tier pricing model. View pricing here.
| | | | |
| --- | --- | --- | --- |
| Plan | Cost (monthly) | Content Briefs (Monthly) | AI Writing |
| Basic | $27 | 50 | 5,000 words |
| Standard | $41 | 70 | 8,000 words |
| Advanced | $69 | 150 | 15,000 words |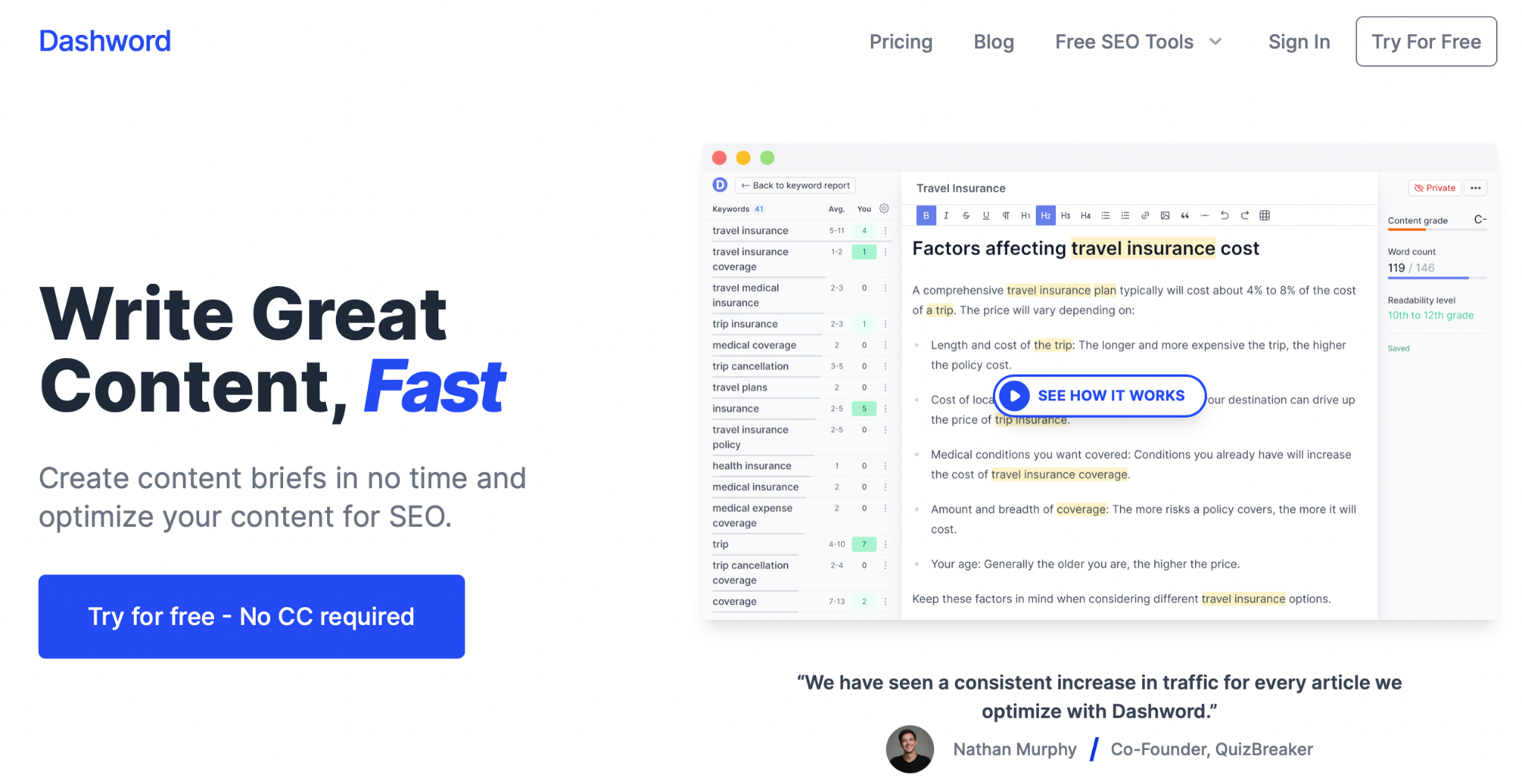 Dashword is another very similar tool to Clearscope. Let's dig into the differences.
Features
Dashword's features are intentionally simple and in many ways comparable to Clearscope's. However, it stands apart with better collaborative functionality and a lower cost.
Content brief builder
The content brief builder works hand in hand with the content optimization tool. You can see headings, subheadings and keywords used by your competitors. Like Clearscope, the interfaces are exceptionally tidy and easy to use.
Content monitoring
Ongoing tracking through the content monitoring feature lets you know when your content starts to become obsolete or uncompetitive. Tracking is constant and you are prompted when action needs to be taken. But keeping up with the feature is easy, and if SERPs change, your recommendations in the editor change too.
Collaboration-based
Dashword was deliberately designed for the needs of a dynamic team. The tool enables teams of up to 5 to collaborate on content strategy. It also has several minor features to make it easier to temporarily onboard guest writers.
Differences: Dashword vs Clearscope
Dashword is another lower cost alternative to Clearscope. Dashword has fewer features or metrics as Clearscope, but the most important and familiar ones are present.
Arguably, Dashword makes things simpler so that even inexperienced writers can just focus on writing optimized content. There's slightly more focus on collaboration features too, and it's cheaper to get more seats.
Lastly, Clearscope are clearly able to offer more to enterprise customers, including dedicated onboarding & training from having a larger & more experienced teams.
Plans and pricing
Dashword uses a simple, three-tier subscription model for pricing, with prices starting at $39.
| | | | | |
| --- | --- | --- | --- | --- |
| Plan | Price (Monthly) | NLP Reports (Monthly) | Content Monitoring (Content Pages) | User Seats |
| Hobby | $39 | 5 | 5 | 3 |
| Startup | $99 | 20 | 20 | 5 |
| Business | $249 | 100 | 100 | 10 |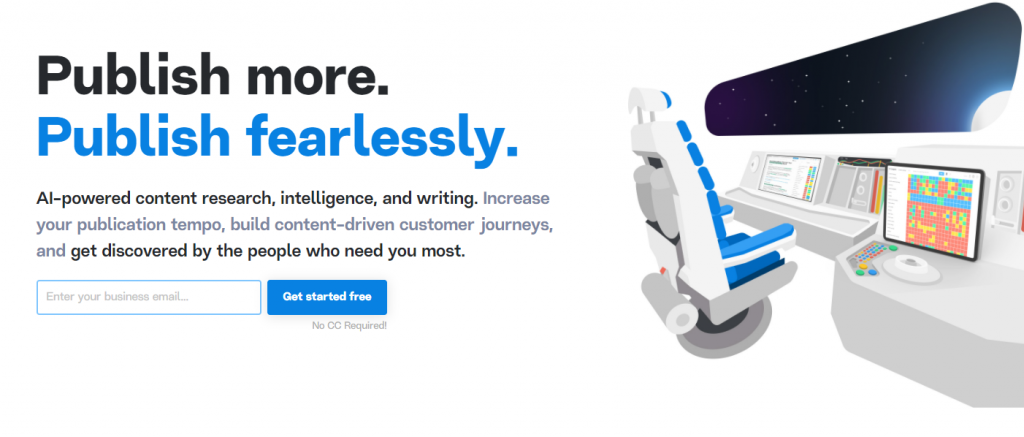 Marketmuse are one of the most well-established players in this space.
As such, they're one of very few tools in this list that can compete with Clearscope for enterprise customers.
Their positioning leans mostly towards medium-to-large teams, as their unique features like Inventory are only available on premium plans.
Features
MarketMuse are all about content research & content optimization.
Content inventory
This feature helps you plan & prioritize your content work. It identifies missing or weak content that could be worth working on, and analyzes content quality / performance.
They also offer a Personalized Difficulty feature, which considers topical authority. The higher your authority on a topic, the lower your personal difficulty should be for that query. I haven't used this enough personally to comment on accuracy.
Topical modelling
This is another thing that MarketMuse has been doing for a long time, and does very well. Any seed keyword you enter will deliver you related ideas for building topical authority & complete niche coverage.
A content optimization tool
And, of course, like the other software, MarketMuse assists with writing search-optimized articles with AI data.
Differences: MarketMuse vs Clearscope
For smaller teams, Clearscope is the better choice. MarketMuse recently changed their pricing so that the minimum cost is $7,200/year. Not super accessible for the majority of teams.
If you need more features (brief builder, AI writer & more) and unlimited content optimization, then go with MarketMuse. If you just want a good quality content optimizer and their plan limits are not a problem for you, go with Clearscope.
I have to also say that I found MarketMuse a little less intuitive to get started with compared to Surfer & some of the other tools. Maybe things have changed since, but since it's generally a more advanced tool, I suspect not.
See also: Marketmuse alternatives
Plans & pricing
Here's an overview of how MarketMuse's pricing works. There's a limited free version (without all features available)
| Plan | Yearly price | User seats | Queries |
| --- | --- | --- | --- |
| Free | $0 | 1 | 15 |
| Standard | $7,200 | 1 | 100 |
| Premium | $12k+ | 25 | Unlimited |