Clearly, AI in SEO is exploding. It still has flaws, no doubt. But we've reached the point where it's clear that SEO & content teams need to learn how AI fits into their workflows to improve speed & results.
I'll provide a concise overview of 12 AI SEO tools, and how they can help you.
TL;DR? Skip down to the tools 👇
AI SEO tools can currently speed up several key tasks:
Recommending keywords & topics to include when writing/editing
Finding opportunities to increase current rankings for topics/keywords
Search engine optimized content generation (AI writing)
Uncovering other opportunities e.g. internal linking recommendations
Ultimately, increasing search traffic
Here's the tools that can do them.
Here are the 12 best AI SEO tools
1. SurferSEO
2. Scalenut
3. Frase
4. Jasper
5. Outranking
6. Copy.AI
7. SE Ranking
8. CanIRank
9. MarketMuse
10. Wordlift
11. Rytr
12. Writesonic
SurferSEO is used to write & edit SEO-friendly content, and to get AI suggestions from your Search Console data to improve performance.
It's a more accessible alternative to Clearscope, with a lower entry price & more features overall. It scales well, from small blogging operations up to larger marketing teams.
Best for: Content optimization with great support & team collaboration features
Starting price: $89/month (paid monthly) or $69/month (paid annually)
Free trial: No, but 7-day money back guarantee
Reasons to use SurferSEO
You use SurferSEO if you want your writer's content to rank well. The core feature is the content optimization tool; this pulls data from the top ranking pages in the SERP (for your target keyword), and generates recommendations for what you or your writer should be including. It also gives a score, making it easy to understand at a glance whether the piece is optimized.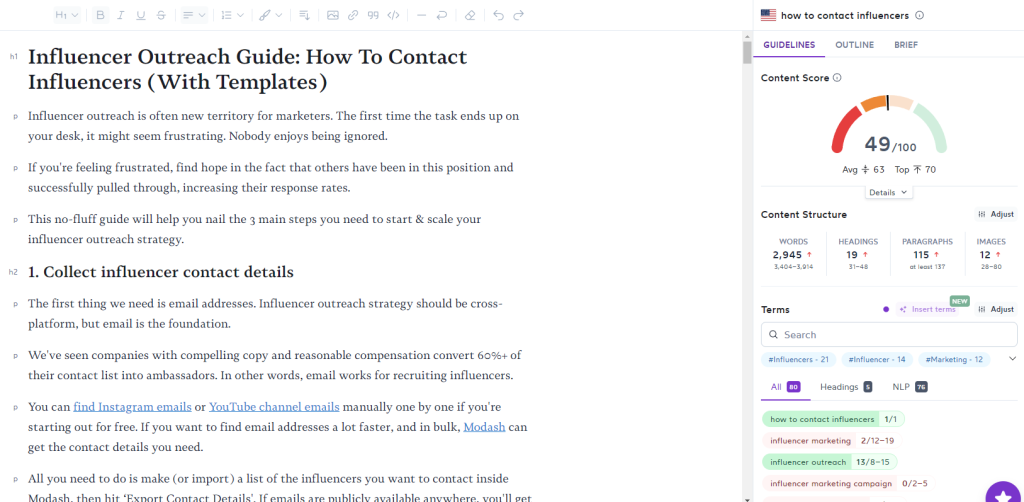 These reports are shareable, so you can use them with writers who aren't logged into Surfer, which is very helpful. There's also a Google Docs extension, so you can get their SEO data without being limited to their editor UI either.
They also released an actual AI SEO writer feature, which is an add-on, paid on a per-article basis. The pricing is somewhat controversial ($29 for one article, cheaper if you buy in bulk), but the quality (pre-editing) is better than most alternatives.

Other than that, SurferSEO also includes tools for content clustering / building topical authority, content planning, and creating SEO content briefs.
Pricing
Surfer's pricing starts from $69/month (annually) or $89/month (monthly). View pricing here.
| | | | |
| --- | --- | --- | --- |
| Plan | Price (Monthly) | New articles | Seats |
| Essential | $89 | 15 | 1 |
| Pro | $179 | 45 | 5 |
| Business | $299 | 90 | 10 |
There are also add-ons like the AI writer (paid per article), white label features (+$49/month), or API access (+$29/month).
Scalenut is an AI SEO platform, with a big focus on writing SEO content & content optimization. You can think of it kinda like Surfer, but with Jasper or Copy.ai included in the same platform. There is a 7-day free trial.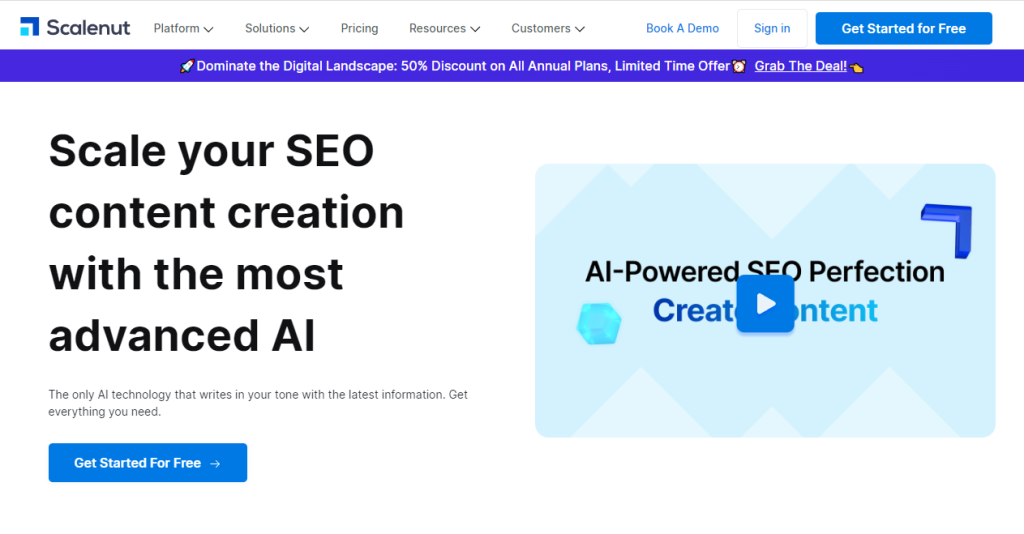 Reasons to use Scalenut
Scalenut has features for:
Producing AI content from scratch (both long form SEO content & short copy)
Auditing, editing, and optimizing existing content
Keyword planning and clustering
There's a few other things too, but that's the core feature set.
The content editor will feel quite familiar if you've used an alternative like Surfer, Frase, or Clearscope. It will analyze the SERP, recommend a word count, give key terms to include (etc.)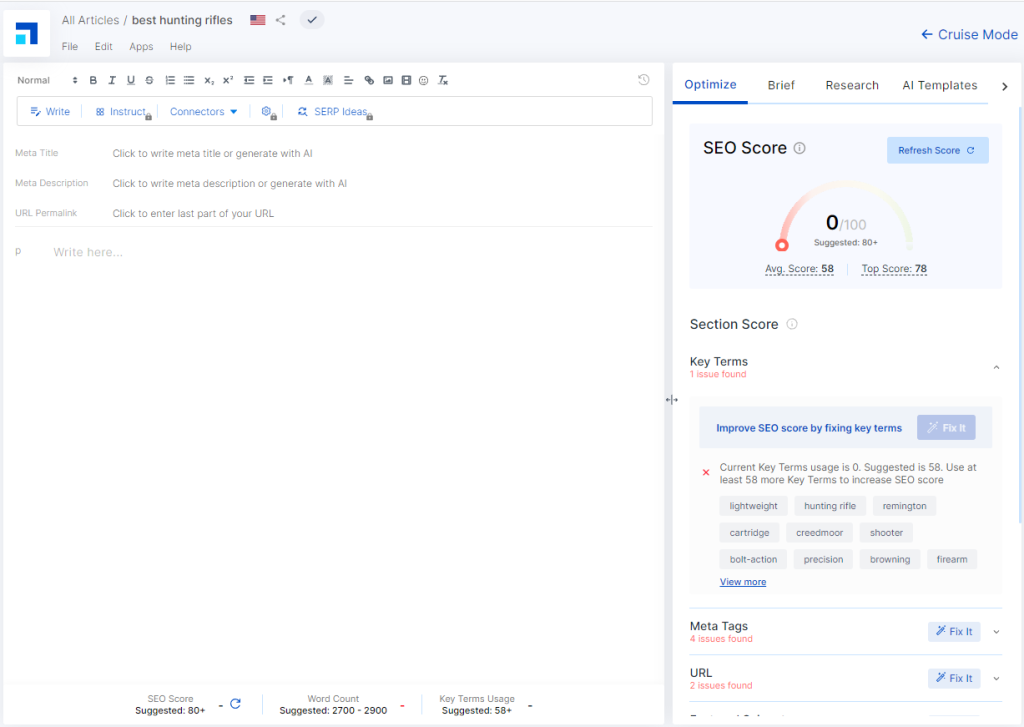 One cool difference here is the "Fix it" button. If the tool recommends you should say "hunting rifle" 3 more times in the content, for example, just clicking "Fix it" will use AI to add those instances in one click. Nice for fast SEO editing.
You can share documents with teammates (both read-only, and edit access), and there's a WordPress integration for 1-click WordPress publishing from the Scalenut UI.
Scalenut's other "flagship" feature is Cruise Mode, which is the full workflow for generating AI content from scratch.
It takes you through the step-by-step process of getting a title, outline, key questions, competitor research (etc.) with the goal of having an AI-generated first draft within 5 minutes. Learn more about Cruise Mode here.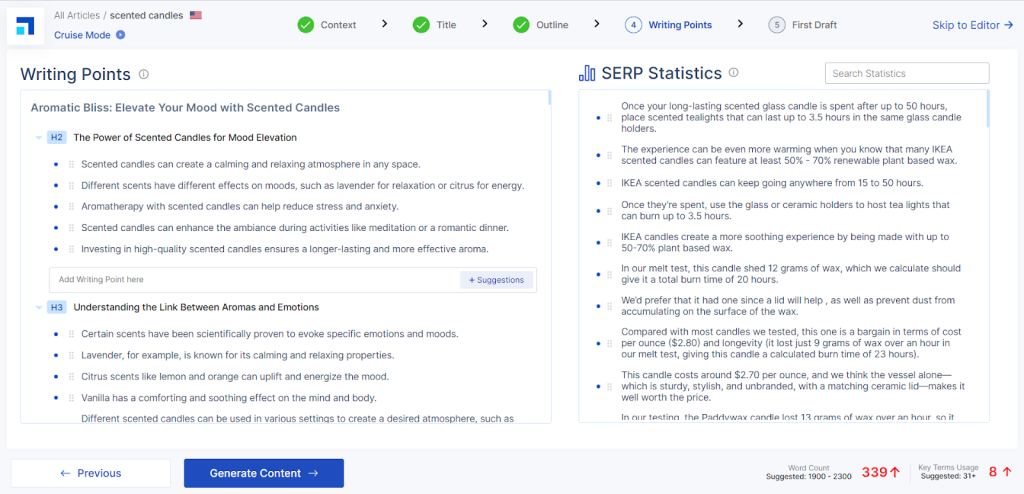 Like with every AI tool, if you want really high quality content — you're going to have to have a human editing element. But the workflow is slick, and you can get decent AI-generated articles for a fraction of the price compared to using Surfer AI, for example.
Support is faster than competitors typically, with 24×6 availability.
Scalenut pricing
Scalenut has three offers tailor-made for individuals, startups, and agencies. Their pricing plans are based on content deliverables. See full pricing here.
Plan
Monthly price
User seats
Documents
Essential
$39
1
5 articles
100k AI words
Growth
$79
1
30 articles
Unlimited AI words
30x Audit & Optimize
Pro
$149
1 (+$49 each for more)
75 articles
Unlimited AI words
75x Audit & Optimize

Frase is another well-known tool in the content optimization / AI space that uses AI for writing, research, outlines, and optimization.
Best for: High-volumes of content, or for focusing on AI-generated outlines
Starting price: $14.99
Free trial: 5-day trial for $1
Reasons to Use Frase
First off, you'll probably see that Frase & SurferSEO sound fairly similar. There's a detailed comparison on Frase vs SurferSEO here, but if I could summarize it:
Frase focuses more on writing, rather than editing. It has a built-in AI writing tool, and features for content ideation / generation. Whereas SurferSEO focuses more on editing/optimizing content.

SurferSEO has more features overall, with Grow Flow, content clustering, and content planning / keyword research. That could be good or bad (i.e. perhaps Frase seems simpler with fewer features, which can be an advantage).

SurferSEO is also arguably better for teams, with great collaboration features for working with external writers & with marketing colleagues.
With that quick comparison out of the way, Frase is a great growing AI SEO tool. The platform includes high-quality tools to help facilitate faster content workflows.

If you are busy, you may often have trouble ensuring your old content performs. In this case, you can simply connect your Search Console data, and Frase will send feedback and new recommendations.
Pricing
Frase is priced similarly to SurferSEO, but it has a solo plan starting at $14.99/month. One other notable difference in pricing is that high-volume optimization comes out cheaper in Frase, with unlimited documents coming with the $115 plan. View Frase pricing.
For $35/mo extra, there's an AI writer add-on available.
| | | | |
| --- | --- | --- | --- |
| Plan | Price (Monthly) | Users | Documents |
| Solo | $14.99 | 1 | 4 |
| Basic | $44.99 | 1 | 30 |
| Team | $114.99 | 3 | Unlimited |
4. Jasper (Formerly "Jarvis")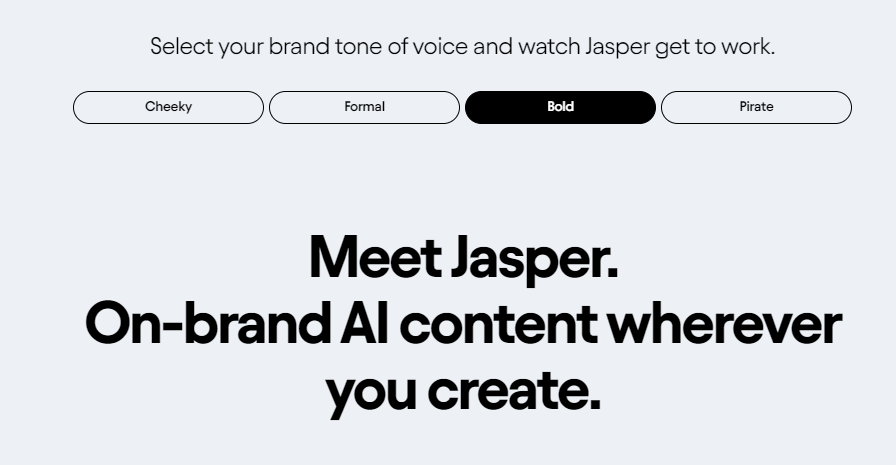 With Jasper, AI writing isn't an add-on. It's the primary service offered, and it's good. It can generate copy for SEO-driven articles, social media posts, headlines, and more.
Best for: Producing AI-generated content quickly
Starting price: $49/month for 1 brand and 1 user seat
Free trial: yes, 7 days
Reasons to Use
Unlike the previous two tools, Jasper is fully focused on just doing one thing really well: generating AI content.
Jasper's AI writer was built in consultation with SEO and copywriting experts. The result is an automated writing software meant for web copy, blogs, and social media posts. And it's surprisingly good.
You still need to learn how to use it (you can't always expect to just hit one button and publish), but Jasper focus a lot on educating their users with video & written content to help.
Notably, Jasper also has an excellent integration with SurferSEO. Using both together gives you the best of both worlds: AI-generated content, and search engine optimization, for speedy SEO workflows. Plus, there's a Chrome Extension which lets you get Jasper's functionality anywhere online.

Jasper also released Jasper Chat, a ChatGPT-like conversational AI that can assist with producing content. It's available in their paid plans, and doesn't (currently) count towards your word count limits either.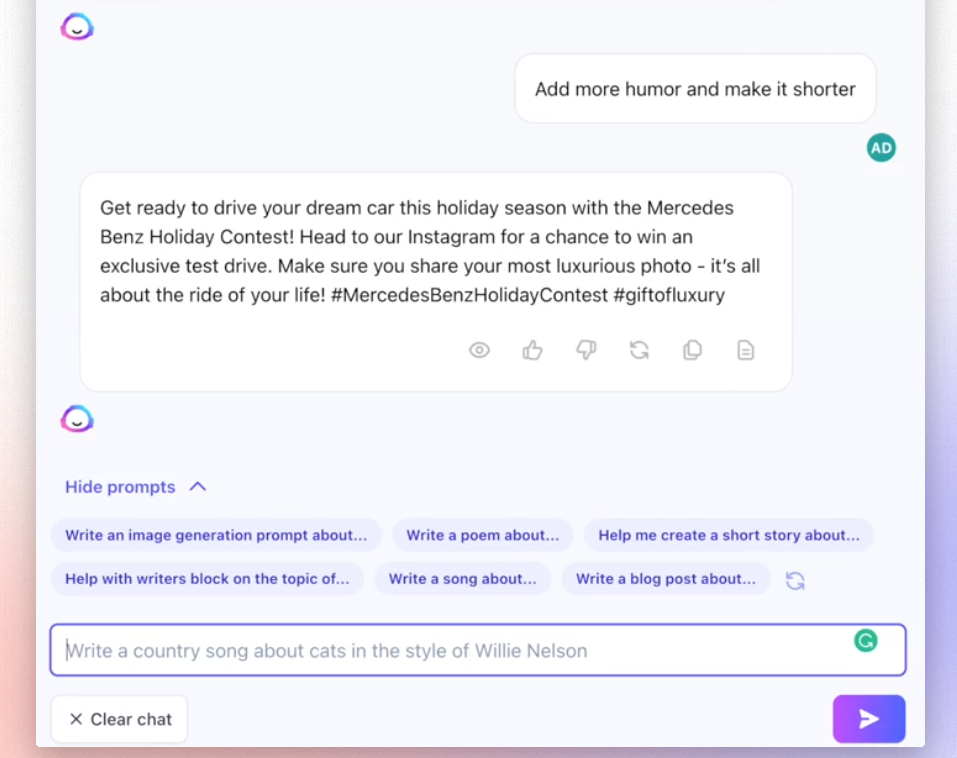 Pricing
Jasper's pricing is specific to your needs. The service starts at $49 per month (or $39 if paid annually) but increases based on things like user seats and number of brand voices. There are no longer limitations on word counts.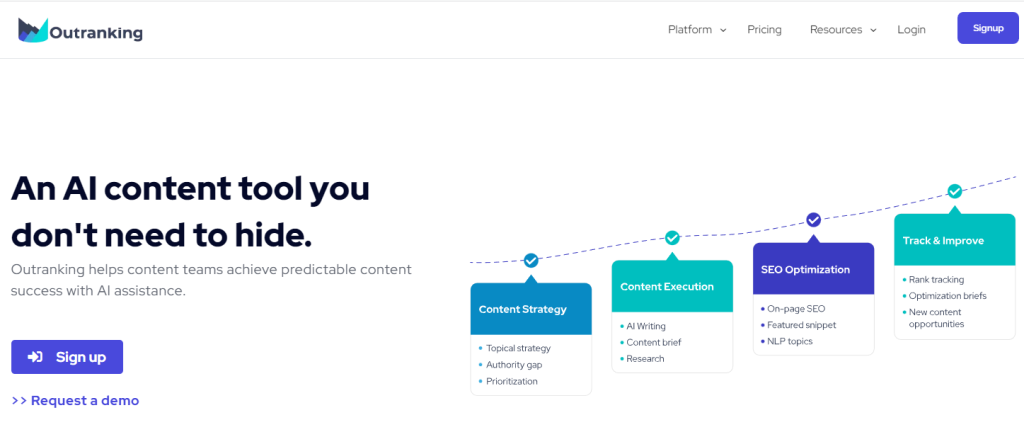 Outranking is an AI SEO tool for guiding you toward optimized content for more organic traffic. The company leverages SERP analysis for the creation of outlines and briefs. Like some other options, they focus on speed but without sacrificing quality.
Best for: Low-cost and fast turnaround SEO editing, solo SEO professionals
Starting price: $49/month
Free trial: Yes, limited access free trial
Reasons to Use Outranking
Outranking differentiates itself by providing automatic content creation with its "Concepts" feature. You simply use the search feature and SERP data; then Outranking creates an automatic draft for you. It's then up to you to re-write, or at least fact-check, the result.
Outranking also has a great AI outline editor, which works quickly, and well (at least if you're writing about a fairly common topic).
Other than that, Outranking is similar to other options in its benefits. But it's an especially good option for solo professionals or very small teams. You get comprehensive analysis to work with, but it's all presented on simple interfaces that even beginners should quickly understand.
Pricing
| | | | |
| --- | --- | --- | --- |
| Plan | Price/Month | Documents/Month | Domains |
| Starter | $49 | 4 | 1 |
| Solo | $79 | 10 | 1 |
| Pro | $149 | 20 | Multiple |
| Company | $219 | 30 | Multiple |

Like Jasper, Copy.ai specializes in AI writing & content ideation. It has fewer features overall than Jasper, but comes at a lower price, and with a usable free plan.
Best for: AI content writing & ChatGPT alternative with web browsing
Starting price: $36/month (annual), $49/month (monthly)
Free trial: Free plan
Reasons to use Copy.AI
Copy.ai is powered by OpenAI, just like Jasper. While both cater for long & short form content, it seems that Copy.ai have more focus on short form content like sales emails & ads.
It comes with 130+ templates and tools for specific use cases, broken down into:
Blogs
Social media posts
Emails
Case studies
Web copy
Product descriptions
Digital ad copy
Like any AI writer tool, a large part of Copy.ai's purpose is to destroy "writer's block." They make it easy to spin up first drafts, but also to customize & edit for the final version.
Copy.ai also have a beta ChatGPT alternative, named 'Chat'. It overcomes some of ChatGPT's limitations, for example by being able to visit URLs & get up to date data.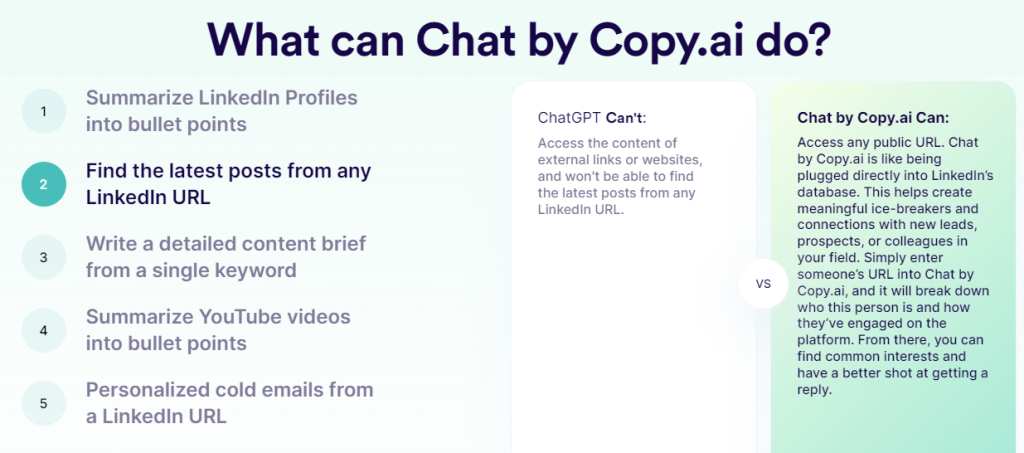 In case you're comparing Copy.ai vs. Jasper, here's a few quick differences:
Jasper lets you buy an AI images add-on, Copy.ai does not
Copy.ai's AI chat feature can browse the internet & run searches; Jasper Chat has similar limitations to ChatGPT
Copy.ai offers much lower pricing vs. Jaspers word count limits
Jasper's Chrome extensions are much better, bringing utility to other web pages
Jasper's integrations are much better (e.g. SurferSEO, DeepL, Grammarly)
Pricing
| | | |
| --- | --- | --- |
| Plan | Price (Monthly) | Words |
| Free | $0 | 2,000 |
| Pro | $49 | Unlimited |
| Enterprise | Customized quote | Unlimited |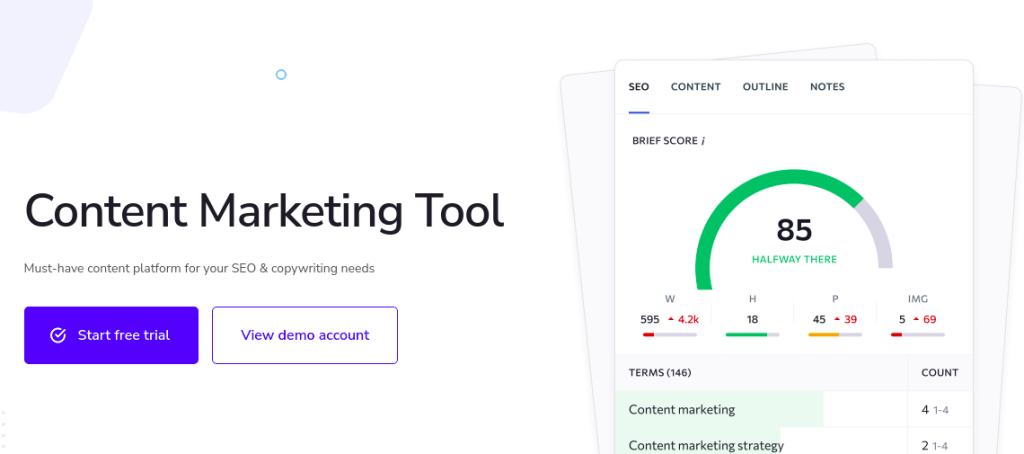 SE Ranking's AI-powered content marketing platform is useful for both SEOs and content editors. The tool assists you in creating content briefs based on top-performing competitor analysis, helps you compose a list of keywords to include, and has an editing area that checks your text against various metrics on the go, just as you are writing it. It also supports guest link sharing so you can easily collaborate with copywriters and colleagues.
Best for: Facilitating competitor research, creating briefs for content writing, and optimization tasks with the option to collaborate.
Starting price: $29/month
Free trial: Yes, a 14-day free trial
Reasons to Use SE Ranking
SE Ranking's content optimization tool speeds up the preparation stage from hours to minutes without detracting from the quality.
Pick a topic for your content, and the tool will analyze the competition and suggest what you need to be successful:
Content length
Number of headings
Number of images to include
A list of keywords with hints on where to include them
You can even download the brief if you need to work on it offline, but it's always better to create and edit content in the tool. Shareable links are available for users without an SE Ranking account. This means even if you have a plan that includes a single user seat, you can still work with multiple content writers or editors with this content marketing tool.
SE Ranking is releasing a new feature that is very appealing, especially for people working with large volumes of content. It's an AI writing tool that can do a first draft or give you ideas on days when you lack inspiration.
Pricing
The content marketing tool is an add-on to the SE Ranking SEO platform subscription (from $39/month). The pricing for the content tool starts at $29/month.
| | |
| --- | --- |
| Price (Monthly) | Articles |
| $29 | 15 |
| $49 | 30 |
| $99 | 120 |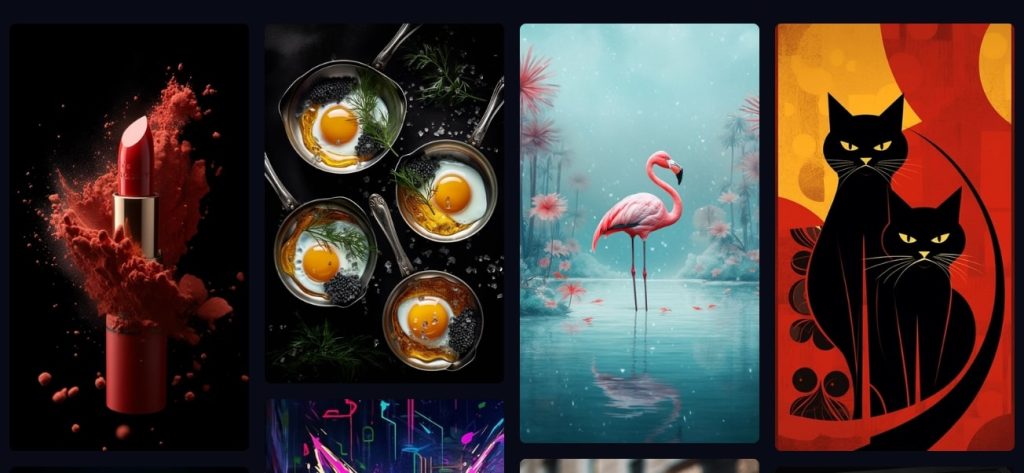 Midjourney is the best AI art generating tool on the market, in my (and others) experience.
Best for: creating blog illustrations and featured images
Starting price: Free, then starting from $10 for paid plans
Free trial: Free version
Reasons to use Midjourney
Midjourney uses prompts to create AI images. In the context of SEO, these are the 2 most obvious use cases:
Simply generating featured images, which can increase Google Images traffic & CTR
Improving blog UX/design with appealing visuals
And if you're going to generate AI images, you have a few main options: DALL-E, Midjourney, or Stable Diffusion. Check out this Twitter poll which overwhelmingly recommends Midjourney. I agree with it, based on my personal experience.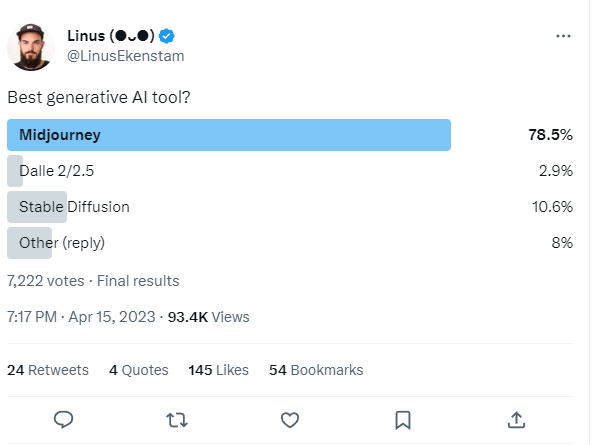 In a nutshell, how it works:
You join their Discord server
Free users have to use public channels, e.g. "newbies-131"
You type /imagine, then input your prompt

Since prompting is a skill that can be tricky to master, I'd recommend using one of the many Midjourney prompting tools, like this one to speed up: https://prompt.noonshot.com/.
Pricing
There's a free plan, then you pay primarily to get more 'fast GPU time' (as opposed to 'relaxed GPU time', which is slower).
| | | | |
| --- | --- | --- | --- |
| Plan | Price (Monthly) | Fast GPU hrs | Concurrent jobs |
| Free | $0 | 0.4/lifetime | 3 |
| Basic | $10 | 3.3h/month | 3 |
| Standard | $30 | 15h/month | 3 |
| Pro | $60 | 30h/month | 12 |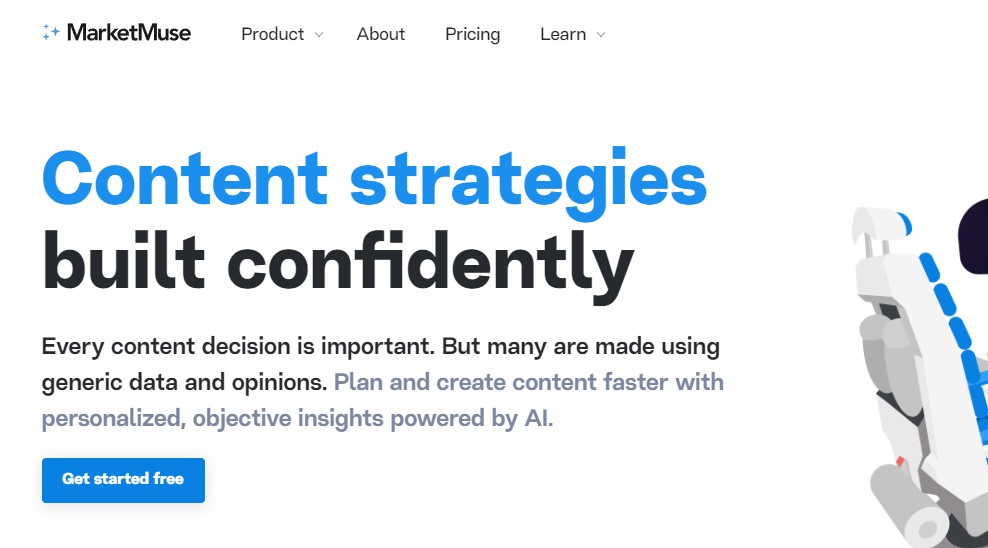 MarketMuse is one of the oldest and most recognizable names in SEO content optimization. But the company has done excellently at keeping up with the times while leveraging its unique value proposition.
Best for: Enterprise content SEO teams
Starting price: $1,500/year
Free trial: (Limited) free version
Reasons to Use MarketMuse
While MarketMuse has a limited free version, their platform is really tailored towards medium-to-large teams, with fairly steep pricing. They do have some killer features, such as topical modelling and personalized keyword difficulty. But, again, the price is somewhat prohibitive, which is why smaller teams often look for a Marketmuse alternative like SurferSEO or Frase.
The platform has a clean, intuitive AI but the features are innately somewhat advanced, which makes them powerful but perhaps not super straightforward to use for beginners.
Pricing
| | | |
| --- | --- | --- |
| Plan | Price (Annually) | Queries per Month |
| Free | $0 | 15 |
| Standard | $1,500 | 100 |
| Team | $3,600 | Unlimited |
| Custom | $12,000+ | Unlimited |
Wordlift offers AI SEO tools meant to boost search rankings and reader engagement. They take the content organization approach, meaning they hand you the metadata and provide task automation.
Best for: eCommerce businesses, small teams, technical SEO including schema markup
Starting price: €49/month
Free trial: Yes
Reasons to Use Wordlift
Wordlift places more emphasis on reader engagement than most alternatives. The reason for this is that reader engagement is a key part of sales. Any AI SEO tool can boost your traffic, but what happens with that traffic is embraced in a unique way or simply ignored by competing tools.
To help maximize revenues from ads, Wordlift also enables publishers to sell qualified traffic segments. So, users gain full control over the combination of content data and traffic data running through their sites. If you want full datasets and full ownership of them, Wordlift is a great choice.
Pricing
| | | |
| --- | --- | --- |
| Plan | Price (Monthly) | Domains |
| Starter | €49 | 1 |
| Professional | €79 | 3 |
| Business + eCommerce | €199 | 10 |
Rytr helps users leverage AI for high-performing ad copy and blogs.
Best for: Low-cost and robust service, very small businesses
Starting price: $9/month
Free trial: Free version
Reasons to Use Rytr
If you want automation for ad copy, emails, blogs, landing pages, and more, Rytr offers a low-cost and robust choice. In fact, the platform's low cost is one of the selling points they advertise on their site and elsewhere.
While Rytr is deliberately less flashy than other options you have, it does not miss out on the critical features of AI SEO tools or lack quality. Customer reviews speak highly of the simplicity of the tool and the AI writing feature's originality and high quality.
Pricing
| | | | |
| --- | --- | --- | --- |
| Plan | Price (Monthly) | Characters (Monthly) | Additional Features |
| Free | $0 | 5,000 | N/A |
| Saver | $9 | 50,000 | Custom use cases |
| Unlimited | $29 | Unlimited | Account managerPriority support |
Writesonic is an AI writer, copywriter, and writing assistant. Each of those titles is unique, and Writesonic appropriately compartmentalizes its functionality in each.
Best for: AI writing & speed, professional solo writers or small agencies
Starting price: $15/month
Free trial: Free version (10 credits per month)
Reasons to Use Writesonic
Writesonic is a good choice regardless of which of the applicable goals you've set for yourself. Its AI solution is meant to help drive traffic and sales or simply help you write.
The Writesonic AI writing feature can produce full ads, web pages, blogs, landing pages, product descriptions, and much more.
With its low cost of use, Writesonic is a good multi-purpose writing assistant.
Pricing
| | | | |
| --- | --- | --- | --- |
| Plan | Price (Monthly) | Credits | User Seats |
| Basic | $15 | 100 (free trial has 10) | 1 |
| Professional | $45 | Unlimited | 1 |
| Startup | $95 | Unlimited | 2 |
| Agency | $195 | Unlimited | 4 |