In the SEO industry, we've been seeing increasingly accessible and high-quality AI tools to help with our work.
We won't jump down the rabbit hole and go over how AI SEO tools work on a technical level. Instead, I'll provide a concise overview of 12 AI SEO tools, and how they can help you.
TL;DR? Skip down to the tools 👇
AI SEO tools can currently speed up several key tasks:
Recommending keywords & topics to include when writing/editing
Finding opportunities to increase current rankings for topics/keywords
Search engine optimized content generation (AI writing)
Uncovering other opportunities e.g. internal linking recommendations
Ultimately, increasing search traffic
Here's the tools that can do them.
Here are the 12 best AI SEO tools
1. SurferSEO
2. Frase
3. Jasper
4. Outranking
5. INK
6. Copy.AI
7. Diib
8. CanIRank
9. MarketMuse
10. Wordlift
11. Rytr
12. Writesonic
SurferSEO is a popular growing tool in the SEO industry. In a nutshell, their platform covers a bunch of tools that help with the content side of SEO work. Planning, writing, editing, and optimizing content. It's a more accessible alternative to Clearscope & other optimization tools, with a lower entry price & more features overall. It scales well, from small blogging operations up to larger marketing teams.
Best for: User-friendly content optimization with great support & collaboration features
Starting price: $49/month
Free trial: No, but a) Grow Flow is free, b) they have a money-back guarantee, and c) they have a free Chrome extension
Reasons to Use SurferSEO
You use SurferSEO if you want your writer's content to rank well. The core feature is the content optimization tool; this pulls data from the top ranking pages in the SERP (for your target keyword), and generates recommendations for what you or your writer should be including. It also gives a score, making it easy to understand at a glance whether the piece is optimized.
These reports are shareable, so you can use them with writers who aren't logged into Surfer, which is very helpful. There's also a Google Docs extension, so you can get their SEO data without being limited to their editor UI either.
Other than that, SurferSEO also includes tools for content clustering / building topical authority, content planning, and creating SEO content briefs.
They just released the beta version of a new AI tool, Grow Flow. This tool connects to your Google Search Console account and generates tasks for your team to implement. Examples might be:
Internal link ideas to implement
Recommended content updates (with specific recommendations)
New keyword ideas to create articles for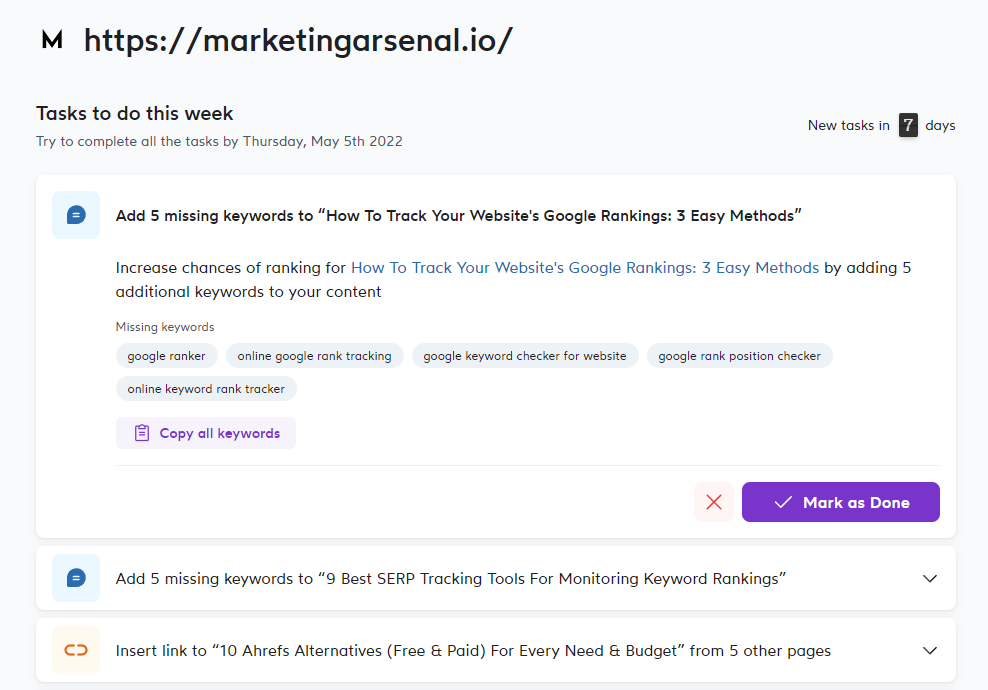 As with any AI, the recommendations aren't always bulletproof, but they save a lot of time. They're particularly helpful for beginners who require some direction.
Pricing
Surfer's pricing starts from $49/month. View pricing here.
| | | | | |
| --- | --- | --- | --- | --- |
| Plan | Price (Monthly) | New articles | Extra seats | Content audits |
| Basic | $49 | 10 | 1 | 20 |
| Pro | $99 | 30 | 3 | 60 |
| Business | $199 | 70 | 10 | 140 |
Frase is another well-known tool in the content optimization / AI space that uses AI for writing, research, outlines, and optimization.
Best for: High-volumes of content, or for focusing on AI-generated outlines
Starting price: $39.99
Free trial: 5-day trial for $1
Reasons to Use Frase
First off, you'll probably see that Frase & SurferSEO sound fairly similar. There's a detailed comparison on Frase vs SurferSEO here, but if I could summarize it:
Frase focuses more on writing, rather than editing. It has a built-in AI writing tool, and features for content ideation / generation. Whereas SurferSEO focuses more on editing/optimizing content.

SurferSEO has more features overall, with Grow Flow, content clustering, and content planning / keyword research. That could be good or bad (i.e. perhaps Frase seems simpler with fewer features, which can be an advantage).

SurferSEO is also arguably better for teams, with great collaboration features for working with external writers & with marketing colleagues.
With that quick comparison out of the way, Frase is a great growing AI SEO tool. The platform includes high-quality tools to help facilitate faster content workflows.

If you are busy, you may often have trouble ensuring your old content performs. In this case, you can simply connect your Search Console data, and Frase will send feedback and new recommendations.
Pricing
Frase is priced similarly to SurferSEO, starting at $44.99/month. One notable difference in pricing is that high-volume optimization comes out cheaper in Frase, with unlimited documents coming with the $115 plan. View Frase pricing.
| | | | |
| --- | --- | --- | --- |
| Plan | Price (Monthly) | Users | Documents |
| Basic | $44.99 | 1 | 30 |
| Team | $114.99 | 3 | Unlimited |
| Enterprise | Customized | Unlimited | Unlimited |
3. Jasper (Formerly "Jarvis")
With Jasper, AI writing isn't an add-on. It's the primary service offered, and it's good. It can generate copy for SEO-driven articles, social media posts, headlines, and more.
Best for: Producing AI-generated content quickly
Starting price: $29/month
Free trial: yes, 5 days
Reasons to Use
Unlike the previous two tools, Jasper is fully focused on just doing one thing really well: generating AI content.
Jasper's AI writer was built in consultation with SEO and copywriting experts. The result is an automated writing software meant for web copy, blogs, and social media posts. And it's surprisingly good.
You still need to learn how to use it (you can't always expect to just hit one button and publish), but Jasper focus a lot on educating their users with video & written content to help.
Notably, Jasper also has an excellent integration with SurferSEO. Using both together gives you the best of both worlds: AI-generated content, and search engine optimization, for speedy SEO workflows.
Pricing
Jasper's pricing is specific to your needs. The service starts at $29 per month but increases on a sliding scale based on how many words you need per month.
Outranking is an AI SEO tool for guiding you toward optimized content for more organic traffic. The company leverages SERP analysis for the creation of outlines and briefs. Like some other options, they focus on speed but without sacrificing quality.
Best for: Low-cost and fast turnaround SEO editing, solo SEO professionals
Starting price: $40/month
Free trial: Yes, limited access free trial
Reasons to Use Outranking
Outranking differentiates itself by providing automatic content creation with its "Concepts" feature. You simply use the search feature and SERP data; then Outranking creates an automatic draft for you. It's then up to you to re-write, or at least fact-check, the result.
Outranking is similar to other options in its benefits. But it's an especially good option for solo professionals or very small teams. You get comprehensive analysis to work with, but it's all presented on simple interfaces that even beginners should quickly understand.
Pricing
| | | |
| --- | --- | --- |
| Plan | Price/Month | Documents/Month |
| Mega | $40 | 10 |
| Giga | $82 | 25 |
| Tera | $157 | 50 |
5. INK (Inkforall)
INK started off as a very conventional SEO assistant with an optimization editor. Now it's an all-in-one tool that walks through all the necessary steps. Users start with a keyphrase and can then either write according to suggestions or have the AI write a draft first.
Best for: Automated content drafts, individuals and small teams
Starting price: $8.80/month
Free trial: Free version
Reasons to Use INK
INK is the least expensive option on this list for solo professionals. Their new "Inkforall" branding is genuine, as they have one completely free plan for those with very small SEO needs.
INK Free includes 22 sentences/rewrites per day and SEO research for 3 keywords per month, instead of a free trial. But their far more comprehensive "Starter" package is just $8.80 per month. That package, as cheap as it is, includes unlimited rewrites!
Pricing
INK has one very limited but free package and 3 paid subscriptions.
| | | | |
| --- | --- | --- | --- |
| Package | Price (Monthly) | User Logins | SEO Scoring (Monthly) |
| Starter | $8.80 | 1 | 3 |
| Pro SEO | $44 | 1 | Unlimited |
| Team SEO Unlimited | $177 | 3 | Unlimited |
Like Jasper, Copy.ai specializes in AI writing & content ideation. They offer a few specific features that may give you a few reasons to prefer them over other AI SEO tools.
Best for: Comprehensive AI content writing needs (in several formats), any size of team
Starting price: $35/month
Free trial: Free plan
Reasons to Use Copy.AI
Copy.AI comes with 130+ templates and tools for specific use cases. The extent to which their AI is applied is far more specific than many alternatives. Specific use cases are broken down into:
Blogs
Social media posts
Emails
Case studies
Web copy
Product descriptions
Digital ad copy
A large part of Copy.ai's stated purpose is to destroy "writer's block." To do so, they enable extensive customization and provide AI writing so your job is much simpler. They provide a specific, customized draft and leave just the editing to you.
Copy.AI may be the ideal choice for you if you have highly specific content or copy needs.
Pricing
| | | |
| --- | --- | --- |
| Plan | Price (Monthly) | Credits |
| Free | $0 | 10 |
| Pro | $35 | Unlimited |
| Enterprise | Customized quote | Unlimited |
Diib is an AI SEO automation tool. They combine your analytics data with deep competitor analysis. Using this AI-provided data, they provide you with a series of benchmarks, with an added emphasis on speed.
Best for: Businesses needing a broad range of AI SEO features beyond just writing/editing
Starting price: $29.99 per month
Free trial: Free plan
Reasons to Use Diib
Speed is a common theme for the most competitive AI SEO companies. But Diib works even faster, providing results in under a minute. Specifically, they set the mark at 54 seconds for seeing results.
Interestingly, Diib centers its proposition around a familiar but niche feature. Your own "Growth Plan" includes a comprehensive plan for hitting all opportunities on:
Web copy
SEO
Social media
Mobile
Visitor experience
In terms of analytics, Diib provides specific scoring for all the above areas. That way, you can more easily meet objectives as specific as "reduce bounce rate from 80% to 50%." This level of comprehensive service combined with its speed makes Diib worth considering.
Pricing
There is only one paid "pro" plan for $29.99/month. It unlocks the full breadth of Diib's offer and removes or alleviates limitations on the Growth Plan and other features.
Using AI developed by Stanford engineers, CanIRank focuses on practical insights and recommendations over dry data.
Best for: Guided and thorough content creation processes, small businesses with fast employee turnover
Starting price: $49/month
Free trial: Free version
Reasons to Use CanIRank
If you place more value on practical pointers/advice, not just a slew of data to work with, CanIRank is worth considering.
CanIRank inserts its "DIY" (do it yourself) mentality into each aspect of the user interface. What you see as the user is specific action recommendations. Unsurprisingly, the company also offers SEO consultancy.
In terms of results, how you use an SEO tool is always key. But CanIRank offers a higher level of technical and customer support to help customers reach their goals. So, if you believe you or your SEO teams could benefit from such a guided and comprehensive experience, CanIRank was designed with you in mind.
Pricing
| | | | |
| --- | --- | --- | --- |
| Plan | Price (Monthly) | Websites | Keyword Reports |
| Individual | $49 | 1 | 5/day |
| Pro | $79 | 7 | 20/day |
| Agency | $299 | 25 | 80/day |
MarketMuse is one of the oldest and most recognizable names in SEO content optimization. But the company has done excellently at keeping up with the times while leveraging its unique value proposition.
Best for: Enterprise content SEO teams
Starting price: $7,200/year
Free trial: (Limited) free version
Reasons to Use MarketMuse
While MarketMuse has a limited free version, their platform is really tailored towards medium-to-large teams, with fairly steep pricing. They do have some killer features, such as topical modelling and personalized keyword difficulty. But, again, the price is somewhat prohibitive, which is why smaller teams often look for a Marketmuse alternative like SurferSEO or Frase.
The platform has a clean, intuitive AI but the features are innately somewhat advanced, which makes them powerful but perhaps not super straightforward to use for beginners.
Pricing
| | | |
| --- | --- | --- |
| Plan | Price (Annually) | Queries per Month |
| Free | $0 | 15 |
| Standard | $7,200 | 100 |
| Premium | $12,000+ | Unlimited |
Wordlift offers AI SEO tools meant to boost search rankings and reader engagement. They take the content organization approach, meaning they hand you the metadata and provide task automation.
Best for: eCommerce businesses, small teams, technical SEO including schema markup
Starting price: €49/month
Free trial: Yes
Reasons to Use Wordlift
Wordlift places more emphasis on reader engagement than most alternatives. The reason for this is that reader engagement is a key part of sales. Any AI SEO tool can boost your traffic, but what happens with that traffic is embraced in a unique way or simply ignored by competing tools.
To help maximize revenues from ads, Wordlift also enables publishers to sell qualified traffic segments. So, users gain full control over the combination of content data and traffic data running through their sites. If you want full datasets and full ownership of them, Wordlift is a great choice.
Pricing
| | | |
| --- | --- | --- |
| Plan | Price (Monthly) | Domains |
| Starter | €49 | 1 |
| Professional | €79 | 3 |
| Business + eCommerce | €199 | 10 |
Rytr helps users leverage AI for high-performing ad copy and blogs.
Best for: Low-cost and robust service, very small businesses
Starting price: $9/month
Free trial: Free version
Reasons to Use Rytr
If you want automation for ad copy, emails, blogs, landing pages, and more, Rytr offers a low-cost and robust choice. In fact, the platform's low cost is one of the selling points they advertise on their site and elsewhere.
While Rytr is deliberately less flashy than other options you have, it does not miss out on the critical features of AI SEO tools or lack quality. Customer reviews speak highly of the simplicity of the tool and the AI writing feature's originality and high quality.
Pricing
| | | | |
| --- | --- | --- | --- |
| Plan | Price (Monthly) | Characters (Monthly) | Additional Features |
| Free | $0 | 5,000 | N/A |
| Saver | $9 | 50,000 | Custom use cases |
| Unlimited | $29 | Unlimited | Account managerPriority support |
Writesonic is an AI writer, copywriter, and writing assistant. Each of those titles is unique, and Writesonic appropriately compartmentalizes its functionality in each.
Best for: AI writing & speed, professional solo writers or small agencies
Starting price: $15/month
Free trial: Free version (10 credits per month)
Reasons to Use Writesonic
Writesonic is a good choice regardless of which of the applicable goals you've set for yourself. Its AI solution is meant to help drive traffic and sales or simply help you write.
The Writesonic AI writing feature can produce full ads, web pages, blogs, landing pages, product descriptions, and much more.
With its low cost of use, Writesonic is a good multi-purpose writing assistant.
Pricing
| | | | |
| --- | --- | --- | --- |
| Plan | Price (Monthly) | Credits | User Seats |
| Basic | $15 | 100 (free trial has 10) | 1 |
| Professional | $45 | Unlimited | 1 |
| Startup | $95 | Unlimited | 2 |
| Agency | $195 | Unlimited | 4 |