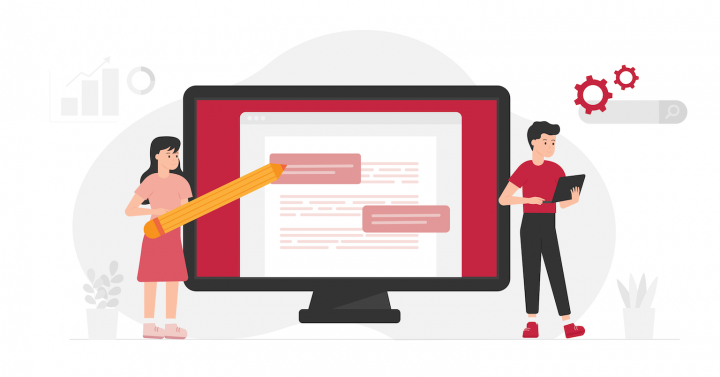 During my time in the world of SEO & content marketing, I've edited over 1 million words of SEO content. I've seen what works and what doesn't, and demonstrated the value of effective SEO editing on SEO results.
Here, I'll share my experience and learnings with you, to help you get the most out of your editing process. And ultimately, to get more eyes on your content through driving stronger rankings.
What is SEO editing?
SEO editing is the process of making sure written content has the best chance of ranking highly in search engines. The process is used to make writing clearer, more concise, and more valuable.
Where SEO editing fits into a content workflow
SEO editing can take place any time after the content has been written, whether or not it has already been published.
The optimal approach to SEO editing is to integrate its principles into your content writing process, rather than isolating it as a separate step.
When conducted before publishing, it aims to give the content the best chance of ranking right out of the gate. Editing published content, on the other hand, can help improve its existing performance.
How to edit content for SEO
SEO editing is a little different to editing for grammar or readability. It involves competitor and keyword research, analysis of key topics, and regard for search intent, among other factors.
So I've broken it all down into simple steps below, to guide you through the process from start to finish.

Fortunately, there are also SEO editing tools available that can help lighten the load and give your content a data-driven SEO edge. SurferSEO is my go-to tool for the job. I'll be using it to demonstrate throughout this process, so let me start by introducing it.
Surfer's SEO content editor
SurferSEO is an AI-driven SaaS tool, built with the sole purpose of helping you optimise your content for SEO.
It works essentially by using algorithms to carry out much of the competitor research process.
The software analyzes the top pages in the SERP currently, then uses the insights to compile a kind of "SEO content brief" for sculpting the optimal piece of content, tailor-made to rank competitively.
SurferSEO's Content Editor is a word processor with super powers. When adding your content to the editor, it shows you a score that you can improve in real time by optimizing your content based on the tool's SEO guidelines.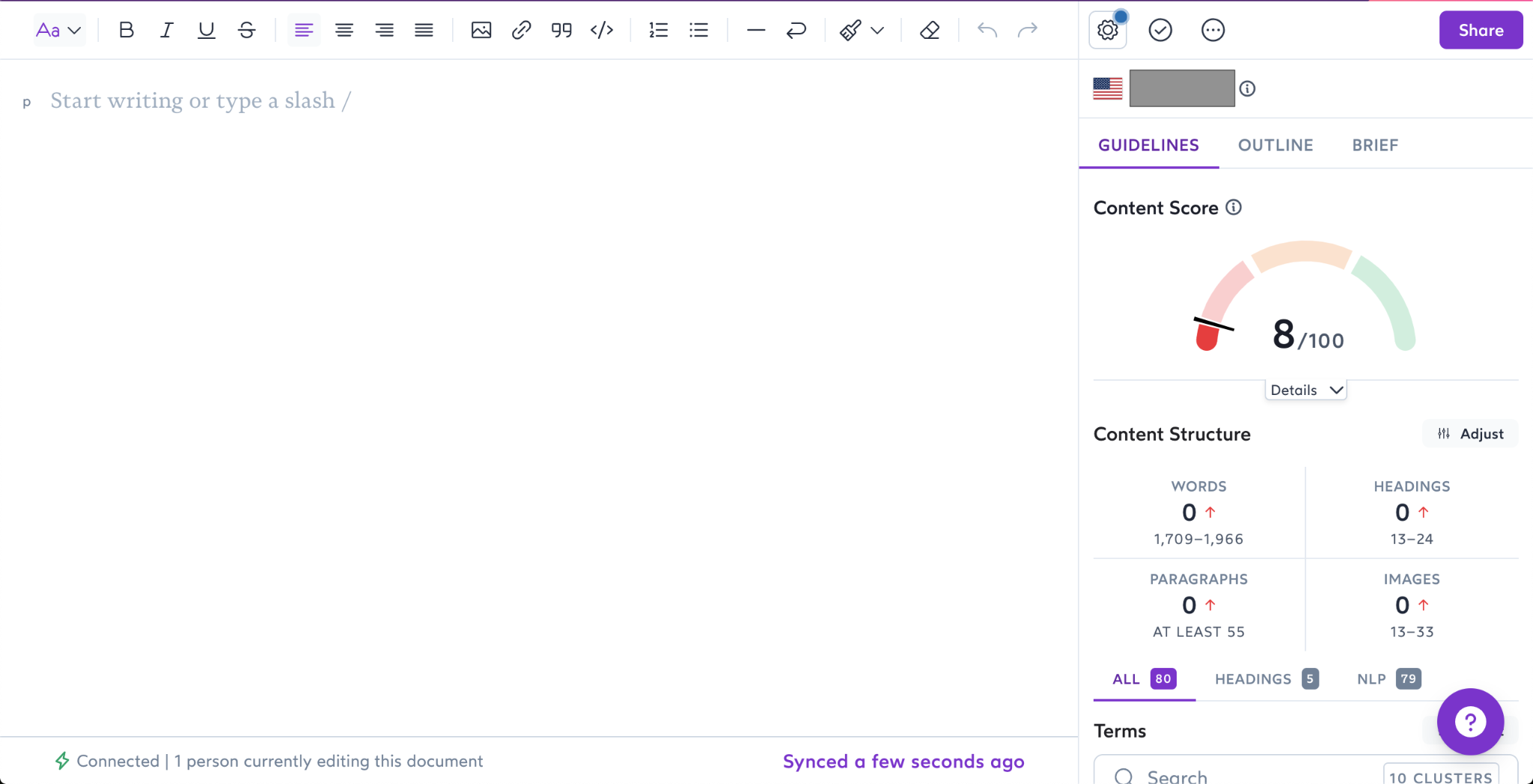 In the following steps, I've added tips on how you can use Surfer SEO to streamline your SEO editing process.
Step 0: Establish your main keyword
Keyword research is the bedrock of any effective SEO piece. You need to know which topic you're writing about, and which keyword is at the core of it.
Since this guide is on editing rather than writing, I'm going to assume that you have your main keyword selected. If you're not there yet, start with this: how to find the right keywords for SEO.
Step 1: Keyword research
A well-crafted piece of SEO content doesn't just rank for its main keyword; it ranks for hundreds (or thousands) of semantically related keywords as well.
To give your piece the best chance of ranking for these related keywords, you should aim to include the strongest of them in your content – ensuring that you're covering the topics they relate to.
Tip: Don't force keywords into place or overuse them. This is called keyword stuffing, and it's bad news for readers as well as search engines. Your content must feel natural to read.
You can use tools like Ahrefs to identify which keywords your competitors are ranking for, and target these in your content. Where relevant, aim to include the keywords with high search volume and traffic, and low difficulty.

If your piece is already live and has generated Google Search Console data, you can use this data instead. Search Console allows you to see which keywords your piece is ranking for already.
If you're ranking in the top ±20 positions for a keyword that you haven't yet included in your piece, including it as a focus will give you a stronger chance of ranking higher for it.
Where relevant, aim to do this for keywords that have a high number of impressions (as this gives you a good idea of the search volume for each).

In addition, you can use the SurferSEO to streamline the keyword research process. It makes data-driven recommendations on which common words and phrases to include.
The tool uses natural language processing to understand the topics, words, and phrases discussed on the top competing pages. Then extracts these insights and offers them up as easy recommendations, which light up green as you address them.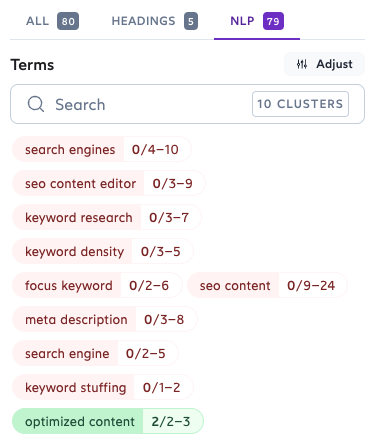 Step 2: Competitor research
Google's algorithms have become exceptionally good at understanding what users want to see in response to their searches.
How is this relevant?
It means that you can get a solid understanding of the content type users are seeking, just by looking at the top results.
Drop your main keyword into Google and look at the top three to five competitors, answering the following questions for each:
Which topics does it cover?
What search intent are they answering for?
How long is the piece?
How is the piece structured?
How have they approached the title? Does it hook the reader?
Keep track of your answers – you'll need them in the following steps.

The idea is to draw inspiration from these pieces – use them to develop a comprehensive view of the topic, and then make sure your piece covers all of the bases.
Step 3: Determine the ideal word count
If readers are looking for a concise answer to a simple question, your 7,000 word epic is going to drive them elsewhere. Likewise, thin 500-word articles aren't going to cut it if the current top results are in-depth 3-5k+ word guides.
Google knows this, and it aims to rank content that has a suitable word count for the query.
Once again, the quickest way to get this is using SurferSEO or a similar alternative. After creating a doc in the Editor, you'll immedately get a word count recommendation.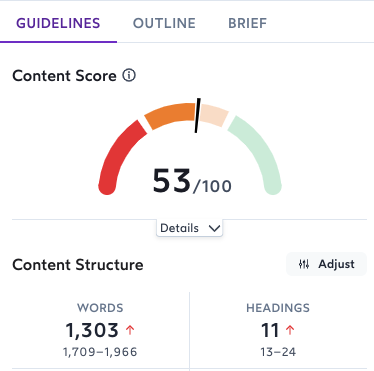 You can also open up the settings to see which competitors are ranking, with their word counts: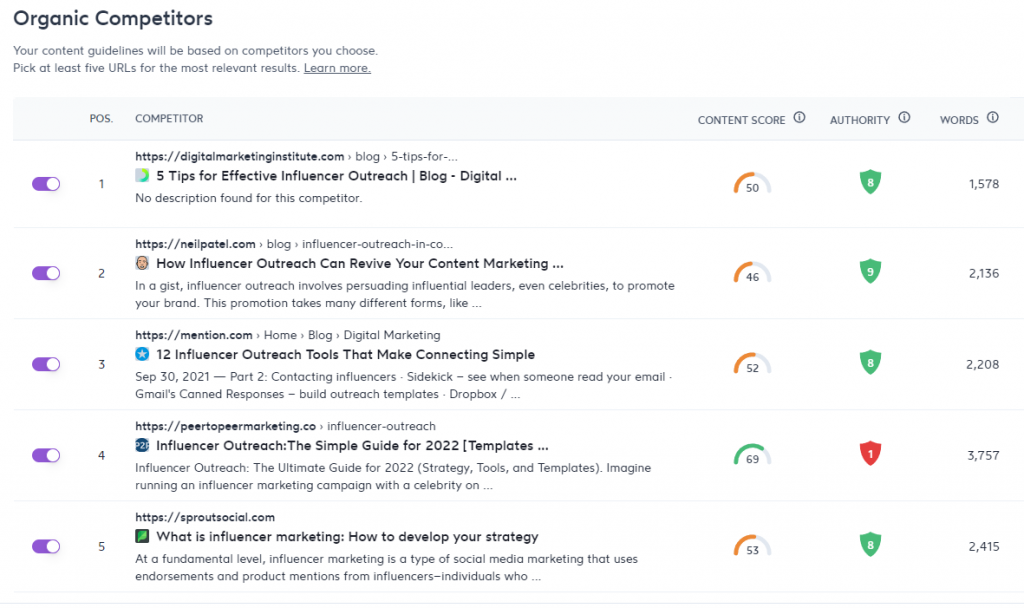 Without a content optimization tool, you can do this manually for free using a word counter tool like this one to measure the number of words each competitor is using and calculate the average across the top 3-5.
Step 4: Satisfy search intent
Search intent is at the heart of effective SEO content.

In essence, it describes the purpose and motivation behind a given search term.
To get an idea of search intent for your topic, ask yourself the question:
What is the searcher trying to achieve by typing this query into Google?
For example, someone searching for "best ski gloves" is likely looking for a list of gloves, not a blog post on why you love a certain pair.
You can determine search intent by analysing the form and function of the top competitors' pages. Are they lists? Are they explainer pieces? How tos? Landing pages?
Once you've established the search intent through competitor analysis, turn your attention to your content:
Does it answer the same questions? Does it fulfil the motivation of the searcher?
If not, you'll need to make tweaks or additions to ensure that it does.
Step 5: Cover the important topics & subtopics
After reviewing the top competitors, you'll have a good understanding of the ground they cover.
The next step is to make sure that your content covers all of the same ground. Ask yourself:
Does my piece address all of the subtopics that top competitors do?
Your goal should be to cover most of these topics in order to create the most comprehensive piece on the topic.
Surfer SEO simplifies the above process with automatic, tailored recommendations for headings, topics, and questions, based on competitor data.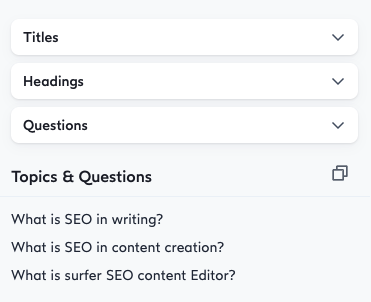 Step 6: Optimize the layout & structure
By this, I mean the way in which the information is ordered and presented on the page.
The structure should follow a logical flow, clearly broken down into relevant headings and subheadings.
This will help readers and search engines alike establish a high-level overview of the content, and make for a more seamless reading experience.
Try to slip into the shoes of your reader and get a feel for your content's structure.
Do you need to change the order around to make things more clear?
Do you need to separate longer sections into subsections?
Is your main heading (h1) enticing, relevant, and informative?
It's also worth checking how your competitors are structuring their pages. For example, do they tend to:
Open the piece with a definition of the main keyword?
Answer the searcher's question in the first few paragraphs?
Include a summarised list at the top of the page?
Include a table to help compare various options?
Use the insights from your analysis to help guide the structure of your piece.
Step 7: Optimize your title & meta description
The meta title and meta description are HTML tags that can have a meaningful effect on rankings and click through rate (CTR).
Though Google occasionally displays a different description or title, these tags are generally what show up for your page in the SERPs (search engine results pages). So they act as your first chance to hook the reader.

Here are a few tips for writing effective titles and meta descriptions:
Include your main keyword – This is a clear signal to readers and search engines that your piece answers their query.
Be concise – The ideal length for most SEO titles is around 55-60 characters, while meta descriptions should be ±155-160. Aiming for these lengths makes it more likely that they will be displayed fully.
Be informative – Within these limited bounds, you should aim to give readers a clear and accurate picture of your page's contents.
Be compelling – Use interesting, emotive language that evokes the desire to click – this is your first chance to entice the reader.
Get inspired – See if top competitors are mostly using similar formats or words in their titles and descriptions – if so, this is a good indicator that they're onto something. Consider using a similar structure and modifiers.
Be unique – Don't flat out copy your competitors' titles and descriptions – aim to convey why your content is better than any other piece in the SERPs. Ideally, your title and description should make your page stand out from the crowd.
Step 8: Add internal links where relevant
Links have been a staple of Google's algorithm since its inception.
Google uses the links pointing to and from a page as indicators of usefulness, authority, relevance, and trustworthiness.
It's important to link internally between your content. It helps establish your domain's authority on the topic at hand, guide users to the most relevant content for them, and tell search engines which are the most important pages on your site.
Conduct a search using Google's "site:" operator to find content on your site that mentions your main keyword (or similar phrases).
Aim to link to the most relevant of these pages, wherever they will be helpful for your reader. Try to use anchor text that makes sense, and is similar to the main keyword of the page you're linking to.

Step 9: Check your images
Readers and search engines both appreciate good images. Here are a few tips for making sure yours are optimised:
Add alt text – This text is a short written description of your image, which can help search engines understand its purpose. It should be present for all of your images and contain relevant keywords where appropriate.
Cut the size – Large images can slow down your page, which can negatively affect SEO performance. Keep your images light (aim for 200kb or smaller).
Use the right number of them – Tools like Surfer SEO will give a suggestion as to how many images you could include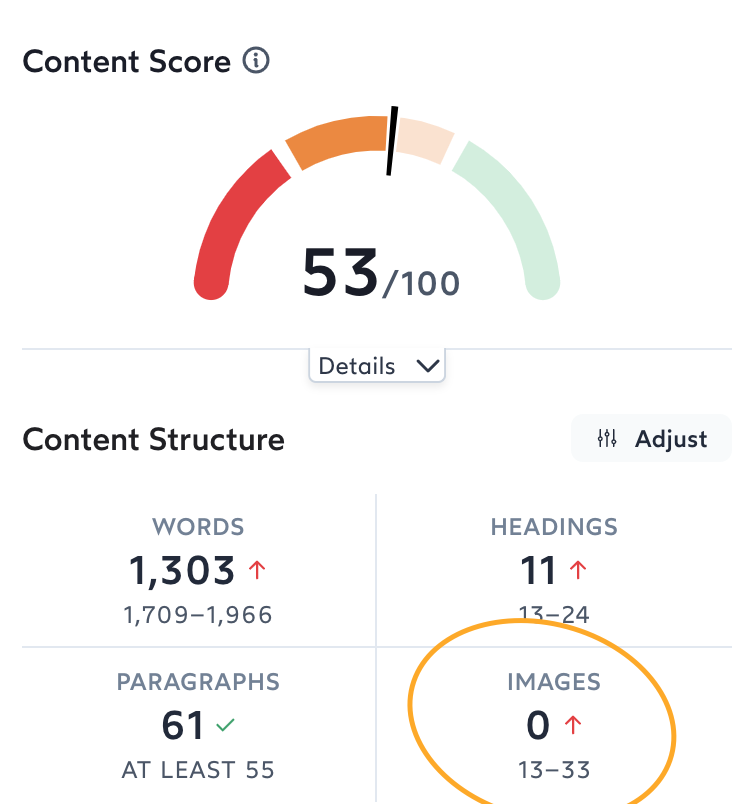 How to edit existing content
As discussed above, the SEO editing process can take place before or after publishing.
Whether or not the piece was optimized for SEO to start, it's beneficial to return to your published content periodically to optimize it using the steps laid out above.
This is the case for a few reasons:
Google favors fresh, up-to-date content
Search trends can change. Your content may need to be edited to change with them
Published content often has had time to generate Google Search Console data (gold dust for SEO editing)
Surfer has a tool built specifically for this purpose: the audit tool.
This tool is very similar to the content editor shown above. It simply compares your live piece of content, to the ideal criteria for your keyword.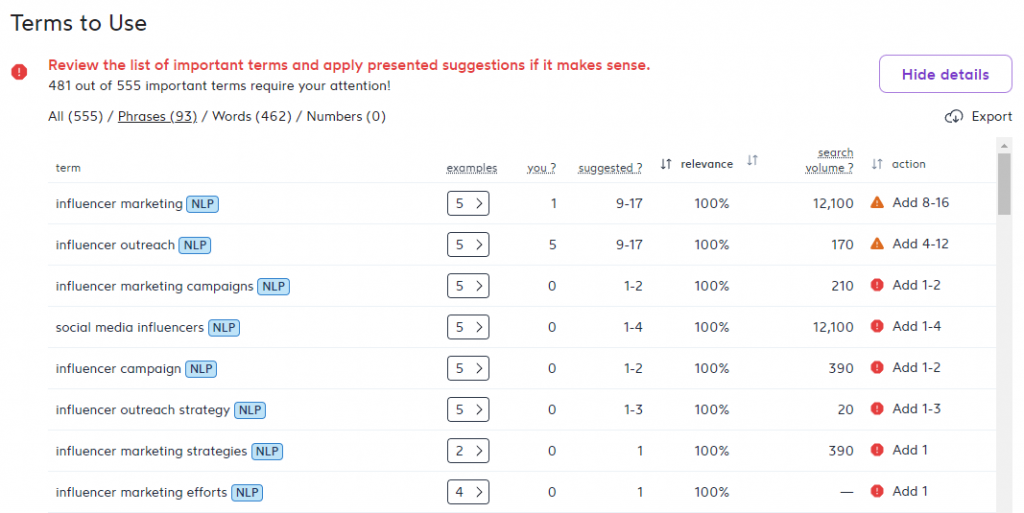 As well as keywords & densities to include, you get a list of insights and recommendations that covers internal/external link opportunities & a few other useful nuggets too.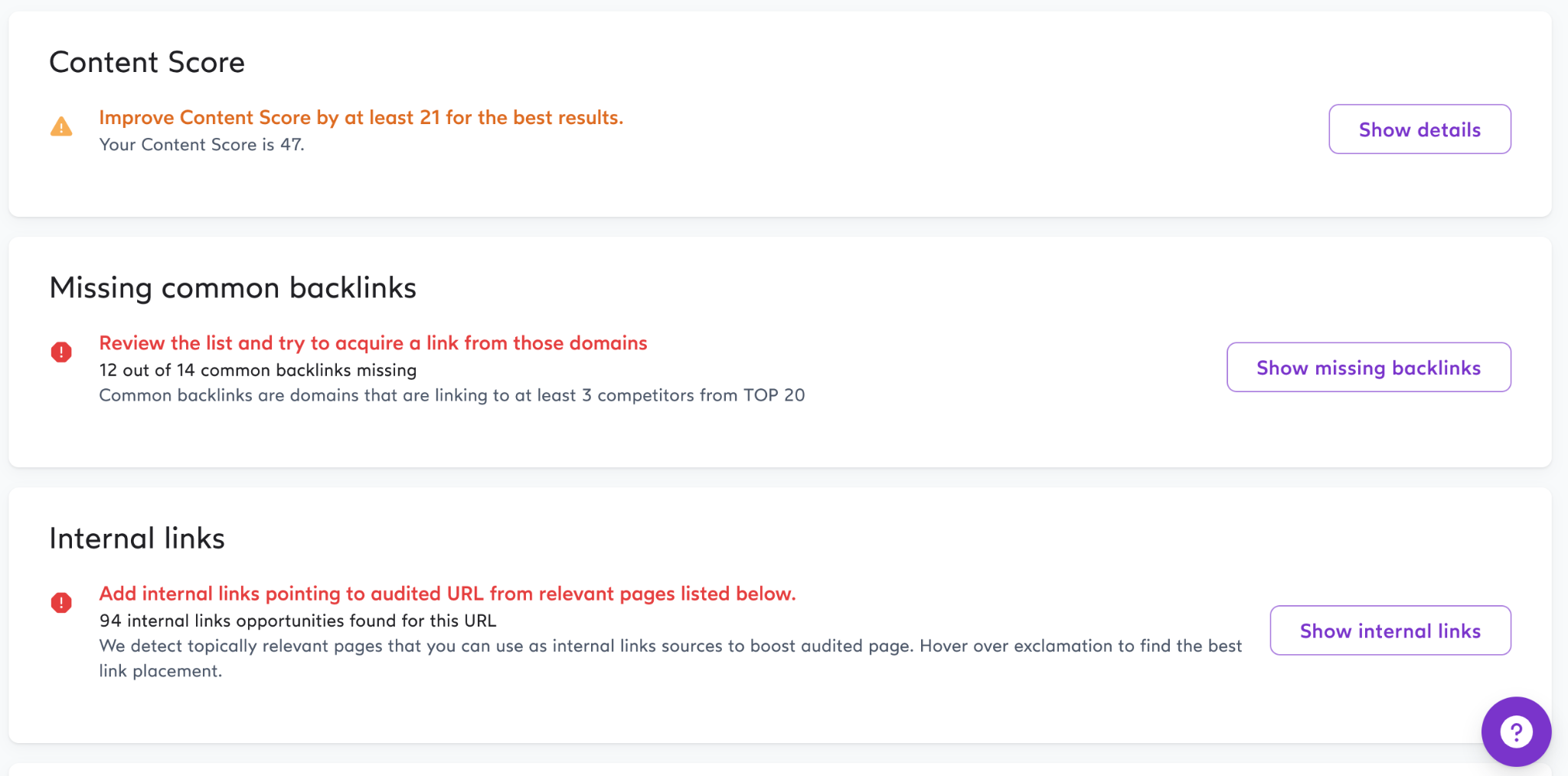 A final note on SEO editing
Many of the recommendations above revolve around competitor research, whether manual or with the use of SEO editor software.
In many cases, this approach is a winning formula. Especially if you're trying to do this quickly, and/or at scale. However, it should be noted that in less competitive niches, the top competitors sometimes don't perfectly answer search intent.
In these cases, the insights you can derive from competitors (and therefore through tools like Surfer SEO) will be less valuable.
So remember to always use your best judgement to discern lower-quality competitors, and to establish what the search intent really is, so you can match it.