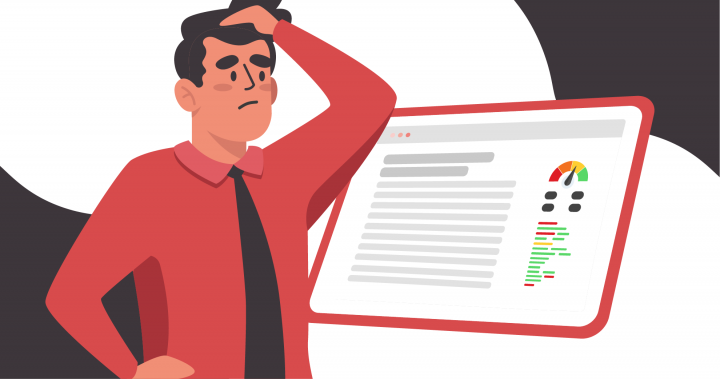 SurferSEO is a great content optimization tool. It provides relevant keyword suggestions to improve your content and offers a SERP analyzer tool to analyze your competitors.

However, Surfer SEO has some drawbacks. It can be daunting for those who are new to it, and its basic plan lacks integration with Google Docs.

In my role as a full-time SEO strategist, I've tested a bunch of SurferSEO alternatives, and assigned countless briefs to writers using them.

In this article, I'll discuss 9 content optimization tools as an alternative to SurferSEO. I'll also review their key features and pricing to assist you in finding the ideal solution.
Here are 9 popular alternatives to SurferSEO
Scalenut
Frase
SE Ranking
Dashword
Content Harmony
WriterZen
Clearscope
Marketmuse
NeuronWriter
We'll dive deeper into these, and the differences vs. Surfer SEO shortly. But first, let's start by framing the criteria here. What are we looking for?
Or, click here to skip to the tools 👇
Criteria for an alternative to SurferSEO
The primary reason to use Surfer is to write SEO-friendly content. Although they've been aggressively adding new features, Surfer is a content optimization software.
Another thing Surfer excels at is making it easy to work with writers. Shareable links & their Google Docs extension are both great features for collaboration. Another thing to look for in alternative options.
So what could be improved?
4 reasons to consider SurferSEO alternatives
In my experience, I've found Surfer's keyword research tool to be somewhat underdeveloped. While its topic clusters have proven to be helpful, the overall keyword research feature falls short compared to other alternatives.

Some other Surfer SEO alternatives excel in specific tasks, such as creating concise content briefs.

Surfer SEO's basic plan includes only 3 Content Editor credits. I believe it could be more beneficial if the credit allotment was more extensive.

Lastly, the learning curve of Surfer SEO can be quite steep initially, so trying an alternative makes perfect sense.

The ideal fit is going to depend on your exact use case, level of expertise, budget, and what you've already got in your SEO tool stack.
With all of these things in mind, here are 8 options below you should consider.
1. Scalenut
Scalenut is an AI SEO platform, with a big focus on writing SEO content & content optimization. You can think of it kinda like Surfer, but with Jasper or Copy.ai included in the same platform. There is a 7-day free trial.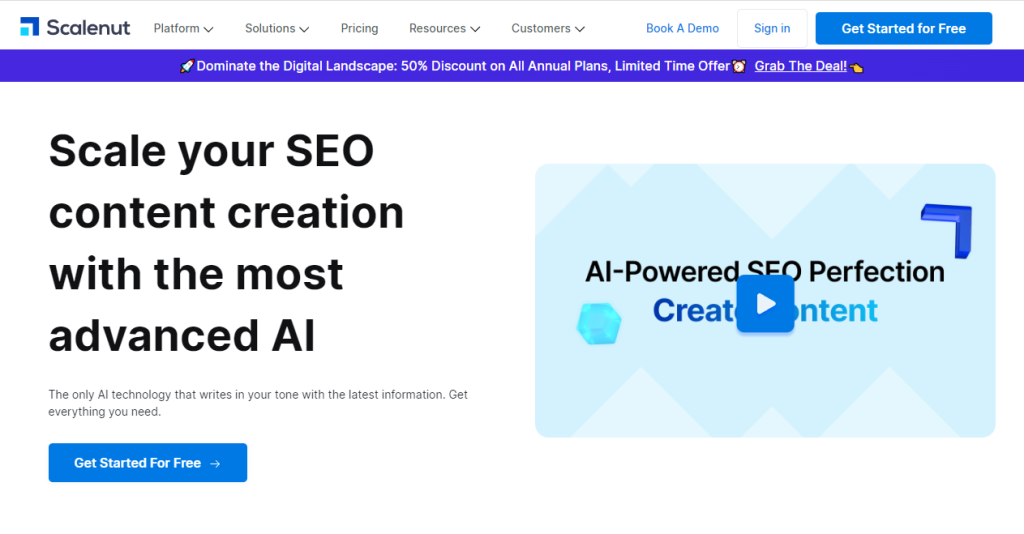 Features
Producing AI content from scratch (both long form SEO content & short copy)
Auditing, editing, and optimizing existing content
Keyword planning and clustering
Cruise Mode (write long-form AI content)
Cruise Mode is the full workflow for generating AI SEO content.
It takes you through the step-by-step process of getting a title, outline, key questions, competitor research (etc.) with the goal of having an AI-generated first draft within 5 minutes. Learn more about Cruise Mode here.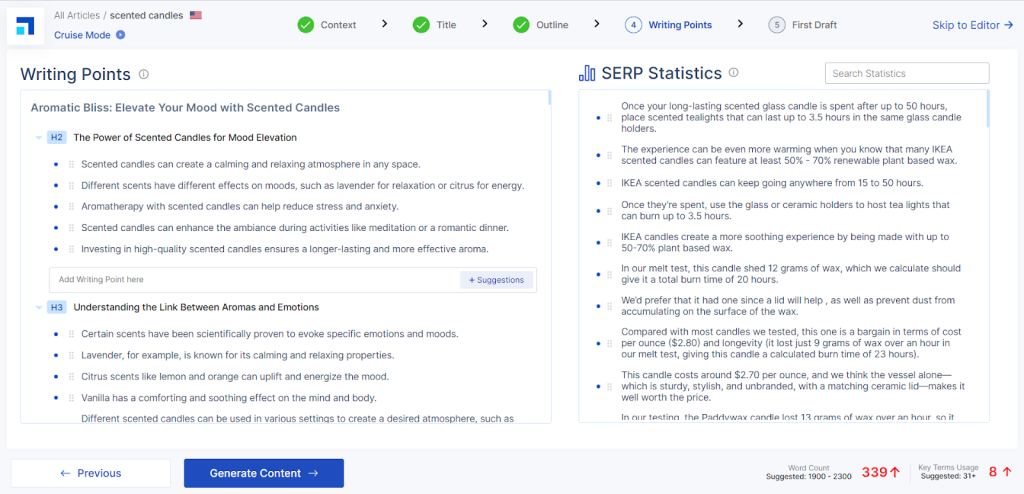 Like with every AI tool, if you want really high quality content — you're going to have to have a human editing element. But the workflow is slick, and you can get decent AI-generated articles for a fraction of the price of Surfer AI.
Audit, edit, and optimize existing content
The content editor will feel quite familiar if you've used Surfer. It will analyze the SERP, recommend a word count, give key terms to include (etc.)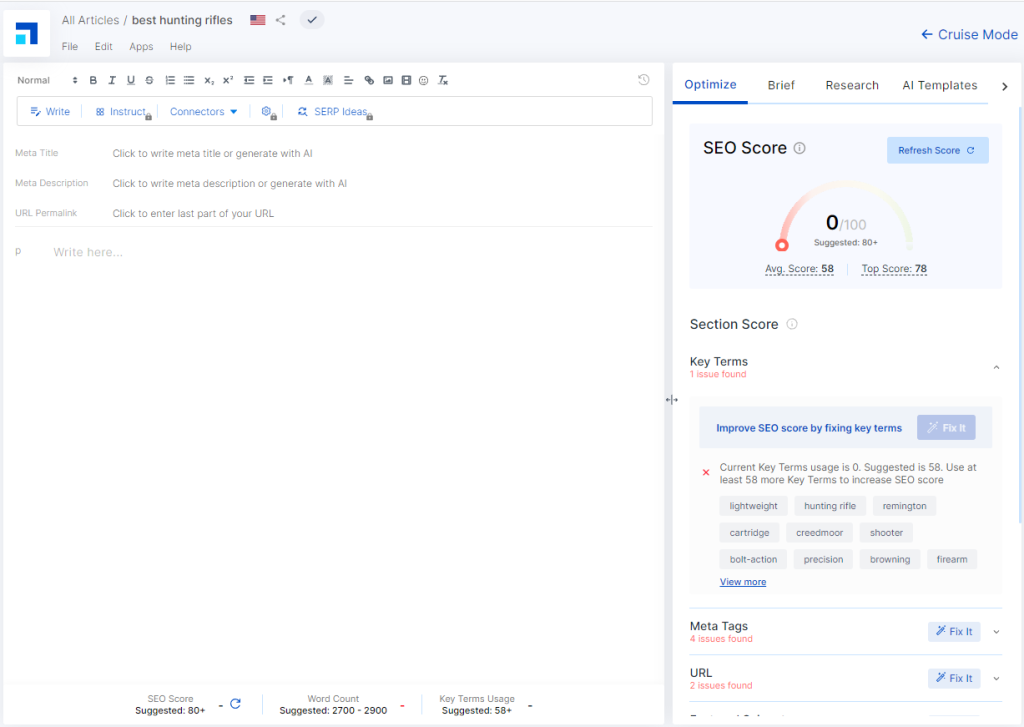 One cool difference here is the "Fix it" button. If the tool recommends you should say "hunting rifle" 3 more times in the content, for example, just clicking "Fix it" will use AI to add those instances in one click. Nice for fast SEO editing.
Other features
Scalenut can also:
Create short-form AI copy
Generate SEO content briefs
Find FAQs around a target keyword
Do keyword research & topic clustering
Differences: SurferSEO vs Scalenut
Here's a summary of some key differences:
Scalenut's entry price & general usage is cheaper overall
Scalenut has more focus on AI writing tools, both long & short form
Scalenut has a free trial, while Surfer doesn't
SurferSEO has a Google Docs integration, which Scalenut doesn't
SurferSEO allows some advanced customizations, e.g.
Scalenut pricing
Scalenut has three offers tailor-made for individuals, startups, and agencies. Their pricing plans are based on content deliverables. See full pricing here.
Plan
Monthly price
User seats
Documents
Essential
$39
1
5 articles
100k AI words
Growth
$79
1
30 articles
Unlimited AI words
30x Audit & Optimize
Pro
$149
1 (+$49 each for more)
75 articles
Unlimited AI words
75x Audit & Optimize
Frase is an SEO & content tool for writing optimized content. It offers an AI writer feature as well. The pricing per report is more affordable and scalable than SurferSEO. Get started with a 5-day trial for only $1.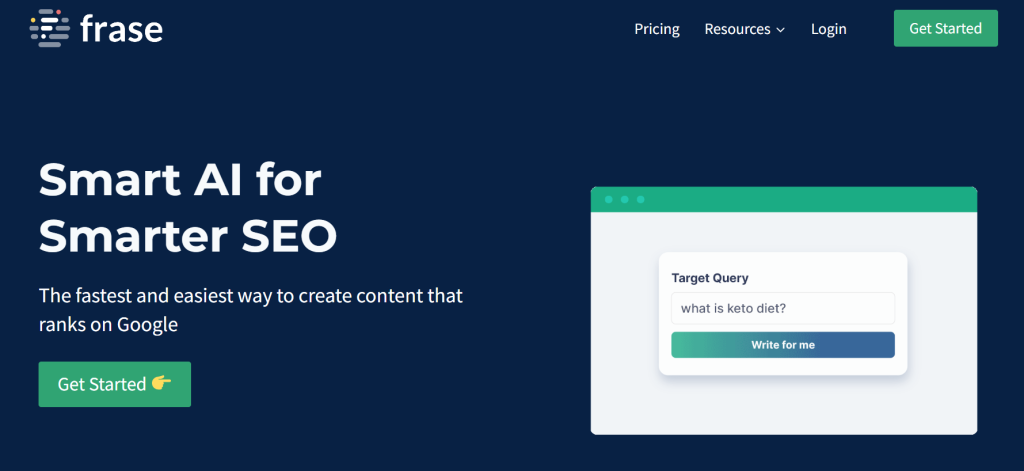 Features
Frase has three main features, and you can also add an AI writer ($35/month) if you'd like.
A content brief builder
Frase simplifies your SERP research by collecting and organizing the best online content in a single location. You can:
See which h2/h3s competitors are using so you can add them to your outline
See the top keywords to include into your content
Build your outline with all of the above
Export or share the content outline with your writers
A content optimization tool
Frase provides real-time feedback on your writing. Using its intuitive text editor, you can compare your content to your competitors. Its Team plan ($114.99/month) includes a Google Docs integration.
A content analytics feature
By connecting your Search Console data, Frase analyzes your content performance to give feedback/recommendations. It helps you detect pages that lose their rankings and may require updating. Additionally, it can automatically cluster your keywords to assist in planning your content strategy.
An AI writer add-on
While SurferSEO has great integration with Jasper.ai, Frase has its own AI writer tool included. Although AI tools can't generate a complete article with just one click, using them to create a basic outline and then editing it can help speed up content production.
If think of using an AI writing tool, I'd recommend using Frase because it offers a complete solution. The cost is a flat fee of $34.99/month, which is really affordable.
Differences: Frase vs SurferSEO
Frase and SurferSEO differ in terms of their report offerings. With Frase's Team plan ($114.99/month), you can generate unlimited reports, whereas SurferSEO's $179/month plan only allows 25 reports. Basically, Frase is 1.5x more affordable.
Frase has a built-in AI writer tool for $35/month. But SurferSEO offers Jasper.ai integration for all of its plans, which achieves the same task.
Frase offers a more affordable plan for individual users at $14.99/month, which includes 4 reports. Surfer SEO's pricing starts at $29/month and includes only 3 reports. So, Frase is 1.9x more affordable.
Lastly, Finally, Frase doesn't offer a content planner feature like Surfer SEO.
Read a more detailed comparison of Surfer vs Frase here.
Frase pricing
Here's an overview of Frase pricing.
| Plan | Monthly price | User seats | Reports | Cost per report |
| --- | --- | --- | --- | --- |
| Solo | $14.99 | 1 | 4 | $3.74 |
| Basic | $44.99 | 1 | 30 | $1.49 |
| Team | $114.99 | 3 or $25/mo per extra) | unlimited | – |
If you need an all-in-one SEO platform that also includes a content editor, then SE Ranking is a great SurferSEO alternative. Their content optimization tool is cheaper per article than SurferSEO and offers similar optimization features. They will soon introduce an AI writing tool as well.
They offer a 14-day free trial.
Features
SE Ranking's content tool currently consists of the Content Idea Finder and Content Editor, and an AI Content Writer tool is already in development.
Content Idea Finder
This tool is useful even before you start working on briefs. It takes a keyword and generates a list of ideas by analyzing SERP results. And all the ideas are organized into clusters.
Content Editor
The key appeal of any SurferSEO competitor is its content brief builder. SE Ranking provides a similar tool that works seamlessly and requires minimal effort from you. Simply enter the keyword you want to optimize your article for, and it'll analyze the content of the top-performing competitors.
Based on the SERP results, SE Ranking provides recommendations that include:
Ideal content length
How many sub-headings you need to add
The number of images to include
What keywords and related phrases to use in your content and where to include those keywords
The Content Editor helps you create outlines. You can write your own points or add a subheader from a competitor's page and edit it if needed. After completing the outline, you can send it to your writers. With guest links, you can share the work with anyone, even if they don't have an SE Ranking account.
Plus, there's a panel that counts the keywords you've used and checks your text for grammar errors, readability, and stop words in real-time as you write.
Differences: SE Ranking vs SurferSEO
SE Ranking and SurferSEO differ mainly in terms of additional features. SE Ranking is an all-in-one platform that excels in various aspects such as keyword research, backlink analysis, and SERP tracking.
If you're specifically interested in content optimization, it's worth noting that SE Ranking doesn't offer the content optimization tool as a separate product. Instead, you'll need to purchase a basic subscription to their SEO toolkit ($39/month) to access it. So, if you plan to use other features besides content optimization, it'd make more sense to opt for SE Ranking.
SE Ranking pricing
Here's an overview of SE Ranking Content Marketing Tool pricing. SE Ranking provides a content optimization tool for $29/month. But to use it, you must subscribe to the SE Ranking first, which starts at $39/month.
| Monthly price | Documents | Plagiarism checks | Cost per report |
| --- | --- | --- | --- |
| $29 | 15 | +3 | $1.93 |
| $49 | 30 | +5 | $1.63 |
| $99 | 120 | +10 | $0.82 |
Dashword is an SEO tool for optimizing content and creating briefs. Prices start at $99/month, and there's a free trial available.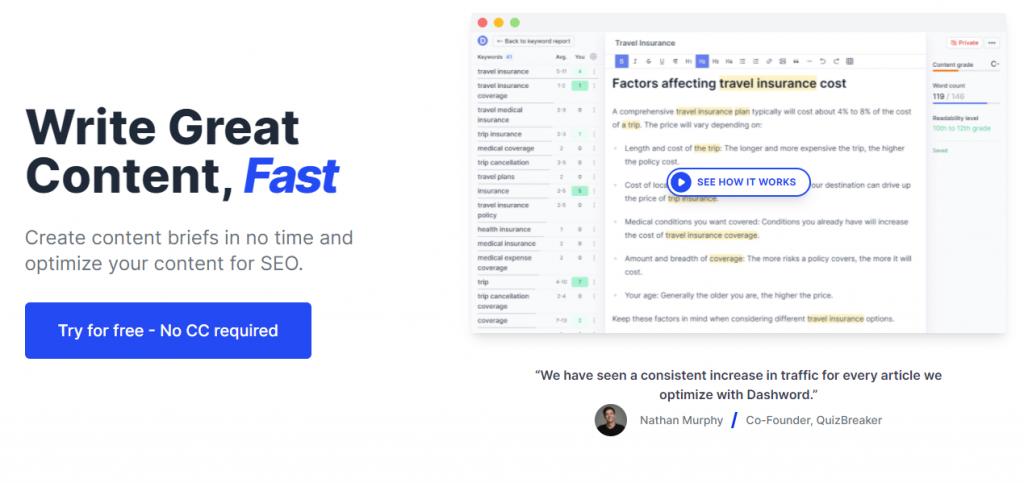 Features
Dashword has three main features that are very similar to Frase and Surfer SEO.
A content brief builder
Dashword allows you to easily identify the subheadings and keywords used by your competitors. You can use this information to build a content outline. Its user interface is clean and user-friendly, making it easy to navigate.
A content optimization tool
Dashword is built for SEO editing and it gives you real-time feedback and grading as the writer works on the article.
A content monitoring feature
The purpose of this feature is to identify underperforming pages. If the SERP has changed, the recommendations might also change, and you'll receive a notification about it. But I haven't tested that feature yet, so I can't comment on it.
An AI writer
The latest Dashword update includes an AI writer that has cool features, such as a one-click introduction generator.

Differences: Dashword vs SurferSEO
Dashword offers better ease of use. It has fewer features, metrics, and recommendations compared to other tools, making it easier to concentrate on what matters most. So, we can say Dashword is particularly helpful for non-SEO users.
Dashword provides the option of having multiple users (for example, 5 users in the basic plan) for all its plans. This is a great advantage for content marketing teams. To get additional seats on other tools like Surfer SEO, you'll have to upgrade to higher tiers and pay for extra seats.
Dashword pricing
Dashword pricing is summarized below.
| Plan | Monthly price | User seats | Reports | Cost per report |
| --- | --- | --- | --- | --- |
| Startup | $99 | 5 | 20 | $4.95 |
| Business | $349 | 10 | 100+ | $3.49 |
Content Harmony is another reliable Surfer SEO competitor. It's an AI-driven SEO tool that helps you generate content outlines, analyze search intent, and optimize your content for better results.
You can get 10 briefs for $10 to give it a spin.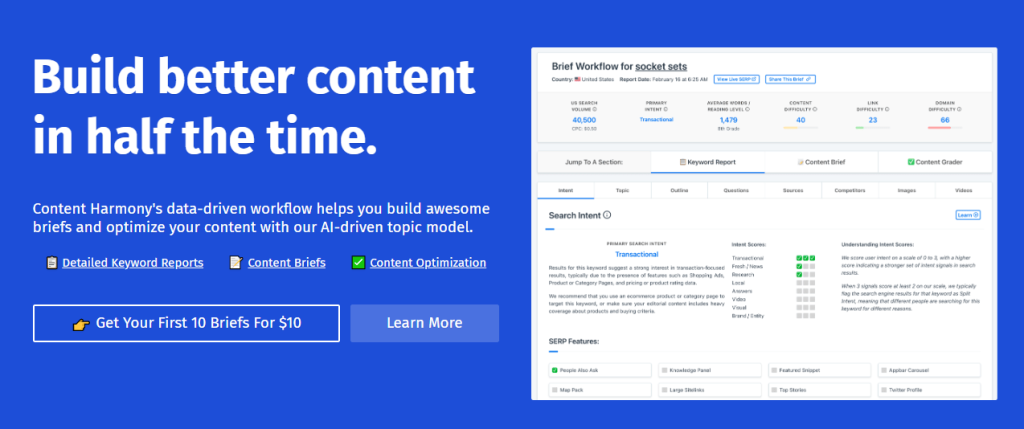 Features
Content Harmony offers a feature for each step of the content briefing workflow.
Keyword report
This feature covers the research stage. It provides information about what users are searching for and questions that need to be addressed.
The UI here is pretty nice, allowing you to click on competitor headlines and questions to add them to the brief builder for immediate use.
A content brief builder
This is a place where you can create a content brief and outline. You have the option to save templates for different outlines or projects, which can help you work faster. You can also include important details like a meta title, description, main target keyword(s), and headings (h2s/h3s).
A content optimization tool
Lastly, this is where the writing happens. The features are very similar to the other tools for this step. The editor allows you to collaborate easily with other writers and also provides a scoring system for the content.
Differences: Content Harmony vs SurferSEO
Content Harmony specializes in streamlining the content briefing process. You start with conducting keyword research and gaining a deep understanding of the topic. Then, you create a brief and assign it to your writer.
Another thing that I like about Content Harmony is that it has a different method for measuring keyword difficulty. The tool divides your keyword into three separate metrics, allowing you to understand the reasons why a keyword might be easy or challenging.

Content Harmony doesn't offer a straightforward way of integrating with an AI writing tool.
Content Harmony pricing
Here's an overview of Content Harmony pricing.
| Plan | Monthly price | User seats | Content briefs | Cost per brief |
| --- | --- | --- | --- | --- |
| Standard | $99 | unlimited | 12 | $8.25 |
| Pro | $299 | unlimited | 50 | $5.98 |
| Enterprise | custom | unlimited | +200 | – |
WriterZen was launched in 2018, so it's a relatively new product in the market. Their solution may not be as good as SurferSEO yet when it comes to content optimization, and they may also lag behind their rivals in other features like keyword research.
That being said, it's worth trying WriterZen as I believe they've improved their solution. Get a 7-day trial here.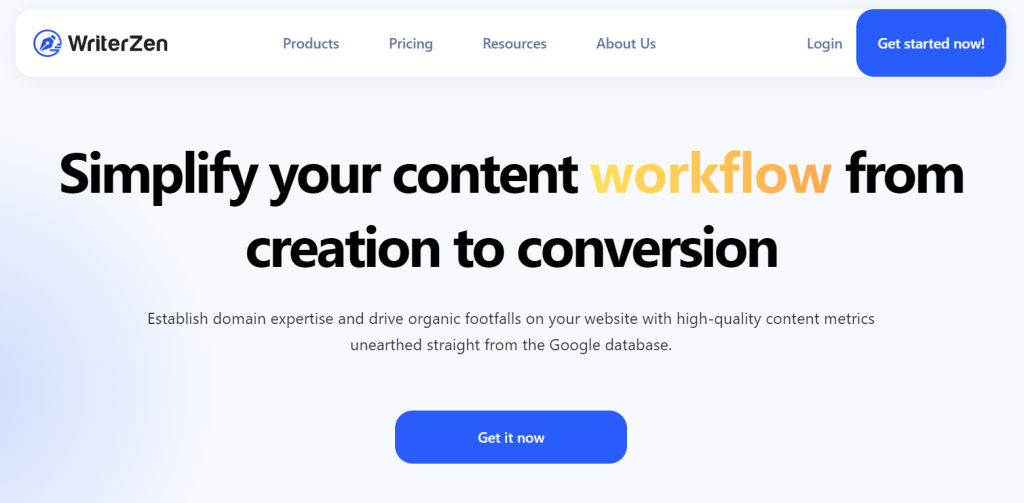 Features
Here are the key features of WriterZen.
Keyword explorer
This is a keyword research tool that helps you find competitiveness & search volumes for potential target keywords. The user interface is nice, and based on my limited testing, the search volume accuracy seems good.
Topic discovery
WriterZen can automatically group keywords into suggested topic clusters, but its effectiveness varied in my testing.
A content creation tool
An AI-powered content editor that gives recommendations on keywords & questions to include. It includes a plagiarism checker too, if you value that. What I particularly like about WriterZen is that it uses proprietary NLP to analyze the top 20 websites that rank for a specific keyword.
Additionally, its outline builder is efficient, letting you add commonly used h2s & h3s from competitors to your outline.
Differences: WriterZen vs SurferSEO
WriterZen offers lower pricing for each NLP report compared to other Surfer SEO alternatives. Plus, WriterZen takes a unique approach to keyword research by using features such as the allintitle operator to determine the level of competitiveness.
Surfer SEO has an advantage over WriterZen because it offers a WordPress plugin that streamlines workflows, making the writing process faster. With Surfer SEO, you can write, publish, and start ranking without the need to manually copy and paste your content.
WriterZen pricing
WriterZen pricing is summarized below.
| Plan | Monthly price | User seats | Reports | Cost per report |
| --- | --- | --- | --- | --- |
| Lite | $23 | – | 20 | $1.15 |
| Plus | $89 | – | 50 | $1.78 |
| Pro | $219 | – | 100 | $2.19 |
| Ultra | $399 | – | 300 | $1.33 |
Clearscope is a more mature SEO content optimization solution. However, compared to Surfer SEO, Clearscope has a higher starting price of $170/month, with no free trial.
View Clearscope's pricing & sign up here.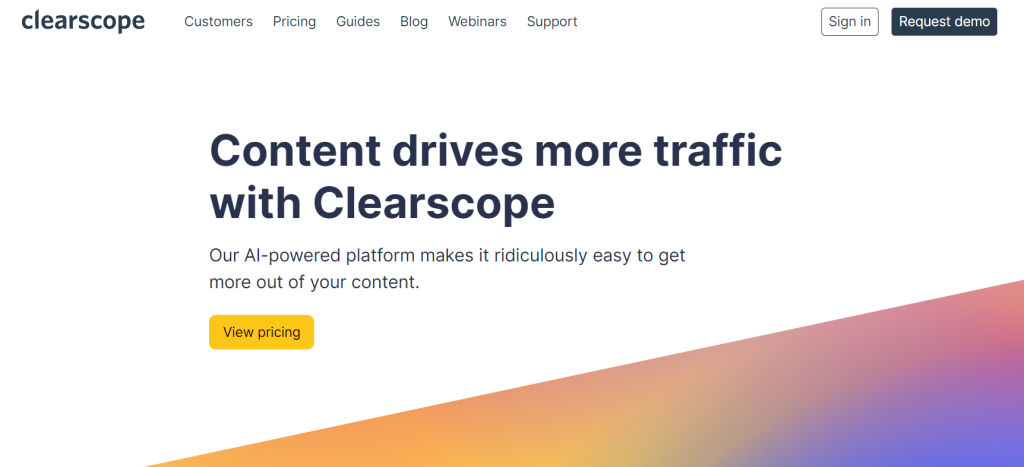 Features
Clearscope offers content optimization and keyword research.
A content optimization tool
Clearscope's Optimize feature works similarly to other content optimization solutions on this list. It analyzes the content that currently ranks and provides recommendations.
I like its interface as it's really simple and easy to understand.
A keyword research feature
Clearscope's Keyword Discovery feature tells you how many times a keyword is searched each month and which websites are competing for it. It also gives you a list of related keywords based on your seed idea.
See also: Clearscope alternatives
Differences: Clearscope vs SurferSEO
Firstly, Clearscope has fewer features compared to other Surfer SEO competitors. So, if you're looking for a simple content optimization tool, Clearscope might be the right choice.
Secondly, Clearscope has a higher starting price ($170/month for only 1 user), which may make it less accessible for smaller teams and individuals.
Lastly, Clearscope has a handy WordPress plugin that may improve your workflow if you're a WordPress user. Their Google Docs extension is available on all plans.
See a more in-depth comparison: Clearscope vs. SurferSEO
Clearscope pricing
Here's an overview of how Clearscope's pricing works.
| Plan | Monthly price | User seats | Reports | Cost per report |
| --- | --- | --- | --- | --- |
| Essentials | $170 | 1 | 10 | $17 |
| Business | custom | 5 | custom | $7.00 |
| Enterprise | custom | unlimited | custom | – |
MarketMuse primarily caters to medium-to-large teams. Because some of their unique features like inventory (list of all of the published pages on your site) are only available on premium plans. Try MarketMuse for free here.

Features
MarketMuse is all about keyword research, competitive content analysis, and content optimization.
Competitive content analysis
MarketMuse helps you understand the top SERPs and why they rank well. It also provides insights on the number of images, h2/h3 headings, hyperlinks, and keywords you should include to rank higher.
Additionally, MarketMuse provides a content difficulty score to help you understand how easy or difficult it would be for your website to rank on a specific topic. But I haven't used this enough personally to comment on accuracy.
Content cluster
This is another great thing that MarketMuse has been doing for a long time and does very well. Any seed keyword you enter will give you related ideas for building topical authority.
A content optimization tool
MarketMuse's content optimization feature is really useful. It lets you compare your content directly with the top 20 ranking pages and shows you where you can add more information on a specific topic.
Differences: MarketMuse vs SurferSEO
MarketMuse's Inventory feature is a step up in terms of content strategy and planning. Inventory is a collection of all the pages published on your website. MarketMuse uses various personalized metrics for each page to evaluate content quality. But this feature is only available on the Premium plan.
Secondly, SurferSEO is a more affordable solution for content teams with smaller budgets. On the other hand, MarketMuse is a more sophisticated tool that caters to larger teams dealing with a lot of content.
I must add that MarketMuse is relatively easier to get started with than Surfer SEO.
MarketMuse pricing
MarketMuse pricing is summarized below.
| Plan | Monthly price | User seats | Reports | Cost per report |
| --- | --- | --- | --- | --- |
| Free | $0 | 1 | – | – |
| Standard | $149 | 1 | – | – |
| Team | $399 | 3 | unlimited | – |
| Premium | custom | custom | unlimited | – |
9. NeuronWriter
NeuronWriter is an AI-based SEO content optimization tool that helps understand user intent and target the right keywords. Its pricing is affordable, starting from only $19/month. Try NeuronWriter free trial here.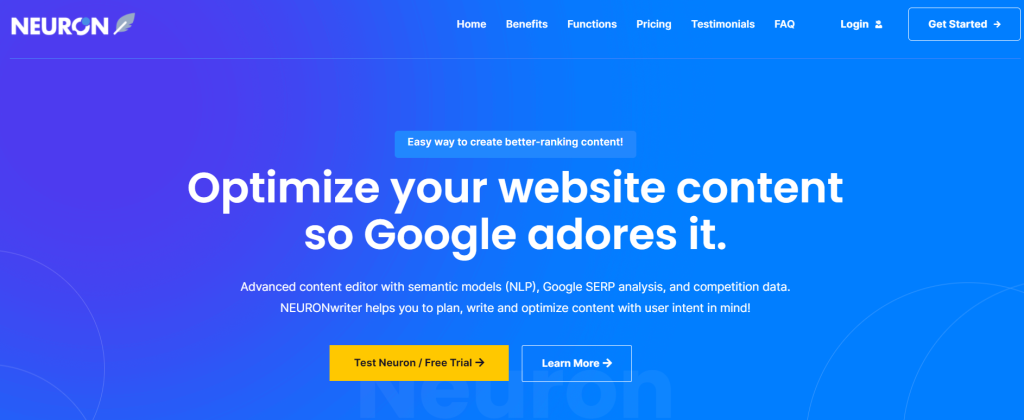 Features
Here are the key features of NeuronWriter like content editor, outline builder, and AI writer that you should know about.
Content editor
NeuronWriter has a powerful content editor that uses advanced techniques like semantic models (NLP), Google SERP analysis, and competition data. It provides simple-to-follow suggestions based on NLP to help you cover the topic thoroughly with related terms and fill any gaps in your content.
Outline builder
NeuronWriter's outline builder uses AI to quickly create an article outline. In less than a minute, you'll receive AI-generated suggestions for headers and questions to include in your content.
What I find really interesting is that these suggestions not only are gathered from SERPs results but from forums like Reddit and Quora. To add these content ideas to your draft, simply click the add button next to them. You can then rearrange and modify them as necessary.
AI writer
NeuronWriter provides an AI writer powered by the GPT-3 model, letting you create SEO-optimized content in seconds.
Differences: NeuronWriter vs SurferSEO
NeuronWriter provides a 30-day free trial, while SurferSEO only offers a 7-day trial.
If you're looking for a simple and efficient tool for creating content, NeuronWriter would be the right choice.
In terms of UI, I think NewronWriter has a simpler and more user-friendly interface. And
On the other hand, Surfer SEO offers a comprehensive suite of SEO tools, making it suitable for users who require a more holistic approach to SEO content optimization.
NeuronWriter integrates with Google Search Console, while Surfer SEO offers unique integrations such as Jasper.ai and Writesonic that NeuronWriter doesn't have.
NeuronWriter pricing
NeuronWriter pricing is shown below.
| Plan | Monthly price | User seats | Reports | Cost per report |
| --- | --- | --- | --- | --- |
| Bronze | $19 | 1 | 25 | $0.76 |
| Silver | $37 | 1 | 50 | $0.74 |
| Gold | $57 | unlimited | 75 | $0.76 |
| Platinum | $77 | unlimited | 100 | $0.77 |
| Diamond | $97 | unlimited | 150 | $0.64 |
A note on the limitations of content optimization software
When discussing this category of SEO tools, I always like to mention its limitations. It doesn't happen too often in competitive niches, but there are scenarios where the current SERP is genuinely underserved.
By that, I mean that the current results do not perfectly satisfy the search intent. This could be due to various reasons, such as the algorithm not accurately understanding the user's intent or the lack of sufficient content that precisely addresses the query.
I gave examples of this in my post on keyword difficulty software.
If the top current results aren't relevant, then the recommendations given by any tool in this list won't be either. Keep an eye out for this. If you can learn to spot those opportunities, you'll get some quick wins!