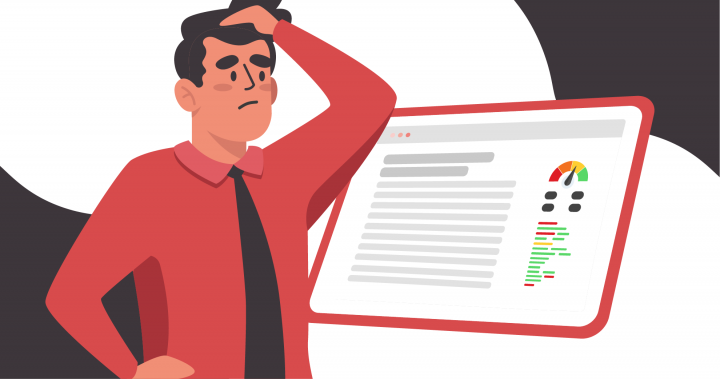 SurferSEO is a great content optimization tool which I do recommend. If you find yourself reading this article though, chances are you've tried (or at least heard of) Surfer, and you want to see what else is out there.
In my role as a full-time SEO strategist, I've tested a bunch of these tools, and assigned countless briefs to writers using them.
In this post I'll detail content optimization software tools you can consider as an alternative to SurferSEO, and highlight the key differences in features & pricing to help you find the perfect solution.
These are the 7 best alternatives to SurferSEO:
Frase
Dashword
Content Harmony
ClickFlow
WriterZen
Clearscope
Marketmuse
We'll dive deeper into these, and the differences vs. Surfer SEO shortly. But first, let's start by framing the criteria here. What are we looking for?
Or, click here to skip to the tools 👇
Criteria for an alternative to SurferSEO
The primary reason to use Surfer is to write SEO-friendly content. Although they've been aggressively adding new features, Surfer is a content optimization software. A tool that tells your writers how long word counts should be, which keywords & subheadings to use, etc.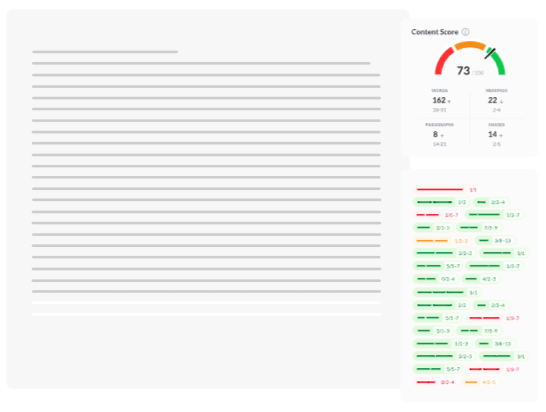 This is something that Surfer does a great job with; any viable alternatives would retain great content optimization features.
Another thing Surfer excels with is making it easy to work with writers. Shareable links & their Google Docs extension are both great features for collaboration. Another thing to look for in alternative options.
So what could be improved?
Reasons to consider SurferSEO competitors
1. $59/month starting price is affordable, but there are still cheaper / more scalable options. For each tool, I'll add a 'price per report' metric to the price information to help you compare.
2. Some tools package content optimization together with other SEO features. Different configurations of features suit different needs.
3. There's a lot of different features & metrics, but that's not always a good thing. Some features (e.g. keyword research) exist, but aren't good enough to replace a proper keyword research tool. Plus, the UI could be simpler for beginners.
4. Some other tools do a better job at nailing one specific job (e.g. making content briefs)
The ideal fit is going to depend on your exact use case, level of expertise, budget, and what you've already got in your SEO tool stack.
With all of these things in mind, here's 7 options you should consider. Most of them have free trials to test them out.
Keep scrolling to get the details!
1. Frase
Frase is an SEO & content tool for writing optimized content. They also have an AI writer feature. Pricing per report is cheaper & more scalable than SurferSEO. There is a 7-day free trial.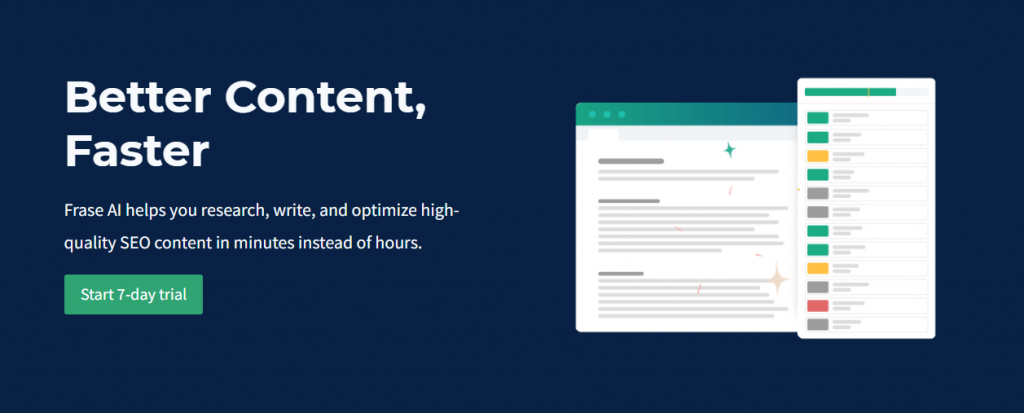 Features
Frase has three main features, plus an optional AI writer add-on.
A content brief builder
This tool lets you put together outlines for your writing team quickly. You can:
See which h2s & h3s competitors are using (and add them to your outline)
See the top keywords to use/include
See commonly cited authority resources you can link to
Build your outline with all of the above
Export & share the outline with your writer
A content optimization tool
This is where you (or your writers) will actually start writing your article. Frase provides real-time feedback & grading on your writing according to their analysis & recommendations. You can also copy/paste existing content to audit it. On the Team plan ($115) there's also a Google Docs integration.
A content analytics feature
By connecting your Search Console data, Frase analyzes your content performance to give feedback / recommendations.
An AI writer add-on
While SurferSEO has a great integration with Jasper.ai, Frase have their own AI writer tool included. AI tools in general are not good enough to spin up an entire article in one click, but generating a loose outline & then editing is a viable way to speed up content production.
If you're planning to use an AI writing tool, I'd seriously consider using Frase to keep it all together. The cost is a flat +$35/month, which is pretty affordable, even as a starting price.
Differences: Frase vs SurferSEO
One of the big differences between Frase and SurferSEO is that Frase can offer unlimited reports on the Team plan. Even on the $45 plan, you get 30 reports (this would cost $115 with Surfer).
Additionally, Frase has a built-in AI writer tool for +$35. SurferSEO integrates well with Jasper.ai, which achieves the same job, but the combination is likely to be quite a lot more expensive.
Frase has a low priced ($19.99) plan for solo users too, with 7 documents per month included. For most solo bloggers/writers, that's enough for your monthly writing output.
Lastly, Frase does not offer a similar feature to Surfer's content planner.
Read a more detailed comparison of Surfer vs Frase here.
Plans & pricing
Here's an overview of how Frase pricing works. I've included a 'cost per document' for writing optimized content; this is to help you compare price vs. other tools in the list.
| Plan | Monthly price | User seats | Documents | Cost per doc |
| --- | --- | --- | --- | --- |
| Solo | $20 | 1 | 7 | $2.85 |
| Basic | $45 | 1 | 30 | $1.50 |
| Team | $115 | 3 | Unlimited | – |
2. Dashword
Dashword is an SEO tool for optimizing content and creating briefs. Prices start at $39 per month, and there is a free trial available.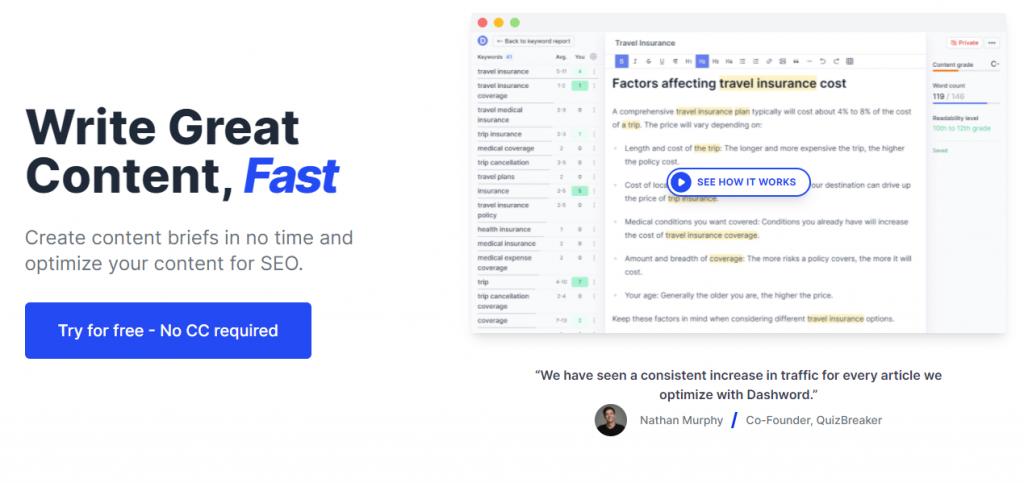 Features
Dashword includes 3 core features that are quite similar to Frase & Surfer.
A content brief builder
Like Frase (and Surfer), you can quickly see the subheadings & keywords used by competitors to create an outline, and share it with your writer.
The UI is very clean & easy to use.
A content optimization tool
Once again, very similar. A tool for SEO editing which gives real-time feedback & grading as the writer progresses through the article.
A content monitoring feature
The purpose of this feature is to keep track of how content is performing, and whether or not updates are needed. If the SERP has changed, the recommendations may change, in which case you'll be alerted. This is a relatively new feature which I haven't tested extensively to comment on.
Differences: Dashword vs SurferSEO
Dashword offers better ease of use. There are fewer features, fewer metrics, and fewer recommendtions overall, which makes focusing on the important stuff easier (especially for folks who aren't SEO experts).
Dashword also offers multiple user seats on all plans, which is an advantage for teams. To get additional seats on other tools like Surfer or Frase, you need to upgrade to higher tiers and/or pay extra per seat.
Plans & pricing
Here's an overview of how Dashword's pricing works. I've included a 'cost per report' for writing optimized content; this is to help you compare price vs. other tools in the list.
| Plan | Monthly price | User seats | Reports | Cost per report |
| --- | --- | --- | --- | --- |
| Hobby | $39 | 3 | 5 | $7.80 |
| Startup | $99 | 5 | 20 | $4.95 |
| Business | $249 | 10 | 100 | $2.49 |
3. Content Harmony
Content Harmony is a tool that focuses on researching & creating great briefs quickly. You can get 10 briefs for $10 to give it a spin.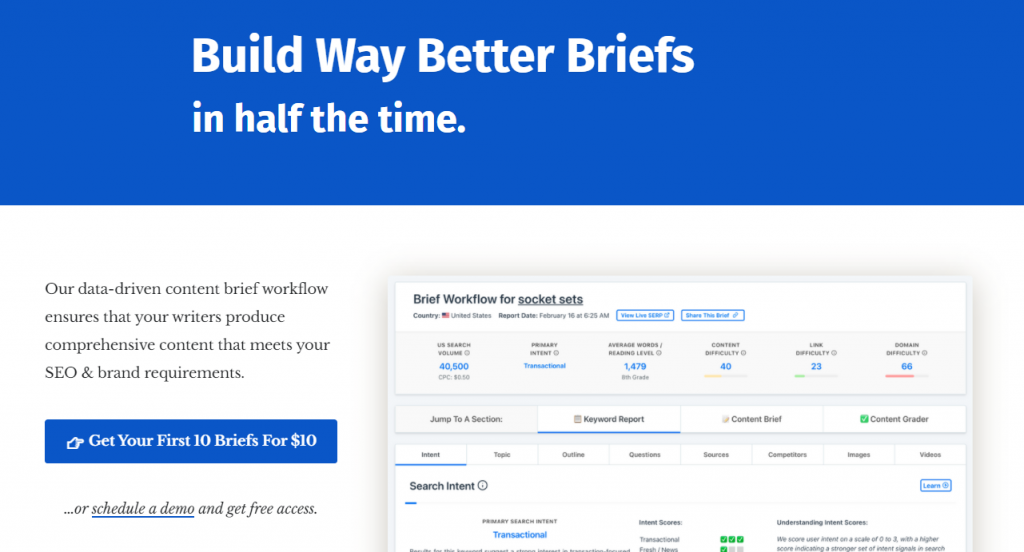 Features
Content Harmony offers a feature for each step of the content briefing workflow.
Keyword report
This feature covers the research stage. It provides information on the search intent, SERP features, competitors, questions to answer, and more.
The UI here is pretty nice; clicking on competitor headlines & questions will send them over into the brief builder ready to use.
A content brief builder
Exactly as it sounds, this is where you create a brief & outline. You can save templates per outline/project to speed things up, which is great. Typically here, you'd add things like a meta title, description, h1, main target keyword(s), and your h2s/h3s.
A content optimization tool
And lastly, this is where the writing happens. The features are very similar to the other tools for this step. The editor can be shared to easily collaborate with writers & it grades the content.
Differences: Content Harmony vs SurferSEO
Content Harmony is focused on the content briefing workflow: starting with the keyword research & understanding a topic, through to creating a brief quickly, and assigning it to a writer.
Content Harmony also have a unique approach to keyword difficulty which I think is very useful. They break it down into three sub-metrics so you can see why exactly the keyword is easy or hard.

Content Harmony doesn't offer a straightforward way of integrating with an AI writing tool.
Plans & pricing
Here's an overview of how Content Harmony's pricing works. I've included a 'cost per report' for each brief you produce; this is to help you compare price vs. other tools in the list.
| Plan | Monthly price | User seats | Reports | Cost per report |
| --- | --- | --- | --- | --- |
| Standard | $99 | Unlimited | 12 | $8.25 |
| Agency | $299 | Unlimited | 50 | $6 |
4. ClickFlow
ClickFlow offers a unique combination of SEO CTR testing, content decay, and content optimization features together. Pricing starts from $109. You can get a trial for $1.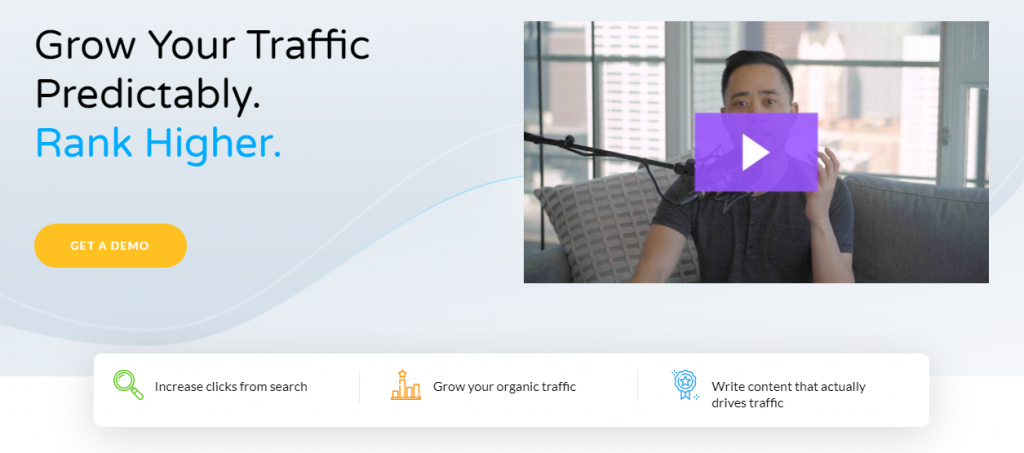 Features
Here's an overview of ClickFlow's core features.
A content optimization tool
Like the other software in this list, ClickFlow is able to pull data from the articles that currently rank to guide your writing.
SEO testing
By connecting to your Search Console data, ClickFlow is able to help you set up & measure A/B tests for SEO. The most common use case here would be to test new meta titles for CTR.
Content decay
Somewhat similar to features we've previously seen like Dashword's content monitoring or Frase's content analysis, this feature helps you identify which articles are declining in traffic.
Differences: ClickFlow vs SurferSEO
There are several big differences between ClickFlow & SurferSEO, but here's 3 of the big ones that might affect your decision:
1. ClickFlow offers features for CTR testing and content decay which Surfer does not offer
2. ClickFlow has a higher starting price, and pricing works differently (based on traffic rather than usage), but the content optimization tool gives unlimited reports/usage for the price
3. SurferSEO's integration with Jasper.ai makes AI content production a lot easier
Plans & pricing
ClickFlow's pricing is calculated based on how much traffic your site has, not based on software usage.
The starting price is $109, which includes unlimited usage of the content optimization tool.
5. WriterZen
WriterZen is a relatively new tool which is kind of a jack-of-all-trades for content SEO. In my opinion they're a little behind SurferSEO for content optimization, and a little behind competitors for their other features (like keyword research) too. Nevertheless, worth considering as the platform matures. Get a 7-day trial here.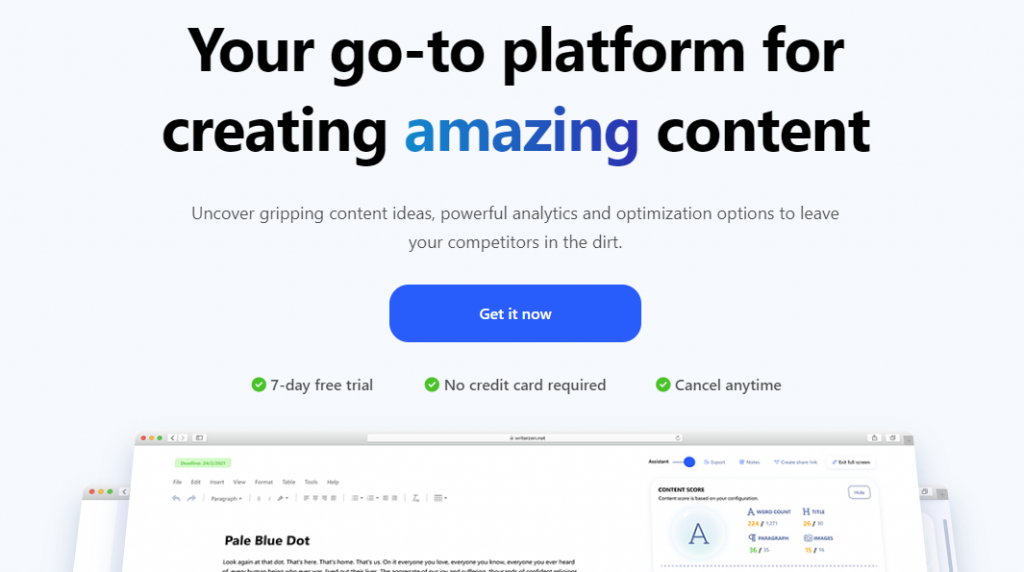 Features
WriterZen have several features, of which these are the main ones.
Keyword explorer
This is a keyword research tool which helps you find competitiveness & search volumes for potential target keywords. The UI is pretty nice, and the search volume accuracy seems pretty good from my limited testing.
Topic discovery
WriterZen also helps you by automatically grouping keywords into suggested topic clusters, which had mixed success & usefulness in my testing.
A content creation tool
Similar story to the previous tools again here. An AI-powered content editor that gives recommendations on keywords & questions to include. It includes a plagiarism checker too, if you value that.
The outline builder is slick, letting you add commonly used h2s & h3s from competitors to your outline in 1-2 clicks.
Differences: WriterZen vs SurferSEO
Firstly, pricing per NLP report is cheaper in WriterZen, and WriterZen has a different approach to keyword research, using features like the Allintitle operator to figure out competitiveness (which has some use, but limited).
WriterZen does not have a Google Docs integration or WordPress plugin, which could make collaborations / workflows a little trickier.
They also don't have AI writer features/integrations (yet, at least).
Plans & pricing
Here's an overview of how WriterZen's pricing works. I've included a 'cost per report' for writing optimized content; this is to help you compare price vs. other tools in the list.
| Plan | Monthly price | User seats | Reports | Cost per report |
| --- | --- | --- | --- | --- |
| Basic | $39 | 3 | 15 | $2.60 |
| Standard | $59 | 5 | 30 | $1.96 |
| Advanced | $99 | 10 | 100 | $0.99 |
6. Clearscope
Clearscope is a more mature tool which has been around a little longer. It offers content optimization features with a higher starting price of $170. View Clearscope's pricing & sign up here.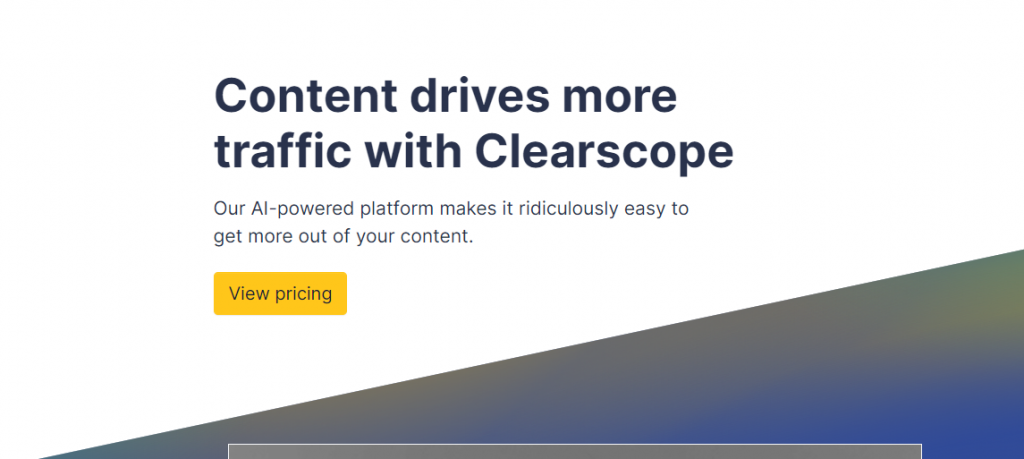 Features
Clearscope offers content optimization, and keyword research.
A content optimization tool
Clearscope's Optimize feature works in a very similar way to all the other tools in this list; by analyzing the content that is currently ranking, and delivering recommendations.
The UI is very simple & easy to understand.
A keyword research feature
Keyword Discovery lets you find monthly searches, competitiveness, and estimated CPCs for potential keywords. It'll also help you discover related keywords starting from a seed idea.
See also: Clearscope alternatives
Differences: Clearscope vs SurferSEO
The first thing you'll notice is that Clearscope has a higher starting price ($170), which may make it less accessible for smaller teams & individuals.
Secondly, Clearscope offer fewer features overall. if all you're looking for is a straightforward content optimization tool, then I'd consider that an advantage. Clearscope is simpler & easier to learn.
Clearscope has a handy WordPress plugin which may improve your workflow if you're a WordPress user, plus their Google Docs extension is available on all plans.
See a a more in-depth comparison: Clearscope vs. SurferSEO
Plans & pricing
Here's an overview of how Clearscope's pricing works. I've included a 'cost per report' for writing optimized content; this is to help you compare price vs. other tools in the list.
| Plan | Monthly price | User seats | Reports | Cost per report |
| --- | --- | --- | --- | --- |
| Essentials | $170 | 3 | 20 | $8.50 |
| Professional | $350 | 10 | 50 | $7.00 |
7. Marketmuse
Marketmuse are one of the oldest names in the content optimization game. Their positioning leans mostly towards medium-to-large teams, as their unique features like Inventory are only available on premium plans. Try MarketMuse for free here.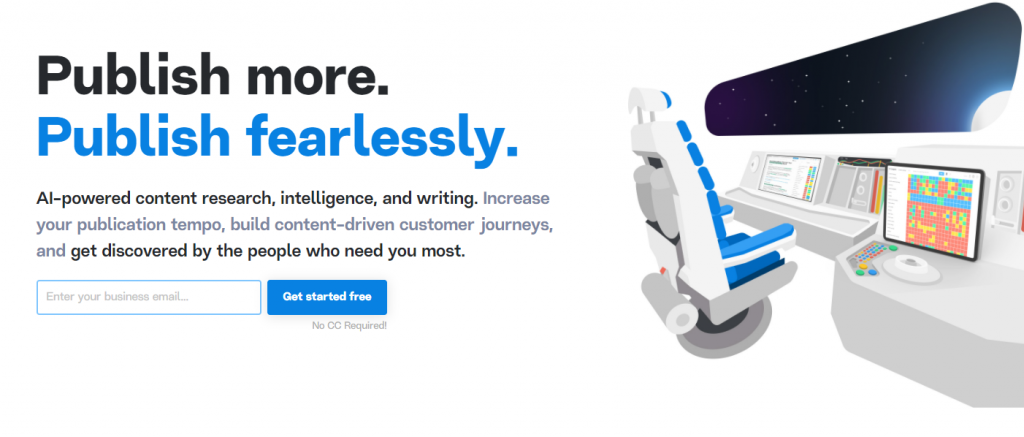 Features
MarketMuse are all about content research & content optimization.
Content inventory
This feature helps you plan & prioritize your content work. It identifies missing or weak content that could be worth working on, and analyzes content quality / performance.
They also offer a Personalized Difficulty feature, which considers topical authority. The higher your authority on a topic, the lower your personal difficulty should be for that query. I haven't used this enough personally to comment on accuracy.
Topical modelling
This is another thing that MarketMuse has been doing for a long time, and does very well. Any seed keyword you enter will deliver you related ideas for building topical authority & complete niche coverage.
A content optimization tool
And, of course, like the other software, MarketMuse assists with writing search-optimized articles with AI data.
Differences: MarketMuse vs SurferSEO
MarketMuse's Inventory feature is a step up in terms of content strategy & planning (but it's only available on the $999 pricing tier).
SurferSEO has a substantially lower starting price, and is therefore likely to be a safer bet for most smaller budgets. MarketMuse is a more polished product, designed for bigger teams with a lot of content to manage.
I have to also say that I find MarketMuse a little less unintuitive to get started with compared to Surfer & some of the other tools.
Plans & pricing
Here's an overview of how MarketMuse's pricing works. I've included a 'cost per report' for writing optimized content; this is to help you compare price vs. other tools in the list. Note: MarketMuse calls a report a 'query'.
| Plan | Monthly price | User seats | Reports | Cost per report |
| --- | --- | --- | --- | --- |
| Free | $0 | 1 | 15 | $0 |
| Standard | $149 | 1 | 100 | $1.49 |
| Premium | $999 | 25 | Unlimited | – |
A note on the limitations of content optimization software
When discussing this category of SEO tool, I always like to add a comment on the limitations.
It doesn't happen too often in competitive niches, but there are scenarios where the current SERP is genuinely underserved. By that I mean that the current results do not perfectly satisfy the search intent.
I gave examples of this in my post on keyword difficulty software.
If the top current results aren't relevant, then the recommendations given by any tool in this list won't be either. Just something to look out for. If you can learn to spot those opportunities, you'll get some quick wins!