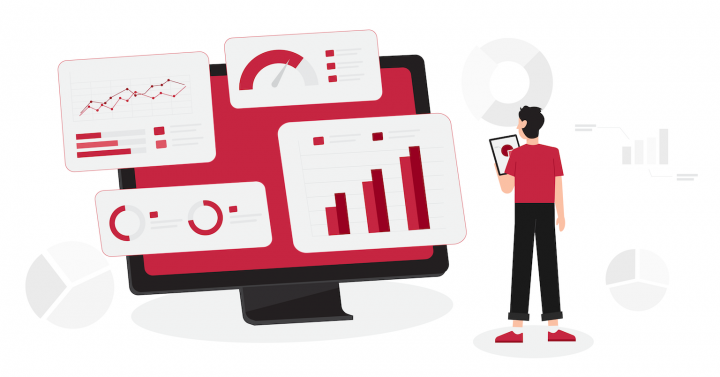 Measuring SEO results isn't rocket science, provided that you have:
Clarity on the key performance indicators of your business
Foundational level understanding of the analytics tools
Ability to interpret the data objectively & drive insights
It's hard to find a 'no bullshit' guide on this topic mainly because it's such a broad topic and it's hard to touch every significant detail in it.
As an SEO strategist myself, having measured and created client SEO reports for tons of projects, I wanted to put together this guide as your SEO-success measuring bible.
TL;DR – how to measure SEO results
You need to measure SEO success to ensure the growth, and effectiveness of your strategy and to scale performance.
All metrics you need to track can be divided into 2 categories: SEO-related & business-focused KPIs
Within those 2 KPI categories we can put all individual metrics into 6 buckets: rankings, traffic, engagement, conversions, sales win rate, and SEO-sourced revenue.
You can use as many tools as you want but broadly all that you need in the case of B2B vertical is Google Analytics (engagement, traffic, conversions) and DreamData (conversions and attribution).
SEO takes a while to show results depending on how we define 'results' and the time-period changes based on the type of KPIs.
Why measuring SEO performance is important
A few reasons why measuring your SEO performance is vital:
SEO is supposed to be a marketing channel that facilitates business growth, which of course is only possible when there's a solid performance-tracking system in place. If your team is shrugging shoulders when you inquire about the ROI of your SEO efforts, then there's a fundamental problem to solve.
Secondly, you'd never know whether your organic growth strategy is on point, needs to be tweaked, or needs a major shift if you're not keeping a regular eye on the outcome.
Lastly, what you can't measure, you can't scale. If you want to sky-rocket your organic search traffic, and in turn your business growth, your only option is to measure your SEO performance religiously.
6 metrics to measure SEO results effectively
Knowing what exact metrics to look at is as important as defining what KPIs to track in the first place.
In this section I'll cover the specific metrics an SEO strategist should pay attention to, and to do so I'll break down the broad-level KPIs those metrics fall into.
To make things crystal clear: organic traffic is the KPI but pageviews, sessions, and users are individual metrics corresponding to that KPI.
So let's get started
1. Rankings
Calling keyword rankings a vanity metric is a norm nowadays. However, rankings can be used as an indicator of early success if you're looking at the right metrics to report on it.
Here're a few metrics to track when it comes to keyword rankings:
a) Primary keyword per page:
You can track the primary keyword you've optimized one page for to see how your main targeted keywords are performing. Obviously, due to the semantic nature of Google, your pages will still rank for way more than just one keyword but if your main targeted keyword (per page) is ranking well, then you can assume that all adjacent terms are going to follow.
How to track this: You can use a tool like Ahref's rank tracker to add all primary keywords (one keyword per page) and track their monthly ranking progress.
And if you have a lot of keywords added to Ahref's rank tracker (like in this case about 90) you can look at the SEO data from a broader's perspective and track metrics like the following:
Search visibility
Average position
Traffic
SERP features
Positions
Alternatively, you can use SEMrush or Moz too.
b) Adjacent ranking keywords
Based on the relevancy Google could find in your content, it'll rank your page(s) for many auxiliary keywords. And knowing how many total keywords your page(s) are ranking for can help identify gaps to acquire more traffic.
How to track this: These keywords can be tracked using Google Search Console's performance report (1st screenshot) and/or Ahrefs organic keyword report (2nd screenshot):
2. Traffic
Tracking traffic is significantly more important than rankings because if your page(s) are getting higher traffic than competitors despite the fact that they rank below them for some keywords, then it's a win.
How to track this: Google Analytics is by far the best traffic-tracking software to use (and the fact that it's free is a benefit). Inside, Google Analytics, you can check the organic search traffic as follows:
Acquisition => Channels => Organic search => Users
If you're analyzing a competitor's site and want to check their organic search traffic then Ahref's site explorer tool can give a relatively accurate estimated figure.
Inside GA4, you can measure the overall website traffic as well as traffic from organic search by the following steps:
Click on 'Reports'
Select user acquisition
Select the time period you want to look at
There you have traffic from all marketing channels in the form of line and bar charts:
Secondly, if you scroll down you'll find the exact number of users coming from different marketing channels, and there you can look at specific traffic-related metrics like engaged sessions, engagement rate, conversions, etc.
One thing to note here is that there can be quite different metrics against organic search traffic, and each is defined differently, such as
So you'd need to know precisely what metric you want to measure as 'organic traffic.
3. Engagement
Measuring engagement takes you one step closer to understanding and ideally predicting your visitor's conversion journey. Certain sets of engagement metrics indicate the behavior and the level of interest of your organic search visitors in your content.
In GA Universal the engagement metrics to track are the following:
Average session duration
Pages per session
Time on page
Exit rate
Returning visitors
In GA4, most of these engagement metrics are removed. Here are the metrics available to track engagement (along with their quick definitions):
Engaged sessions: An engaging session is counted if a user either stays on the site for more than 10 seconds, visits more than 2 pages or if they complete any conversion event.
Average engagement time per session: Pretty straightforward, this is the average of all user engagement time durations per session.
Engaged sessions per user: This is a measure of how many sessions were 'engaged sessions' for each user.
Engagement rate: This is the percentage of engaged sessions out of the total sessions.
How to track GA3 metrics:
You can measure New and Returning visitors by following the steps: Audience => Behavior => New & Returning
You can measure Average session duration and Pages per session by following the steps: Acquisition => All traffic => Channels => Organic search => Landing page
You can measure Average time on page and Exit rate by following the steps:
Behavior => Site content => All pages
NOTE: You'd need to add a segment for 'Organic traffic' to measure organic search performance in a silo.
How to track GA4 metrics:
You can measure Engaged sessions, average engagement time per user, engaged sessions per user and the engagement rate by following these steps: Acquisition => Traffic acquisition => Channels section (by scrolling down):
4. Conversions
The 3rd key performance indicator to track is the conversions driven as a result of SEO efforts.
For B2C verticals defining conversions can be very simple, for example, here's a breakdown:
Site visit
Product view
Add to cart
Enter checkout
Purchase
Pretty self-explanatory, right?
But for B2B, conversion is an umbrella term and would be dissected into multiple funnel stages, in the following order:
MQL
SQL
Opportunity
Client
Usually, different companies define these conversion metrics differently but here's a generally accepted breakdown for clarity:
MQL – An e-book download
SQL – A SaaS product demo booked
Opportunity – Sales meeting booked with your ideal customer profile
Client – That ICP lead turning to a paying customer
And obviously for you to measure the impact of your SEO efforts, you can't afford to lose track of any of the above metrics.
How to track this: There are 2-tiered methods, in levels of accuracy, to measure these conversion metrics.
So let's break down all of those here:
a) Using Google Analytics:
Provided that you have conversion goals set up already in Google Analytics Universal (you can read this guide in case not), follow the steps below:
Navigate to the 'Conversions' report
Click on 'Goals'
To get an overview, click on 'Overview'
Add a segment for 'organic search'
To look at the URLs driving conversions, click on 'Goal URLs'
Alternatively, you can get the same information under the acquisition report too, against landing pages:
In GA4, you can access the conversions report by clicking on the 'Engagement' report and then picking 'conversions' from the drop-down:
To further specify the data you can click on the '+' sign right next to 'Event name' to pick a 'Traffic source' and to select 'Session source/medium':
Once that option is selected, you'll have conversions from all marketing channels right there, and thus you can look into conversions driven from organic search specifically too:
b) Using a revenue attribution software
To level up the accuracy of your results and receive deeper insights, you can use a multi-touch attribution platform like Dreamdata. This tool would go a step further in three ways: 
Full funnel multi-touch view: It tells which channels resulted in or influenced a conversion on any of the funnel stages and can track long B2B sales journeys like no one else in the market.
In-depth account-based info: It shares deeper insights about the visitors converting. For example, the company credentials, the industry, company size, location, etc. of the visiting accounts.
Advanced impact analytics: It tells you what goes beyond a conversion event. What sort of engagement on your site influenced the opportunity to turn into a customer, etc.
What's interesting is that if you have Dreamdata, you can even use it as a Google Analytics alternative and you'd only be getting more rather than less in that setting. Here's a 1:1 comparison:
5. Sales win-rate
To measure the business impact related to SEO results, you need to go beyond typical marketing-related metrics. Measuring marketing-defined conversions is one part of the equation, but to solve the puzzle you have to factor in the sales win rate on your efforts.
A quick definition: sales win rate is the percentage of opportunities that are converted into paying customers.
The sales win rate predicates the quality of the MQLs/SQLs you're generating. Basically, you need to define a threshold sales-win rate that the sales team would achieve (based on past data in an ideal case) when they close the best customers.
For example, the threshold that you set to target is 25% for the sales-win rate. Now, if the win rate goes below 25% on the leads you're driving, then there's something wrong with your SEO strategy.
How to track this: You can track the sales win rate for organic search simply within your CRM.
It'd be very straightforward for B2C verticals, but for B2B, deploying a marketing attribution platform, like Dreamdata would give you the full picture. This is because your CRM combined with typical analytics platforms loses track of conversion journeys consisting of multiple touchpoints.
For example, think of a conversion event like this:
Someone got aware of your brand through an organic search
Started following your company's page on LinkedIn
Interacted with your posts for about 3 months
Finally clicked on your website from your LinkedIn page and converted
Your typical analytics platform will totally credit LinkedIn, in this scenario while a platform like Dreamdata would be able to mention that organic search was the first touchpoint of the funnel.
6. SEO-sourced revenue
Finally, you should tie all of this to revenue, which of course is the end objective. While the sales win rate talks about the quality of leads in terms of the difficulty to close deals, the revenue would help understand what moves the size of the deals.
The more revenue achieved per account, the more valuable that lead was for the business. This number helps derive many other significant metrics like CAC and ROI for your SEO strategy.
How to track this: Remember, the idea here is not just to track 'revenue', but to track SEO-sourced revenue. And taking into account the kind of sales journeys we notice, platforms like Google Analytics will do miserably.
Again, Dreamdata is the answer. You can easily segment the data by channels and the attribution model you follow to see how much revenue organic search contributed (through the SQLs it drove):
Learn more about using Dreamdata to attribute SEO revenue.
How long does SEO take to show results
If you search for this same question on Google, all you'll see is either of the following two:
The generic 'it depends' answer
Or everyone giving their own time periods, i.e: 3 months, 6 months, 1 year.
The root cause of the answer to this question always being one of the above two reasons is that there are different interpretations of the word 'SEO results'. Since results can come in the form of keyword rankings, search traffic, leads, and paying customers, let's cover this for all interpretations.
Based on my experience, here's how we can break these metrics down, generally speaking:
| | | |
| --- | --- | --- |
| Metrics | Time Period | Reasoning |
| Keyword rankings | 1-2 months | Provided that the content is well optimized, as soon as the content gets indexed, it'll start moving up for most of the keywords. Even if the movement is from the 7th page to the 4th page, it still indicates some early success |
| Search traffic | 3-4 months | The impressions on your pages might start to go up soon after the initial keyword rankings growth. Still, the content won't generate meaningful clicks until some broad keywords hit the 1st page of Google. |
| Leads | 6-8 months | As soon as your page hits the 1st page of Google for primary keywords, in 1-2 more months (about 6 months after publishing) it'll start generating more traffic by ranking for semantic keywords: that's when a solid number of leads usually start coming in. |
| Customers | 10-12 months | Based on the sales cycle, the leads your content has brought from organic search traffic will convert into paying customers within about 3-4 extra months (10-12 since the content's publishing). |
Conclusion
At this point, you've read everything you need to track and know where to find that data.
However, measuring SEO results isn't just about compiling numbers, you have to extract useful insights from them to utilize that data effectively.
Any data point you look at, ask yourself:
What does this data tell me?
Am I more informed with this data? If yes, how so?
What should I do less/more of based on this information?
The idea is to constantly look for patterns and trends to shape/tweak your SEO strategy until you see yourself hitting the goal.