Marketing attribution is hard to figure out, thanks to the average buying journey becoming more scattered and complex. If you don't understand your buyer's journey, you won't be able to empathize with the prospects.

What's even more difficult is not knowing which attribution platform to invest in to explore your customers' buying journeys and engage them better on each step. Hopefully, this article will provide you with the top 10 multi-touch attribution software to help you optimize your efforts better and acquire more customers.
The marketing attribution challenge
Perfect attribution in marketing simply doesn't exist. The typical buyer journey isn't straightforward enough. The best we can do is pick an attribution model, use the data we have, and combine it with other indicators (even gut feeling).
In most cases, using a multi-touch model is going to yield the best results.
First touch & last touch are both too narrow, often discrediting several vital touchpoints. Self-reported attribution is often simply wrong, or at least not detailed enough (e.g. 'a Google search').
Multi-touch at least allows you to give credit for each influential touchpoint in the buyer journey.
Let's get into the software tools you can use to get multi-touch attribution data.
Here are 10 multi-touch attribution software tools to explore
HockeyStack

LeadsRx

Google Analytics / GA4

Wicked Reports

HubSpot

Adinton

Dreamdata

C3 Metrics

AppsFlyer

Factors.AI
Best suited for: B2B SaaS companies looking to measure their marketing campaign's ROI and view the whole customer journey
Free trial: yes, 14 days. See a live interactive demo here.
Starting price: from $599/month for 10k tracked users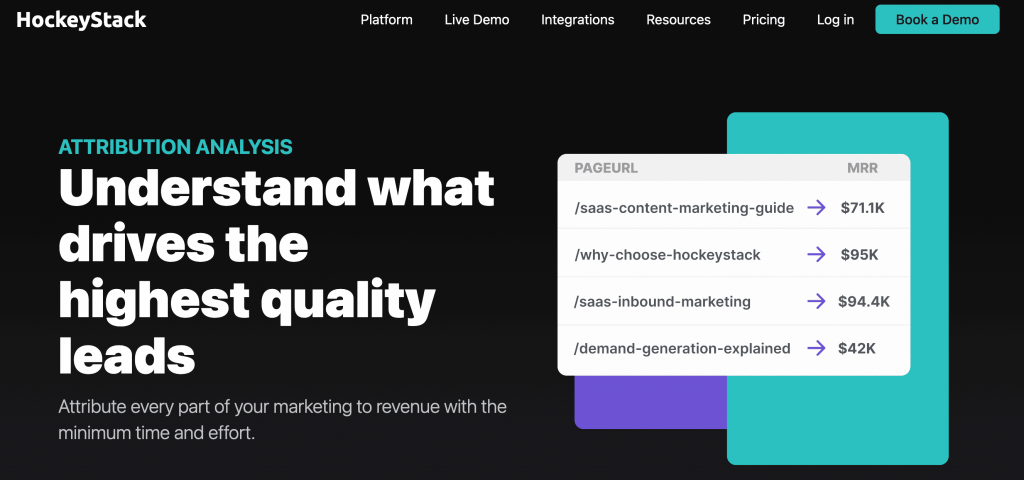 Key features
HockeyStack is a B2B web analytics and attribution software. It creates account-based journeys, collects all paid marketing data (including LinkedIn ads), tracks the influence of content on your pipeline, and helps marketers understand what's driving revenue.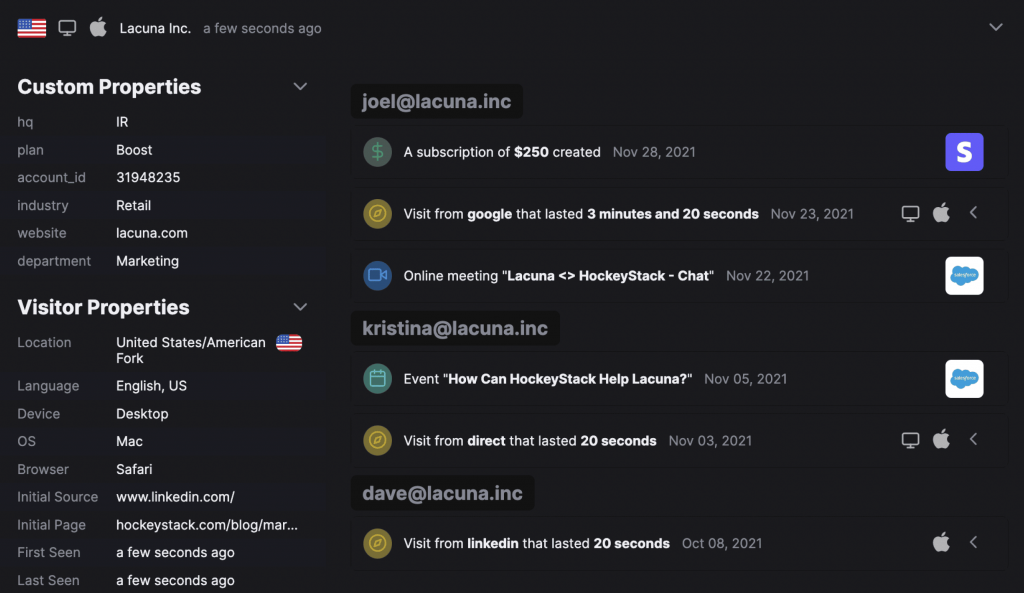 Its faster to set up than similar alternatives, with the bold promise of a 2-minute setup, achieved with one snippet to copy/paste, and some one-click integrations for your tech stack.

It's a no-code tool with a simple UI, designed to be used & understood by non-technical people.
HockeyStack allows you to see the whole customer journey. It collects data automatically on every action using fingerprinting, so you can review every touchpoint for any specific user (or organization), and get insights per channel, campaign, or page.
They explain on their blog how HockeyStack tracks users, which also addresses FAQs about GDPR & other privacy issues.
HockeyStack has dashboard templates available to get you up and running quickly, and you can customize later as you get more comfortable. They offer setup assistance too, and generally prioritize great support across the board.
HockeyStack integrations
HockeyStack has one-click integrations for CRMs, ad platforms, payment processors, and marketing tools such as:
Stripe
HubSpot
Salesforce
Pipedrive
Microsoft Dynamics
Google ads
Facebook ads
Twitter ads
LinkedIn ads
Mailchimp
Pardot
Intercom
Pricing
HockeyStack has a usage-based pricing model, and its pricing starts from $599 per month for 10k tracked users. Book a demo here.
Best suited for: mid-sized to large enterprises to track their marketing across both online and offline channels
Free trial: no
Starting price: Available upon request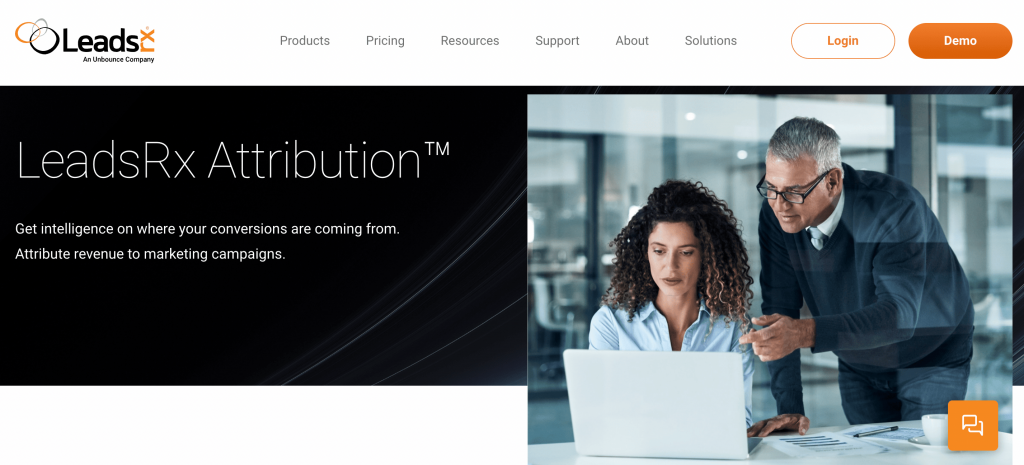 Key features
LeadsRx is a cross-channel marketing attribution and customer journey analytics solution to track and analyze all marketing touchpoints to see how they impact revenue. It can capture 100% of inbound traffic to your website regardless of where it comes from.
You can perform attribution across online and offline channels, including organic search, paid search, organic social, paid social, podcasts, radio, and television. LeadsRx marketing attribution capabilities for radio and television are some of the most advanced in the industry.
Apart from a resource library, LeadsRx offers a comprehensive onboarding methodology that includes orientation, product knowledge training, and setup and implementation.
Other LeadsRx features are customer journey mapping, dashboard creation, conversion tracking, and real-time touchpoint performance analysis.
LeadsRx integrations
HubSpot
Pipedrive
Adobe Commerce
BigCommerce
Shopify
WooCommerce
Optimizely
Salesforce
Pricing
LeadsRx's pricing information isn't available to the public. You can book a demo here.
Best suited for: companies looking to get a holistic understanding of their customers across devices and platforms
Free trial: it's free to use
Starting price: free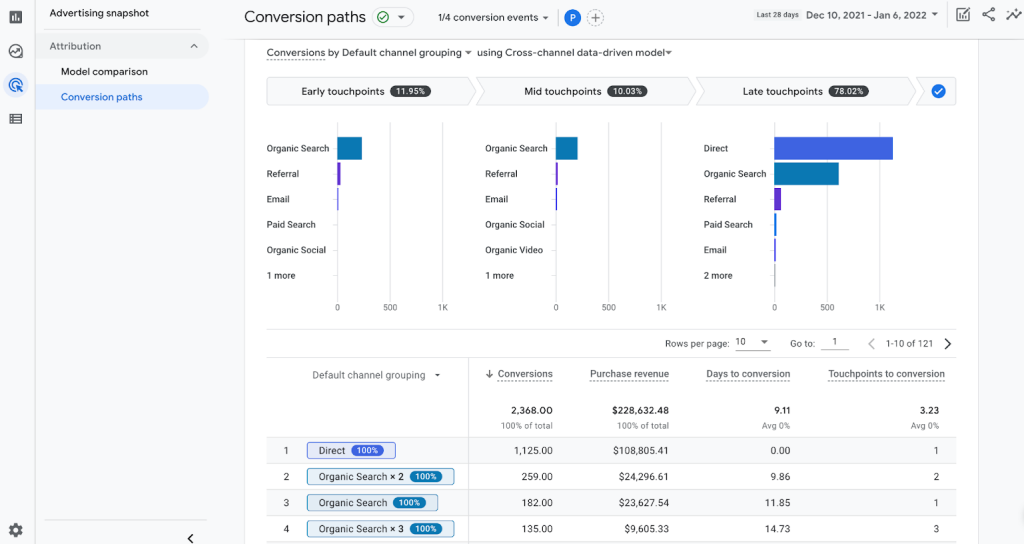 Key features
Google Analytics 4 is a free website analytics solution that gives you real-time insights into how users find and engage with your website.
Attribution in GA4 properties offers you improved attribution features like an updated "Conversion paths" report and property-level attribution modeling, providing marketers with more comprehensive insights and more actionability than ever before.
There are 3 types of attribution models available in GA4 properties: cross-channel rules-based models, an Ads-preferred rules-based model, and data-driven attribution. By default, GA4 uses the cross-channel data-driven model as the reporting attribution model. Yet, it's so hard to use GA4 and it's failing to solve the attribution problem.
GA4 integrations
Google Ads
Google Search Console
Salesforce Marketing Cloud
HubSpot
Facebook
Pricing
GA4 offers 2 plans: Free and GA4 360. The cost of GA4 360 starts from $50.000 per year, providing BigQuery integration, service level agreement, and a dedicated support team. Sign in to GA4 here.
Best suited for: eCommerce businesses needing a complete marketing attribution platform
Free trial: no
Starting price: from $333/month (billed annually)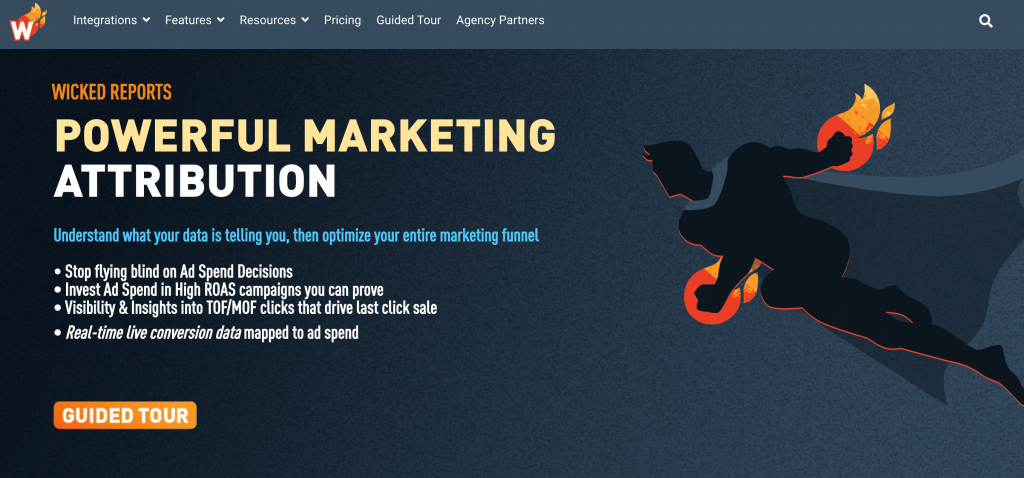 Key features
Wicked Reports is a cross-channel, multi-touch marketing attribution solution for eCommerce businesses.
Every click on a customer's journey is tracked by Wicked Reports, which attributes each to accurate orders, contacts, advertising strategies, and advertising information. To determine the precise amount of revenue yielded by each campaign over time, it can assign revenue data from eCommerce orders through contact's email campaign clicks.
With Wicked Reports, you see live conversion data, which allows you to get real-time visibility into CRM and sales conversions and same-day Return on Ad Spend (ROAS) results.
Another important Wicked Reports feature is its cold traffic conversion time analysis. Wicked Reports thoroughly analyzes your CRM and cart conversions to define cold traffic conversion time.
Wicked Reports integrations
Google Ads
Facebook ads
Shopify
WooCommerce
Pricing
Wicked Reports is available in 3 plans: Wicked Good, Wicked Awesome, and Agency. Its pricing starts from $333 per month (billed annually) or $400 per month (billed monthly) for up to 50k contacts. See full pricing here.
Best suited for: companies needing an attribution solution that also comes with advanced CRM, sales, and marketing-related features
Free trial: yes, 14 days. Sign up here.
Starting price: from $50/month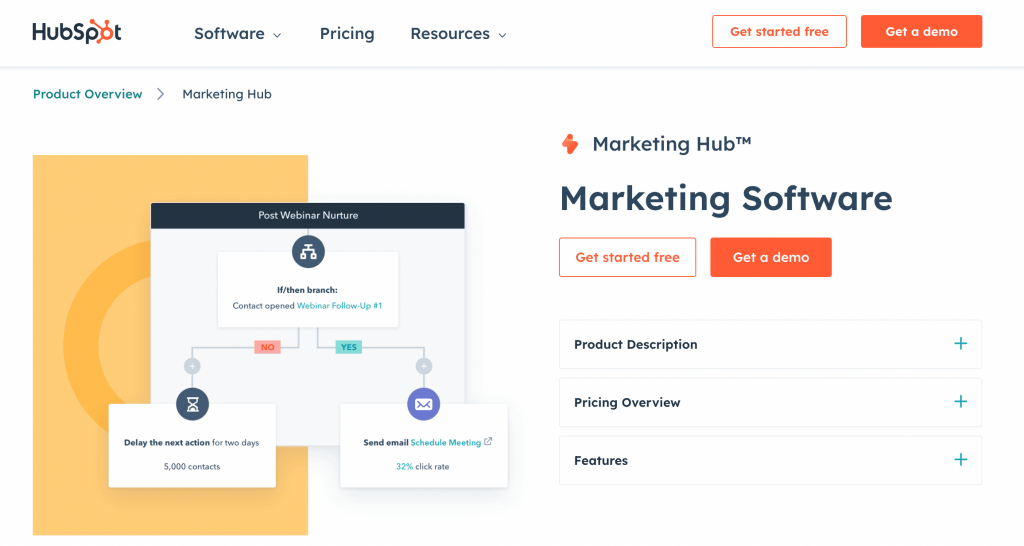 Key features
HubSpot is a marketing and sales automation solution that helps businesses increase traffic, convert leads, and close deals. With HubSpot, all your CRM and marketing data are located in one location, allowing you to quickly identify, review, and manage your marketing attribution data from your all-in-one CRM platform.
You can create 3 types of attribution reports in HubSpot, each one calculating a different type of conversion:
"contact create attribution" reports help you understand which marketing efforts result in the newest contacts

"deal create attribution" reports help you see which marketing efforts result in the newest deals

"revenue attribution" reports allow you to understand which marketing efforts result in the most won revenue.
HubSpot integrations
Facebook ads
Google ads
Salesforce
Zapier
Shopify
Mailchimp
Pricing
HubSpot Marketing Hub pricing starts at a base price for each edition and differs based on the number and type of contacts in your database. Its Starter plan costs $50 per month and includes 1000 marketing contacts included (non-marketing contacts are free). See the full pricing breakdown here.
Best suited for: teams that need marketing attribution and complete adtech solution
Free trial: yes, 30 days. Sign up here.
Starting price: from €300/month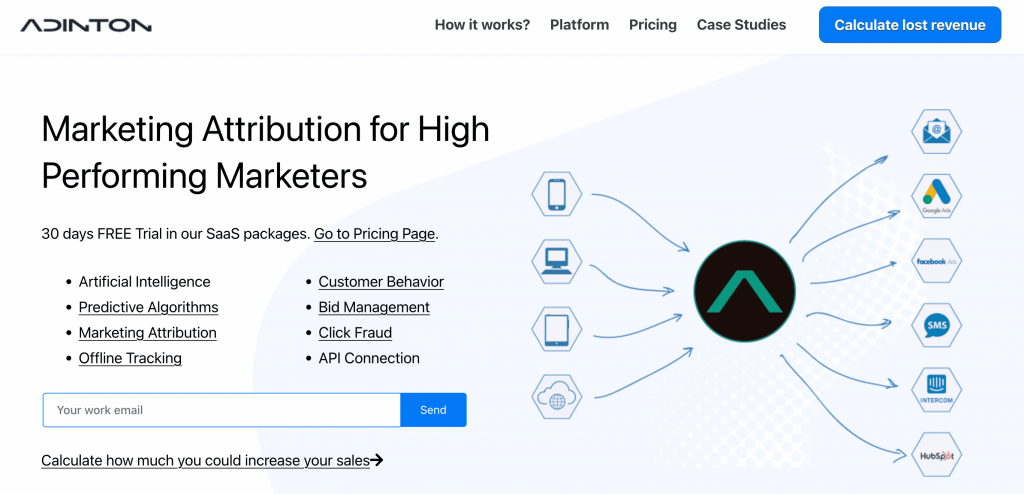 Key features
Adinton is a marketing attribution, customer intelligence, and analytics platform that analyzes over 20 touchpoints for each visitor's journey and helps marketers identify high-performing advertising channels.
Adinton collects clicks, page views, conversions, and micro-conversions and stores all the data for analysis by Adinton's advanced algorithms.
Adinton integrations
Facebook ads
Pipedrive
Zapier
Pricing
Adinton pricing starts from €300 per month for 1 user for up to 300k monthly page views (then it costs an additional 100€ for each 100k page views monthly). View full pricing here.
Best suited for: marketing teams wishing to track any given touchpoint in the customer journey
Free trial: yes, 14 days. Sign up here.
Starting price: from $999/month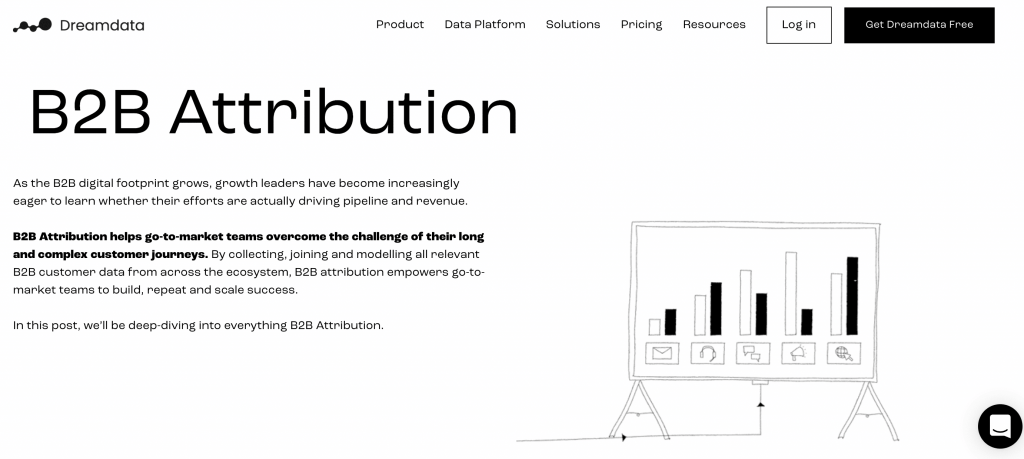 Key features
Dreamdata is a revenue and marketing attribution solution to build B2B customer journeys and determine the highest revenue drivers.
Dreamdata measures and compares the performance of all your ad platforms in one place. It allows you to optimize campaigns and improve ROAS through highly customizable filters and interactive dashboards.
You can use custom attribution models tailored to your unique requirements and apply attribution across and between pipeline stages to see what works where.
Dreamdata integrations
HubSpot
Microsoft Dynamics
Pipedrive
Salesforce
Zoho
LinkedIn ads
Bing ads
Facebook ads
Google Search Console
Intercom
Freshdesk
Zapier
Pricing
Dreamdata offers a FREE plan for marketing teams looking for a dedicated revenue analytics solution. Its paid plan starts from $999 per month (billed annually) for up to 10k visitors. See full pricing here.
Best suited for: eCommerce, automotive, and financial services companies needing an enterprise cross-platform advertising attribution
Free trial: no
Starting price: Available upon request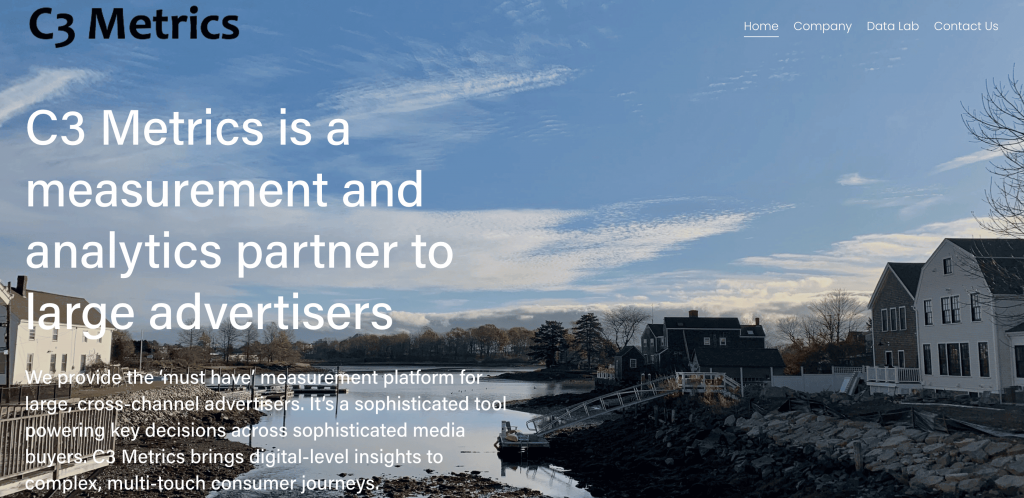 Key features
C3 Metrics is a cross-platform advertising attribution measurement and optimization platform that helps companies bring digital-level insights to multi-touch consumer journeys.
C3 Metrics collects and ingests data from the client's sites and sources, then tracks conversions like events or other success measurements. Then, it filters, categorizes, processes, and models the data. Lastly, the solution outputs that data via dashboards and analytics.
Another great feature of C3 Metrics is that it's easy to anonymously link users across platforms and devices. Also, you can analyze attribution using online reporting dashboards and offline reports that can be sent whenever you need them.
C3 Metrics integrations
Pricing
C3 Metrics pricing information isn't available to the public. You can contact them here.
Best suited for: startups and small businesses starting to optimize every campaign and user journey
Free trial: yes, for your first 12k conversion measurements. Sign up here.
Starting price: from 6¢/conversion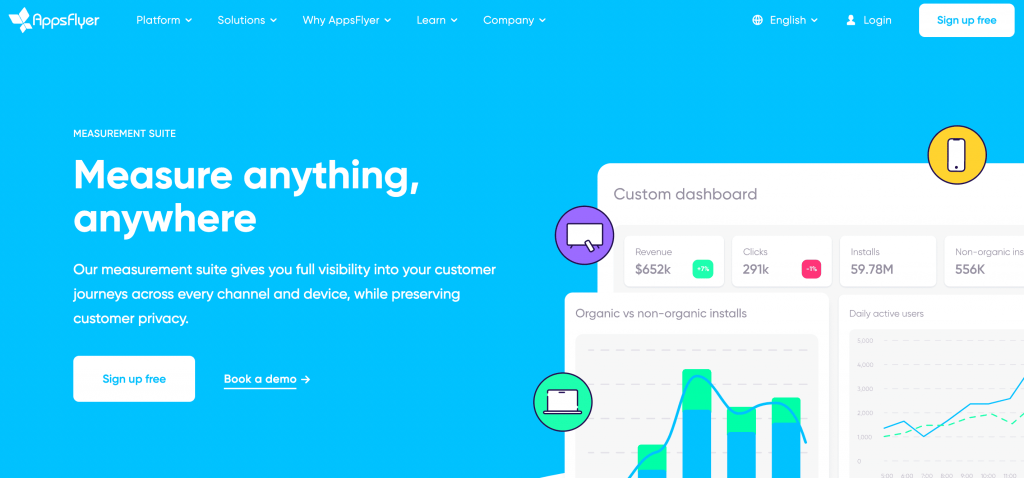 Key features
AppsFlyer is mobile marketing analytics and attribution software that gives you complete visibility into your customer journeys across every device and channel.
It comes with various analytics tools, such as incrementality and predictive analytics, which will help you dive into your data to see how you can optimize your campaigns for better results.
AppsFlyer's analytics suite simplifies complex data and provides a unified overview of campaign performance to make faster marketing decisions at every user journey stage. Also, you can create customized campaign-specific dashboards for daily analysis with AppsFlyer's simple drag-and-drop interface.
Lastly, AppsFlyer claims to take privacy seriously, so you can keep your business compliant and your customers happy with its privacy-first approach to measurement.
AppsFlyer integrations
Google ads
Mailchimp
Mixpanel
Pricing
AppsFlyer offers 3 plans: Zero, Growth, and Enterprise. The Zero plan is FREE that comes with 12K conversions upon sign-up and a 30-day trial of premium add-ons. View full pricing here.
Best suited for: early-stage teams that have at least 10K monthly visitors and high-growth marketers
Free trial: yes, 14 days. Sign up here.
Starting price: from $399/month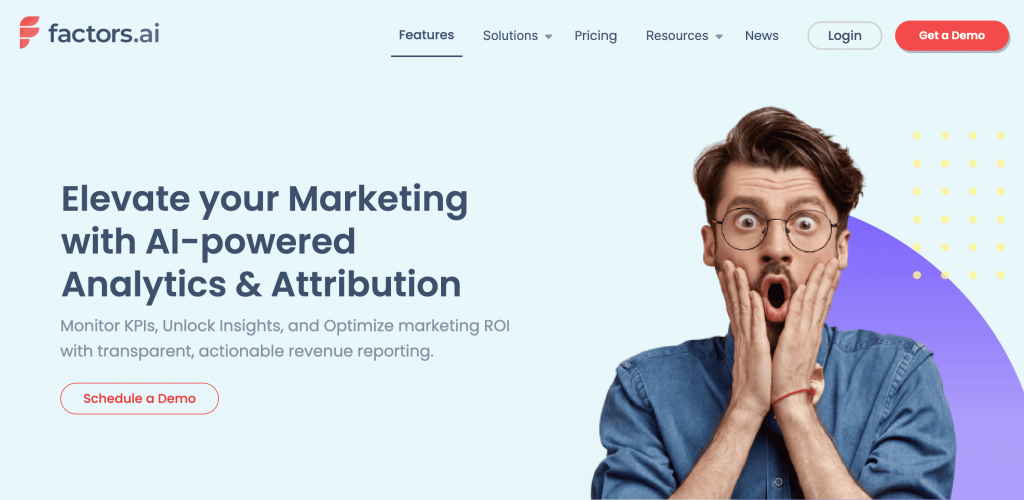 Key features
Factors.AI is an AI-powered marketing analytics and attribution solution that helps you understand and prove the impact of how your activities impact revenue. Because it's an end-to-end customer journey tool, you can easily connect the dots, and measure performance across campaigns, the web, pipeline, and revenue.
It eliminates unintuitive data silos, tedious spreadsheets, and rigid reporting, as Factors.AI makes it effortless to analyze your marketing and revenue data under one roof with powerful integrations across campaigns, web, CRM, and chatbot.
Besides a wide range of standard multi-touch attribution models, you can create business-specific models with flexible conversion goals.
Factors.AI integrations
Google Search Console
Hubspot
Salesforce
Facebook ads
Google ads
Segment.
Pricing
Factors.AI offers plans for every stage of growth: Starter, Growth, Custom, and Agency. The Starter plan costs $399 per month for up to 10K monthly visits. View the full pricing breakdown here.