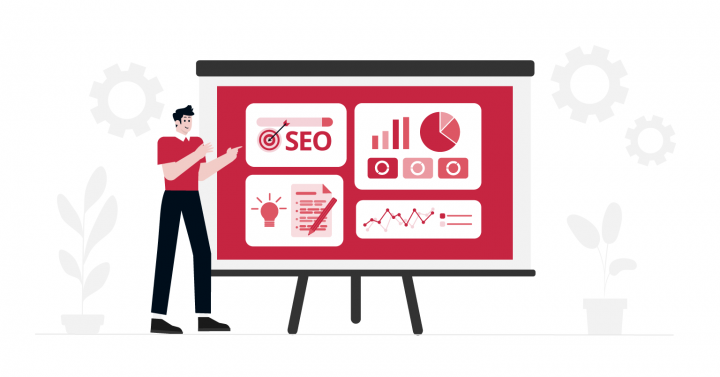 In the past 7 years of doing SEO (both agency & in-house), I've come to learn that delivering reports in SEO is just as important as doing the actual work.
You need your clients & other stakeholders to understand the impact, and to trust in what you're doing.
Great reporting leads to great work, great client retention, expansion revenue, and more.
Here's my advice for managing & delivering great SEO client reports.
Feel free to skip ahead:
First, set expectations & align on objectives
When you first get a client, or even begin the first conversation, make it clear what kind of reporting you'll do & when. That might be during the proposal stage, or during the handover from sales to account management.
Show examples of other reports, and build trust early. Then, make sure you deliver on what you say you're going to do.
Secondly, make sure the important stakeholders are all in agreement on what success looks like. What are your SEO objectives? What is the primary KPI(s) that you'll measure? For example "Non-brand trial sign ups".
I'm going to give you examples of what different reports can look like, with some advice on what to include & when/how to deliver them. Plus various free templates you can swipe.
Tools you'll need
Throughout this post, I'll reference various tools. I'll go into a little more detail as to what/why at the end, but for now, a quick overview.
The tools required will depend on the type of work you're doing. In general though, here's the client reporting software I think you should have in your arsenal:
An SEO dashboard tool, like Google Data Studio or Databox.
A communication tool, e.g. a shared Slack channel.
A SERP tracker, either built-in to an SEO platform like Semrush, or a standalone tool.
A presentation tool, like Google Slides, Pitch, or similar.
Report types, frequencies, & what to include
You'll deliver different report types at different frequencies. A quarterly review is not going to be the same as a weekly check-in, for example. I recommend building processes for:
A weekly or fortnightly check-in (written, asynchronous)
A monthly review (call/meeting)
A quarterly review (call/meeting)
You might change those depending on the nature of your client work.
The weekly written report guarantees that clients will feel in the loop, and be assured that you're working on impactful things — even if there's zero contact that week otherwise.
The monthly call allows room for more detailed questions & conversations, and small adjustments in strategy.
The quarterly review allows time for all key stakeholders to come together, and align on a strategy to be carried out over the coming months.
The contents of the first two could be roughly the same. The main difference are:
The depth & detail
Written reports are asynchronous, monthly calls are synchronous
7 Things to include in your client reports
1. KPI update
Don't beat around the bush. Start with what's most important: your top 1-3 KPIs. If the client is busy, it might be the only thing they care about checking.
They could be, for example: non-brand trial sign ups & non-brand clicks.
Make sure you include a visual. The easiest thing is to attach a screenshot from your dashboard tool. It helps people understand trends at a glance, without reading.
"In October, we had 110 demo requests from non-brand organic search, vs 100 in September (+10% growth)."

If you don't have a software tool to track goal progression & KPIs over time, you can simply use a spreadsheet chart. Use my free template: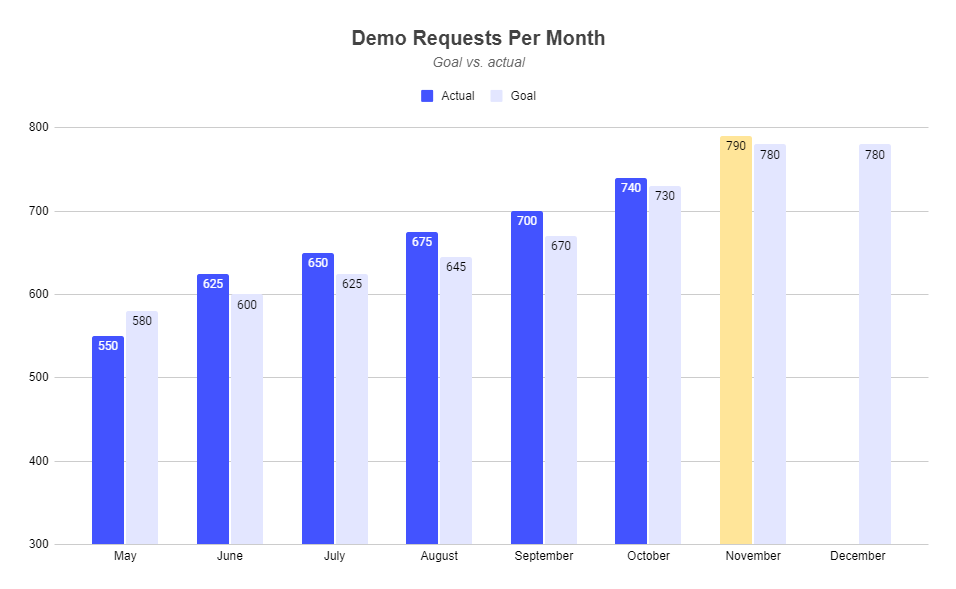 It lets you super easily visualize progress. Plot your monthly KPI goal, and manually fill in the 'actual' row each month. Highlight a forecast using a different color for easy visibility.
Make a copy of this spreadsheet to use it.
Bonus points for changing the graph colors to match each client's branding 😉
2. KPI forecast
If you're in the middle of the month, report on how you're pacing vs. your goals.
"If things continued like this for the remainder of the month, we expect to end on XYZ trial sign ups".
If the results are trending up, it builds excitement and positivity. And if results are not as good as you hoped, you've identified it early & got ahead of any potential questions the client could ask. You can share what actions you're taking, and build trust from the client that you're on top of things.
If you have SEO targets set, you can comment on whether or not you're on track to reach them too.
3. What's driving change
Regardless of whether the KPI went up or down, you should demonstrate that you know (or at least have a theory as to) why. Keep it short. For example, let's say your trial sign ups KPI dropped. You should diagnose why:
"Only [example page] had a significant dip in last-touch conversions month-over-month. It's main keyword position dropped from #1 to #3. If it persists, we'll plan updates to the page."
4. Ranking highlights
If you have them, share some wins. Use this as an additional tool to get people excited about the traffic & conversions which will follow. A couple of bullet points with ranking screenshots attached works well. For example:
"[keyword a] reached a new high point at position #2 USA 💪 (up from #6)"
Remember to keep it visual. Up and to the right! 🚀
5. Backlinks built
Obviously, this is only relevant if you're offering link building services.
Connect your backlink checker tool of choice to your dashboard tool, so that you have an auto-updating view of new live links (& their key metrics). The popular dashboards (like those previously mentioned: Databox, DashThis) have native one-click integrations with Ahrefs & Semrush to make this a breeze.
Then, just grab a screenshot, or go through it on a screenshare. What's live, a few examples, the anchors, the metrics. Build trust here: link building is often misunderstood by clients.
If you don't have the software, or you want to keep it simple, you can even just track the live links you're responsible for in a spreadsheet. I have a template for that, too.

Get the link building tracker template.
6. Key actions & tasks
Briefly mention what the team are working on this week and/or last week. These should be things previously discussed & agreed upon during monthly or quarterly meetings. For example:
"In the last week, we prepared & deliver 5 new SEO content briefs for upcoming blog articles, and finished our internal linking project. Next week, our primary focus is on-page optimization for the new landing pages."
This is also where you could mention other projects like organic CRO work, technical SEO initiatives, and more.
7. Invitation for feedback
Constantly invite feedback from clients. If their concerns aren't voiced, you can't solve them. Eventually, that can (and will) cause client churn.
Simply allow some time to proactively invite feedback, and ensure everybody understands what you're saying.
Written report template for Slack/email
Build a process to ensure that all of your clients get this (or similar) as a minimum weekly touchpoint from their account managers.
Copy/paste, and customize to your needs & services.
—
Hello team! Here's an update on SEO work & progress since our last check-in.
📈 KPIs
In October, we had:
110 non-brand demos (vs. 100 in Sept = +10%)
11,000 non-brand clicks (vs. 10,000 in Sept = +10%)
The growth comes primarily from ranking gains, and organic CRO work. [example page] gained X% clicks MoM. We also changed/added CTAs on [group of pages] which improved conversion rate by X%.
Based on how November is going so far, we expect to see similar progress with 121 non-brand demos in November (+10%). That puts us on track to hit our quarterly target.
📈 Ranking highlights
We have a few exciting ranking wins to share.
[keyword a] reached a new high point at position #2 (up from #6)
[keyword b] reached page one for the first time at #9 (up from #21)
[keyword c] maintained it's #1 ranking
These are high intent topics that are driving conversions.
🔗 Link building
Since our last call, we have 2 new backlinks live.
[first URL] (DR60, anchor = 'example anchor')
[second URL] (DR65, anchor = 'example anchor')
That puts us on track for our goal for 5 live links this month.
📜 Key initiatives
In the last week, we prepared & deliver 5 new SEO content briefs for upcoming blog articles, and finished our internal linking project. Next week, our primary focus is on-page optimization for the new landing pages.
—
The monthly client call
I'm not going to repeat everything above. Generally, the contents of a client call can be similar to the Slack report. The difference is that:
You have the opportunity to open discussions & get client opinions
It allows some "face-to-face" sync time to build relationships
It gives the chance to agree on minor strategic adjustments
Free Google Slides client presentation template
Here's a simple slide deck template that you can copy & customize.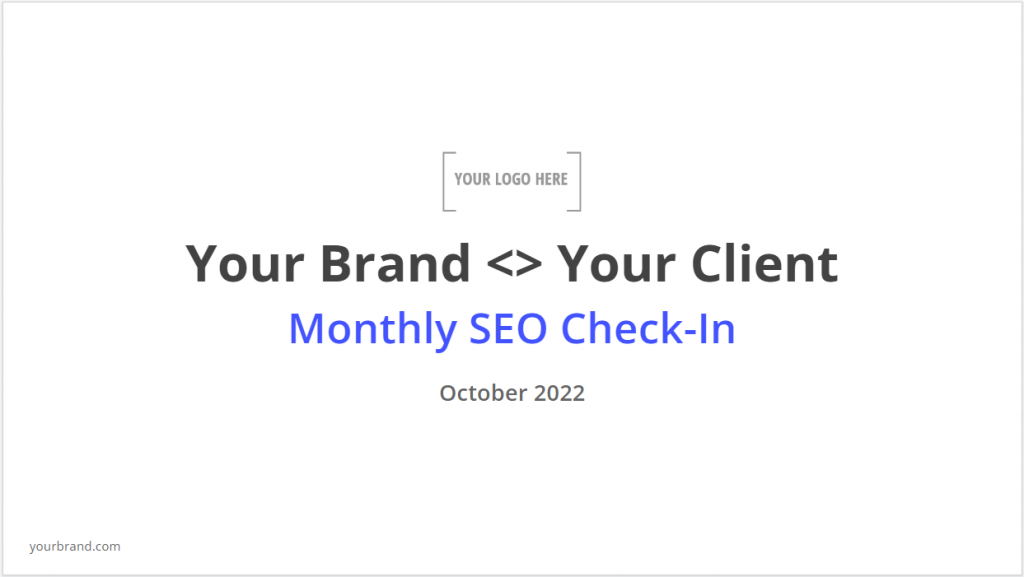 Ensure that the deck makes sense without you there to explain it. It may be shared internally in your client's team.
Quarterly client review
This is where you make sure all the key stakeholders are in attendance, and align on strategy for the upcoming 3 months.
We're talking about reporting here though, not strategy. So let's focus on that. What's different in reporting during a quarterly review vs. a monthly client call?
Zoom out
Look at data over longer time periods. Instead of month-over-month, look year-over-year (or quarter-over-quarter) and see the longer term progress. Even if monthly gains are small, it's exciting to look back a full year and see the progress.
Review where your time is being spent
If you're tracking time spent per client, this is a good opportunity to review that. You can share a breakdown of what you've been working on, and analyze together with the client what are the most impactful things to spend time on.
Ask questions, and make sure your SEO priorities are still aligned with the overall company direction.
Additionally, you could use this as a justification for a price increase if you're spending more time than initially anticipated.
Continue with the fundamentals
Like other report types, make sure you still lead with the most important KPIs, and keep things simple & visual.
Back to tooling…
Here's a little more context/explanation about each of the tools I recommend using.
1. A client dashboard
Creating a shareable SEO dashboard for each client is a game changer. You can separate pages (e.g. brand vs non-brand, blog vs. features, etc.), connect all your data sources.
It saves reporting time and builds transparency.
For a free tool, you can use Google Data Studio which will work just fine.
There are some advantages to using a paid dashboard tool like Databox or DashThis (e.g. customer support, more integrations, more templates), and the cost per client becomes fairly negligible.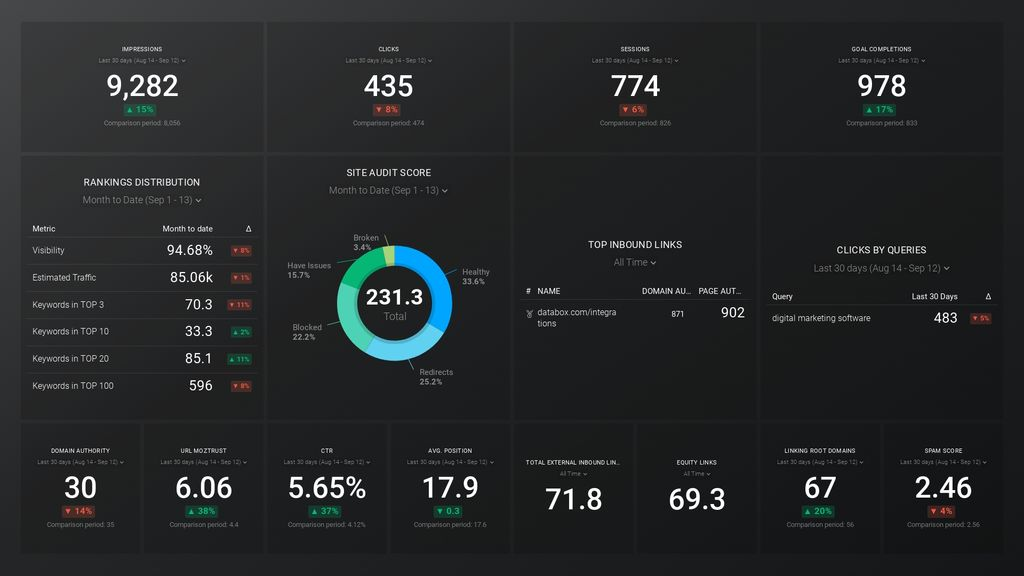 2. A communication tool
Get a shared Slack channel set up for each client, and add all the key stakeholders from both teams. That way, you can share updates easily, and scroll up to see previous ones. Clients can also add reactions & comments if they choose.
You can also use Discord, Teams, or even email. Slack is a personal preference.
Scroll down to see a weekly Slack report template you can copy/paste.
3. A SERP tracking tool
Although rankings are not the end goal, they're a leading indicator of success. Sharing that a key ranking position increased can build excitement, and show progress (even before the conversions start to come).
Your SERP tracker could be built into an all-in-one platform like Semrush, or it could be a separate standalone tool.

4. A presentation tool
Lastly, I'd suggest you get a presentation template ready too. It's not something you'll need weekly, but it's good for monthly & quarterly reviews.
Google Slides is enough, but there's plenty of alternatives. You can create a general format, then duplicate the presentation each time & edit the appropriate sections.
As above, you can use my Google Slides template too.
Summarizing: best practices for client reporting
If you remember nothing else from this article, here's a few key takeaways,
1. Get straight to the point. Lead with KPIs & results.
2. Have the answers. Ask yourself 'why' and be prepared to answer client questions. If you say KPIs grew – why?
3. Share victories. Build excitement. This is key for getting more resources, pitching bigger projects, and upsells.
4. Set expectations, and deliver on them. Make sure everyone knows what reports will come (& when).
Good luck!