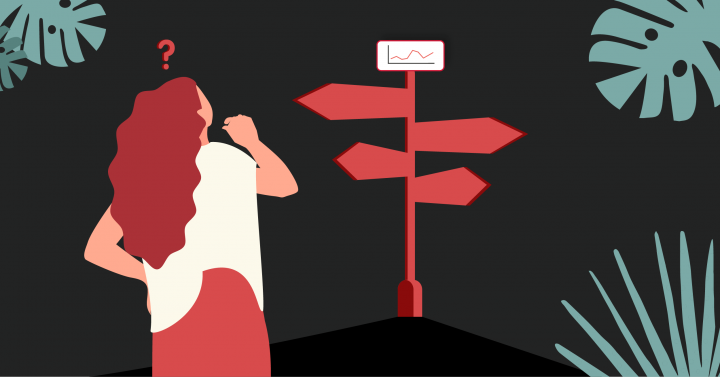 There are a huge number of options out there for SERP tracking software. A lot of them seem similar (and they are), but there are key differences which will impact your buying decision.
In this article I'm recommending tools depending on:
If you want just a SERP tracking software
If you want an all-in-one SEO tool that includes a rank tracking feature
What kind of budget you're working with
The best SERP tracking tools:
If you're looking for a comprehensive & affordable all-in-one tool with a SERP tracker to manage your SEO, choose SE Ranking. 14-day free trial 🔗
If you want to track 500-1,000 keywords, and prioritize technical SEO features in the same tool, choose Sitechecker. Prices start from $23 per month. 7-day free trial 🔗
If you're looking for an affordable multi-feature tool to manage your SEO including rank tracking, choose Nightwatch. From $24/month. 14-day free trial 🔗
If you want the most advanced rank tracker, without worrying about the price, choose AccuRanker. Prices start from €99 per month. 14-day free trial 🔗
If you're looking for an advanced tool with a lower entry price than AccuRanker, choose ProRankTracker. Prices start from $13.50 per month. 7-day free trial 🔗
And here's a visual overview of how the tools compare at a glance: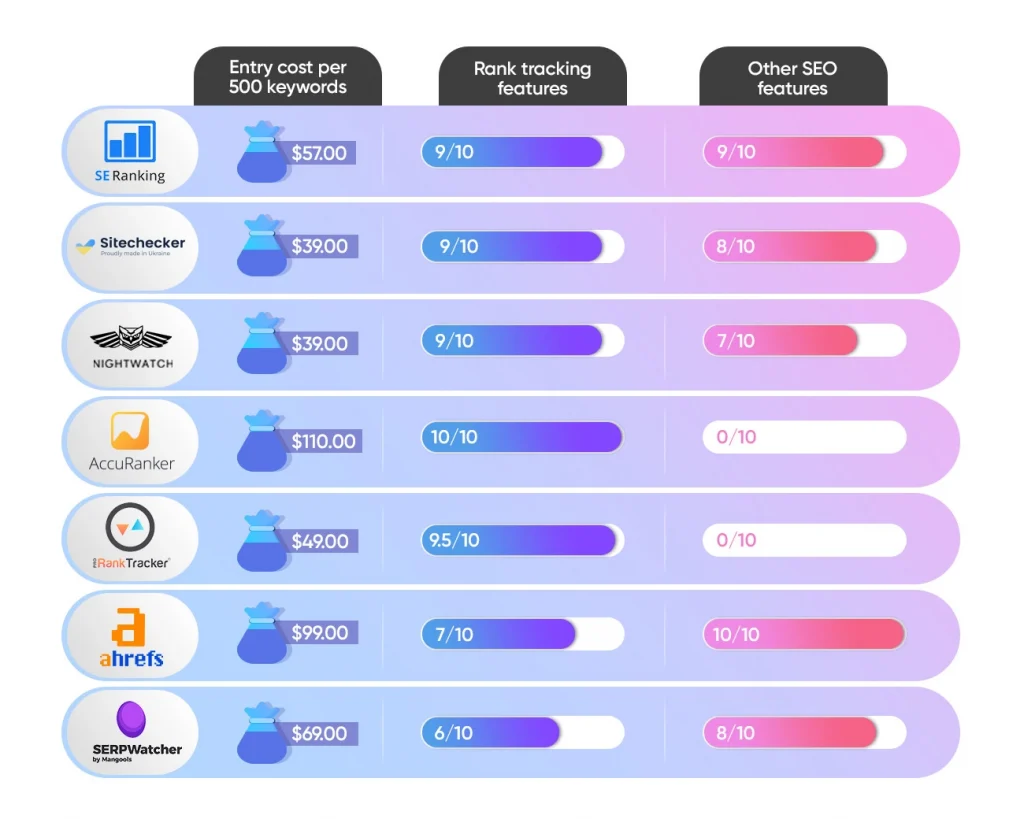 This reflects the starting price, rank tracking features, and other SEO features outside of rank tracking (e.g. backlink analysis, site auditing, keyword research.). Even if your primary reason to buy is rank tracking, sometimes those other features are part of your decision-making.
Click to scroll down and get the details about each of these 👇
SE Ranking
Sitechecker
Nightwatch
AccuRanker
ProRankTracker
We'll explore key features, the good & bad, and pricing.
But first… which tools didn't make it?
Obviously, I'm not going to list out every tool in the world that I haven't recommended. Rather, I'll quickly mention my reasons for not recommending Ahrefs and Mangools here.
These are both popular tools with a full suite of SEO features, including rank tracking. In fact, I use both myself. But if your primary need is to track keyword rankings, I don't recommend buying either. Here's why:
Ahrefs

If you're shopping in the price range that Ahrefs costs, you're better off with Semrush. I recently wrote a guide to when it makes sense to buy Ahrefs vs Semrush. There, I concluded that rank tracking is one specific case where Semrush wins.
Ahrefs' update frequency is only once every 7 days on the entry level package, and still only every 3 days on the most expensive tiers. White label reports are also not available.
There are a few other minor differences, but that one thing alone is enough for me to recommend an alternative like SE Ranking for an all-in-one tool with SERP tracking if that's your primary need.
Mangools (SERPWatcher)

Mangools is a suite of 5 SEO tools. I mentioned (and recommended) them recently as a cheaper Ahrefs alternative.
One of the 5 tools is SERPWatcher, a rank tracking tool. It's okay. I bought Mangools because their keyword research tool, KWFinder, is excellent. I now use SERPWatcher too, just because it happened to be included within the price.
But if I was shopping in this price range, with the primary need of rank tracking (instead of keyword research), I'd have gone with Nightwatch.io. It starts from $24 per month, and their rank tracking and SEO reporting features are excellent. I'd definitely consider picking up a subscription if I were an agency reporting to multiple clients.
The best daily SERP tracking software for different scenarios
These 5 tools do have a lot of similarities. They all cover the basic fundamentals of SERP tracking. To save repeating them each time, here's some common features that all of the following software share:
Daily rank tracking updates
Device-based tracking (desktop / mobile)
Track competitor performance
Alerts for ranking gains / dips
Monitor SERP features (e.g. featured snippets)
So let's look at what separates these tools. I'll comment on key features, reporting tools, and pricing structure.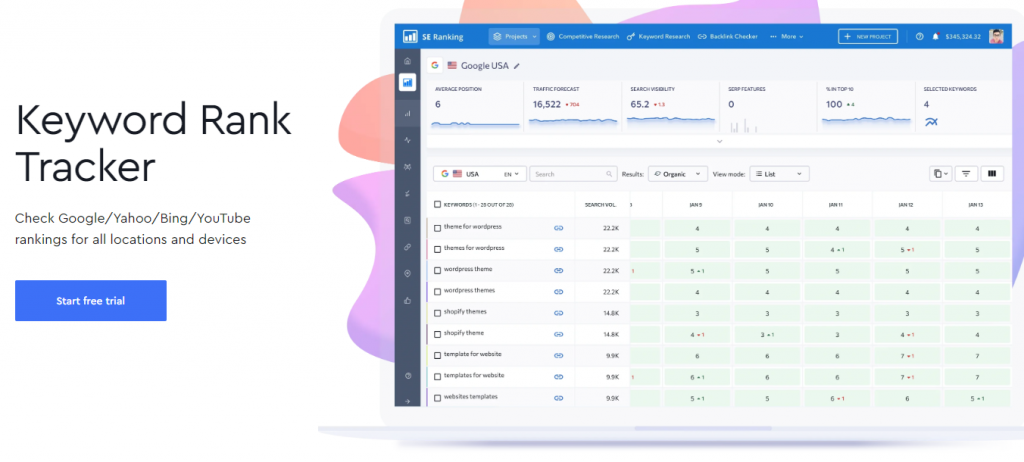 SE Ranking is an all-in-one SEO platform with a great SERP tracking tool. It also includes features for competitor analysis, backlink monitoring, keyword research, and more. There is a 14-day free trial available.
It makes sense to choose SE Ranking if you're looking for an all-in-one SEO platform with great SERP tracking features, at a much lower price than Ahrefs or Semrush.
SE Ranking offers a great, simple overview to understand your keyword positions. There are four main views: Summary, Detailed, Overall, and Historical Data.
On a day-to-day basis, I personally find myself mostly just using the summary. There's a handy view of:
Which keywords improved the most
Which keywords declined the most
The top traffic generating keywords / pages
Search visibility & average position trends over time
If you want more detail, you can of course get the full view of every individual keyword day-by-day, including information about SERP features, search volumes, competitors and more.

SE Ranking can track Google, Bing, Yahoo, and Yandex, including desktop, mobile, and local positions.
Lastly, you can do on-demand ranking re-checks, which is a nice feature, commonly found in higher priced tools like AccuRanker.
You should know
You can't buy only SERP tracking with SE Ranking, which means it starts at a slightly higher cost than some tools like Wincher or Nightwatch. That said, if you need extra features like keyword research, backlink monitoring, and competitor analysis – you're better off with SE Ranking.
Standalone rank trackers lack those features, so you'd end up paying more in total for separate tools.
Plus, if you compare price per 100 keywords tracked, it actually starts to become comparable (or even cheaper with SE Ranking) at 1,000+ keywords.
SE Ranking also can't track Amazon or Baidu rankings, if that matters to you.
Reporting
As far as all-in-one SEO tools go, I'd say SE Ranking definitely has one of the best report builders in the market. Semrush is great too, but it comes at a much higher cost.
They offer a fully customizable, very easy-to-use drag and drop report builder. It can be fully white labeled, and you can pull in data from Analytics & Search Console for a more complete view of performance.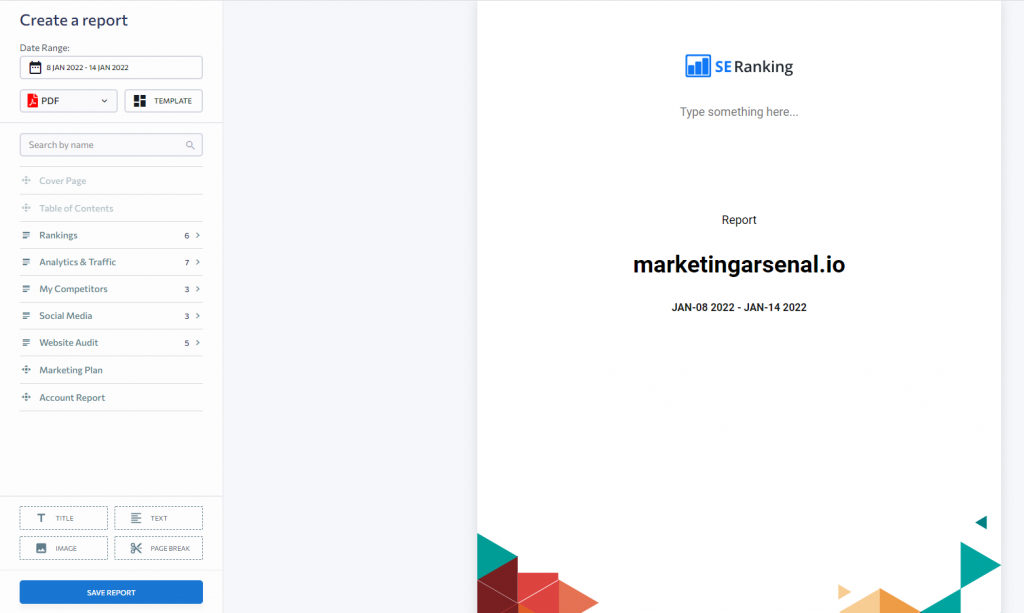 There's a ton of report templates to get started quickly, plus you can save your own custom templates too.
Plans & pricing
SE Ranking offers a lot of flexibility in their pricing. The number of keywords tracked and ranking update frequency are important factors in the price.
Here's some pricing examples. Accurate as of Q1 2023. I've converted what I see (GBP) into USD, so they may be a couple of dollars out depending on conversion rates.
Plan
# of keywords
tracked
Cost (monthly)
Cost (annual)
$ per 100 keywords
tracked
Essential
250
$39
$29
$15.60
Essential
500
$54
$43
$10.80
Pro
1,000
$90
$72
$9.00
Pro
1,750
$150
$120
$8.57
Business
2,500
$191
$153
$7.64
Business
5,000
$350
$281
$7.00
The cost per 100 keywords tracked is based on monthly price, and is intended to help you compare costs vs. other tools.

Sitechecker is an SEO toolkit with features covering SERP tracking, technical SEO, SEO monitoring, and a few others. There's a 7-day free trial available.
It makes sense to buy Sitechecker if you want a low-cost rank tracker for 500-1000 keywords, combined with SEO monitoring & technical site auditing.
For SERP tracking, Sitechecker offers a nice UI with an overview showing total progress & recent movements for your target keywords, exactly as you'd expect. You can sort by any of the columns, e.g. highest volume, positions, or biggest movers each day.

One really nice feature of Sitechecker, though, that isn't present in all SERP trackers is the SERP history view.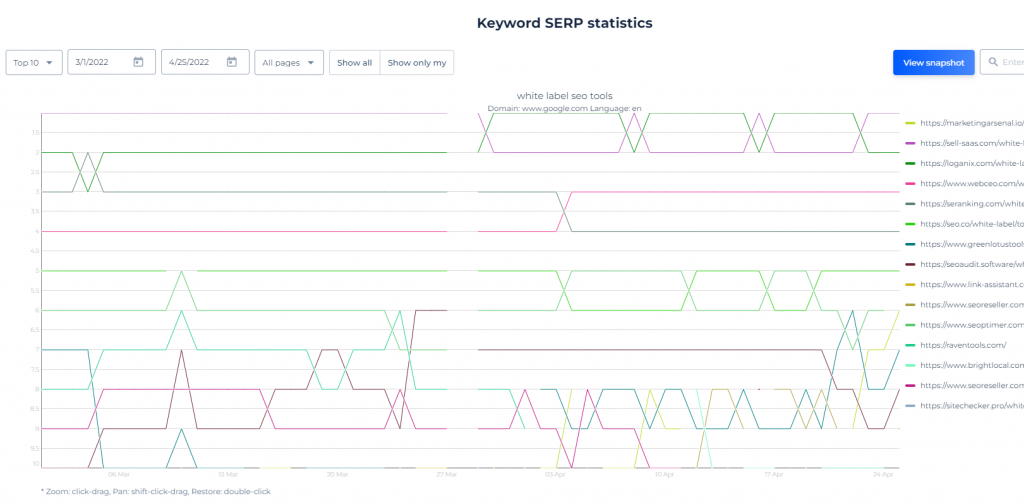 It looks kind of messy without the context, but it can provide a bunch of really nice insights into competitor movements in the SERP. Who's gaining positions & why? Who's losing positions? Is the SERP stable or rapidly changing?
You can also select / de-select competitors to provide a nice visual summary of how you're pacing against specific competitors, which is cool for reporting.
Reporting
First off, white labelling is available on every pricing tier, which is great. That's often locked into higher price points.
You can export your rankings data on-demand in a variety of formats, e.g. pdf or .csv.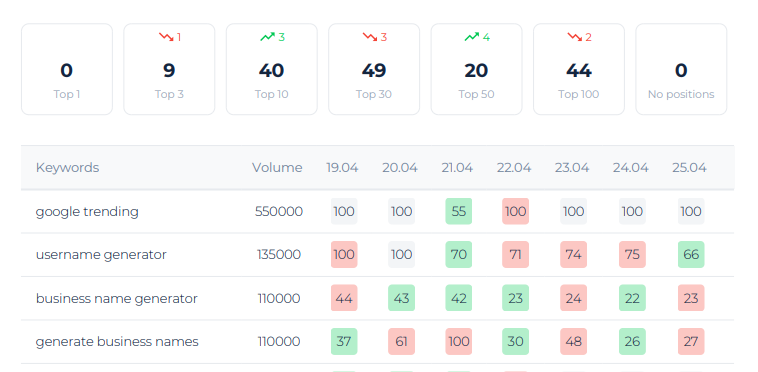 The reporting features are nothing fancy in Sitechecker, but it's enough. You can get an automated daily or weekly summary per project, as well as the on-demand exports.
It's not possible to set up different email addresses (e.g. so that a client can receive the email reports). However, since there are unlimited users, you could simply add the person to your project. It's possible to do this without granting access to other projects, and without giving edit permissions too.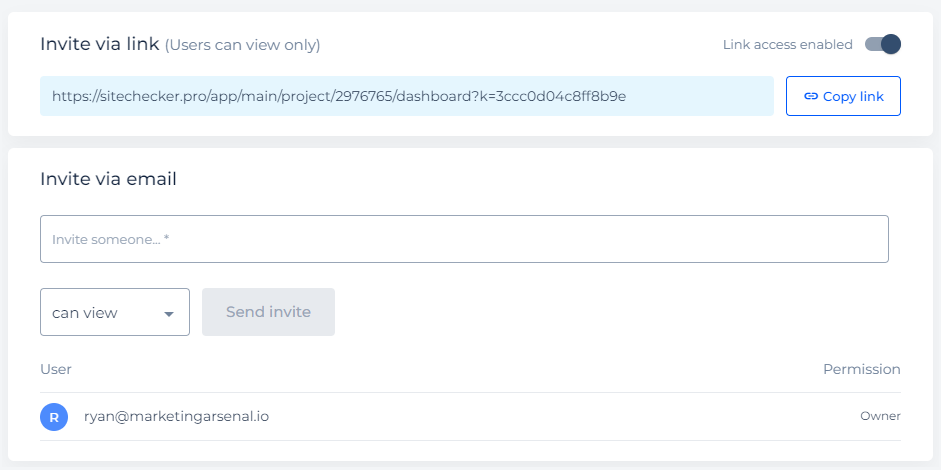 You should know
Some things to be aware of:
There's no keyword research / content planning features
Some alternative search engines can't be tracked (YouTube, Baidu, DuckDuckGo)
Some advanced integrations are missing like Data Studio or DataBox
Pricing on the top & bottom end (<500 and over 1,000) isn't super attractive for rank tracking, though it still may make sense if you want their technical SEO features
Plans and pricing
Pricing starts from $23 per month (annually) or $29 per month (paid monthly). As far as I understand, every rank tracking feature is included on every plan, even unlimited users, daily updates, SERP histories, etc… Higher pricing plans simply increase limits.
To help you compare rank tracking cost vs other tools, here's some example data on price per 100 keywords tracked (based on a monthly subscription).
Plan
# of keywords
tracked
Cost (monthly)
Cost (annual)
$ per 100 keywords
tracked
Basic
150
$29
$23
$19.33
Startup
500
$49
$39
$9.80
Growing
1,000
$99
$79
$9.90
Enterprise
Up to 100,000
from $499
?
?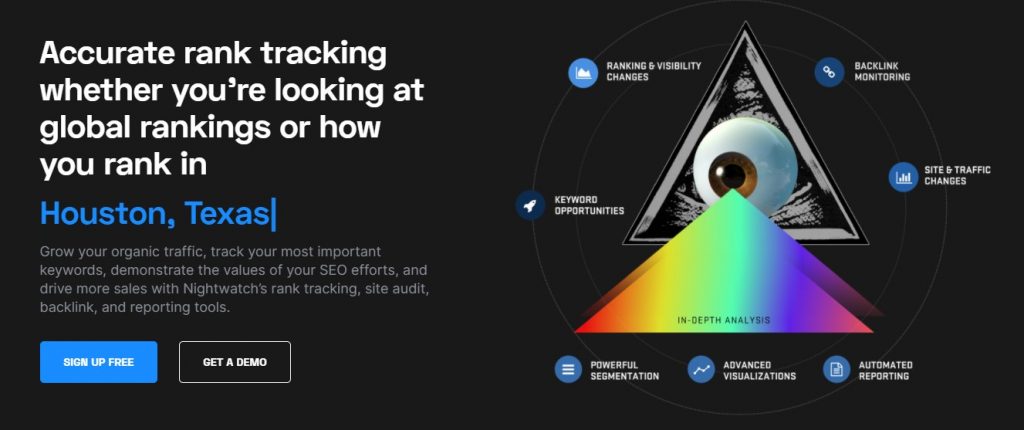 Nightwatch.io is a suite of SEO tools that comes in at a much lower price than Ahrefs or Semrush. It has various pros and cons, but it's biggest strengths are rank tracking and reporting. Hence why it made it into this list.
Nightwatch actually started as a rank tracker (literally called Rank Trackr), which explains why that's it's strongest feature.
It makes sense to choose Nightwatch if you need a good suite of SEO tools (rank tracker, reporting, backlink monitor, site auditor) at a much lower price than Semrush. It's great value for money, but comes without a keyword research function.
With a really low starting price of $24 per month, there's a ton of value for money here. Let's focus on their SERP tracking feature.
Here's some key features that not all competitors have:
Visibility & click metrics to indicate overall performance
Tracks rankings in YouTube, Bing, and DuckDuckGo as well as Google
Excels in accurate local tracking, including GMB maps listings
Connects to Google Analytics & Search console to overlay traffic data
Create custom graphs with any metrics in a few clicks
White label reporting
The main dashboard UI is nice, having customizable columns to show a number of useful metrics. I particularly like the evolution graph, so you can quickly see the recent history.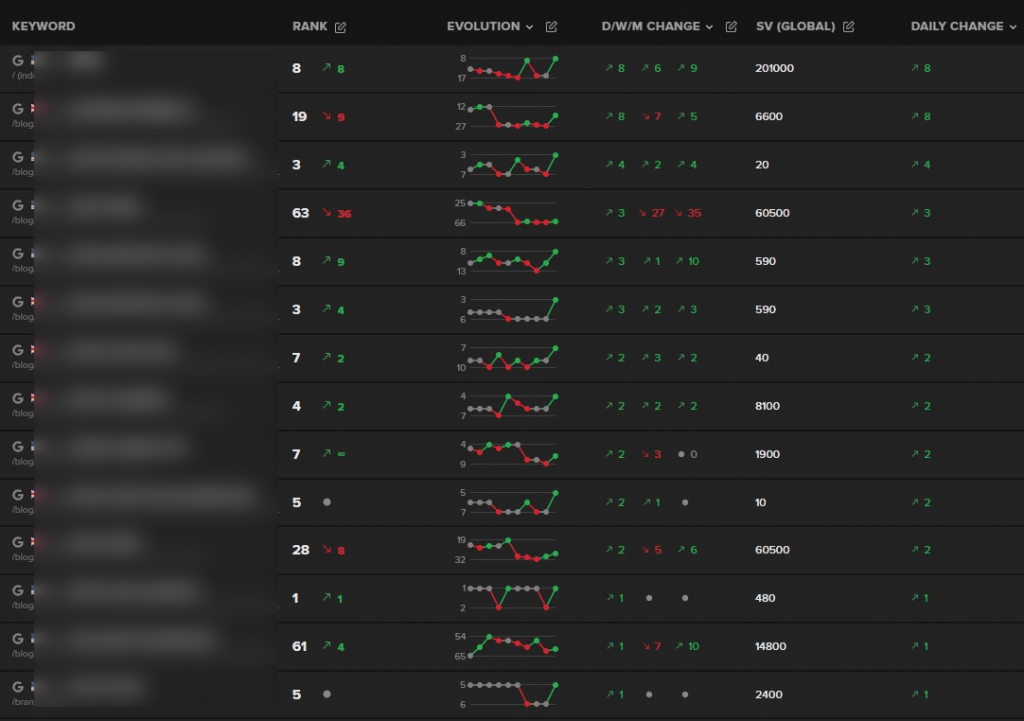 You should know
Of course, there are some downsides with Nightwatch's rank tracking feature. These probably aren't a deal breaker, but it's worth being aware of:
It can't track Amazon, Yahoo, Yandex, and Baidu rankings
There are no on-demand ranking updates
Some other tools have a more beginner-friendly UI
Reporting
I really like how easy reporting is in Nightwatch. It lacks some of the advanced integrations such as Data Studio or DataBox that we'll see later in AccuRanker, but it does enough for most of us, and is quick to use.
The 'graphs' feature let's you create any graph you want really quick, and export it ready to share in one click: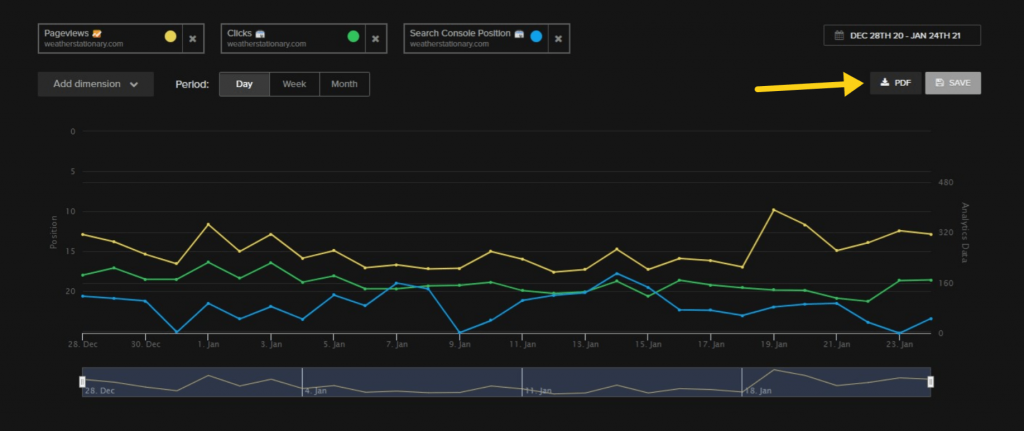 That means you can overlay data from Google Analytics & Google Search console like traffic volumes, to visually show the effect of ranking increases.
You can also use some predefined templates to speed things up:
Display only positive changes (or negative)
Generate a progress report (focus on keywords that have movement)
Generate a competitor report (focus on movements in relation to competitors)
It comes with the daily / weekly / monthly automated report scheduling that you would expect. You can add your logo to this for white labelling.
And lastly, you can get a very helpful SERP preview for every keyword alongside your ranking history, including highlights of what's changed in the SERP recently: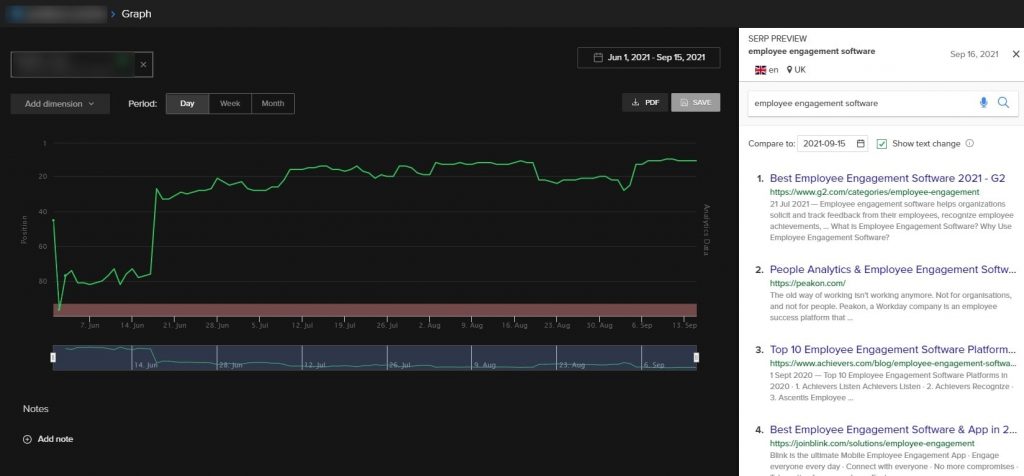 Plans & pricing
Pricing starts from $39 per month (monthly), or $32 per month (annual), which is great value for money considering the feature set you get. It works on a simple sliding scale.
The entry level package already lets you track an impressive 50 different websites. Although, you're capped at 250 daily keywords tracked, so that's more likely to be the limiting factor.
To help you compare cost vs other tools, I'll add data on 'cost per 100 keywords tracked'. This figure uses the monthly price:
# of keywords
tracked
Cost (monthly)
Cost (annual)
$ per 100 keywords
tracked
250
$39
$24
$15.60
500
$59
$47
$11.80
1,000
$99
$82
$9.90
5,000
$399
$319
$7.98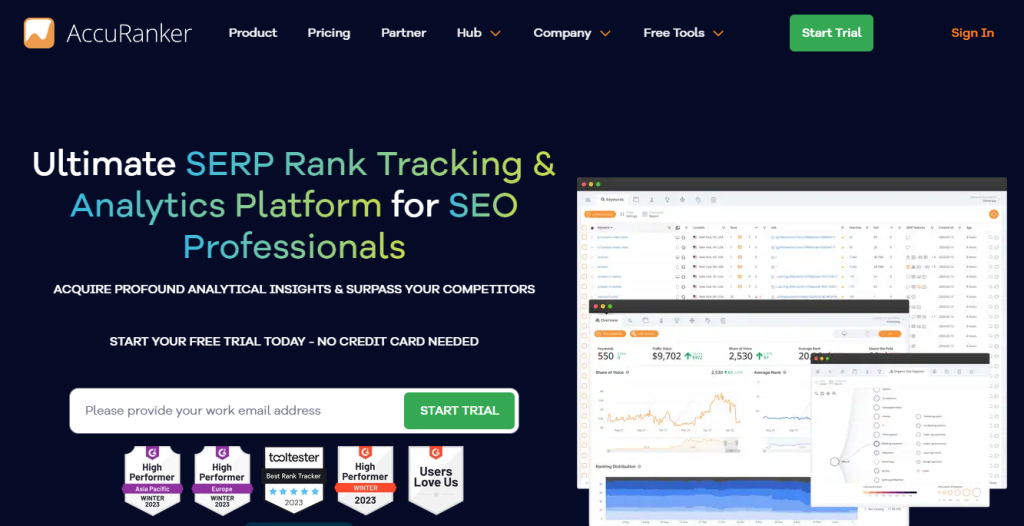 AccuRanker is the best rank tracker out there. If you can spend the money (starting at €129 for 1,000 keywords), I'd recommend it.
It makes sense to buy AccuRanker if you're an experienced agency or in-house marketer tracking lots of keywords, and you aren't tight on budget.
It's not cheap, but pricing is straightforward. There's only one plan which includes all of the killer features, and pricing scales up as you add more keywords.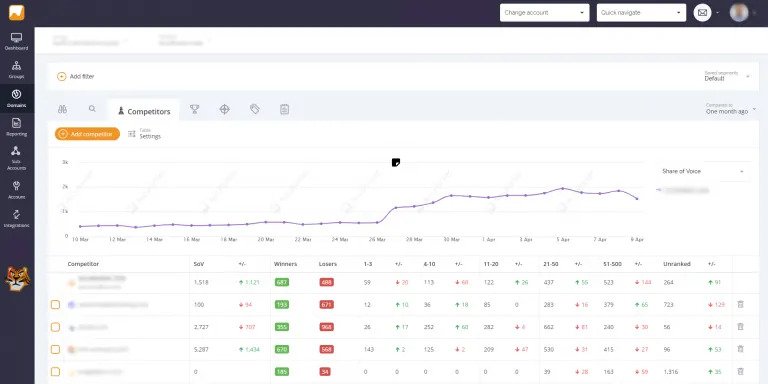 Here are some of the key features that not all competitors have:
Share of voice: overall, by tags, and by landing pages
On-demand ranking updates
Connect with Google Analytics to map rankings to traffic & conversions
Tracks Bing, Baidu, Yandex, and Youtube as well as Google
Local rankings including GMB, as precise as a ZIP code or street
Integrates with Google Data Studio
View SERP history for any keyword
Import historical data from another tool
Share of voice is similar to the visibility metrics that Semrush & Nightwatch have. It's pretty much an estimation of how many clicks you should expect; much more helpful than 'average position'.
Having the option to import historical data is a big win here for AccuRanker. When you think about switching rank trackers, that's the biggest pain point – losing your historical ranking graphs. The only other tool that I'm aware of that offers a history import is Semrush, but even then, it's only on higher pricing tiers.
Lastly, accurate on-demand updates are really nice to have too. Once you've had the experience of being able to refresh your rankings whenever you want, it's painful to lose it! AccuRanker and ProRankTracker are the only tools in this list with that feature.

You should know
Since AccuRanker offers so much functionality, it can take a little bit of getting used to. That said, the UI is fairly intuitive, and I do prefer it overall to ProRankTracker, which is the only tool in this list with comparable functionality. There are also tutorials & videos available.
Other than that, I really don't see many downsides to AccuRanker. It can't track Amazon rankings, there's no mobile app, and it has a steeper starting price. That's all.
Reporting
AccuRanker comes with all the basic reporting functionality you would expect, plus some bonuses.
One big strength is being able to connect to 3rd party tools like Google Data Studio, Databox or Adobe Analytics to visualize data. If you're reporting to clients, setting up a Data Studio dashboard will really help with digesting information. You'll be able to use tags and share of voice to separate the performance of different categories, and get a simple visual overview that is easy to understand.
AccuRanker's support team are pretty helpful if you get stuck with that, too.
AccuRanker offer a really good rank tracking API.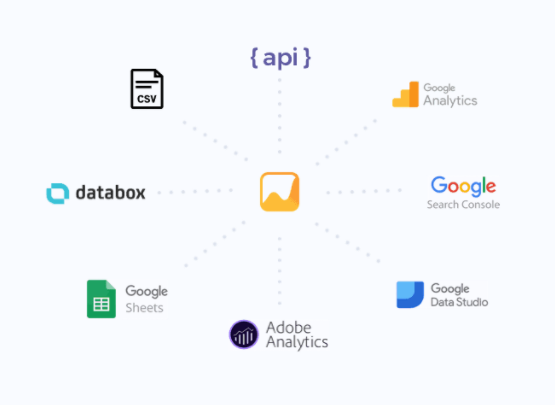 Plans & pricing
Pricing starts from €129 per month (monthly), or €116 per month (annual).
All features are included in one plan. Pricing increases are only based on the number of keywords tracked, which is a good thing in my opinion. Nothing is locked into a higher tier of pricing.
1,000 daily keywords tracked are included in the entry package. It can get expensive fast though; by the time you're tracking 5,000 keywords, the price is €609 per month.
To give you an idea of how that compares, Semrush's Business tier includes 5,000 keywords for $449 per month. Of course, that comes with a ton of extra features for SEO, PPC, PR, social media, and all the rest. It'll be a difficult call to make either way, that depends on your situation. Either way, both are solid tools which will do a good job.
To help you compare rank tracking cost vs other tools, here's some data on price per 100 keywords tracked (based on monthly prices) for different AccuRanker plan sizes:
# of keywords
tracked
Cost (monthly)
Cost (annual)
$ per 100 keywords
tracked
1,000
$137
$123
$13.70
1,500
$200
$180
$13.33
5,000
$646
$581
$12.92
These AccuRanker prices are converted from € into USD.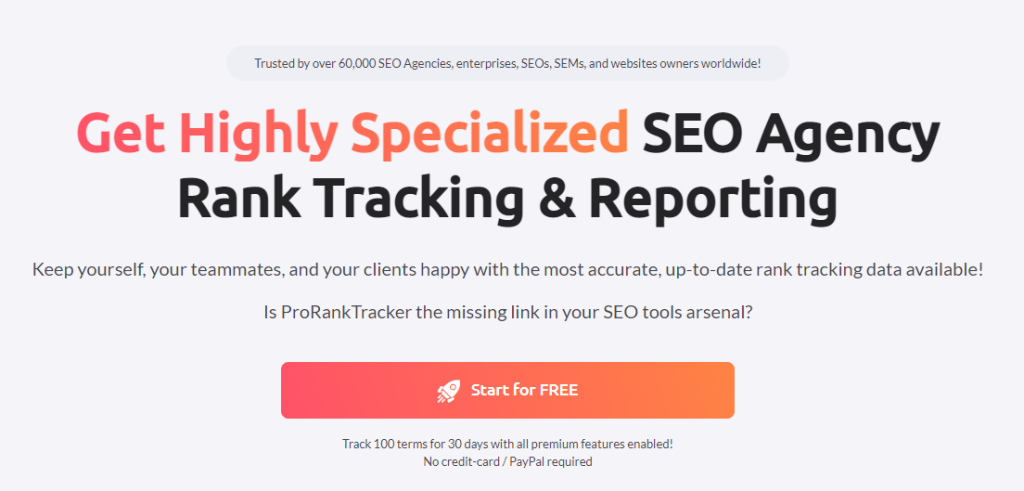 ProRankTracker is a pretty comprehensive tool. It can rival AccuRanker as a premium software, but it's tailored fully for agencies, and has a lower starting price ($13.50 for 100 keywords) which makes it accessible.
It is also exceptionally scalable, with a very low starting price (for a limited version).
Some key functionality is locked into higher pricing tiers (e.g. on-demand ranking updates), but it allows you get started, and grow into more advanced features (if you want to).
It makes sense to buy ProRankTracker if you're an experienced agency that need advanced features & white label reporting, without the budget for AccuRanker. It's great, but not very beginner-friendly.
Here are some key features that not all competitors have:
'MyRanks', a unique white label mobile app for clients to check rankings ($$)
Tracking across all major English search engines, including Amazon & YouTube
Sub-accounts so clients can log in and access (only) their data ($$)
On-demand ranking updates ($$)
Unlimited number of websites tracked (but still capped on keywords)
White label reports on all plans
Generate live URLs to share for customizable reports (that auto-update)
You should know
As you will have gathered by now already, lots of the killer features aren't available on the entry level plans. So other than that major point, the only other potential negative I'd highlight is the usability. The UI takes a bit of getting used to, and it's not quite as straightforward to get a simple overview as with other tools.
ProRankTracker can do a lot, but it isn't super intuitive.
Reporting
ProRankTracker is really good for reporting to clients, which makes it a solid choice for agencies. It offers multiple options for customized, white label, and automated reports.
One is the MyRanks mobile app, which is really unique — I haven't found this elsewhere. You can share it with your clients so they can check rankings in the app (that has your branding) at any time.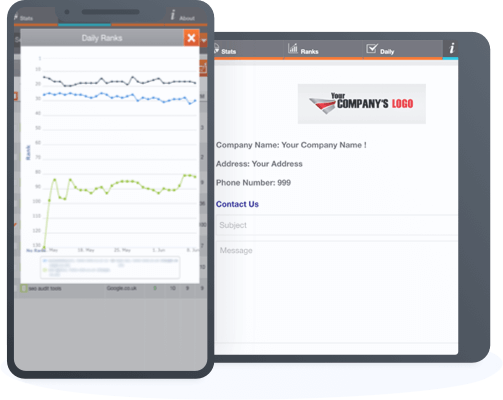 Other than that, another way to give clients access to check rankings whenever they please is with shareable URLs. You can create reports however you wish, generate a URL (with extra options like an expiry date and password protection) per client.
These are pretty comprehensive, with more options for customization than I can fit on one screenshot: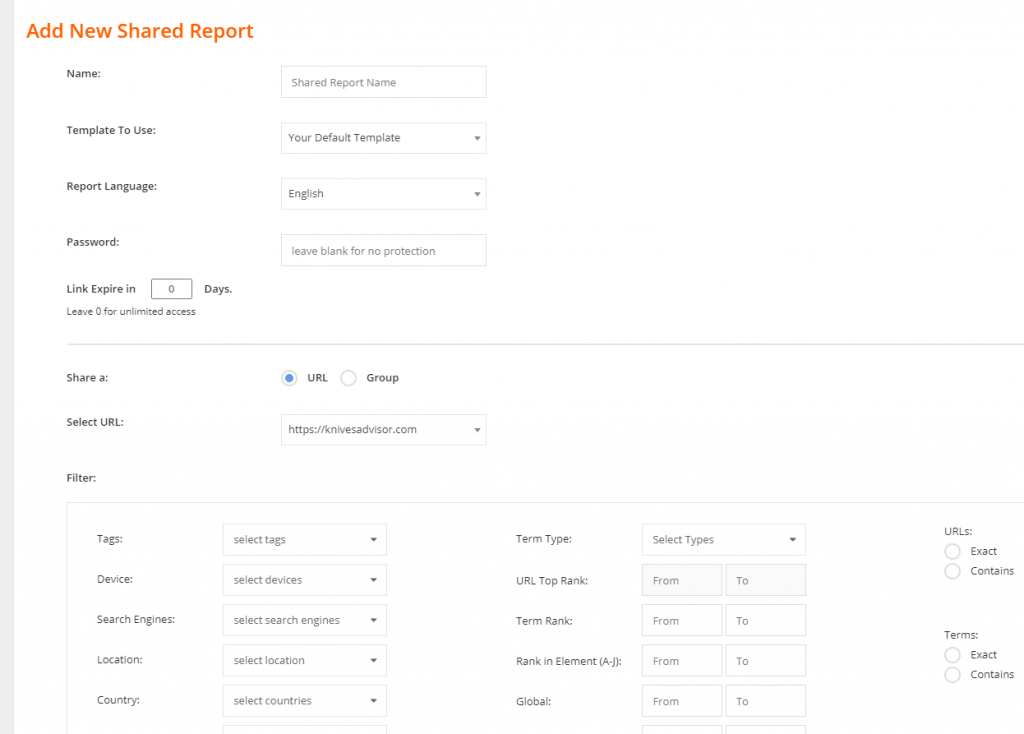 And lastly, there are lots of different types of reports that you won't always find in other tools too. For example, you can quickly generate reports for:
Progress (week by week, or month by month)
Ranking comparisons between different URLs
Search engine comparisons (e.g. see your rankings in Google vs Bing)
And lastly, as you would expect, you can schedule overview reports to go out via email daily, weekly, or monthly.
Plans & pricing
Pricing starts from $13.50 per month (monthly), or $11 per month (annual) for a very basic version with only 100 keywords.
The price quickly creeps up as you add more keywords & features, but it remains cheaper than AccuRanker still, even as you get into the thousands of keywords tracked.
Once again, here's the table to help you compare. The model is highly customizable, so this is just a few select examples. The cost per keyword becomes very reasonable by the time you get to 2.5k+ keywords (almost half the price of AccuRanker and comparable to Wincher).
Plan
# of keywords
tracked
Cost (monthly)
Cost (annual)
$ per 100 keywords
tracked
Starter
100
$13.50
$11
$13.50
Starter
500
$49
$39
$9.80
Pro
1,000
$89
$71
$8.90
Pro
2,500
$149
$119
$5.96
Agency
5,000
$275
$220
$5.50
Honorable mentions: 4 extra SERP trackers
These 3 didn't quite make it my recommendation for being the 'best' in a specific category, but they're all solid tools.
Wincher is another good option for a simple rank tracker, and it has a nice Yoast integration for rank tracking in WordPress.
Zutrix has some innovative features such as real-time ranking notifications.
SEOScout takes a different approach to rank tracking, offering unlimited keywords, by using Search Console positions for positions data.
SERP Robot has a completely free option to check rankings ad hoc.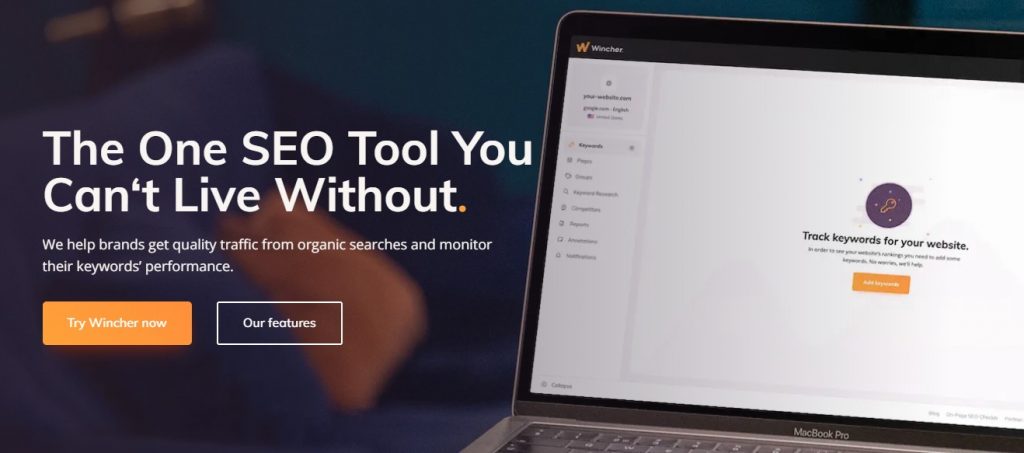 I view Wincher as kind of a less advanced AccuRanker. It's a standalone rank tracking tool with some good features, without the bells and whistles of AccuRanker or ProRankTracker, at a lower price.
They also recently released a cool integration with Yoast, making them a great choice for WordPress users for SERP tracking.
Wincher scales well. Their starter package is good for basic needs. Just rank tracking & reporting with a straightforward UI, no bells and whistles.
If you need a little extra though, the next tiers are a nice middle ground between the absolute basics, vs going way up in price to something like AccuRanker.
For reporting, you can get email alerts for daily success & dips, and schedule regular reports (daily / weekly / monthly) to go out you any email address(es).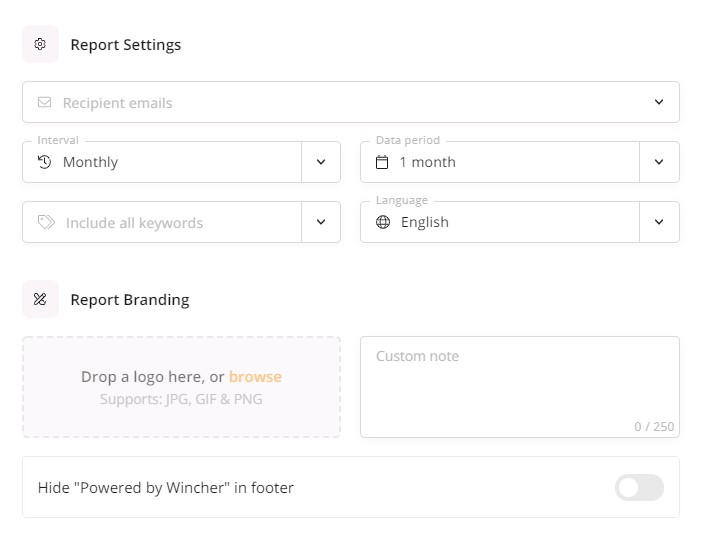 White labelling is also available (starting from the middle pricing tier).
Plans and pricing
Pricing starts from $35 per month (monthly) or $29 per month (paid annually). Some features like white label reports & on-demand updates aren't available on the entry tier.
To help you compare rank tracking cost vs other tools, here's some example data on price per 100 keywords tracked (based on a monthly subscription).
Plan
# of keywords
tracked
Cost (monthly)
Cost (annual)
$ per 100 keywords
tracked
Starter
500
$35
$29
$7
Business
1,000
$70
$58
$7
Business
2,000
$117
$97
$9.26
Enterprise
5,000
$296
$237
$5.92
Enterprise
10,000
$534
$374
$5.34
Wincher prices converted from € into $USD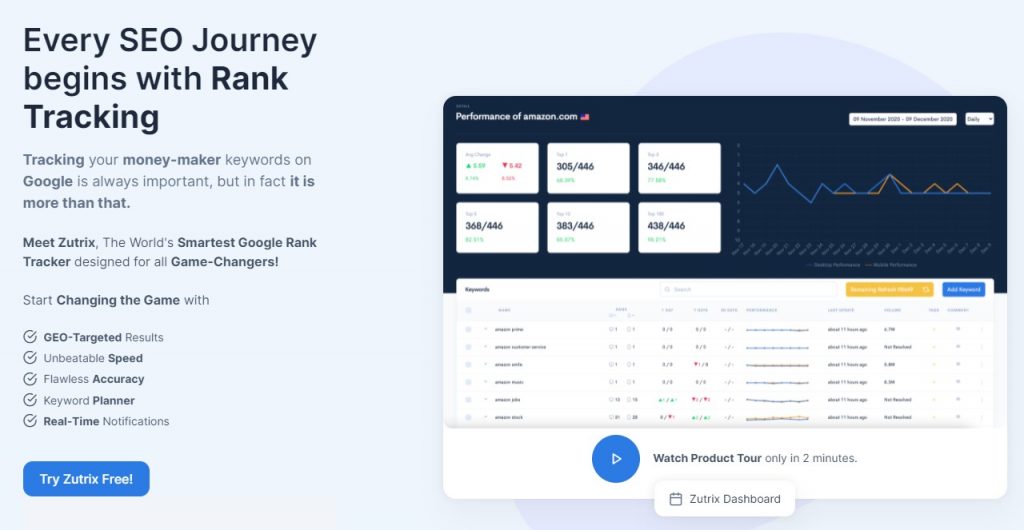 Zutrix is a relatively new tool to the market. Their main product is a SERP tracker, but they have some extra features such as their Keyword Lab for keyword research.
In Zutrix, the rank tracker UI is pretty nice. The cost mid-range, and it's simple to use.

One of their key strengths is notifications. You can get real-time instant notifications in Slack or Telegram with integrations, or via email too.
That's very cool, and I haven't seen it in another tool. Having said that, I didn't weight this too heavily in my recommendations. I do not believe that having the instant knowledge that my ranking dropped by 3 places would change my course of action in any way.
The Keyword Lab features is nice, but like almost every other tool, the volumes & difficulties are not 100% reliable. Nice to have if you don't have a separate keyword research software already, but nothing new here if you do.
White labelling is available in the higher pricing tier.
Pricing
Zutrix is a mid-range tool in terms of pricing. Cheaper than something like AccuRanker or ProRankTracker, more expensive than Nightwatch. See their pricing page.
Here's an overview, with a 'cost per 100 keywords' metric to help you compare.
| Plan | Cost (monthly) | # of keywords | $ per 100 keywords tracked |
| --- | --- | --- | --- |
| Starter | $9 | 50 | $18.00 |
| Basic | $28 | 250 | $11.20 |
| Standard | $54 | 500 | $10.80 |
| Advanced | $99 | 1000 | $9.90 |
Zutrix offers a 7-day free trial. Link to website 🔗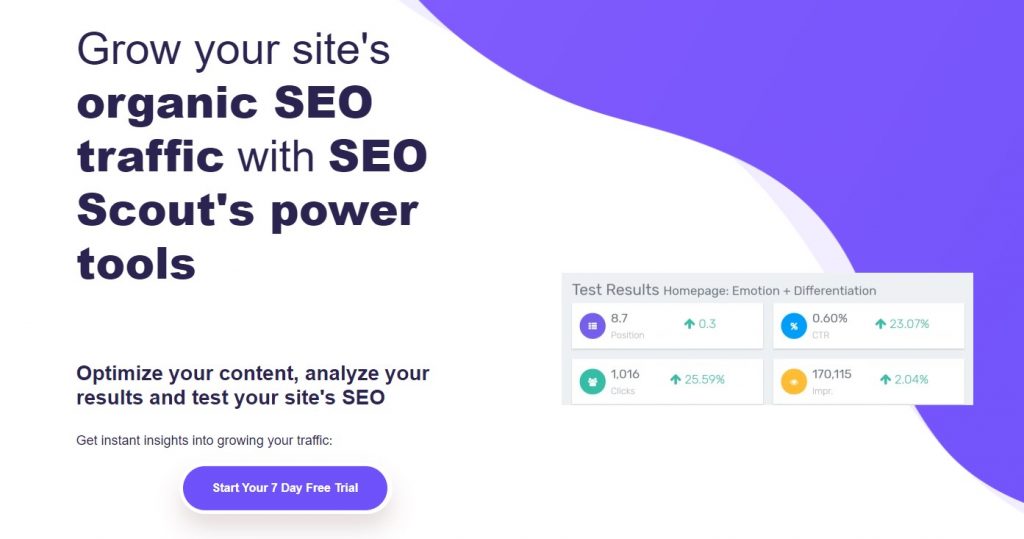 This one is interesting, because in theory SEOScout offers unlimited rank tracking for $49 per month. No keyword limits.
It does that by working differently to other tools. It doesn't actually track your rankings, but rather connects to your Search Console account & pulls position data.
SEOScout also adds some value beyond just pulling data from one place to another. It highlights pages or keywords that have rising & falling traffic, as well as low-CTR pages & other insights.
The downside to this is that you have a few days lag in Search Console data, and the position will usually be a decimal (average) rather than an exact number.
SEOScout also has some super interesting SEO split testing features in their $199 plan. I'm not going into full details on that in a SERP tracking tools article, but it's worth knowing. If you have a low-traffic site, the tests won't have much value, but for a bigger/higher traffic site, it could be worthwhile exploring.
Pricing
Pricing starts from $49 per month.
Since 'unlimited rank tracking' is included in all plans, there's nothing to add with regards to cost per keyword tracked.
The $49 plan gets you 3 sites, $99 gets you 10 sites, and $199 gets you 25 sites tracked.
There are other features too included within each plan, e.g. content editor, site audits, and A/B testing. See pricing page.
SEOScout offer a 7-day free trial. Link to website 🔗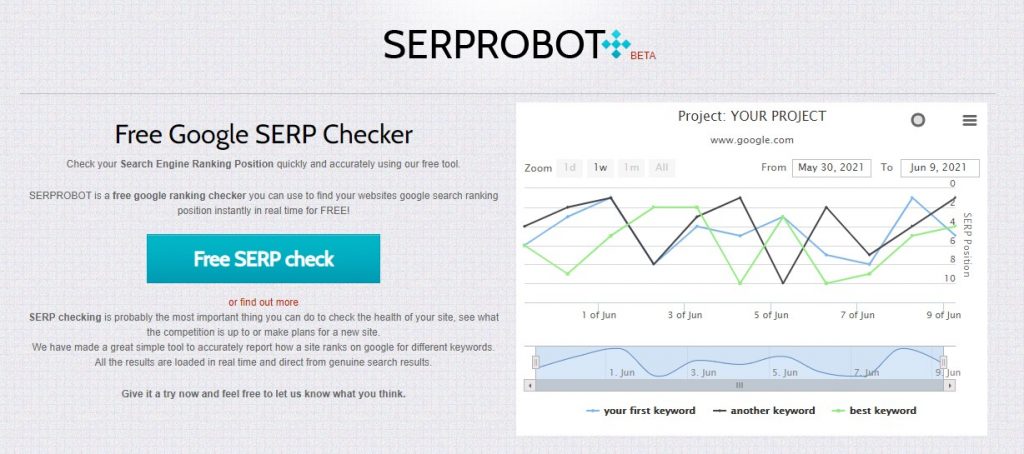 SERP Robot is a freemium tool. Let's check out the free version first, before looking at premium.
SERP Robot Free Version
The free version of SERP Robot isn't much good for tracking your rankings over time, but it'll let you do an on-demand check manually. It's a good option for a low-budget operation, or for someone who wants to check a specific ranking in a different geography (e.g. US if you're in EU).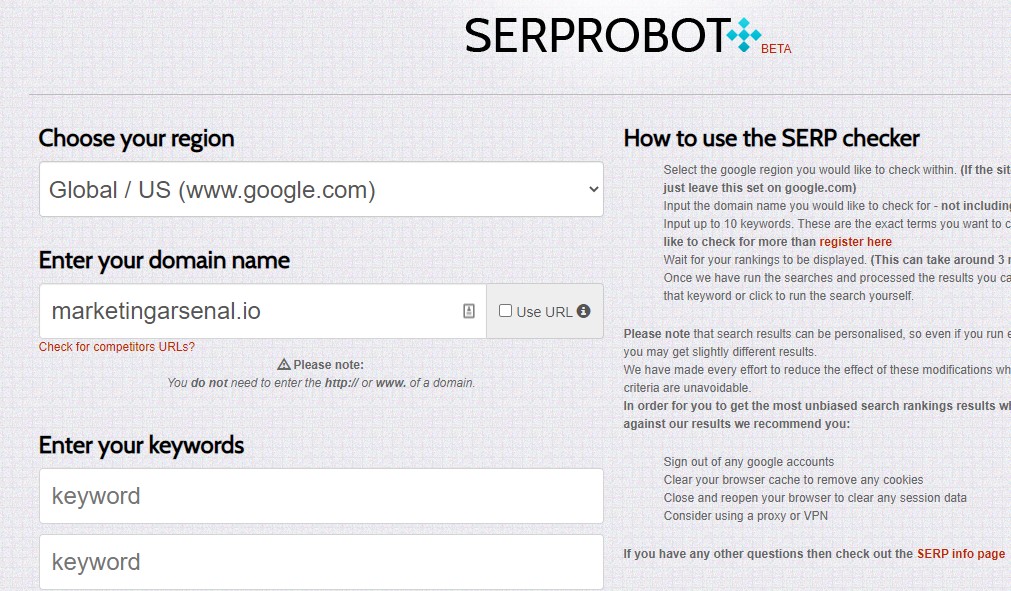 The UI currently feels very outdated, but it seems there's a facelift on the way.
It also doesn't offer any additional information about the ranking pages in the results. Literally just the ranking URLs: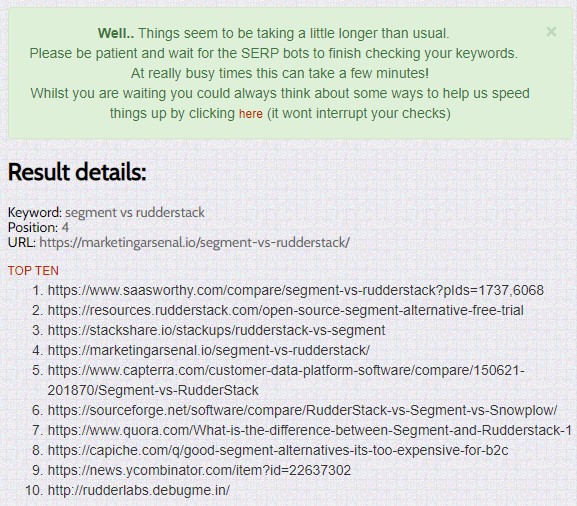 So while overall the functionality of the free version is very limited, you can't really argue with it – it's free after all. If you don't have budget to subscribe monthly to a rank tracker, this is the next best thing to check ad-hoc.
SERP Robot Premium
So if the free version isn't viable as a long-term rank tracking tool, what about the paid version?
The pricing model is based on number of ranking checks per day, at $4.99 per month per 300 checks. They call this 1 'bot'. Each bot that you add is a further $4.99, and an additional 300 checks per day. It's worth noting that the pricing is currently advertised as a discount (50% off), so it may increase when the tool comes out of beta.
The number of keywords you can track, therefore, depends on the update frequency.
You can choose an update frequency from every 2 hours, through to every 365 days. Both of those are a little extreme, and choosing one per day seems the most popular/logical option. But it means you can track, for example:
| Check frequency | Keywords per 'bot' |
| --- | --- |
| Every 2 hours | 25 |
| Every 12 hours | 150 |
| Every 24 hours | 300 |
The premium tool also ticks several extra boxes that you might be looking for in a rank tracker:
Track Google Local, Bing, and Yahoo search engines
Track device types (mobile/desktop/tablet) separately
Schedule email reports
Add notes/annotations by date
What's the catch?
SERP Robot is cheaper than the other options in this list, even with the premium version. So what's the catch? What is it that you lose by choosing the cheapest tool, compared to the others?
Well, SERP Robot can be a fine choice for keeping a basic ranking history of your main keywords. For some people, that will absolutely be enough. But yes, some of the fancier features are missing. In my view, here's what's missing (the trade off for getting a cheap tool).
The UI is outdated, and not very pretty to look at (this is likely to change in future)
The reporting is limited, and it lacks advanced features like a Data Studio integration
There are no additional features at all beyond rank tracking
It can't help you analyze metrics such as SOV (share of voice)
You can't get a SERP preview to see the results page
You can't save views (e.g. save a graph that shows only keywords with one tag)
How to choose your SERP tracking tool, and which features to look out for
In case you haven't made a decision yet, here's a few factors I'd recommend thinking about. These are the things that make the difference between each of the software options.
Update frequency
Every SERP tracking tool I've mentioned here offers daily updates. Anything less than that didn't make the cut. If you're shopping outside of this list, remember to check that.
You can also take a look and see whether the tools offer on-demand SERP refreshes / checks. Typically, you'll find that in more expensive tools (or tiers). For example, AccuRanker offers this, and ProRankTracker offers on-demand updates, but only from $89+.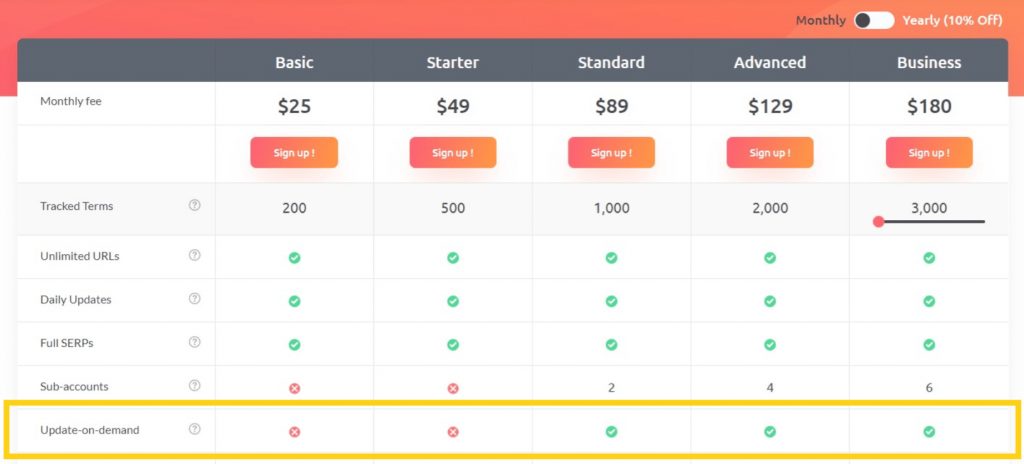 Pricing structure
Pay attention to how the pricing works with each tool. The chances are, whichever tool you pick, you'll use for a long time. You'll grow with it, and inevitably want to add more websites and/or keywords over time.
Some are straightforward. For example, AccuRanker just scales pricing along with the total keywords tracked:

On the other hand, ProRankTracker has several different tiers, with lots of advanced features locked into more expensive subscription plans.
Make sure you understand how the monthly bill will look in different scenarios!
Platforms monitored
Even though the vast majority of searches take place on Google still, you may want to track other search engines. Bing (see a list of Bing rank trackers here), Yahoo, DuckDuckGo & others all have notable search volumes. Not all rank trackers work outside of Google.
If you're working in countries like China or Russia, you may need to track local market leaders (Baidu or Yandex).
For example, AccuRanker supports all of these other than Amazon, and Semrush works with Google + Baidu. ProRankTracker is the only one that does track Amazon. If this matters to you, remember to take a look before buying.
Reporting functionality
It's great having ranking information at your own fingertips, but if you're not working alone, reporting is equally important.
Each tool offers different SEO reporting options, and some are easier to use, and easier to understand.
For example, Nightwatch.io lets you whip up a graph with any metrics you want, and has a 1-click PDF export. Really quick to use, and nice for delivering information in a format that is easy to understand.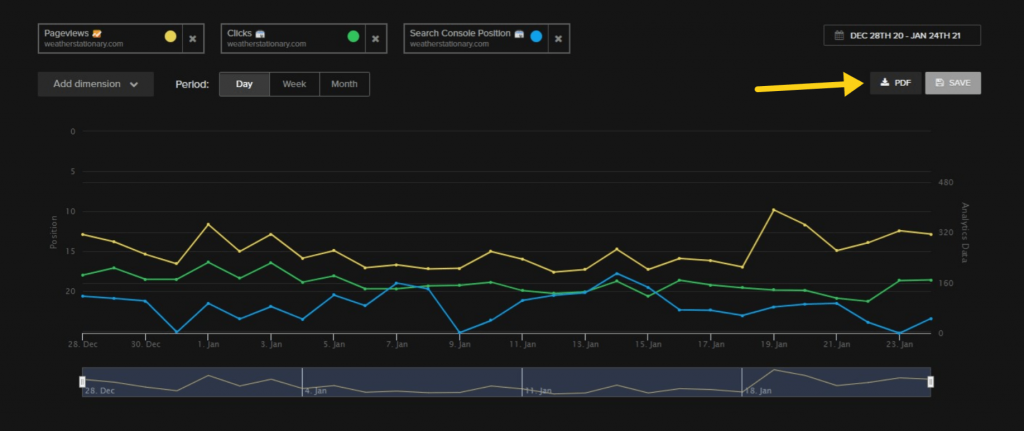 You should also check for reporting automation features, for example if you'd like to schedule a weekly email summary.
Think about integrations here too. For example, if you want to consolidate your KPIs into a marketing dashboard software like Google Data Studio or DashThis, you'll ideally want a native connector.
Tracking by locations & devices
Pretty much all trackers these days will let you separate mobile & desktop tracking. But when it comes to localized rank tracking, not all tools perform the same.
For examples from this list:
In Wincher, you can only choose the country (e.g. google co.uk or .com)
In Semrush, you can track locally at the country, city, or state level
In AccuRanker, you can get granular, right down to a ZIP code or street
Each tool will work differently, so if you're working with local SEO, it's worth taking a minute to check that before subscribing.