While SEO has grown and changed in many exciting ways in the last few years, keyword ranking remains one of the key measurables of success. When I'm getting ready to optimize a website's posts and pages, I want to know which will offer the greatest ROI. Knowing where a post ranks and for what keywords is the first thing to look at.
Knowing these factors will guide you on what to work on, what to aim for, what content to invest in, etc. Below I'll dive into what each of these rank trackers with API offer when it comes to keyword rank tracking and SEO tools in general.
12 best rank trackers with API
While each of these rank trackers has different features and approaches, one thing is consistent – using an API (application programming interface) to automate keyword position monitoring and reporting makes managing your (or your clients) site easier and more efficient.
For each of these tools, we will look at what they're best for, the specifics of the API, other ranking factors, and pricing.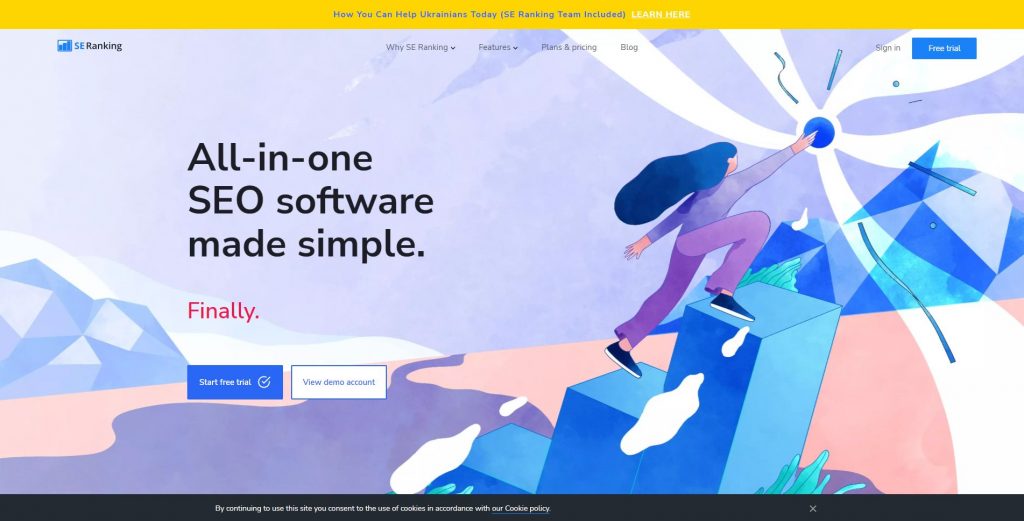 Best for: A low-cost all-in-one SEO software with ranking tracking API.
SE Ranking is one of the most popular full-suite SEO tools on the market, and it's not hard to see why. Accurate keyword rank tracking is only the beginning, as this tool has everything you need for successful SEO, all on one user-friendly platform.
Offers flexible, scaleable price points suited to small businesses and large agencies alike
Includes features like white labeling, marketing plan, social media management and more
Likely the only SEO tool you need, as it has so many useful features
Pricing: USD $31.30/month for an 'essential' subscription, USD $151.20/month for a business subscription with API.
2. Accuranker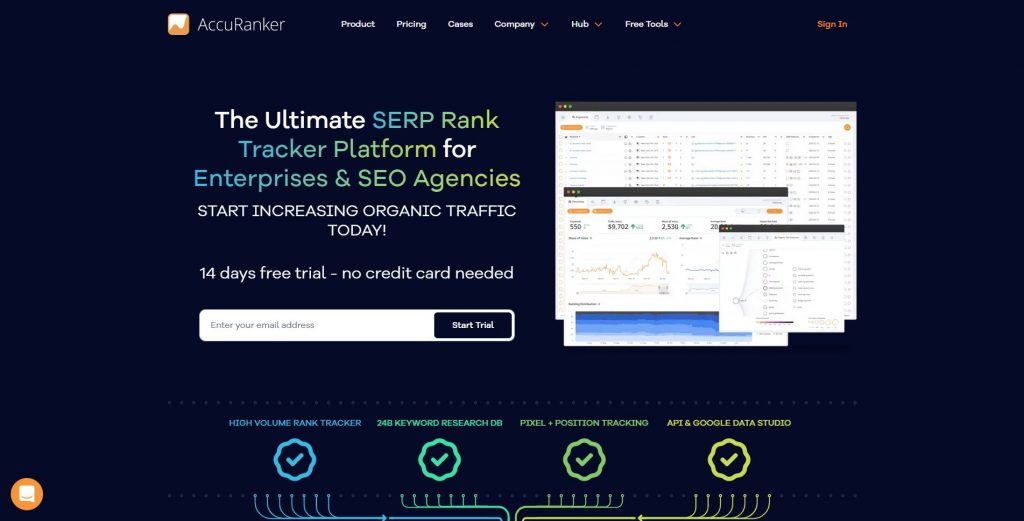 Best for: Larger teams who require advanced features, data integrations, and intuitive formatting.
Marketed as the 'ultimate' SERP rank tracker platform, this premium tool offers daily updates and a wealth of data that may just make it the best rank tracker with API. Here's why:
Accuranker is the fastest SERP checker and tracker
All data and metrics are available in REST API
Easy to identify your top competitors and their highest performing content
Intuitive technology makes it simple to work with and share data
Pricing: USD $129.00/month for 1000 keywords, with sliding scale prices for more keywords.
3. SEMRush Position Tracking API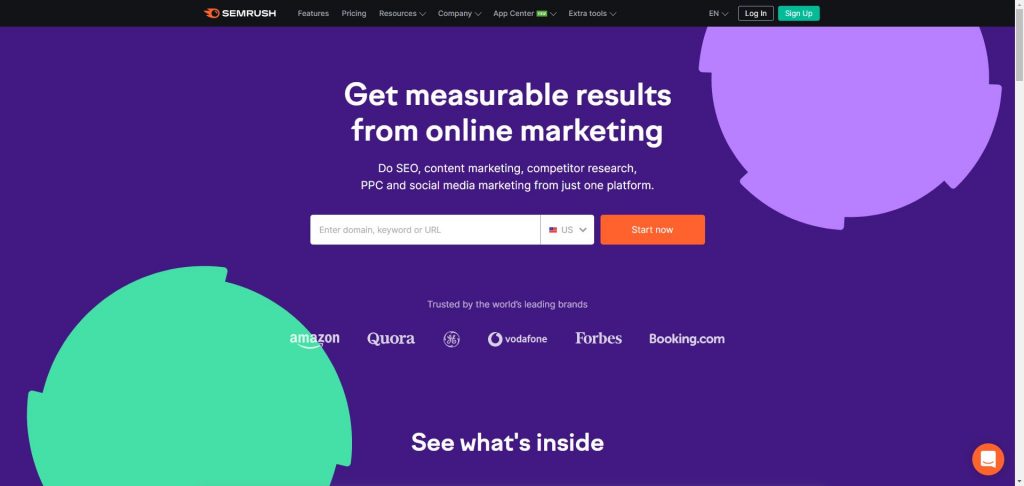 Best for: Marketers and small businesses looking for a powerful all-in-one tool.
This impressive rank tracker allows you to tackle SEO, competitor research, content marketing, PPC, and social media marketing, all from one platform. Here are some more details:
Includes a complete SEO toolkit, allowing for everything from tracking your SERP positions daily to full technical SEO audits
Offers actionable ideas and tips to grow your site
Allows you to track your competitors more fully, from keywords to ad campaigns
Pricing: USD $119.95/month as a starting rate for 'newbies', USD $229.95/month for more features, and USD $449.95/month for their premium subscription with API.
4. GeoRanker Rank Tracker API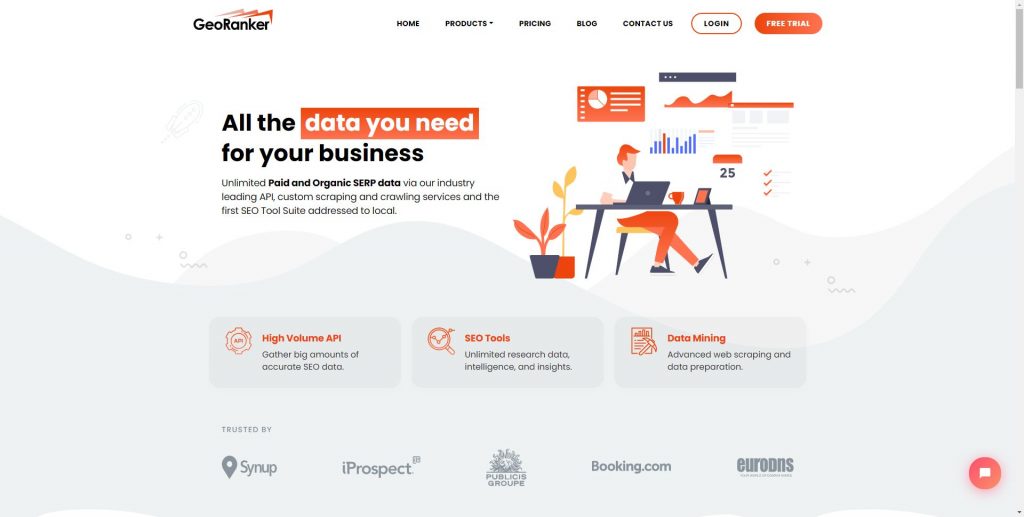 Best for: Local businesses or international organizations with localized content.
GeoRanker is an excellent rank tracking API for focussing on local SEO, as it allows you to view SERPs as a local user in over 50 000 locations worldwide. This API checks local keyword rankings for Google, Google Maps, Youtube, Naver, Bing, Yahoo, Baidu, and other search engines on both desktop and mobile.
Checks rankings in raw-HTML or parsed-JSON format, making it easy to export your ranking in different file extensions like excel, doc, etc.
Integrate SEO data into your own business intelligence tool or platform
Geotagging feature allows you to find locations from Google photos
Gain keyword data, advertisers data, and organic data in real-time
Pricing: USD $99.00/month for pro tool, USD $249.00/month for agencies, and USD $490.00 for enterprises.
5. SheerSEO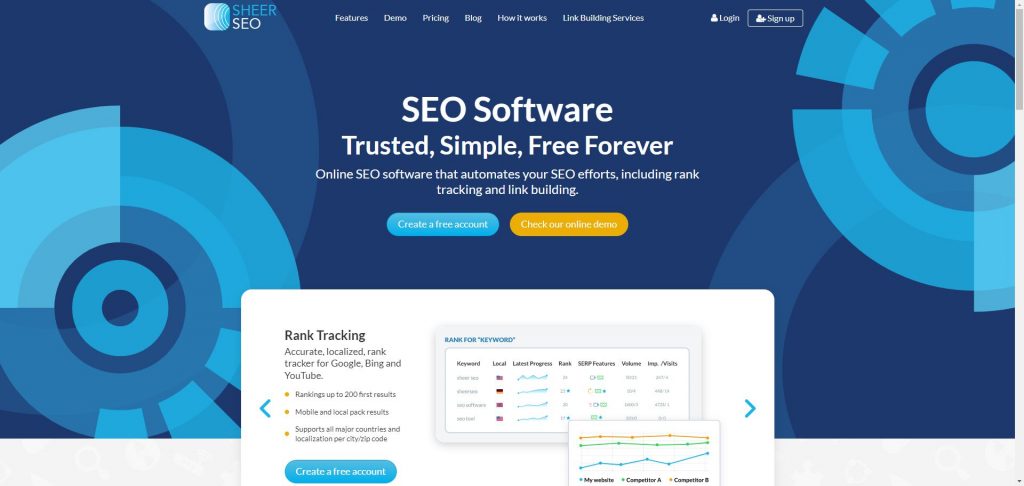 Best for: SEOs and agencies who are looking for a cost-effective tool with plenty of features and functionality.
This easy-to-use rank tracker has gone from strength to strength in recent years. With new features being added regularly and excellent customer support, this is a top-notch tool for almost anyone.
Includes robust SEO tools, including SEO audit and on-page analysis
White label reporting allows agencies to add branding to client reports
Actionable, well-presented data makes it simple to work on problems
Sends daily or weekly email digests on rank movement
Pricing: USD $10.00/month for standard subscriptions, scaled up to USD $40.00/month for all features and 400 keywords.
6. Rank Ranger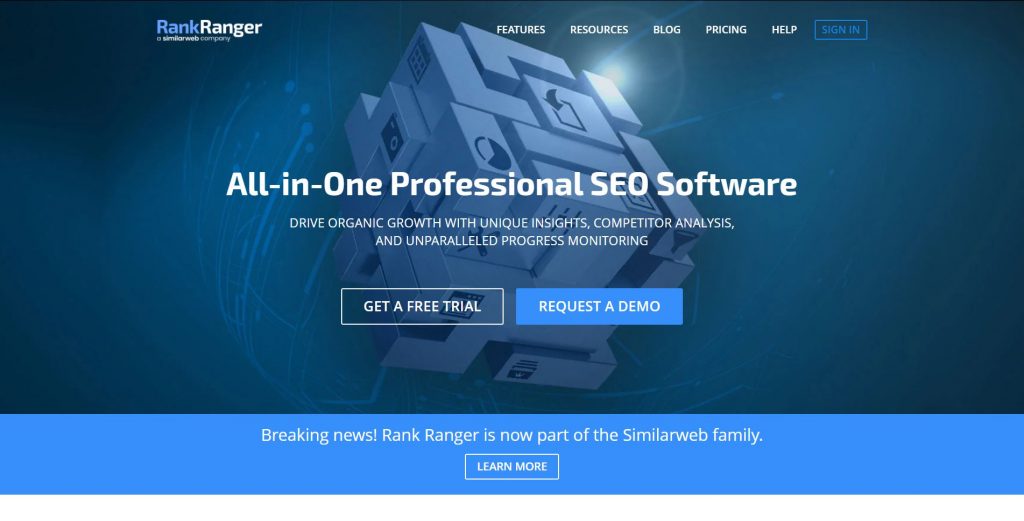 Best for: Businesses who are new to SEO and need less data, as well as for low-maintenance sites.
Rank Ranger is a good, dependable keyword tracking tool. It is less robust than other options, with fewer SEO features, but has all the basics and does a great job at tracking keyword performance. Note that only their pro and premium subscriptions include API.
Keyword data can be updated quickly after a bulk upload
Rank Rager provides valuable customer support
API tool allows easy integration of rank stats, average stats, competitor stats, top 50 and 100 rank, and more
Their reporting dashboard and custom report features are lacking, and you may require another tool for this
Pricing: USD $79.00/month for their lite SEO plan, but USD $699.00 for their pro plan that includes API.
7. Authority Labs Rank Tracking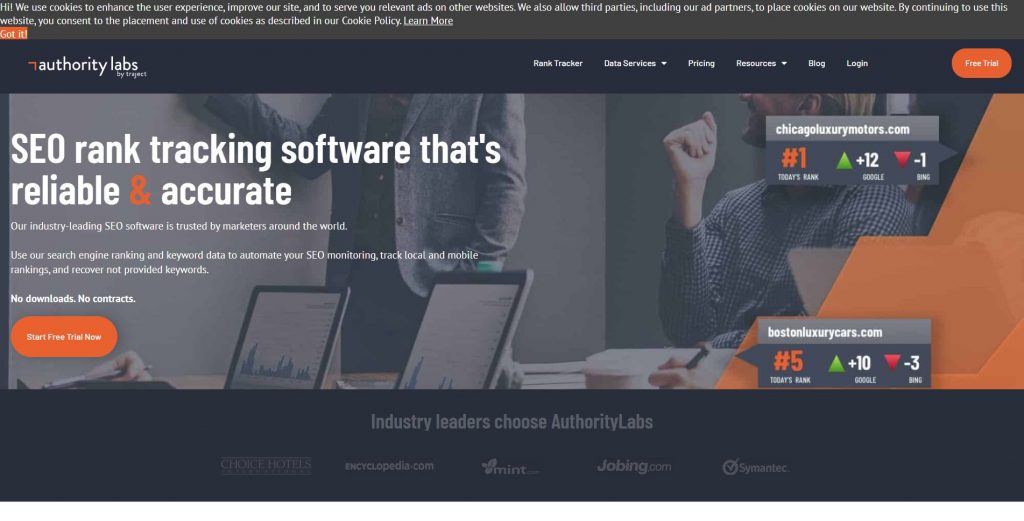 Best for: Small businesses looking for an affordable, simplistic keyword monitoring tool.
This rank tracker API allows you to automate keyword monitoring, get daily data, and dive into location-specific results. Authority Labs also has global rank tracking which supports domains from any country and language supported by major search engines.
Easy to compare progress from start of campaign, last month, week, etc.
Customer support is excellent, offering help with any questions and issues that arise
Simple interface is intuitive, but may not be suitable for clients
Tracks mobile and desktop rankings across multiple search engines, locally and nationally
Pricing: USD $49.00/month for their beginner subscription, USD $450.00/month for enterprise subscription with interface API access.
8. Nightwatch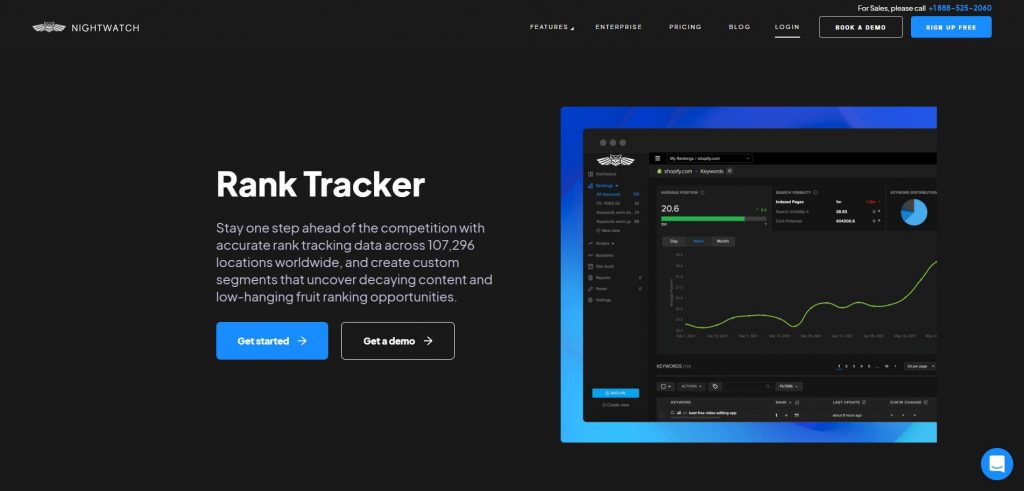 Best for: SEOs looking for a cheaper rank tracker with fewer bells and whistles.
Unlike other rank trackers, Nightwatch has a focus on data visualization, with a number of useful metrics to segment your data. UI and UX are excellent, so this is a great option if you're working with clients. Here are more details on this keyword rank checker API:
Dashboard is clean, intuitive, and attractive
Multiple data sources integrated into dashboard, including Ahrefs and Moz
API access allows backlink monitoring and site auditing
Actionable, automated reporting
Pricing: USD $32.00/month for starting subscription, USD $79.00/month for API access.
9. DataForSEO Rank Tracker API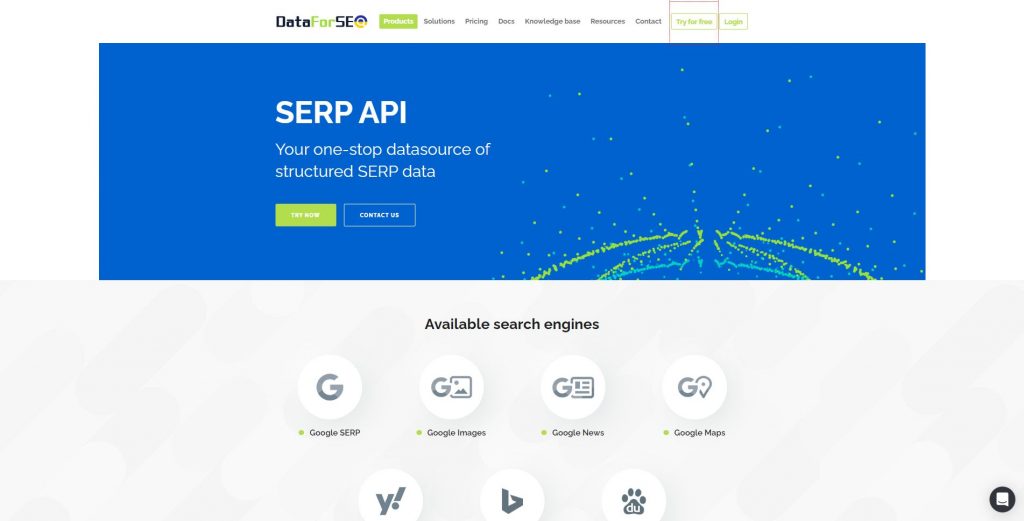 Best for: SEOs and marketing agencies looking for advanced, real-time SERP data.
With accurate, comprehensive real-time data, this search engine ranking API is a great choice for businesses and SEOs who are quick on their feet. The DataForSEO team also provide quick and helpful advice, so you never have to wait long to solve an issue or satisfy a curiosity.
Location-specific results allow you to see SERPs as your audience does
Results provided in both parsed JSON and raw HTML
Live mode of SERP API gives real-time results
Can collect data from Amazon and Google Shopping, ideal for merchants
Pricing: Pay-per-product offering, enabling you to choose exactly what features you want, without paying for those you don't.
10. SERPWoo Rankings API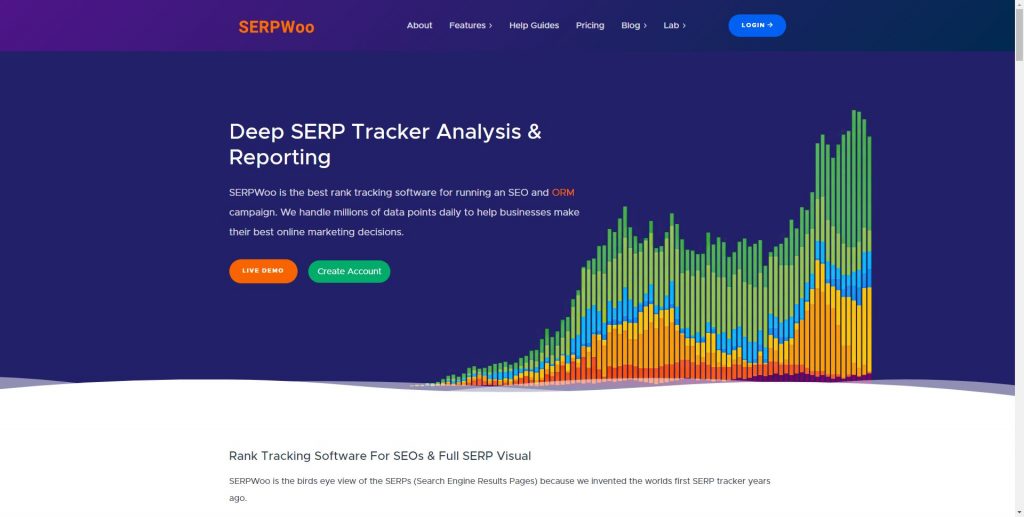 Best for: SEOs and businesses who want to reverse engineer their competitor's search terms.
SERPWoo doesn't simply provide static data. With this search engine rank tracker, you will get actionable data on what your competitors are ranking for and why.
Historical SERP archives feature allows you to see which keywords and competitor sites have longevity
ORM (online reputation tracking) feature enables you to track positive and negative URLs
REST API data can be integrated into Google Sheets and Google Data Studio
API and sample code come in 11 programming languages, ideal for developers
Pricing: USD $49.95/month for a bronze subscription, with silver, gold, and platinum options available, all including API.
11. Authoritas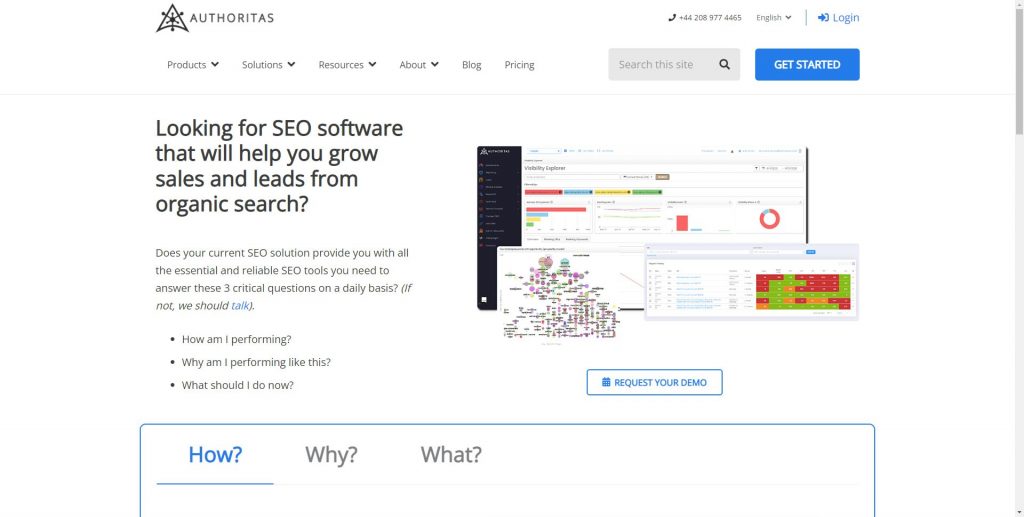 Best for: SEO agencies who want to monitor clients' and competitors' keyword rankings.
Authoritas' flexible rank checking schedule allows you to track keywords daily, weekly, bi-weekly, monthly, or on-demand. It also includes pre-built filters to evaluate keyword performance, making this rank tracker a great option for agencies who need to track the performance of multiple sites.
Authoritas team help with insights, ideas, and solutions
Includes SEO tools like rank tracker, backlink reporting, and sight crawler
Provide an agency package, as well as smaller options for businesses
Pricing: USD $99.00/month for beginning subscription, USD $399.00/month for business subscription with API, and USD $599.00/month for agency package.
12. Seobility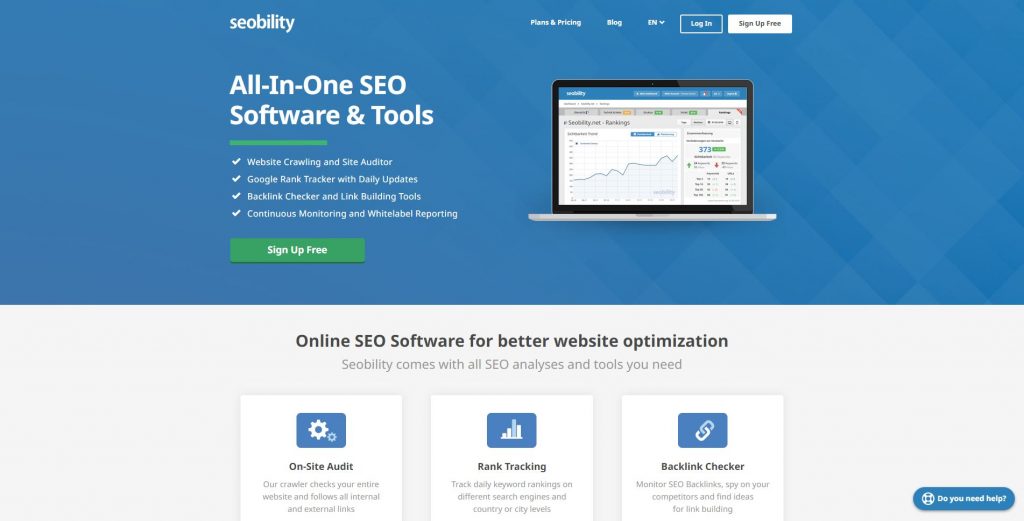 Best for: Beginners looking for a free tool to start with.
Seobility stands out from its competitors by offering a free tool for beginners, from which you can scale up. This full-suite tool is intuitive and easy to use, and the dashboard indicates what should be fixed on your site. These features make it ideal for beginners, and useful for pros.
Can rescan your site when you decide it's important to
Includes backlink analysis and link building tools
Desktop and mobile Google ranking data are updated daily
Pricing: Free beginner subscription, USD $50.00/month for a premium subscription, and USD $200.00/month for the agency option.