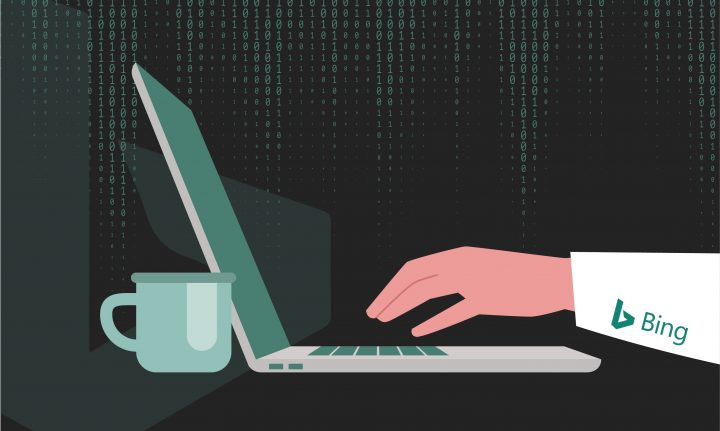 If you're reading this article, I probably don't need to waste your time explaining why tracking Bing rankings is a good idea. So let's just jump right in.
Not all SERP tracking tools have the functionality to track Bing in addition to Google. Here's 4 options that can. More exist, but why waste your time reading a big long list of tools? I'd conclude that these are the best options to fit a variety of circumstances/budgets.
2 are standalone rank trackers, that are intended only for rank tracking. 2 are multi-functional SEO toolsets, that have extra features like keyword research, site auditing, etc. – I'll separate these.
I'll also clarify a few popular SEO tools that can't track Bing rankings.
Let's get started! Click on any of the options below to skip down to that section. The price in brackets is the minimum monthly spend for each software.
SEO tools that CAN'T track Bing keyword positions
To help save you some time, here's 4 popular rank trackers that aren't capable of tracking rankings on Bing (at least currently).
Ahrefs
Semrush
Wincher
Mangools (SERPWatcher)
Ahrefs can do keyword research for multiple search engines, including Bing, but you can't set up Bing rank tracking. In Semrush, you can track Baidu, but not Bing. Wincher & Mangools can only track Google.
There's no need to go into further detail here; just know these tools cannot track Bing currently.
SEO Tools that CAN track Bing keyword positions
Many of us prefer to have a single tool that cover several SEO needs. Primarily site auditing, backlink analysis, keyword research. Let's start with software that fits this category, that also tracks Bing rankings.
SEO toolkits than can track Bing rankings
All of the following software have more functionality than just rank tracking, but, they do track Bing rankings too. Here's 2 options, in order of their starting price.
1. Nightwatch.io
Price from: $24 per month (annual plans) // $39 per month (monthly plans)
Also includes: site auditing & backlink analysis
Free trial? 7 days. Link to website 🔗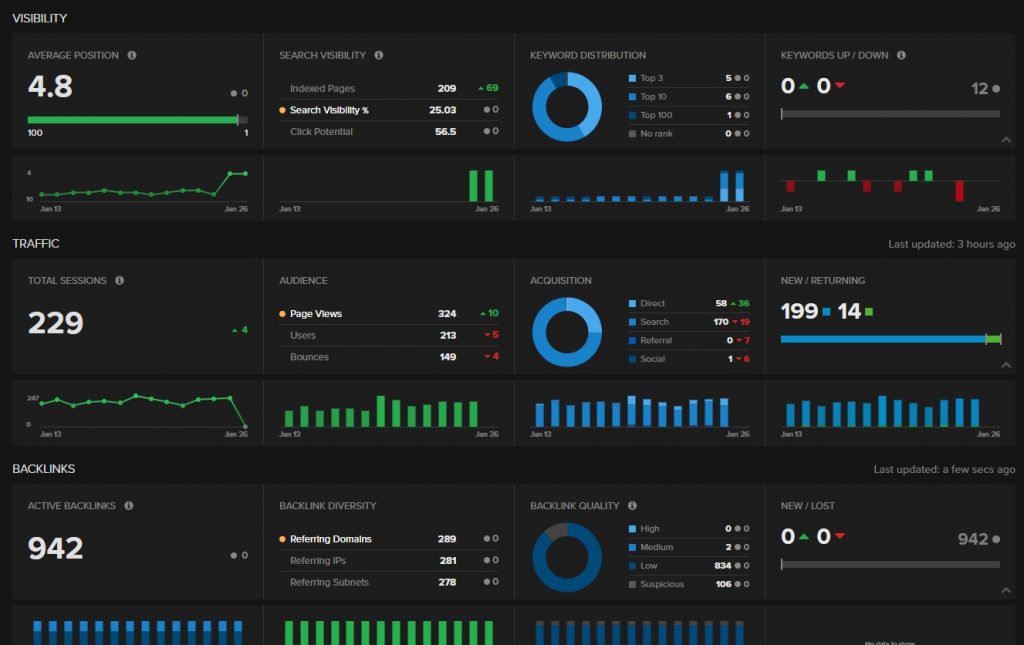 Nightwatch is a solid tool that I've recommended several times in the past at this price point (e.g. as a potential Ahrefs alternative). It's biggest drawback is the lack of keyword research function. Since we're talking about Bing rank tracking here though, that's no big deal.
Rank tracking & reporting are Nightwatch's biggest strengths.
Your position tracking updates daily, and you can get an easy overview of what went up & down, which is what most of us will be looking at each day.
The columns in this view are customizable, with defaults showing recent movements, day/week/month change, & search volumes.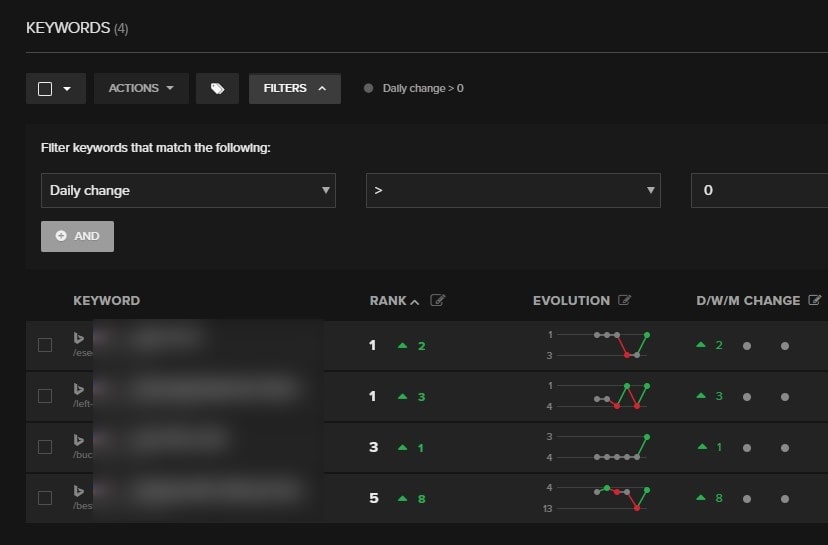 One thing you might find useful too is the Google Analytics & Google Search Console integrations. You can connect your accounts, and overlay GA/GSC data onto your ranking graphs. That way you can report on not only rankings, but also the correlating traffic gains.

This is already great, however I would love it if they'd take this a step further. Currently you can't segment the Google Analytics traffic to show only traffic for specific pages or subfolders, for example. There's also no way to overlay conversions yet to my knowledge. There's room to be even better, but for the price — you really can't complain.
Lastly, Nightwatch have a great reputation for being excellent in local rank tracking. Whereas some tools won't allow you to track locations any more specific than a country level, Nightwatch will allow you to choose a city, region or district (and actually deliver accurate rankings).
Who should choose Nightwatch?
Nightwatch is a good choice if you:
Need multiple SEO features alongside rank tracking (but not keyword research)
Need to track Bing rankings
Would prefer to keep budgets on the lower side
Need accurate local tracking
Are an agency that does a lot of white-label reports
Plans & pricing
You can find their pricing page here, but to save you a click, here's an overview accurate as of mid-2021. Annual prices are per month when paid up front. The annual discounts are pretty attractive here (40%).
| | | | | |
| --- | --- | --- | --- | --- |
| Plan | # of Keywords | # of Websites | Price (monthly) | Price (annual) |
| Starter | 500 | 50 | $39 | $24 |
| Optimize | 1,000 | 200 | $99 | $59 |
| Agency | 5,000 | 1,000 | $369 | $221 |
They also offer custom & enterprise plans.
I always found it odd how you're allowed such a high number of websites, with relatively few keywords. A lot of agencies could benefit from a custom price in-between Optimize & Agency; 200 websites is more than most will ever need, but 1,000 keywords may not be.
Nightwatch.io offers a 7-day free trial. Link to website 🔗
2. SE Ranking
Price from: $25 per month (annual plans) // $32 per month (monthly plans)
Also includes: site audits, backlink analysis, keyword research, competitor research, social media features
Free trial? 14 days. Link to website 🔗
Since we're here to talk about (Bing) rank tracking, I won't go into any detail, but SE Ranking offer a ton of different functions. They remind me of a cheaper version of Semrush, in that they're trying to be almost an all-in-one marketing platform, never mind just an all-in-one SEO tool.
SE Ranking is the only tool in this list that I'm testing out for the first time for the purposes of writing this article. I won't claim to be an expert on it, but I can share my first impressions, and their main features/selling points.
I was glad to see that SE Ranking does integrate with Google Analytics and Search Console. However, so far it hasn't proved much use to me. It's nice to be able to pull all that data in one place, but unlike others (Nightwatch, AccuRanker), it doesn't let you actually overlay your rankings data over traffic. As far as I understand, it literally just pulls GA & GSC data into another place. No added value beyond that, so definitely room for improvement there.
That's the only real negative thing I have to say! Here's some things I liked:
1. Shareable URLs to share data with guests
You can actually add account users to the dashboard too (more on that in a sec), but you can also share data with people without needing them to login. You can generate a URL and allow a client or colleague to check in anytime on an auto-updating dashboard.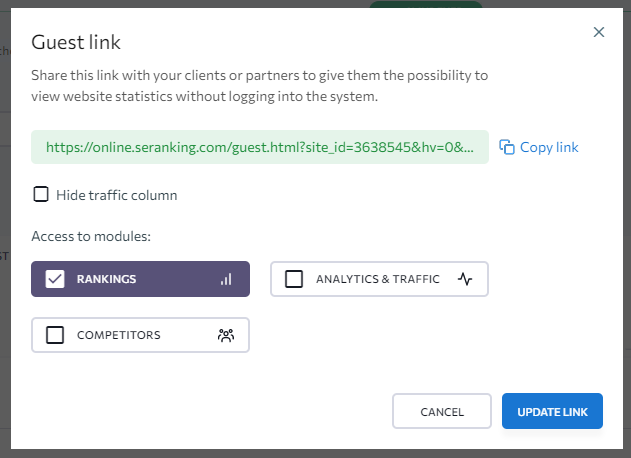 2. User permissions are pretty advanced
On a similar note to the above – you can invite a colleague, or a client, and control what they see in great detail: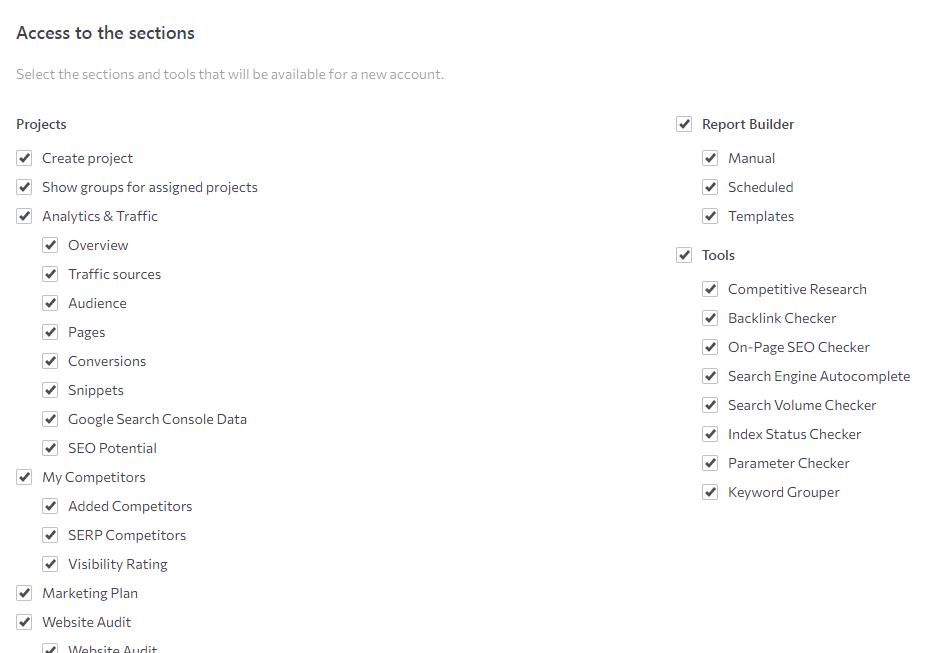 This is something previously only seen in more expensive tools, so a big thumb up there.
3. Reporting is great
The report builder tool is great. This is another thing that reminds me of Semrush, in that you can drag and drop different blocks to add, and customize the report. There are also text areas for you to add analysis, which I really like. It's always been a pet peeve to see SEOs just send an auto-generated report to a client who doesn't know what it means or what's been happening.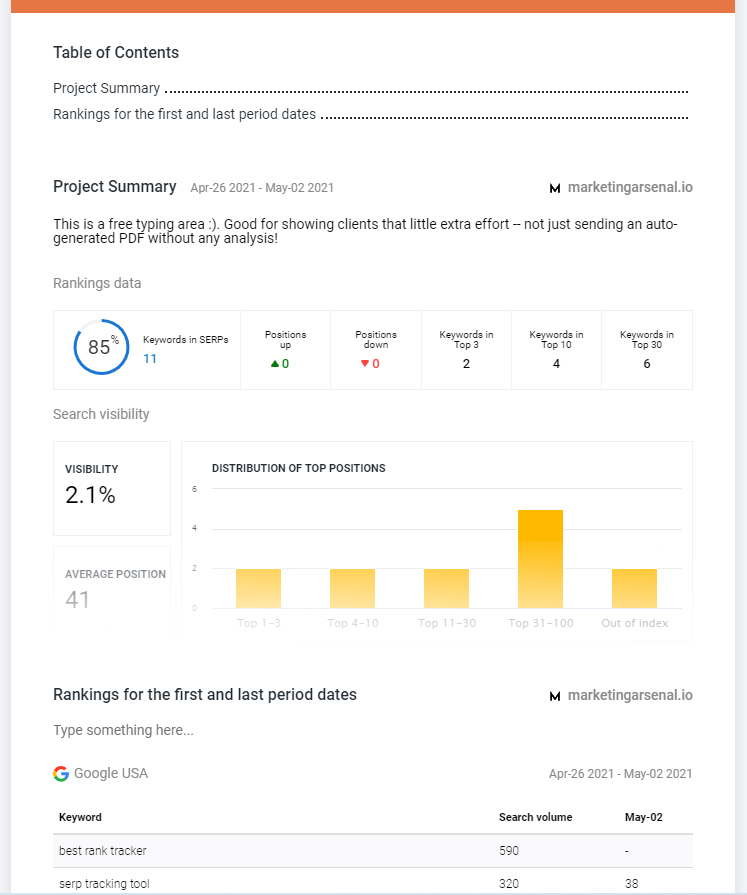 The automation frequencies are exactly what you would expect — simply every day, week or month. Does the job!
4. On-demand ranking updates
This is becoming more & more popular, but not among affordable tools. Being able to manually re-check rankings at this price point is great to see.

Who should choose SE Ranking?
I'm impressed with SE Ranking. It has a few other flaws I've found which aren't relevant here (e.g. keyword research data), but on the whole, and for the money, it's been great.
There's a pretty comprehensive feature set, including a good rank tracker and reporting. It's a good choice if you:
Need several SEO features in addition to rank tracking
Want to add users to your account with advanced permission controls
Have a limited budget, and/or need a scalable pricing plan
Want a little more control over the content of your reports
Someday I'll do a full write-up comparing Nightwatch with SE Ranking. These are both solid tools, though.
Plans & pricing
SE Ranking have a pretty wide range of different pricing options. I'll display a few examples here to help you compare, all based on having daily rank tracking updates.
Note- these prices are converted to USD, and rounded to the nearest $.
| | | | |
| --- | --- | --- | --- |
| Plan | # of Keywords | Price (monthly) | Price (annual) |
| Optimum | 250 | $32 | $25 |
| Optimum | 500 | $44 | $35 |
| Optimum | 750 | $57 | $44 |
| Plus | 1,000 | $73 | $58 |
| Plus | 1,750 | $123 | $98 |
| Enterprise | 2,500 | $152 | $123 |
| Enterprise | 5,000 | $287 | $229 |
| Enterprise | 10,000 | $451 | $360 |
The annual discount is ~20%. There are also several pricing options in between (e.g. pay 6 months up front = 10% off). See their pricing page.
SE Ranking offer a 14-day free trial. Link to website 🔗
Standalone tools that track Bing rankings
If you just want rank tracking & nothing else, here's a couple of options.
I'm only going to mention two tools here, but I should remind you that you can still opt for the multi-feature toolkits above, even if you intend to ignore other functionality.
They are generally no more expensive than a tool that only tracks rankings. There's a few features missing compared to AccuRanker and ProRankTracker, but all-in-all they still do the job.
Here we have AccuRanker and ProRankTracker. In a nutshell, AccuRanker is better, but it's also more complex & more expensive. ProRankTracker scales well to any budget, but the advanced features are locked away in higher pricing tiers.
3. AccuRanker
Price from: €89 per month (annual plans) // €99 per month (monthly plans)
Free trial? 14 days. Link to website 🔗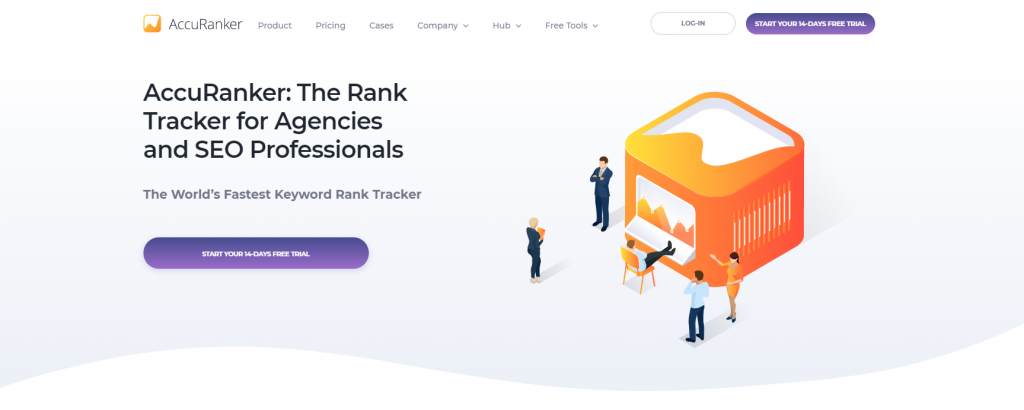 AccuRanker is on the premium end of the rank tracking market. It offers a ton of functionality, so there's no surprise that it tracks Bing (as well as Google, Youtube, Yandex, & Baidu). For some, the number of features might be unnecessary, and it might make the tool feel a little overwhelming – so bear that in mind.
But if you're just looking for the best rank tracker in terms of accuracy, features & reporting, then AccuRanker is a great bet.
Here's some great AccuRanker features that you don't see in a lot of other tools:
On-demand ranking updates
Integrate with Google Analytics to correlate rankings to clicks/traffic
Tracks Bing, Baidu, Yandex, and Youtube as well as Google
Local rankings including GMB, as precise as a ZIP code or street
Integrates with Google Data Studio
Import historical data from another tool
Who should choose AccuRanker?
AccuRanker is a fairly advanced tool, which may be simply unnecessary (or even overwhelming) for some people. That said, it's an excellent choice if you:
Put substantial budget and resources into SEO
Would like to track Bing rankings
Don't mind navigating a (slightly) more complex tool
Need to correlate rankings to traffic & conversions
Plans & pricing
AccuRanker has a fairly high starting price of €99 per month for 1,000 keywords. Thereafter, it scales up linearly. Here's an overview with some examples to help compare it to the other tools in this list. Here's a link to their pricing page.
| | | |
| --- | --- | --- |
| Number of keywords | Price (monthly) | Price (annual) |
| 1,000 | €99 | €89 |
| 2,000 | €189 | €169 |
| 5,000 | €389 | €349 |
| 10,000 | €599 | €539 |
The annual discount is ~10%.
AccuRanker offers a 14-day free trial. Link to website 🔗
4. ProRankTracker
Price from: $11 per month (annual plans) // $13.50 per month (monthly plans) for 100 keywords
Free trial? 7 days. Link to website 🔗

ProRankTracker has a 'premium' offering within the rank tracking market too. Their pricing comes in just a little lower than AccuRanker, however they have a much lower entry point, and generally a wider range of plans on offer.
They have the elusive 'rankings on-demand' functionality which isn't found in most tools, starting from the $89+ plan at least. ProRankTracker seem to focus a lot on agencies and reporting, having some unique features for that.
ProRankTracker customers get access to the MyRank app, a white label mobile app that lets clients check rankings. That's pretty cool, and I haven't seen it in any other rank tracker. In addition, you can generate a shareable URL that auto-updates for your reports, giving clients access to recent data at their leisure. I can see how those things will cut down on communications and reporting time.
Naturally, since they've made it into this list, it can track Bing positions too. Here's some other highlights:
As mentioned, excellent white label reporting
Sub-accounts for clients to log in and access data
Tracking includes Amazon rankings (and YouTube)
Who should choose ProRankTracker?
Similarly to AccuRanker, this is a more complex tool, with a UI that might feel overwhelming for some people. I'd say it has a slight edge on agency reporting & client access, and is marginally cheaper. It's a good choice if you:
Want to offer as much access as possible to clients for visibility & reporting
Have a decent budget, but prefer to spend a little less than AccuRanker
Need to track Bing rankings
Don't mind a more complex tool
Plans & pricing
Pricing for ProRankTracker isn't quite as straightforward & linear as AccuRanker, but again, I'll provide some examples to help you compare. You can also visit their pricing page.
| | | | |
| --- | --- | --- | --- |
| Plan | # of Keywords | Price (monthly) | Price (annual) |
| Starter | 100 | $13.50 | $11 |
| Starter | 250 | $29 | $23 |
| Starter | 500 | $49 | $39 |
| Pro | 1,000 | $89 | $71 |
| Pro | 1,500 | $109 | $87 |
| Pro | 2,000 | $129 | $103 |
| Agency | 3,000 | $180 | $144 |
| Agency | 5,000 | $275 | $220 |
| Agency | 10,000 | $420 | $336 |
The annual discount is ~20%.
ProRankTracker offer a 7-day free trial. Link to website 🔗