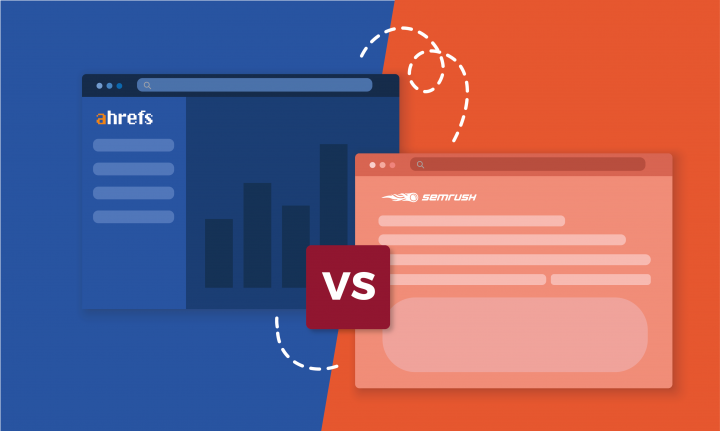 Figuring out which tool is right for you
There's a bunch of articles out there comparing Ahrefs vs Semrush. Generally, they don't do a good job of actually helping you to decide which tool is best for your situation. They are often no longer accurate, and miss key points.
In this article, I'll do my best to provide an accurate, up to date, and objective view of when it makes sense to buy one of these tools over the other. For full transparency, there are affiliate links in this article. As always, that doesn't affect my views in any way.
Semrush does more than just SEO
If you're comparing Ahrefs vs Semrush for SEO purposes, then keep reading. There are definitely cases where Ahrefs wins. If you would prefer an all-in-one tool to manage aspects of your SEO, social media & PPC channels in one place, then let me save you some time. Go ahead and get a trial of Semrush.
Semrush has evolved and repositioned to become an 'online visibility platform', which now has a growing feature set for several channels.
Before we dive any deeper, here's a tl;dr. These are some common reasons & scenarios in which each tool is likely to be the better choice:
Reasons to choose Ahrefs
🥇 For high volumes of keyword research & content planning tasks

🏆 For working across multiple search engines (e.g. YouTube, Amazon, Bing)

🎉 It's slightly cheaper to use, especially when paying for multiple users
Ahrefs offer a 7 days for $7 trial. Link to website 🔗
Reasons to choose Semrush
🥇 For managing multiple channels (SEO, social media, PPC) in one place

🏆 For consultants & agencies, reporting & rank tracking features are better

🎉 For beginners who value user-friendly UI and more direction
Semrush offer a 7 day trial of their premium plans. Link to website 🔗
With that out of the way, we'll begin with an overview, followed by a case-by-case comparison for each use case:
Be sure to use the links to skip ahead if you're looking for something specific! ☝
Let's get started.
Introducing Ahrefs & Semrush
In case you aren't already acquainted with the subjects of this article, here's a quick intro.
Ahrefs
Ahrefs is an all-in-one SEO toolset to help you rank higher and get more traffic. They are a successful independent bootstrapped company, with impressive growth over the last 10 years.
Here's some things worth knowing about their software:
Although it isn't advertised on the pricing page, Ahrefs do have a form of free plan. Using Ahrefs Webmaster Tools will get you limited free access to Site Explorer & Site Audit.
Their premium plans are priced at $99, $179, $399 and $999 respectively.
There isn't a completely free trial, but you can try it for 7 days for $7.
SEO remains their key focus. Limited PPC data is available, but it's not a priority.
And in case you were wondering, it's pronounced h-refs, not a-h-refs.

Semrush
After starting as a small SEO toolkit in 2008, Semrush have grown rapidly. In 2020, they went through a rebranding and repositioning. They are now an 'online visibility management platform'.
Here's some things worth knowing about their software:
The toolkit covers not only SEO, but also PPC, social media, digital PR, and more
There is a (limited) free version available which isn't widely advertised on the site
There is a free trial available for 7 days for premium plans
Premium plans are priced at $119, $229, $449, with larger plans on request
And since I did it for Ahrefs… It's pronounced as one word: Semrush, not S-E-M-rush.

As we go through each comparison, I won't waste your time by listing out everything each feature or tool can do. Nor will I explain how to use them. I'll identify the common ground, then highlight any notable differences. That might be functions, ease-of-use, UI design, or whatever else is relevant.
Which is better for keyword research 🔎
The art of keyword research. Arguably one of the most important aspects of any SEO & content strategy. If you don't find the right keywords in the first place, it doesn't matter how good your on-page & link building is. Hitting the right levels of competition, the right intent, and enough volume will lead to results.
Ahrefs and Semrush have excellent features for keyword research. They can both:
Check search volumes per country for different queries
Find out which search terms your competitors rank for & get traffic from
Help you find low competition keyword ideas from a broad topic
Assess how difficult a search term should be to rank for
Now that we know they satisfy the basics of keyword research, let's explore the differences.
Ahrefs keyword research
When we consider only organic search, overall, you get just the right amount of data per keyword in Ahrefs Keyword Explorer. It's useful, without being overwhelming.

At a glance, you'll get:
1. An estimate of keyword difficulty. You get this in Semrush too, but the difference here is that Ahrefs estimate how many backlinks you'll need to rank. It's not always accurate, but it's a nice indication.
2. 'Return rate'. This metric tells you how many times on average a person will repeat that search within 30 days. It can't be found in Semrush.
3. How many clicks there are in relation to search volume. This is relevant because not all searches turn into a click. If you search 'how old is the Queen', you'll get your answer in a featured snippet without clicking.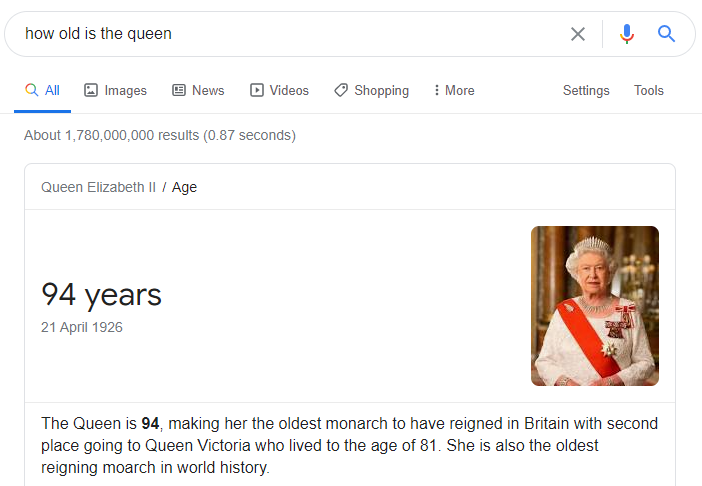 The data you get from Ahrefs is structured well, and it makes it easy to digest the most important information at-a-glance. The UI is intuitive too; wherever you want to go next is typically no more than 1 or 2 clicks away. For example, to check out the backlinks or the pages or domain in the current SERPs.

Lastly, it's worth noting two more things:
1. Ahrefs supports keyword research for other search engines like Bing, YouTube, Yahoo and Amazon. Semrush currently only supports Google. The majority of users (me included) mostly only research for Google, but it could be a factor for you.
2. Ahrefs CPC data isn't particularly reliable. It can be nice to have a general indication, but Ahrefs' own statement on this is: "We display them for reference purposes only, so please take them with a pinch of salt".
Semrush keyword research
In the Semrush Keyword Magic tool, you'll mostly find the same information. It just isn't displayed quite as nicely, and sometimes requires an extra click or two to find.
Regarding the total volume of data, I'd say you do get just as much from Semrush. Where things like return rate or number of clicks are missing, they have other features that Ahrefs doesn't. Seeing the trend over time for average monthly searches, for example, is valuable.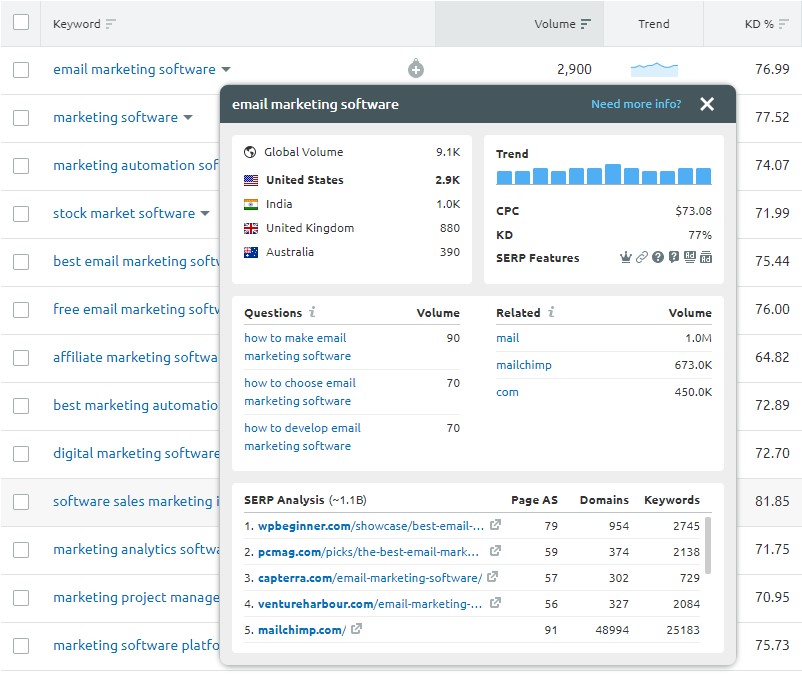 In the past I'd have said that the Semrush UI is quite cluttered, but they've done a good job on cleaning it up and making it easier to digest. It still has a little catching up to do compared with Ahrefs in my opinion, but for most people it'll simply be a case of getting used to one or the other.
Note: Semrush have been investing in their keyword difficulty algorithm. Read more about that, and how to use keyword difficulty here.
PPC keyword research in Semrush
I don't need to dive too deep here to say that Semrush are superior when it comes to PPC data. As I mentioned already, Ahrefs aren't trying to compete here. There are a few noteworthy things to highlight on that topic, though.
1. It pulls through ad copy, so you can analyze competitor headlines & selling points quickly without leaving Semrush.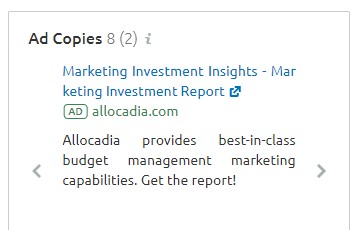 2. Estimated CPC data is more accurate. I spot checked a few software related keywords at random, and compared it to what Google's Keyword Planner reports. It was generally pretty accurate:



By the time you convert the Keyword Planner data into USD and take an average, it's pretty much on the money. I did want to include one outlier though: 'email marketing software'.

The supposed average here is almost double what the Keyword Planner reports for the 'high range'. Both exact match, both in the US. I'm not sure what the explanation for this is; Semrush tell me that all CPC data is updated at minimum once every 30 days, with higher volume keywords being updated more frequently. I suppose the conclusion there is that, while it seems to be 90% reliable, double check in another source if you want complete peace of mind.
And the winner is… 🥁
In many circumstances, there's not much between these two tools. While in others, it's completely a no-brainer. For example, if you need keyword research for Bing & YouTube, Ahrefs is your only option. If you want more detailed PPC research, Semrush is the way to go. Overall though, here's the short version:
For only organic search data, Ahrefs is better for keyword research.
For keyword research across both organic and paid search, Semrush is better.
Which is better for rank tracking 📈
Rank tracking! The fun part of SEO. Watching your positions increase over time (hopefully) as a result of your hard work.
Ahrefs & Semrush have quite similar rank tracking functions. Like all decent SERP tracking tools, they can both:
Track mobile rankings on all pricing plans
Use tags, search volumes, countries & other filters to analyze rankings
Allow the same number of keywords to be tracked per each plan
Alert you of ranking changes
Record historical rankings
Compare your positions against competing websites
but…
Semrush is better for rank tracking
Semrush has the edge here. There's a few reasons why Semrush's rank tracker is better, but for most people, only one of them is a big deal.
Their update frequency is much faster. With Ahrefs, the Lite plan offers ranking updates every 7 days, every 5 days on standard, and every 3 days on the top tiers. Semrush gives you daily updates right from the entry level package.
For me, having updates only every 5 days via the Standard plan doesn't remove the need for having a standalone rank tracking tool separately, which is a pain point.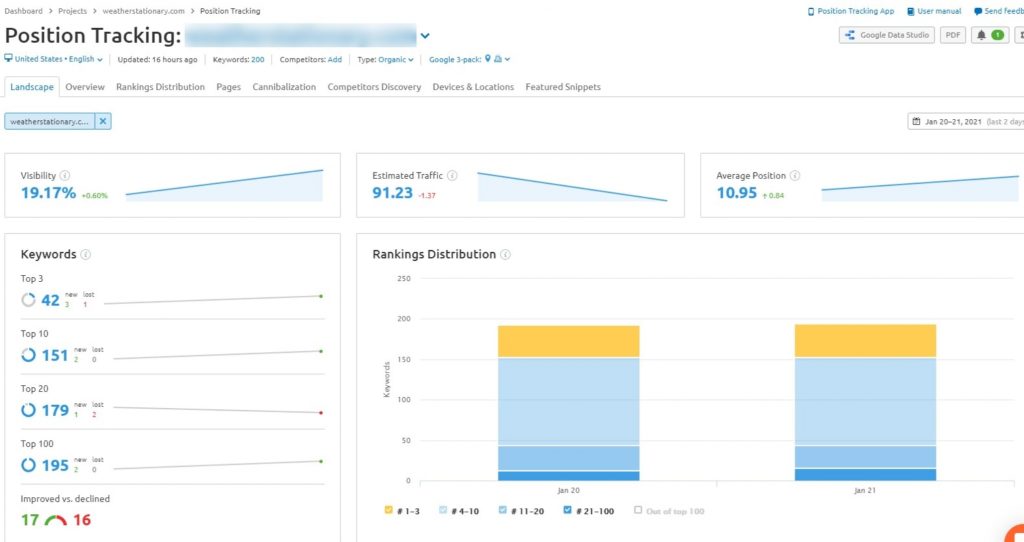 One other potential advantage is being able to import historical rankings from another tool. The catch here, though, is that 1) it's only available for Guru & Business annual plans, and 2) you still have to email your .csv to their support team. It isn't a native feature as such.
Which is better for site auditing 🔧
After all of your efforts in creating great content and building backlinks, the last thing you want is to be held back by technical SEO errors.
Ahrefs and Semrush both offer technical site auditing tools, but Semrush has the edge here again.
Otherwise, much of the functionality here is still similar. To save going through it all twice, here are some common things that both tools do well:
Flag up meta tags issues (e.g. page title too short, missing meta descriptions)
Highlight duplicate content
Identify orphan pages & other internal link issues
Identify slow loading pages
Find redirects, 404s & other status codes
Categorize issues into errors / warnings / notices to determine importance
Both tools also offer a way to exclude certain checks from the Health Score, which is important. If there's an issue that you either can't fix or don't want to for some reason, you can prevent it from dragging Health Score percentage down. This is relevant for errors in Ahrefs, and for errors & warnings in Semrush.
As of June 2021, both tools have now added Core Web Vitals to their site auditing coverage too.
Let's see what separates them.
Semrush site auditing
The Semrush site audit tool is very good at highlighting & explaining on-page improvements. Especially for beginners who will appreciate the extra direction.
These could be related to keyword density (you've used it too much or too little), that your readability isn't very good, or that there's something you could try to grab the featured snippet.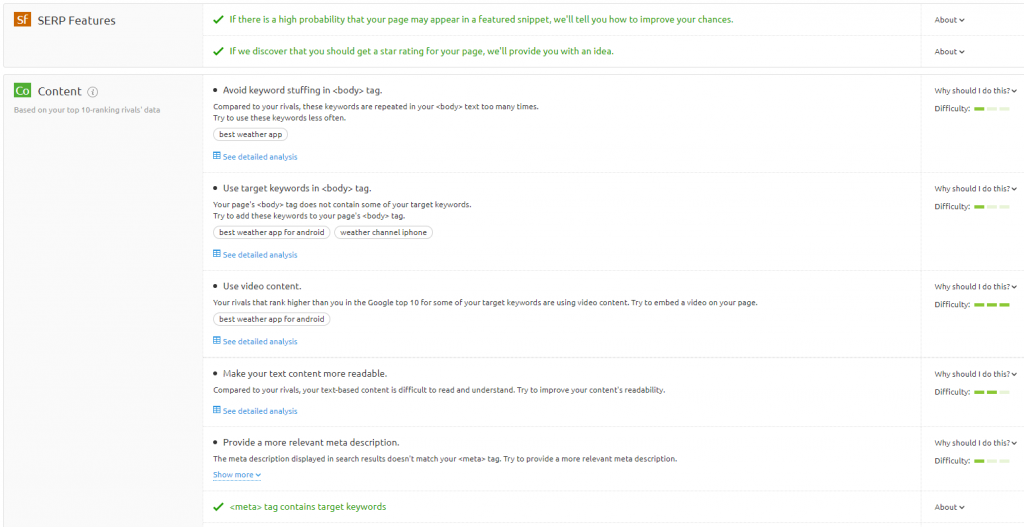 Each issue has a helpful tooltip explain what it means, which is great (but Ahrefs has it too).
Some older comparisons between these tools suggest that Ahrefs is better for understanding crawl depth. That is no longer the case. In the internal linking report, there's a very nicely displayed chart showing crawl depth. You can click through to identify the URLs easily.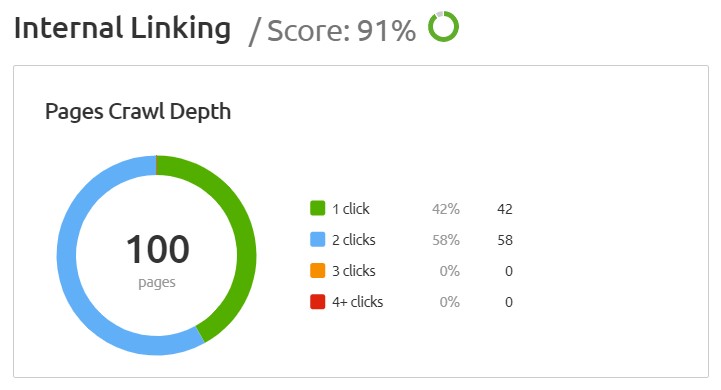 The UI for comparing crawls is nice too. It's helpful for reporting, and monitoring progress over time on fixing issues.

And lastly, as I mentioned, in Semrush you can now check Core Web Vitals. This is important for user experience in general, and of course Google have confirmed that CWV will become a ranking factor in May 2021. Adding this has widened the margin by which Semrush are the winner for me in this category.
It's not possible to check CWV in Ahrefs right now, however, I don't deem that a huge problem. It's a nice-to-have for Semrush that it's all in the same place as the rest of your technical SEO checks… but in reality, simply using something like PageSpeed Insights for free separately isn't the end of the world. If Ahrefs otherwise seems like a better fit, I wouldn't let this one specific feature sway my decision personally.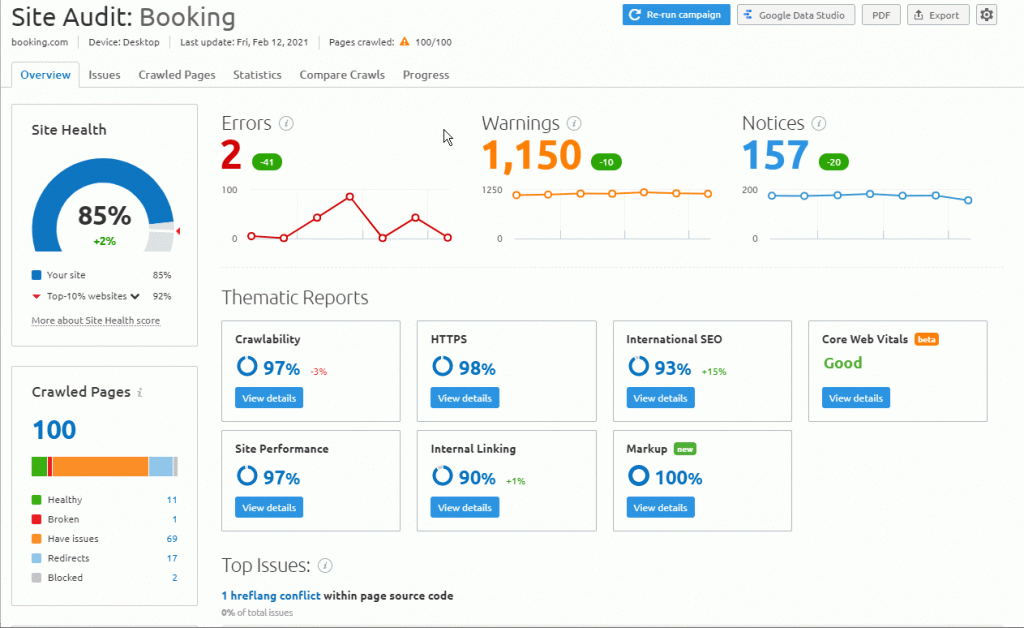 Ahrefs site auditing
Now, continuing on from the Semrush 'compare crawls' feature… The closest thing to that in Ahrefs is an overview of all recent crawls. It's nice to have, but I prefer the at-a-glance view of new & fixed issues that Semrush has.

Since the information available is so similar, design and user experience become extra important in separating the tools. Ahrefs doesn't display information for each issue quite as nicely as Semrush does.
After clicking on an issue, you get an explanation (which is very helpful), then have to click through again to get affected URLs. Then, you land on a screen that has an awkward horizontal scroll bar and a bunch of (sometimes) unnecessary columns by default.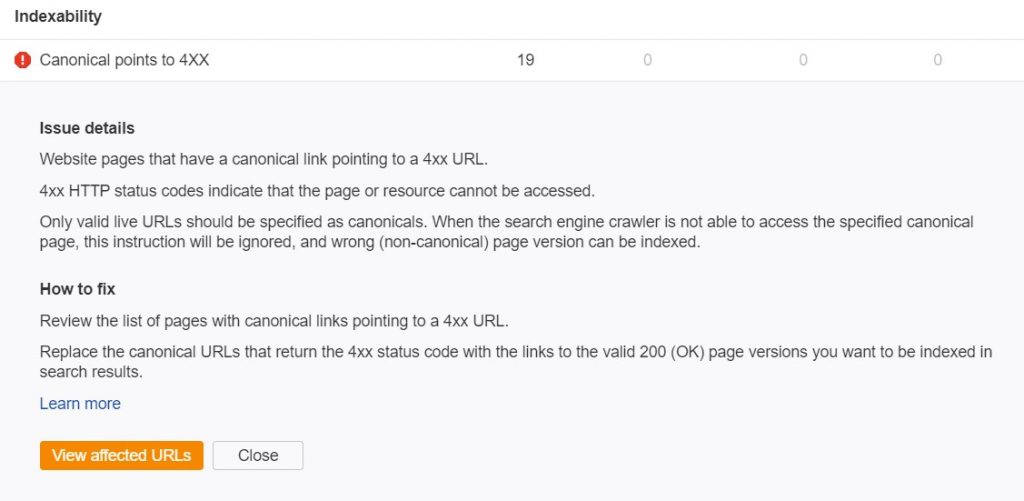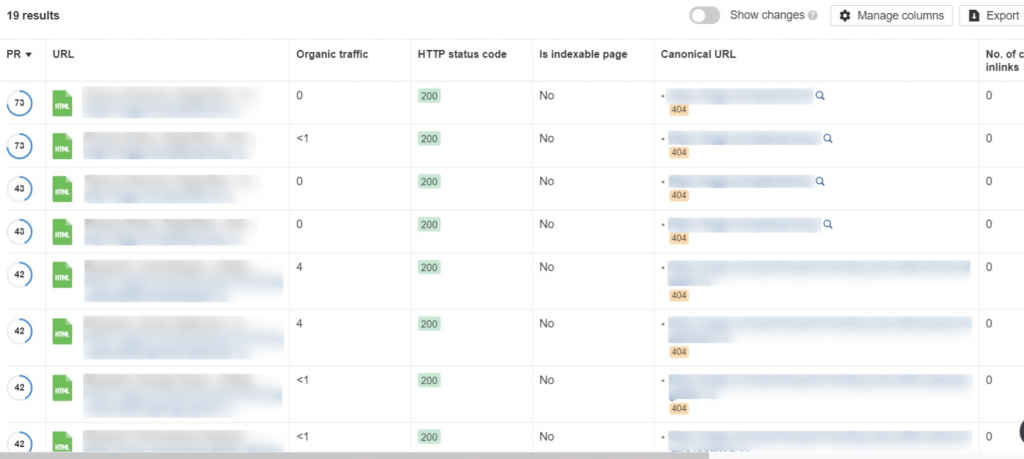 At the end of the day, it's not terrible by any means, and there's super useful information there. It's just not quite as nice to use as Semrush for this case.
Two last points to wrap this section up:
1. Ahrefs can crawl Javascript-generated content, while Semrush can't. This has been a unique advantage Ahrefs have had since 2018. In a nutshell, it just means that can crawl certain content & links that would otherwise be missed. Here's a more detailed explanation.
2. Ahrefs site audits are slower. Other than with very small sites, you'll want to get the audit started, then return later for the results. Not a major problem most of the time, but worth noting.
And the winner is… 🥁
Based on features alone, it's tough to call. But for small improvements in usability and interface, I'd say Semrush is the better tool for site audits, in most cases.
Which is better for backlink analysis 🔗
Backlinks have always been, and probably will always be, a big part of SEO. Ahrefs began simply as a backlink index, so this has always been a strong area for them.
As usual, both Ahrefs and Semrush have a similar toolset for link analysis. They can:
Find backlinks to your site
Find backlinks to your competitor sites
Separate dofollow, nofollow, internal, and broken links
Identify sites that link to your competitors, but not you (Link Intersect tools)
Find information on anchor texts
Run bulk link analysis for up to 200 websites simultaneously
Score your domain authority (Domain Rating / Authority Score, respectively)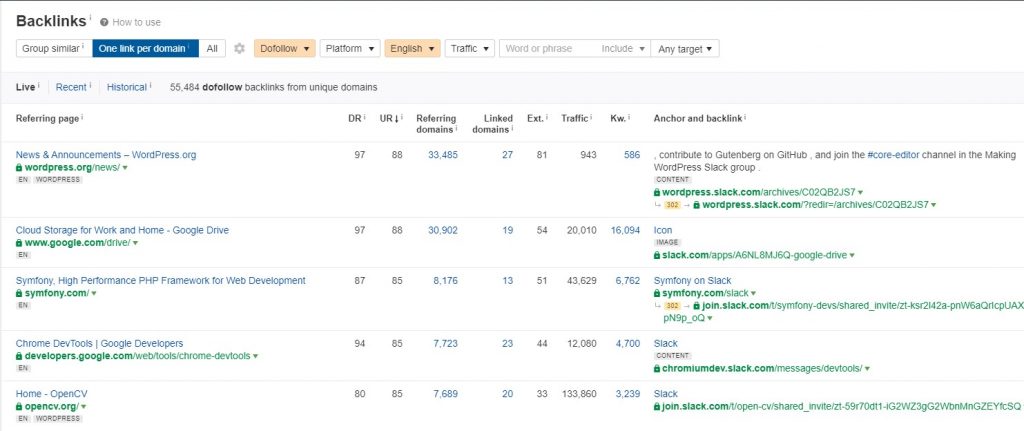 So let's find out where the differences lie.
A point in favor of Semrush for backlink analysis
Semrush has one great link analysis feature that Ahrefs doesn't: identifying toxic links. For any site that you've set up a Project for, and ran the backlink audit tool, you'll get alerted of 'backlinks to review'.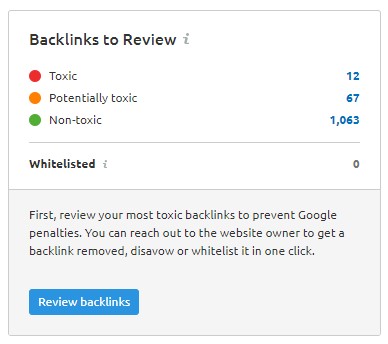 This is a great tool, and it even helps you to generate a .txt file containing the domains or URLs you wish to disavow. There isn't a similar feature in Ahrefs right now.

but… Ahrefs is better for backlink analysis
For this aspect, I believe that Ahrefs' UI is more helpful and easy to navigate. There's more information at-a-glance, including how powerful each link is. You can see the same information in Semrush, but it's not quite as intuitive, and sometimes takes an extra click or two to dig up.
Outside of usability and preference, here's some more concrete points:
1. Ahrefs crawler is faster. Their data on backlinks over time updates daily, rather than weekly like Semrush.
2. The Link Intersect tool compares up to 10 domains. This is more generous with Ahrefs, compared to 4 domains on Semrush.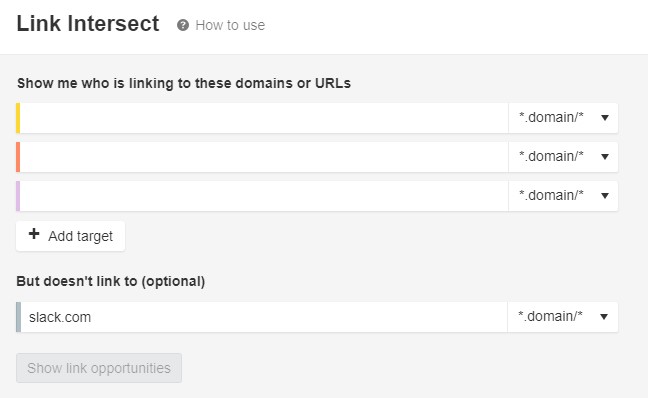 3. Site Explorer identifies broken links very easily. This isn't impossible in Semrush, but it's a lot faster in Ahrefs. You can find all the dead links in one click. And even better, with just two more clicks, you can find all the other links that point to the same page.

In conclusion for this section… For most people, Semrush will do a fine job for backlink analysis. But if analyzing backlinks and building new links is a big part of your work week, I think you'll get value from these few extra perks, and the ease of use that Ahrefs provides here.
Things Ahrefs can do that Semrush can't
There are several things that Ahrefs can do but Semrush can't, and vice versa. Those are probably an important decision making factor for you when picking a tool.
To first recap on things that I've already mentioned:
Ahrefs supports keyword research for Bing, Amazon, Youtube, Yandex and more
Get data on number of clicks vs searches, and return rate (repeat searches in 30 days)
It makes broken link building remarkably easier
Backlink data & graphs are updated daily (instead of weekly)
Crawl Javascript-generated content
And here are some additional things I feel are worth mentioning.
1. Find out traffic share by page or by domain. Without this tool, you can use studies like this one to guesstimate how much traffic each ranking position gets based on volume. Some searches can vary away from the averages a lot though, so this is a really useful feature to confirm before putting your resources into ranking.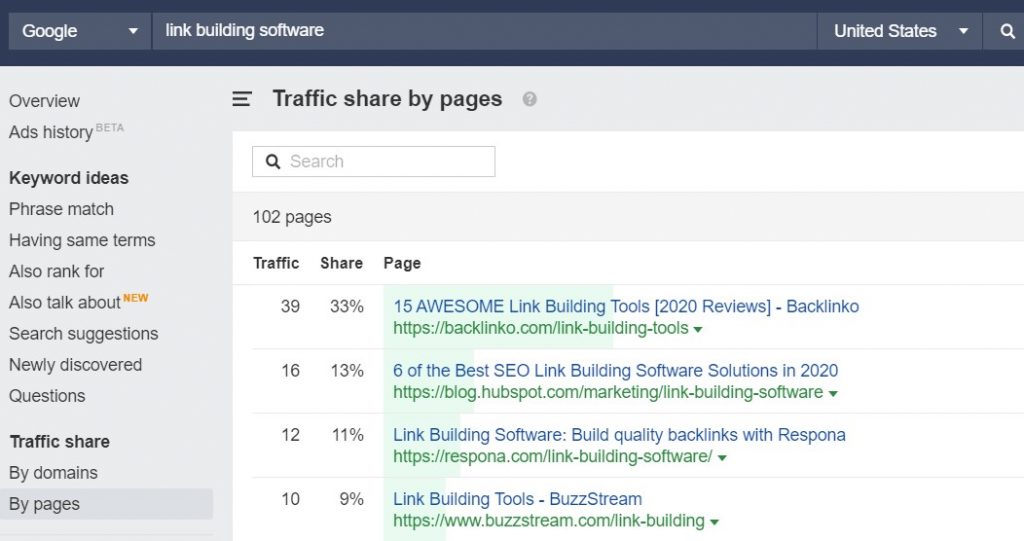 2. Monitor outbound links. There are several use cases for this, but I find the most useful one to be finding broken outbound links. If your content links out to broken pages, it's not only a bad user experience, but would be considered a technical SEO issue. By using the broken links report (Site Explorer –> Outgoing Links –> Broken), I can quickly find when resources we've cited are now returning a 404.

3. Get SERP positions history for any keyword. In Keywords Explorer, you'll be able to get an overview of how the SERP looked over time. Among other things, this will help you to:
Identify whether the SERP has been volatile in the past
See if search intent has changed over time
See when new content / competitors appeared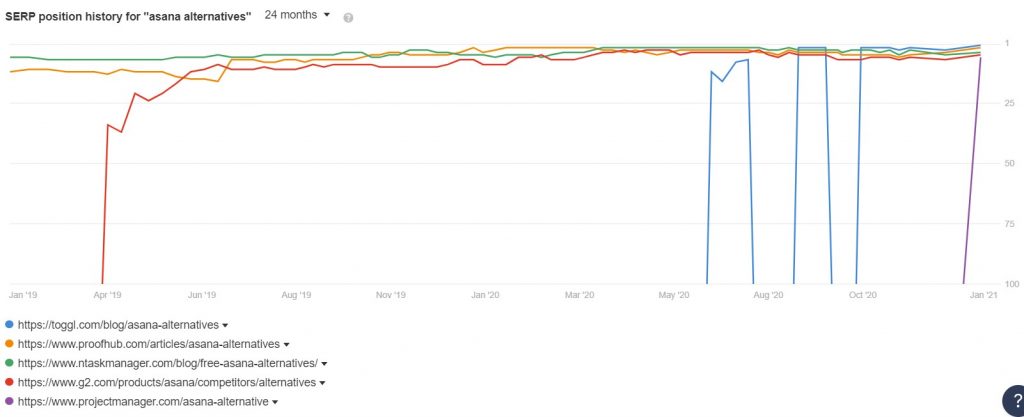 The Lite plan gets you 6 months history, and the Standard plan gets you 24 months. The higher tiers give you a full history.
Ahrefs published an article on the topic of unique features: 13 things only Ahrefs can do.
Things Semrush can do that Ahrefs can't
In case you're comparing these tools purely based on SEO, I'll separate the non-SEO features. Since Ahrefs are not trying to compete on PPC, social media & other functionality, the list here could get pretty long. I'll prioritize a few noteworthy ones.
SEO features that Ahrefs doesn't have
To recap on things already mentioned:
Flag up potentially toxic links and generate a disavow file
Import ranking histories from 3rd party tools (on request)
Daily rank tracking updates
And moving swiftly on to those that haven't yet been mentioned…
1. Local SEO listing management. This feature is an alternative to tools like Yext which assists with local SEO. It costs extra ($20-$40/month), but you would pay that anyway with an external tool.
2. Built-in link building outreach. Both Semrush and Ahrefs can help you identify link opportunities, but Semrush goes one step further and facilitates outreach within the app. You can connect with Gmail and send up to 500 emails per day.

3. Drag-and-drop report builder. If you're reporting internally or to clients, this could be a pretty valuable feature. You can add your logo, and drag blocks such as updates from position tracking or backlink analysis to customize a report quickly. Or if that doesn't float your boat, you can connect to Google Data Studio.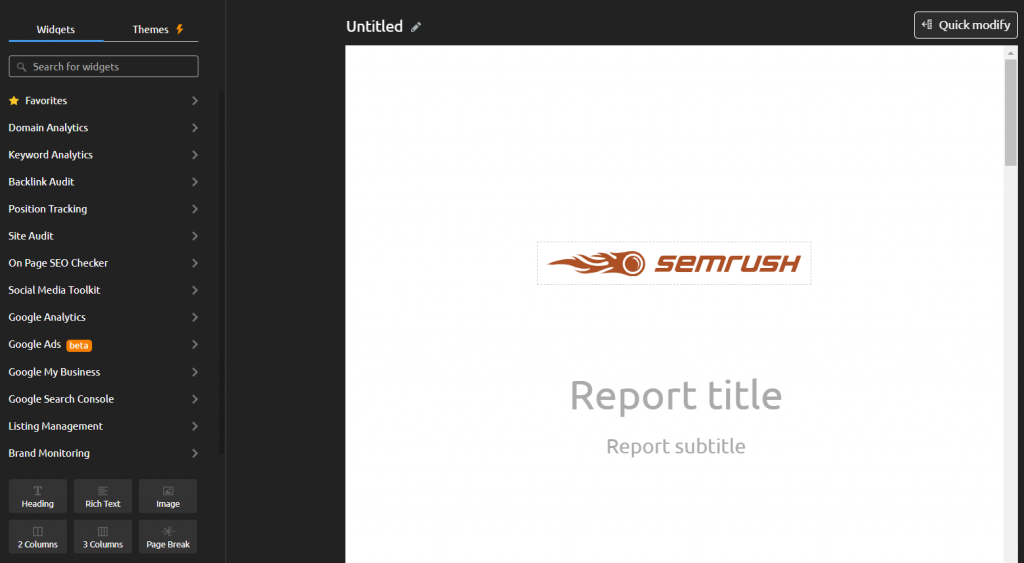 Non-SEO features that Ahrefs doesn't have
As I mentioned, this list could be very long. Instead, I'll pick out a few that could be especially useful, depending on your use case.
1. Social media scheduling. You know the drill here. Connect your social accounts, schedule posts, find the best times to post. It's worth noting that this tool doesn't work with Instagram. So if that's a dealbreaker, you'll need something like Buffer or Later.
2. Brand listening. In theory, this feature removes the need for a tool like Brand24. I haven't used them extensively enough to say whether or not this is an adequate replacement. But monitoring brand mentions can help you with manging reputation, customer research, and more.
3. Shared calendar for planning & tasks. This Marketing Calendar feature takes a step into the world of planning & task management. Again, it could potentially remove the need for an external tool such as Trello. I don't personally use this feature, so again I can't comment as to whether it's truly an adequate replacement.
Here's a full list of features.
In summary
These are both giants in the SEO tools space, but Semrush have rapidly expanded beyond only SEO. Both companies have a huge satisfied userbase, similar features, and similar pricing (although Semrush is a little more expensive).
There's no doubt that Semrush provide more value for money, but only if you care about the extra features. Ahrefs provide great value for money too; there's no way I'm cancelling my subscription any time soon.
Here's my best shot at simplifying the key differences:
You should choose SEMrush if:
🥇 You would like to manage multiple marketing channels in one place

🏆 You're a beginner, and value user-friendly UI and more direction

🎉 You value better reporting features, and daily rank tracking
You should choose Ahrefs if:
🥇 You're working only on SEO, and don't need daily rank tracking

🏆 You're working on a lot of keyword research & content planning tasks

🎉 You're working across multiple search engines (e.g. YouTube, Amazon, Bing)
You should choose neither if:
❌ You're only looking for one specific function. You'll save a lot of time and money picking a purpose-built tool, for example Screaming Frog for site auditing, or Wincher for a cheap rank tracker.

❌ You're on a tight budget. If you're willing to sacrifice some functionality to save money, there are other 'all-in-one' SEO toolkits for a lot less. See 8 Ahrefs alternatives, and Ahrefs vs Mangools.
I hope this article helped assist with your decision! Both tools offer a risk-free way to give them a whirl and see if they're right for you. Links to signup are below. Hit me up if you have any questions!
Ahrefs offer a 7 days for $7 trial
Link to website 🔗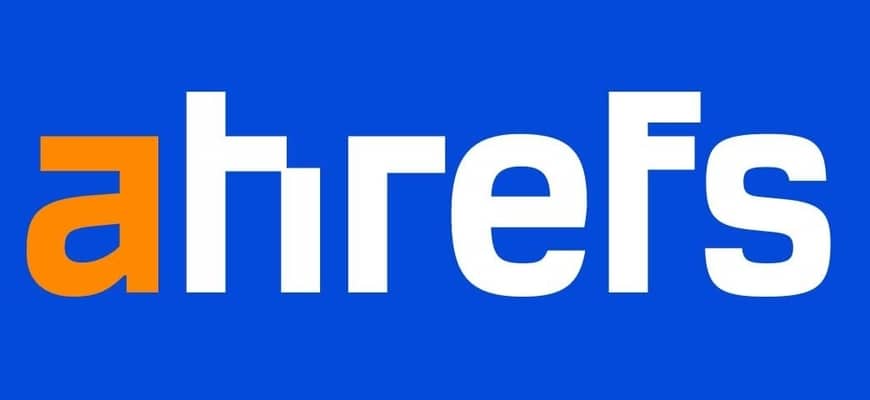 Semrush offer a 7 day trial of their premium plans.
Link to website 🔗