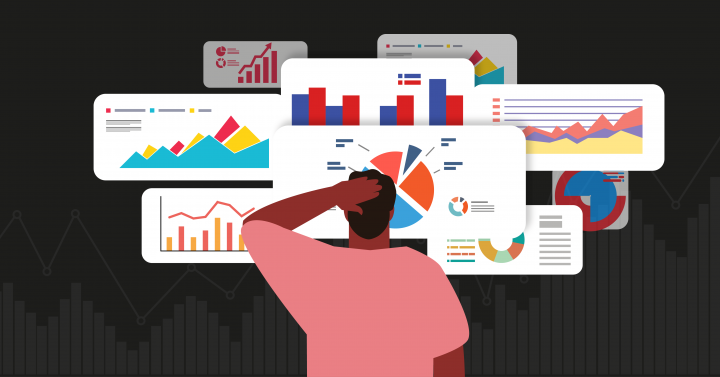 When it comes to SEO reporting software, I have 3 options for you.
Firstly, there is 'all-in-one' tools which have several SEO features, including reporting. If the data they can provide you with is enough, this is a great choice. You'll save money not having to buy a separate tool.
Secondly, there are purpose-built reporting tools which help you build dashboards to pull all your data into one place.
And lastly, you may want a reporting tool for one specific element of SEO. I think in that case, the most likely metric would be keyword rankings. Therefore, at the end of this article, you'll also find 3 standalone rank trackers which have great reporting.
Here's an overview of the options:
Feel free to skip down to a specific tool if one catches your eye!
Toolkits with SEO reporting features:
Purpose-built reporting software:
Rank trackers with SEO reporting:
Toolkits with SEO reporting features
These first 3 options are SEO tools that have other SEO features such as rank tracking & backlink monitoring built-in, but also have really good reporting functions.
If the reporting in these tools is good enough for you, it'll save you the expense of needing a separate dedicated software.
I'll introduce each tool's offering as a whole, but only briefly. We'll focus primarily on the reporting functions.
Starting price $24/month. Free trial available.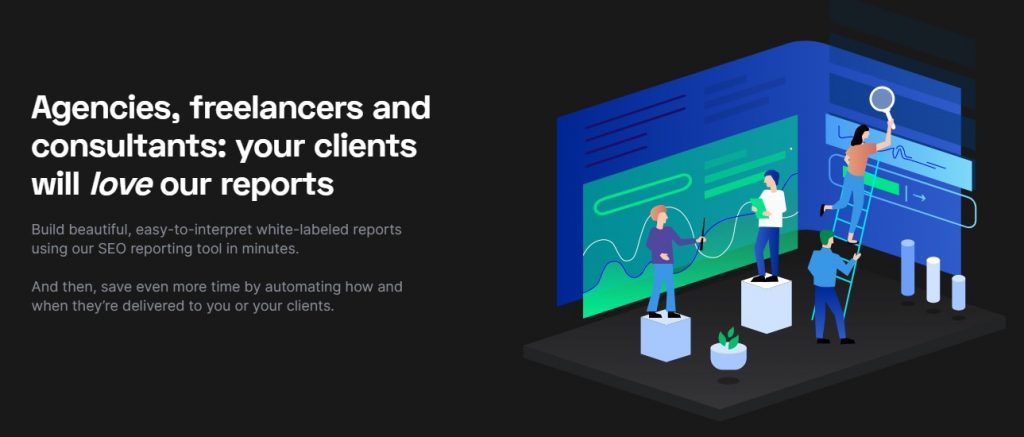 Nightwatch overview
Nightwatch is a suite of SEO tools. It's best features are the rank tracker & reporting tools. The rank tracker particularly excels for local rank tracking.
Nightwatch also has features for backlink monitoring & technical site audits, and they are currently building more features.
An entry price of $24 per month (paid annual) or $39 per month (paid monthly) makes it very accessible.
Reporting functionality
The reporting in Nightwatch is good.
The report builder lets you add & customize elements: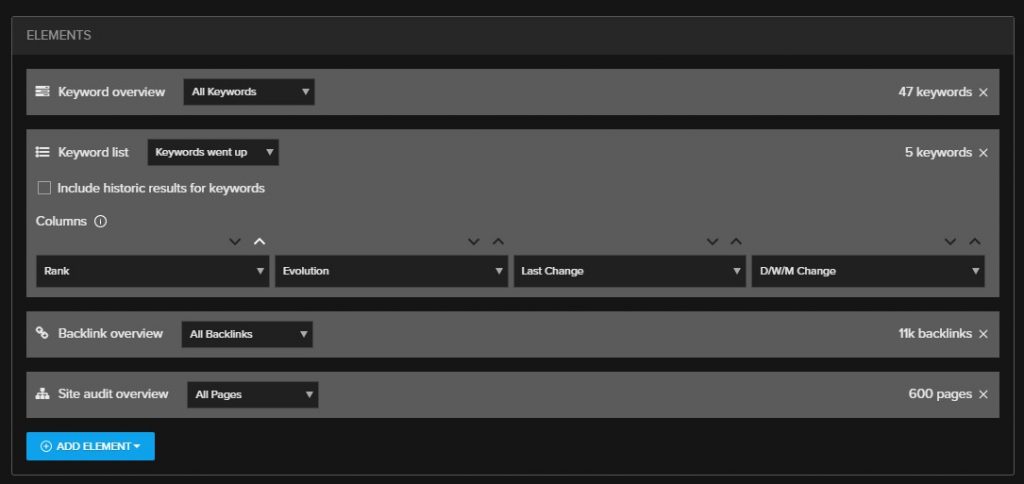 For example, you can add a rankings element, and then customize which columns appear. By default, you'll get a nice recent evolution graph, with the latest changes, which looks like this: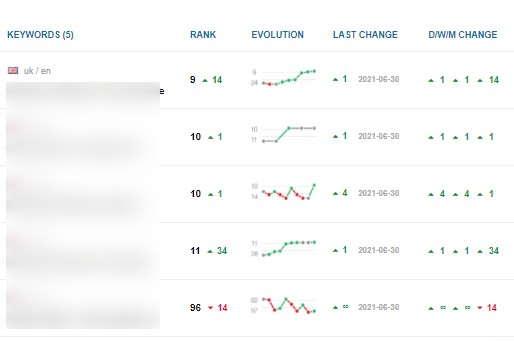 Other elements you can add include:
A backlink report
Site audit pages and/or overview
Traffic overview (via Google Analytics integration)
Various graphs
You can also segment only specific areas of your campaigns/sites to report on too. For example, I could run a report for only the keywords that are tagged with 'template', to see how my template pages are performing collectively.
It's worth specifically highlighting the Google Analytics & Search Console integrations too. They allow you to overlay your rankings data with clicks/traffic to correlate the results. Then, even better, you can one-click export any graph to send to a colleague, or just save the graph so you can get back to it anytime.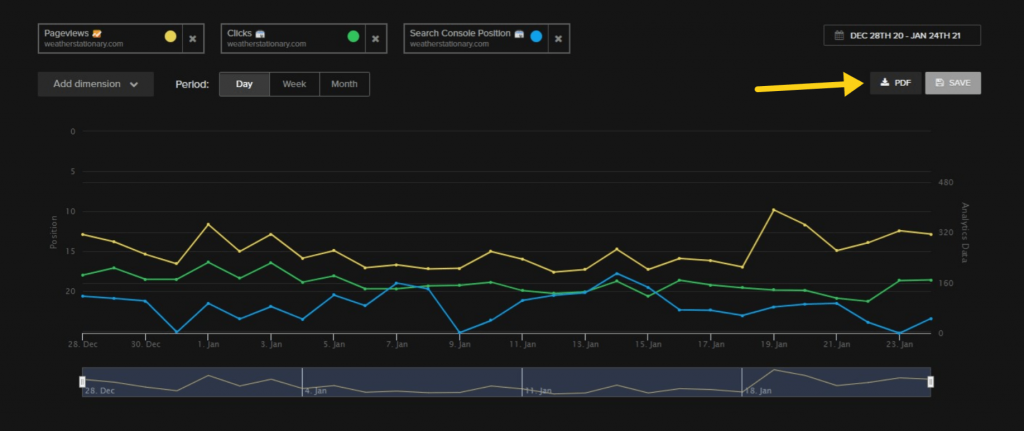 One limitation is that you can't add conversions/goals data from GA to these graphs. Yet. I've mentioned this to their team, and I'm hoping that it gets added soon!
White labeling
White labelling of the PDF reports is possible, but only from the middle tier upwards. Not in the entry package.
Pricing
Nightwatch is on the low-mid side of the cost spectrum when it comes to SEO software. The value for money is great, and the starting price is very accessible. Hence why they're in this list!
You can visit their pricing page to see the full details, but to save you a click, here's an overview of the packages:
Plan
Price
(monthly)
Price
(annual)
Keywords
Tracked
White label
reports
Starter
$39
$24
500
❌
Optimize
$99
$59
1,000
15/month
Agency
$369
$221
5,000
Unlimited
The discount for paying annually is (a very attractive) 40%.
Sign up for a 7-day free trial of Nightwatch
Starting price $99.95 per month. Free trial available.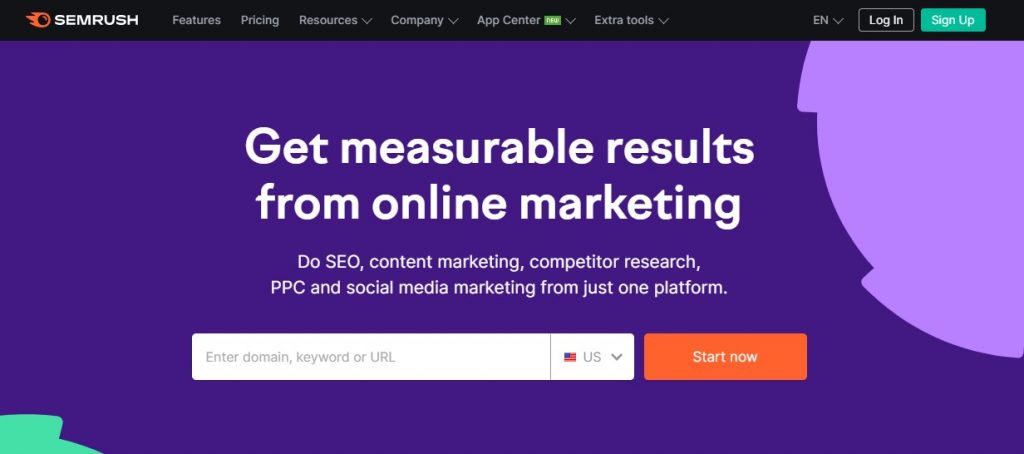 Semrush overview
Semrush has the biggest & broadest feature set of the tools in this list. It's comprehensive when it comes to SEO features, offering rank tracking, competitor analysis, site auditing, backlink monitoring, keyword research, and more.
Semrush also covers a ton of PPC features, as well as social media scheduling, brand monitoring, and a bunch of other features.
It's quite a big step up in price from Nightwatch, starting at $99.95 (paid annual), or $119.95 (paid monthly).
Reporting functionality
Semrush has a super nice drag-and-drop report building interface.
The number of different blocks you can add & customize is too long to even list.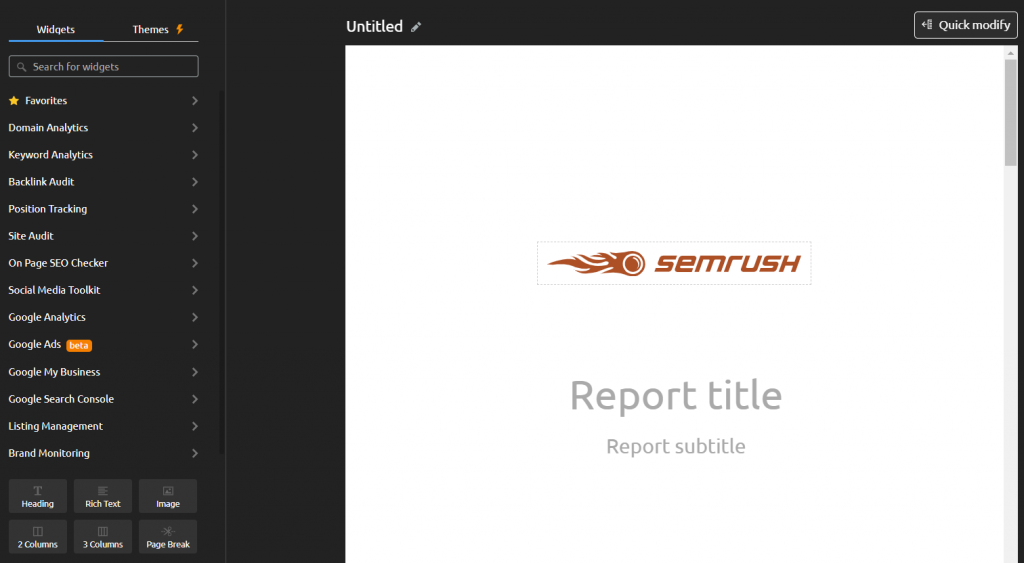 The availability of templates to get you started is excellent too. More variety than can be found in Nightwatch.

And another thing which makes this report builder more advanced than the one in Nightwatch is the ability to add custom text areas & other elements.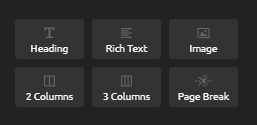 This allows you to add some custom analysis or explanations for your client. Guidance on how to interpret the report, perhaps. A good way to add value.
As you would expect, you can then generate the PDF report, and/or auto-schedule it to go out on a regular basis to whichever email addresses you choose.
White labeling
This is a big downside to Semrush as an SEO reporting tool for agencies. In order to get white label reports, you have to buy the Agency Growth Kit. That's an extra $100 on top of the subscription.
For the entry plan + growth kit, that means $219.95, and for the mid-tier plan that means $339.95 total monthly cost. Pretty steep, but it could be worth it if you'll utilize all of the many features Semrush has to offer.
Pricing
Semrush is a big jump up in price from Nightwatch, and from SE Ranking (the tool next up in this list). The starting price is $99.95 (annual) or $119.95 (monthly).
For reporting alone, it's definitely not worth it. That being said though, Semrush offer a mind-boggling amount of features. If you're looking for a truly all-in-one marketing platform for SEO, PPC, social media & more, it's worth serious consideration.
Since there's so much included in each different pricing tier, it's best you just take a look at their pricing page yourself. Here's some key details to take note of though:
The Data Studio integration is only available in the Guru plan & up ($229.95)

The entry plan gets you 5 separate scheduled reports per month. You can send each of those 5 multiple times, to multiple people (e.g. weekly). Guru has 20 reports, and Business has 50.

You have to buy the agency growth kit (+$100) to white label reports
Sign up for a 7-day free trial of Semrush
Starting price $15*. Free trial available.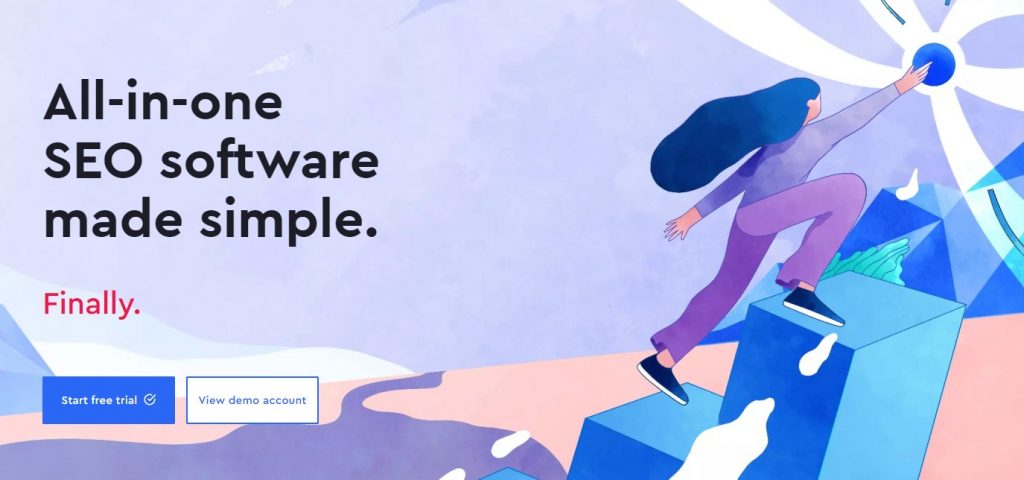 SE Ranking overview
SE Ranking is another all-in-one platform that is somewhere between Nightwatch and Semrush in terms of functionality. More features than Nightwatch, less than Semrush.
They cover almost all your bases when it comes to SEO: keyword research, rank tracking, reporting, backlink monitoring.
Then, add in some extras: marketing planning, and social media scheduling.
It's a relatively user-friendly UI, with a super accessible starting price, and an all-round solid feature set.
Reporting functionality
If you liked the sound of the Semrush report builder, but found it too pricey, you'll love this.
SE Ranking have a similar drag-and-drop report building functionality. I rate Nightwatch more highly as a rank tracker, but in this price bracket, SE Ranking have the best report builder without a doubt.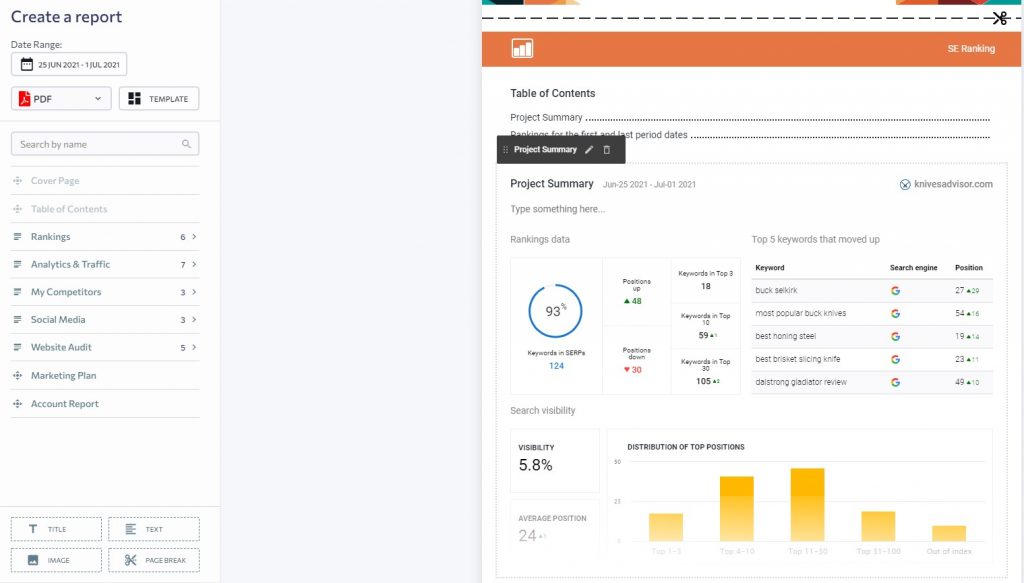 The availability of templates is great here too. Not quite as broad as Semrush, but still plenty enough to cover the most common needs: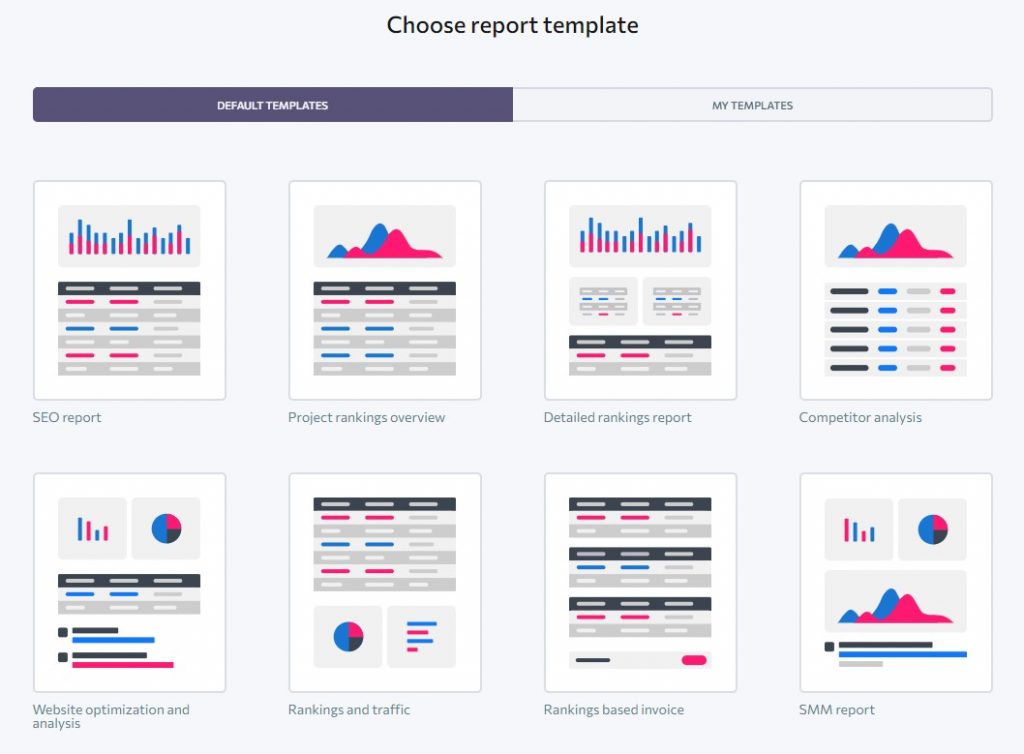 The main differences I see between the Semrush & SE Ranking report builders are that, in Semrush:
It's even more customizable (e.g. adding columns, instead of only full-width elements)

There's more data points to include, corresponding with their broader feature set (e.g. Facebook ads, Google ads, and more)
Nevertheless, for the money, SE Ranking's reporting is fantastic — and one of the reasons it makes a good Ahrefs alternative, especially for lower budgets.
Like Nightwatch, SE Ranking do have a Google Analytics & Search Console integration. It's nice to have, but you can't overlay the data to make useful charts like you can in Nightwatch. The only function is to have the GA/GSC data available in the same place (e.g. for using in the report builder).
White labeling
You'll be pleased to hear that, unlike Semrush, SE Ranking's white label options are more accessible too. It's one of the best affordable white label SEO tools on the market.
White labeling of reports is available from the Pro / mid-tier plan, starting at around $73 monthly.
Pricing
SE Ranking have an exceptionally low entry price of $15, but I don't want to mislead you. The $15 plan is very limited (e.g. only weekly ranking updates, only 250 keywords, restricted features).
Their pricing model is highly scalable, which can be confusing, but I think it's an advantage overall. The price changes based on your rank tracking preferences (e.g. daily/weekly updates), payment frequency (e.g. monthly/annually), and features required.
Check out their pricing page. Here's some examples (based on daily ranking updates):
Plan
Cost
(Monthly)
Cost
(Annual)
# of Keywords
Tracked
White Label
Reporting
API
Access
Essential
$44
$35
500
❌
❌
Pro
$73
$58
1,000
✅
❌
Business
$285
$229
5,000
✅
✅
The discount for paying annually is 20%.
Sign up for a 14-day free trial of SE Ranking
Dedicated SEO reporting tools
These next three tools are built with the primary purpose of reporting.
Not SEO software or platforms that have reporting features bolted on. That usually means the reporting goes deeper, more detailed, and integrations are better.
If any of the multi-feature toolkits above weren't quite enough, you may find that adding one of these separate reporting tools is worthwhile.
Starting price $33 per month. Free trial available.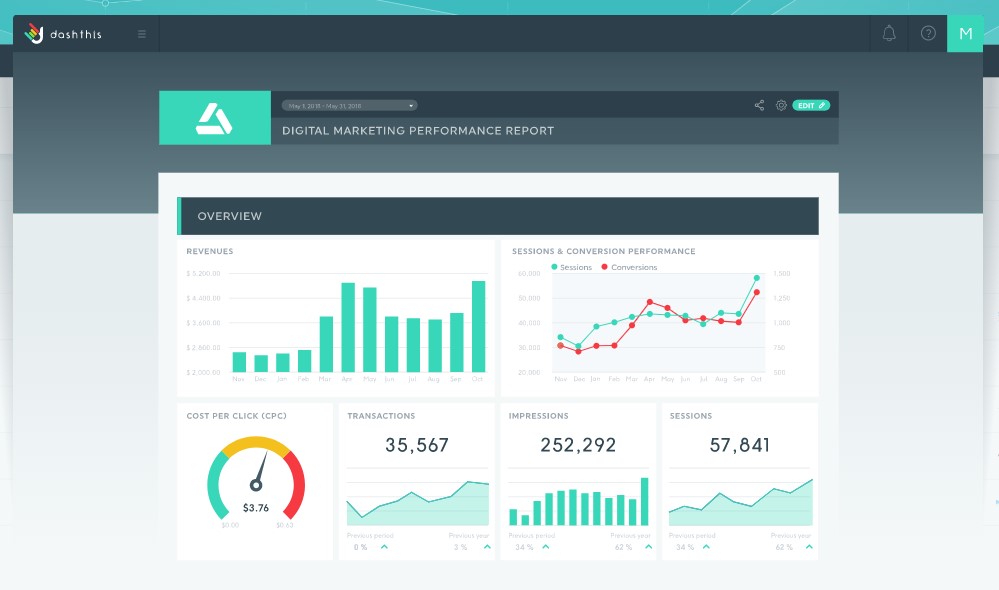 DashThis overview
DashThis is a marketing dashboard tool. It's not specifically only for SEO reporting, but it is commonly used as an SEO dashboard software too.
You can integrate to other data sources such as Google Analytics, Search Console, Ahrefs, Semrush (and non-SEO marketing tools) to pull together a tidy dashboard. It's easy to use, and reasonably priced.
DashThis SEO reporting features
Upon signing up, you'll see a bunch of quick integrations.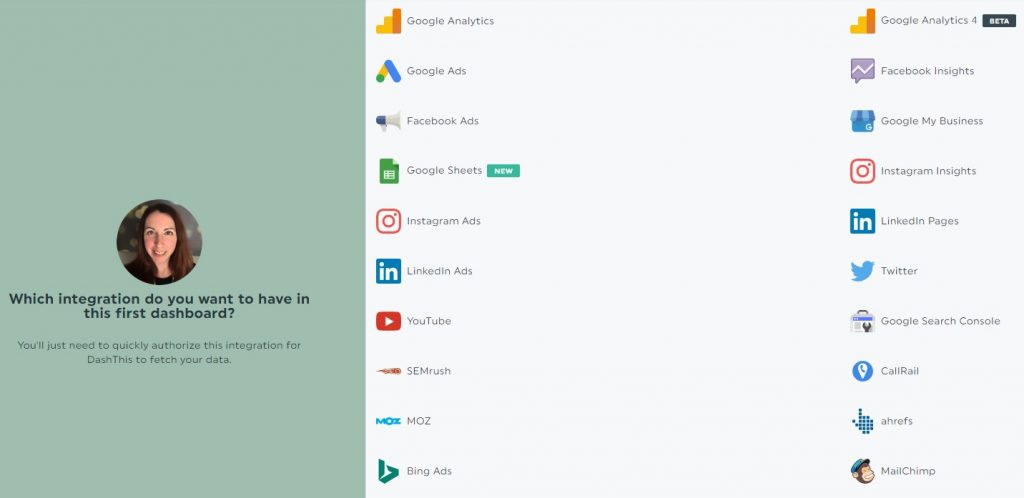 For SEO, the market leading tools (Ahrefs & Semrush) are included, but many others aren't. For example, if you use a standalone rank tracker like AccuRanker or ProRankTracker, there isn't a native integration for it. Similarly, tools like Nightwatch or Mangools don't yet integrate directly either.
There's definitely room for improvement in the SEO integrations department, but it's a great start. Plus there's already a ton of reporting you can do with just Google Analytics & Search Console.
In theory you can add any new integration with their CSV file manager. If you aren't technically savvy, that probably won't be much help though.
Anyway… once you've set up your dashboard, you can start adding 'widgets'. There are a bunch of pre-set ones for SEO. For example, from Google Analytics data:
Sessions from organic traffic
Conversion rate from organic traffic
Top landing pages for organic traffic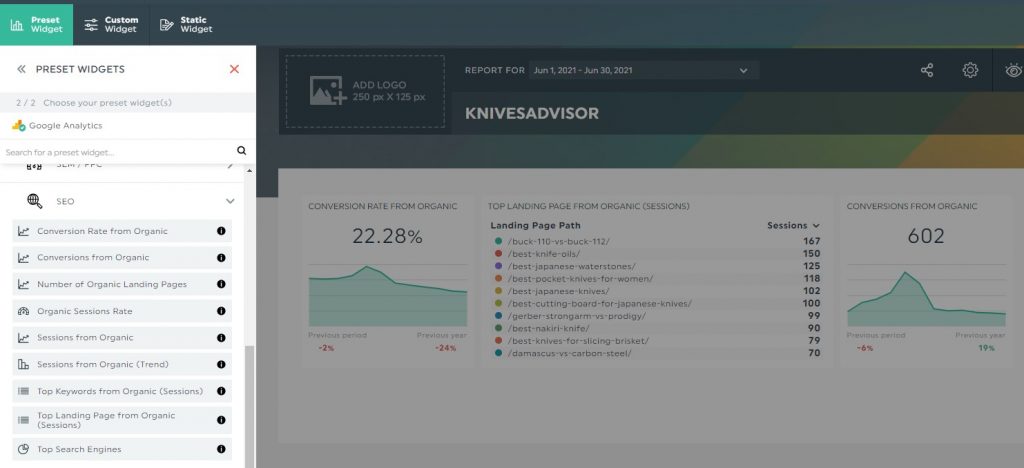 Then, moving onto Google Search Console data, you could also then add:
Top queries generating clicks
Top pages generating clicks
Various other combinations for impressions, devices, countries, etc.
One thing I don't see is the ability to add tags or categories. Recycling the example I gave for Nightwatch, it'd be great to add a widget and report on all my 'template' pages collectively.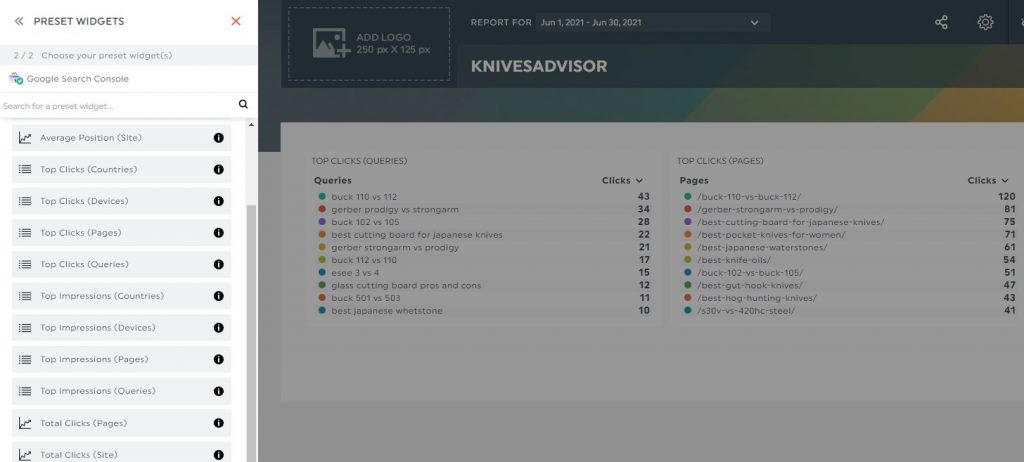 As well as these preset widgets, there's also custom & static widgets, allowing you to really customize the dashboard. You can add charts, graphs, and comments to add value to your report.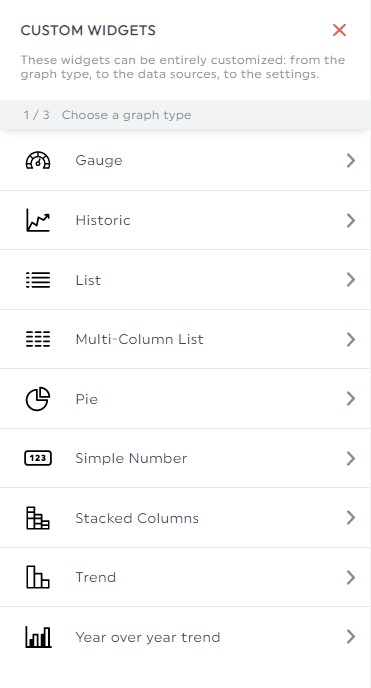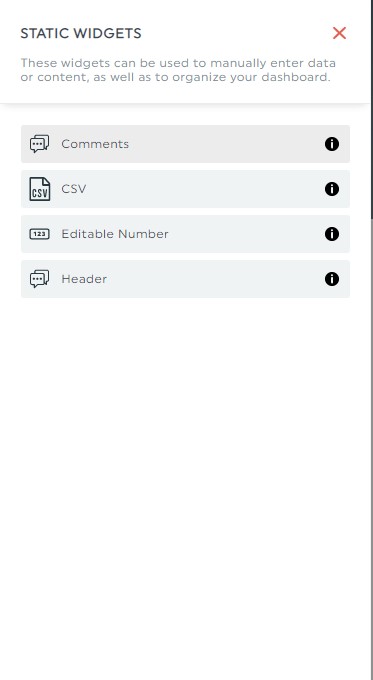 Overall, the out-of-the-box solution is good, and easy to use.
With regards to sharing your dashboards, there are 3 options:
Send a shareable view-only link that people can check anytime
Export as PDF
Send via email (one time, or on a schedule)
White labeling
DashThis dashboards have a 'powered by DashThis' badge on them by default. Anyone on a plan with 10+ dashboards can remove it and offer white label reporting.
The 10+ plan costs $129/month paid monthly, or $109/month paid annually.
Pricing
Pricing for DashThis is very straightforward, based on the number of dashboards you need. Here's their pricing page. As usual, to save you a click, here's an overview:
Plan
Cost
(Monthly)
Cost
(Annual)
Dashboards
White Label
Individual
$39
$33
3
❌
Professional
$129
$109
10
✅
Business
$249
$209
25
✅
Standard
$399
$339
50
✅
Enterprise
$599
$499
100
✅
The model isn't super flexible, and the jumps in between plans are quite large. For example, for 4 dashboards, I'd have to upgrade from $39 to $129 per month. For a small business that might feel pretty steep.
For an agency with several high-paying clients though, the cost-per-client is pretty negligible. So if you think this will enhance your reporting, go for it.
Sign up for a 14-day free trial of DashThis
Totally free to use!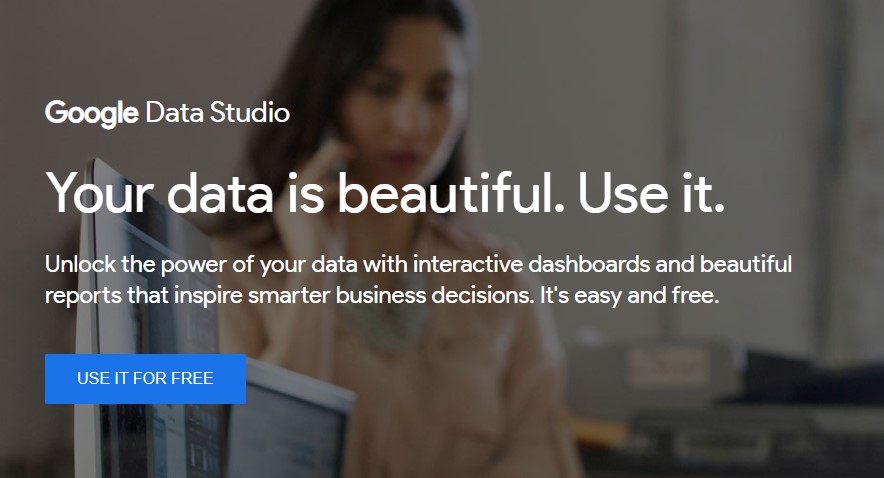 Data Studio overview
Data Studio is a free tool by Google that performs a similar job to DashThis: pulling information together in one place.
It connects to places like Google Analytics & Search Console, as well as Google Sheets, and many other sources. A lot of tools (e.g. Semrush, AccuRanker) have built Data Studio integrations too.
It's not quite as intuitive to set up as some other paid tools, but if you're generally tech-savvy, it will be learnable.
Reporting functionality
First off, if you're brand new to Data Studio, I'd highly recommend using a template. Supermetrics have some great SEO report templates to get you started. You'll save a lot of time and stress in trying to figure out a custom setup.
Google do have some standard templates of their own, too.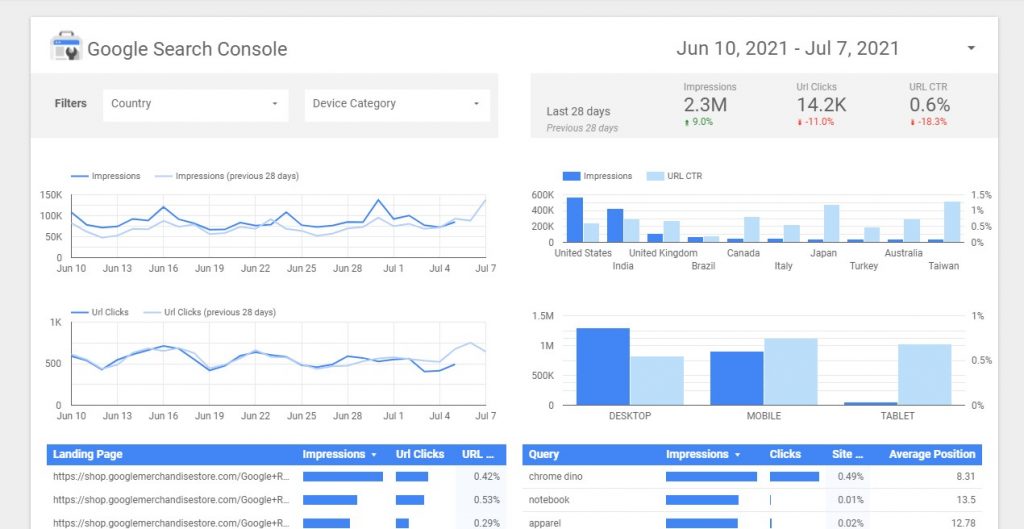 With that out of the way, here's a few things you can achieve with Data Studio:
Pulling traffic data per landing page, with a comparison to the previous period
Display top keywords per landing page from Search Console data
Show Google Analytics conversion, in total and/or per page
Segment all of the above by showing only organic search data
Pull data from other SEO tools such as positions, site audits, backlinks
… & lots more.
It's beyond the scope of this article to dive into a full Data Studio tutorial, but jump in and have a play around.
One of the things I like to use it for is separating brand & non-brand clicks. When setting up a dashboard to report on clicks via Search Console, you can add a table filter to remove queries like so:

Of course there's many other applications for filtering keywords like that, but separating brand vs non-brand is a common & useful one.
See also: Google Data Studio alternatives.
Pricing
Free! 🙂
Get started with Google Data Studio
From $30/month for 3 dashboards. Free trial available.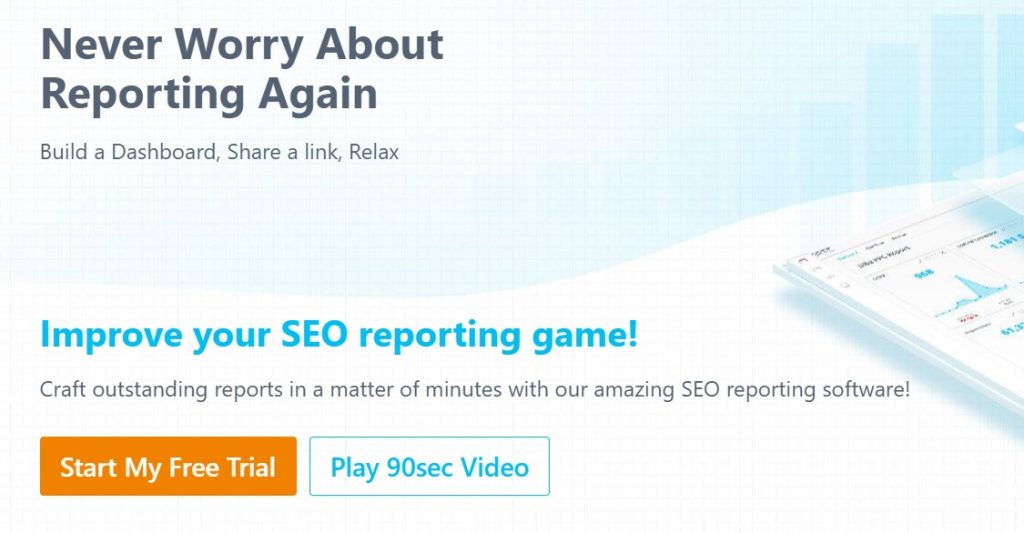 Reportz overview
Reportz is a dashboard builder for digital marketing reports.
You can pull all of your data sources together, and drag/drop different elements to make a one-page report to share with clients.
It's not dedicated only to SEO reporting, but like DashThis, SEO is one of the key use cases (along with PPC, social media, and e-commerce).
In fact, Reportz have a few more SEO integrations. As well as your standard Google Analytics & Search Console integrations, you can also connect to: Ahrefs, Semrush, AccuRanker, RankRanger, SE Ranking, and SERPStat. Still not totally comprehensive, but pretty good.
Reporting functionality
This tool won't help you find any new data, but it helps to pull everything together in one place. One dashboard per client, that auto-updates.
When you get started, Reportz will offer you 3 templates for SEO reports: basic, e-commerce, and local.

You can add or remove blocks however you like. You can add key KPIs depending on what you're working on, like traffic per page, conversions from GA, backlinks from Ahrefs, rankings from your SERP tracker, etc.
That also means you can choose to remove any fluff that you don't want your client focusing on and asking questions about if it isn't important.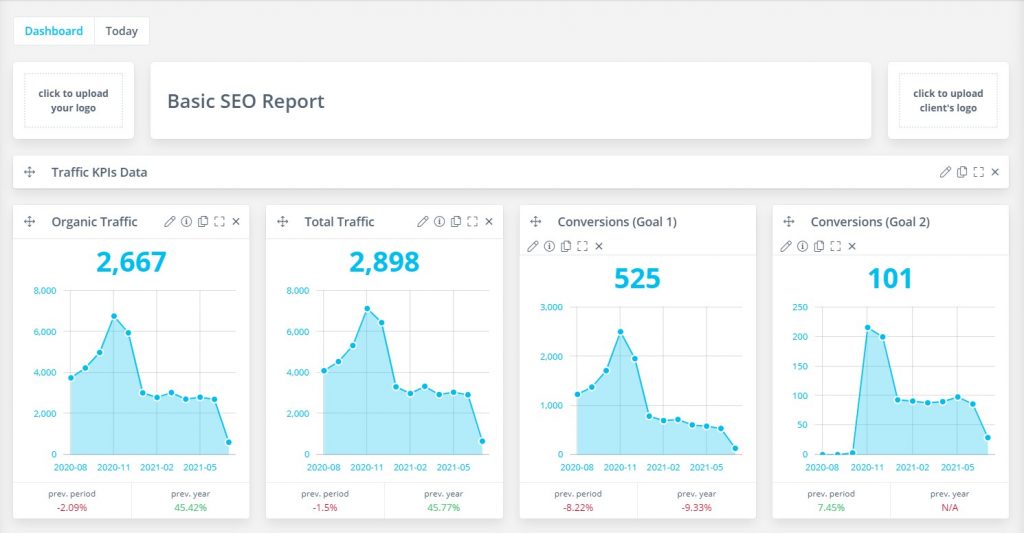 You can generate a shareable URL for a client to visit any time. For security, dashboards can be password protected, and/or you can regenerate a different URL at any point.
And/or, if you prefer, you also still get the standard automated email reports on a set schedule.
White labeling
By default, on all plans, Reportz lets you add both your logo plus your client's (per dashboard).
You also have some (basic) design options, such as changing the primary dashboard colors away from the default blue, and adding a background image.
It's possible to set a custom subdomain for your shareable URLs to live on too (e.g. reports.mysite.com).
Pricing
Reportz.io pricing is super straightforward, which I like: pay per dashboard. The minimum is 3 dashboards, starting at $30 per month. The more you get, the cheaper it is per dashboard — standard economies of scale.
Visit their pricing page.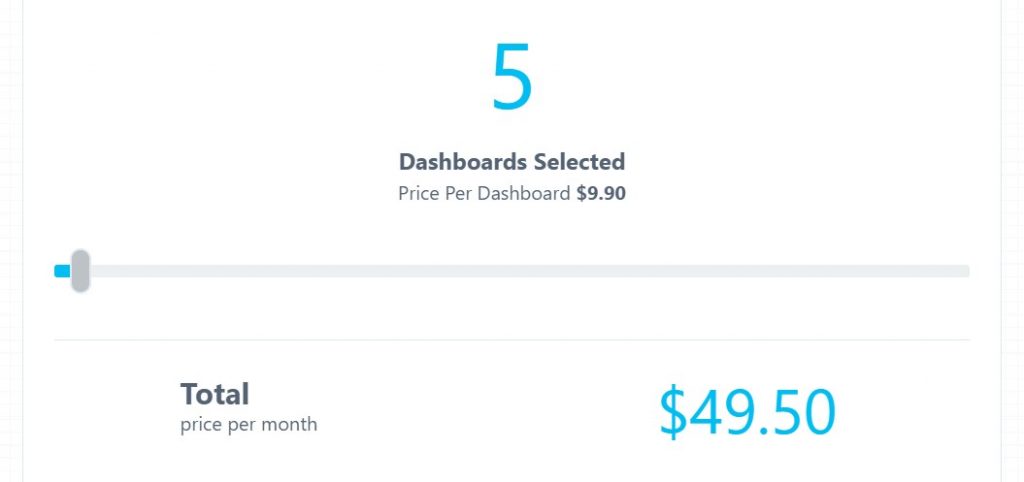 The discount for paying annually is 20%.
Sign up for a 15-day free trial of Reportz.io
Rank tracking report software for SEO
Keyword positions is just one metric you'll track as part of your SEO reporting.
It's a big one, though. No doubt about that! In some cases, just have Google Analytics, Google Search Console, and a good SERP tracker will be enough for you to track your rankings and create insightful reports.
Here's 3 standalone rank trackers to fit various budgets & needs.
Starting price €89 (~$105). Free trial available.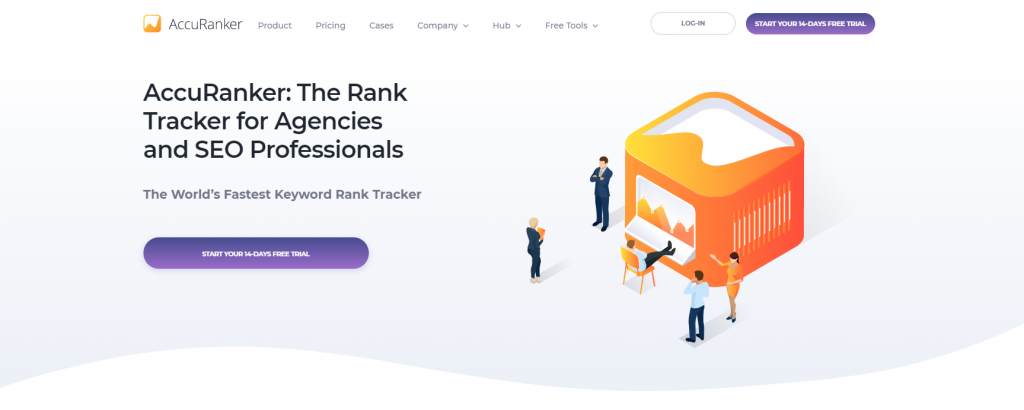 AccuRanker overview
AccuRanker is an advanced rank tracking & reporting tool for SEO.
It goes beyond basic rank tracking, with added features such as:
Share of voice metric
Integrations with Data Studio, Adobe Analytics, Databox, etc.
Historical data import
API access
It's somewhat complex as far as rank trackers go, but if you're looking for something with excellent reporting capabilities & accurate rank tracking, it's a safe bet.
Reporting functionality
Pretty much every rank tracker on the market these days has your basics covered. PDF email reports, automatic scheduling, etc.
And actually, to be honest, the built-in reporting in AccuRanker isn't much more than that. You get various templates to use (e.g. keywords only, keywords + search volumes), and schedule the PDFs to be sent via email on a schedule.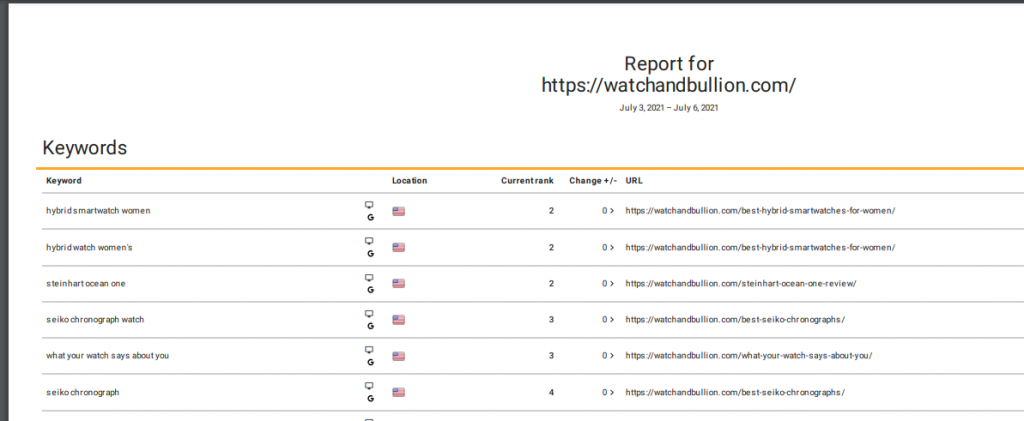 But when it comes to reporting in AccuRanker, I do see two major advantages for AccuRanker above other SERP tracking tools.
The first is it's integrations.
AccuRanker connects with a ton of the most popular analytics/data tools like Data Studio, Adobe Analytics, Databox, and offers API access too. Straight away, for higher level advanced data management & reporting, that makes it an attractive choice.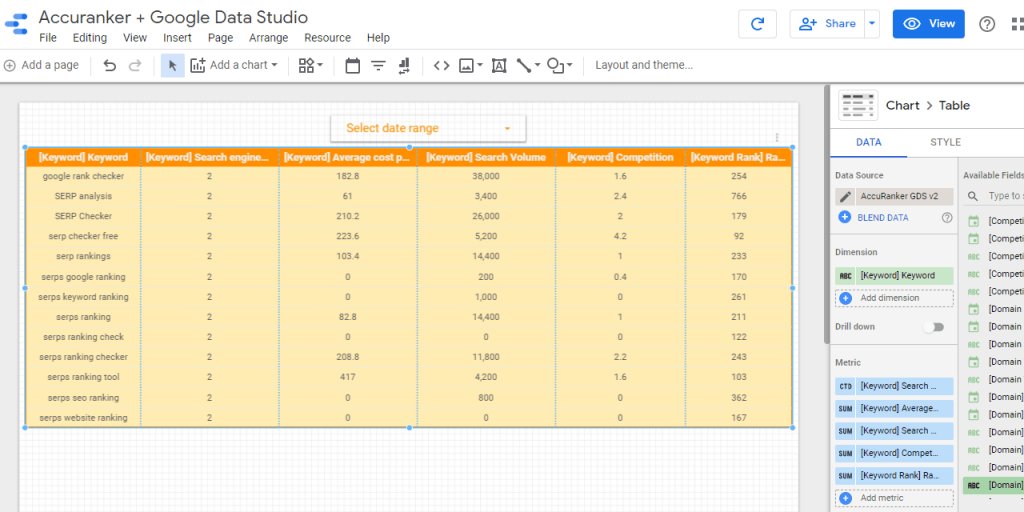 Secondly, AccuRanker's Google Analytics integration & smart UI lets you correlate rankings to conversions. This is something you don't see in other rank trackers. Nightwatch, for example, lets you correlate traffic, but not goals. Yet, at least.
It's not exactly how I'd like it in a perfect world, but you can at least get traffic, traffic change, goal completions, and goal completions change in the same table.
White labeling
AccuRanker only has one plan, and all features, including white labeling, are included within it.
Pricing
AccuRanker has a relatively high entry price of €99 for 1,000 keywords on monthly plans. From there, it's simply a sliding scale depending on the number of keywords tracked. See their pricing page.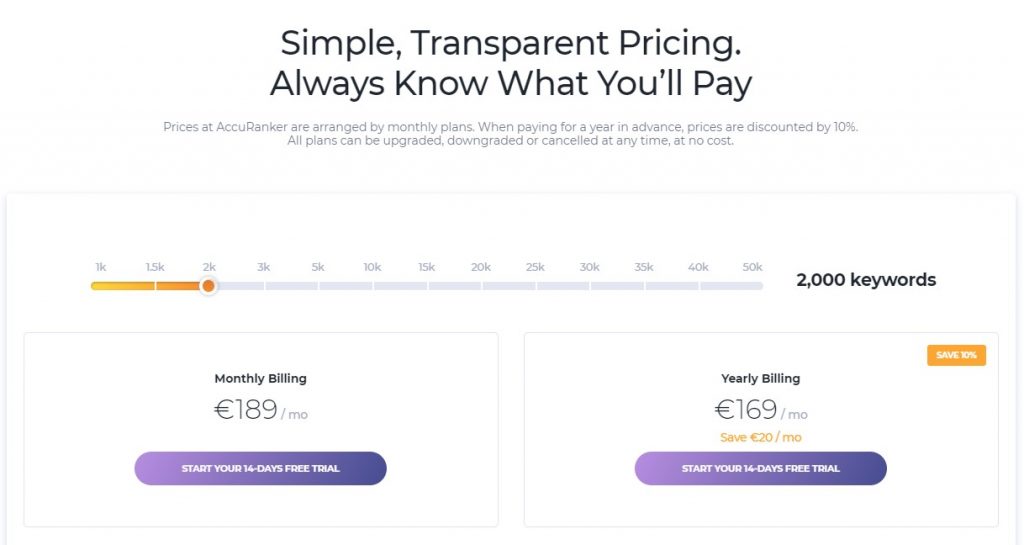 Here are some examples to help you with comparing to alternatives.
# of keywords
tracked
Cost (monthly)
Cost (annual)
$ per 100 keywords
tracked
1,000
$118
$106
$11.80
1,500
$171
$153
$11.40
5,000
$463
$415
$9.26
These AccuRanker prices are converted from € into USD.
Sign up for a 14-day free trial of AccuRanker
Starting price $29. Free trial available.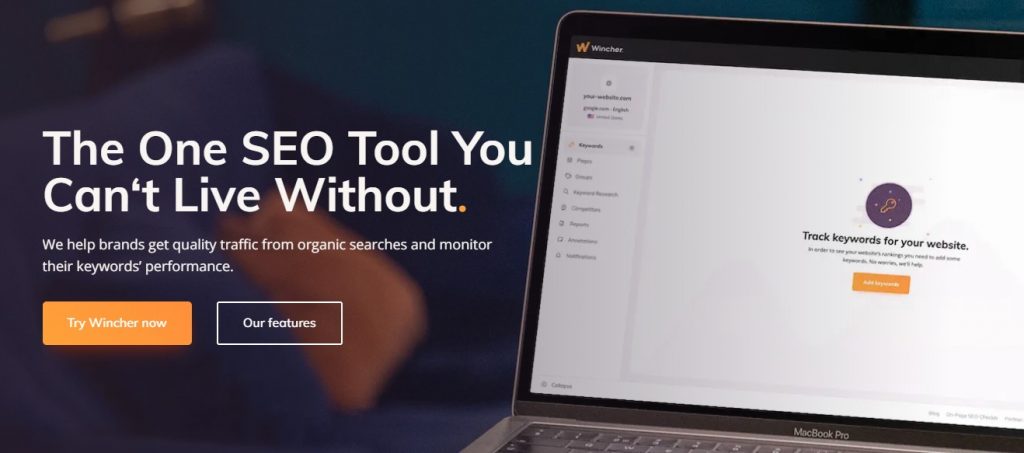 Wincher overview
Wincher covers a range of needs when it comes to rank tracking & reporting in SEO. It can start out pretty cheap & basic, then scale up pretty well.
It never gets quite as advanced & expensive as AccuRanker, but it's a worthwhile contender, and it's much easier to use.
On higher pricing tiers, you start getting some advanced features like on-demand updates, project permissions / external users, and API access.
Wincher works well for local tracking, but only supports Google (not Bing, YouTube, Amazon, etc.).
Reporting functionality
The trade-off with Wincher being a little cheaper is that there isn't really anything special in the reporting.
Don't get me wrong, it's good enough — otherwise Wincher wouldn't be in this list. All the basics like automated email scheduling are covered, and you can customize the interval, keywords, and recipients.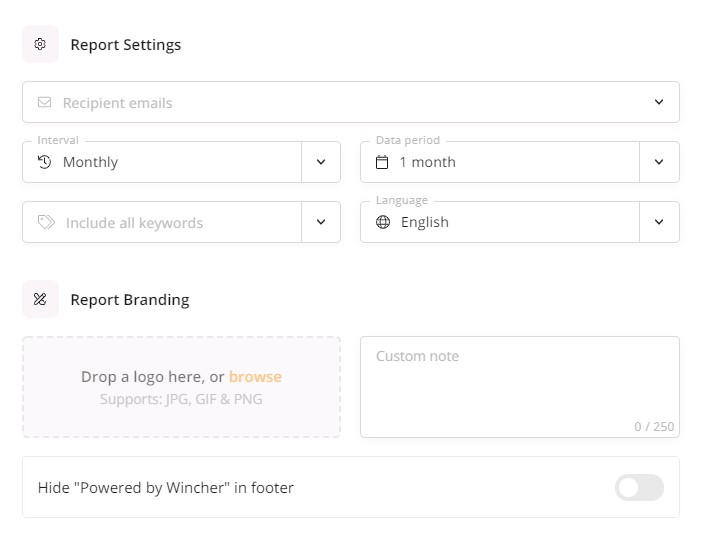 Apparently, a Google Data Studio integration is on the way. That'd be really nice to see, especially at this lower price point.
It's not here yet, though.
White labeling
Wincher's white label reports are available starting from the mid-tier plan ('Business'), which starts at €59 per month ($70) for 1,000 keywords.
Pricing
Compared to AccuRanker, Wincher is notably cheaper, and has a very accessible starting price too. It starts out basic, and you can start to add more advanced features on higher tiers.
All the plans are reasonably priced, but by the time you get to 5k+ keywords, it's particularly well priced (per keyword tracked).
Plan
# Of Keywords
Cost (Monthly)
Cost
(Annual)
$ Per 100 Keywords
White Label
Reports
Starter
500
$35
$29
$7
❌
Business
1,000
$70
$58
$7
✅
Business
2,000
$117
$97
$9.26
✅
Enterprise
5,000
$296
$237
$5.92
✅
Enterprise
10,000
$534
$374
$5.34
✅
Wincher prices converted from € into $USD
Sign up for a 14-day free trial of Wincher
Starting price $11*. Free trial available.

ProRankTracker overview
ProRankTracker is a standalone rank tracker with a big focus on agencies & consultants reporting to clients.
It's the only tool in this list that can track & report on Amazon rankings, if that interests you. It can also track YouTube, Bing & Yahoo — which is more likely to be relevant.
It scales very well, with low starting prices, and advanced functionality available on higher tiers.
It has some unique reporting features; most notably their 'MyRanks' white label mobile app.
Reporting functionality
ProRankTracker really excels in hands-off agency SEO reporting, hence why it's in this list.
Of course it has all the standard automated email scheduling stuff, no need to repeat that. There are two killer reporting features that you should know about, though.
The first is shareable dynamic URLs.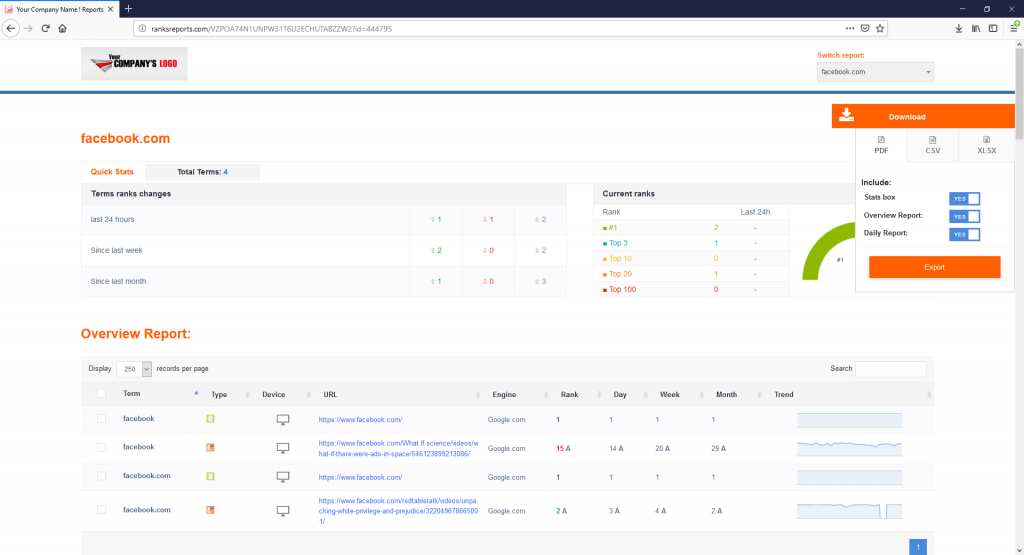 This lets you generate a URL to share with your client, so they can check rankings anytime. It will auto-update, so it could completely remove the burden of ranking reports in your weekly workload, if you chose.
There are options to white label these pages, add password protection, and expiration dates.
The second is their white label MyRanks mobile app.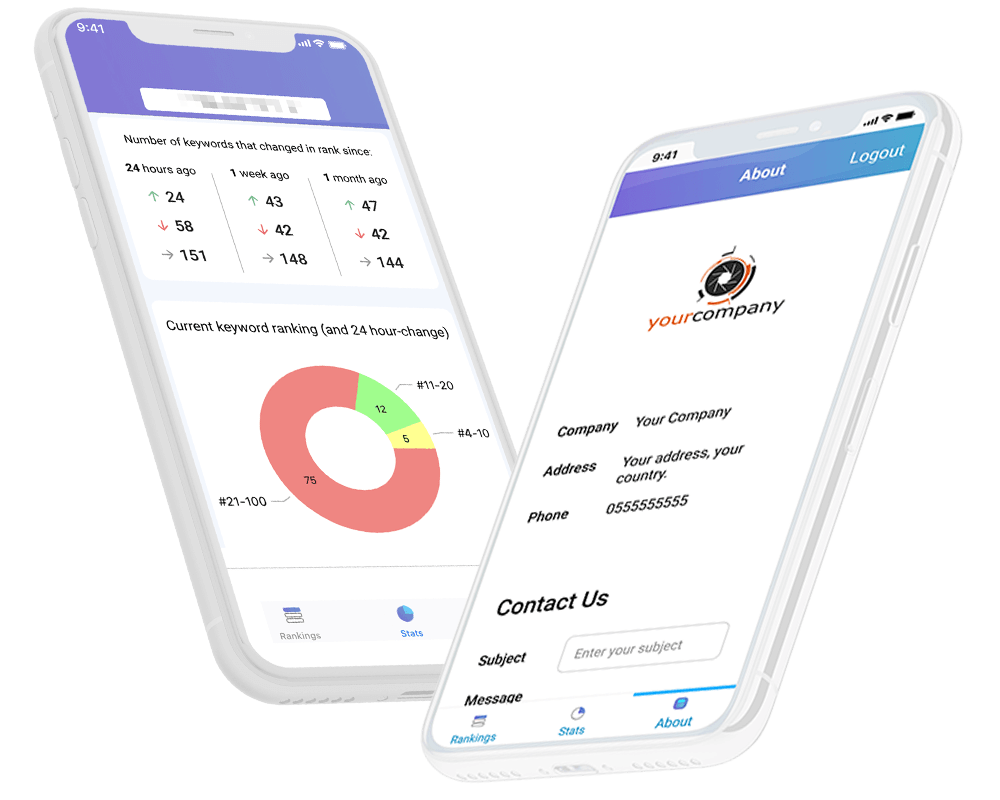 Exactly as it sounds, MyRanks is an app that you can slap your logo & company details on, and give your clients a login.
A lot of reporting solutions are pretty garbage on mobile, so this one is particularly nice for people with clients who are on the go.
You can create unlimited user logins for the app, and it supports 13 languages (set on a per-user level). This app is available on the Pro plan & above, which starts at $89/month for 1,000 keywords.
White labeling
Standard white label reporting options are available on all plans, which is great. Along with Nightwatch, that makes it one of the cheapest options in this article to get some basic white label reports.
As mentioned, the MyRanks app only becomes available on Pro & Agency plans.
Pricing
ProRankTracker can scale up well & offer advanced functionality on higher plans, but it also has an accessible starting price. Their model is quite customizable, depending on the features you need & volume of keywords.
All plans come with unlimited URLs tracked & unlimited reports.
The cost per keywords tracked drastically comes down the more you buy. Here's some pricing examples, or you can check the pricing page for yourself.
Plan
# Of Keywords
Cost (Monthly)
Cost
(Annual)
$ Per 100 Keywords
White Label Mobile App
Starter
100
$13.50
$11
$13.50
❌
Starter
500
$49
$39
$9.80
❌
Pro
1,000
$89
$71
$8.90
✅
Pro
2,500
$149
$119
$5.96
✅
Agency
5,000
$275
$220
$5.50
✅
Sign up for a 7 day free trial of ProRankTracker