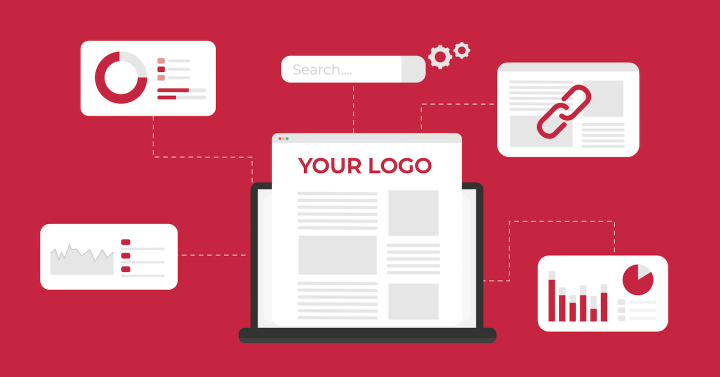 White label SEO tools make you look great (and professional), plus they're also great for scalability.
In 2023, there's really no need to invest heavily in complex custom solutions, when there's so many white label SEO tools out there already that can do the job out-of-the-box with your branding.
In this article, you'll find white label SEO tools, categorized into:
Choosing a white label SEO tool
Some of the most popular SEO functions to white label include:
Keyword research and tracking
Web traffic analytics
SERP analytics
Website auditing
Competitor research, monitoring & ranking
Backlink tracking & monitoring
Digital marketing analytics
When you're looking for a white label SEO tool, the best place to start is thinking about what functions you need it to fulfill. If you need a platform that checks as many boxes as possible, it's best to opt for an all-in-one solution. If you're only looking for a specific feature, then narrow your search down and zero in on a software that specializes in that.
White label SEO platforms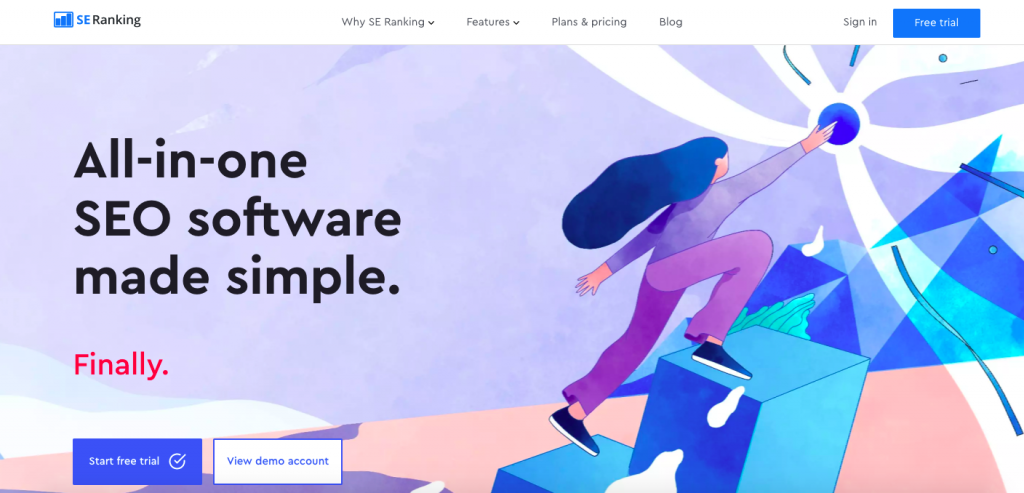 Main features
SE Ranking's SEO platform does it all. Their extensive suite of white label SEO features includes:
Web traffic analytics
Keyword suggestion tools & a keyword rank tracker
Historical data on keywords & domains
Website auditing
On-page auditing
Competitor rankings
Marketing plans including preliminary analysis & on/off-page optimization
Social media analytics & management
Backlink monitoring & a backlink tracker
Performance-based invoicing
And here's exactly what their white label platform allows users to do:
Use your own domain & subdomain without a single link to SE Ranking
Manage users and give them custom access to different SEO facilities
Create custom, drag-and-drop reports that can be sent automatically or manually from your company email address
No hosting necessary
Select your own colour scheme and upload your custom logo and header/footer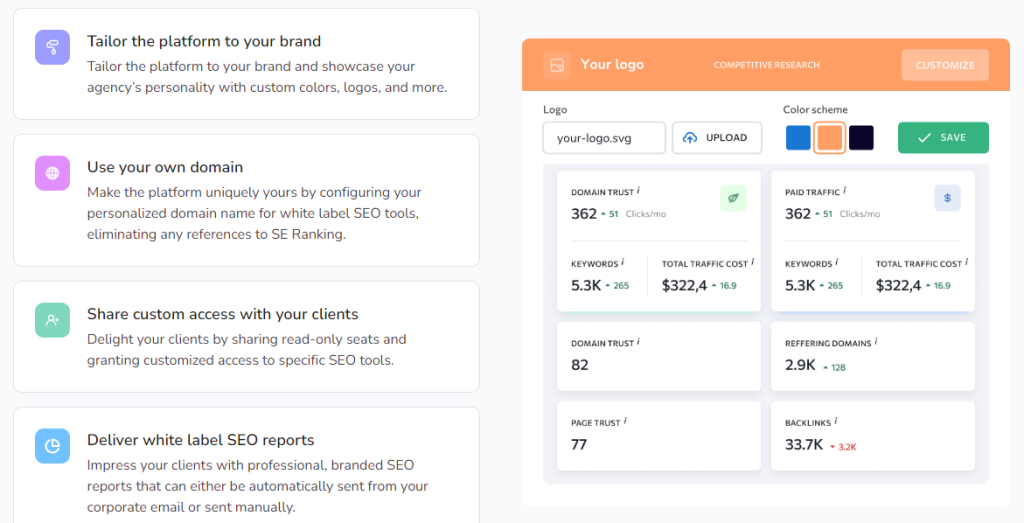 Who it's best for
SE Ranking is an all-in-one SEO tool, budget-friendly and suitable for agencies. It's a great alternative to Ahrefs which comes in with a much lower starting price, and covers most of the same use cases.
Pricing
SE Ranking's white label features are included in their more advanced paid plans: Pro and Business.
The Pro plan costs around $75 per month (billed annually), or around $90 per month (billed monthly). Prices scale up from there depending on features and usage.
They've also got a free 14-day trial available.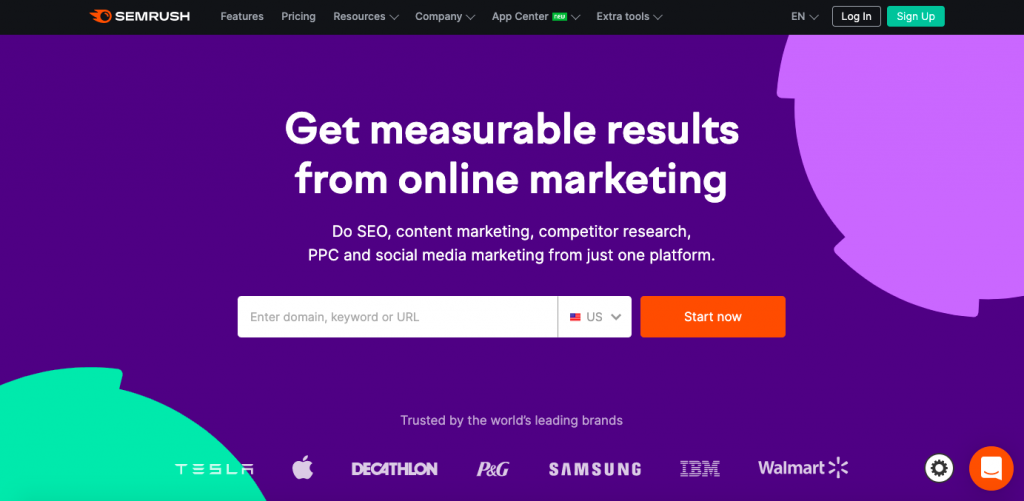 Main features
Semrush's white label features allow you to generate custom reports through their Agency Growth Kit add on. With this tool, you can:
Set custom themes
Add custom visual styles
Upload custom branding
Remove Semrush branding
Customize email text
Schedule emails containing custom reports
You can also order one-off custom reports related to everything from advertising to market research to user behavior.
Who it's best for
Those looking for white label custom reports rather than a wide range of features. It also makes the most sense for those who already use Semrush.
Like SE Ranking, it's also a solid alternative to Ahrefs. But this time, instead of having fewer features at a lower price, you get more features for a (slightly) higher price.
Pricing
In order to use Semrush's Agency Growth Kit, you need to have an existing Semrush subscription.
The Agency Growth Kit costs $100 USD per month on top of the cost of your paid plan. Their paid plan options include:
Pro ($119.95 USD monthly)
Guru ($229.95 USD monthly)
Business ($449.95 USD monthly)
Semrush also has free trials available.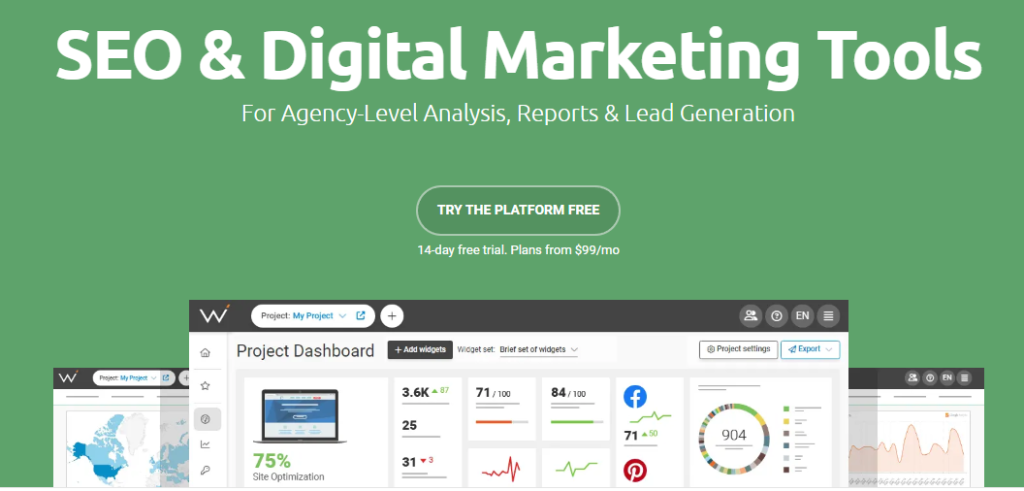 Main features
WebCEO's white label features are available through their Agency Unlimited plan. This gives users the ability to white label their SEO tools by creating and configuring a custom domain.
WebCEO's main SEO features include:
Rank tracking
Keyword research
Technical auditing
Internal links
SEO analysis
A backlink checker
Google Analytics and Google Ads tools
Social media analytics
Who it's best for
Those with a decent budget looking for a white label SEO tool with lots of years of experience in the industry.
Pricing
WebCEO's Agency Unlimited plan costs $99 USD per month and you'll have to pay an extra $20 USD per month for their white label domain feature.
There are some small additional fees involved as well. You'll have to pay $2 per active project and scanning fees for backlinks and rankings ($4 per 1000 rank queries and $0.40 per 1000 backlinks found).
WebCEO also has 30-minute demos and a free trial available.
White label rank tracking tools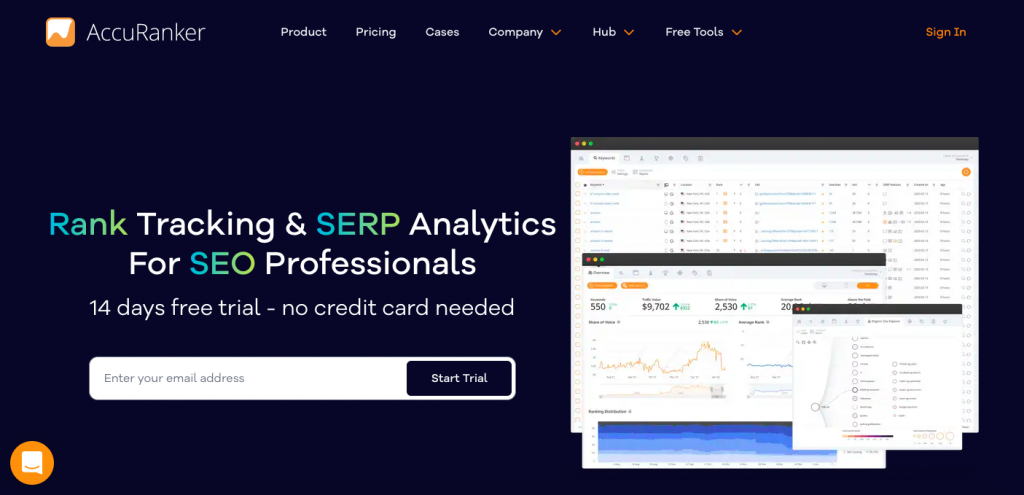 Main features
AccuRanker is all about SERP tracking and SERP analytics. Here are their main features that allow users to deeply understand how they stack up against their competitors:
Desktop, mobile & local results
SERP feature tracking
Competitor tracking
Share of voice
Historic search volume
Landing page segmentation
SERP history
Integration with Google Analytics & Google Search Console
In terms of their white label features, AccuRanker enables users to generate reports with their own logo and data preferences as well as send them out to their clients automatically.
Who it's best for
Those with clients who are specifically interested in in-depth rank tracking information & advanced reporting integrations, without worrying about the cost.
Pricing
AccuRanker's pricing is very straightforward: 99 EUR per month for 1000 keywords. The cost goes up with more keywords.
They've also got a 14-day free trial available.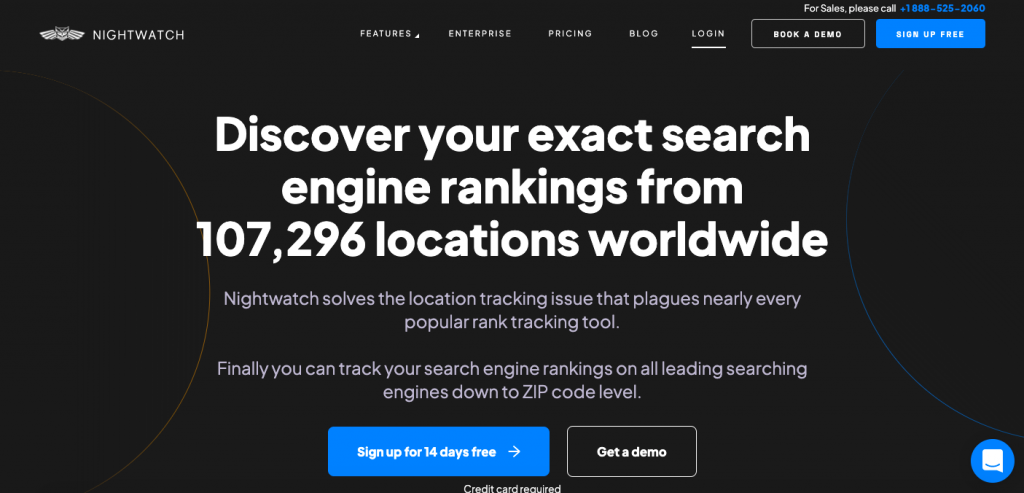 Main features
Nightwatch has two core features:
Keyword tracking (including competitors)
Reporting
It's a solid SERP tracking software. It works across multiple search engines (incl. Google, Bing, YouTube), and works for local rankings down to the ZIP code level.
It has a white label reporting feature which is customizable.

Who it's best for
It's best if you just need a rank tracker, not an all-in-one platform. Or if you're using something like Ahrefs which has some weaknesses in rank tracking & white label features, you might use both tools together.
Pricing
Nightwatch pricing works on a sliding scale based on keywords tracked. White label reports become available starting from $99/month.
Nightwatch also has risk-free, 14-day free trials available.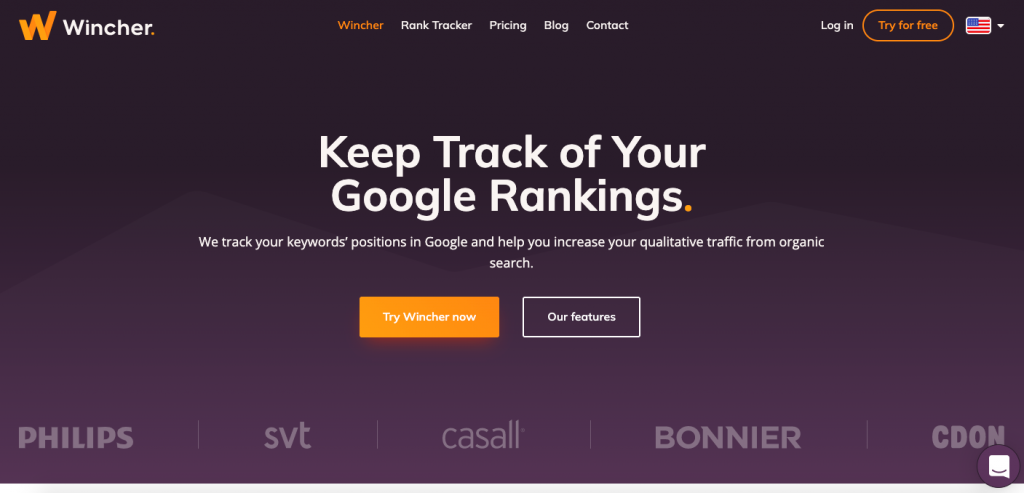 Main features
Wincher is exclusively dedicated to keyword rank tracking, with features including:
Daily keyword ranking updates
Website rankings
Local rank tracking
Competitor tracking
Keyword research & grouping
On-page SEO score
Search volume, CPC & traffic
All of this data can be presented in beautiful, custom white label reports that you can send out automatically or manually.
Who it's best for
Those who are looking for an inexpensive platform exclusively dedicated to rank tracking.
Pricing
You can create white label reports with Wincher's Business and Enterprise paid plans, which come in at 59 EUR per month and 249 EUR per month respectively. These prices can vary depending on whether you pay monthly or yearly and how many keywords you want to track.
Wincher also has a 14-day free trial available.
White label SEO reporting dashboards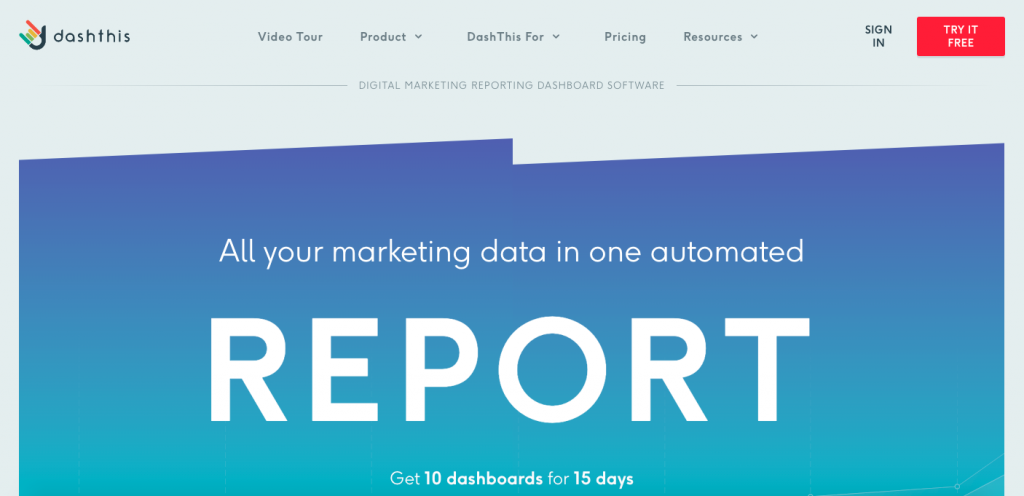 Main features
DashThis is a comprehensive marketing reporting dashboard that pulls key marketing KPIs together in one place. Here are some of their most impressive features:
Integrations with ove 34 of the most commonly-used digital marketing tools (like Google Analytics, Facebook Ads, Instagram & YouTube).
Combine data from different sources into one report
Unlimited client accounts, data sources & users
Templates & page cloning options
Share reports by email, URL or PDF
If you sign up for their Professional plan or above, you'll be able to create white label dashboards showcasing all your client's marketing data.
Who it's best for
Those who want to monitor a range of different marketing data sources for a great price.
Pricing
DashThis has 3 different paid plans that include white label dashboards, custom domains, and custom emails: the Professional plan, the Business plan, and the Standard plan:
The Professional plan costs $129 USD per month
The Business plan costs $249 USD per month
The Standard plan costs $399 USD per month
All these plans also include custom logos and preset colour themes. If you want a fully-branded custom design, you can optionally pay an additional one-time fee of $995 USD.
DashThis also has a 15-day free trial.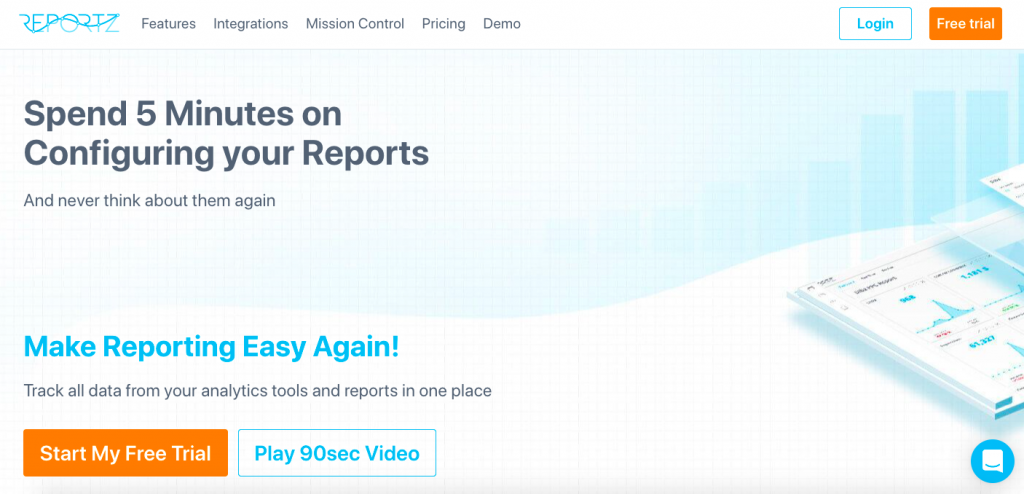 Main features
Reportz produces in-depth digital marketing reports outlining all the information you specify. Their features include:
Custom widget builder that filters, merges & displays any data needed
Unlimited widgets
View SEO, PPC, rankings & other metrics all together
Predefined templates
Integrations with commonly-used marketing data sources
Report automation
Reportz dashboards can also be white labeled so they'll look an extension of your company rather than a separate tool.
Who it's best for
Those looking for custom pricing based on the exact number of dashboards they need.
Pricing
Reportz's pricing depends on how many dashboards you want and whether you pay monthly or yearly.
To give you an idea:
5 dashboards costs $49.50 USD monthly
20 dashboards costs $192 USD monthly
70 dashboards costs $600 USD monthly
Reportz also has a 15-day free trial available.
White label SEO auditing software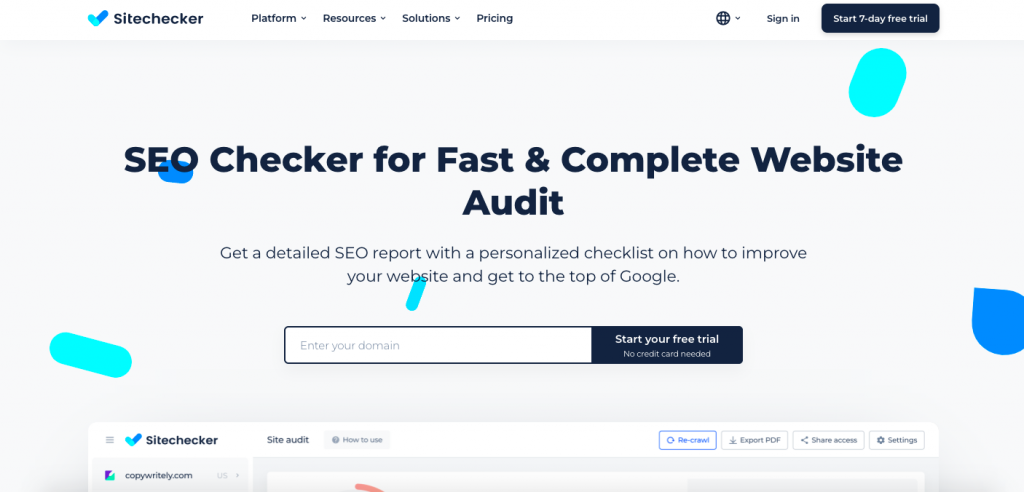 Main features
Sitechecker tracks website performance, SEO, security, and website rankings in one central place. Their main features include:
Site auditing
Site monitoring
Rank tracking
Backlink tracking
Who it's best for
Those looking for the specific combination of white label rank tracking, site auditing, and site monitoring together at a low price.
Pricing
Custom-branded PDF white label reports are available with all of Sitechecker Pro's paid plans. Here's how much they cost:
Basic: $29 USD per month
Startup: $49 USD per month
Growing: $99 USD per month
Sitechecker has a 7-day free trial available.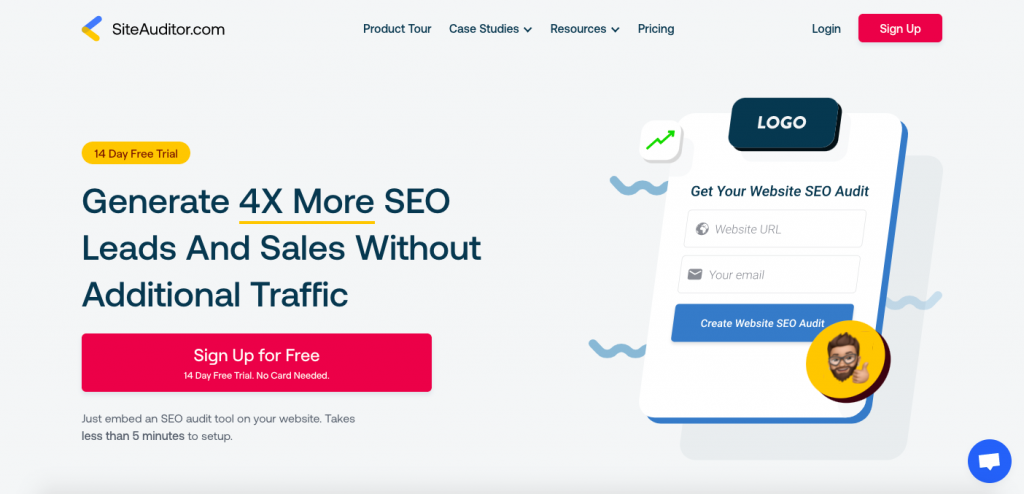 Main features
Site Auditor is a site audit tool that you can embed directly onto your website. All you have to do is copy and paste the code, customize your logo, colors, and contact information for your form and reports, and hit publish.
Their white label features allow you to create custom white label audit reports as well as generate a white label URL.
Who it's best for
Those looking to generate leads and revenue from site auditing.
Pricing
SiteAuditor's pricing system is very simple because they only have one plan (which includes white label functionalities). You can either pay $49 USD per month or save 20% on an annual plan and pay $39 USD monthly.
SiteAuditor has a 14-day free trial available.