Reporting dashboards are awesome. They save a lot of time, and add a lot of transparency for everyone in a project to track KPIs easily. If you're an agency, adding your own (or your client's) branding via white label features is a great way to give your dashboards a more personalized touch.
The tricky bit is that some of the available white label dashboard software involves some level of coding, requiring a couple of hours to demonstrate your brand elements. Some solutions may even come with usage limits, making pricing far less predictable. In this article, I'll show you ten white label dashboard software tools that you can use to easily improve customer experience and ensure brand consistency.
Here are the 10 best white label dashboard software
DashThis

Klipfolio

Domo

Databox

Whatagraph

GoodData

Rank Ranger

Yellowfin BI

ClicData

BrightLocal
Scroll down to get the details of each tool.
1. DashThis
Best suited for: marketing agencies reporting to multiple clients
Free trial: yes, 15 days. Sign up here.
Starting price: from $33/month for 3 dashboards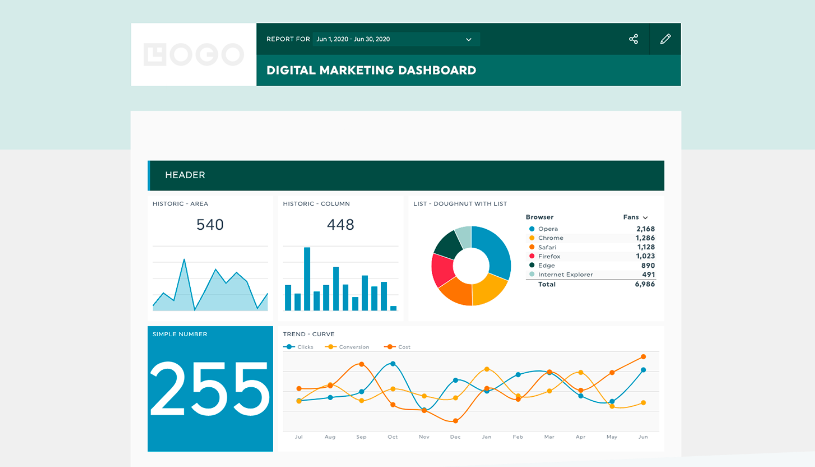 Key features
DashThis is a marketing reporting and dashboard solution to gather all your marketing data and build custom dashboards for SEO, social media, SEM, email, and paid campaigns reports.
You can quickly build a dashboard using a simple drag-and-drop UI, and super easy one-click integrations with your marketing tools. Then, you generate a shareable link and send it to your client. They can check in any time, and lots of time gets saved on reporting.
Here are the white label features available in DashThis:
Custom logo
Custom color schemes
Custom domain (for shareable report links)
Custom email (for automated email reports)
The latter features are only available for teams buying 10+ dashboards ($109/month). See pricing for details.
There are lots of pre-set report templates to help you get started. Here's just a couple of examples:
Pricing
DashThis offers 4 plans: Individual, Professional, Business, and Standard. The 'Individual' plan costs $33 per month (billed annually) or $39 per month (billed monthly). The starter plan allows a custom logo, but most white label features are available on the 'Professional' plan which costs $109 per month. See full pricing here.
2. Klipfolio
Best suited for: marketers who need to create multi-channel KPI dashboards
Free trial: offers freemium version. Sign up here.
Starting price: free. Paid plans from $99/month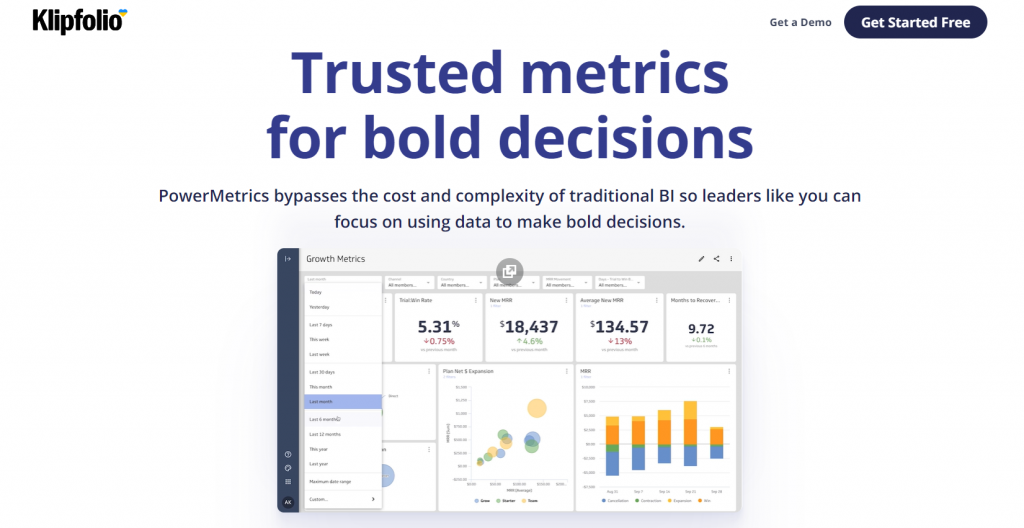 Key features
Klipfolio is a KPI dashboard software to visualize data from different sources with 100+ data connectors, including spreadsheets, files, and databases – without any coding.
Klipfolio's white labeling feature allows you to customize everything from the product name and links to logos and favicons. Furthermore, it lets you have your users log in via a domain that you specify and apply custom theming through CSS.
Klips (a separate Klipfolio product) is the solution you need if you want to customize and automate your client reports. It allows you to easily share your dashboards with others by publishing links that provide view-only access.
Pricing
Currently, 4 plans are available on Klipfolio: Free, Plus, Pro, and Custom. The 'Free' plan offers unlimited metrics and dashboards with a 4-hour data refresh interval. The most popular Klipfolio plan is 'Plus'. It costs $99 per month (billed annually) or $139 per month (billed monthly). View full pricing here.
3. Domo
Best suited for: mid-size to large companies with advanced reporting requirements and minimal technical expertise
Free trial: Yes. Sign up here.
Starting price: unknown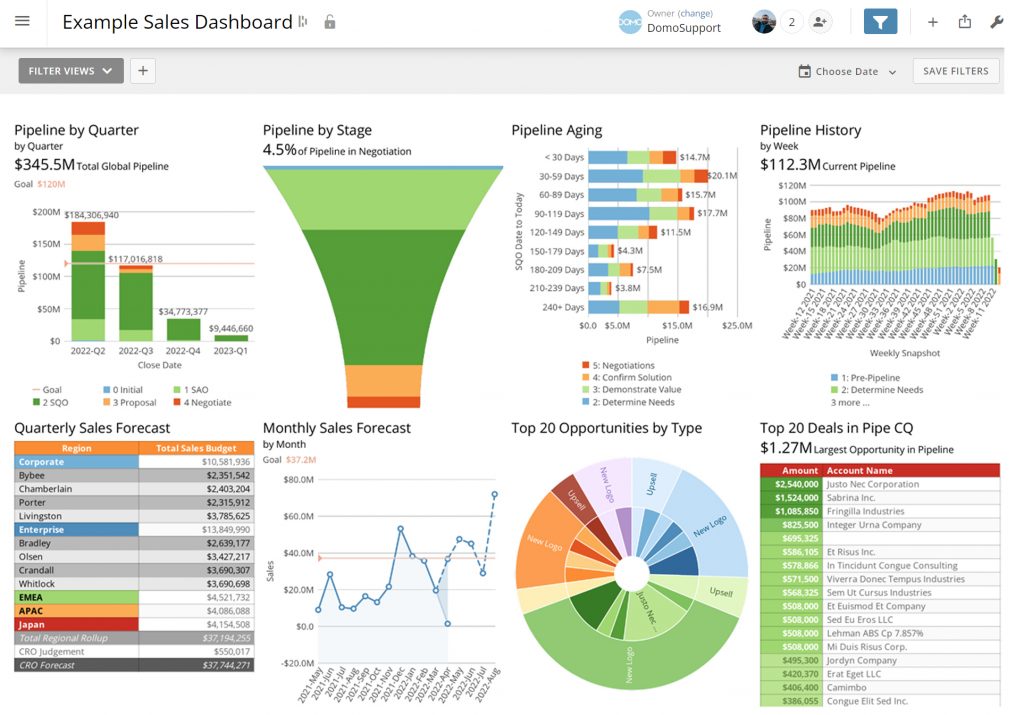 Key features
Domo is a business intelligence and data visualization solution with 150 pre-loaded chart types and white label features that provides real-time access to your business data and transforms data into insights.
Domo syncs with any data sources, no matter the volume, thanks to its over 100 pre-built connectors. You can also create advanced transformations with SQL scripts in Domo's SQL editor.
Additionally, Domo provides self-service analytics and automated reporting to users, enabling them to answer their own questions and freeing up IT teams for more strategic initiatives.
Pricing
Domo's pricing is determined by a number of factors like data refresh rates, the volume of data queries, and the number of users. To find detailed pricing for Domo, you can contact sales.
4. Databox
Best suited for: marketers who want to develop white label dashboards and benefit from the features like data calculation and insight notifications
Free trial: yes. Sign up here.
Starting price: from $72/month (+$250 for white label features)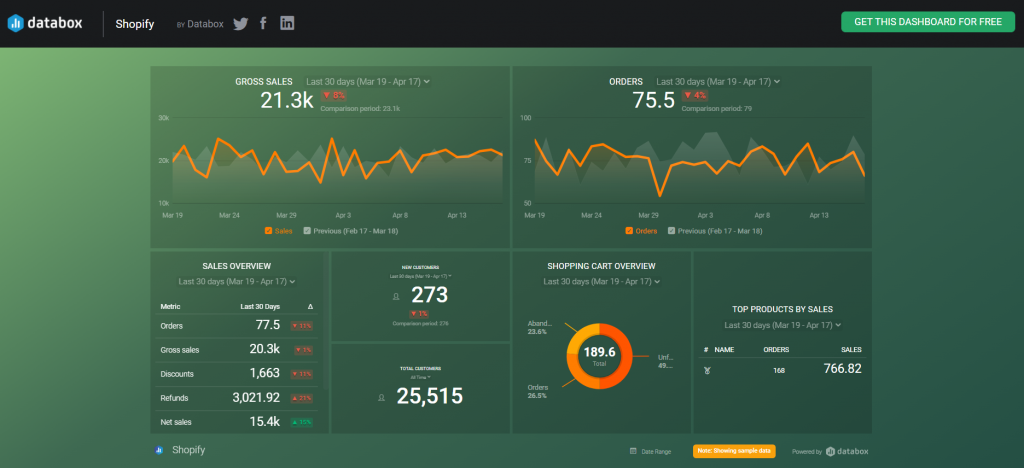 Key features
Databox is a business analytics software that pulls all your data in one central place, tracks KPIs, and discovers business insights via real-time dashboards.
Firstly, Databox lets you share and present fully branded dashboards and have your own branded web app on a custom domain. Your shareable dashboard URLs can also be custom branded to include your company's domain. Furthermore, you can white label all emails sent from your Databox account so the sender is linked to your company.
From marketing and sales to customer support, project management, and eCommerce, there're tons of pre-built Databox dashboard templates to choose from.
Pricing
Databox has 4 plans: Free-forever, Starter, Professional, and Performer. With the free plan, you can only create 3 dashboards without any limit on data integrations. See full pricing here.
5. Whatagraph
Best suited for: small and mid-sized businesses needing a reporting solution with automation and white label features
Free trial: yes, 7 days. Sign up here.
Starting price: from $199/month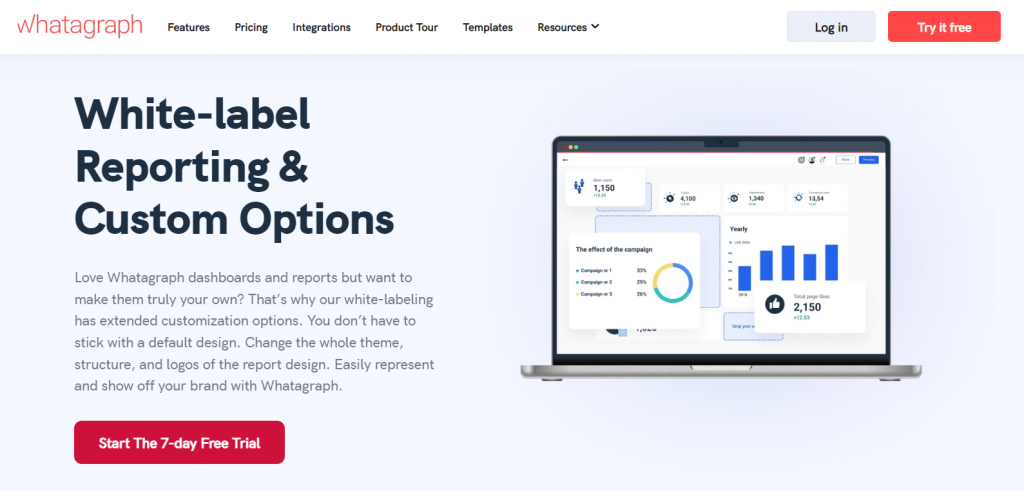 Key features
Whatagraph is a cross-channel reporting and marketing dashboard solution that allows you to build and automate marketing reports using preset templates.
This is a 100% white label solution: you can change colors add logos in your reports, and use custom domains. Once you've built your report, its automated report delivery lets you send reports to your clients at a selected frequency.
With Whatagraph, you can blend data from multiple channels like SEO, PPC, or social media, and present a clear performance overview to your clients.
Pricing
Whatagraph offers 3 plans: Professional, Premium, and Custom. The 'Professional' Plan starts from $199 per month and offers over 40 integrations, unlimited reports, and report automation. View full pricing here.
6. GoodData
Best suited for: enterprises who are looking for a business intelligence solution with a wide array of features such as data modeling, data warehousing, and white labeling
Free trial: unknown
Starting price: unknown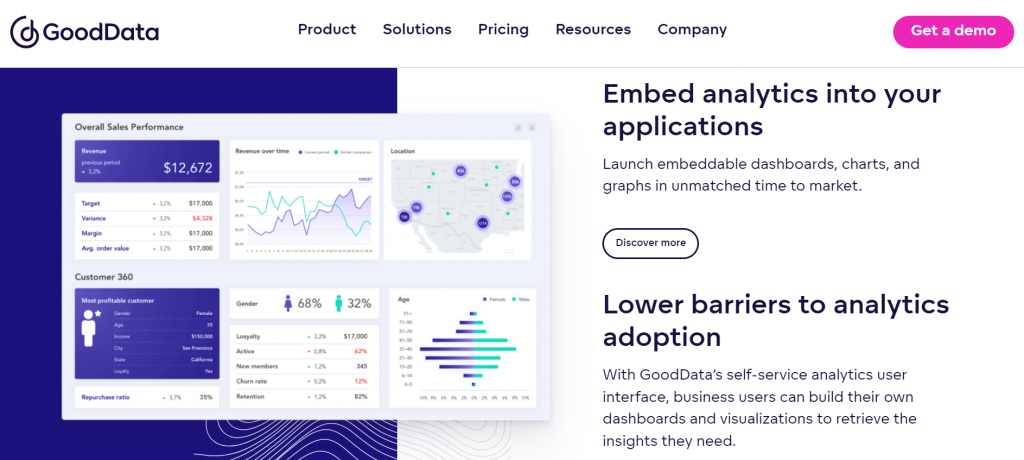 Key features
GoodData is business analytics and reporting software that combines, analyzes, and visualizes the data.
GoodData is a white label solution so you deliver your GoodData reports under your own brand, making the solution a part of your product suite. You can white label pretty much everything: logo, URLs, email addresses, text elements, and custom themes.
With drag-and-drop self-service and minimum training, business teams can generate their own reports and dashboards.
Pricing
GoodData has 3 plans: Free, Growth, and Enterprise. The 'Free' plan doesn't come with white labeling features, so you'll have to upgrade to the 'Growth' plan. GoodData doesn't provide pricing information on its website. You can get a demo here.
7. Rank Ranger
Best suited for: marketers and businesses looking for a comprehensive SEO solution that's capable of doing backlink analysis, keyword research, and website auditing
Free trial: yes, 14 days. Sign up here.
Starting price: from $79/month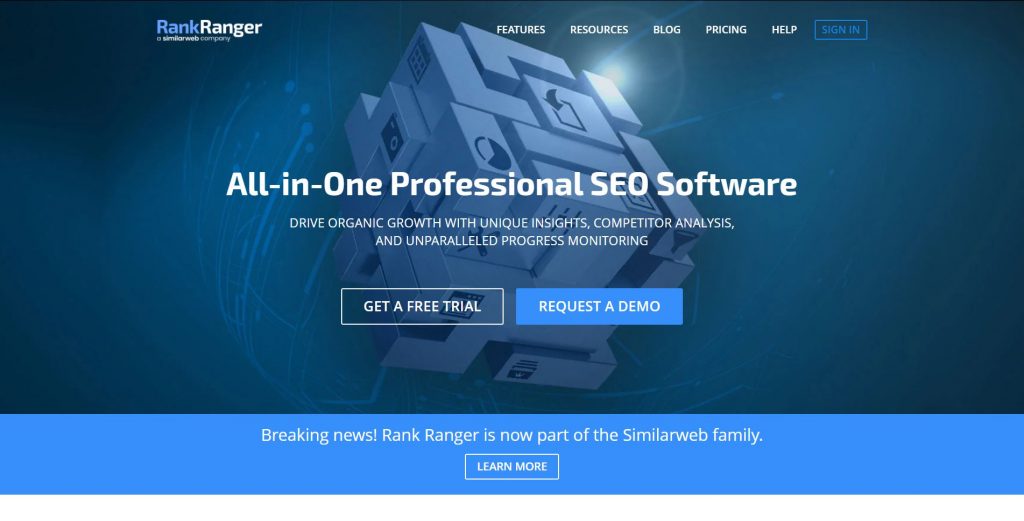 Key features
Rank Ranger is an SEO and social analytics software that allows you to perform keyword research, competitive analysis, and monitor the performance of social media campaigns.
Rank Ranger's dashboards are 100% white label and let you have full control over the HTML and CSS, so you can make the dashboard match the branding of your or your clients' website. Each campaign can have a URL that uses your username as a sub-domain and your customer name as a sub-directory.
Use built-in dashboard templates to create automatic PDF reports and schedule those reports to be sent to multiple email addresses weekly, monthly, or quarterly.
Pricing
Rank Ranger has 5 plans: Lite, Standard, Pro, Premium, and Custom. The 'Lite' plan costs $79 per month and comes with unlimited scheduled PDF reports and email alerts. See full pricing here.
8. Yellowfin BI
Best suited for: agencies and large businesses needing a data analytics and reporting solution with AI-driven features
Free trial: Yes, 30-day free trial. Sign up here.
Starting price: Unknown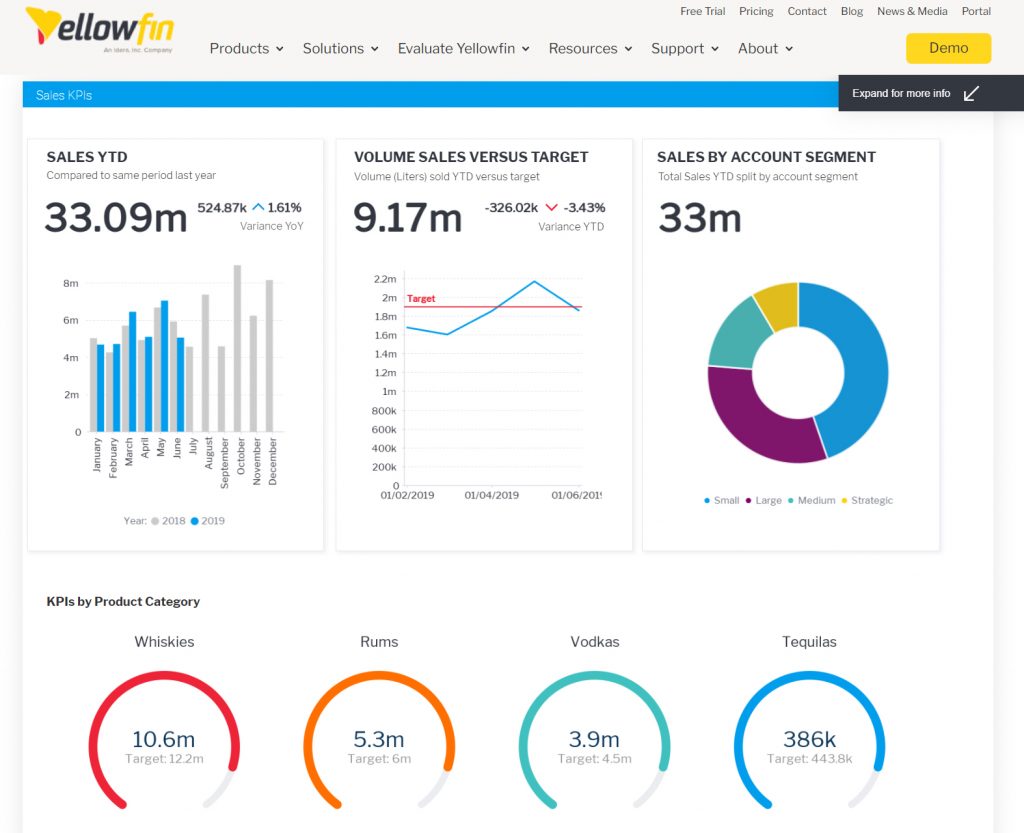 Key features
Yellowfin BI is an enterprise-level business intelligence solution for data discovery, automated business reporting, and data visualization.
Yellowfin BI makes it so simple to rebrand and white label the dashboards. You can do this via dropping in logo images, changing CSS, and administration defaults – without any coding knowledge.
Its automation feature allows you to augment your dashboards with assisted insights, automated business monitoring, and data science integration.
Lastly, Yellowfin BI monitors your data for preset custom alert conditions and notifies you instantly when threshold values are achieved.
Pricing
Yellowfin doesn't provide information on pricing on its website. You can request a quote here.
9. ClicData
Best suited for: agencies who need a powerful solution to build customized and white label dashboards based on the data from various sources
Free trial: yes, 15 days. Sign up here.
Starting price: from $73/month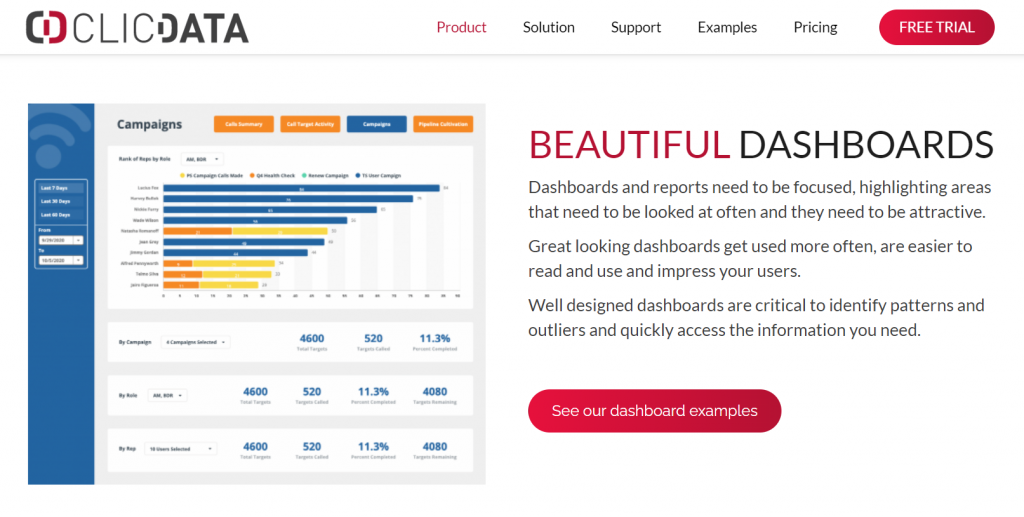 Key features
ClicData is a business intelligence and reporting tool with hundreds of connectors (Google Analytics, Google Sheets, MailChimp, Salesforce, and many more) to improve business efficiency through quick and easy reporting.
With ClicData's white label features, you can replace the in-app logo with your brand and change your widgets' default font, chart colors, and background color.
Thanks to its dashboard designer, you can transform any data into interactive dashboards in minutes.
Pricing
ClicData has 4 plans: Personal, Team, Business, and Enterprise. The 'Personal' plan costs $79 per month (billed monthly) or $73 per month (billed annually), and this plan comes with unlimited dashboards with over 50 types of visualization widgets. See full pricing here.
10. BrightLocal
Best suited for: agencies and small businesses who need to have a bird's-eye view of local search performance
Free trial: yes, 14 days. Sign up here.
Starting price: from $24.17/month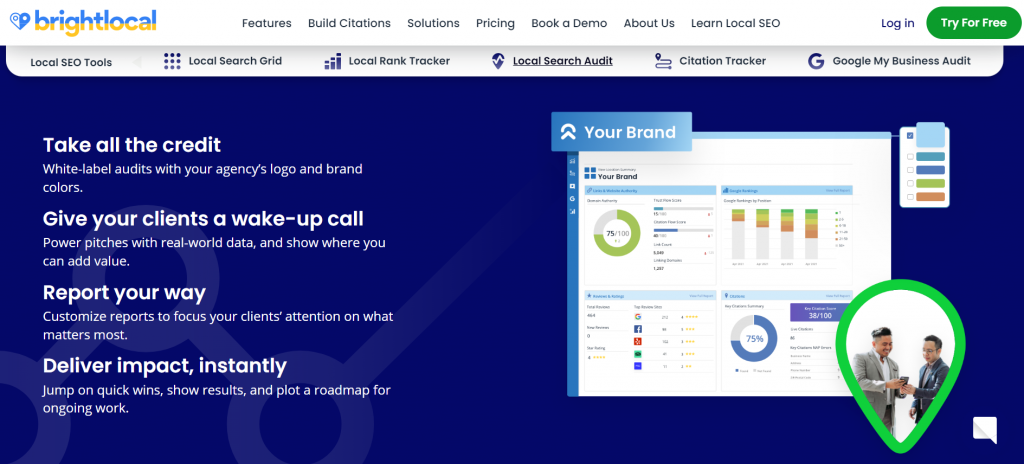 Key features
BrightLocal is an SEO and local citation platform solution that helps businesses get search performance insights, increase their online visibility, and manage their reputation.
You can customize your client reports with your logo and brand colors and give clients access to online (HTML) reports. That way, all your reports stay brand-consistent for a seamless experience, and you can schedule your reports to be delivered on a weekly or monthly basis.
Additionally, BrightLocal's ranking dashboard gives you the rankings for local search, maps, organic, and mobile results, along with specific SERP results, so you can uncover your competitors' strong and weak points.
Pricing
Currently, 4 plans are available on BrightLocal: Single Business, Multi Business, SEO Pro, and Just Reviews. To benefit from white label dashboards, you'll have to sign up for the 'Multi Business' plan that costs $49 per month (billed monthly) or $40.83 per month (billed annually). View full pricing here.
Over to you!
Now that you have all the knowledge for white label dashboard software go ahead and make a choice. Each solution will have its benefits and shortcomings. Therefore, it's better to measure these software benefits to your agency's requirements.