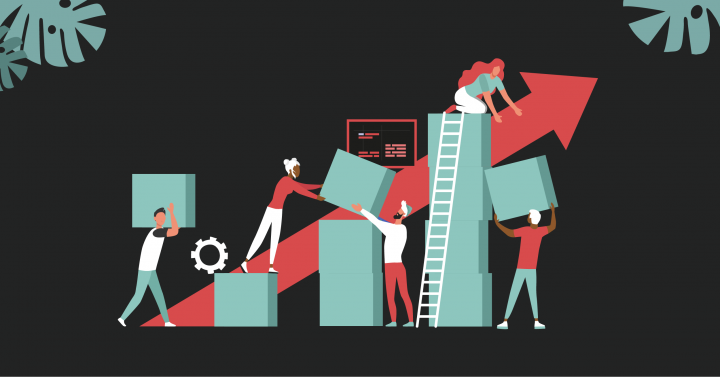 If you're looking for a scalable SEO software that can grow alongside your business, you're in the right place.
No fluffy intros here, let's get into it.
Criteria for recommending scalable SEO tools
For this list, I'll be recommending software that fits one of two definitions of "scalable". Either:
1) Pricing & service tiers are flexible. Low monthly starting costs, but with the capacity to scale up for larger operations if needed. You'll be able to grow in the future, without the hassle of switching software.
or…
2) You're already working at a larger scale, and need something fit for high volumes of keywords, competitors, user seats, projects, etc.
I'm also going to break up the recommendations into:
I'm not going to recommend specific tools for backlink monitoring, since I believe you should just buy a multi-feature tool in that case. Feel free to use the click-to-scroll links above to skip down.
Let's begin!
Scalable all-in-one SEO platforms
These are SaaS products that offer several SEO features in one tool.
Honestly, for most people, this is where you want to be looking for the most cost-effective solution. Here's some tools to check out that all have relatively low entry points, and can scale up as you grow.
Features: keyword research, backlink monitoring, competitor analysis, reporting, rank tracking
Starting price: ~$35 per month (annual) or ~$60 per month (monthly)
Free trial: Yes. 10 days. Sign up here.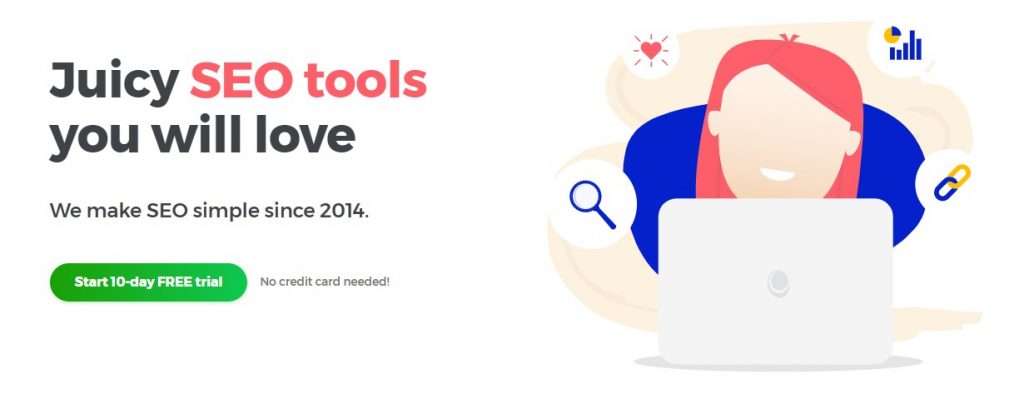 Features and strengths
Mangools best feature is keyword research.
Their keyword research tool is called KWFinder, and I use it alongside Ahrefs. I explained why here, but the short version is that it's superior for finding smaller, low-volume, low-competition keywords.
It provides excellent trends data over time, and you can choose 3, 6, or 12 month averages to get better data outside of seasonal spikes:

KWFinder also gives data on keyword difficulty, and it generates a preview of the SERP, so you can see the authority of ranking domains, and how many links they have.

Other than keyword research, when you buy Mangools, you also get:
SERPWatch, a pretty good daily rank tracker, that also has reporting features
LinkMiner, a backlink monitoring tool
SiteProfiler, which is pretty pointless
and SERPChecker, which lets you dig a little deeper into analyzing a particular SERP
I like that their rank tracker allows you to generate a shareable link for auto-updated reporting, but you can also schedule email alerts & reports as you would expect. White labelling is available too.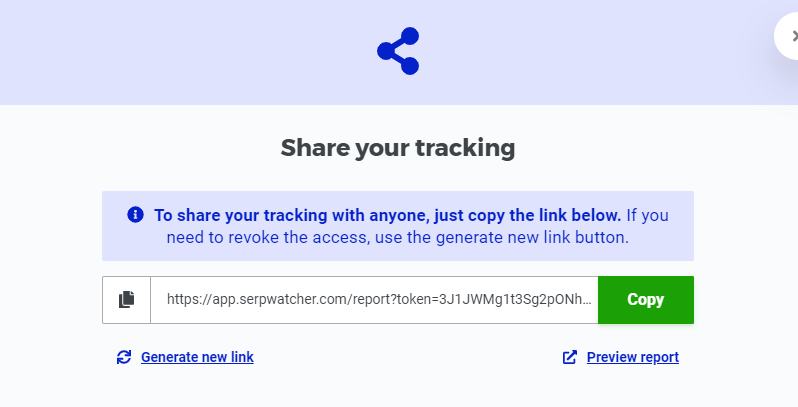 Potential drawbacks to be aware of
Mangools doesn't have a site auditing feature. If that's something you need, consider pairing Mangools with Screaming Frog. SF has a really good free version, and a very affordable premium version if you need it for site auditing.
How pricing & limits work
Mangools has 3 pricing tiers: Basic, Premium, and Agency.
All are extremely affordable, and you can switch anytime. Their discount for paying annually is very attractive, at 40%.
You can check Mangools pricing here, but to save a click, here's what it looks like: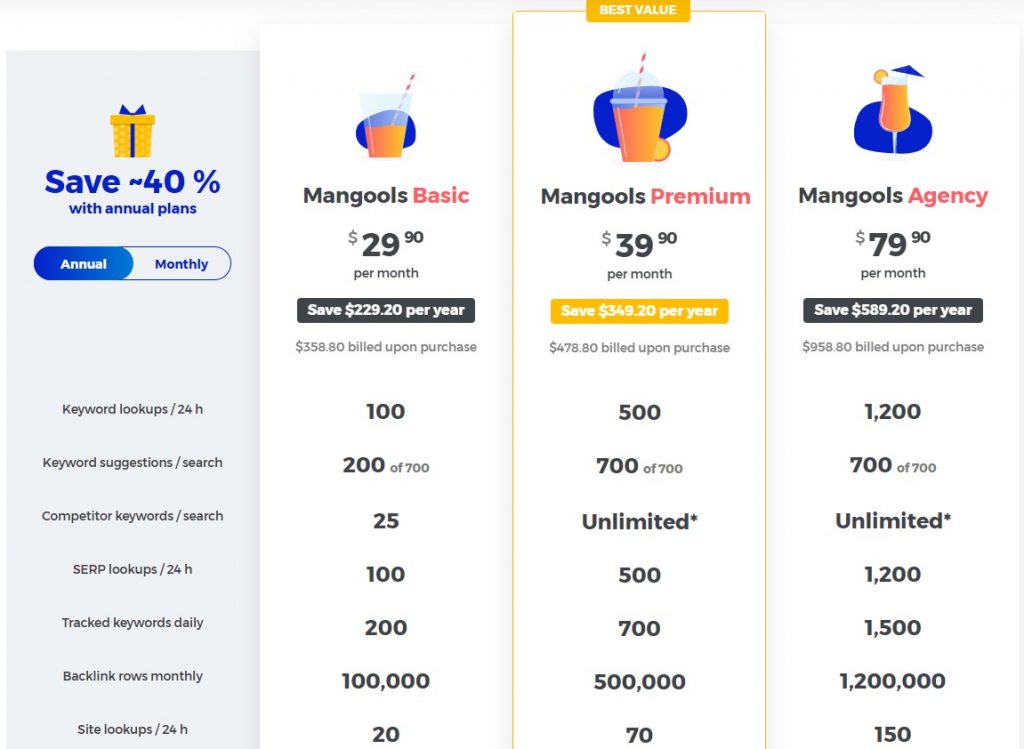 I should acknowledge a limitation here too. Even on the 'Agency' plan, the keyword suggestions per search is capped at 700. That won't be a problem for small businesses, but working at a larger scale, exporting & managing lots of data, it could be problematic. That limits how far this tool can scale.
Their support team tells me they're working on a solution.
Features: rank tracking, site auditing, backlink monitoring, reporting
Starting price: $24 per month (annual) or $39 per month (monthly)
Free trial: Yes. 14 days. Sign up here.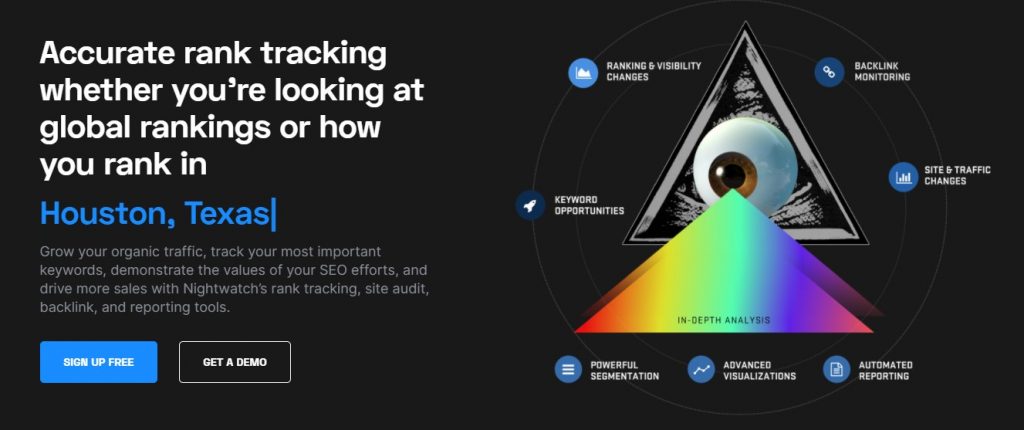 Features & strengths
Nightwatch is a suite of SEO tools, but retains a big focus on rank tracking.
If keyword tracking is the biggest reason you're looking for a scalable tool, but you want a few extra SEO features thrown in with the price, this is the software for you.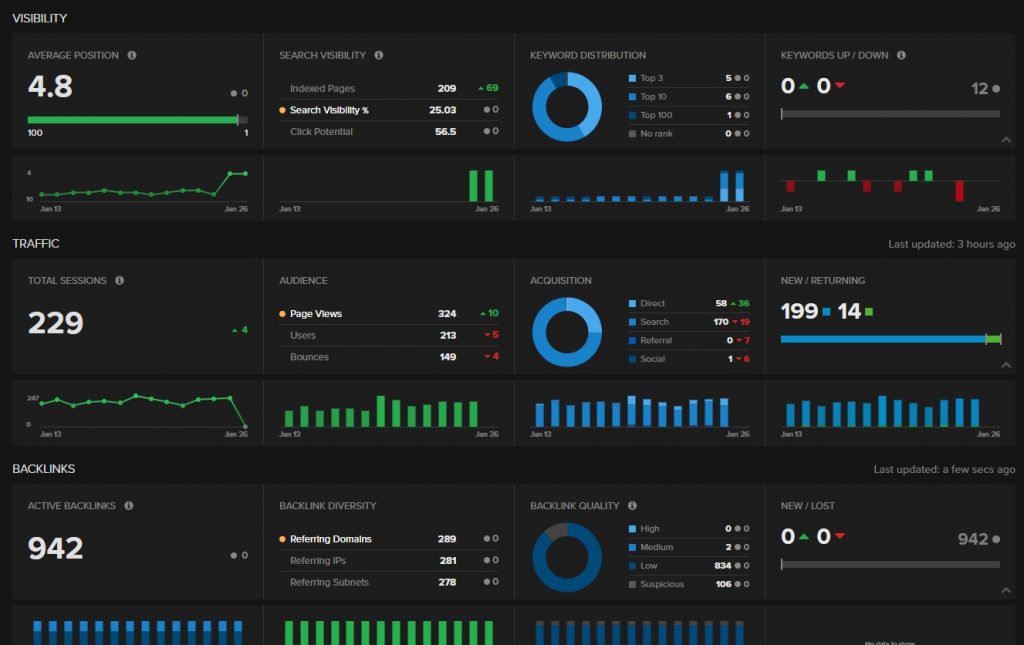 Their best feature, the rank tracker, lets you:
Track multiple search engines, including Bing, DuckDuckGo & YouTube
Get accurate localized rank tracking, including Google My Business
Connect to Google Analytics & Search console to overlay traffic data
Create custom graphs with any metrics in a few clicks (& export)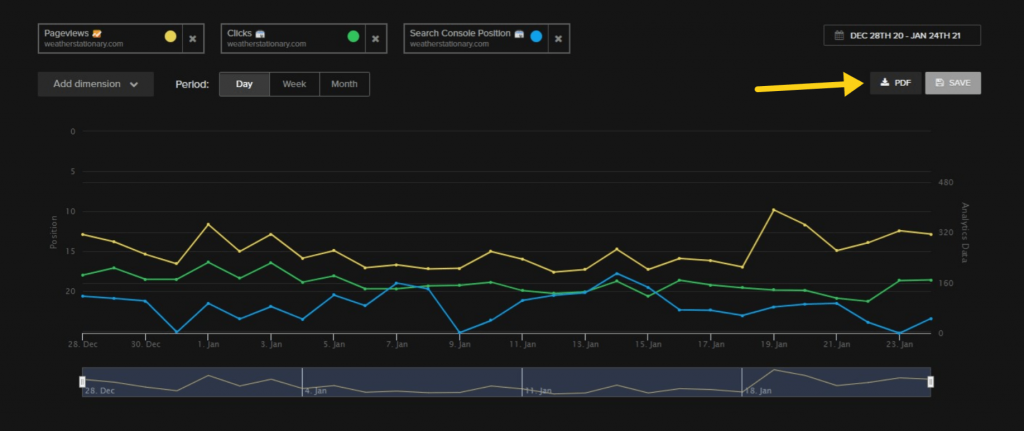 Nightwatch also offers great reporting options, including Google Analytics & Search Console integrations, and white label reports.
Potential drawbacks to be aware of
Nightwatch doesn't offer much in the way of competitor & keyword research functions. If those features are important to you, I'd consider either going with Mangools, Semrush, or adding a dedicated keyword research tool like Keyword Chef, which works via credits. That means no subscription, so you can add it to your SEO tools stack and only use it when you need it.
How pricing & limits work
I'll start by saying that, from experience, the Nightwatch team are open to customized plans & pricing, even for non-enterprise customers.
You can check their pricing here, but to save a click, here's how their plans look: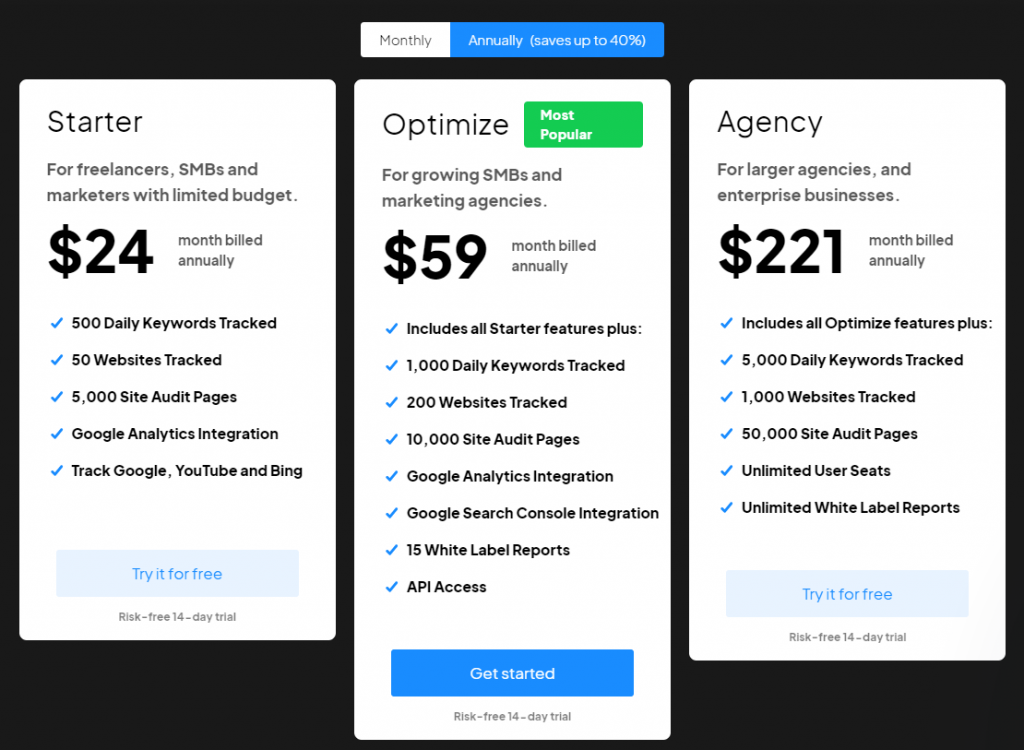 I wanted to just increase the number of keywords tracked beyond 1,000, without needing any more than 200 sites tracked, any more site audit pages, or backlinks monitored.
The team were very receptive, and offered a perfectly reasonable option in between the Optimize & Agency plans. That really helps with being able to call this a 'scalable' tool.
Features: content optimization, A/B testing, content decay
Starting price: $109 per month
Free trial: A $1 trial is available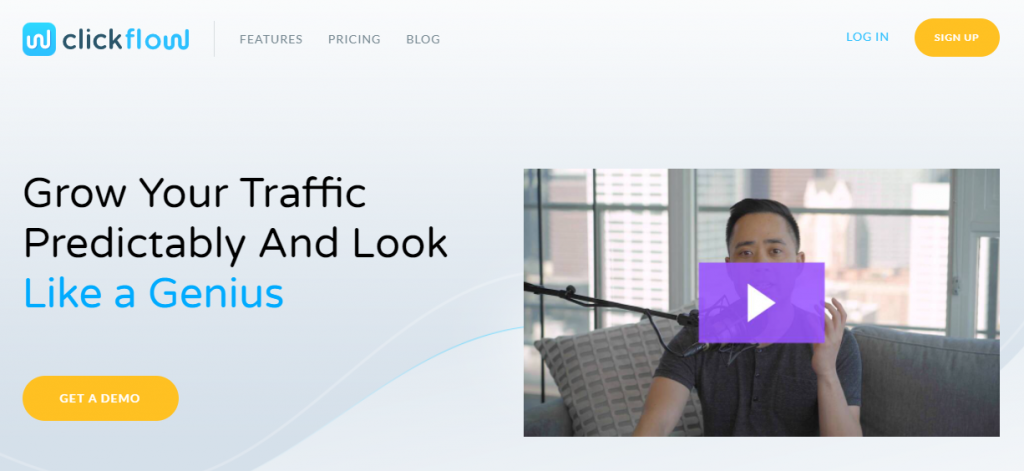 Features & strengths
ClickFlow has 3 primary features & use cases. They are:
1) SEO A/B testing: ClickFlow takes away all the spreadsheet pain associated with testing one or multiple URLs. The most common application here would be CTR testing with meta titles, but you can test any on-page element really. It tracks your Search Console data and compares the results vs. your 'control' data.
2) Content optimization: if you're familiar, this feature replaces a tool like Clearscope, Marketmuse, or SurferSEO. It pulls data from the current top ranking articles, and gives your writers recommendations for which keywords to include, topics to cover, questions to answer, word counts, etc.
3) Content decay: this feature helps you identify which of your older posts are slipping in rankings & traffic, and prioritize your resources. It's something you can do manually without a tool, but this tool makes it quicker & easier to make your decisions and move fast.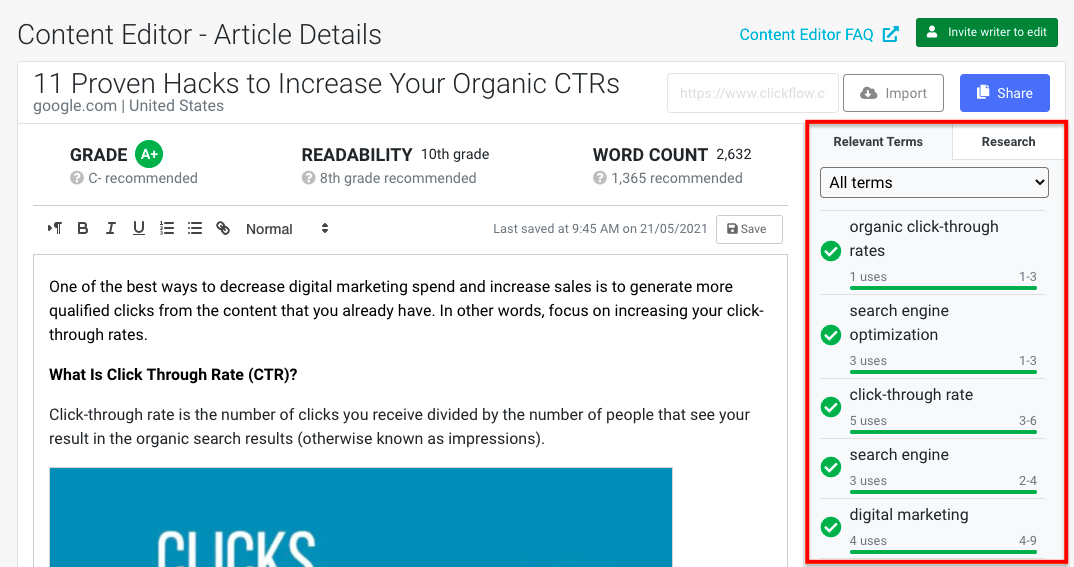 Potential drawbacks to be aware of
Some things that come to mind:
It's not as useful for smaller sites. Features like CTR testing require higher traffic to work effectively
Pricing is per site, so agencies don't necessarily benefit from scale
The content optimization tool doesn't (yet) allow you to customize which pages you generate data from, like SurferSEO does
And lastly, this tool would usually be an additional cost in your SEO tech stack — on top of your other essentials that you'd get from something like Mangools or Semrush: keyword research, competitor analysis, backlink monitoring etc.
How pricing & limits work
ClickFlow's billing is per site, based on how much traffic the site has.
Pricing starts at $109 per month for sites that have <10k per month in organic clicks. Beyond that, pricing isn't publicly available. You can get a demo and talk to their team for higher traffic pricing.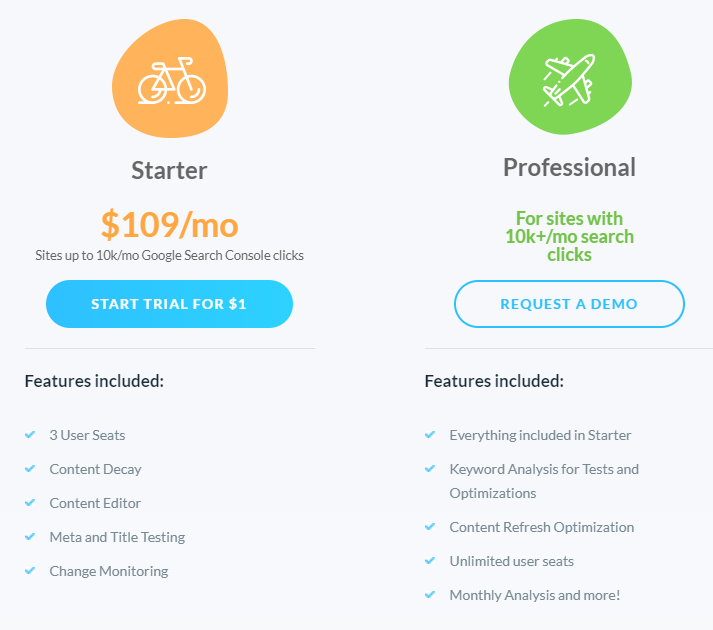 Features: Every SEO feature you can imagine… Plus PPC, social, and more
Starting price: $119 per month (annually) or $99 per month (monthly)
Free trial: Yes. 7 days. Sign up here.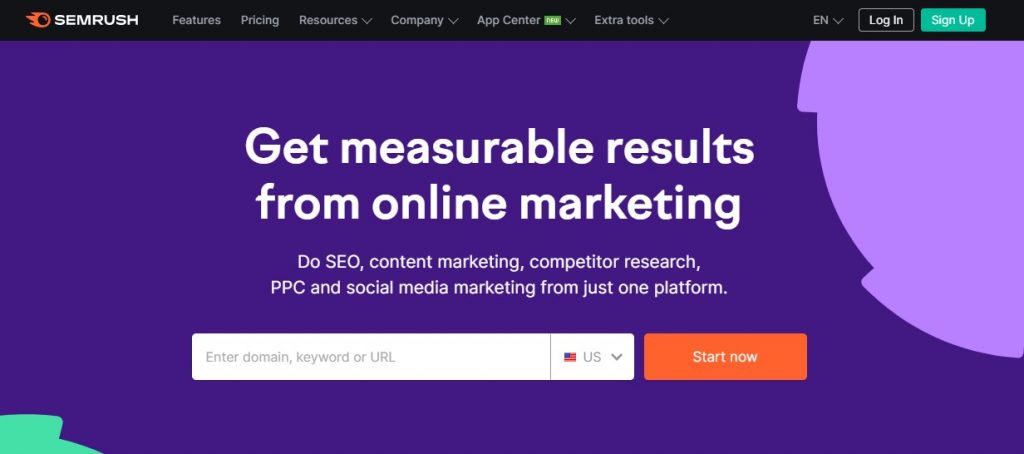 Features & strengths
Okay, where to start with Semrush…
They cover almost every SEO need you can think of.
Competitor analysis
Keyword rank tracking
Backlink monitoring
Keyword research
Content optimization
Site auditing
Reporting
The software, since it has so much going on, can be a little tricky to get used to. That being said, they've built a nice UI with helpful tooltips to explain features & metrics, and have a helpful support team too.

They've been growing rapidly, and aggressively improving the product for years. For example, recently they revamped their keyword difficulty algorithm to account for more than just backlinks, which is a step in the right direction.
I'd also make a specific mention of their report builder, which is really nice to use. It has a drag-and-drop functionality with customizable blocks for quick and effective reports.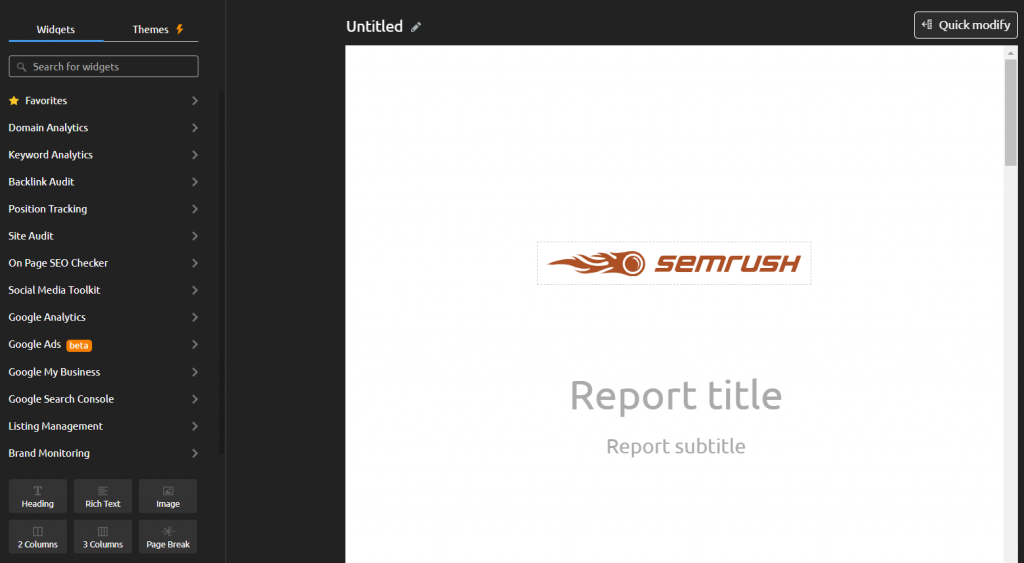 Potential drawbacks to be aware of
Semrush is the most expensive tool in this article, but it has the biggest feature set by far.
If you need everything it has to offer, to cover every SEO need & beyond (including PPC, social media, and even project management features), it's worth it.
If you don't need it all, you're probably better off with a cheaper tool like Mangools.
Another thing to consider is that, just due to the sheer number of features & complexity, it'll take a little longer to learn. It's fairly intuitive, but still worth noting.
How pricing & limits work
Semrush have a standard tier structure, but they also have a lot of upsells thrown in which aren't obvious at a glance.
That does make it 'scalable' in that you can pick & choose what you want to pay extra for, but it can also be a little confusing initially.
You can see their pricing page here, but to save you a click, here's how it looks: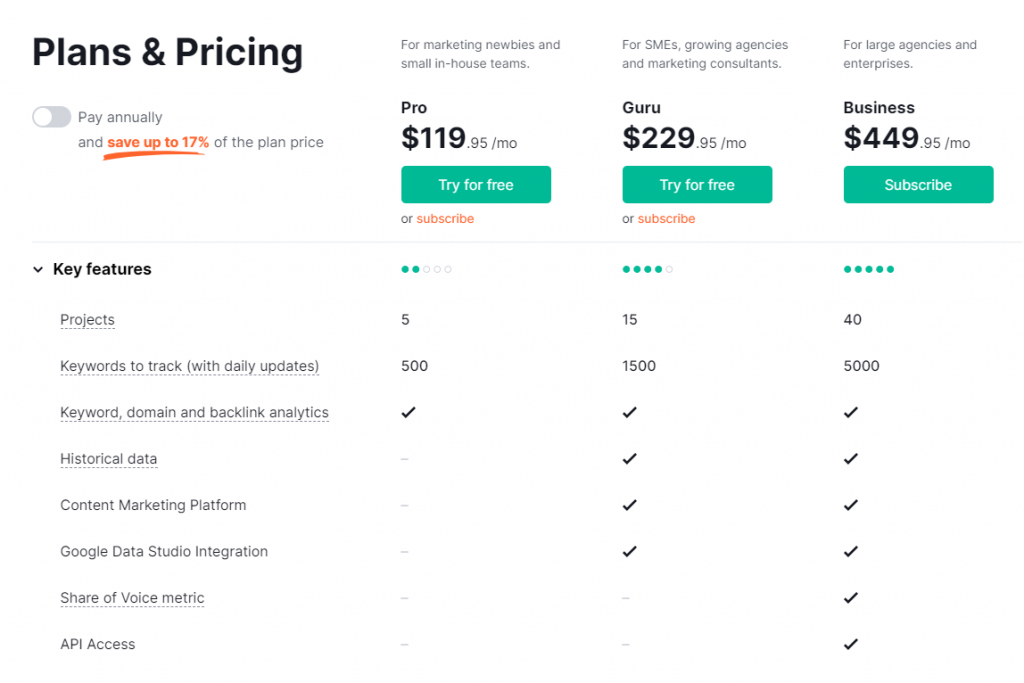 You can buy extra user seats for +$45-$100 per user too, depending on the plan.
Some features that you have to pay extra for, outside of the base subscription, include:
Agency growth kit (required for white label reporting, for example)
Listing management (for managing local SEO citations, like Yext)
Scalable keyword research tools
Semrush & Mangools (above) both have keyword research features. If you're looking for a single scalable tool specifically for keyword research, however, I have a couple of ideas for you.
Both of these tools work with credits, rather than monthly subscriptions (at the time of writing, at least). That makes them a perfect fit for a scalable solution — just pay for exactly what you need, and nothing more.
Features: keyword research
Starting price: $20 for 1,200 credits ($0.017 per keyword)
Free trial: Yes. 1,000 credits. Sign up here.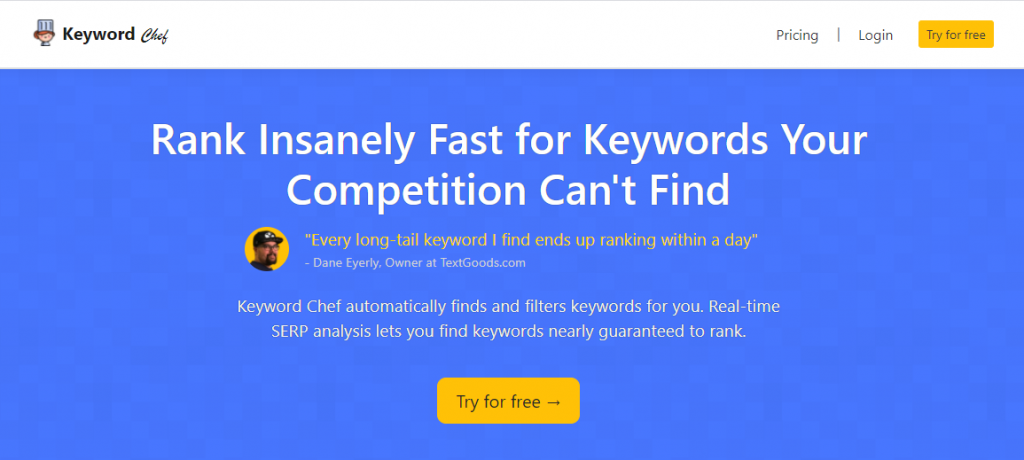 Features & strengths
Keyword Chef is all about finding low-competition keywords with high intent. Exactly what most content sites are looking for.
You can start with a seed idea, even a very broad one, and get details for your keywords like:
Average search volume
Highest search volume in the last 12 months
Lowest search volume in the last 12 months
A SERP overview to check difficulty
Let's take a random example. Say I'm looking for 'VS' comparison keywords, and I want to write about Benchmade, who make knives. I don't know which specific products of theirs have search volume, so I can use the wildcard * like this: "benchmade * vs", which pulls relevant results:

The SERP column highlights how many weak results there are, e.g. forums, or Reddit threads ranking, since they usually present an easy opportunity.
Keyword Chef also makes it easy to find other high intent queries like 'how to', 'alternatives', 'vs', 'best', 'review', and so on.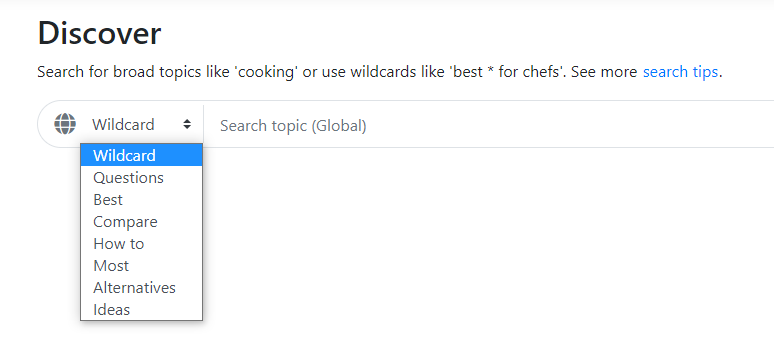 Potential drawbacks to be aware of
To my knowledge, you can't search by competitor domain to see what they're ranking for, like you would be able to in Semrush for example.
I think that's a worthwhile trade-off; in a perfect world, if you have the budget, Keyword Chef should be an addition to your existing SEO toolset. The credit system for use ad-hoc makes it a good fit for that.
How pricing & limits work
As mentioned, Keyword Chef uses credits, rather than a subscription, which makes it very scalable indeed. Regardless of whether you're just testing it with a handful of keywords, or running a larger scale publishing operation.
Pricing goes as low as $0.005 each when you buy in batches of 50k credits.

Features: keyword research
Starting price: $25 for 2,000 credits ($0.0125 per keyword)
Free trial: Yes. 250 credits. Sign up here.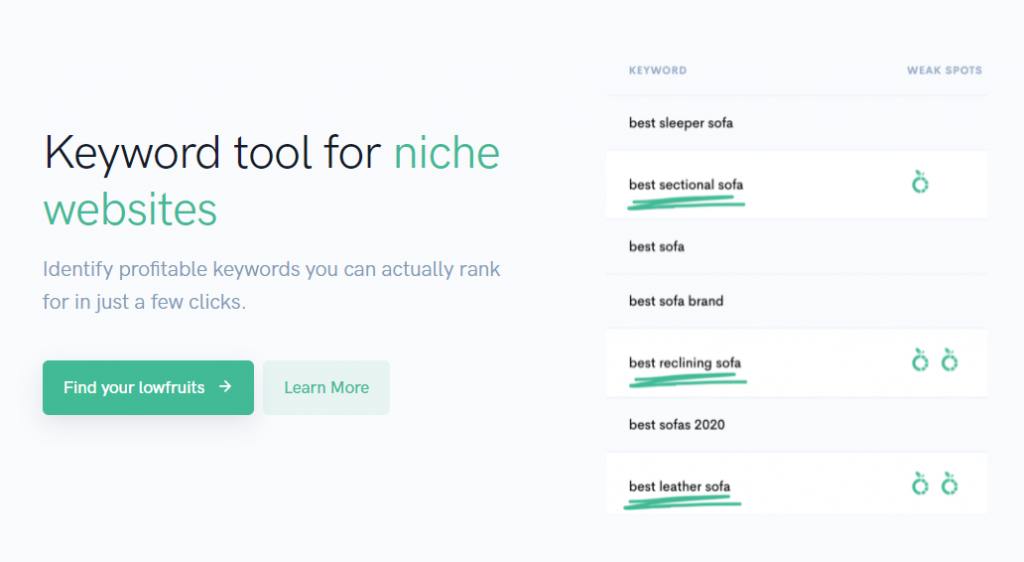 Features & strengths
Like Keyword Chef, the idea behind LowFruits.io is to find 'low hanging fruit'. Easy keywords with little (or no) competition to rank for.
Much of the general premise is the same, including how you can search for keywords, so I won't repeat that.
LowFruits does have some extra features that are worth mentioning though.
One thing I particularly like is these filtering options:

When surfing through a list of keywords, you can filter them quickly with these buttons.
'Top 3 weak websites' = A site with <DA20 is ranking top 3.
'Top 3 forums' = A forum thread or Reddit thread is ranking top 3.
Similarly, there's a 1-click filter for 'high intent' keywords, which are only those that include terms like 'review, best, how to', etc.
Potential drawbacks to be aware of
You can't start by searching competitor domains to see which keywords they're ranking for, but once you've ran a search, you can filter by competitor in your existing report.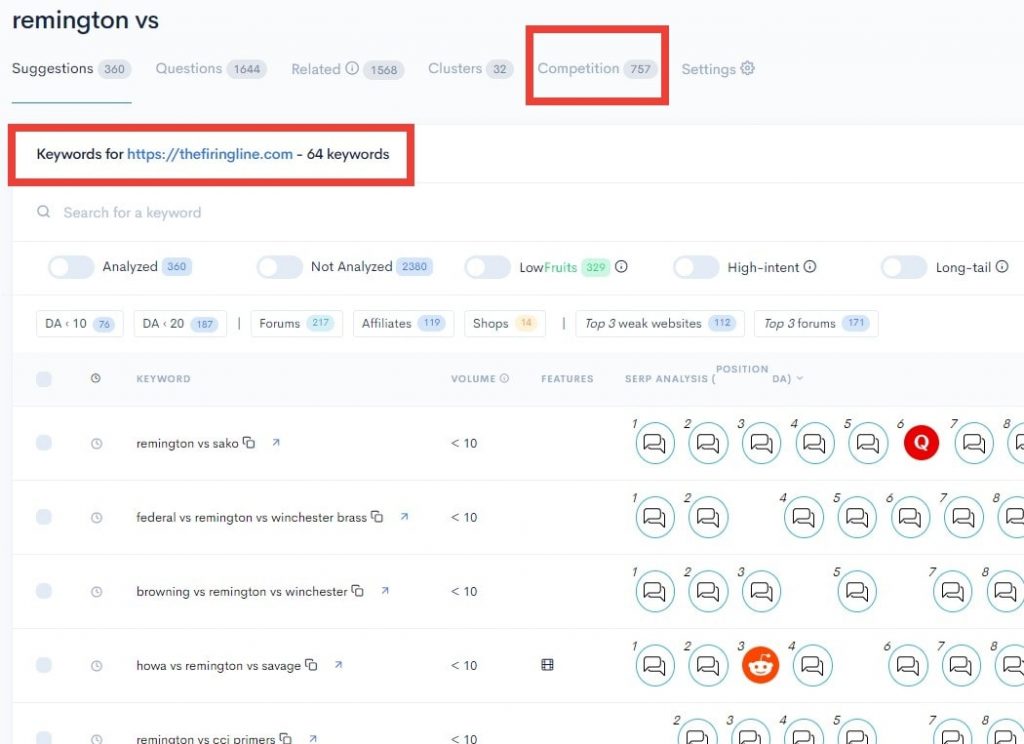 LowFruits is also a relatively new tool, so isn't quite as 'polished' as some others, but it's improving every week, and the founder is very proactive.
How pricing & limits work
Once again, similarly to Keyword Chef, LowFruits.io uses a credit system. It is therefore, once again, perfectly scalable, and good to use ad-hoc in addition to the rest of your toolkit.
Pricing per credit is a little cheaper than Keyword Chef to begin with, but works out the same when buying in bulk 50k batches ($0.005 per keyword).

Scalable rank tracking tools
Features: rank tracking, reporting
Starting price: $13.50 monthly for 100 tracked keywords
Free trial: Yes. 7 days. Sign up here.

Features and strengths
ProRankTracker is built with agencies in mind, and you can tell based on the feature set.
Their model is exactly what I'd describe as 'scalable', because they have very low cost entry level plans, but offer all the advanced functionality you can expect from a rank tracker in later tiers.
For example, they offer ($$ = higher plan only):
'MyRanks', a unique white label mobile app for clients to check rankings ($$)
Tracking across all major English search engines, including Amazon & YouTube
Sub-accounts so clients can log in and access (only) their data ($$)
On-demand ranking updates ($$)
Unlimited number of websites tracked (but still capped on keywords)
Generate live URLs to share for customizable reports (that auto-update)
There's a big focus on reporting and client management. They even have their own white label mobile app, MyRanks, which gives your clients a mobile solution for on-demand position checking.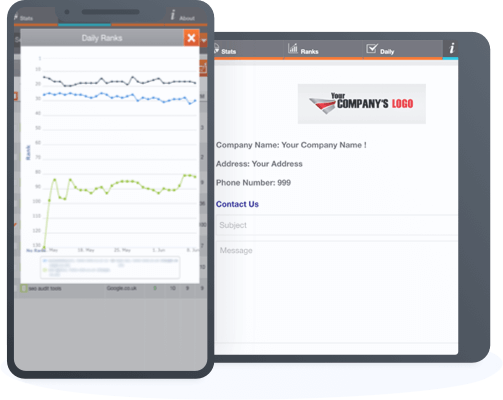 Potential drawbacks to be aware of
Other than the fact that many advanced features are locked into higher pricing tiers, the only other thing I'd mention is UI.
ProRankTracker has a lot going on, lots of features, quite a busy UI. It takes a little more getting used to than some other tools.
How pricing & limits work
ProRankTracker's pricing model is highly customizable, with various pricing tiers available with various numbers of keywords tracked.
Here's some select examples on how pricing works out:
Plan
# of keywords
tracked
Cost (monthly)
Cost (annual)
$ per 100 keywords
tracked
Starter
100
$13.50
$11
$13.50
Starter
500
$49
$39
$9.80
Pro
1,000
$89
$71
$8.90
Pro
2,500
$149
$119
$5.96
Agency
5,000
$275
$220
$5.50
You can use the $ per keywords tracked figure to compare to other rank trackers (e.g. Wincher, which is coming up next).
Here's how the pricing page looks.

Features: rank tracking & reporting
Starting price: ~$29 per month (annual) or $35 per month (monthly)
Free trial: Yes. 14 days. Sign up here.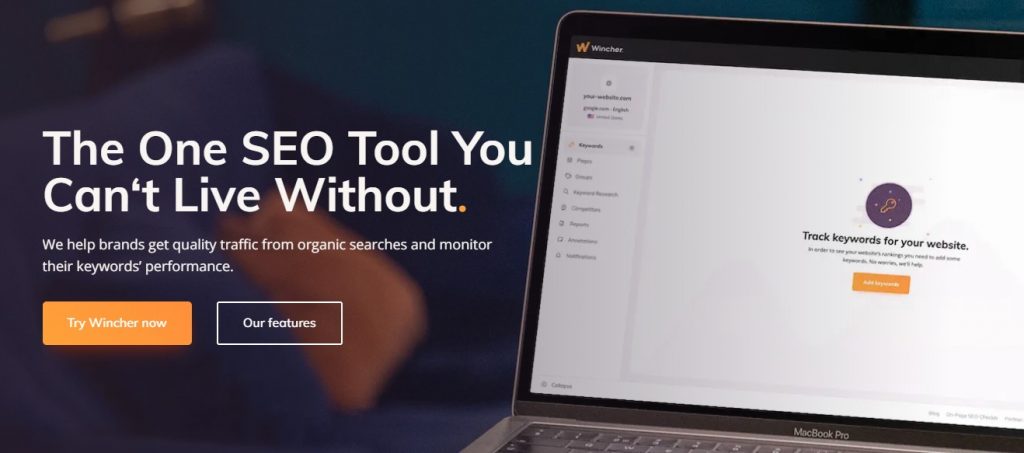 Features & strengths
Like ProRankTracker, Wincher has a low entry price point, with relatively basic functionality. Everything you need to get started with user-friendly rank tracking, but without the bells and whistles.
On the later pricing tiers, however, you can not only scale up the number of keywords tracked, but also the features. For example, you can add on:
On-demand position refreshes
External users
Project permission levels
API access
White label reports
The UI is clean and easy to use. Although it has fewer features overall vs. ProRankTracker, it is quicker to get used to, if that is a selling point for you.
You can add tags and group keywords to help with filtering and analyzing URLs in bulk, which will help when working at a bigger scale.
Potential drawbacks to be aware of
Wincher only tracks Google rankings. Not YouTube, Bing, Amazon, etc.
It also lacks a few advanced integrations such as Databox or Adobe Analytics, which may or may not matter depending on your tech stack.
I'd also remind you again about Nightwatch, which offers similar pricing, but adds in additional features outside of rank tracking. Consider if a standalone rank tracker is right for you.
How pricing & limits work
Wincher starts out at around $35 when paid monthly, and scaling up reduces the price per keyword tracked as you would expect.
Here's some examples of how the pricing scales with different numbers of keywords monitored:
Plan
# of keywords
tracked
Cost (monthly)
Cost (annual)
$ per 100 keywords
tracked
Starter
500
$35
$29
$7
Business
1,000
$70
$58
$7
Business
2,000
$117
$97
$9.26
Enterprise
5,000
$296
$237
$5.92
Enterprise
10,000
$534
$374
$5.34
Wincher prices converted from € into $USD
And here's how their pricing page looks at the time of writing.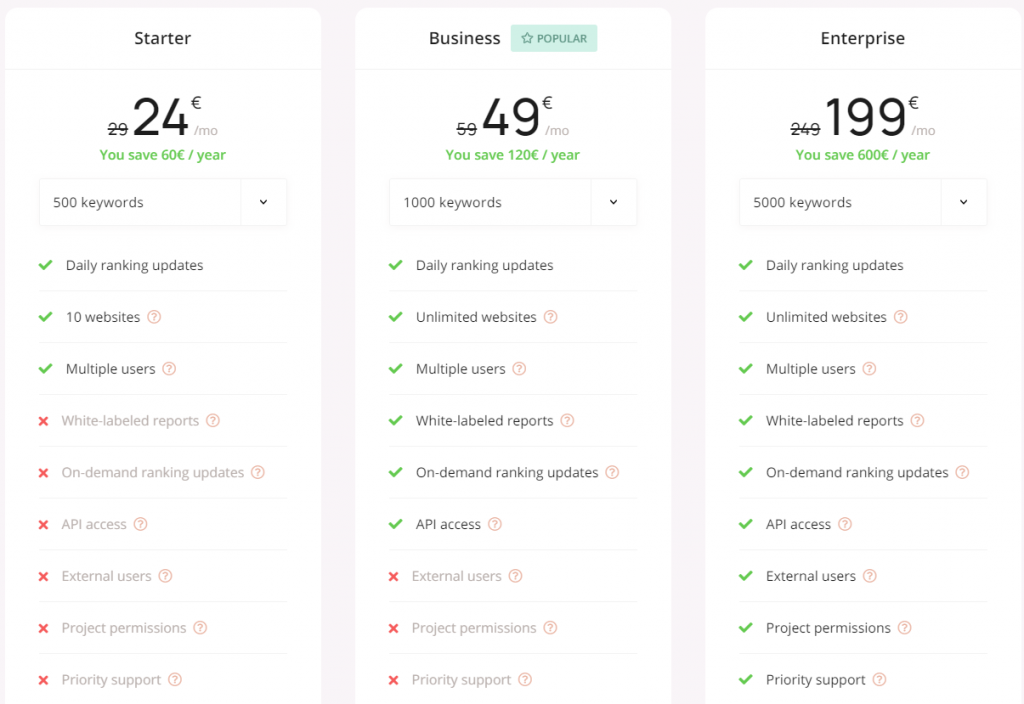 Features: rank tracking, reporting, SERP analytics
Starting price: $720 per month
Free trial: No. Book a demo.

Features & strengths
STAT is specifically designed for larger scale rank tracking.
That often means tens or even hundreds of thousands of keywords per month.
If you're not operating at that level yet, then STAT isn't for you; the minimum price of $720 per month doesn't make sense.
If you are, however, it could be worth considering.
Some of their strengths include:
Excellent tagging & segmentation to handle analysis of high volumes
Track Google & Bing in any locale and device
Custom alerts with instant notifications when SERPs change
Tracking high volumes of sites (including competitors) is easy
Excellent training & customer success
Potential drawbacks to be aware of
The obvious one is the high starting price. Other than that, you should be aware that STAT only tracks Google & Bing. Not YouTube, DuckDuckGo, Baidu, etc.
The UI also isn't very pretty, and it's not as intuitive and beginner-friendly as other tools. That's not the point of this product.
To be honest, for the vast majority of people looking for a rank tracker, I'd be more inclined to recommend something like Nightwatch.
If you're looking for serious scale though, tracking dozens or hundreds of sites plus 100k+ keywords, that's what STAT starts to make sense.
How pricing & limits work
As mentioned, STAT has a minimum price of $720 per month plus a $600 setup fee (that is waived for annual contracts).
Beyond that, pricing isn't publicly listed. Chat to their team and get custom pricing for your business.