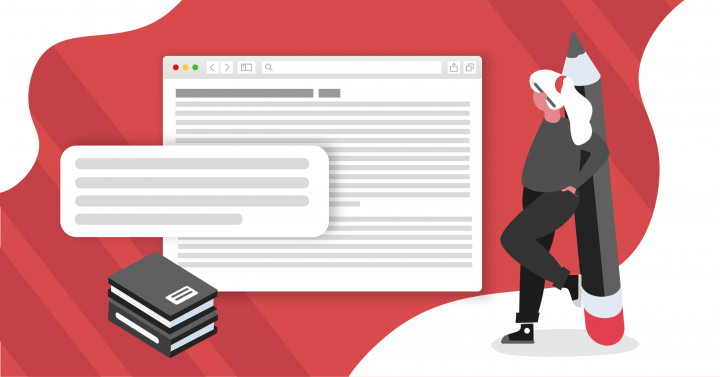 Find an amazing keyword, send it over to a writer and hit #1 in the SERPs…right?
If your process for briefing new content looks anything like that, it's likely the reason those low-hanging fruit opportunities are rotting before your eyes.
As a content SEO specialist at Skale, I create 50+ content briefs every month for a range of clients who dedicate plenty of resources to scaling their business through organic channels. How do I bridge the gap between finding incredible keyword opportunities and writers turning into a #1-rank worthy piece of content?
With comprehensive, easy-to-follow SEO content briefs.
The goal of a content brief
A well-structured content brief provides writers with an in-depth and thoroughly researched guideline to create content that is optimized for SEO. It's a blueprint to which writers can add their own writing style and brand voice while sticking to SEO best practices.
The goal of the brief is to rank a piece of content for a specific keyword, guide users to take the next step, increase organic traffic and ultimately maximise KPIs.
We can think of it as a split between ranking goals and user goals. The ranking objectives remain the same for every brief. Create amazing SEO-optimized content that ranks in the top three results and boosts organic traffic.
The user-specific objectives will change according to the search query and intent. However, ultimately the user goals are to boost KPIs (ie, signups, free trials and demo requests).
After you finish this article, take a look at 5 content brief examples to see this approach applied in the real world 🙂
11 things an SEO content brief should include
Okay, so you know what you're trying to accomplish with the brief. Now let's dive into what you need to include to get you there. These 12 pre-set fields should be present in all SEO content briefs.
1. Primary keyword
It all starts with a target keyword. This is the pièce de résistance of an SEO content brief and the first stepping stone on which everything else relies. The main goal of the brief is to get the page ranking in search engines, but for what?
Once you have your primary keyword, add in a few long-tail secondary keywords to boost rankings for multiple related queries.
2. Search intent & knowledge level
What is the user searching for based on the primary keyword and what action are they likely to take? Understanding the search intent of your primary keyword will define the sort of content that it's necessary to create.
Is the user looking for information about something ('how to make banana bread') or are they intending to buy something ('the best running shoes')?
If you don't satisfy the target audience's user intent then even if the content ranks well it's unlikely to see decent traffic or conversions.
This ties into the knowledge level and the user's funnel stage. Based on the target keyword, how knowledgeable is the user and where does this place them in the funnel?
The funnel is broken into three stages:
ToFu (top of the funnel): The knowledge level is problem unaware. This is relevant for educational and informational queries that indicate that users know very little about the topic. For example, 'what is machine learning?'. At this stage of the funnel, users are far off from purchasing.
MoFu (middle of the funnel): The knowledge level is problem aware. These queries indicate a base knowledge of a topic but a lack of knowledge surrounding the potential solutions. We can consider 'how to' queries as MoFu content.
BoFu (bottom of the funnel): Solution aware or solution ready knowledge level. These are high intent queries that show that a user understands a problem and is looking for a solution. Any 'software' or 'tool' style queries fall into this category.
3. CTA + next step for user
As mentioned earlier, the goals of an SEO content brief are also user-focused. The writers use this brief to create a competitive piece of content that ranks well and brings in traffic. Then what?
SaaS content has a habit of slapping demo request CTAs all over their pages, regardless of the intent of the page. How likely is it that a user searching 'What is email marketing?' is going to sign-up to an email marketing platform immediately? Not very.
Consider the next best steps that a user should, and will, take when they land on the page based on the search intent and knowledge level of the target query. Are they searching for a solution? Guide them to demos and free trials. If the keyword is top-of-the-funnel, which page can you send them to that is the next step in the funnel?
4. Suggested word count
Ever visited the hairdresser and landed up with way more hair chopped off than the 2cm you asked for? Well, assigning SEO content briefs without a ballpark word count may result in an ideally 500-word blog post turning into 2000 words.
You can use SEO & content optimization tools (I use SurferSEO) to find the competitive word count range for your brief. Otherwise, I often take the average word count of the top three pages for the primary keyword as this is usually spot on.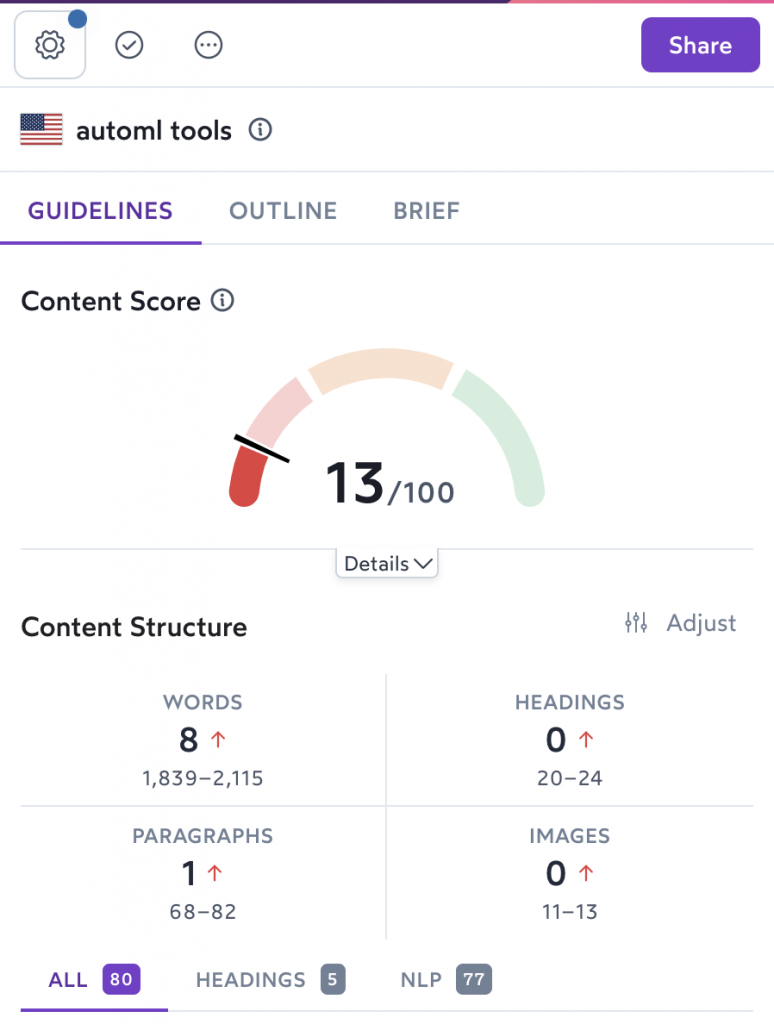 5. Suggested URL structure
URLs should be simple, easy to read and include the primary keyword. Then why do we come across pages with 25-word long, illogically structured URLs?
Optimizing URLs for user experience automatically optimizes them for Google too, making it simple for search engines to crawl and index relevant pages.
Adding URL structures to content briefs ensures that SEO best practices are followed. Keep it simple with a structure that follows '/target-keyword-here' after the necessary subfolders (e.g. /blog/).
6. Title tag
Providing a suggested title tag in an SEO-focused content brief ensures that the primary keyword is present and that it's the correct length. Writers may end up tweaking it here and there for brand voice but that's okay.
Keep search intent in mind when writing the title tag and think about whether it properly conveys what the content is about. Have a look at what competitors are doing and make yours more clickable.
7. Meta description
Much like the title tag, meta descriptions let users know what the content is about. These snippets should be between 155 – 160 characters, outlining the meat of what people can expect to find if they click on the page.
Always use the target keyword and try to make it enticing — even though Google is likely to ignore it and paste something random in its place.
8. Featured snippet opportunity
Is there a featured snippet for the target keyword? If so, you should add suggestions to the content brief about how to win it. According to Ahrefs, only 30.9% of featured snippets are pages ranking in the top position. So, you can occupy more Google real estate with the featured snippet even if the page isn't #1.
Have a look at which page has the featured snippet position, what the snippet is displaying, and how it can be done better.
This often includes answering a question at the beginning of the post succinctly and clearly or providing a list breakdown relevant to the search intent.
9. Internal links & anchor text
A good content brief should include internal link suggestions both from and to the page. Internal linking is an essential and often overlooked element of content briefs.
The internal links need to be relevant to the topic cluster of your target keyword to support the authoritative architecture of the site.
Add a minimum of 4 URLs with keyword-rich anchor text that the page should link out to. Even more importantly, include a minimum of 2 well-performing, high traffic pages to link to the new piece when it's live.
Bonus tip: Suggest a couple of external links to high-authority, non-competing websites. Trustworthy and relevant external links give the page credibility — Google likes that.
10. Suggested content outline
Adding a suggested outline is a nice touch for a detailed content brief. This is a good way to ensure that all of the relevant topics are covered and questions answered to satisfy the intent and compete with the top pages.
A simple heading skeleton does the trick. Add headings with secondary keywords in a logical structure making sure to cover all the key topics. Tools like SurferSEO provide heading suggestions and questions to help build a comprehensive outline quickly so it's an easy addition to a good content brief.
Bonus tip: Check out the 'people also ask' section to incorporate these important questions into the structure.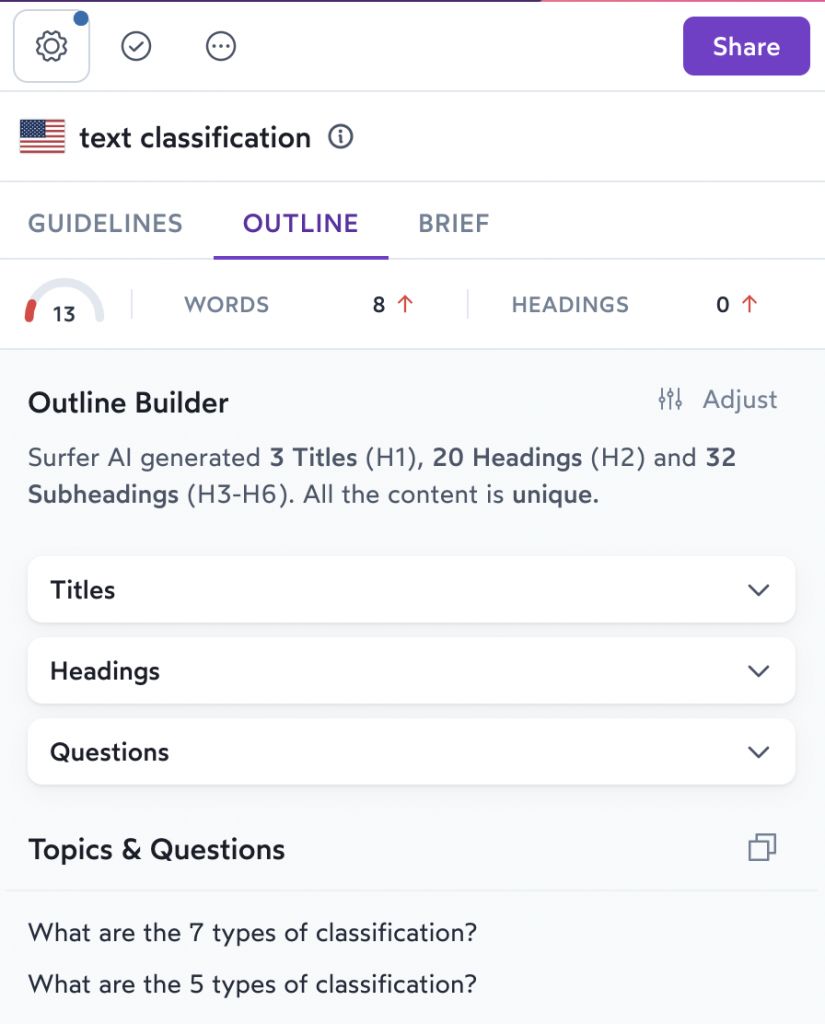 11. Competitive extras
How can you create SEO content briefs that don't end up being generic and repetitive? Spend time digging into competitor content to get inspiration. Maybe these pages used innovative strategies that you could do better. Or, you might notice a gap that you can fill to make the content unique.
Consider elements such as:
Expert insights: Adding quotes from industry experts for unique, authoritative content
FAQ schema: Including an FAQ section enriched with schema
Review schema: For landing pages and commercial intent posts, review schema works well
Graphics: Will the page benefit from infographics, product UI screenshots, etc?
UI/UX: What can be added to the page to improve user experience?
How to write an SEO content brief in 4 steps
Take a look at these 4 steps for writing an SEO content brief to ensure that all of your research translates into understandable guidelines.
1. Structure the content brief template logically
The content creation process is challenging enough without having to decipher a brief that's all over the place. If you haven't created a generic template now is the time to do so. This is important for creating consistency and giving writers the opportunity to get used to one way of doing things.
Include the 11 fields mentioned above and any other cherry-on-the-top extras you think are important. Use Notion, Google Sheets, or whatever platform you're comfortable with as long as it allows you to create a clean, logical and re-usable template.
2. Research research research
From keyword research as a base for defining your primary keyword to spending most of your time deep in the SERPs, a strong SEO content brief depends on thorough research.
Before you begin writing the brief you need to understand the target query and target audience well. Spend a lot of time on competing pages so you can know what they're getting right and what you could do better.
While compiling the brief, keep all the 20 tabs open and make sure you've covered all of the key topics and questions.
3. Provide enough detail without overwhelming
You need to assume that content writers' knowledge of SEO only extends so far as peppering a page with keywords. Avoid ambiguous recommendations or poorly explained suggestions, expecting writers to fill in the gaps.
Your suggestions should be clearly explained so that writers can apply them with ease. Provide examples where possible.
That being said, keep it simple. You don't need to explain the why's or go into too much detail about every single point. Your talent is SEO and the brief recipients' are writing — provide the information you need without writers having to turn to Google for explanations.
4. Tie It back to the overall SEO strategy
A stand-alone piece of content is never just that. It forms part of a wider SEO and content marketing strategy and is an instrumental element if designed correctly. When creating a content brief, always keep in mind how it ties into the overall strategy.
This will help direct you on suggesting the best next step, implementing secondary queries, and internal linking.
5 tools for creating content briefs faster
If you work in SEO then there are probably tools coming out of your ears. So why not one more for creating briefs at scale? Check out these top 5 tools for automating parts of the content brief process.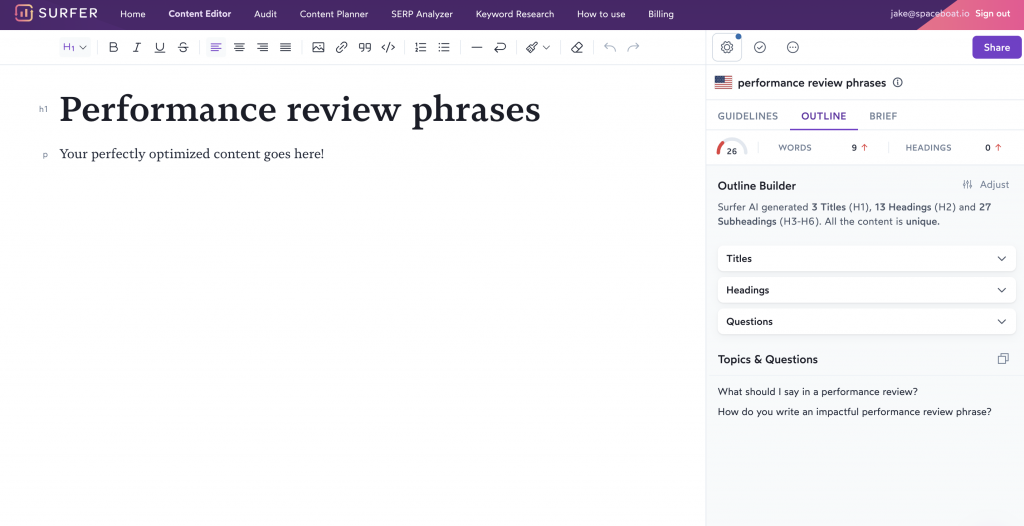 At Skale we use SurferSEO as a strong SEO content ally. It's easy to use, delivers clean reports and has plenty of nifty features to assist in optimizing existing content and creating new content.
The 'Content Editor' feature creates a dynamic report based on a search query input. You can set the report based on location as well as desktop/mobile.
The report includes:
Word count range
Secondary and NLP keywords and suggested
Keywords for headings
Topics and questions to answer pulled from 'people always ask'
Amount of images
Average paragraph count
An outline builder that suggests headings and questions
This report is created from data that is pulled from the top 10 ranking pages with high content scores. You can customise this in the settings, choosing pages that are specific to the query and style of content that you're creating.
Use this tool for word count, secondary keywords and outline inspiration. The best part? It integrates with Google Docs.
Bonus tip: Add the report link to the content brief template so that the writer can follow the guidelines in real-time and try to hit that 70+ content score (I'm using SurferSEO to write this right now!)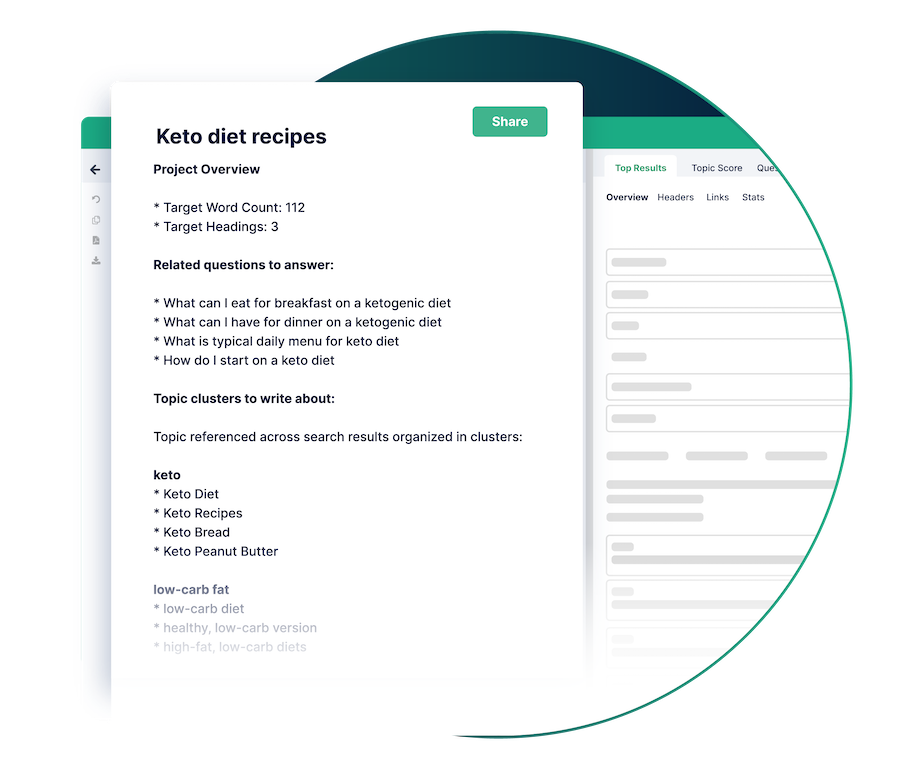 Frase, like the other tools on this list, scrapes the top SERPs to provide an intuitive research panel for creating content briefs.
You can choose to create a brief manually with Frase's assistance by adding suggested headings and competitor content to a blank document. The sidebar features heading suggestions, popular questions and major topics connected to your search query.
Frase also offers an automated brief option that uses AI to create a brief based on the components that you choose to add. This includes elements such as headers, topic clusters and even external links.
If you're stuck deciding between SurferSEO or Frase, here's a comparison that you might find useful: SurferSEO vs Frase.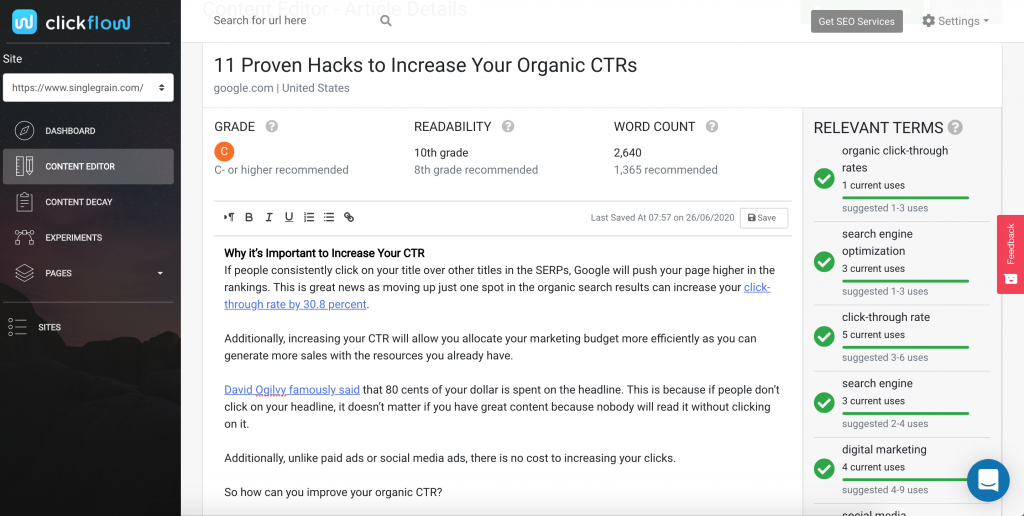 ClickFlow is first and foremost a content optimization software but the Content Editor is useful for creating briefs. While the content brief-specific features aren't as in-depth as the other tools it's great for making sure you cover all the major themes and secondary keywords related to your queries.
The Content Editor feature also provides an average word count based on the top 10 results. Like SurferSEO, it provides a dynamic document for writers to work in.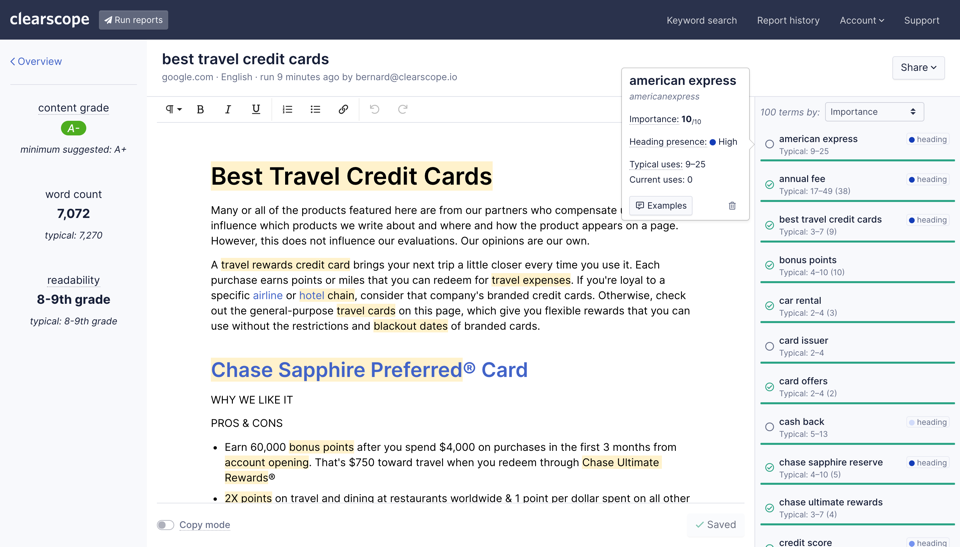 Clearscope is a content optimization and keyword research tool. Where this tool shines is helping you to create briefs that don't only cover keywords but the key topics, too.
If the goal is a comprehensive piece of content then Clearscope can help you get there. You can find common questions using the Keyword Discovery tool and relevant terms to guide the structure in the Optimize tool.
With suggestions on the frequency of relevant terms and visual additions, it's a top-level tool that helps you cover all of your bases.
See also: Clearscope alternatives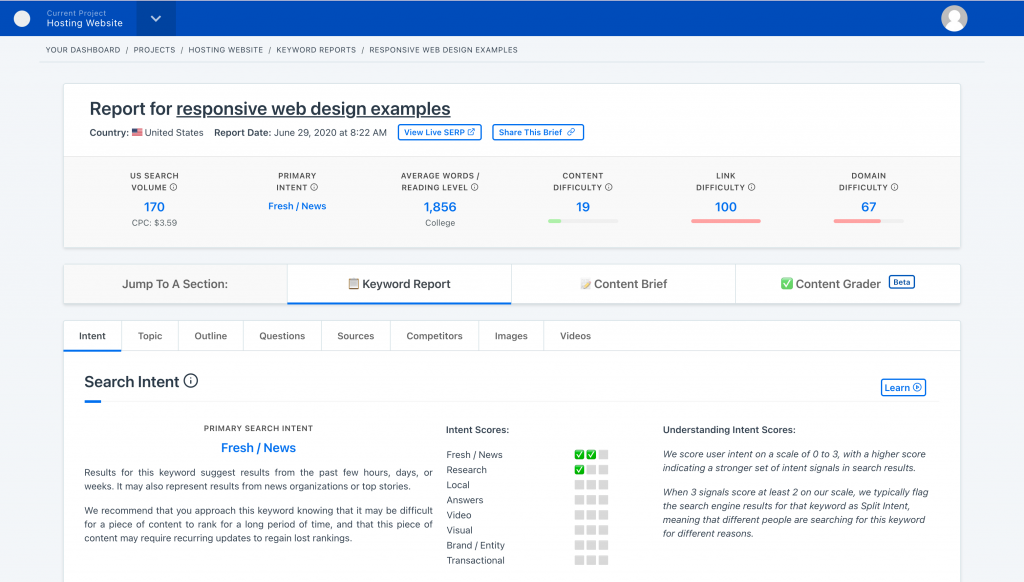 Unlike the other tools on this list Content Harmony is dedicated to content brief creation workflow. The platform compiles a comprehensive report based on a search query. This includes a keyword report, content outline, and topic analysis.
The top features of this report include:
Search intent of the target keyword
Outline analysis based on competitors
Questions from top Quora threads
Visual content requirements
Word count
A top-level competitor analysis
You can run through this report, highlighting the aspects you think are important and want to include in the brief. The platform then pulls this information into the standardized brief template with the pre-set fields that you'd usually add to a brief.
You then have the option to share the final brief's URL or in Google Doc format. Content Harmony automates a huge chunk of the content brief process so that you can focus on the cool stuff.