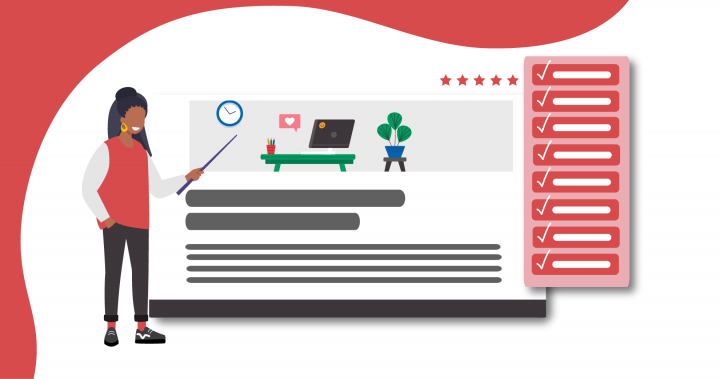 If you're running a blog, organic search traffic is arguably the biggest potential growth driver you have. SEO provides ongoing recurring traffic, without a direct cost associated with it.
So how do you make sure your articles are SEO-friendly? Here's 8 straightforward steps you can go through to maximize your chance of ranking high in the SERPs.
I've mentioned a few software tools to assist here, and tried to offer free alternatives where viable.
Let's begin!
8 steps to writing an SEO-friendly article
Here's our 8 steps. Keep scrolling for the details.
Identify your target keyword(s) with keyword research
Plan & write with a content optimization tool
Write a great title for a high organic CTR
Analyze how to win the featured snippet
Optimize your internal links
Edit for readability, correctness, and conciseness
Optimize your images
Update your content as often as is necessary
1. Identify your target keyword(s) with keyword research
If your goal is to get organic search traffic, I'd strongly recommend you do keyword research before you begin writing. You need to know what people are searching for in Google in order to optimize for it, right?
Here's three key things to look out for in this step, plus some comments on free & paid tools you can use.
Volume
The average number of searches per month for a keyword. This will help you determine the potential if you ranked #1. Is it worthwhile?
Is the trend increasing or decreasing? Is it seasonal? Here's an example of a seasonal keyword trend:

Difficulty
How hard will this keyword be to rank for? If you're on a newer site with relatively few backlinks & low authority, it may not be feasible to rank for highly competitive keywords yet.
Instead, you could try looking for easier alternatives. Taking the example above, instead of trying to rank for 'pumpkin recipes', perhaps we try to rank for something more niche like 'pumpkin protein balls'

This still has 1,800 searches per month and a growing trend, but we have a much better shot at ranking on the first page.
Read more here: How to use keyword difficulty software.
Relevance
There's no point in trying to rank for a keyword if it has no relevance to your business. Being high volume & low difficulty isn't enough; you need to be able to sell your product or service to these readers in some capacity. You're trying to get an ROI on this content, right?
It's okay to pursue search terms which are informational, low-intent queries, but you need to have a strategy for converting those readers. Perhaps they're the right target market, but not yet looking to buy. In that case, you could try to get a 'micro-conversion' like an email signup to nurture that reader.
Tooling for keyword research
If you have any budget at all, I'd recommend using KWFinder. This is the tool I used to show the search trends examples above. It comes as part of a toolset called Mangools, which also includes a rank tracker, reporting tool, and backlink monitor. Fees start at around $30 per month, making it a cheaper alternative to Ahrefs.
If you don't have a budget, here's some free tools you could try using to get started:
You won't get accurate keyword volumes, trends, or difficulty from those free tools — but it's a lot better than nothing if you're on a shoestring content budget.
Learn more: Best ways to find keywords for SEO.
2. Plan & write with a content optimization tool
To start with a definition:
A content optimization tool is something that analyzes the current top ranking pages, and generates data on what is currently working in the SERP.
I want to be clear that it's not essential to use one of these tools in order to rank, but it can speed things up, and make things a lot easier. Especially if you're not an SEO expert.
I'm going to demonstrate some of the steps here using Frase; you can see some other similar tools here if you'd like.
The first thing you'll need to do with Frase is to create a new document, and enter your target keyword.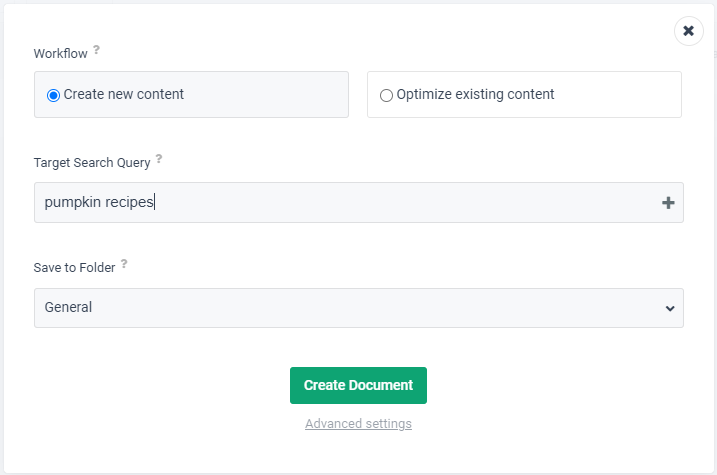 Decide the optimal length / word count
Different searches require different levels of content detail. Some, like 'how old is the Queen?' can be answered in a snippet with one sentence. Others, like 'how to cook pumpkin' likely require a longer post, with step-by-step instructions.
The best way to determine how long your content should be is to see what is currently ranking. You can check manually, but content optimization tools (including Frase) do this for you.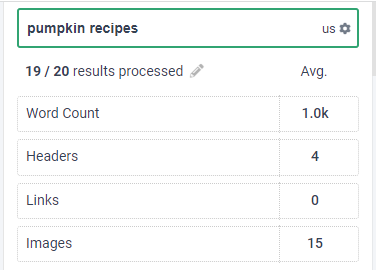 If you believe there are outliers (a particularly long or short post) that might skew the data, you can remove them from the analysis.
Plan your structure & outline
To outline our content structure, we will, once again, start by looking at the current top ranking results.
Using the SERP explorer, you can see at a glance which headings & subheadings competitors are using in their content. You can simply look for inspiration here, or you can click any of them to save it to your outline.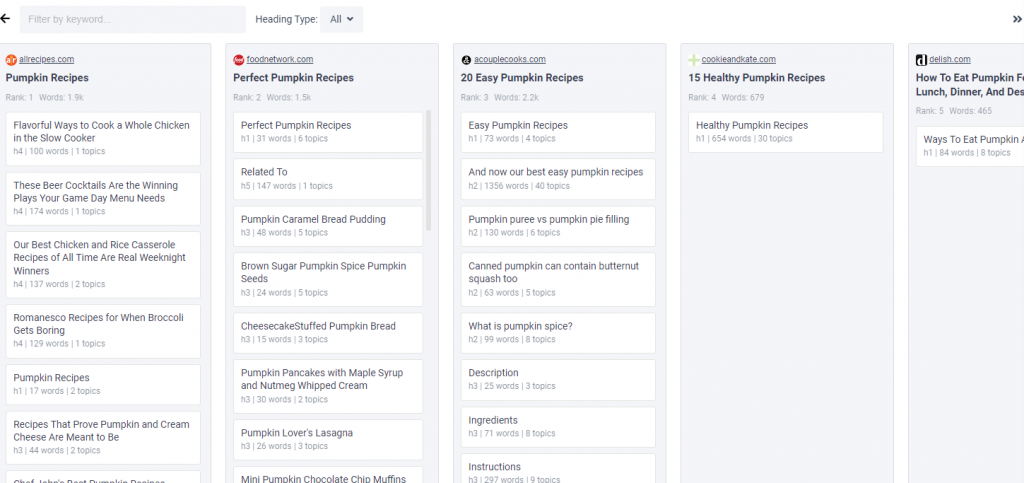 At this stage, If I were writing this article, I'd be looking to answer questions like:
How many pumpkin recipes should I include? 5? 10? 25?

How much detail is required per recipe?

Should I categorize the recipes? E.g. healthy pumpkin recipes, quick pumpkin recipes etc.

Is there any detail required before or after the list? (For example a H2 for 'ingredients needed for pumpkin recipes')
Between your expert knowledge of the subject matter and the current SERPs, you should be able to bring all of those answers together to form a solid plan for your blog post.
Which keywords will you include?
All content optimization tools will generate these recommendations for you based on the current SERP. They'll show you which keywords to include, with a recommended frequency, and tick them off as you go. In Frase it looks like this, with the keywords in the right sidebar:

I'd add the caveat that you can (and should) override their recommendations with common sense where needed.
If the tool is telling you to add something which doesn't make sense, don't sacrifice quality & readability for it. This category of software is very useful, but there are still sometimes outliers.
Which questions will you answer?
Lastly, consider if there are any relevant questions which you haven't yet answered. You could include these as subheadings, or even simply add an FAQ section to the end of your article.
In Frase, there's a 'Questions' tab in the right-vertical menu. If you're not using Frase, you can try checking the People Also Ask section in a Google search, or looking through Quora & Reddit threads for commonly asked questions.
3. Analyze how to win the featured snippet
Before you hit 'publish', it's worth taking a minute to check SERP features. In particular, featured snippets. Is there a featured snippet, and if so, how could you win it?
Winning a featured snippet can help you leapfrog from pretty much any first-page position into #1.
Typically, these are the types of featured snippet formats you'll find:
Paragraphs
Tables
Lists
Videos
And in my experience, paragraphs & lists are the most common by a long shot.
The best thing to do here is to reverse engineer what's currently working. Take a look at what's being displayed in the snippet currently, and work out how it's being displayed.
Here's one quick example. I currently have the snippet for 'best keyword difficulty software'; here's how that looks in the SERP: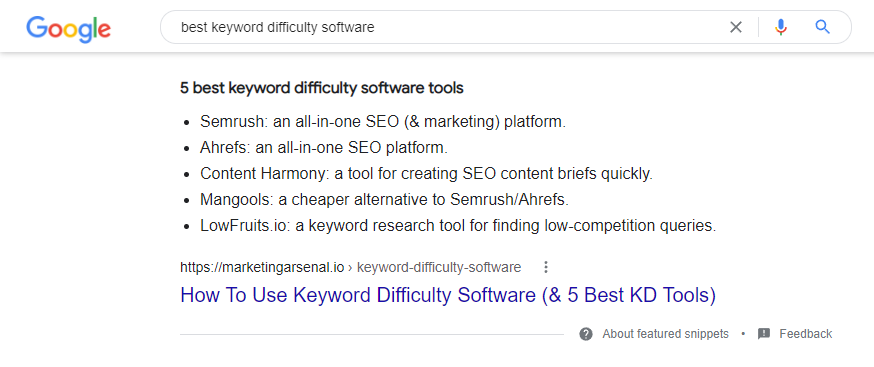 If you visited that page, you'd see that I have a simple numbered list underneath a keyword-rich H2. Therefore, for someone to steal this snippet from me, they should structure their content in a similar way.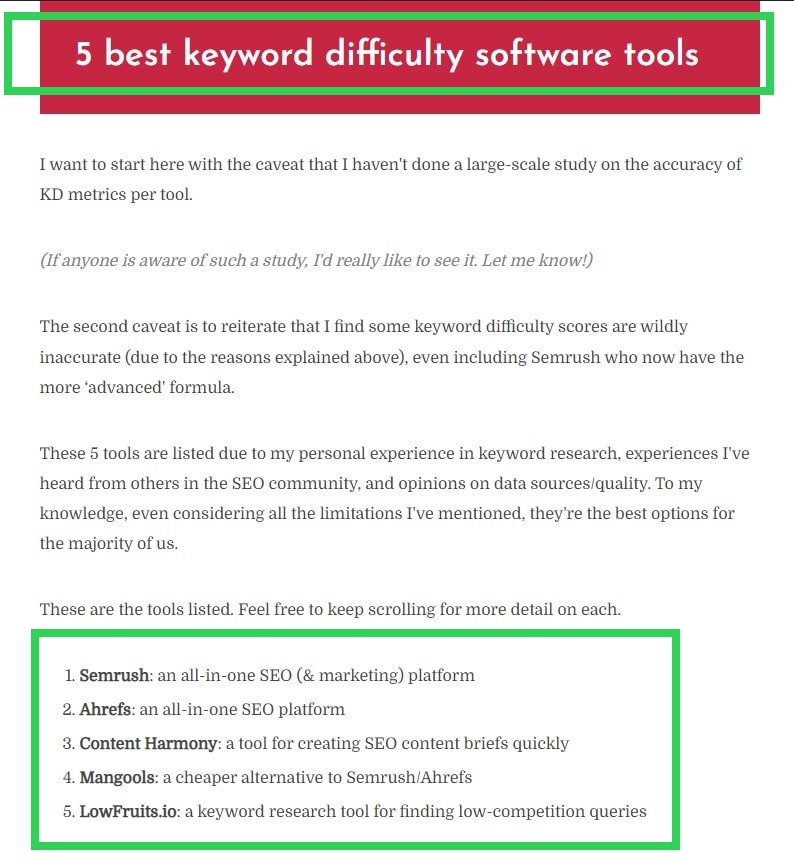 4. Write a great title for a high organic CTR
Organic clickthrough-rate is an important metric for several reasons. More people clicking on your result obviously means more traffic.
In addition though, more people clicking on your result sends positive signals to the search engine. Google learns that your resource is what people are looking for. In turn, that can lead to higher rankings.
So, how do you write a great title? There's a bunch of tips that can apply to writing a title, but in the context of meta titles for SEO, I like to apply this model by Siege Media:
In summary, the model gives categories & examples of how you can modify titles to be more compelling.
Let's try to think of some examples. Say our original title was 'Our Favorite Pumpkin Recipes Of All Time'. Here's how we could apply each of these modifiers to test a new title:
| Modifier | New Title |
| --- | --- |
| Speed | Pumpkin Recipes You Can Prep In Under 10 Minutes |
| Volume | 50+ Pumpkin Recipes For Every Taste |
| Price | 10 Pumpkin Recipes You Can Make For Less Than $10 |
| Freshness | Our Favorite Pumpkin Recipes For Fall 2022 |
See if any of these ideas are applicable to your content, and try to increase organic CTR.
5. Add internal links
Internal links are important for delivering a great user experience, showing search engines which pages are important, and which are related to each other.
When you're publishing a new blog article, take some time to consider which internal links you'll add in this new post, plus which existing posts could link to this new one.
The method I usually use for finding internal link opportunities is to use this Google search operator:
site:marketingarsenal.io "keyword"
For example, you could search "site:mywebsite.com pumpkin" to find posts which could be relevant for linking to your new pumpkin recipes article.
I usually aim to add 2-4 internal links per post. Don't force them in, though. Only if you have relevant content. Doing so will help your new post get indexed faster & rank higher.
Here's 3 quick tips for adding internal links:
Make them descriptive. It should be clear to the user & the search engine where they lead to. Avoid generic texts like 'here' or 'read more'.

Could internal linking be used to push the user down the funnel? What is the logical next article someone might want to read?

The placement of an internal link could impact how important it is perceived. For example, you could choose to prioritize a few pages to link in your nav & footer to highlight how important they are.
6. Edit for correctness, readability, and conciseness
To write an SEO-friendly blog post, your writing needs to be good quality. A search engine's job is to deliver content that:
answers the searcher's query
provides a great user experience
The better the user's experience, the more likely search engines are to continue ranking your page. A great user experience requires several things. One of those, though, is great writing. That means your writing should be:
Easy to read and understand (even for non-natives)
Correct in terms of spelling, punctuation, and grammar
Thorough & useful, yet concise
For correctness, Grammarly is a great tool to use. For making sure your writing is concise & simple to understand, I love using Hemingway as an SEO content writing tool. You can use it for free, without even logging in.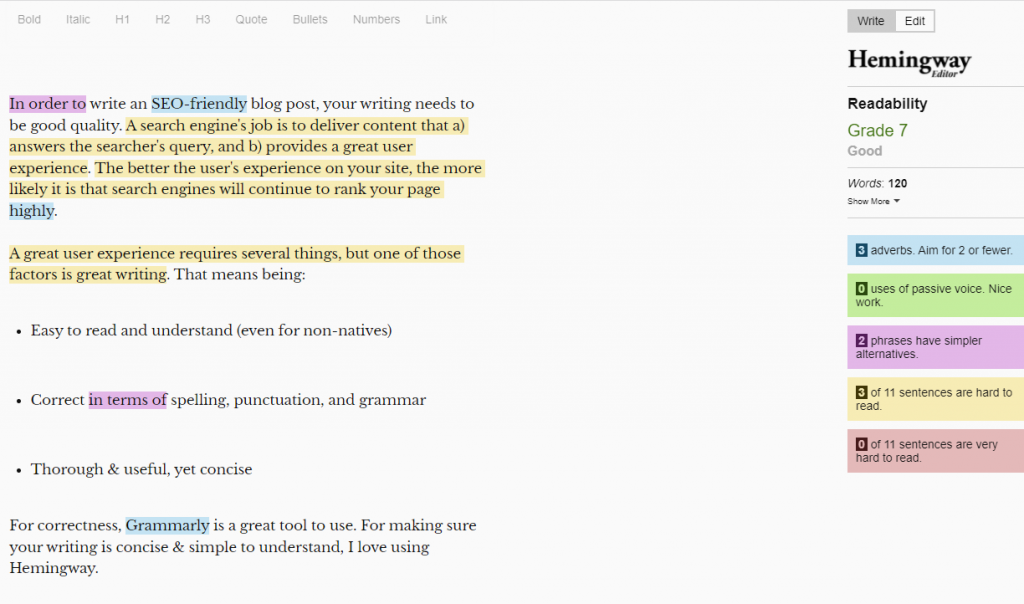 7. Optimize your images
A great SEO-friendly article is unlikely to be a giant wall of text. There's a good chance you'll be including visuals within your content.
There are things that you can do with those images to make them a little more SEO-friendly.
Here's two quick image optimization tips for blog posts:
Compress image file sizes
Find the balance between quality and performance. Using lots of very high quality images will make a notable impact on your load speed & page performance.
If you're using a CMS like WordPress, you can find compression plugins like Smush & others which can help. Otherwise, you could use a free tool like Compress JPEG.
Consider using next-gen image formats
In recent years, new image formats have emerged which compress better and retain better quality at smaller file sizes. The most common is WebP. Once again if you're on WordPress, image optimization plugins like ShortPixel can do this for you. There's also convertor tools; just Google 'jpeg to webp', or whichever format you're converting from.
Note: In 2022, there are still some Safari users (and perhaps a few others) that have browsers which don't support WebP still. That's something to take into consideration when choosing an ideal file format.
Whatever you do, just being conscious of this and avoiding enormous image files will go a long way.
8. Update your content as often as is necessary
As annoying as it is, content doesn't stay relevant forever. Things change, facts become outdated or inaccurate, trends & search intent change, and competitors post new content.
Every now and again, it's likely you could benefit from updating old content.
The frequency at which your content needs updating can vary a lot. In YMYL (your money/your life) niches like financial or medical advice, content will need updating very often. Same for news & trends like coronavirus news.
Typically though, somewhere around once every 6-12 months can be sufficient. Maybe less. As always in SEO: "it depends".
You can keep an eye on your old content in a few ways:
Check Google Analytics & Search Console data
Use a SERP tracker to see when your rankings slip
Use a free tool like Animalz Revive to check decaying traffic
Use a paid content decay tool like ClickFlow (could be worthwhile if you need the additional ClickFlow features)