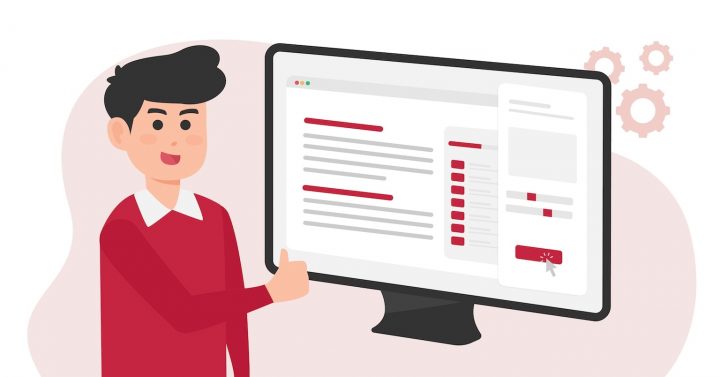 I've been in SEO for almost 7 years now, and in that time I've wrote a ton of content myself, plus assigned a ton of content writing briefs to others.
In this post I'll share 8 software tools that helps me & the teams I've worked in with writing & researching great SEO-friendly articles & landing pages (plus measuring performance!).
Let's skip the fluffy introduction and get started.
Here are the 9 best content writing tools for SEO:
SurferSEO
Frase
KWFinder
SE Ranking
Grammarly
Google Search Console
Semrush Writing Assistant
Google Analytics
Hemingway
SurferSEO is an AI content writing & editing tool to write & edit content that is well optimized for search. It has great collaboration features for working with writers (including external writers).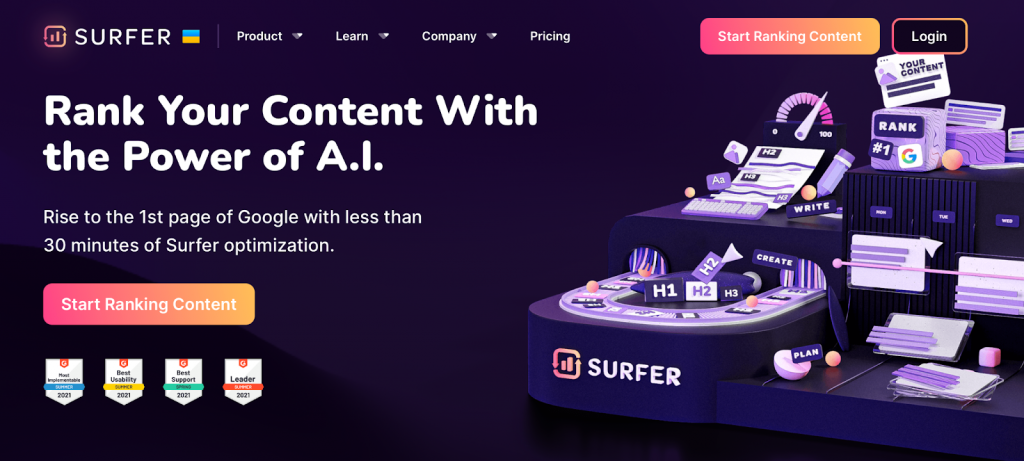 Features & reasons to use SurferSEO
Surfer's primary feature is the Content Editor, which provides writing recommendations based on the top current performing pages in the SERP.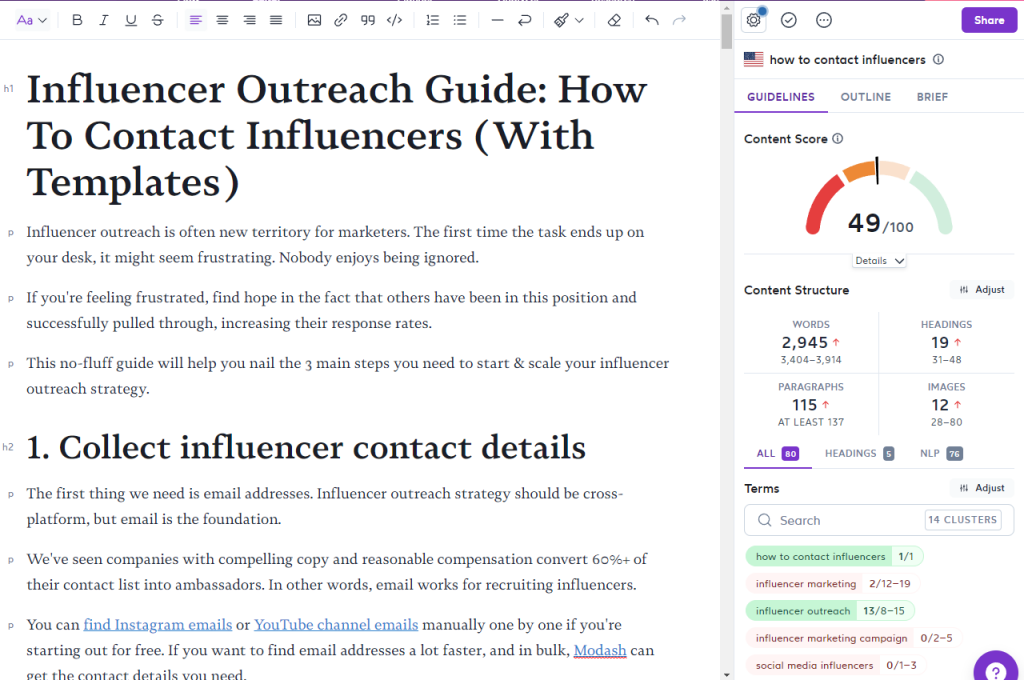 To use it, you simply enter a target keyword, and create a report. There'll be some automatic recommendations which are generally good, including a target word count, and which terms to include.
If there are any outliers in the SERP, you can remove them, and/or manually override any settings if you feel it is appropriate. Once you have your document & data ready, you can either start writing, or generate a shareable like to collaborate with a writer. They can edit without logging in.
There's also integrations with WordPress & Google Docs if you prefer to work that way.
Lastly, SurferSEO does have some other AI SEO tools. One is Grow Flow, a platform that connects to your Search Console data to give ideas that could boost organic traffic (e.g. which articles to edit & how, internal link opps & more).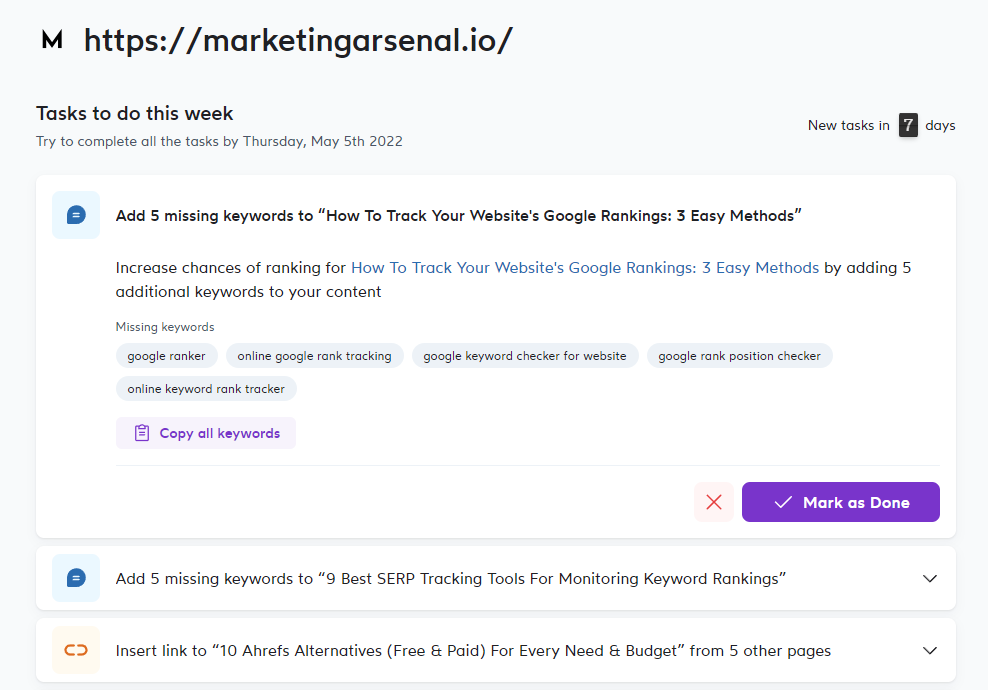 Plans & pricing
Surfer's pricing starts at $49 per month (paid annually) or $59 per month (paid monthly) for 10 new documents (and 20 audits of existing pages) plus unlimited sharing. View pricing here.
| | | | | |
| --- | --- | --- | --- | --- |
| Plan | Price (Monthly) | New articles | Extra seats | Content audits |
| Basic | $49 | 10 | 1 | 20 |
| Pro | $99 | 30 | 3 | 60 |
| Business | $199 | 70 | 10 | 140 |
Frase is a tool for writing SEO-friendly content & building quick content outlines. They also have an AI content generation add-on. There is a 7-day trial.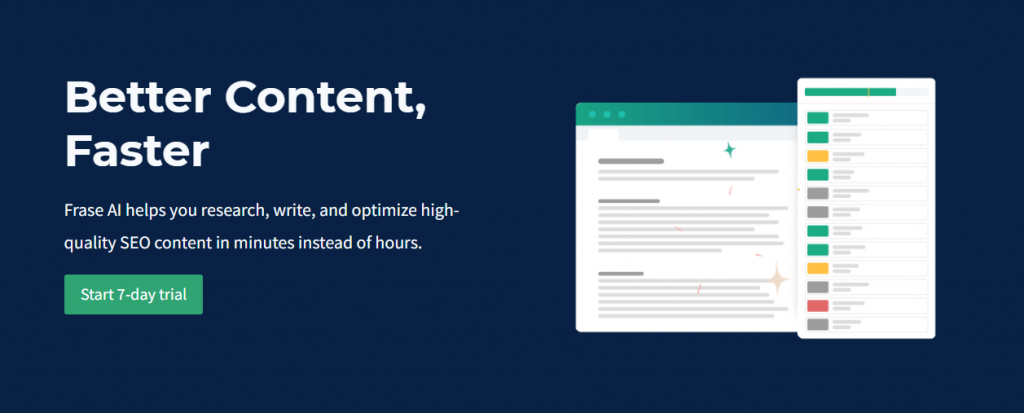 Features & reasons to use Frase
Frase is all about writing content that is optimized for SEO as quickly as possible.
It does that by providing some core writing tools:
An AI content generator
A content brief / outline builder
A content optimization editor
Content analytics
The outline builder helps you to see very quickly which topics & subtopics that competitors are writing about, and add ideas for H2s and H3s in one click: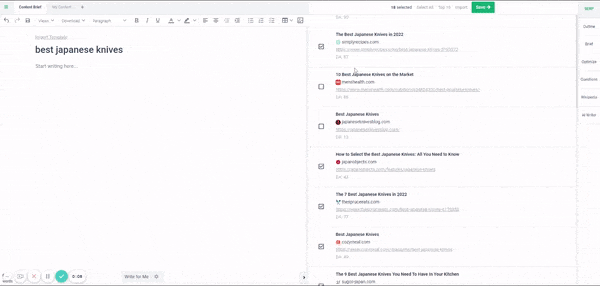 You can then generate a shareable link to collaborate and/or assign the outline to a writer. They can edit without logging in.
Then, when you (or your writer) are actually writing the article, Frase generates recommendations on things like word count, keywords to include (and how often), and more using the Optimize feature. It does this by analyzing the current top ranking articles, and identfiying what it working for them.

You can import existing content from a URL to edit it with the optimizer too.
You'll probably notice that Frase is quite similar to SurferSEO, another SEO content writing tool. Frase isn't quite as good as SurferSEO when it comes to SEO data for writing/editing. That said, Frase is a serious contender as a SurferSEO alternative because it tends to be better for AI writing & fast outlines. Plus, once you reach the $115/month price tier, the unlimited docs makes it cheaper to do high volume writing work.
Plans & pricing
Frase pricing starts at $45 per month (paid monthly) or $40 per month (paid annually) for 30 documents with unlimited sharing. Increasing to $115/month gives you unlimited docs, more user seats, and a handy Google Docs integration.
Plan
Monthly price
User seats
Documents
Cost per doc
Google Docs
integration
Basic
$45
1
30
$1.50
❌
Team
$115
3
Unlimited
–
✅
KWFinder is part (the best part) of an SEO toolkit called Mangools. It's great for SEO content research. There is a 10-day free trial.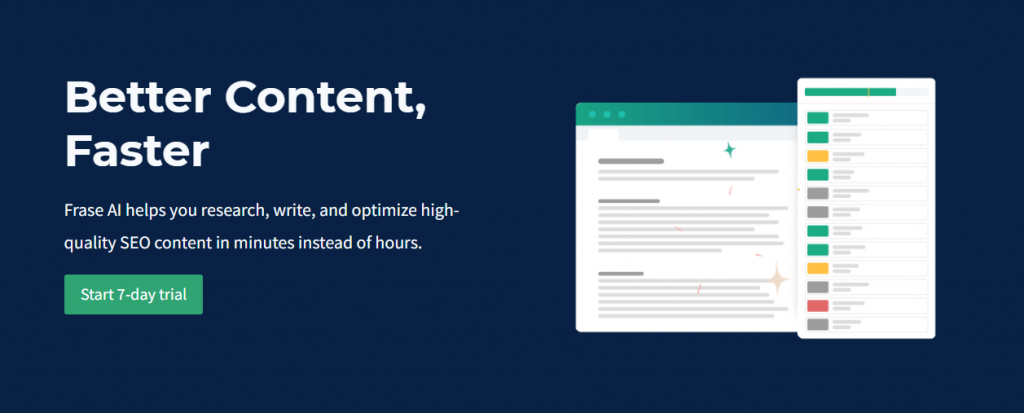 Features & reasons to use KWFinder
KWFinder would fit into your workflow in the content planning stage. It's a great keyword research tool that helps you find relevant keywords, how often they're searched, and how difficult they might be to rank for.

In my experience, it's better at delivering accurate search volumes for low-competition keywords compared to Ahrefs or Semrush (see here if you're interested). The trends data over time is good too, and new trends are picked up quickly. It's helpful to visualize seasonality, as you can see above.
You can get great keyword suggestions starting with a seed idea. For example, if I thought that 'infographic templates' was too difficult to rank for, I could see what related keywords have search volume to pursue instead, and filter the results: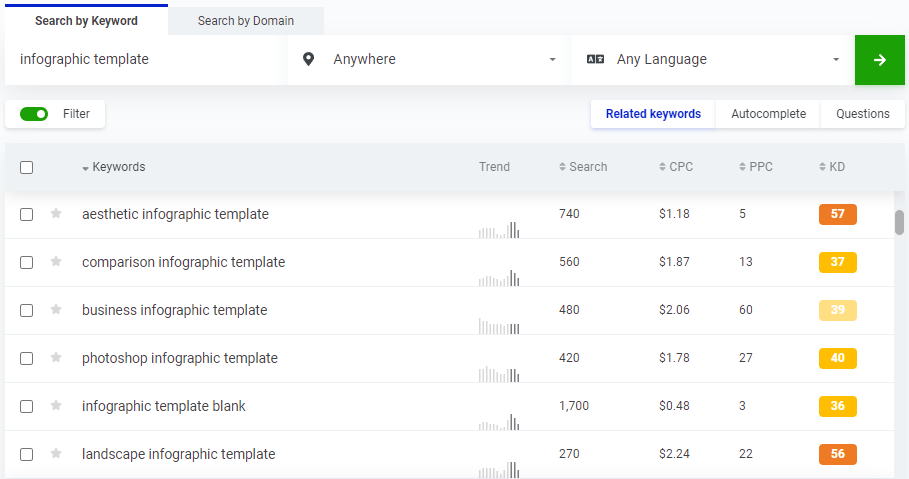 In addition, buying Mangools means you also get a daily rank tracking tool & some other useful SEO tools to help with your content planning & content performance measurement all bundled into the price.
Plans & pricing
Mangools pricing works based on usage, and has a big 40% discount for paying annually. The starter plan is $30 per month when paid annually, or $49 per month when paid monthly. Definitely worth it for the data to guide your SEO & content strategy. See pricing here.
Plan
Monthly price
Annual Price
Daily keyword
lookups
Keyword suggestions
per search
Keywords for rank tracking
Basic
$49
$30
100
200
200
Premium
$69
$40
500
700
700
Agency
$129
$80
1,200
700
1500
SE Ranking is an all-in-one SEO & digital marketing platform. It recently added a content marketing platform. SEOs & writers can get AI-assistance to quickly put together detailed SEO content briefs for writers (in-house and freelance).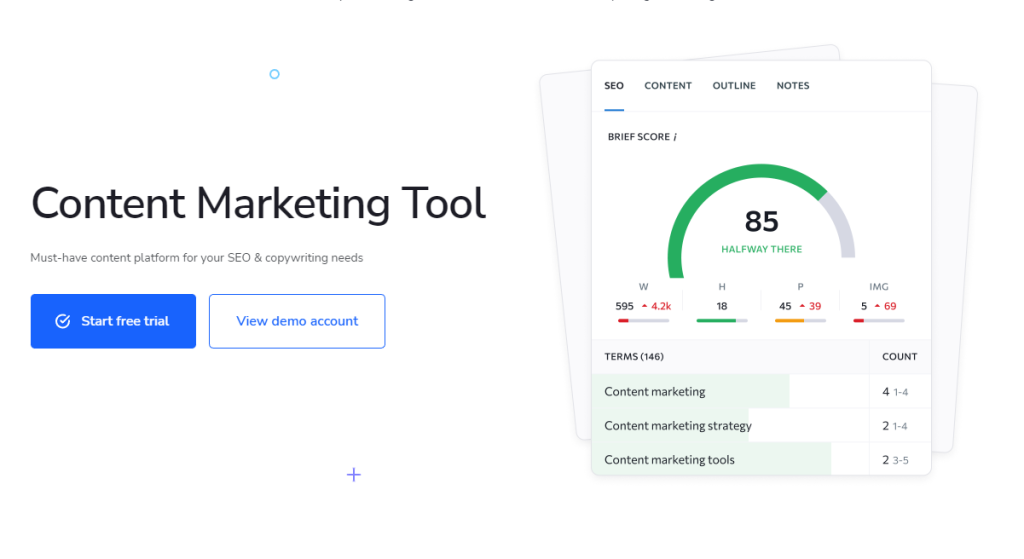 Features & reasons to use SE Ranking's Content Marketing Platform
SE Ranking's Content Marketing Platform consists of two main tools: the Content Idea Finder and the Content Editor. The first focuses on helping SEOs find topics to create content on, while the second provides assistance during the actual content creation.

Below, you can see a mind map from the Content Idea Finder highlighting trends around a search query. Search volume and keyword difficulties are given too.

Enter a search query, select the region, check some similar phrases around the topic that will be used when setting up the content brief, and hit the big green button at the bottom to go to the Content Editor.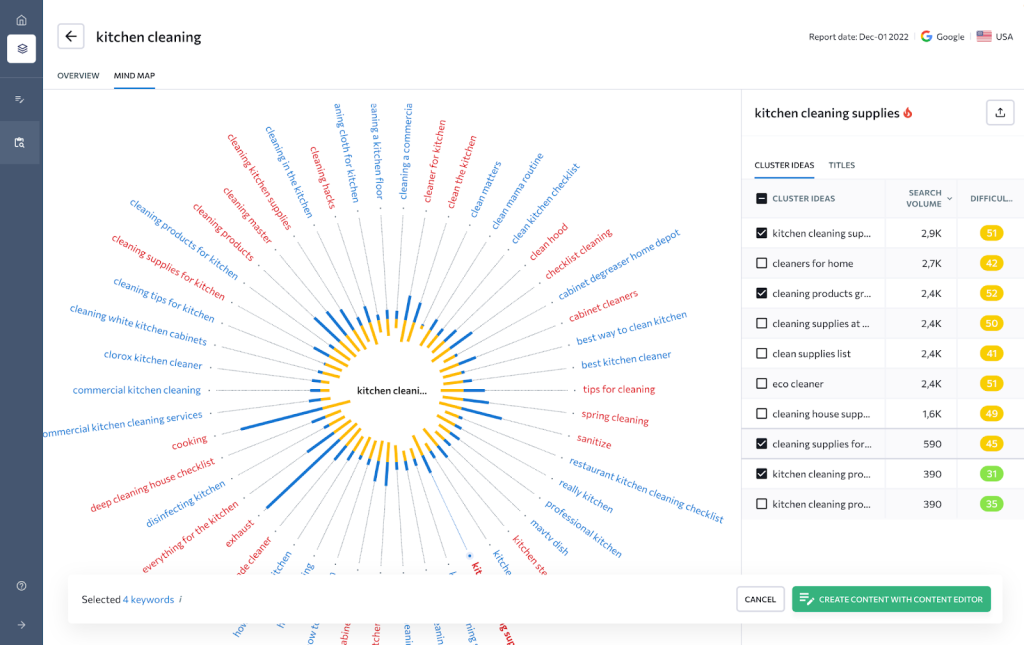 In the Content Editor, enter up to 5 keywords or phrases whose search results will be analyzed in Google or Google Mobile. Then, select the country for analysis and specify the exact city/town or even zip code. Next, give your soon-to-be-written article a clear name and click "Create article".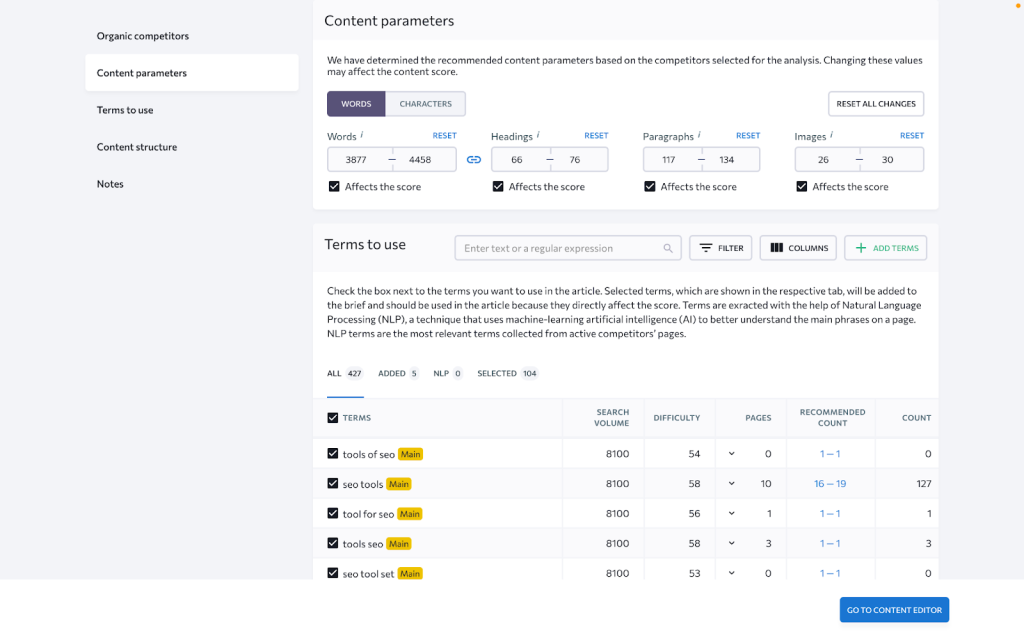 In the article's Brief Settings, most of the values are automatically recommended, but you do need to do a little digging to make sure that:
The right competitor pages are taken into account (consider the user intent foremost).
The article has the right content parameters (such as a number of words, headings, paragraphs, and images). Leave these values as is unless you know for a fact that different parameters will work better in your niche.
The target word count and the exact terms to include.
The article structure is set up. Either draw inspiration from competitor pages and directly add their headings into your article's structure, or structure your article from scratch.
Once the brief is ready, you can either start writing the text yourself, send it over to your copywriter, or generate a shareable guest link to collaborate with people who don't have direct access to the platform.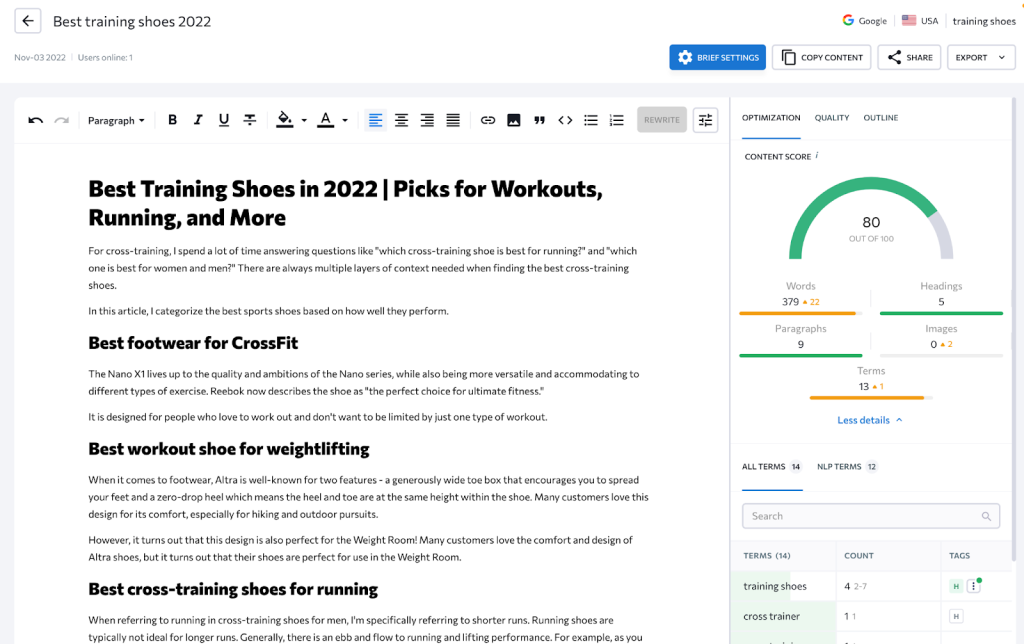 Plans & pricing
SE Ranking has a very customizable pricing policy, but the content marketing platform is only available as an add-on. Therefore, it makes sense to use this tool iif you also intend to use the other SE Ranking features like rank tracking, keyword research (etc.). The add-on starts from $29.
| | | | |
| --- | --- | --- | --- |
| Price (Monthly) | Documents | Cost per document | User seats |
| $29 | 15 | $1.9 | Unlimited* |
| $49 | 30 | $1.6 | Unlimited* |
| $99 | 120 | $0.8 | Unlimited* |
*via guest sharing links
Grammarly is a well-known tool for spelling & grammar, but they offer a lot more (tone, readability, fluency, etc.). There's a generous free version, and paid plans from $12/month.
Features & reasons to use Grammarly
Grammarly ensures that your writing is correct. The free version will give you instant feedback on grammar, spelling and punctuation. That'll speed up your proofreading/editing process.
Building on that, the paid version offers some pretty cool added features. One of my favorites is 'goals':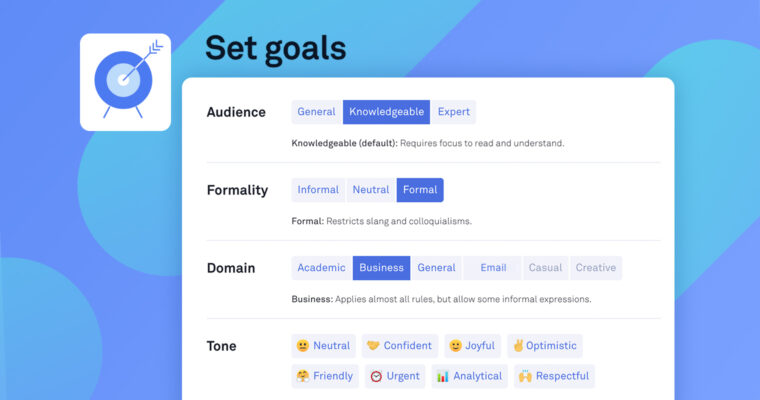 You can tell the software what the writing is for, who it is for, how formal it should be, and how you want to come across. Of course, you can choose to use or ignore the recommendations as you see fit; either way, it helps you to think about it & identify improvements.
Other than that, the paid version gives you extra features related to clarity, fluency, plagiarism detection and more.
Plans & pricing
Grammarly has a great free version that covers spelling, grammar, and punctuation. There's optional paid plans from $12 per month if you want to add the full features like tone, plagiarism, formality, and fluency. See pricing for yourself here.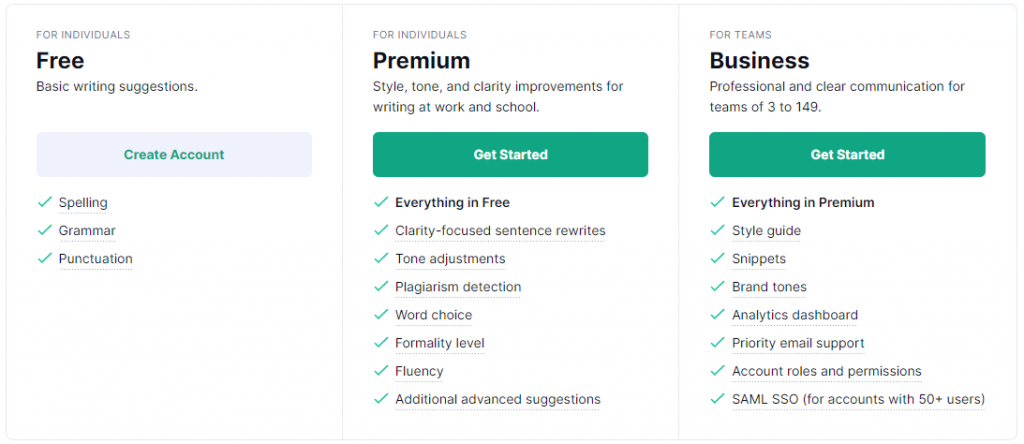 Google Search Console is a completely free tool that helps you understand how your content performs in Google searches. It's great for research, content planning, and performance measurement.

Features & reasons to use Google Search Console
In the context of writing content for SEO, Google Search Console can be used to learn about how people are finding your content.
By going into the Performance report, you can get data on clicks, impressions, CTR, and positions. By page, by keyword, country, and more. You'll probably use keywords & pages the most.

There's a couple of key use cases here for you as an SEO content writer.
1. For updating content to match search intent. If you dig into a particular page and find that you're getting clicks from a keyword you didn't intend to rank for, it could be worth rewriting to make the page a better fit for those users.
2. For finding new SEO keywords. The Search Console can be a goldmine for new SEO content ideas too. Try adding 'query contains' modifiers and sort by most impressions to find keywords that align with your content goals. Read more about finding SEO keywords with this strategy here.
Plans & pricing
Search Console is completely free for all webmasters.
Semrush Writing Assistant is one tool in Semrush's plethora of SEO tools. It's a content optimization software, similar to Frase. It's available on Semrush's Guru & Business plans (Guru starts at $229/month).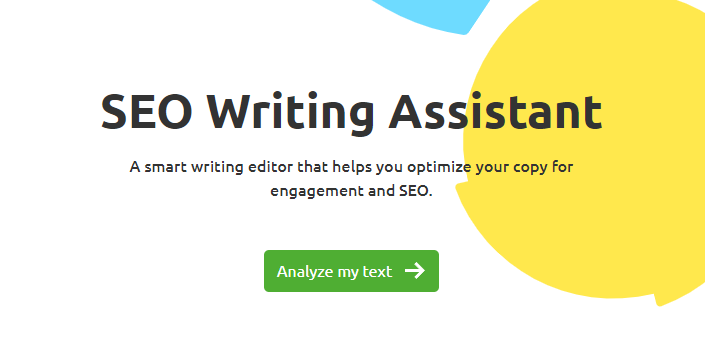 Features & reasons to use Semrush Writing Assistant
SWA works similarly to Frase, by analyzing the top ranking content & giving you recommendations on word count, keywords to use and more. The primary goal of the tool is to help you write SEO-friendly content, but there's also features to assist with plagiarism checking, tone of voice, and readability.
It has super handy add-ons for Google Docs, WordPress, and more to make it usable in various places.
Overall, I'd say that if you want a content optimization tool, and you're already a Semrush user, then this feature does the job (at no extra cost). Otherwise though, you're likely better off with SurferSEO.
The cost is pretty high if all you need is content writing tools for SEO.
If you need a complete SEO solution however with backlink monitoring, keyword research, competitor analysis, rank tracking and more — that's a different story. Semrush could be a good fit for you in that case.
Plans & pricing
Semrush Writing Assistant is a part of their content marketing toolkit, which is made available on the Guru ($229/month) or Business ($449/month) plans.
Google Analytics helps you understand how well your content writing is performing. It's completely free, and the insights will help to direct your SEO content writing efforts.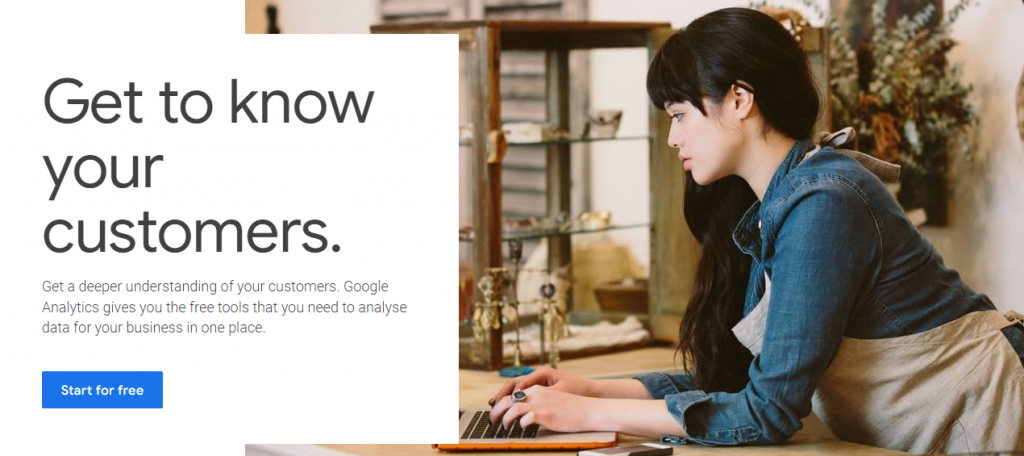 Features & reasons to use Google Analytics
In the context of content writing for SEO, Google Analytics has a few primary purposes:
To see how much traffic each article or landing page gets from SEO (total, not just Google)
To get information on how users are engaging with the page (e.g. time spent, bounce rate)
And most importantly, to understand if your writing leads to conversions
You can find all of this information in the Landing Pages report (found in Behavior –> Site Content –> Landing Pages). There, you'll get a range of handy metrics, page-by-page.

You can filter your data in various ways, such as using the search bar to show only pages containing specific keywords, or in specific subfolders (e.g. contains /blog/). You can also apply a segment to show only organic traffic, so you remove sources like email, direct, and social media that might skew your perspective.
Plans & pricing
Google Analytics is completely free for any website owner/manager. There's a paid version called Analytics 360 for enterprise customers, but I've rarely heard of it being used.
9. Hemingway App
Hemingway is another writing app which focuses on helping you to write concise text that is easy to understand. It's mostly free (with no account required, even) though you can buy the desktop app for $20.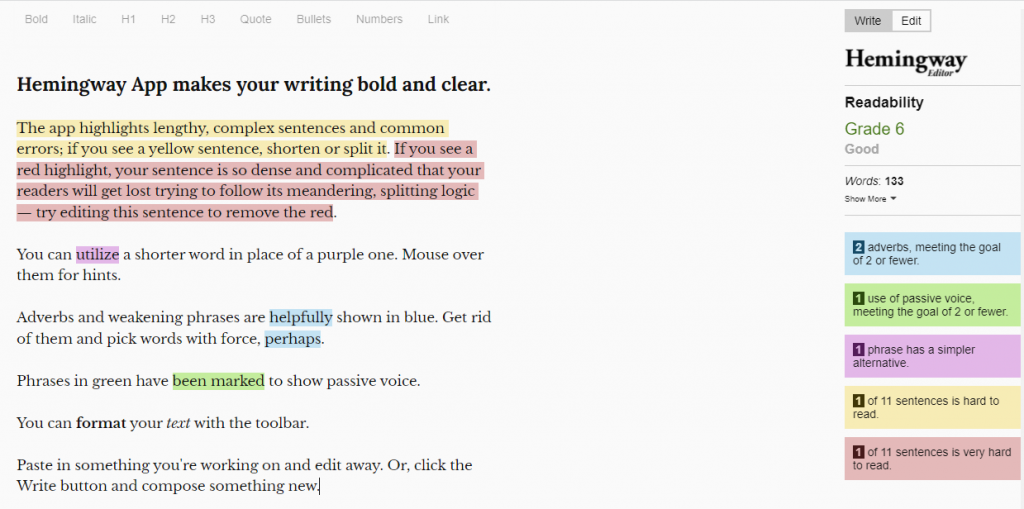 Features & reasons to use Hemingway
Why might I recommend both Hemingway and Grammarly in the same list, you ask? Well, while Grammarly focuses on correctness, Hemingway focuses on conciseness.
Their free version does a really good job of stopping you from way overcomplicating your writing. It helps you to shorten sentences, and make sure it's easy to read. That's especially important if you're expecting non-native readers to be viewing your content. Even if not though, it's always good to reduce the effort required to consume your content, right?
Spending 15 minutes reviewing your post in Hemingway before hitting 'publish' can go a long way.
Plans & pricing
Hemingway is mostly a free app which you can use without even creating an account. There's a desktop app you can buy for $19.99 here, which lets you work offline and get integrations to publish directly on WordPress & Medium (very handy!).
Are SEO content writing tools necessary in order to rank?
Necessary? No, they aren't strictly necessary. Almost anything that these tools above can do is possible manually, but it's all a lot harder. Why would you want to?
As a content writer, marketer, SEO manager (or whatever your role is), you no doubt have a lot to do. Most of these tools are either free, or start from <$50 per month. If you increased your results by 1%, or saved yourself one measly hour of time, that's already worth the investment. The likelihood is though, over the long term, you will:
Have a higher chance of focusing on the right things that actually work
Save yourself & others in your team countless hours
Free up time to work on other high-impact initiatives
And simply get much better results overall from your content work.
Good luck!