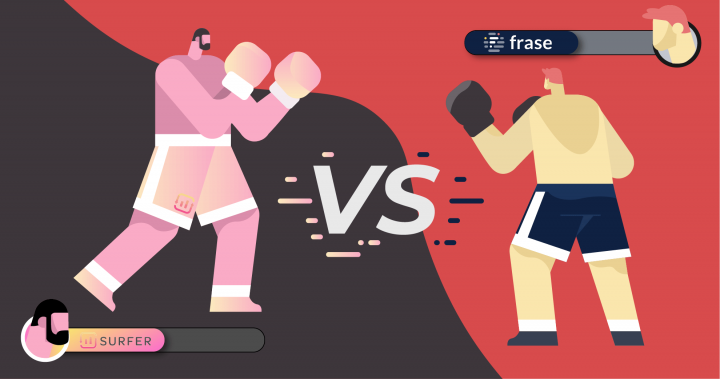 Compared to well-known Clearscope, Surfer SEO and Frase are perfectly affordable, decent content optimization tools. But how do you choose between these two?
I've tested both platforms and made notes on their key features as well as the main differences. Hopefully, this review will help you make an informed decision.
In this article, you'll find a short summary of the differences, followed by a more detailed breakdown.
The difference between SurferSEO vs Frase
The main difference between Frase and SurferSEO is that SurferSEO focuses more on content optimization & collaboration, while Frase has additional features for AI writing and content ideation.
Overall, SurferSEO is a great tool for growing content teams and marketing agencies. While its content editing features don't differ too much from Frase's, its collaboration functionalities make it a perfect choice for content marketing managers & SEOs working with writers.
Frase is an alternative option for those who want an increased emphasis on AI content ideation/generation, and don't need/want the extra features that Surfer offers. It's pricing structure becomes attractive if you're working on high volumes of content, offering unlimited plans from $115.
| | |
| --- | --- |
| Reasons to choose Surfer SEO | Reasons to choose Frase |
| Better content editing tool | Better AI content creation |
| Cheaper multi-user access for large teams | Fewer features = simpler tool & lower price |
| Collaboration features | Cheaper per article optimized |
| Educational content & active community | |
| Sign up to SurferSEO | Sign up to Frase |
Here's more details about the key differences:
Frase has a lower cost per document. If you're primarily focused on content writing, Frase will get you more articles per month at a lower cost vs. Surfer.
Surfer focuses on content editing. Frase was initially created as a content writing assistant. Therefore, it offers great tools for content ideation. On the other hand, Surfer is originally a dedicated tool for content optimization. Its features for competitor analysis and content editing are superb.
Multi-user access for larger teams is more cost-effective with Surfer. Although Frase's solo plan is almost 3x cheaper vs Surfer's, it's not so cost-effective when you need more than 3 seats. With Surfer, you can add up to 3 users in the Pro plan for $99/month and 10 users in the Business plan for $199/month. At the same time, Frase offers only 3 seats in the Team plan, starting at $99.99/month, and every extra seat costs $25.
Surfer offers better collaboration features overall. Frase does allow you to create automated briefs, but they aren't so customizable as Surfer's content briefs. Collaboration is easier and more effective inside Surfer.
Frase has a built-in AI writing assistant. Both Frase and Surfer offer AI-powered features that help writers to create drafts faster. However, while Surfer still needs to improve their AI-powered Outline Builder, Frase's AI Writer provides content that is unique and ready-to-use.

SurferSEO has a more engaged community & excellent educational content. Their Facebook group is highly active, with lots of engagement from their team. There are tons of academy videos to help you use the tool, plus an SEO writing masterclass course.
Looking for more detail? Keep scrolling.
Content editor comparison
To be honest, I like both tools. Frase is great for ideation and content writing. Surfer provides very accurate data for content optimization.
But I've promised to provide a breakdown of the content editing features of these two platforms. Here you go.
Surfer SEO content editor overview
The most common use case for Surfer is content editing. You just type in the key query you want to rank for, and Surfer creates a project where you can add and optimize your brief.
But before you start optimizing your content, you can choose which competitors you want to compare your text against. Click on the 'Customize' button at the top of the screen, and you'll see the top 20 pages currently ranking for your keyword.
Note: this is an important step in the content optimization process. Here, you can remove outliers from the SERP that might skew your data, and manually override any automated recommendations (e.g. increase word count).
Surprisingly, Surfer's list of organic competitors totally matches SERPs.
Without a doubt, such a match results in more accurate recommendations. However, to make them even more useful, you can choose which sites you want to include in the analysis.
When I look through the Organic Competitors screen, I usually pay attention to the word count of the page and its authority. Say, when Pardot's article that's twice as short as a typical post on the topic ranks #1, it's clear to me Google considers its site authority in the first place (according to Ahrefs, its DR is 90). And if my website isn't so strong, I'll need to try way harder to bring my content to the first page of search results. Therefore, Pardot can be excluded from the list of competitors.
When you're done with picking the most relevant competitors, you can scroll down and keep customizing recommendations. But don't rush. I'll cover this part later when highlighting Surfer's collaboration features. Now, I'll close the tab and check out my Content Score and how I can improve it.
At the very bottom of the Guidelines tab, there's a list of terms that should be included in my writing. Surfer also provides examples of use for every term in the list.
What else does Surfer Content Editor offer?
You can switch to the Outline tab to find alternative title ideas, headings, and questions that you might want to cover in your article.
Outline Builder is an AI content-generating tool. It not only offers content ideas but also auto-generates unique paragraphs for each title, heading, and question. This feature is relatively new, so the results aren't always reliable. However, I'm sure the Surfer team will improve it soon.
Surfer SEO & Jasper.ai
Although Surfer can't brag about its AI-powered features, content writers can pair it up with Jasper (formerly Jarvis), AI copywriter, to achieve SEO results. With the Jasper & Surfer integration, you can create a long-form copy using Jasper and fine-tune it with Surfer's Content Editor that's accessible right within Japer's interface. As simple as that.
Should you pay for both tools to access the integration? You need to have active accounts on Jasper and Surfer SEO to enable the integration. However, Jasper users can access Surfer's Basic plan for $1 for the first 30 days.
Frase content editor overview
At first sight, Frase's content editor doesn't differ much from the one of Surfer. See for yourself:
Frase also provides a list of organic competitors, tips for organizing your content, keywords, and content score. How exactly is Frase's content editor different from Surfer's?
First, if you look at the list of top-10 competitors Frase is comparing your content against, you'll notice that some sites are different from what Surfer displays.
The order of some pages doesn't fully match the actual SERP. It's not a big issue though. Anyway, you'll be reviewing and picking competitors manually.
If you go back to the SERP tab, you'll see the overview of competitors' articles: titles, content structure, DA, the number of links, etc. Surfer doesn't offer this feature at the moment.
Users can simply paste competitor's headings in their writing or request to auto-generate sections based on the structure of the specific competitors' article. Furthermore, there are filters allowing writers to see external links and statistics used in each of the analyzed articles.
You don't even need to leave the Frase interface to do content research – all the relevant information is already at your disposal.
Also, Frase offers a decent feature for identifying questions that you should cover in your content. Surfer also picks relevant questions, but it can't beat Frase's suggestions. The tool picks question ideas based on competitors' content, Google's People Also Ask, Quora questions, and Reddit discussions.
I've already touched upon Surfer's AI-powered Outline Builder, so it's time to introduce Frase's AI Writer. Although it's not technically a content editor, the tool isn't complete without this feature.
After you create a project, the 'Write for me button' appears at the bottom of the screen. Click on it, and Frase will auto-generate a few paragraphs within seconds. You can click 'Write more' or keep working on your draft from there.
When I checked Surfer's auto-generated suggestions, quite a few of them didn't make any sense. Frase's AI Content Generator is a way more sophisticated solution.
Content editor comparison: Verdict
There are two aspects you should pay attention to when choosing between Frase and Surfer. These are data accuracy and a variety of features.
When it comes to data accuracy, Surfer SEO wins. The tool has the freshest data on SERP, which means you can optimize your content based on the most relevant recommendations.
If all you want is to spend less time writing content, you'd better choose Frase. A wide range of features that facilitate ideation and content creation makes it a perfect solution for solo writers willing to deliver quality content at scale.
Collaboration features
If you assign tasks for writers, collaboration functionality is a big plus for a content optimization tool.
Surfer's collaboration features
Remember we were picking competitors inside Surfer's customization panel? It's time to get back to it and scroll down a bit.
Here are content structure elements that build up a 'perfect' article. The number of elements is calculated based on the competitors you've picked. But you can also customize the guidelines and increase or reduce the word count as well as the number of headings, paragraphs, and images. It's a great feature for those who assign tasks for writers – you can create a brief and specify all the requirements right inside Surfer.
If you keep scrolling, you can also manually choose the terms, topics, questions that should be included in the draft.
Briefs created with Surfer are easy to share and collaborate on.
Lastly, SurferSEO has great extensions for Google Docs & WordPress, and it has the ability to generate shareable links to work with external writers.
Frase's collaboration features
How does Frase work for teamwork?
Frase offers functionality for automatically creating briefs – in the Brief tab, you can choose which elements should be included in the guidelines and insert them into Editor. I didn't find a way to customize those elements, so it looks like you can't customize suggestions but can only edit your brief after it has been auto-generated.
One great feature that makes collaboration inside Frase easier is creating two separate documents for creating a brief and writing content. You can switch between these documents by moving the cursor to the top of the screen.
Collaboration features comparison: Verdict
Undoubtedly, Surfer has more solid collaboration features than Frase. Inside Surfer, you can adjust recommendations for content length and structure, add new terms, and leave notes allowing external or in-house writers to fully understand your expectations.
Other features
In the comparison, I'm primarily focusing on the content editing features of Surfer and Frase. However, these two offer a bunch of additional features for SEOs and content marketers. Let's touch upon these features.
Apart from Content Editor, Surfer includes the following features in any of its plans:
Audit. Surfer's Audit creates a comprehensive report highlighting SEO opportunities and weak spots of an analyzed page.
Content Planner. This tool creates topic clusters relevant to your main keyword. The feature is useful for identifying content ideas and creating topic clusters around one keyword.
SERP Analyzer. This is a powerful feature for planning content optimization and promotion. By simply analyzing SERP results for your main keyword, Surfer provides a comprehensive report on competition, their backlinks, keyword density, related keywords, and many more. The opportunity to check common referring domains for top-20 pages is just one more reason to fall in love with this tool.
Keyword Research. Surfer allows you to do simple keyword research without leaving the tool interface. Although the platform doesn't display information on keyword difficulty, it's a good tool for identifying searches and questions related to your query.
Domain-wide Audit. By connecting Google Search Console to your account, you can receive an in-depth report on your 100 hundred top-performing pages.
White Labeling. SEO agencies and freelance specialists can white label their reports for clients.
In addition, Surfer has a Chrome extension for WordPress and Google Docs.
Surfer's SERP Analyzer
Frase doesn't offer many additional features – this probably answers why the product is cheaper than some competitors. Still, there are a couple of interesting tools I've found:
Content optimization tool. 'Wait, haven't you covered it yet?' Not at all. I've told you about Frase's Content Editor. With Frase, you can also discover opportunities for improving existing content. You just enter a URL as well as a target search query and watch Frase comparing your page against top organic competitors.
AI-powered tools. Summary Generator, Paraphrasing Tool, Description Generator, Paragraph Rewriter, Slogan Generator, Introduction Generator – these are only a few of Frase's free AI-powered tools. Each tool does exactly what's stated in its name, so I won't go too much into detail.
Google Search Console integration. Connecting your Frase account to Google Search Console helps to keep track of your content performance in one place. The platform analyzes the data provided by GSC and displays insights you won't find in GSC. It assigns a status to each page, highlights new keyword opportunities, and provides an overview of topics your site already ranks for.
Frase also offers a Google Docs add-on and WordPress integration.
Things that Frase can do, that Surfer can't
First of all, Frase is a great tool for content writing. Its AI-powered tools help to overcome writer's block and save your time. While many AI-powered solutions, including Surfer's AI Outline, are often inaccurate, Frase's AI Writer tends to deliver reliable results.
Secondly, Frase breaks down competitors' content making it easy to copy, paste, and adjust specific parts. Surfer doesn't display competitors' content structure inside Content Editor – you can only access titles, headings, and paragraphs that Surfer has created based on the competitor analysis.
Things that Surfer can do, that Frase can't
Surfer has a variety of tiny but useful features that facilitate collaboration. Customizing briefs and leaving notes isn't possible inside Frase.
Power SEO writers can access Surfer's API in the Business plan to scale content optimization at no extra cost. And with white labeling, creating professional-looking SEO reports is made way easier for agencies and freelance SEO specialists.
Unlike Frase, Surfer includes a bunch of features that allow you to plan your content, get a very detailed overview of SERP, outline a promotion plan, and keep track of your content performance.
SurferSEO recently introduced an AI growth platform named Grow Flow. It connects to your Search Console account, and comes up with task ideas every week that can help you grow your organic traffic. Task examples might be:
Internal link ideas to implement
Recommended content updates (with specific recommendations)
New keyword ideas to create articles for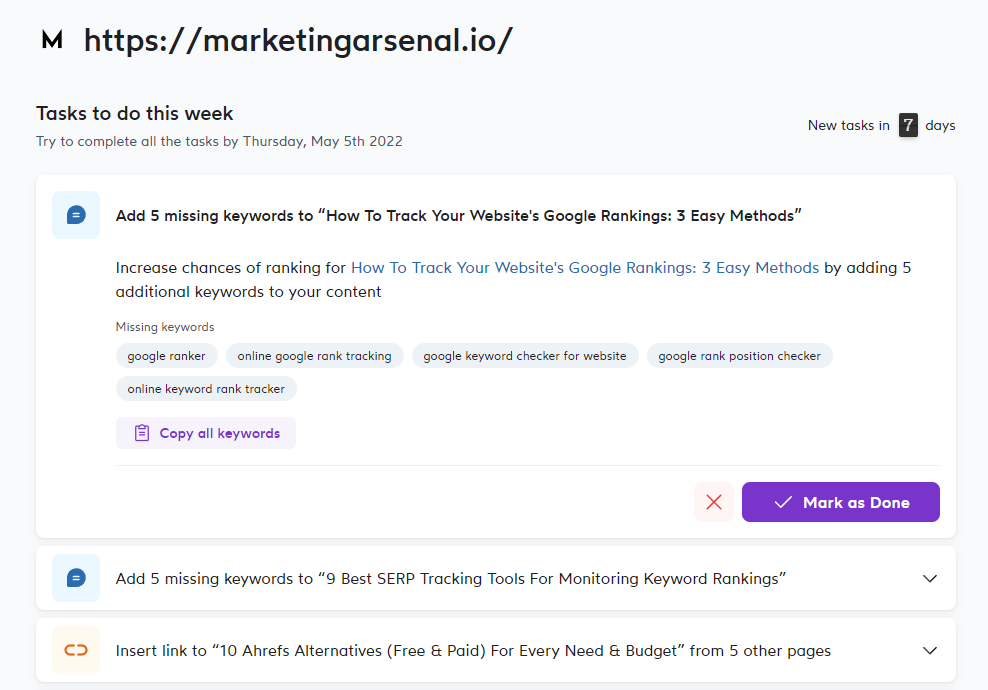 Alternatives
If you're not convinced that either Surfer or Frase fits your needs perfectly, there are some alternative software tools in the content optimization space you can take a look at. They include:
Outranking
MarketMuse
Scalenut
WriterZen
Semrush Writing Assistant
Page Optimizer Pro
Dashword
Clearscope
For more in-depth details, see SurferSEO alternatives, and Frase alternatives respectively for extra notes on the features & differences.