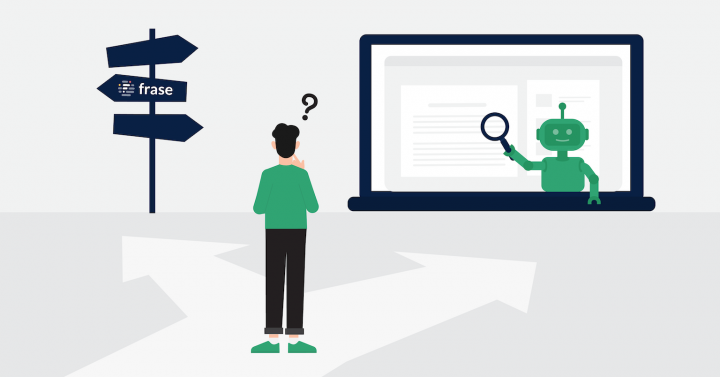 Frase is a great AI tool for content optimization, planning, and analysis. The features work well, and the price is reasonable.
As with anything though, it's not for everyone. Some tools have better content editing features, some add different AI SEO tools altogether, some cater better for enterprise use, and so on.
If you want to shop around, you're in the right place. Here's some alternatives to Frase, together with a summary of what's different, prices, and more.
These are the 8 best Frase alternatives
1- SurferSEO
2- Outranking
3- Page Optimizer Pro
4- Clearscope
5- Jasper AI
6- MarketMuse
7- WriterZen
8- Semrush Writing Assistant
Keep scrolling to get the details on each, and their differences vs. Frase!
Why consider alternatives to Frase?
Having used Frase, I can say that Frase is a good tool for content ideation, and planning. Having also used many alternatives though, I believe there are better options out there for things like content optimization (e.g. SurferSEO) and AI writing (e.g. Jasper.ai).
Other than that, Frase have made some strange choices at times when it comes to product updates. One such example is with UI changes. There's been several occasions where even vid users who have reported a track record of success with the tool have been frustrated by poor UI choices & updates.
In my (somewhat limited, admittedly) experience using Frase, I can also say that support wasn't the best.
Lastly, the simple fact remains that Frase isn't for everyone.
SurferSEO has more features than Frase overall. It has a better content editor tool, great features for collaborating with writers, and lots of educational content to support.
Features
SurferSEO's primary use case is content optimization, but they've added lots of new features.
Content Editor
The content editor is the bread and butter of SurferSEO. It offers in-platform collaborative features as well as integrations with Jarvis.ai for automatic content creation.
Here, users provide their keywords and SurferSEO provides all the suggestions needed for optimization. These include headings suggestions and then many relevant suggestions for the main content. To make matters easier for the writer, SurferSEO provides specific use cases so you always understand the context of the suggestions.
Grow Flow
Grow Flow is an AI SEO feature through which SurferSEO creates content tasks. For example, it might suggest things like:
Add these internal links for [this page]
This page is missing mentions of x, y and z keywords
You could create a new article targeting [this keyword]
Grow Flow simply provides suggestions to keep on top of your content. Super helpful, especially for those working alone, or beginners.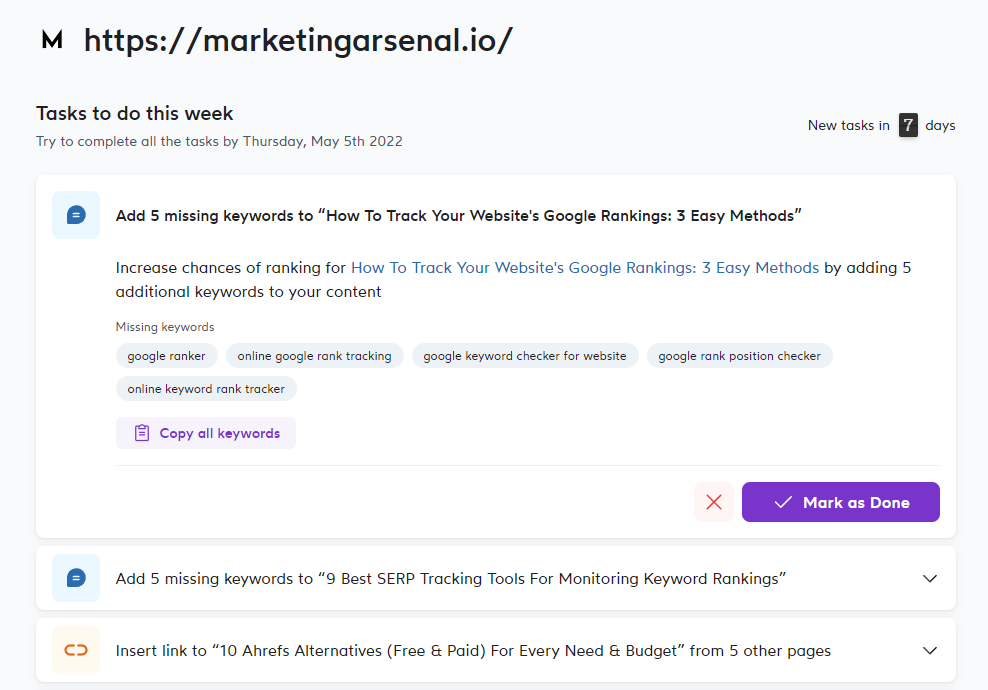 Collaboration
The guidelines you receive can be easily shared by generating a shareable URL. That means writers & other marketing colleagues can collaborate with you in Surfer, even without logging in. For features that do require login, there are plan options with additional team seats.
There's also a cool Google Docs extension that pulls Surfer's data into your doc. That makes it even easier to collaborate with writers, as you can add comments & discuss / give feedback more easily.
SurferSEO vs Frase
SurferSEO is slightly more expensive, but it comes with more features (e.g. Grow Flow, content clustering) and is generally better for SEO editing.
If you need a tool for a marketing team (agency, etc.), then SurferSEO could be better too, with great collaboration features like the Google Docs & WordPress extension, user seats, and generally a nice user experience for collaboration.
Frase allows you to get unlimited documents for a lower price, and is often regarded as being better for content planning, ideation, and AI content generation.
See a more detailed comparison here: SurferSEO vs Frase.
Plans and Pricing
| | | | | |
| --- | --- | --- | --- | --- |
| Plan | Price (monthly) | Users | Team Members | Audits |
| Basic | $49 | 10 | 1 | 10 |
| Pro | $99 | 30 | 3 | 30 |
| Business | $199 | 70 | 10 | 70 |
Outranking is a platform dedicated to its namesake action. It's an AI SEO tool for writing, editing, and planning, and it's one of the most similar tools to Frase on this list.
Features
Outranking features are easy to use but they cut to the chase by providing a fast track to the different aspects of content optimization.
SEO content generator/editor
This flagship feature automatically generates an optimized rough draft with the help of AI. It starts by providing optimized titles and descriptions for you to work with. A single click leads to competitor research and complete drafting.
User intent analysis
Sometimes, niche keywords have little search volume. However, these keywords can still present opportunities. Outranking finds the related questions users ask through competitor analysis and generates ideas for that search query
Ongoing optimization
Ongoing optimization is a focus of Outranking. This feature targets defending your place in the rankings rather than outranking another leader in your niche.
Outranking vs Frase
Outranking is more similar to Frase than most entries on this list. For example, they both offer exceptional single-user functionality and are even priced quite similarly. These similarities perhaps offer a great point of comparison.
Outranking differs from Frase in terms of usability. Users praise Outranking for its ease of use. They also overwhelmingly support its GPT-3 compatibility.
Plans and Pricing
| | | | | |
| --- | --- | --- | --- | --- |
| Plan | Price (Monthly) | Documents Per Month | Searches Per Month | Teams |
| Mega | $40 | 10 | 50 | 0 |
| Giga | $82 | 25 | 150 | 1 |
| Tera | $157 | 50 | 400 | 3 |
Page Optimizer Pro (POP) is an on-page SEO tool designed for online marketers.
Features
POP's patented scoring/editing tool is the main feature, but both this and its other features offer unique functionality.
Enhanced Competitor Analysis
POP offers competitor analysis that searches for both what your competition is doing right and wrong. With a focus on competitor analysis, they've also designed the feature to be especially easy to use.
Content Brief
The Content Brief builder is one of the main automation tools POP offers. Compared to Frase, their briefs are far more detailed. However, building briefs in bulk is easier with Frase.
Content Editor
Using the automated briefs, POP then sends you to their content editor. It's a very simple editor to use and looks similar to both Frase's and SurferSEO's. However, it's a bit cleaner, with suggestions for titles, headings, and main content provided in the exact same place.
Page Optimizer Pro vs Frase
POP is a great option if you want to work much harder on fewer articles. For similar reasons, it works very well for more competitive keywords. Long-form content is simpler to draft on POP due to the interface differences as well. Frase, however, is better for bulk brief building (and workflows) and for its specific suggestions for FAQs and similar customer intent factors.
Frase is very similar to POP when it comes to optimizing content, and users of both platforms swear on their efficiency in improving your rankings.
Plans and Pricing
| | | | |
| --- | --- | --- | --- |
| Plan | Price (Monthly) | Reports Per Month | Additional Report Cost |
| Basic | $22 | 12 | $1.65 |
| Premium | $33 | 25 | $1.20 |
| Unlimited | $44 | Unlimited | $0 |
Clearscope is a Frase alternative that many medium-large, busy marketing teams choose for its balance between attention to detail and simplicity.
Features
Clearscope's features give it a fairly clear scope (no pun intended) for any marketing team. Clearscope helps teams optimize content for both SEO and other qualitative indicators.
Content Editor
The Clearscope content editor comes with all the important suggestions. You have a list of phrases to include a certain number (range) of times, with an overall optimization score. Unlike many similar editors (including that of Frase), Clearscope's comes with a whole section on readability.
You also get a content grade for SEO and another "grade" for readability similar to that of Hemmingway Editor. The goal is to help you simplify your sentence structure and word count so more readers can grasp your content.
Custom onboarding
While it's not available with the cheaper subscription packages, this feature is great for scaling teams. Customers can ease the burden of using content analysis/optimization platforms with customized service.
Integrations
Clearscope comes with integrations with Google Docs and WordPress. These integrations improve collaboration and workflows.
Clearscope vs Frase
Clearscope is significantly more expensive than Frase. It also doesn't offer as much for content ideation, planning, and AI writing.
That said, Clearscope is better at what it does. Which is high quality content editing / optimization. They also cater much better to delivering that service to larger teams, plus they have a larger and more experienced team themselves.
Despite the steep costs, business users love Clearscope for how easy it is to continuously use, even as teams grow and the scope of content needs shift.
Plans and Pricing
| | | | | |
| --- | --- | --- | --- | --- |
| Plan | Price (monthly) | Users | Content Reports | Customized Onboarding |
| Essentials | $170 | 3 | 20 | No |
| Business | $1,200 | Unlimited | 100 | Yes |
| Enterprise | Customized | Unlimited | Customized | Yes |
5. Jasper AI (formerly Jarvis)
Jasper AI is an AI writing tool well-known for its integration with SurferSEO. Jasper is a good alternative to Frase's AI writing features, but it can't replace the content editor or brief builder.
Features
Jasper AI's value proposition surrounds its main feature, AI writing.
AI Writing
Jasper AI automatically generates drafts for blog posts, articles, web content, and more. The software is also applied to social media, using AI to formulate engaging social media posts. The writing is 100% original, using AI to avoid any instances of plagiarism.
Jasper AI can write SEO content or direct response copy, such as landing pages and other ad copy.
You can also simply copy predrafted content into the Content Improver to have Jasper AI edit your existing content.
Jasper vs Frase
As an AI writing solution, Jasper AI is more focused and generally better than Frase. Its use cases are extensive, including things as seemingly simple as catchy YouTube video titles. However, even this aspect of Jasper's AI writing is critical to gathering more views and engagement. For all applications, Jasper's AI-generated copy is completely scientific in its approach, offering a fast track to greater engagement.
Of course, Jasper doesn't offer the other features that Frase offers, making it a one-dimensional alternative. But Jasper AI is excellent at its job.
Plans and Pricing
Jasper AI starts at $29 per month. All payment plans are customized to your needs. Two factors affect its price:
The words per month that you need
Whether you choose Starter (only basic features) or Boss Mode (all features, meant for larger businesses)
MarketMuse is one of the oldest names in the AI content optimization space. It's kept up with all developments and integrated them into its service packages, while choosing to cater for larger teams.
Features
MarketMuse provides the full range of enterprise-level content analytics and SEO. It has too many individual features to go over here.
AI content writing/editing
Like Frase, Surfer, Outranking etc., MarketMuse also offers a content editor which works in a similar way, providing recommendations on word counts, keywords to cover, and so on.
Content inventory
This feature helps you plan & prioritize your content work. It identifies missing or weak content that could be worth working on, and analyzes content quality / performance.
They also offer a Personalized Difficulty feature, which considers topical authority. The higher your authority on a topic, the lower your personal difficulty should be for that query. I haven't used this enough personally to comment on accuracy.
Topical modelling
This is another thing that MarketMuse has been doing for a long time, and does very well. Any seed keyword you enter will deliver you related ideas for building topical authority & complete niche coverage.
MarketMuse vs Frase
MarketMuse is a stronger option for large enterprises with more advanced content marketing programs. Whereas Frase offers inexpensive and excellent tools for individuals and small teams, MarketMuse offers extensive functionality and customization for professional, large teams to work with.
Plans and Pricing
| | | |
| --- | --- | --- |
| Plan | Price (annually) | Queries per month |
| Free | $0 | 15 |
| Standard | $7,200 | 100 |
| Premium | $12,000+ | Unlimited |
WriterZen isn't as complete a content analysis and optimization tool as Frase but it's an inexpensive potential rising star in the industry.
Features
WriterZen offers several content analysis and planning tools, alongside (word count) limited AI writing.
Content editor
The WriterZen content editor can be used to target keywords with a wide range of competitiveness. It comes with the suggestions you need based on user intent research so you answer all relevant questions while optimizing your content.
Outline creation
Similar to Frase' outline builder, WriterZen finds hidden topics that represent strong SEO opportunities. After finding opportunities, they provide the writer with topic clusters and keyword research to enhance the writing process. Opportunities that are shared are those most able to improve your site's content ranking and drive more traffic to it.
AI writing
WriterZen offers some AI writing with up to 5,000 words for their simplest plan.
WriterZen vs Frase
WriterZen is less popular than Frase, and not as established. Still, its customers report being very satisfied with its topic clusters and AI writing assistant, making it easy for small teams to quickly produce a lot of optimized content within a niche.
However, while WriterZen is successfully punching above its weight in those regards, it is lacking in some basic areas. For example, it still only works with English in the front end while Frase supports English and seven other languages.
Plans and Pricing
| | | | |
| --- | --- | --- | --- |
| Plan | Cost (monthly) | Content Briefs (Monthly) | AI Writing |
| Basic | $27 | 50 | 5,000 words |
| Standard | $41 | 70 | 8,000 words |
| Advanced | $69 | 150 | 15,000 words |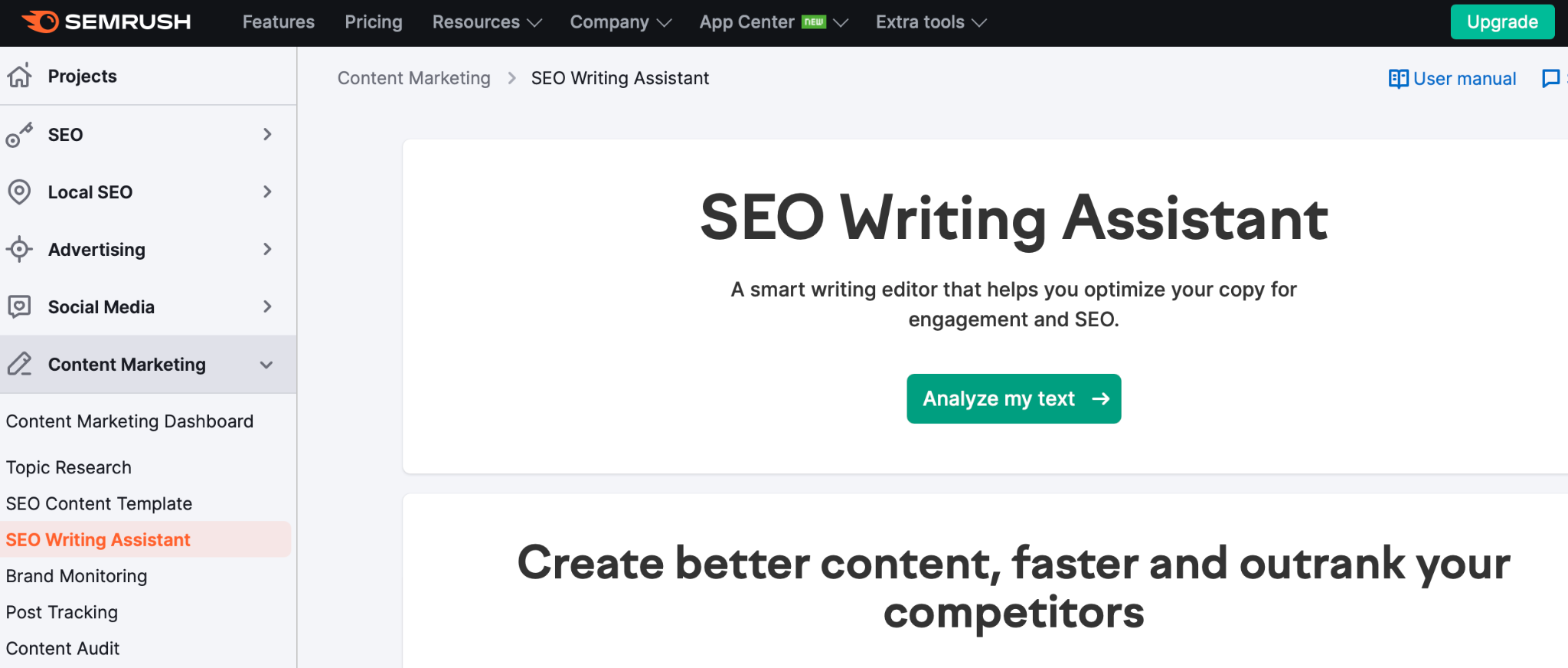 Semrush Writing Assistant offers an optimization editor meant for writers and editors. It's part of Semrush's broader marketing toolkit. While it isn't cheap, it comes with a rich array of features for teams to optimize their content.
Features
Content optimization, research, and analysis are all covered by Semrush's features.
SEO Writing Assistant
Users hop on the writing assistant to make sure the content they draft is competitive against their top competitors. This involves text structured perfectly for keywords, satisfying all relevant user intents.
Strong Integrations
The typical Google Docs integration comes included. But users can also work with Semrush Writing Assistant through the tool's WordPress plugin.
Other SEO features
It's worth noting that Semrush is a comprehensive marketing & SEO platform. If you're familiar with Ahrefs, you'll find that it's one of the top Ahrefs alternatives, but has even more features (covering PPC, social media etc. too).
It can help with rank tracking, backlink analysis, and much more.
Differences: Semrush vs Frase
Semrush & Frase are really quite different purchases. Users buy Semrush if they want a comprehensive SEO & marketing platform, and the Writing Assistant is simply an addon.
So if you have broad needs including rank tracking, keyword research, competitor analysis and more as well as AI content writing/editing, then go ahead with Semrush.
Otherwise, go with Frase or one of the alternatives above for a much cheaper & simpler option.
Plans and Pricing
Semrush Writing Assistant is included on plans from Guru and above. View Semrush pricing plans here.