A good client-agency relationship is the single biggest predictor of success. If you get it right, you'll surely enjoy more customers along the way. Client reporting is one of the best ways to improve your client-agency relationship. You could argue that reporting is a time-consuming and tedious process. But it shouldn't be.

A powerful client reporting software with the right features will help your agency reach the top. In this guide, I review the 10 best client reporting solutions that will help you build interactive marketing dashboards for your clients, so they know you're working hard for them.
Here are the 10 client reporting software
DashThis

Klipfolio

Megalytic

NinjaCat

Mention

Hootsuite Analytics

quintly

Mentionlytics

TapClicks

Socialbakers
1. DashThis
Best suited for: marketing agencies to make shareable KPI dashboards
Free trial: yes, 15 days. Sign up here.
Starting price: from $33/month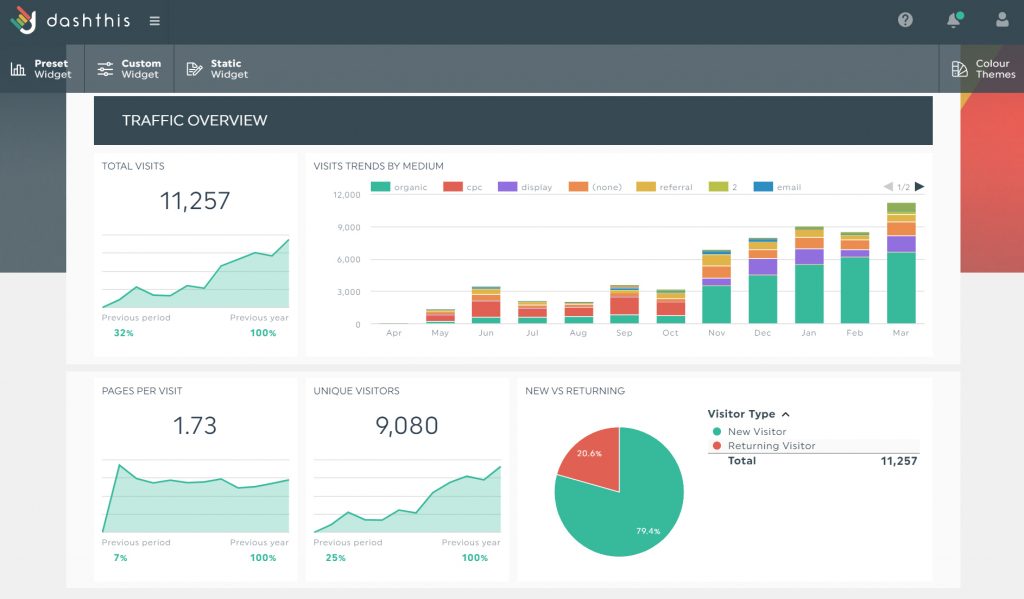 Key features
DashThis is a marketing reporting solution to visualize data in dashboards for SEO, social media, email, and paid campaigns reports. It integrates with many popular tools, including Google Analytics, Google Search Console, Semrush, Mailchimp, Mailchimp, Bing ads, LinkedIn pages, and others.
It's very easy to use, with a drag-and-drop UI plus great customer support. DashThis offers preset dashboard templates so you start quickly. Here's some examples:
It's the perfect tool to bring all your marketing reports together in one place, even cross-channel. It saves client reporting time, since all key stakeholders can check the shareable URL anytime.
White label features are available, so that the shared URL uses a custom subdomain, and dashboard designs have your (or your client's) logo & branding.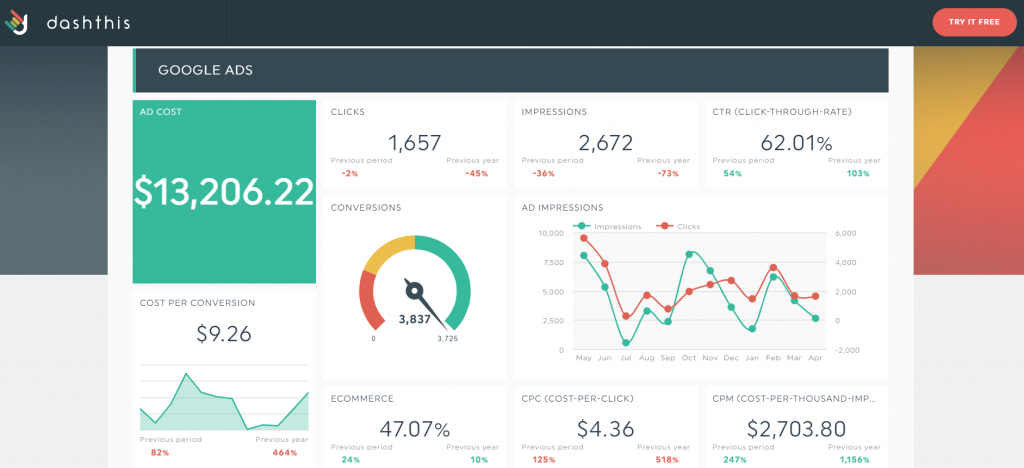 Pricing
DashThis has 4 plans: Individual, Professional, Business, and Standard. The pricing starts from $39 per month (paid monthly) or $33 per month (paid annually), and you get built-in dashboard templates, multi-integration dashboards, and email support. See pricing here.
2. Klipfolio
Best suited for: small businesses and marketers who need a cost-effective dashboard tool to track marketing performance in real-time
Free trial: offers freemium version. Sign up here.
Starting price: from $99/month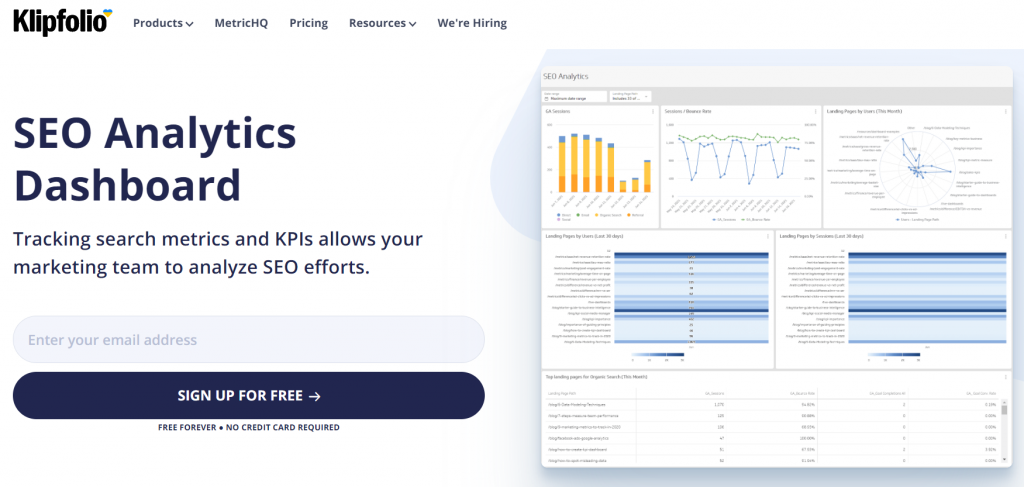 Key features
Klipfolio is a business dashboarding, data analysis, and reporting tool to build and share real-time dashboards with clients.
It comes prebuilt with over 100 API connections to assemble data from all your different data sources, including cloud, spreadsheets, and on-premise servers. These integrations include Google Analytics, Google Sheets, Bing ads, Facebook ads, Salesforce, Shopify, and more.
Klipfolio's automated data retrieval and report updates let you achieve real-time decision-making. Klipfolio makes data sharing and collaboration simple. You can share your dashboards with certain people, or you can share them with the entire organization at once.
Klipfolio has another product, called Klips, developed for client management. With only a few clicks, the Klip gallery helps track your important performance metrics. Share your dashboards with your clients via view-only links, scheduled emails, or Slack messages.
Pricing
Klipfolio has 4 plans: Free, Plus, Pro, and Custom. The free plan allows 2 users to use the platform and create unlimited dashboards. See full pricing here.
3. Megalytic
Best suited for: businesses who need to combine marketing data from lots of different sources
Free trial: Yes, 14 days. Sign up here.
Starting price: from $39.99/month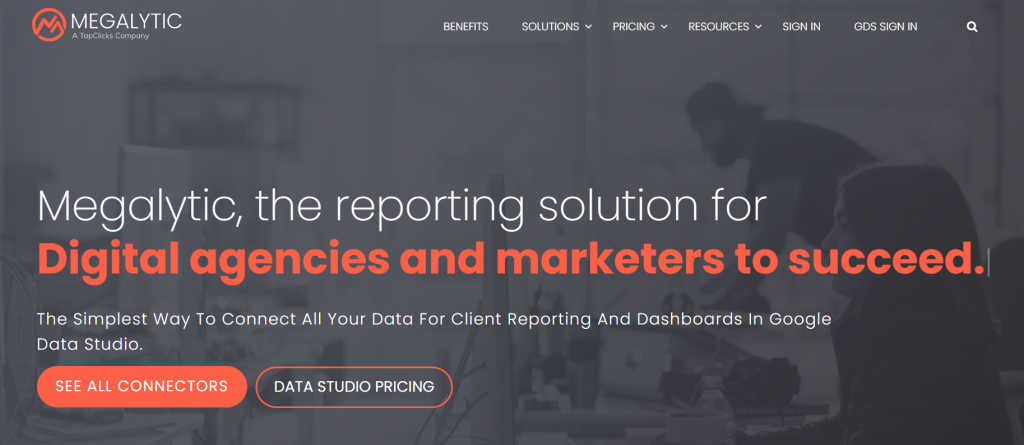 Key features
Megalytic is a reporting tool for collecting data and transforming it into interactive reports and dashboards
Megalytic can gather all of the data together to show the story of how your marketing is progressing, whether it's traffic, conversions, impressions, or revenue data. Share your reports in PDF format or present your insights on responsive web pages that can be read on any device. Furthermore, set your reports to be delivered to your clients on a schedule.
Start from the report template each time you need a report for a new client, and most of the work is already done. All Megalytic reports can be white labeled – upload logos, create cover pages, or change colors to match your brand identity and leave a professional impression on your clients.
Pricing
Megalytic for reporting has 4 plans: Basic, Standard, Premium, and Enterprise. The 'Basic' plan costs $39.99 per month and it lets only 1 user use the platform and create 10 reports. See the full pricing here.
4. NinjaCat
Best suited for: agencies and media companies needing to aggregate marketing data and visualize campaign performance
Free trial: Unknown
Starting price: Unknown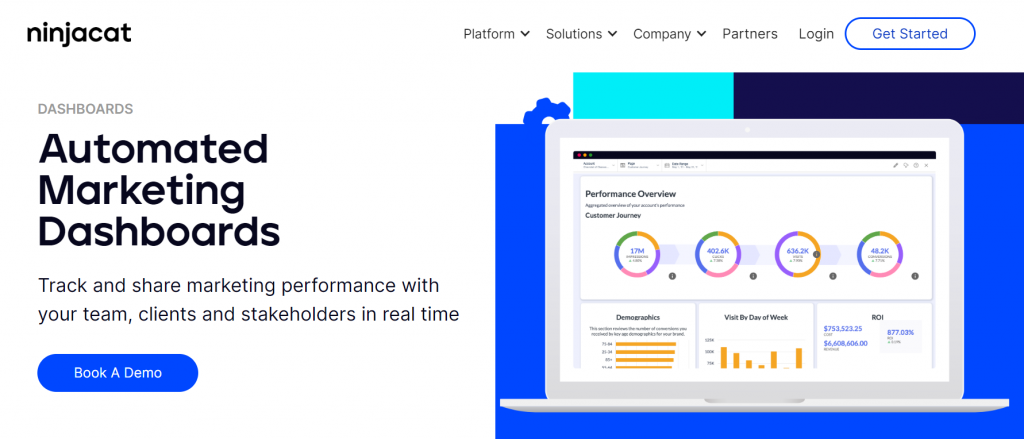 Key features
NinjaCat is a marketing performance management platform to consolidate marketing data and automate client reporting. It has a user-friendly interface that allows for massive data manipulation without expert knowledge of data engineering.
With NinjaCat's data aggregation capability, you can view data from over 100 sources, including Google Sheets, Facebook insights, Hubspot, Twitter ads, YouTube ads, and many more. All NinjaCat dashboards update daily, allowing you to collect quick insights on your accounts and stay proactive with your campaign optimizations.
Use Ninjacat custom templates – Facebook ads report, SEO report, Google Analytics report – to scale client reporting. Additionally, you can easily white label your reports to create a unique experience by adding branding elements to all client-facing reports and dashboards.
Pricing
NinjaCat doesn't provide pricing information for its product. You can request a demo here.
5. Mention
Best suited for: businesses of all sizes needing a solution to monitor and analyze data from all of the company's touchpoints
Free trial: offers freemium. Create your free plan here.
Starting price: from $24/month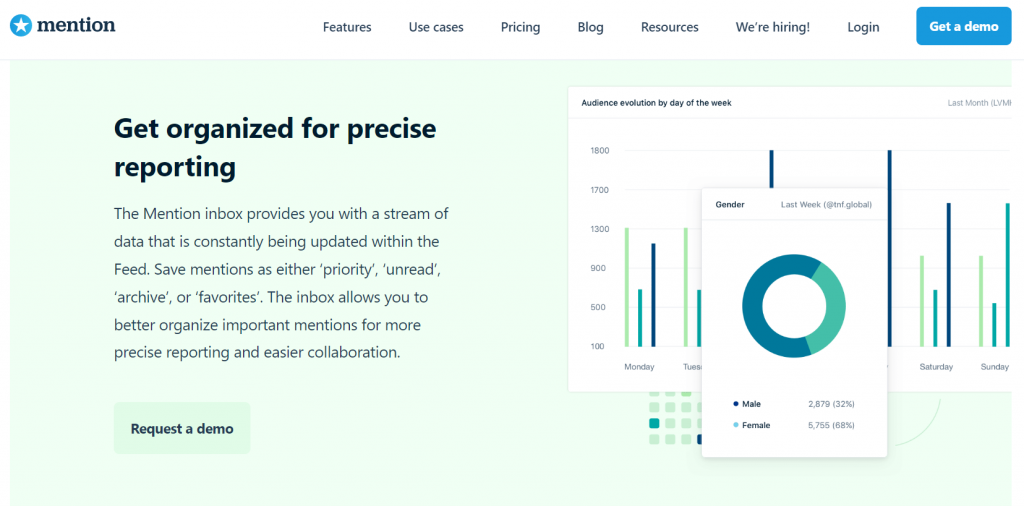 Key features
Mention is a social media monitoring tool to understand audience perception across different social media accounts like Twitter, Facebook, and Instagram. With its robust filtering options, you can gauge the sentiment of your audience.
Mention scans the web daily to monitor social mentions about your brand and user can download an Excel file with the data. Get in-depth dashboards, discover the trends at a glance with data visualization, and share them with your clients.
Furthermore, Mention lets you plan and manage social media posting from one tool so you can schedule your posts in advance and choose when you want your posts to go online. Access your social media calendar easily from anywhere via desktop or mobile apps.
Pricing
Mention has 5 plans: Free, Solo, Pro, ProPlus, and Company. The 'Free' plan can only track 1000 social media mentions and concerts with 3 social media accounts. View full pricing here.
6. Hootsuite Analytics
Best suited for: small businesses who need to monitor mentions of their brands across various social media platforms
Free trial: yes, 30 days. Sign up here.
Starting price: from $49/month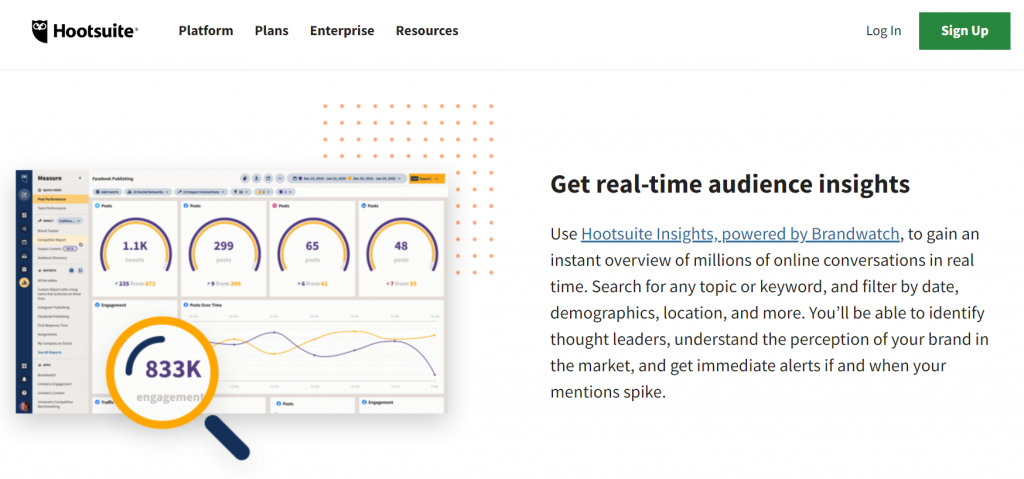 Key features
Hootsuite Analytics is a social media analytics and reporting solution to seamlessly manage social media accounts from one dashboard. With its multiple client capability, you can easily manage activities like engagement and monitoring across your entire client portfolio.
Publishing content is easy with Hootsuite, and you can create a new post for any social media platform in your account. It's simple to post content immediately or schedule it for later, and once you do so, Hootsuite will provide you with the best time to post to reach the maximum number of people, based on previous analytics.
With Hootsuite, you can filter social conversations by keyword, hashtag, or location to see what people say about your clients' brands. With its intuitive analytics, Hootsuite offers you a complete overview of campaign performance across all major social media channels and websites.
Pricing
4 plans are currently available on Hootsuite Analytics: Professional, Team, Business, and Enterprise. The 'Professional' plan starts from $49 per month that allows connecting with 10 social medial accounts. See full pricing here.
7. quintly
Best suited for: marketing agencies who need to build and automate client reports to drive social media management forward
Free trial: yes, 7 days. Sign up here.
Starting price: from $315/month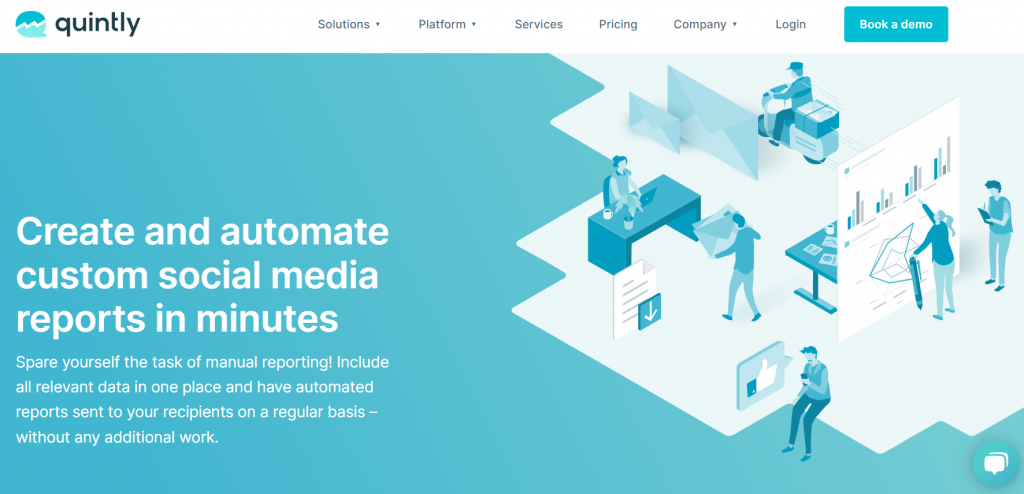 Key features
quintly is a social media analytics platform to monitor social media channels (Facebook, Instagram, Twitter, LinkedIn, YouTube, and Snapchat) and optimize marketing strategies in one central place. It's a powerful tool to evaluate your performance and get insights into your competitors, inspiring brands, as well as social media influencers.
With quintly, To create insightful analyses, you may choose from more than 500 social media metrics and hundreds of customizable dashboards. quintly supports multiple commonly used export format options for your social media data, including CSV, XLS, PDF, and PPTX.
Pricing
quintly pricing is based on the number of social media pages (e.g. Facebook, Instagram) you wish to analyze. For example, to analyze 3 social media pages, you'll have to pay $345 per month per 1 user (billed annually) or $410 per month per 1 user (billed monthly). See full pricing here.
8. Mentionlytics
Best suited for: marketing agencies and businesses of all sizes who need to track the online brand reputation
Free trial: yes, 14 days. Sign up here.
Starting price: from $43/month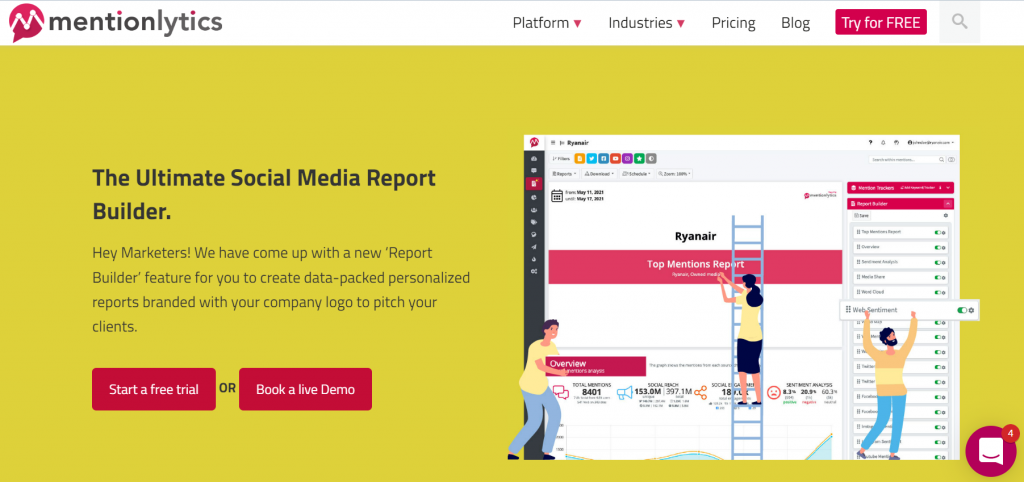 Key features
Mentionlytics is a social media monitoring and reputation management tool that allows you to track the mentions for your brand from major sources like Booking.com, Google reviews, and Facebook reviews.
Its report builder lets you build customizable reports in a user-friendly drag and drop manner and save those reports as templates for future use. All the reports can be white labeled with your own titles, labels, and texts for every section.
Mentionlytics has 3 types of reports. Its 'Mentions' report shows you the top mentions such as brand names and hashtags across all the digital channels. The 'Share of Voice' report compares your brand and the rivals based on the targeted keywords. Lastly, the 'Influencers' report allows you to assess the results of campaigns running by the influencers using your keywords.
Pricing
Mentionlytics has 5 plans: Basic, Essential, Advanced, Pro, and Agency. The 'Basic' plan costs $49 per month (billed monthly) or $43 per month (billed annually). This plan comes 2ith 10 social profiles. View full pricing here.
9. TapClicks
Best suited for: agencies and media companies who need to analyze the performance of marketing campaigns from different channels
Free trial: yes, 14 days. Sign up here.
Starting price: from $499/month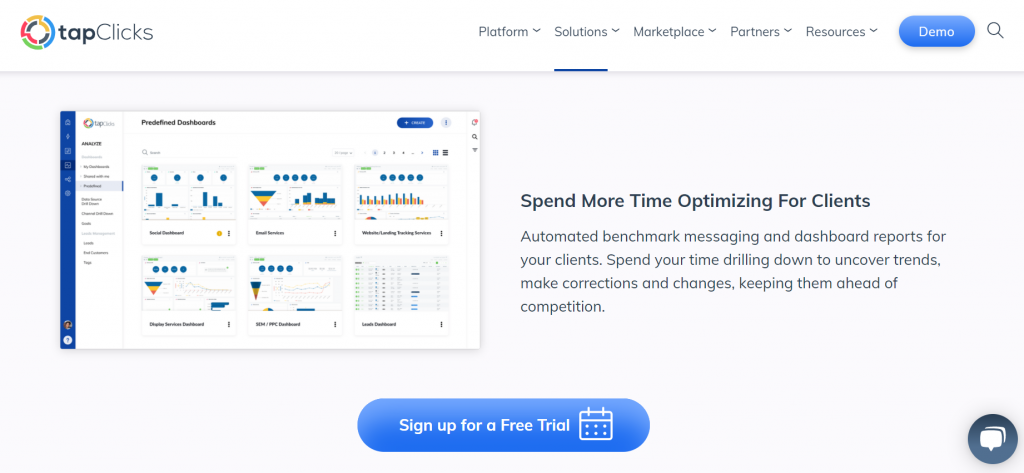 Key features
TapClicks is a great reporting, dashboard, and campaign analytics platform to aggregate data and measure offline and online marketing campaigns.
Its analytics and data management capabilities let you divide your data based on selected parameters so you can use it more efficiently within marketing operations. All TapClicks reports are white label and with automated reporting, you can build client reports faster and with less effort.
Another important TapClicks feature is that you can gain complete visibility into your competitors' SEM conversion funnel. In that way, you can compare your prospects' SEM market positioning against the local SEM competitors and discover their unseen weaknesses.
Pricing
Currently, 3 plans are available on TapClicks: Basic, Pro, and Elit. The 'Basic' plan starts from $499 per month (billed annually) or $599 per month (billed monthly), and this plan comes with limited data connectors.
10. Socialbakers
Best suited for: social media marketers who need to understand their audiences and improve social engagement
Free trial: yes. Sign up here.
Starting price: from $200/month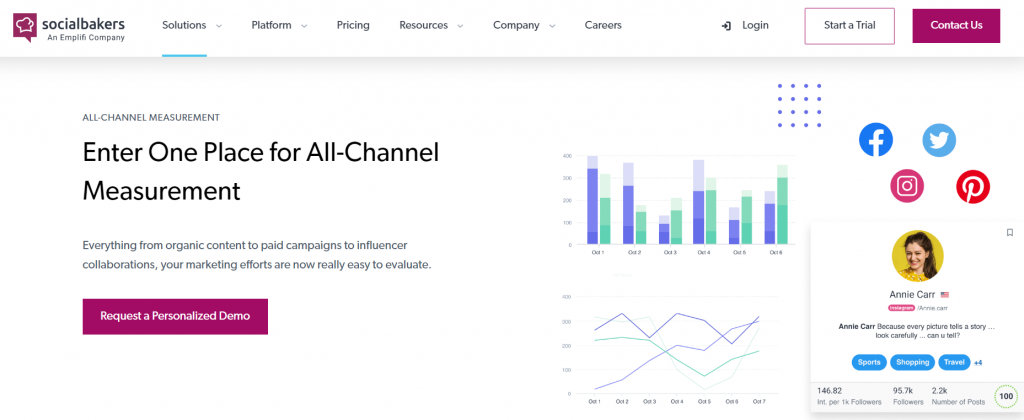 Key features
Socialbakers is an AI-driven unified social media marketing platform to understand your audience, build content they need, analyze engagement, and improve cross-channel performance.
With Socialbakers, it's really easy to evaluate your marketing efforts with one dashboard, including organic content, paid campaigns, social media, and influencer collaborations. Uncover important content trends and don't miss critical insights that can improve your content engagement.
Socialbakers allows you to automate every report to be delivered to clients within seconds when they need it.
Lastly, execute your multi-channel strategy and analyze posts across Facebook, Instagram, LinkedIn, Twitter, and Pinterest using a single interface while ensuring your entire team remains in sync.
Pricing
Socialbakers has 2 plans: Complete Solution and Essential Tools. The 'Complete Solution' costs $200 per month (billed annually) or $240 per month (billed monthly) for 10 social media platforms. See full pricing here.