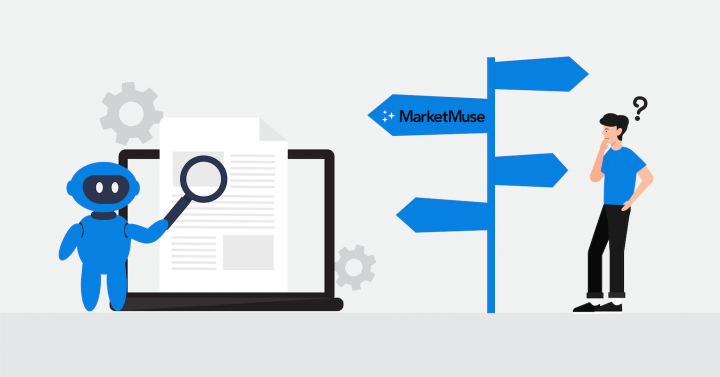 MarketMuse is one of the most popular tools in the content optimization software category. It helps you improve your articles via personalized optimization suggestions based on your specific topic. MarketMuse also tells you what words to use and how many times to use them to beat competing websites.

Their product is undeniably impressive.

But, its high pricing plans and additional credit fees make it less affordable for many small content teams.

In this article, I'll introduce you to 8 MarketMuse alternatives, highlighting their features and pricing to help you find the perfect solution.
These are the 8 best MarketMuse alternatives:
SurferSEO
Frase
SE Ranking
Dashword
Clearscope
WriterZen
Growthbar
Content Harmony
First, let's frame what we're looking for here: What's good about MarketMuse, and what are the reasons to look for an alternative?
Or, click here to skip to the tools 👇
MarketMuse strengths
MarketMuse offers a comprehensive content marketing solution with excellent features. They have a mature product that's ideal for medium to large content teams.
Their content optimization tool does a great job of selecting keywords and highlighting what is the most important. Based on my experiments, I can attest to the fact that their accuracy in providing relevant keyword data is great.
Plus, their competitive analysis tool is excellent for generating new content ideas and identifying gaps in your content compared to your competitors.
Reasons to look for a MarketMuse competitor
The biggest reason is just simply pricing. MarketMuse offers a good product, but they've chosen to focus on enterprise customers, closing the door to the majority of small teams.
But, if you only need a basic platform for content optimization and brief creation, you can find more cost-effective options that suit your needs.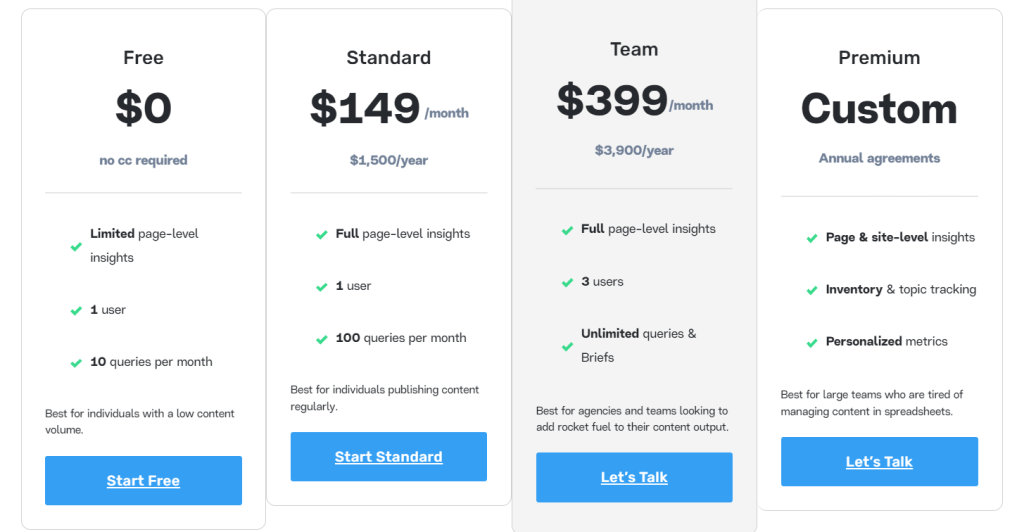 MarketMuse also lacks a Chrome extension for seamless integration with Google Docs. Its learning curve is comparatively steeper than other user-friendly and intuitive tools available.
SurferSEO is a popular and affordable content optimization solution, with good collaboration features and prices starting a lot lower than MarketMuse. You can try Surfer with a 7-day money-back guarantee.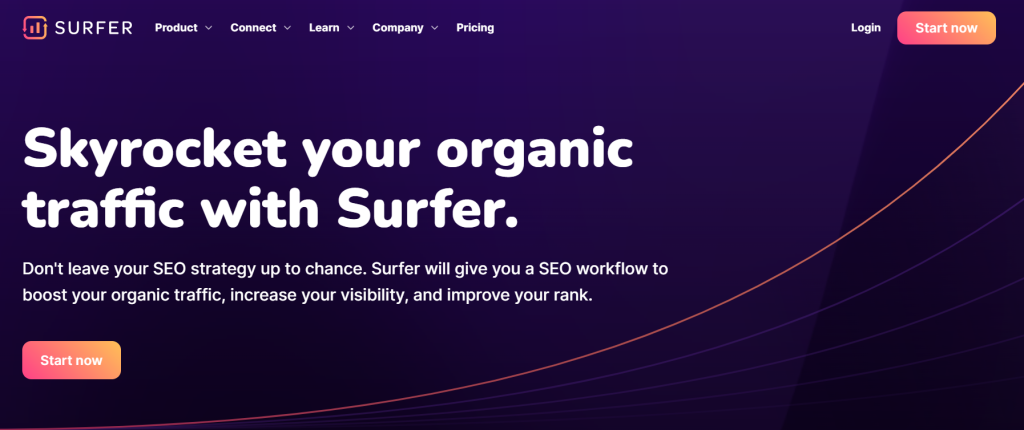 Features
Surfer has many features, but you'll likely spend the most time using its Content Editor.
Content editor
If you're familiar with content optimization tools, SurferSEO's Content Editor will feel familiar. It provides data and recommendations on word count, keyword density, and more.
Surfer has done a great job of making a great user experience with this tool. Some nice features include:
Shareable links for writers to work in the editor (without logging in)
Ability to override recommendations based on your opinions when briefing writers
Google Docs extension to get optimization data directly in Google Docs
Content audit
The feature works like the Content Editor, but it's applied to existing content. It helps quickly identify areas for improvement to make your existing pages more SEO-friendly.
Content planner & keyword research
Content Planner is a keyword clustering tool. It helps you find supporting content ideas around a main keyword for complete topic coverage.
Keyword research is a separate tool inside SurferSEO, which is helpful to an extent but isn't good enough yet to completely replace the need for a separate keyword research tool.
See also: SurferSEO alternatives
Differences: SurferSEO vs MarketMuse
SurferSEO's starting price is really lower ($29/month), making it a better fit for smaller teams.
SurferSEO offers great collaboration features, including a Google Docs extension and shareable links for writers.
MarketMuse is geared towards enterprise-level teams with a lot of content to manage, offering more advanced features and personalized difficulty scores for better keyword research and content planning.
SurferSEO pricing
Here's an overview of SurferSEO pricing. I added a 'cost per report' metric for optimized content writing to facilitate price comparisons with other tools on the list.
See the full Surfer SEO pricing here.
| Plan | Monthly price | User seats | Reports | Cost per report |
| --- | --- | --- | --- | --- |
| Lite | $29 | 1 | 3 | $9.66 |
| Essential | $89 | 3 | 7 | $12.7 |
| Advanced | $179 | 6 | 25 | $7.16 |
| Max | $299 | 11 | 50 | $5.98 |
| Enterprise | custom | custom | custom | custom |
Frase is an SEO & content tool for writing optimized content. They also have an AI writer feature. Pricing per report is more accessible than MarketMuse. Get started with a 5-day trial for only $1.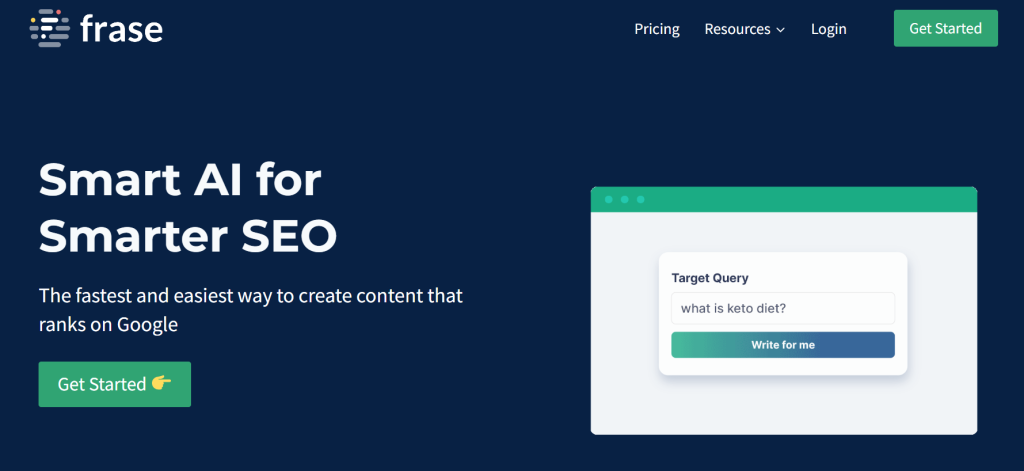 Features
Frase has three main features, plus an optional AI writer add-on.
A content brief builder
This tool helps you create outlines quickly for your writing team. You can:
View the headings (h2s & h3s) used by competitors and include them in your outline
See the top keywords to use/include
See commonly cited authority resources that you can link to
Build your outline with all of the above
Export or share the outline with your writer
A content optimization tool
Frase gives you real-time feedback and grades your writing based on its analysis and recommendations. You can even audit existing content by copying and pasting it.
A content analytics feature
By connecting your Search Console data, Frase analyzes your content performance to give feedback and recommendations.
An AI writer add-on
If you consider using an AI writing tool, I'd recommend using Frase. It costs a flat +$35/month, which is affordable, especially compared to Jarvis, which starts at $29/month but can quickly become more than $100/month with heavy usage.
Differences: Frase vs MarketMuse
One of the biggest differences is price. You can get access to Frase for $45 per month for 30 reports, and get unlimited reports for $115.
Frase is cheaper than MarketMuse. With $44.99/month, you can access 30 reports, and $114.99/month gets you unlimited reports.
MarketMuse offers AI writing, but it requires additional credits that cost $25 each on top of the monthly subscription. Frase, on the other hand, offers a similar tool for a lower cost of $35/month.
Naturally, for the higher price, MarketMuse does offer more enterprise features that have already been mentioned (content audit, enterprise customer success offerings).
MarketMuse provides personalized difficulty scores, which is a unique feature.
Frase pricing
Frase pricing is summarized below.
| Plan | Monthly price | User seats | Reports | Cost per report |
| --- | --- | --- | --- | --- |
| Solo | $14.99 | 1 | 4 | $3.74 |
| Basic | $44.99 | 1 | 30 | $1.49 |
| Team | $114.99 | 3 or $25/mo per extra) | unlimited | – |
SE Ranking is an all-in-one SEO software. It offers a content marketing platform add-on that includes:
Content Idea Finder
Content Editor
AI Content Writer (coming soon)
Content Planner (coming soon)
The pricing starts at $39/month. You can try it free for 14 days here.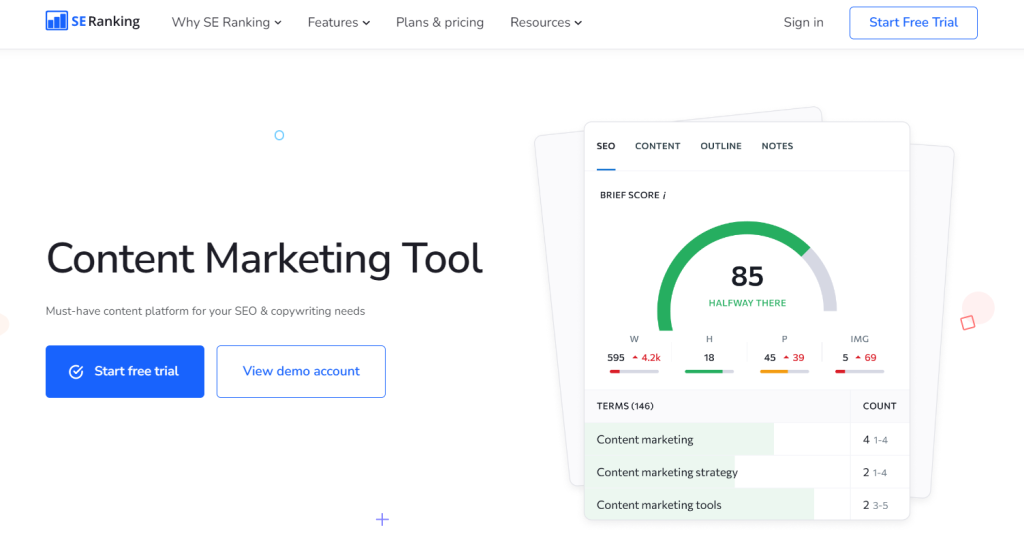 Features
The SE Ranking Content Marketing Tool has everything a marketer, content strategist, or copywriter needs for creating and optimizing content. It includes features for topic research, competitor analysis, preparing briefs, editing articles, and quality checks.
Content idea research tool
SE Ranking makes writing content briefs easier by providing a quick way to analyze the data behind any topic. It's actually powered by holistic target SERPs analyses.
To generate topic ideas, enter a subject into the tool and it will suggest related keywords and clusters of topic ideas. The tool also highlights the topics with high traffic potential and displays the titles of top articles for each suggestion.
Content editor
MarketMuse is known for generating content briefs based on SERP rankings for a given keyword.
However, SE Ranking is a cheaper alternative that can assist with content brief creation, competitor and keyword research for future articles, content editing, and copy quality checking. Here's what the tool does:
Analyzes top-ranking competitors
Automatically suggests word count, the number of headings and images
Recommends keywords to include
Allows for creating outlines with comments for copywriters
Checks articles for grammatical mistakes and readability issues
An arsenal of SEO research tools
SE Ranking is a content optimization tool that offers additional SEO research and analysis platforms. This means that with SE Ranking, you can access a full toolset that can help you create a comprehensive content marketing strategy at a lower cost compared to MarketMuse.
Differences: SE Ranking vs MarketMuse
The main difference between MarketMuse and SE Ranking is that MarketMuse offers a more automated approach to content optimization, while SE Ranking provides a hybrid solution that combines AI-powered assistance and manual research.
Both platforms have similar content tools in terms of the features they offer. They both can create briefs with suggested keywords based on SERP analysis, provide a content score, and offer a shareable editor.
In short, MarketMuse is primarily focused on content optimization, while SE Ranking offers a wider range of SEO tools, including rank tracking, backlink monitoring, and competitor analysis.
SE Ranking pricing
Here's an overview of SE Ranking Content Marketing Tool pricing.
Please be aware that SE Ranking offers a content optimization tool that begins at $29/month. But to use this tool, you must first subscribe to the SE Ranking platform, which starts at $39/month.
| Monthly price | Documents | Plagiarism checks | Cost per report |
| --- | --- | --- | --- |
| $29 | 15 | +3 | $1.93 |
| $49 | 30 | +5 | $1.63 |
| $99 | 120 | +10 | $0.82 |
Dashword is an SEO tool for optimizing content and creating briefs. Prices start at $99/month, and there is a free trial available.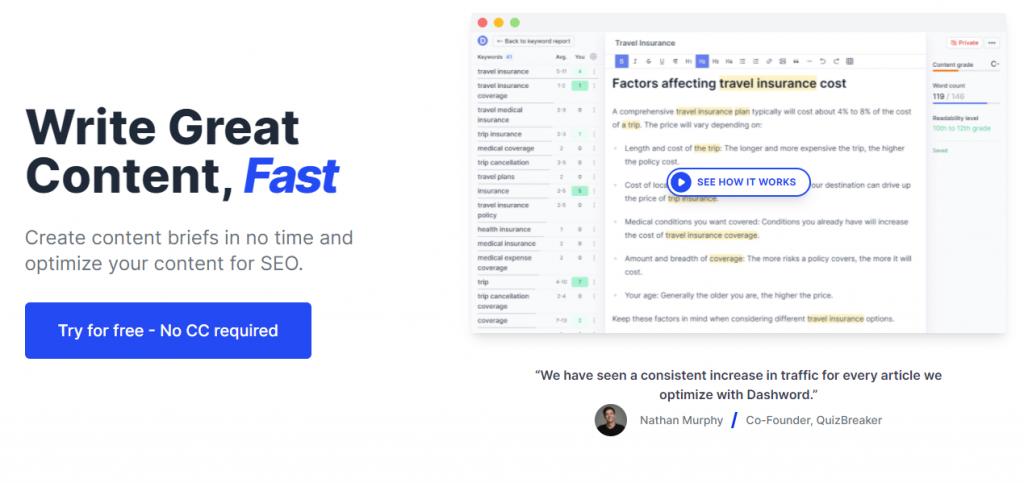 Features
Dashword includes 3 core features that are quite similar to Frase & Surfer.
A content brief builder
Like Frase (and Surfer), you can quickly see the subheadings & keywords used by competitors to create an outline and share it with your writer. Its UI is very clean and easy to use.
A content optimization tool
The Dashword editing tool offers real-time feedback and grading while the writer works on the article.
A content monitoring feature
The purpose of this feature is to keep track of how content is performing, and whether or not updates are needed.
Dashword monitors your website's traffic trends and provides you with regular updates. If any of your pages start losing traffic or not receiving any, Dashword will alert you. I haven't tested this feature extensively yet to make further comments on it.
Differences: Dashword vs MarketMuse
Dashword is a user-friendly content optimization tool with a simplified interface, fewer metrics, and recommendations. This makes it a great choice for those who aren't SEO experts and want to focus on the essential features.
Another advantage of Dashword is that all plans come with multiple user seats. This is particularly beneficial for teams who need to collaborate on content optimization. Other tools like Surfer or Frase may require you to upgrade to higher tiers or pay extra per seat to get additional user seats.
Like Frase and Surfer, Dashword has fewer features overall, doesn't have a personalized difficulty score, and doesn't offer as comprehensive a toolset for content strategy.
Dashword pricing
Here's an overview of Dashword pricing.
| Plan | Monthly price | User seats | Reports | Cost per report |
| --- | --- | --- | --- | --- |
| Startup | $99 | 5 | 20 | $4.95 |
| Business | $349 | 10 | 100+ | $3.49 |
Clearscope offers content optimization features with a high starting price of $170/month. View Clearscope's pricing here.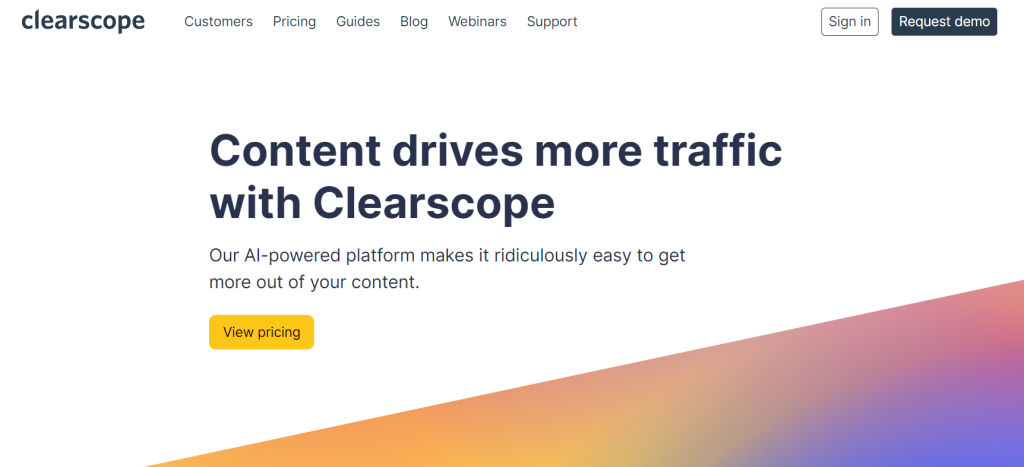 Features
Clearscope offers content optimization and keyword research. It doesn't go further into content strategy as MarketMuse does.
A content optimization tool
Clearscope's Optimize feature operates similarly to the other tools mentioned in this list. It analyzes the existing content that ranks and then provides suggestions for improvement.
A keyword research feature
Clearscope's Keyword Discovery feature tells you how many times a keyword is searched each month, how many other websites are competing for it, and the estimated cost per click. It also gives you a list of related keywords based on your seed idea.
Differences: Clearscope vs MarketMuse
When it comes to content optimization, Clearscope and MarketMuse are very similar and both perform well. But, they are both more expensive than some of the alternative options available.
If all you're looking for is a straightforward content optimization tool, then I'd suggest that Clearscope is the way to go. Because Clearscope is easier to learn and is just as effective at optimizing content.
MarketMuse has additional features such as AI natural language generation, competitor analysis, and other tools, which are available at a higher price. Your choice between these tools will depend on which features are important for you.
Clearscope pricing
Let's take a look at the Clearscope pricing below.
| Plan | Monthly price | User seats | Reports | Cost per report |
| --- | --- | --- | --- | --- |
| Essentials | $170 | 1 | 10 | $17 |
| Business | custom | 5 | custom | $7.00 |
| Enterprise | custom | unlimited | custom | – |
WriterZen is a relatively new MarketMuse competitor for content SEO. Get a free trial of WriterZen here.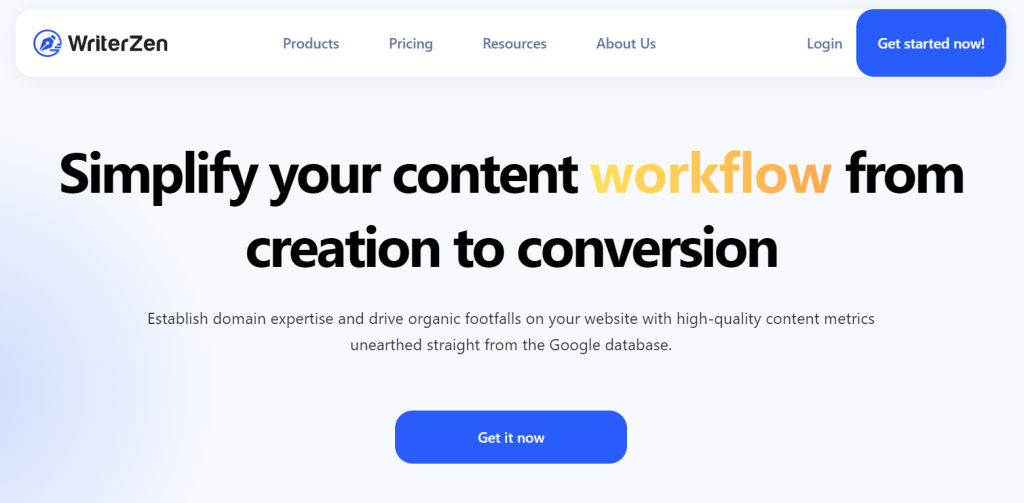 Features
Below are some of WriterZen's main features.
Keyword explorer
WriterZen provides a keyword research tool that helps you find competitiveness, CPC, keyword difficulty, keyword trending, and search volumes for potential target keywords. The interface is user-friendly, and based on my limited testing, the search volume accuracy seems to be good.
Topic discovery
WriterZen can automatically group your keywords into topic clusters. This feature can save you time by quickly generating a list of article topics based on similar ranking probability.
A content creation tool
WriterZen uses AI to suggest keywords and questions that could make your writing more effective. Plus, it provides insights into what your competitors are doing well.
By analyzing the top 20 websites that appear for a specific keyword, it can help you discover their strategies so you can apply them to your own content.
AI writing assistant
WriterZen has an AI writing assistant powered by GPT-3. It takes the key points from your outline and turns them into easy-to-read paragraphs that make up a complete article.
Differences: WriterZen vs MarketMuse
WriterZen offers NLP reports at a lower cost compared to MarketMuse. WriterZen also has a unique way of conducting keyword research by using the allintitle operator to determine the level of competition.
But, in my experience, MarketMuse did a better job of organizing keywords, finding gaps in competitor content, and providing custom keyword difficulty levels.
WriterZen pricing
Here's an overview of WriterZen pricing.
| Plan | Monthly price | User seats | Reports | Cost per report |
| --- | --- | --- | --- | --- |
| Lite | $23 | – | 20 | $1.15 |
| Plus | $89 | – | 50 | $1.78 |
| Pro | $219 | – | 100 | $2.19 |
| Ultra | $399 | – | 300 | $1.33 |
Growthbar is another reliable alternative to MarketMuse that offers content briefing and optimization along with keyword research, backlink monitoring, Chrome extension, and rank tracking. There's a 5-day free trial.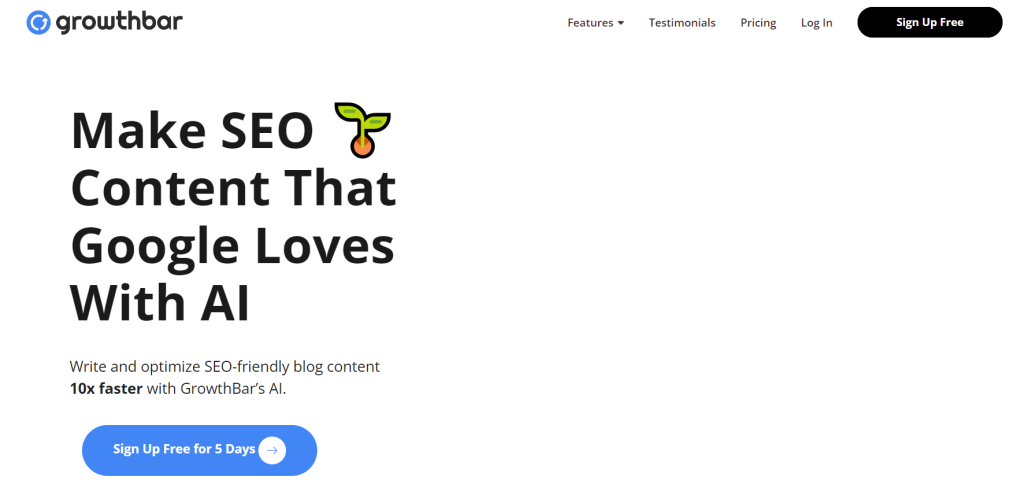 Features
Growthbar is a good option if you need only simple SEO features for various functions, such as keyword research. Here are some of their features.
Content outlines
You can use GrowthBar to quickly check the h2s/h3s headings of your competitors and add them to your outline in just one click.
GrowthBar also provides SEO-optimized headline options from content in the SERP results and FAQs from different websites. It even tells you how many headlines, images, and internal/external links you need to create the perfect article for your target keyword.
Content optimization
GrowthBar provides suggestions for improving your content's SEO by analyzing various signals from Google search results. Here are some of the suggestions you'll receive:
recommended keywords to use
ideal post length
optimal number of images
number of headlines to use
internal and external link counts
You can also refer to the Content Optimization Meter to see how optimized your blog post is on a scale of 0-100.
Keyword research
GrowthBar provides information on related long-tail keywords, keyword difficulty score, search volume, and Google Ads cost-per-click estimate for any query in over 20 languages.
But, there is limited information on the accuracy of GrowthBar's keyword research, so I have some reservations about it.
Differences: Growthbar vs MarketMuse
The Growthbar has fewer features for content marketing strategy, but it has more SEO-related functionalities.
They have a good content brief builder and content optimization tool, along with functions that might replace the need for other MarketMuse alternatives (AI blog idea generator, paragraph rewriter, backlink research) if your needs are basic.
Growthbar pricing
Growthbar pricing is summarized below.
| Plan | Monthly price | Keywords tracked | Reports | Cost per outline |
| --- | --- | --- | --- | --- |
| Standard | $48 | 25 – across 1 site | 25 | $1.92 |
| Pro | $99 | 1000 – across 3 sites | 100 | $0.99 |
| Agency | $199 | 5000 – across 25 sites | 300 | $0.66 |
Content Harmony is the last MarketMuse competitor on my list. Content Harmony is an AI-powered SEO solution to create content briefs, analyze search intent, and optimize your content.
You can get started for $10 for your first 10 content workflow credits.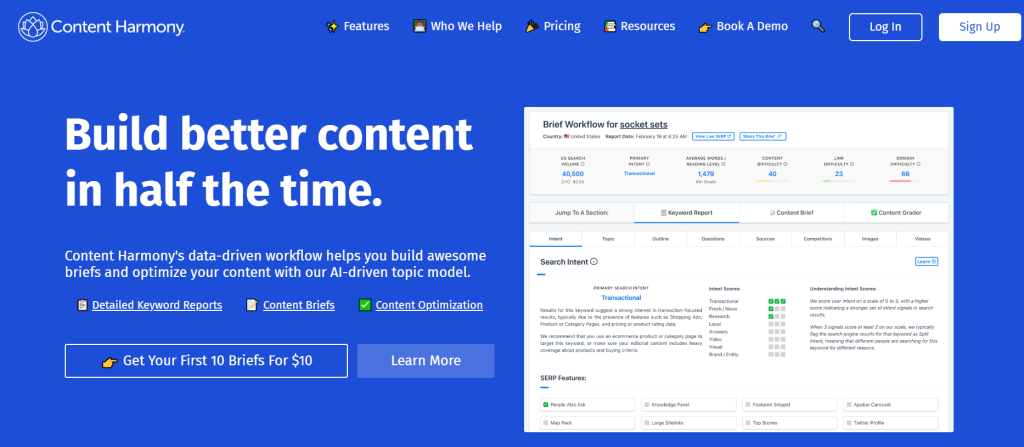 Features
Content Harmony makes content writing a lot easier for those who have trouble with where to start. Here are some of its main features.
Content outline analysis
Content Harmony's outline analysis feature allows you to review the outline and structure (h2/h3/h4s) of your competitors' content. Then, simply identify the headings and questions you want to add to your content brief and ignore the rest.
Visual content analysis
Content Harmony offers a tool for visual content analysis that helps identify the specific types of visual content preferred by Google.
This information can be useful for writers and content strategists to understand what types of images competitors are using so writers can add the type of visuals that fulfills Google's expectations.
Search intent insights
Content Harmony provides a feature that offers insights into the intent behind the content. This feature uses a unique approach to analyze the search intent that is hidden in every search result.
It considers multiple factors, and not just a few, to provide a comprehensive understanding of the intent behind the content.
Differences: Content Harmony vs MarketMuse
Content Harmony charges $99/month for 12 content briefs and allows unlimited users, while MarketMuse charges $149/month for 1 user and limits the number of search queries to 100.
Unlike MarketMuse, Content Harmony provides a visual and video content analysis feature that identifies the most valuable visuals to include in your content.
Content Harmony pricing
Here's an overview of Content Harmony pricing.
| Plan | Monthly price | User seats | Content briefs | Cost per brief |
| --- | --- | --- | --- | --- |
| Standard | $99 | unlimited | 12 | $8.25 |
| Pro | $299 | unlimited | 50 | $5.98 |
| Enterprise | custom | unlimited | +200 | – |