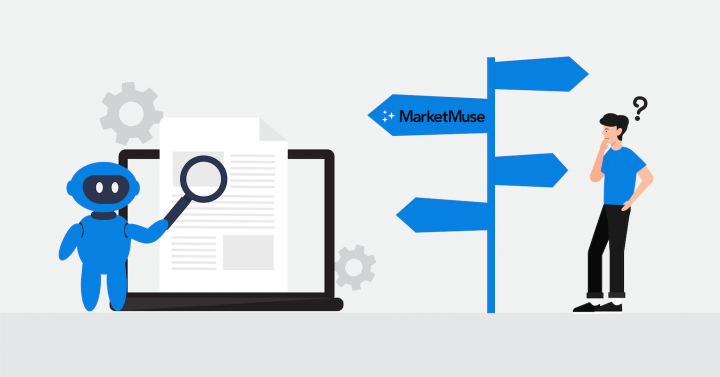 MarketMuse is one of the most mature & well-established tools in the growing category of content optimization software. You can't argue that they don't have a good product. That being said, with most of the killer features locked into the $999+ plan, (and there being even more credit fees on top) it's not accessible for the majority of small content teams.
In this post I'll detail some other content optimization software, and highlight the key differences in features & pricing vs. MarketMuse to help you find the perfect solution.
These are the 7 best alternatives to MarketMuse:
SurferSEO
Frase
SE Ranking
Dashword
Clearscope
WriterZen
Growthbar
We'll take a look at the details, and the differences vs. MarketMuse in this article. Before that, let's frame what we're looking for here. What's good about MarketMuse, and what are the reasons to look for an alternative?
Or, click here to skip to the tools 👇
MarketMuse strengths
MarketMuse is focused on providing a complete solution for content marketing strategy, with some excellent features. Their content optimization tool does a great job of selecting keywords accurately, and highlighting what is the most important.
Their competitive analysis tool for new content ideas is also very good; it's very useful for finding gaps in order to differentiate your content vs. the competition.
They've been around a lot longer than most of the new optimization tools, and have a well-polished product that is particularly well-suited to medium & large content teams.
Reasons to look for a MarketMuse competitor
The biggest reason is just simply pricing. MarketMuse offers a good product, but they've chosen to focus on enterprise customers, closing the door to the majority of small teams.
If you aren't looking for a sophisticated platform for content marketing strategy, there are better options out there for writing optimized content at a lower cost, and creating great content briefs too.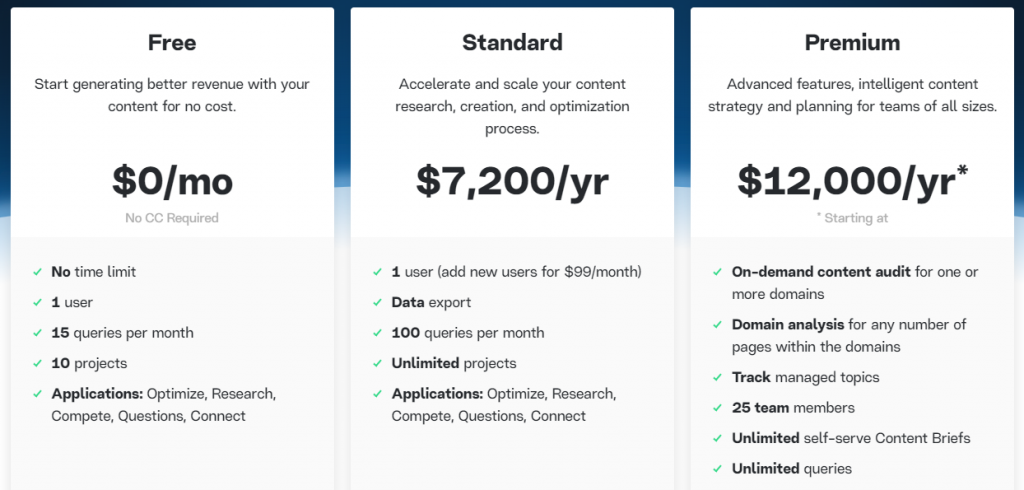 Other than that, MarketMuse also doesn't offer a Chrome extension to work in Google Docs, and it takes longer to get your head around than other tools. There are tools that are more intuitive & user-friendly.
1. SurferSEO
SurferSEO is an increasingly popular content optimization tool, with good collaboration features and prices starting a lot lower than MarketMuse. You can try Surfer with a 7-day money back guarantee.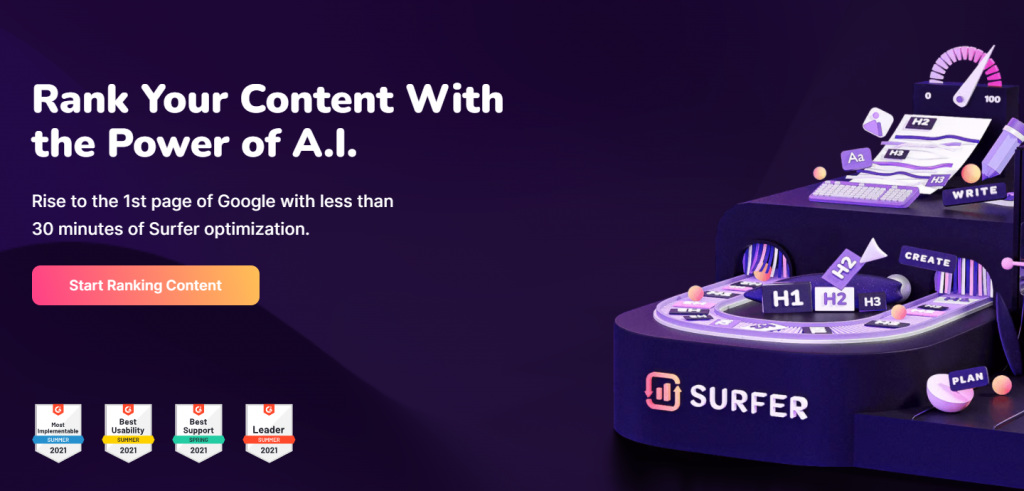 Features
Surfer has several features, but the Content Editor is the most important one, that you're likely to spend the most time using.
Content editor
If you're familiar with content optimization tools, you'll be comfortable with SurferSEO's content editor. It's what you would expect; providing data & recommendations on word count, keyword density, and so on.
Surfer have done a great job of making a great user experience with this tool. Some nice features include:
Shareable links for writers to work in the editor (without logging in)
Ability to edit which competitor URLs the recommendations are based off, to remove outliers
Ability to override recommendations based on your expertise & opinions when briefing writers
Google Docs extension to get optimization data directly in Google Docs
Content audit
This feature works very similarly to the content editor, but applied to existing content. Used to quickly identify areas of improvement for SEO-friendly writing on your existing pages.
Content planner & keyword research
Content Planner is a keyword clustering tool. It helps you find supporting content ideas around a main keyword for complete topic coverage. Keyword research is a separate tool inside SurferSEO, which is helpful to an extent, but isn't good enough yet to completely replace the need for a separate keyword research tool.
See also: SurferSEO alternatives
Differences: SurferSEO vs MarketMuse
SurferSEO has a substantially lower starting price, and is therefore is likely to be a better fit for the majority of smaller teams.
Surfer also has arguably better collaboration features, including a great Google Docs extension and shareable links for writers.
MarketMuse is more enterprise-focused as a product, designed for bigger teams with a lot of content to manage. They have more enterprise-level features & support, and as mentioned, offers a personalized difficulty score metric for better keyword research & content planning.
Plans & pricing
Here's an overview of how SurferSEO's pricing works. I've included a 'cost per report' for writing optimized content; this is to help you compare price vs. other tools in the list. Note: MarketMuse calls a report a 'query'.
| Plan | Monthly price | User seats | Reports | Cost per report | Audits |
| --- | --- | --- | --- | --- | --- |
| Basic | $59 | 1 | 10 | $5.90 | 20 |
| Pro | $119 | 3 | 30 | $3.96 | 60 |
| Business | $239 | 10 | 70 | $3.41 | 140 |
2. Frase
Frase is an SEO & content tool for writing optimized content. They also have an AI writer feature. Pricing per report is a lot cheaper & more accessible than MarketMuse. There is a 7-day free trial.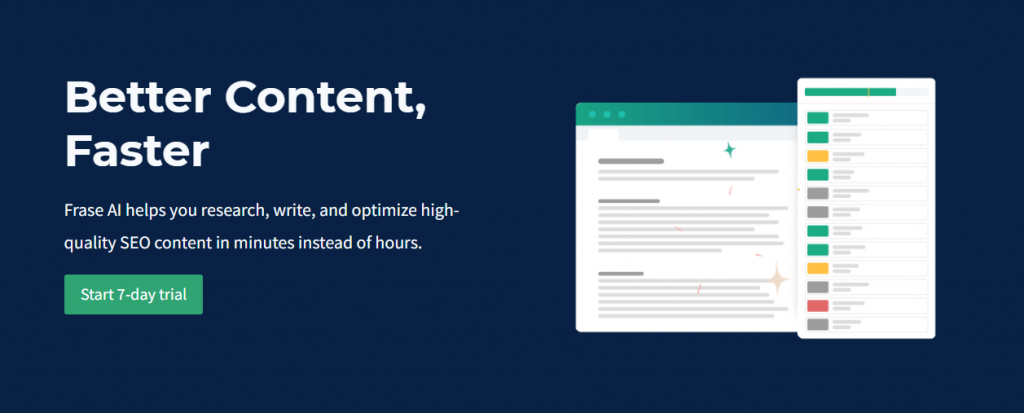 Features
Frase has three main features, plus an optional AI writer add-on.
A content brief builder
This tool lets you put together outlines for your writing team quickly. You can:
See which h2s & h3s competitors are using (and add them to your outline)
See the top keywords to use/include
See commonly cited authority resources you can link to
Build your outline with all of the above
Export & share the outline with your writer
A content optimization tool
This is where you (or your writers) will actually start writing your article. Frase provides real-time feedback & grading on your writing according to their analysis & recommendations. You can also copy/paste existing content to audit it. On the Team plan ($115) there's also a Google Docs integration.
A content analytics feature
By connecting your Search Console data, Frase analyzes your content performance to give feedback / recommendations.
An AI writer add-on
If you're planning to use an AI writing tool, I'd seriously consider using Frase to keep it all together. The cost is a flat +$35/month, which is pretty affordable, even as a starting price.
Adding an external tool like Jarvis would start from $29, but quickly scale up to $100+ per month with heavy usage.
Differences: Frase vs MarketMuse
One of the biggest differences is price. You can get access to Frase for $45 per month for 30 reports, and get unlimited reports for $115.
Regarding AI writing, MarketMuse can generate briefs and 'First Drafts', but these use credits. Credits are billed on top of the monthly subscription, and cost $25/each. That means a lot higher cost than using Frase's tool for $35/month.
Naturally, for the higher price, MarketMuse does offer more enterprise features that have already been mentioned (Inventory, content audit, enterprise customer success offerings).
MarketMuse is also able to offer personalized difficulty score, which is unique.
Plans & pricing
Here's an overview of how Frase pricing works. I've included a 'cost per report' for writing optimized content; this is to help you compare price vs. other tools in the list.
| Plan | Monthly price | User seats | Reports | Cost per report |
| --- | --- | --- | --- | --- |
| Hobby | $45 | 1 | 30 | $1.50 |
| Startup | $115 | 3 | Unlimited | – |
3. SE Ranking
SE Ranking is an all-in-one SEO software. It offers a content marketing platform add-on that includes: Content Idea Finder, Content Editor, and an AI Content Writer is coming soon. The pricing starts at $29 monthly; you can try it free for 14 days. 
Features
The SE Ranking Content Marketing Tool combines a set of features for topic research, competitor analysis, preparing perfect briefs, editing articles, and quality checks. In short, everything a marketer or copywriter needs for content creation and optimization.
Content idea research tool
SE Ranking makes writing content briefs easier by providing a quick way to analyze the data behind any topic.
Enter a subject you want to write about – the tool will research related keywords and suggest multiple topic ideas grouped in clusters. It also automatically highlights the topics with the highest traffic potential and allows you to see the titles of the top articles for any suggestion.
Content editor
MarketMuse is great because it can generate a content brief based on what ranks well in the SERP for a certain keyword. SE Ranking does this much cheaper, assisting with brief creation, competitor and keyword research for future articles, content editing, and checking the quality of your copy. Here's what the tool does:
Analyzes top-ranking competitors
Automatically suggests word count, the number of headings and images
Recommends keywords to include and gives you the most important data on them
Suggests NLP keywords
Allows for creating outlines with comments for copywriters
Guest link sharing for collaborating with colleagues
Makes sure your text meets brief requirements
Checks articles for grammatical mistakes, readability issues, and stop words
An arsenal of SEO research tools
Perhaps the best thing about SE Ranking is that the content optimization tool comes along with a suite of SEO research and analysis platforms. This way, you get access to a whole toolset that will help you build a solid content marketing strategy for a fraction of the MarketMuse pricing.
Differences: SE Ranking vs MarketMuse
The main difference between MarketMuse and SE Ranking is that the former offers a more hands-off approach, while the latter can be used as both an AI-powered assistant and a tool for manual research to dig deeper wherever you may need.
Both platforms have similar content tools in terms of the features they offer. They both can create briefs with suggested keywords based on SERP analysis, provide a content score, and offer a shareable editor. The only place they differ is in their methodology and what they are capable of aside from content creation.
Plans and pricing
SE Ranking's content optimization tool starts at $29 per month. To access it, you need to have a subscription for the platform, which starts at $39 per month.
Here's an overview of SE Ranking Content Marketing Tool pricing with cost per document calculated.
| Monthly price | Documents | Cost per report |
| --- | --- | --- |
| $29 | 15 | $1.90 |
| $49 | 30 | $1.60 |
| $99 | 120 | $0.80 |
4. Dashword
Dashword is an SEO tool for optimizing content and creating briefs. Prices start at $39 per month, and there is a free trial available.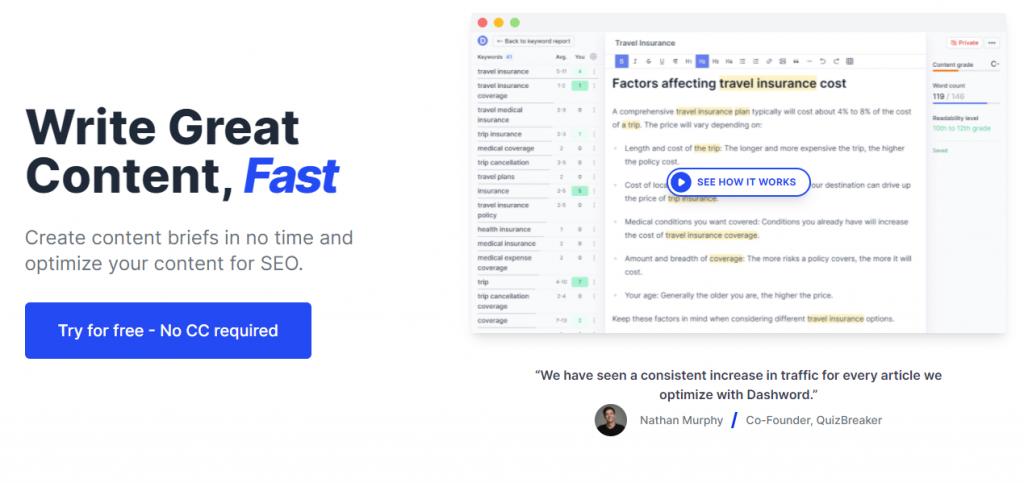 Features
Dashword includes 3 core features that are quite similar to Frase & Surfer.
A content brief builder
Like Frase (and Surfer), you can quickly see the subheadings & keywords used by competitors to create an outline, and share it with your writer.
The UI is very clean & easy to use.
A content optimization tool
Once again, very similar. An editor which gives real-time feedback & grading as the writer progresses through the article.
A content monitoring feature
The purpose of this feature is to keep track of how content is performing, and whether or not updates are needed. If the SERP has changed, the recommendations may change, in which case you'll be alerted. This is a relatively new feature which I haven't tested extensively to comment on.
Differences: Dashword vs MarketMuse
Dashword offers better ease of use. There are fewer features, fewer metrics, and fewer recommendtions overall, which makes focusing on the important stuff easier (especially for folks who aren't SEO experts).
Dashword also offers multiple user seats on all plans, which is an advantage for teams. To get additional seats on other tools like Surfer or Frase, you need to upgrade to higher tiers and/or pay extra per seat.
Like Frase and Surfer, Dashword has fewer features overall, doesn't have a personalized difficulty score, and doesn't offer as comprehensive a toolset for content strategy vs. MarketMuse.
Plans & pricing
Here's an overview of how Dashword's pricing works. I've included a 'cost per report' for writing optimized content; this is to help you compare price vs. other tools in the list.
| Plan | Monthly price | User seats | Reports | Cost per report |
| --- | --- | --- | --- | --- |
| Hobby | $39 | 3 | 5 | $7.80 |
| Startup | $99 | 5 | 20 | $4.95 |
| Business | $249 | 10 | 100 | $2.49 |
5. Clearscope
Clearscope's founders were previously MarketMuse customers! These two tools are some of the most well-established in the content optimization industry. Clearscope offers content optimization features with a high-ish starting price of $170. View Clearscope's pricing & sign up here.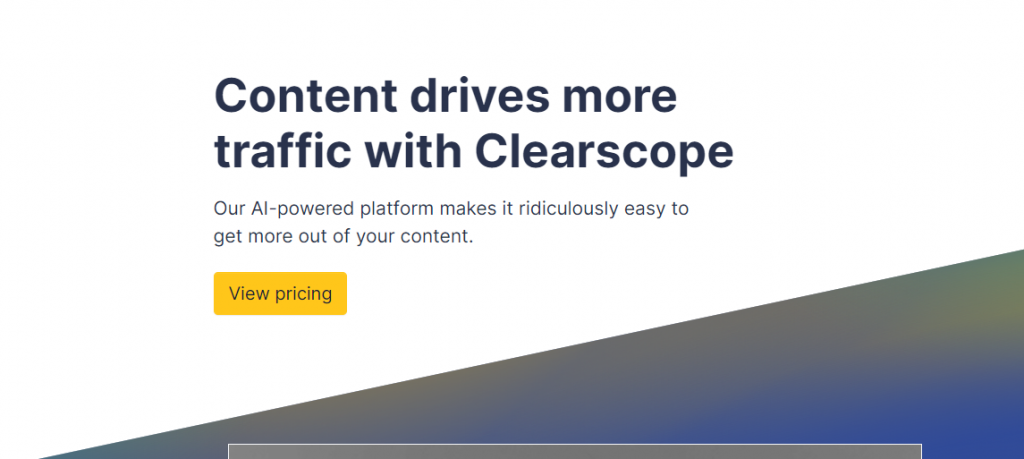 Features
Clearscope offers content optimization, and keyword research. It doesn't go further into content strategy as MarketMuse does.
A content optimization tool
Clearscope's Optimize feature works in a very similar way to all the other tools in this list; by analyzing the content that is currently ranking, and delivering recommendations.
The UI is very simple & easy to understand.
A keyword research feature
Keyword Discovery lets you find monthly searches, competitiveness, and estimated CPCs for potential keywords. It'll also help you discover related keywords starting from a seed idea.
Differences: Clearscope vs MarketMuse
When it comes to content optimization alone, Clearscope & MarketMuse are very similar (and both very good, although priced higher than alternatives).
If all you're looking for is a straightforward content optimization tool, then I'd suggest that Clearscope is the way to go. You'll spend less, it's easier to learn, the UI is clean, and the tool is equally effective.
The difference comes when you look at MarketMuse's other features for content briefing, AI Natural Language Generation, competitor analysis, and other tools (which come at a higher price). The right choice between these tools will depend on which features are necessary for you.
Plans & pricing
Here's an overview of how Clearscope's pricing works. I've included a 'cost per report' for writing optimized content; this is to help you compare price vs. other tools in the list.
| Plan | Monthly price | User seats | Reports | Cost per report |
| --- | --- | --- | --- | --- |
| Essentials | $170 | 3 | 20 | $8.50 |
| Professional | $350 | 10 | 50 | $7.00 |
6. WriterZen
WriterZen is a relatively new tool which is kind of a jack-of-all-trades for content SEO. They're quite a way behind MarketMuse for content optimization, and a little behind competitors for their other features (like keyword research) too. Nevertheless, worth considering as the platform matures. Get a 7-day trial here.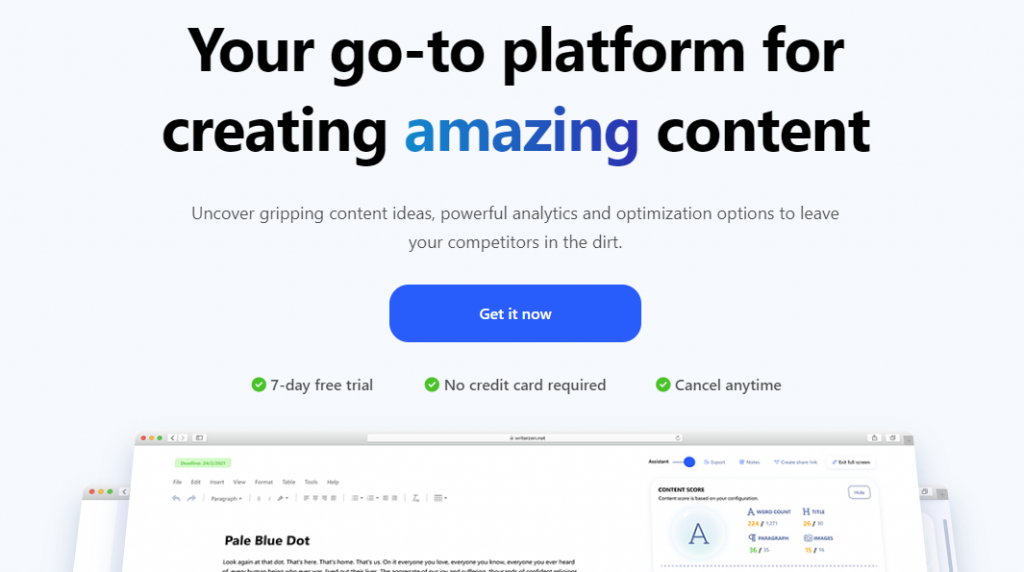 Features
WriterZen have several features, of which these are the main ones.
Keyword explorer
This is a keyword research tool which helps you find competitiveness & search volumes for potential target keywords. The UI is pretty nice, and the search volume accuracy seems pretty good from my limited testing.
Topic discovery
WriterZen also helps you by automatically grouping keywords into suggested topic clusters, which had mixed success & usefulness in my testing.
A content creation tool
Similar story to the previous tools again here. An AI-powered content editor that gives recommendations on keywords & questions to include. It includes a plagiarism checker too, if you value that.
The outline builder is slick, letting you add commonly used h2s & h3s from competitors to your outline in 1-2 clicks.
Differences: WriterZen vs MarketMuse
Firstly, pricing per NLP report is cheaper in WriterZen, and WriterZen has a different approach to keyword research, using features like the Allintitle operator to figure out competitiveness (which has some use, but limited).
MarketMuse does a better job of grouping keywords, identifying competitor content gaps, and providing personalized keyword difficulties.
WriterZen also don't have AI writer features/integrations (yet, at least), even as an added cost like MarketMuse does.
Plans & pricing
Here's an overview of how WriterZen's pricing works. I've included a 'cost per report' for writing optimized content; this is to help you compare price vs. other tools in the list.
| Plan | Monthly price | User seats | Reports | Cost per report |
| --- | --- | --- | --- | --- |
| Basic | $39 | 3 | 15 | $2.60 |
| Standard | $59 | 5 | 30 | $1.96 |
| Advanced | $99 | 10 | 100 | $0.99 |
7. Growthbar
Growthbar is an SEO toolkit that includes content briefing & optimization along with keyword research, backlink monitoring, and small-scale rank tracking. There's a 5-day free trial.
Features
Growthbar is a good choice if you have relatively basic needs across a number of different functions. Their content outline builder is good, and their other features are good enough (link monitoring, rank tracking), but definitely not best-in-class.
Here's an overview of a few (but not all) of their features.
Content outlines
Their outline builder works similarly to those we've seen before with Frase & Dashword. It lets you quickly scan competitor h2s/h3s and add them to your own outline in one click.
Content optimization
Growthbar does recommend how long your content should be, and which keywords to use etc. — but it doesn't go into nearly as much depth as some competitors in this space. Additionally, you can't edit which URLs the data is generated from, meaning there's sometimes outliers skewing the recommendations.
Keyword research
Here we have a similar story again. This tool can do a basic job (get search volumes & keyword difficulties), but I have reservations about the accuracy, and there's relatively limited information available compared to tools like KWFinder or Ahrefs.
Differences: Growthbar vs MarketMuse
Growthbar doesn't offer as comprehensive of a feature set for content marketing strategy, but they do offer a wider range of SEO tools.
They have a good content brief builder & content optimization tool, along with functions that might replace the need for other tools (keyword research, backlink monitoring, rank tracking) if your needs are basic.
Plans & pricing
Growthbar's pricing works based on usage, including number of monthly outlines and keywords tracked. I've included a 'cost per outline' for article you're producing; this is to help you compare price vs. other tools in the list.
| Plan | Monthly price | Keywords tracked | Reports | Cost per outline |
| --- | --- | --- | --- | --- |
| Pro | $48 | 25 | 15 | $3.20 |
| Scale | $99 | 75 | 50 | $1.98 |
| Agency | $199 | 150 | 150 | $1.33 |