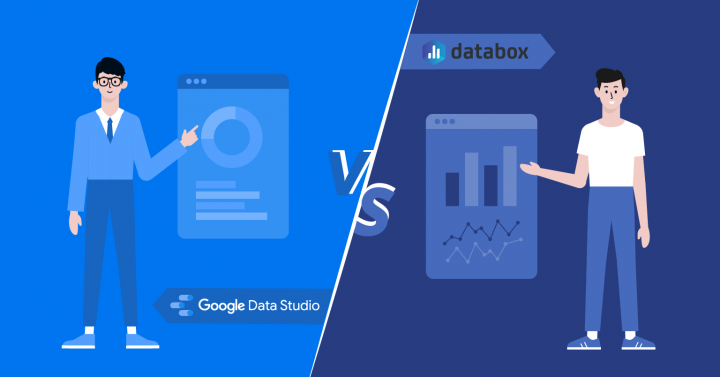 Databox and Google's Data Studio are both powerful data analysis & visualization tools — making the final pick quite difficult.
Having used both of these platforms, I can help you quickly understand the key differences & make a choice.
Let's look at the differences between Databox and Data Studio.
Note: Data Studio just rebranded to Looker Studio. We're comparing the the standard free version (not the new Looker Studio Pro).
The difference between Databox vs Google Data Studio
The main differences between Databox and Data Studio are the number of available integrations, customer support, and pricing.
Databox has 70+ one-click integrations, documentation, and dedicated customer support with free setup services. Very helpful for those who aren't comfortable with Data Studio. It has a free version for 3 dashboards & 3 data connections.
Data Studio is free for about 20 of Google's tools (and unlimited dashboards). If you are looking to connect to platforms outside of Google's ecosystem (Facebook, Instagram, Hubspot, and more), you rely on third-party integrations that often require additional payments. Currently Data Studio doesn't have customer support, although it does have a big community of user-created tutorials.
Databox is praised for user experience and an intuitive platform. It is easy to navigate, fast to learn & deploy, and it has a number of progress-tracking features which make Databox a better alternative to Data Studio for many businesses.
Data Studio is a safe choice for businesses that heavily use Google's ecosystem (e.g. Google Sheets, Google Ads), and don't need any extra support or added features that come with Databox. A vast community, support documentation, and plenty of free tutorials help with using Data Studio and make this tool a well-established choice.
| | |
| --- | --- |
| Reasons to choose Databox: | Reasons to choose Data Studio: |
| More one-click native integrations | More comprehensive free version |
| Fast and proactive customer support | Works well in Google's ecosystem |
| Free dashboard setup assistance | Community templates & tutorials |
| More features & easier to use | |
| Try Databox for free | Try Data Studio for free |
There are additional differences between Databox and Data Studio to consider.
Free versions
If you're looking for a free KPI dashboard, both tools can provide a solid free option. They're different though.
Data Studio is generally free. No limits on the number of dashboards, users, connections, or anything like that. The only catch is that a lot of third-party integrations outside of Google's own tools don't have native connections, and so you need to use a tool like Supermetrics to connect them. That means added monthly costs per integration.
Databox has a free-forever plan. You can use all standard features, but it is limited based on data connections and number of dashboards. Paid plans start from $72/month, and add more features, more data sources, more users, and more dashboards.
Automated reporting
Data Studio lets you choose predefined date ranges when scheduling report sends. Databox is fully customizable, and more flexible both in terms of the content sent and timing: Notifications can be super-specific and arrive at your schedule.
Mobile apps & other device types
You can access Databox dashboards and receive performance notifications through the mobile app and on your Apple Watch. You can even stream your dashboard to your office TV to make data a more regular part of your routine. Data Studio is mostly accessed using a desktop.
Dashboard templates
Data Studio has a small template library for Analytics, Ads, Sheets, BigQuery, and a couple of other use cases. Outside of that, you can find user-generated templates created & shared by third parties.
Databox has 400+ types of dashboard templates covering many use cases built into the platform, and therefore typically quicker to get started with. To my knowledge, users cannot create & share their own Databox dashboard templates.
White labeling
For agencies & freelancers, Databox has a dedicated set of features, including white labeling. It comes at an added cost of $250/month. Learn more here.
In Data Studio, you can't make a complete white label solution. You can customize the setup to use brand colors, for example, but you can't do things like change the domain for reports and dashboards.
Now that we've covered the essential differences between Databox and Looker Studio, let's have a look at the UX, and review some of the important features you'll use daily.
Databox overview
Databox has a vast library of pre-made dashboard templates for multiple use cases:
Each template will automatically pull the most popular metrics for the specific use case. You can access a live preview of each template on the Databox website.
If you are looking to create custom dashboards or update existing dashboard templates, you can use Databox's Dashboard Designer to drag-and-drop specific metrics into your dashboard. You can also easily arrange the data visualizations into your preferred order. The Designer lets you customize all the visual elements for a personal touch; for a fully branded experience, use the White Labeling add-on to completely transform the Databox platform.
There are 18 visualization types available in Databox:
Tracking metrics and goals is fast and easy, using the latest data.
The Metrics Screen allows you to add your most important metrics to one screen. It displays everything going on with your metrics and can be used to verify and visualize your data. You can find any metric through a search functionality, add metrics from any data source into your screen, spot data trends, and compare performance.
The following features help users track and monitor data, spot trends and stay up to date on the progress towards their goals:
Scheduled Snapshots allow you to schedule an updated dashboard to be exported into PDF or JPG at a regular time interval
With Alerts you can automatically and proactively monitor your data and get notified of emerging trends. These trigger-based notifications will help you understand the correlations between your metrics and highlight any significant activity in your data. You can choose to send Alerts to your mobile device, email, or Slack, in order to receive these notifications when they matter the most.
Instead of setting your goals and forgetting about them in a spreadsheet, Databox's Goal Tracking feature allows you to track and visualize your progress – all in one place. Using a gauge chart or a progress bar, you can see your Goals update automatically. You can also pair Goals with Alerts so you are always notified of how close you are to achieving your business objective.
Databox connects to all devices. Databox has several dashboards sharing options, depending on your work and presentation needs:
Using a Sharable Link, you can access dashboards on a desktop. This allows you to fit everything on one screen.
Streaming dashboards to a TV is good for meetings, presentations, performance reviews, etc. You can even have several dashboards automatically rotating too.
There's a mobile app to access dashboards on Apple and Android devices. Databox dashboards are mobile responsive; you can receive notifications, edit, share, or add comments on the go.
With Apple Watch notifications, you will never miss an important alert (and it's stylish).
Databox has more than 70 integrations for you to choose from, covering the most popular categories including SEO, SEM, social media, analytics, eCommerce , CRM, marketing automation, and more.
The best thing is that they come with thousands of pre-loaded reports and metrics. Once you have connected an integration to your account you can access all the metrics and templates, almost immediately. And yes, you can also integrate with Google's marketing platforms to make use of its data just like Looker Studio can!
In case you can't find the integration you need, Databox allows you to import data from any source via API, SQL database, Google Sheets, Zapier, GitHub, BitBucket, and Integromat (Make). You can find detailed instructions for specific third-party integrations using the knowledge base.
Google's new Looker Studio overview
Recently, Google Data Studio transitioned to Looker Studio and added Looker Studio Pro for enterprise users who are willing to pay for better support and features.
Let's take a closer a look at Looker Studio's platform. With Looker Studio you have access to 800+ connectors, 20 of which are the Looker Studio Connectors that you can use for free:
Using partner connectors can make the actual pricing a little unpredictable. This is because the costs of using additional connectors can add up depending on which ones you choose and how many of them you need. So if your tech stack is diverse, you may be up for a hefty price.
If you haven't used Data/Looker Studio before, there could be a bit of a learning curve. You'll rely heavily on user tutorials help documentation, or your technical team to understand your way around the platform.
That said, once you get the hang of it, it isn't so tricky. And once you've built charts once, you can always duplicate them over to save time.
Looker Studio has 44 visulization templates that you can choose from. You can choose to use new visulizations, featured visulizations or any of the 39 visulizations created by Partners.
And, there's a lot of different chart types available to use in Looker Studio:
Creating complex data visualization was a pain point for Google Data Studio, and we have yet to see whether the new Looker Studio will overcome these limitations; currently, it allows:
50 charts/ boxes per page;
20 conditional formatting rules per chart.
Finally, Looker Studio has sharing capabilities corresponding to the ones you usually find in the Google Drive Ecosystem. Reports can be embedded on any page or can be shared through a link. And the best part is that Looker Studio enables real-time collaboration on a report.
Pricing plans
Looker Studio is free — but only partially. You'll need to think of subscription fees for third-party connectors, and additional data storage.
Looker Studio Pro is a brand-new plan made with enterprises in mind, with access to tech support, new team collaboration capabilities, and improved asset management. For pricing, you need to contact a Google Cloud specialist.
As for Databox, there's a Free-forever plan and 3 pricing tiers.
The Free-forever plan provides:
All of the standard Databox features;
3 data source connections;
More than 60 integrations.
Here are the paid plans available:
Branding & White-labeling add-on is available for $250/ month.
Things that Databox can do, that Google's Looker Studio can't
Databox is rich in features and exceeds Google's Looker Studio in quite a few ways:
Customer Support
Branding & White-labeling add-on
Easy to use integrations deployed with a single click
API
Dashboard availability across multiple devices (mobile apps, Apple Watch, TV Dashboard)
Scheduled Snapshots
Goal tracking
Alerts and notifications
Automated reporting
Things that Google's Looker Studio can do, that Databox can't
Being a paid SaaS tool with a dedicated team developing features all the time, it's not surprising that Databox can generally do more than Data Studio. That said, here are some noteworthy differences:
Looker Studio is free, including all of the functionalities, minus extra charges for third-party connectors (and the new Looker Studio Pro)
Google's Looker Studio has a vast amount of data visualization types, and a great deal of community-sourced templates and visualizations
If you own a business Google account, you can instantly access Google's Looker Studio
Final summary
Looker Studio is free, and works flawlessly within its ecosystem you're probably already familiar with. These are the biggest advantages of Looker Studio. However, you'll likely need to pay extra for third-party connectors you intend to use. If anything goes wrong, you only rely on documentation and community advice to resolve the possible issues. No customer support
Databox is a cost-effective platform with both free and paid plans, all of which include a substantial amount of instant integrations and connectors. It comes with great customer support, including free setup assistance for your first dashboards. It's often a better choice if your business operations extend beyond Google's ecosystem, thanks to a bunch of features you can't find within Looker Studio.