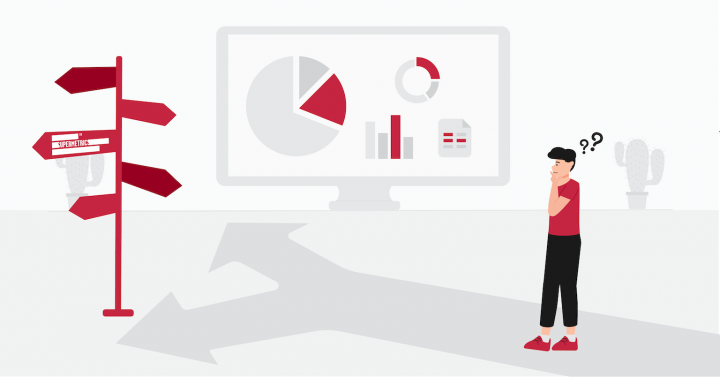 A successful marketing campaign relies on an efficient data collection mechanism that aggregates the data from various channels. The native data connectors by Supermetrics allow you to pull data from multiple sources so you can focus on generating key insights.
The challenge? Supermetrics isn't always aligned with your data sources, requirements, and budget size. In this article, I provide a curated list of the top 8 Supermetrics alternatives that you can try in 2022. You can explore all of them and choose the best alternative as per your reporting requirements.
Here are the 8 best alternatives to Supermetrics
DashThis

Power My Analytics

Dataslayer

Klipfolio

Windsor.ai

Porter Metrics

Apipheny

Funnel
Supermetrics drawbacks: why look for an alternative
Just a connector (no reporting)
Supermetrics simply moves data from one place to another. Once you've done that, you still need a separate reporting tool. Depending on your use case, there are some Supermetrics alternatives which do both.
Costly subscription plans
Supermetrics is more expensive than other alternatives. The pricing starts at €69 per month, making it a slightly unaffordable solution for small businesses. Pricing has also been increased a number of times, without a clear explanation for why.
Complex setup process
The initial Supermetrics setup is somewhat tricky, making the platform less intuitive. Also, If you're looking to get more team members on board as users, they had better have some knowledge of data.
Limited number of user seats
Although Supermetrics makes your reporting more efficient, the number of users that comes with each subscription is way below what other tools offer. For example, the most expensive Supermetrics plan starts at €499 per month, providing access to only 3 users.
8 best Supermetrics alternatives
1. DashThis
Best suited for: marketers & agencies needing to create KPI dashboards, who value ease of use, support, and integrations available
Free trial: yes, 15 days. Sign up here.
Starting price: from $33/month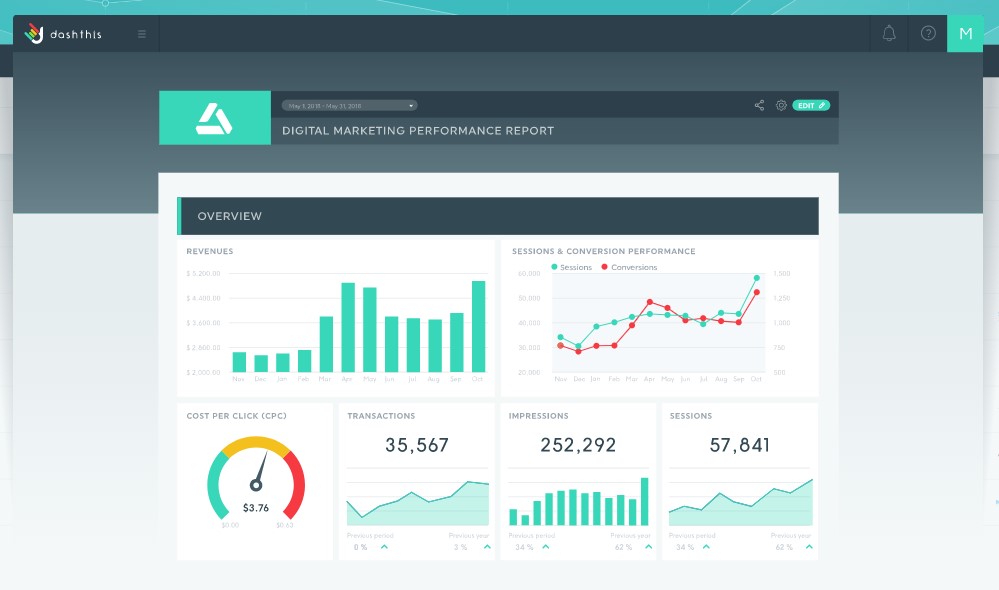 Key features
First things first: DashThis is a marketing dashboard tool that allows you to pull together marketing KPIs across all your tools & channels.
Supermetrics pulls data from one source (e.g Facebook ads) and connects it to another place (e.g. Google Data Studio). The problem here is that you've paid for the connector, but now you still don't have a usable dashboard.
Using DashThis, you can simply connect your Facebook ads account using a native integration, then make a quick dashboard in a few clicks using their templates & drag-and-drop builder. No need for a separate connector.
You'll save a lot of reporting time, which can be reallocated to the tasks that actually move your KPIs.
It integrates with over 30 marketing data sources, including Google/Facebook/Linkedin ads, Semrush/Ahrefs, Google Analytics/Search Console, and many more. It also has a CSV File Manager that lets you add any other data you might want to embed in dashboards.
You can generate shareable links so that colleagues or clients can check on marketing KPIs at any time. It's also possible to white label the dashboards & the URL with your branding.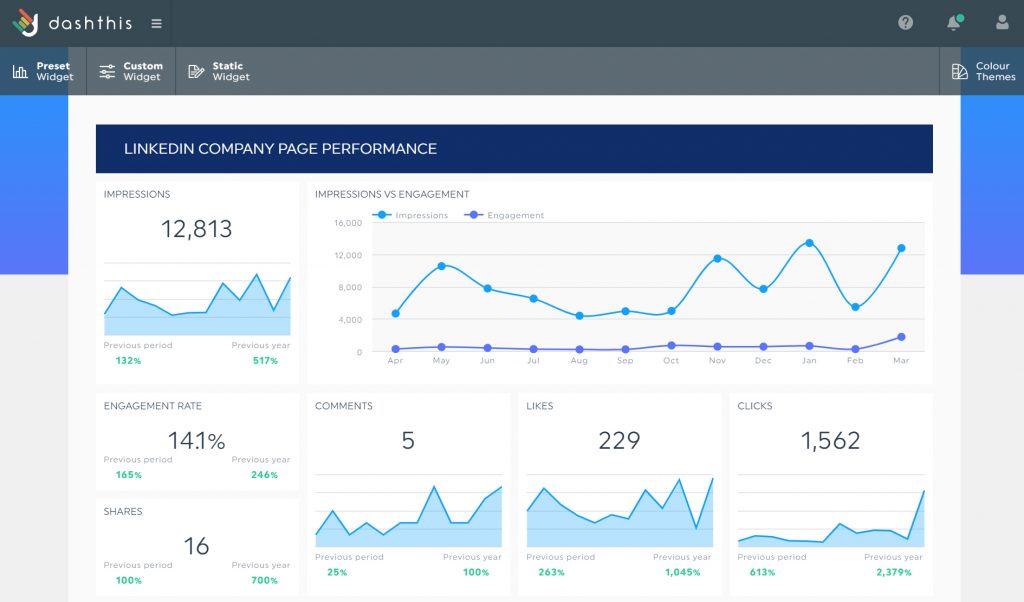 DashThis vs Supermetrics
DashThis is for creating marketing KPI dashboards; it is not a data connector and therefore doesn't replace some of Supermetrics' functions.

Secondly, DashThis makes it much easier to connect marketing data together, without the need for a connector at all. For creating marketing dashboards, it's easier to use and faster to set up vs. using Supermetrics to combine data in Data Studio, for example

Price-wise, DashThis is more affordable than Supermetrics. For the cheapest Supermetrics plan, you'll have to pay €69 per month and this is for a single data source only. Instead, all DashThis plans come with unlimited users and integrations at no extra charge.
Pricing
DashThis offers 4 pricing plans: Individual, Professional, Business, and Standard. The started plan is 'Individual' which starts at $33 per month (billed annually) or $39 per month (billed monthly). Although it's a starter plan, its number of integrations has no limits. See full pricing here.
2. Power My Analytics
Best suited for: small to mid-sized businesses and agencies who need to connect to a wider array of data sources and several client accounts per source
Free trial: yes, 14 days. Sign up here (no credit card required)
Starting price: from $8.29/month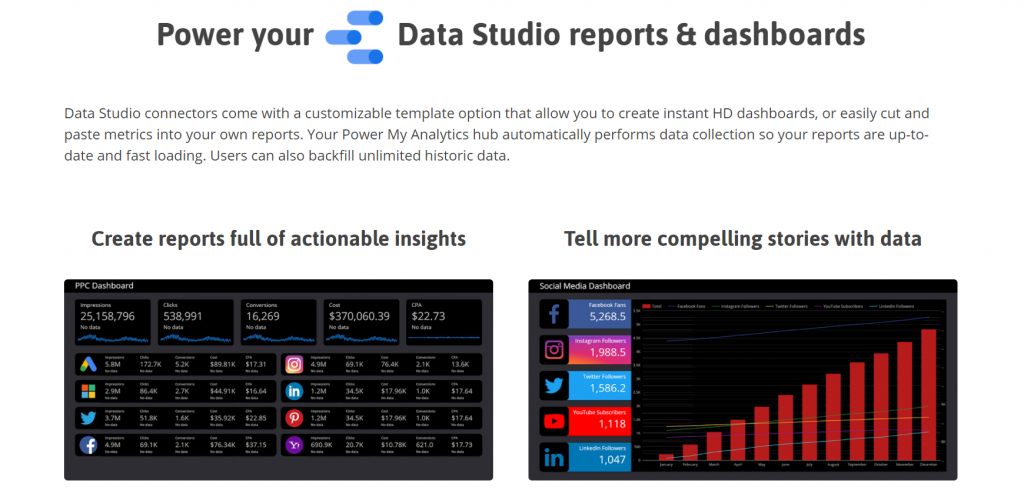 Key features
Power My Analytics is a reporting automation tool that enables digital marketers to collect data from popular advertising, social media, email, and CRM, platforms.
Power My Analytics avoids the frustration of logging into multiple platforms. With its automated data collection capability, you save time.
This tool gathers data from over 30 marketing platforms, including Facebook/Google/Linkedin ads, Google Analytics, Hubspot, and many more. Its connectors are data warehoused so it offers enhanced report speed and reliability.
Power My Analytics vs Supermetrics
Compared to Supermetrics, Power My Analytics pulls together advertising data at a more reasonable price

Power My Analytics is relatively easier to use and is recognised for its speed of implementation and data collection

Moreover, you may be looking for specific connectors such as Amazon, Campaign Monitor, eBay, or Instagram ads. If that's the case, then you're in better luck with Power My Analytics, since Supermetrics doesn't offer these connections

Supermetrics connects with over 80 marketing and sales platforms whereas Power My Analytics allows you to integrate with 30 sources
Pricing
Currently, 4 subscription plans are available on Power My Analytics: Single, Business, Pro, and Enterprise. The 'Single' plan starts at $8.29 per month (billed annually) or $9.95 per month (billed monthly). If you only need to connect to a single data source, this plan may be an economical option for you. See full pricing here.
3. Dataslayer
Best suited for: small to mid-sized digital agencies that are heavily working with PPC campaigns and don't have time to build manual dashboards
Free trial: Yes, 15 days. Sign up here.
Starting price: from $59/month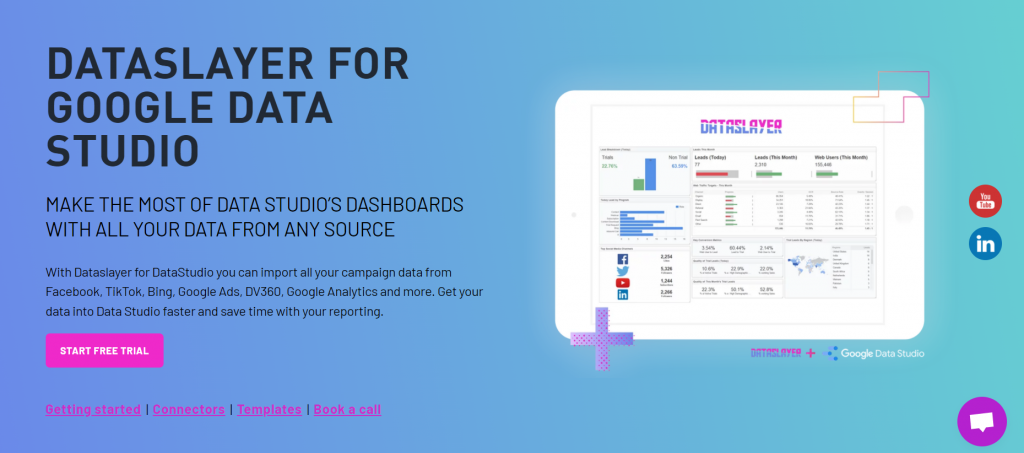 Key features
Dataslayer is a reporting automation tool with its own connectors to bring all the metrics from the most important data sources directly into Google Data Studio within seconds. It helps marketers pull their web analytics data into different places: Google Sheets, Google Data Studio, BI Platforms, and BigQuery.
With Dataslayer for Google Data Studio, you can import your campaign data from Google Analytics, Facebook insights, TikTok, Mailchimp, Bing, Google Ads, etc.
With Dataslayer, you can have all your reports automated and with a daily scheduled refresh that will send you as well as your clients an e-mail with all the information. Basically, you save time.
Dataslayer vs Supermetrics
Compared to Supermetrics, Dataslayer is reasonably priced – it'll charge you only per usage, not per connector or number of users

Dataslayer generates and refreshes queries faster than Supermetrics. With Dataslayer, you don't need to wait for a long time for your data to refresh

In terms of ease of use, it's straightforward to create and update reports with Google Sheets and Google Data Studio via Dataslayer than Supermetrics

When it comes to inserting a huge volume of data, Supermetrics performs much better
Pricing
Dataslayer offers 4 different products: Dataslayer for Google Sheets, Dataslayer for Google Data Studio, Dataslayer API Query Manager, and Dataslayer BigQuery. For example, you can use Dataslayer for Google Data Studio for free and benefit from an unlimited number of reports. To have 24/7 online support and a training call, you'll need to upgrade to the 'Small Agency' tier which starts at $59 per month (billed annually). See all pricing info here.
4. Klipfolio
Best suited for: small businesses or SaaS companies that are looking to report with multiple data sources with the help of an easy-to-use tool
Free trial: offers freemium version. Sign up here.
Starting price: from $99/month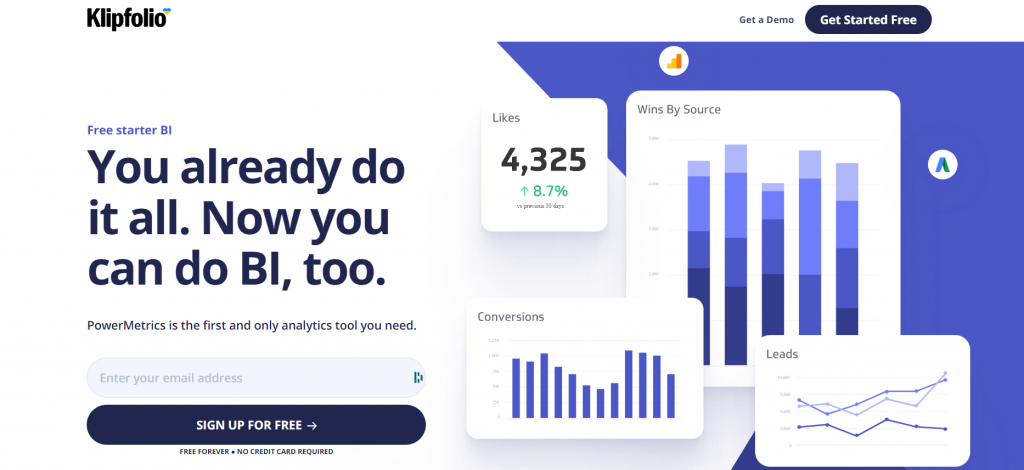 Key features
Klipfolio is a no-fuss dashboard tool for building real-time marketing dashboards for your team or your clients. If you're looking to maintain and upgrade more than a few dashboards on a regular basis, Klipfolio has smarter options.
The platform is pretty straightforward. It allows you to customize your reporting templates and integrate your data from hundreds of third-party sources, including Facebook, Instagram, and Google Analytics, so you no longer need to worry about updating your reports every day.
Klipfolio supports data sources from the files on your computer like spreadsheets, cloud file-sharing services such as Google Drive and Dropbox, and email attachments with the file extension .xlsx, .csv, .json, or .xml.
Klipfolio vs Supermetrics
Klipfolio is compatible with over 100 platforms and the number of connectors is constantly increasing. Supermetrics only supports over 60 connectors

The richness of features like predictive analytics and trend indicators, intuitive display, and friendly support are what make Klipfolio is a strong alternative to Supermetrics

To perform some Klipfolio functions, you may be required to have surface-level technical or coding knowledge. But Klipfolio has a training center and great online help, so you get comfortable over time working with the tool
Pricing
Klipfolio offers the flexibility to choose from 4 plans: Free, Plus, Pro, and Custom. You benefit from unlimited metrics with a 4-hour data refresh interval with the' Free' plan. The most popular Klipfolio plan is 'Plus' which starts at $99 per month (billed annually) or $139 per month (billed monthly). See full pricing here.
5. Windsor.ai
Best suited for: businesses with both online & offline marketing channels
Free trial: offers freemium version. Sign up here.
Starting price: from $19/month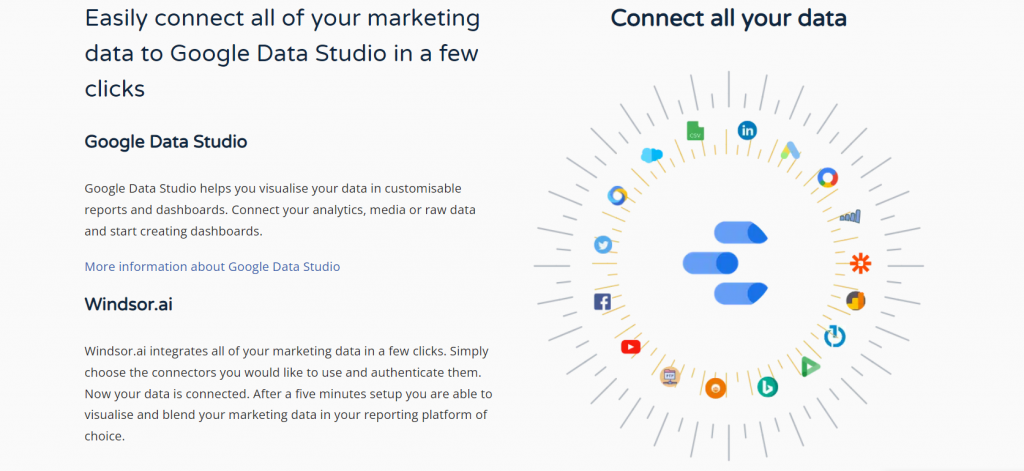 Key features
Windsor.ai is a marketing attribution software, developed specifically for marketing professionals and enterprises that are utilized to optimize return on investment using the power of Artificial Intelligence. It lets users incorporate all of their marketing data and run advanced marketing attribution models in one place.
It's a plug-and-play solution to derive data-driven marketing strategies which directly impact ROI. Windsor.ai's dashboards will give you a holistic understanding of your every marketing effort with complete visibility on customer journeys.
Instead of wasting months of your staff's precious time in developing custom integrations, you can set up automated data flows in minutes with Windsor.ai. In that way, you can automate collecting all marketing data and lower time spent on preparing and formatting, focusing on insights instead.
Windsor.ai vs Supermetrics
The superb feature of Windsor.ai is its machine learning Bayesian algorithm developed to give insights and recommendations for fine-tuning marketing efforts

Windsor.ai's biggest key feature is its tracking of customers' journeys as they provide insight into the ROI while helping the users to figure out to reorganize their budget
Pricing
Windsor.ai offers 5 plans: Free, Basic, Standard, Professional, and Enterprise. The 'Basic' plan starts at $19 per month (billed annually) or $23 per month (billed monthly) which is limited to 3 data source connectors. See full pricing here.
6. Porter Metrics
Best suited for: marketing teams reporting their ads channels and agencies reporting to multiple clients
Free trial: yes, 14 days. Sign up here.
Starting price: from $12.5/month

Key features
Porter Metrics is a connector metric solution that helps you automate and scale your marketing reporting with Google Data Studio.
In the first place, Porter Metrics is easy to set up. With its free Google Data Studio templates, you can easily automate your marketing reports in just a few clicks.
Porter Metrics vs Supermetrics
Porter Metrics is a simpler tool for non-coders than Supermetrics

All Porter Metrics subscriptions come with unlimited users

Although Porter Metrics is more affordable than Supermetrics, its available data connectors are limited
Pricing
Porter Metrics offers 4 subscription tiers: Solo, Teams, Agencies, and Custom. The 'Solo' plan starts at $12.5 per month (billed annually) or $15 per month (billed monthly) that comes with unlimited historical data retrieval, immediate data refresh interval, and scheduled email delivery. See full pricing here.
7. Apipheny
Best suited for: marketers and agencies that want to create marketing reports with PPC, social, SEO, and analytics data at a lower cost
Free trial: yes, 30 days. Sign up here.
Starting price: from $8/month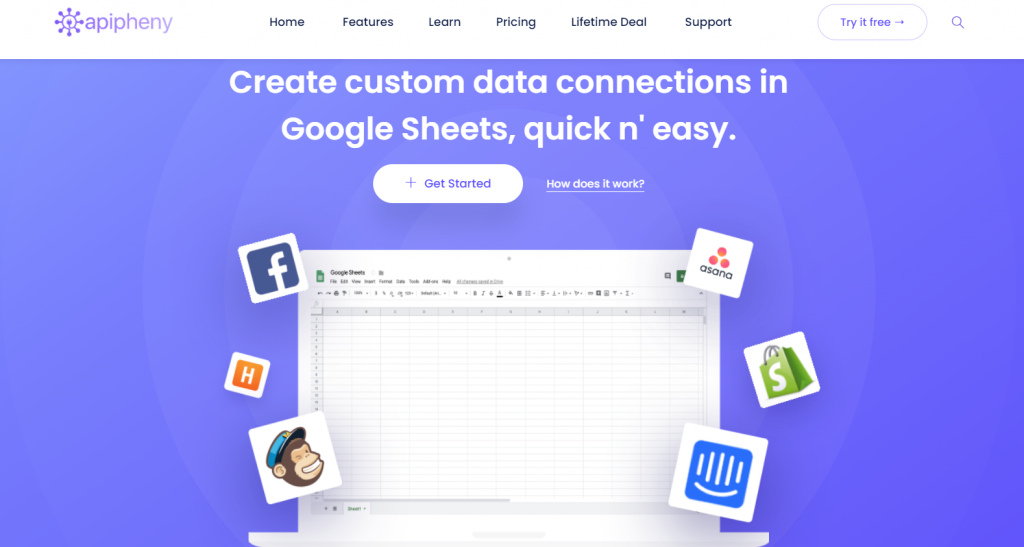 Key features
Apipheny is a universal API connector for Google Sheets. Without writing a line of code, you can use Apipheny to pull API data into Google Sheets and use the data to develop dashboards and reports.
Apipheny's list of possible integrations is long, but some API connections include Ahrefs API, Google Search Console API, Instagram API, Linkedin Ads API, and many more. If you don't know how to connect each API to Google Sheets, Apipheny has tutorials on API integrations.
Depending on the scale of your data operations, you could have anywhere from just one to dozens of different saved requests for future use. If you want to transfer your saved API requests to a different Google Sheet, Apipheny has a feature that allows you to export/import your saved API settings from one Google Sheet to another.
Apipheny vs Supermetrics
Apipheny allows for so much more control and customizability than Supermetrics

Apipheny lets users connect to any data source's API (that practically means thousands of different APIs) whereas Supermetrics is compatible with 60 platforms
Pricing
Apipheny is available in one plan and it costs $8 per month or $59 per year. There is also a 1-month free trial and a $119 lifetime deal on AppSumo. See full pricing here.
8. Funnel
Best suited for: mid-sized to big agencies that work with many data sources, different logins, and exporting features
Free trial: Unknown. Book a demo here.
Starting price: from $399/month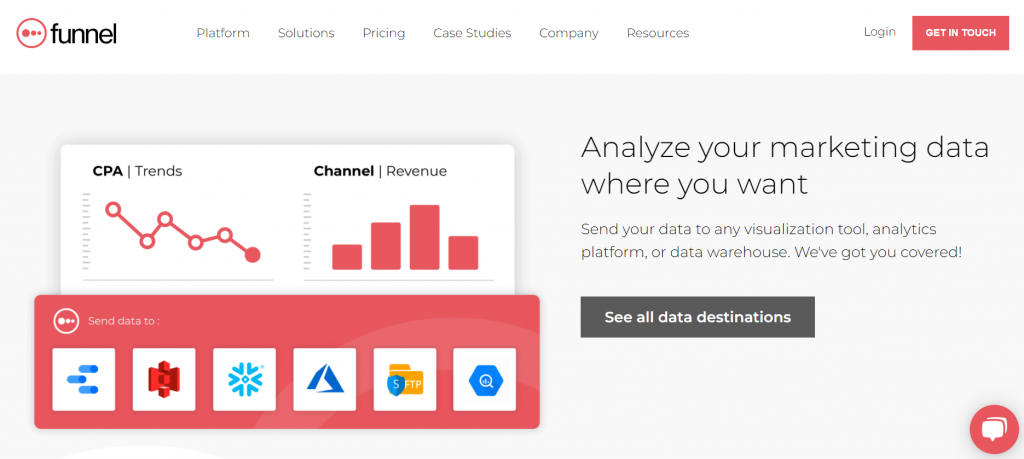 Key features
Funnel is a marketing data platform that automatically maps out and sends data to different destinations.
Funnel stores the collected data on its server, and the number of platforms they offer is definitely what makes them stand out.
Another practical feature of Funnel is that you can import spreadsheet data from Google Sheets into Funnel. Therefore, you can spend time optimising channels and performing analyses to build actionable insights.
Funnel also can automate data mapping by establishing rules based on keywords, instead of creating advanced formulas after the data was exported. Combining data from different channels will allow you to report on the performance of different media types.
Funnel vs Supermetrics
Funnel currently offers integrations with over 500 marketing platforms. This capability saves businesses a serious amount of time and engineering effort to retrieve data from new marketing platforms

Funnel leaves SQL databases out. However, Supermetrics can pull data from MySQL and PostgreSQL
Pricing
Funnel offers 3 different plans: Essentials, Plus, and Enterprise. The 'Essentials' plan starts at $399 per month (billed annually) or $479 per month (billed monthly) that comes with email support only. To benefit from multiple workspaces and custom connections, you'd need to upgrade to the 'Plus' plan. See full pricing here.
Make your life easier with Supermetrics alternatives
Reporting is not straightforward. But if you can show how your campaigns are performing, you can prove the value of your efforts. The challenge? There are so many reporting tools available today, and Supermetrics is only one of them.
But Supermetrics may not work for every company. It's expensive to implement and you need to be tech-savvy to some extent to navigate the platform. For these reasons, you may happen to search for Supermetrics alternatives that are more affordable and easy to use.
I discussed 8 alternatives in this blog post. Now, take advantage of the free trial periods and give them a go yourself.