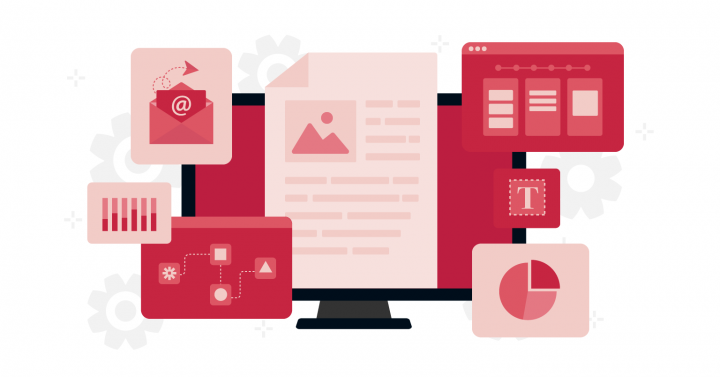 Think about your weekly content workflows. Are there any tasks that could be automated?
I'd be willing to be there are at least a few. And you probably don't even need any elaborate systems to do it either.
There are lots of content marketing automations that you can set up. Invest the time once to get going, then reap the time savings week after week for years afterwards.
We'll look at tasks that can be automated, and suggest some automation tools to do it with.
Let's dig into some content marketing automation ideas.
The case for automating content marketing tasks
Automating content marketing processes can increase the ROI of content. Reducing the hours spent per task (while maintaining quality) lowers your investment, for the same outcome.
Investing a little time upfront in automation will save your team time, and allow them to focus on more impactful things.
There are caveats to content marketing though, of course. Sometimes a human touch is needed, especially with things like content creation & repurposing. Automating these tasks can sometimes lead to a low-quality outcome.
Here are 7 types of tasks that you can automate successfully:
Uploading content to CMS
Reporting on content KPIs
Transcribing audio and video recordings
Screening candidates for your content writing tasks
Generating content
Developing email sequences for nurturing
Distributing social media content
Here's how to do each of them.
1. Uploading content to CMS
What's your content approval process? For many teams, it looks like this:
Writing, feedback, revisions & approval happens in Google Docs
Approved Google Docs are then uploaded & published in the CMS
It's possible to simply copy & paste a Google Doc to your CMS, but it can mess up your formatting. You have to manually re-format the document, which is unnecessary time and effort.
It's possible to automate CMS uploads by using a tool like Wordable. It lets you convert Google Docs to a WordPress post in one click, without formatting issues.
Setting Wordable up is easy. First, you connect your Google account, then connect your CMS. For example with WordPress, you download a plugin.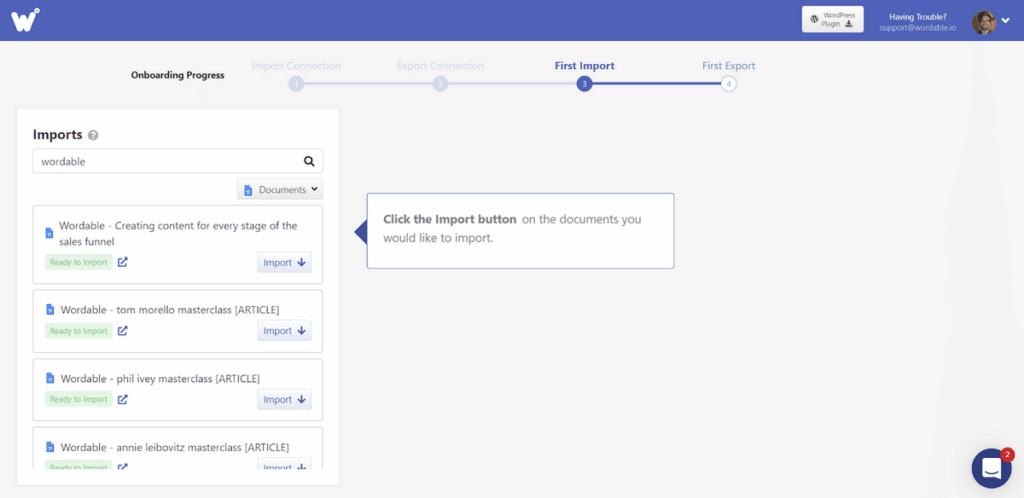 After connecting your Google account, you can find the documents that you wish to upload and send them to the export queue.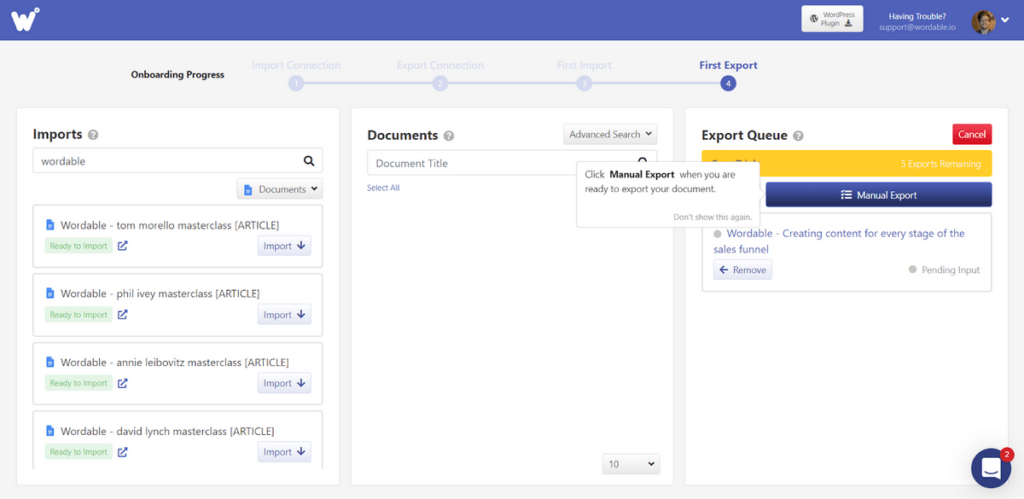 Clicking "Manual Export" will bring up a tab with a set of export options that will let you apply certain WordPress settings in bulk. After applying these settings, the documents will be sent to the Drafts section of your WordPress dashboard, after which you may make additional edits, or publish them.
If you're not able to pay an extra $1-$1.25 per article for Wordable, there are alternatives. You could ask writers to work directly in your CMS or try the Mammoth .docx converter plugin.
2. Reporting on content KPIs
Tracking KPIs is an important part of content marketing. Without it, you can't prove the impact of your work. Luckily, there are ways to automate some parts of KPI reporting.
For a free solution, you can opt for Google Data Studio. Google Data Studio doesn't collect any data by itself but instead lets you connect your existing tools like Google Analytics or Google Search Console.
With Data Studio or an alternative, you can create a dashboard that automatically updates to share with your team.
Choose which pages and metrics you want to report, and remove the fluff. Keep it simple. You could also use one of the many preset templates that are available online, such as the ones presented on MarketLytics.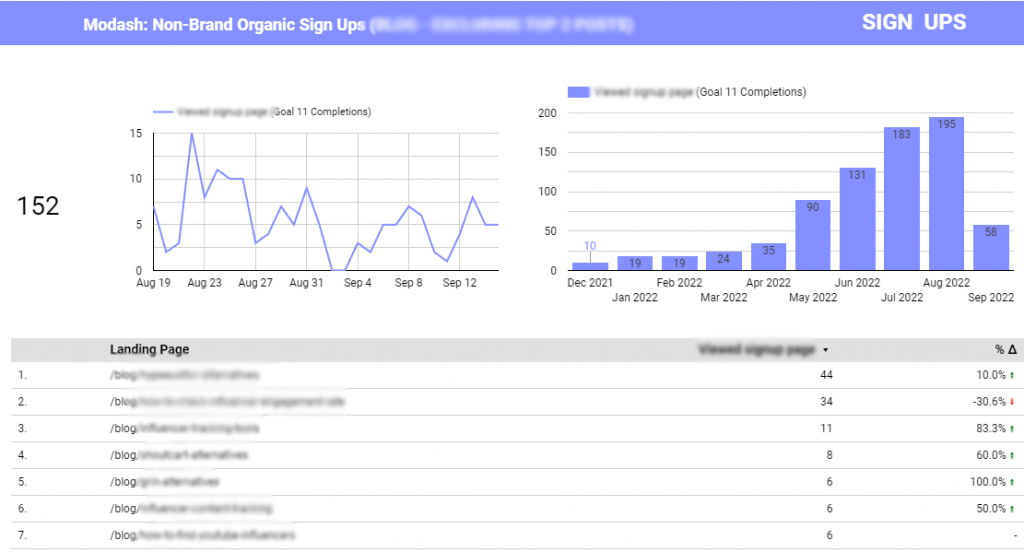 If you want to explore a paid tool, take a look at Databox. Why? It has more native integrations, more templates, more features, and a customer support team that helps you get set up.
You can also set up automated email reports, and goal tracking updates to see if your content KPIs are on track.
It's a freemium tool that allows 3 data sources to be connected on the free plan.
3. Audio transcriptions for podcasts & videos
If your content team is running a podcast, or a kind of video marketing, there's a good chance you're publishing them on your company website.
Adding transcriptions can help with SEO, and it adds a lot to the UX too. A transcription means that your reader can skim through easily, and even search the page with ctrl / cmd + f.
Transcription is an arduous task, but luckily it's one that can be easily left to automated transcription tools.
For small scale operations, there's even lots of free transcription software out there. They'll typically capped by the volume of transcriptions you can do per month (e.g. 3 hours of audio per month).
Descript is one such tool. It has a freemium solution that does automatic transcription in 22 languages. All you have to do is import the media file into the app, and it'll instantly be converted into text.
Descript's free plan lets you transcribe up to 3 hours of content per month. You can grow into a paid plan if you need more. It also has as a recording and editing tool built-in.

Although Descript is one of the better transcription tools with a free version, there are alternatives that may be a better fit for your exact needs. See also:
4. Screening candidates for hiring content writers
For scaling content, you need content writers. Even if you're going to use AI tools, human intervention is still needed. At least for now.
Hiring writers can be a painful & slow process though. If you're going to maintain quality control as you scale up, there are things you can't skip. Trial tasks, feedback, interviews, and so on…
Although you can't skip steps like trial task entirely, you can speed them up.
One tool that can do that is Workello. It's a candidate assessment platform specifically for hiring writers. You can manage the entire hiring process through Workello: create job ads, review applications, create and facilitate assessment tests, hold interviews, and send job offers.
As many things as possible are reduced to one click, which is super nice. For example, assigning a trial task is one click. Sending a templated email to invite someone to interview (or reject them) is another.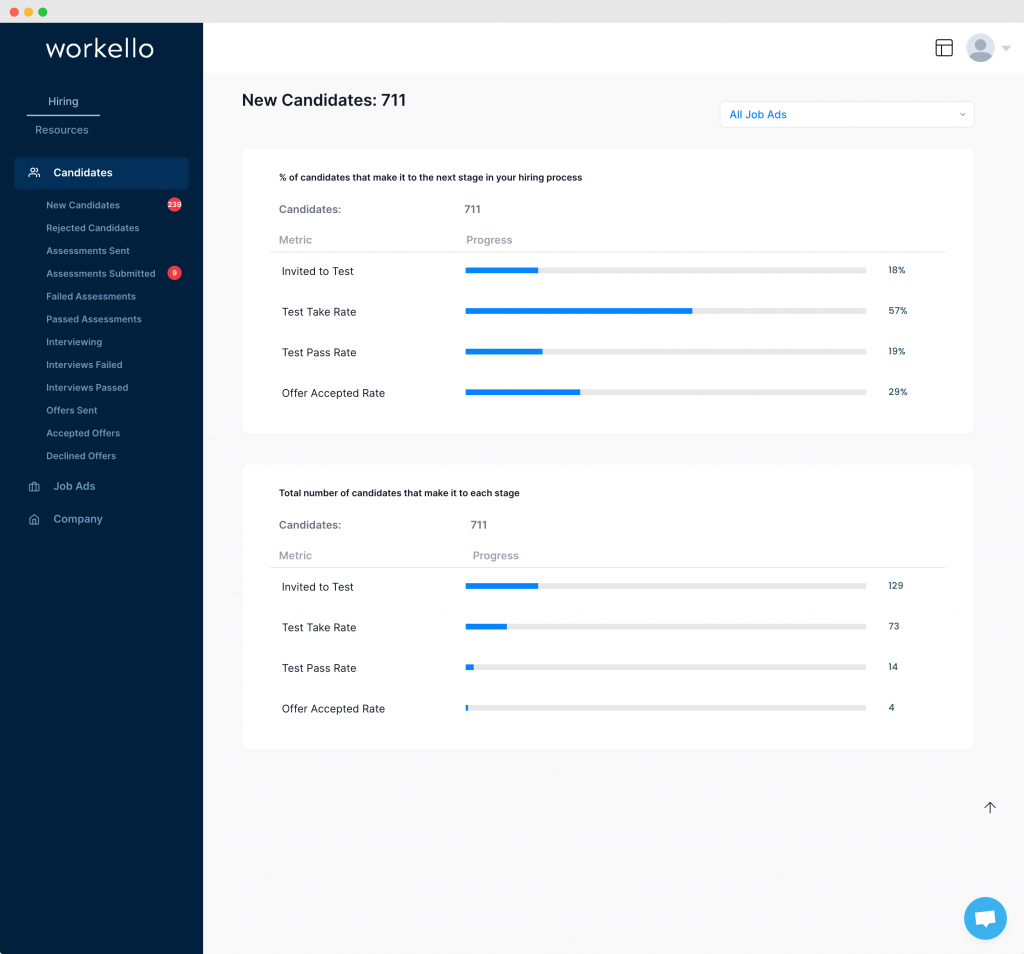 Workello lets you post unlimited job ads & review your first assessment as part of a free trial. Give it a spin.
5. Content creation
While I'd say that content creation shouldn't be fully automated, many content marketers are having success with automating some parts of content creation.
By now, there are some pretty reliable AI writer tools out there. One of the most popular ones is Jasper. How viable is it to use such a tool?
The TL;DR is:
Use AI writers as they were designed: as a writing assistant. They can help you beat writer's block, and speed things up, but don't rely on them to write an entire unedited article.
To get the best out of Jasper & similar tools, you will need to practice tweaking the content description and keyword inputs. Still, the final output will usually require manual editing.
With less well-known topics & thought leadership, it's entirely likely that the tools will miss the mark altogether too. In those cases, you definitely need human intervention — or it may be better to just skip AI there altogether.
And while these are heavily marketed as content writing tools for SEO, and their SEO capacities definitely exist, there's still limitations. For example, AI SEO tools will rely on the existing SERP, so if the content there isn't very good, you article probably won't be either.
All of that being said, my advice is to give it a try. Jasper is a good place to start, and it offers 10k words as a free trial.
It's simple to use – just input the title, description, some keywords, the tone of voice you're aiming for, and the desired content length. The app will then generate a block of text according to your guidelines.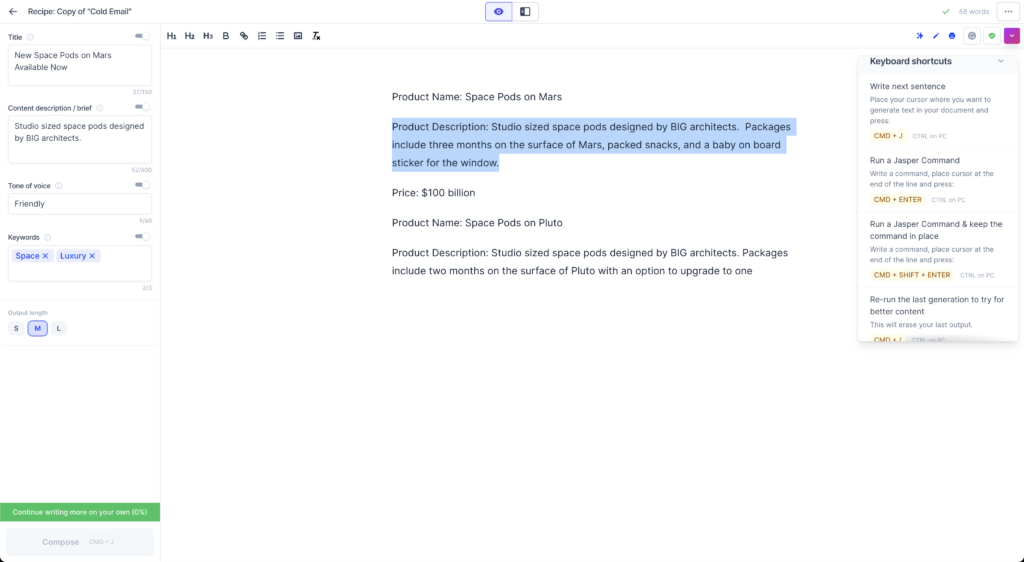 6. Email sequences for nurturing
If gated content, lead magnets, or anything similar is a part of your marketing strategy — there's a good chance you need email nurturing sequences.
For a SaaS product, maybe you have welcome sequences to help newly signed-up users get on board too.
While manually facilitating these email sequences would be extremely arduous, there are simple ways to set up an automatic nurturing process with the help of a relevant tool. The most famous tool of this sort is Salesforce, a platform designed as an all-in-one Customer Relationship Management (CRM) platform.
To set up a triggered "drip" campaign in Salesforce, you will need to use Salesforce's Marketing Cloud tool with the Automation Studio component included, along with Marketing Cloud Connect. Setting up a campaign consists of three main steps: creating a report in Sales or Service Cloud, creating a send interaction in the Email Studio, and finally setting up an automation in Automation Studio. For a detailed step-to-step tutorial on how to achieve this, check out this official tutorial made by the Salesforce support team.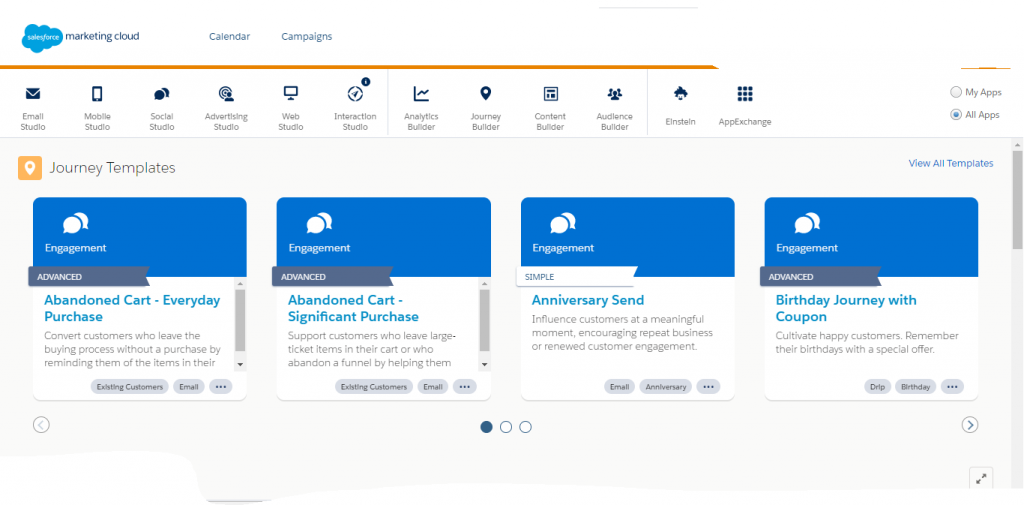 While Salesforce is the most popular CRM platform, with a long tradition and broad and powerful capabilities, its email automation feature is a bit too complex and clunky to set up. That's why you may want to opt for an alternative CRM platform, such as HubSpot. HubSpot lets you set up an automatic email sequence in a simpler, more streamlined way – see this tutorial for detailed instructions.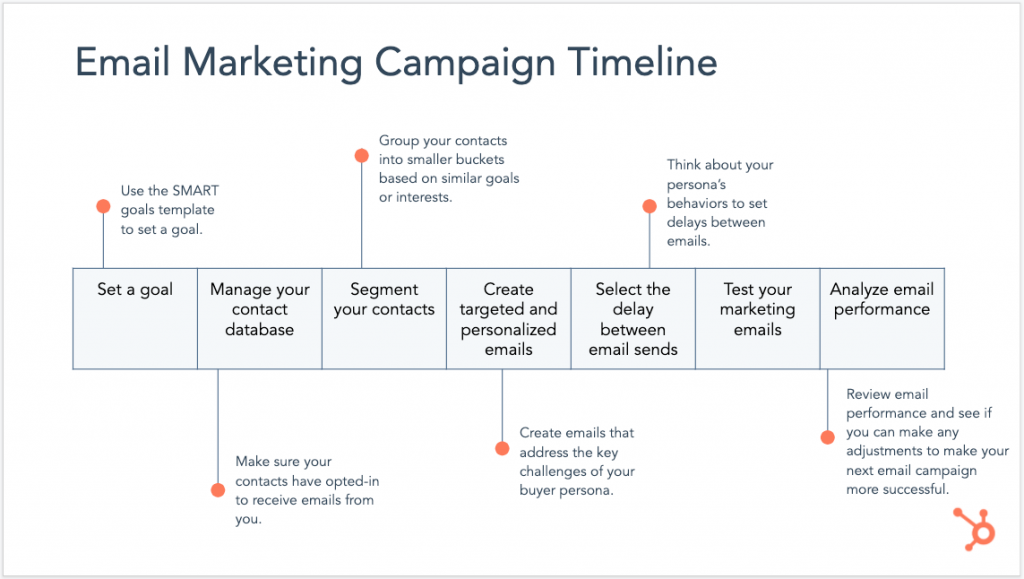 7. Distributing content on social media
If organic social media content is part of your distribution strategy, consider seeing which parts can be automated.
The main things that come to mind are:
Automatically posting content after it goes live (e.g. new blog post), or
Pre-scheduling posts in advance with a social media scheduling software
Although some social media platforms have their own in-house scheduling tools, it's generally a better option to use a single solution for all social media accounts.
Since using a social media scheduler like Buffer or Hootsuite is fairly self explanatory, let's look at the former use case. Automatically posting on social media after a blog post goes live.
One solution you can use to trigger this is Zapier, It works by creating workflows, with a trigger followed by a series of actions. This can be done either by using one of the premade workflow templates or by connecting all apps that you wish to integrate and building a custom workflow in Zapier's editor.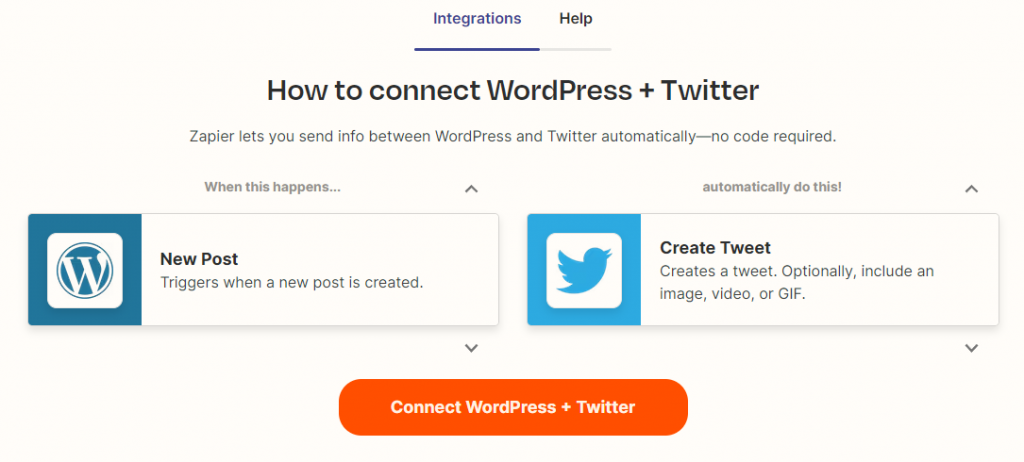 In this case, the trigger is a WordPress post, and the task is to create a Tweet, You can do this based on a template, and automatically pull the featured image too.
You could even do something as simple as announcing that a new blog went live internally in Slack. It might just save you 5 mins writing an update to your colleagues 🙂.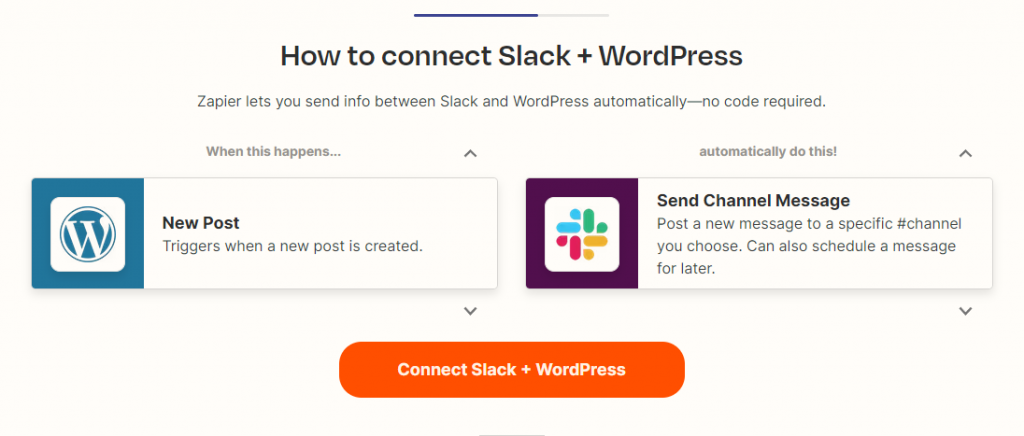 The workflow editor is quite intuitive and user-friendly. It will guide you through the steps necessary to build your own workflow.
Wrapping up
While you can't automate everything in content marketing, automations certainly have their place.
CMS uploads, screening writing candidates, Zaps, and audio transcription are just few common use cases.
What will you automate first? 🙂