Transcription has come a long with since the AI boom. A bunch of tools have at least some functionality available for free. Here's 9 of them — with their features, pricing, and more.
These are the 9 best free transcription software tools
Descript

Otter.ai

Vowel

Tactiq

oTranscribe

Transcribear

Fireflies.ai

Enthu.ai

Deepgram
Best for: transcription & editing with AI — especially for podcasts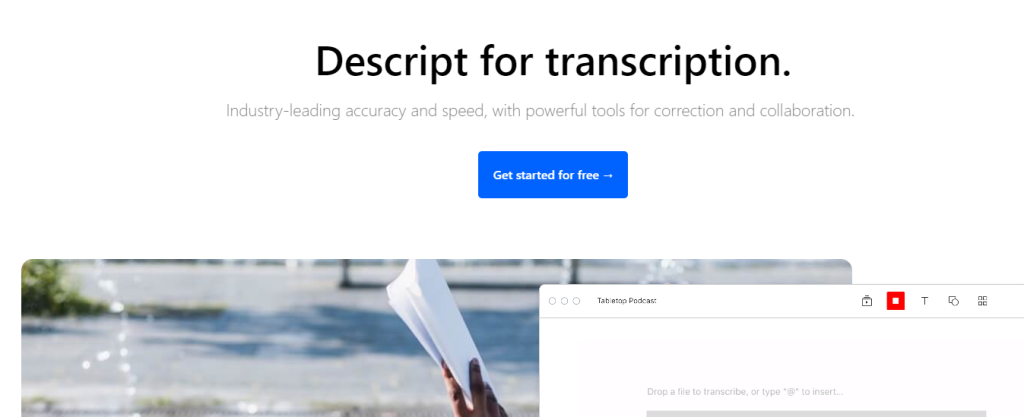 Key features
Descript is a suite of tools for videos & podcasts, including excellent quality automated transcriptions, and it has a free version.
Descript's AI-powered transcription tool recognizes multiple speakers with high accuracy based on their voices. This will help you convert your videos, podcasts, calls (etc.) into comprehensible text formats.

Descript audio transcriptions work for audio in 22 languages, including English, Spanish, German, French, Italian, Portuguese, Turkish, Dutch, Norwegian, and many more.
On top of transcription, Descript comes with a ton of other great features for video & podcast editing. They're leading the way in AI too, with a GPT-4 integration coming up soon, and a bunch of existing AI features. Examples of those features include filler word removal, and overdub (which means — editing the transcript edits the audio!).

Pricing
Currently, 4 subscription plans are available on Descript: Free, Creator, Pro, and Enterprise. The 'Free' plan offers 1 hour of transcription. Paid plans unlock more features, and start from $12 per month (billed annually) or $15 per month (billed monthly). See full pricing here.
Best for: individuals who're looking to create live transcripts of videos and meetings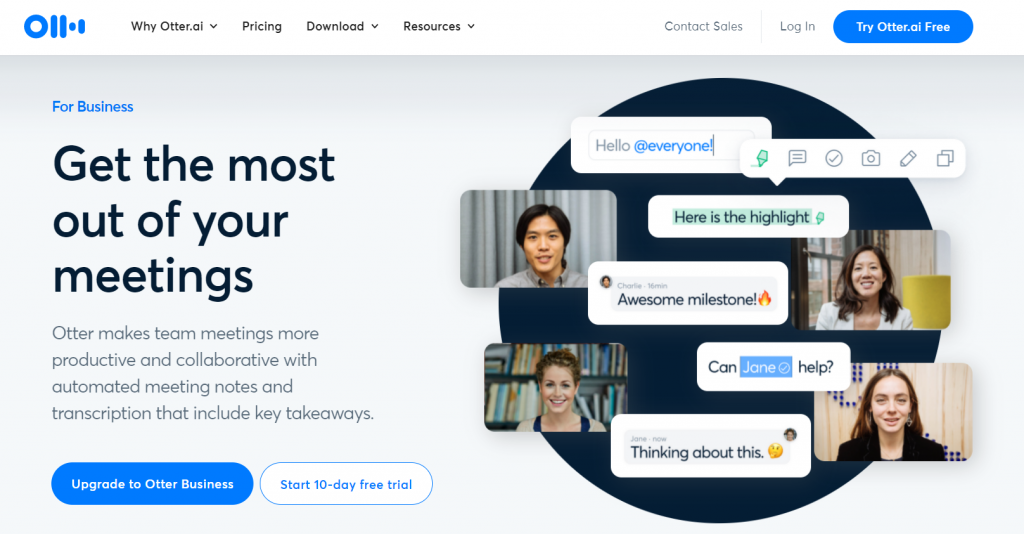 Key features
Otter is an AI-powered speech recognition software that transcribes video meetings and speech to text.
Otter's first important feature for individuals is its real-time automated notes with which you can engage more in conversations to record and transcribe virtual conversations and collaborate by highlighting comments or images.
Its collaboration feature allows you to invite other colleagues to join Otter. You can easily sync your contacts from Google or Microsoft and reach them straight from your dashboard. Once you've created a group, the members can edit, and review transcripts which is highly useful for group projects.
Otter stores all your conversations in one place with integrated search capabilities, so you'll remember the action items, decisions, and key moments of the meetings you've had. This will make finding your notes and transcripts faster and easier, which in turn can boost productivity.
Pricing
Otter offers 4 subscription plans: Basic, Pro, Business, and Enterprise. The 'Basic' plan is for free and is ideal for individuals just getting started. The next tier starts at $8.33 per month (billed annually) or $12.99 per month (billed monthly). This plan comes with Otter Assistant which enhances meeting productivity by automatically joining your Zoom, Google Meet, or Microsoft Teams links from your calendar and transcribing the meeting. See full pricing here.
Best for: teams and individuals who need video conferencing and live meeting transcription capabilities in one platform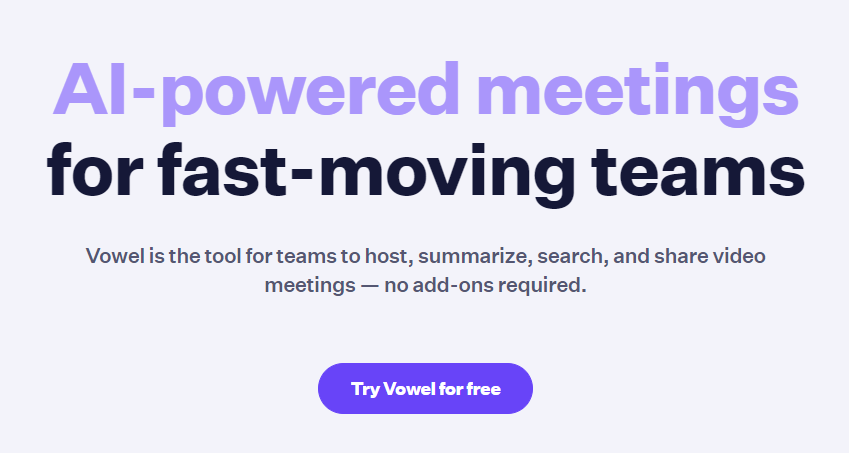 Key features
Vowel is a live transcription and meeting functionality tool that allows you to capture important moments and action items for reference later.
Thanks to its instant recordings and searchable transcripts, Vowel makes sure that you follow along and focus on what's being said in the video rather than solely following along with the audio.
Furthermore, Vowel's universal search function makes it convenient to find information across all your past meetings. You can also keep related meetings in shared folders for easy reference throughout a project to remain organised.
Vowel allows you to create a clip. If you want to share a key moment while keeping the rest of a meeting private, you can use the transcript to make a shareable clip you have the access to.
Pricing
Vowel offers 3 plans: Free, Business, and Enterprise.
The free version lets you host meetings of up to 40 mins, with up to 12 participants. A big limitation is data history: you can only rewatch for 7 days after recording.
Business plans start from $19.99 per host per month. See full pricing here.
Best for: individuals and small teams who want to enhance collaboration in every team meeting
Download Tactiq for Google Chrome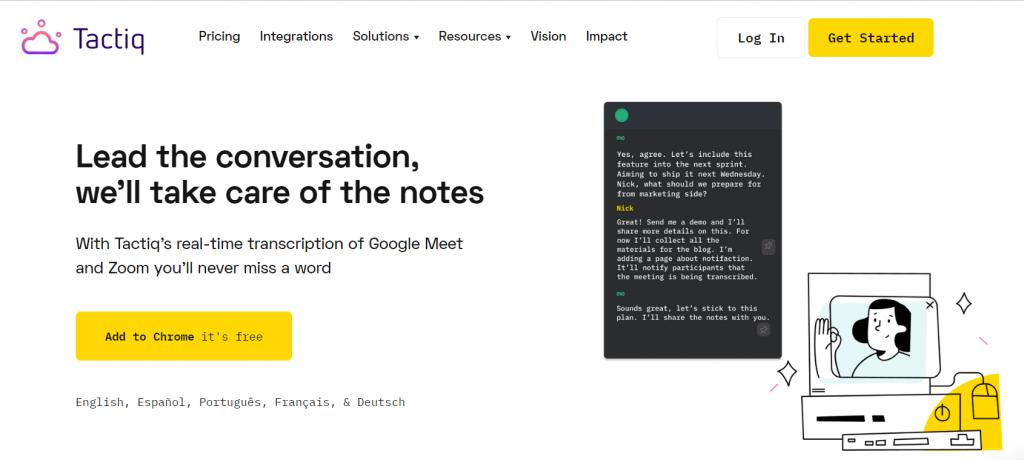 Key features
Tactiq is a browser extension that automatically transcribes meetings to your Google Docs, Slack, Confluence, or other platforms, extracts key information, and creates notes.
The main strength of Tactiq is that it integrates with several platforms such as Zoom, Notion, Hubspot, Asana, ClickUp, Jira, Salesforce, and many more, making your meeting and management workflows much better.
Tactiq respects the security of your information – the transcriptions are never stored on their side except where the user chooses.
Last but not least, Tactiq uses AI and ML technologies, offering you an in-depth analysis of your meeting insights as well as the recommendations to improve your meeting summaries.
Pricing
Tactiq offers 3 subscription plans: Free, Pro, and Team+. The 'Free' plan comes with time-stamped notes and allows you to transcribe 10 meetings per month. The 'Pro' plan starts from $6 per month (billed annually) or $9 per month (billed monthly) and comes with team collaboration features. See full pricing here.
Best for: individuals or freelancers who need to transcript YouTube videos or audio files for free

Key features
oTranscribe is a free and open-source browser-based application that allows you to have your audio file and transcription in one window.
Lastly, oTranscribe is built in a way that your media files never leave your local computer, and the transcript isn't kept on a remote server but is instead in the browser's localStorage.
In terms of audio formats that oTranscibe supports, WAV and MP3 files are widely supported. Besides these, YouTube videos can also be transcribed with oTranscribe.
Pricing
oTranscibe is free to use.
Best for: individuals looking for a free manual transcription tool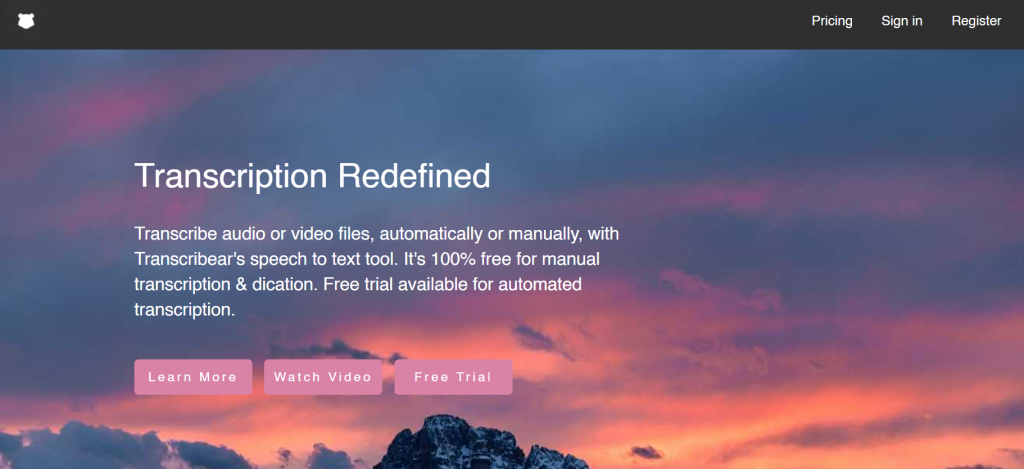 Key features
Transcribear is transcription software that allows you to transcribe video/audio files with the option to choose between automatic and manual transcription.
With Transcribear's manual transcription, you play an audio/video file and type up what you hear in Transcribear's all-in-one editor. For automatic transcription, you upload an audio/video file to Transcribear, and the software produces a transcript in just a few clicks.
Transcribear's audio-to-text engine now supports over 35 languages for automated transcription, including English, Italian, Spanish, German, French, Chinese, Japanese, and Turkish.
Transcribear can transcribe audio/video files in a variety of formats and the software successfully deals with the standard formats such as wav, mp3 and mp4.
Lastly, In terms of security, Transcribear adheres to the highest industry standards – all transcripts saved under your account are encrypted. If you're still concerned about privacy, you may use Transcribear simply for manual transcribing and not save transcripts on your account.
Pricing
To manually transcribe recordings, Transcribear is 100% free. But the cost of automated transcription for up to 9 hours starts from £3.00 per hour. If you need transcriptions for over 30 hours, then the cost comes down to only £2.00 per hour. You can sign up for a free trial for automatic transcription for 20 minutes in total. See full pricing here.
Best for: people who attend meetings every day and want to keep a track of all meetings while needing integrations with CRM and project management tools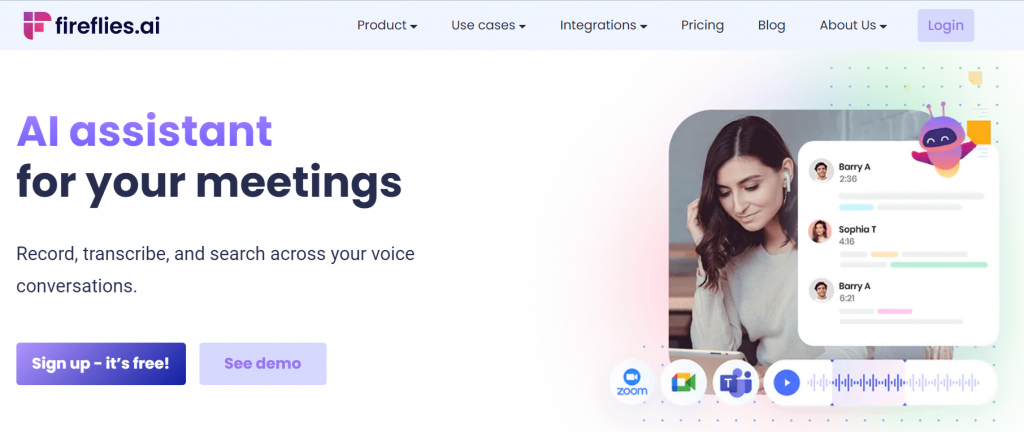 Key features
Fireflies.ai is an AI-driven application for meetings that automatically records and transcribes your voice conversations like sales calls, recruiting interviews, or team meetings.
Fireflies.ai comes with a video conferencing bot that allows you to connect to your calendar and join meetings with a video conferencing URL. It supports several major conferencing providers, including Microsoft Teams, Zoom, Google Meet, Dialpad, and GoToMeeting.
Additionally, its smart search feature lets you search keywords, themes, topics, dates, questions, and more, thanks to Fireflies.ai's AI filters, sentiment filters, and topic trackers. This feature eliminates the hassle of manually searching for important details mentioned during your meetings.
With its audio file upload feature, you can upload your pre-recorded audio files in formats like mp3, m4a, and wav, and generate a transcript in a few minutes depending on your file size.
Another interesting feature of Fireflies.ai is that you can auto-add teammates in your team workspace which allows everyone on your team to see and collaborate on transcripts from one central point. So, with all your team activities in one account, you can review analytics to accurately evaluate the outcome of different meetings.
Pricing
4 subscription plans are available on Fireflies.ai: Free, Pro, Business, and Enterprise. The 'Free' plan comes with a time-stamped note and commenting features. If you wish to benefit from transcribing audio files, downloading transcripts, and topic tracking, you'll have to upgrade to the 'Pro' plan that starts from $10 per month (billed annually) or $18 per month (billed monthly). See full pricing here.
Best for: contact centers and calling teams who need an efficient and easy-to-use transcription software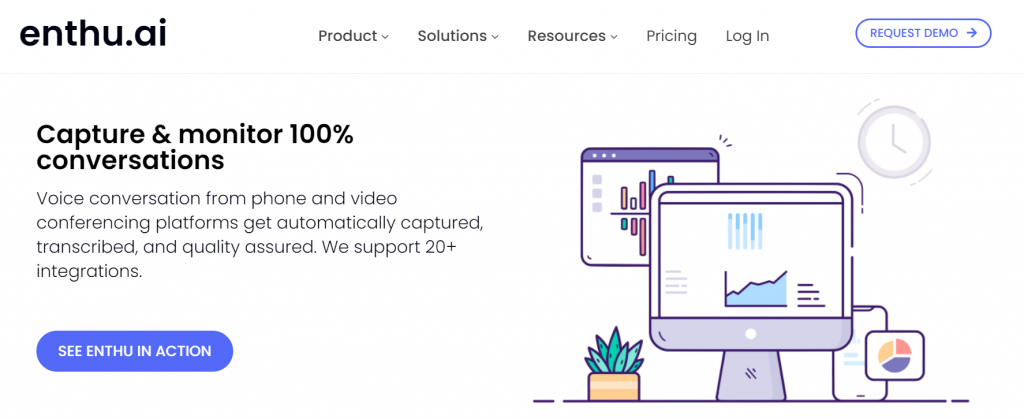 Key features
Enthu.ai is voice analytics and conversation intelligence software that lets you automatically transcribe every call to extract critical call moments.
Its speaker labels are very powerful, that all transcripts are marked with proper speaker labels which gives a better structure to the transcripts and makes them readable. Enthu.ai also allows you to download your call transcripts in Microsoft Word format.
Enthu.ai has native integrations with leading CRMs, video conferencing tools, and dialers, including HubSpot, Salesforce, Zoom, Webex, Dialpad, Freshcaller, Talkdesk, and many more.
Additionally, every single call comes with the last 90-day history for that caller (if available), so you can quickly identify and listen to the previous conversations to extract full context for that particular call.
Pricing
Enthu.ai offers 3 plans: Free, Growth, and Enterprise. The 'Free' plan offers access to all features for a maximum of 3 agents. See full pricing here.
Best for: call centers and calling teams looking for a reliable and high-speed transcription solution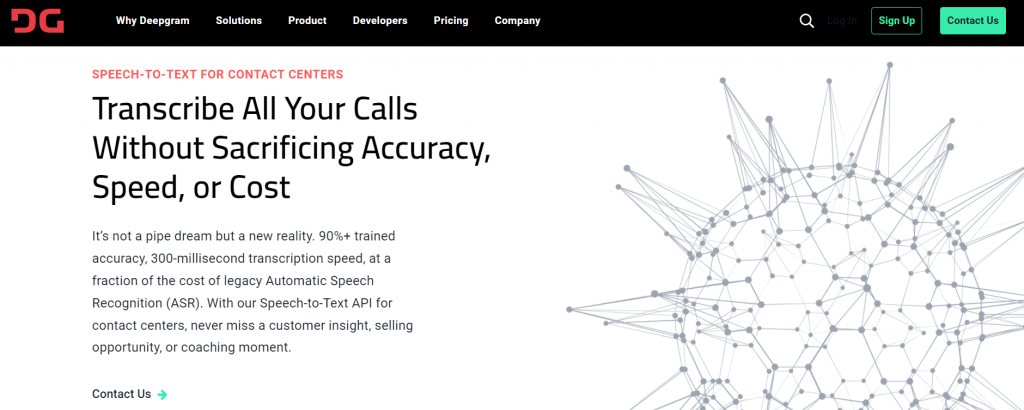 Key features
Deepgram is an AI-driven speech-to-text software that takes an audio file and converts it into written format.
Its AI gains expertise in the parts of the conversation that matter most which deliver 90%+ trained accuracy at a high speed – you can transcribe 1 hour of audio in 3 seconds.
Deepgram's real-time enablement capability allows call center agents to sell better and resolve issues faster. Because with Deepgram, you can link your transcriptions to your knowledge base to provide your agents with resolution tips, selling options, and add-on products/services advice.
Lastly, Deepgram can transcribe in a number of languages, including English, French, German, Hindi, Turkish, Portuguese, Spanish, and Swedish.
Pricing
Deepgram offers 3 subscription plans: Free, Standard, and Premium. The 'Free' plan comes with online support and allows you to transcribe in 11 languages. See full pricing here.
Get the textual version of your audio/video files with transcription tools
Leave your transcription tasks to a transcription software, and it turns out to be a piece of cake. These tools help you better understand what was said in your team meetings and the context behind them. The biggest benefit? Transcription software saves you a lot of time as it's capable of a faster turnaround than human transcriptions. Give the above tools a try and choose the one as per your needs and requirements.