Content marketers should spend most of their time on impactful tasks. Like creating a content strategy, generating content ideas, performing competitor and keyword research, tracking social media, and capturing more leads.

Outside of those, there are lower-impact repetitive tasks. That's where content marketing automation can really speed up your workflow, and increase content ROI.

Let's look at some content marketing automation tools. First though, some benefits. Use these in case you need to sell the idea internally 😉.
Saving time with automations = higher content ROI
In most content teams, a lot of weekly hours are spent on basic and repetitive tasks. Uploading content to CMS, KPI tracking, sending emails and more. Content automation software can cover a lot of these tasks.
In the case of CMS uploads, for example — you can get a one-click solution to convert a Google Doc to a WordPress post. It costs around $1 per doc. If you could spend $1 to save 15 mins every article, why wouldn't you do it?
The more you automate, the fewer people you need to run a high-performing content team.
Every time you do something repetitive, write it down. Once you have a few, set aside some time to investigate whether or not it could be automated.
In the meantime, here's 12 software tools which might inspire you.
Here are the 12 best content marketing automation software
Wordable

GatherContent

Databox

IFTTT

Quark

Workello

InLinks

SocialPilot

Descript

BuzzSumo

Platformly

Grammarly
Use case: convert Google Docs to WordPress, HubSpot, and Medium posts in one click
Free trial: yes. Sign up here.
Starting price: from $12.90/month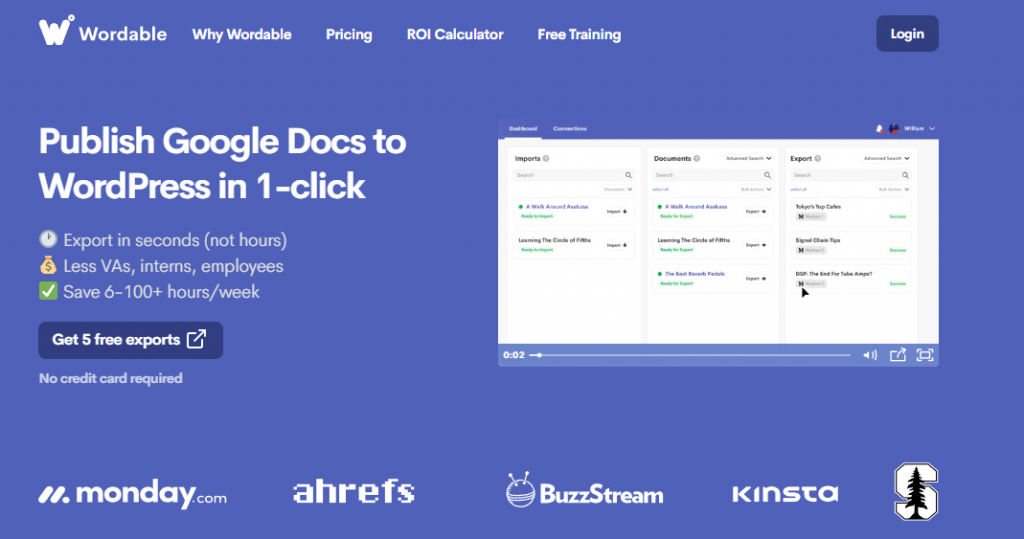 Key features
Wordable helps marketers quickly automate their publishing workflow by converting Google Docs into WordPress posts. It also works for HubSpot & Medium.
Wordable automates your recurring tasks by consistently applying the same export settings to all documents, organized by site, author or byline, category, post type, and more.
You can also streamline your team's publishing workflow and import documents from team members' Drives (or vice versa).
Other helpful features
Set featured image
Create anchor ID links
Choose article categories
Select publish status, for example, a draft for one final check
Compress photos
Compress / optimize images
Create a table of contents
Pricing
Wordable offers export-based pricing. You have 5 exports per month on the free version. All paid plans come with unlimited users and priority chat support. View full pricing here.
Use case: content operations automation
Free trial: yes, 14 days. Sign up here.
Starting price: from $99/month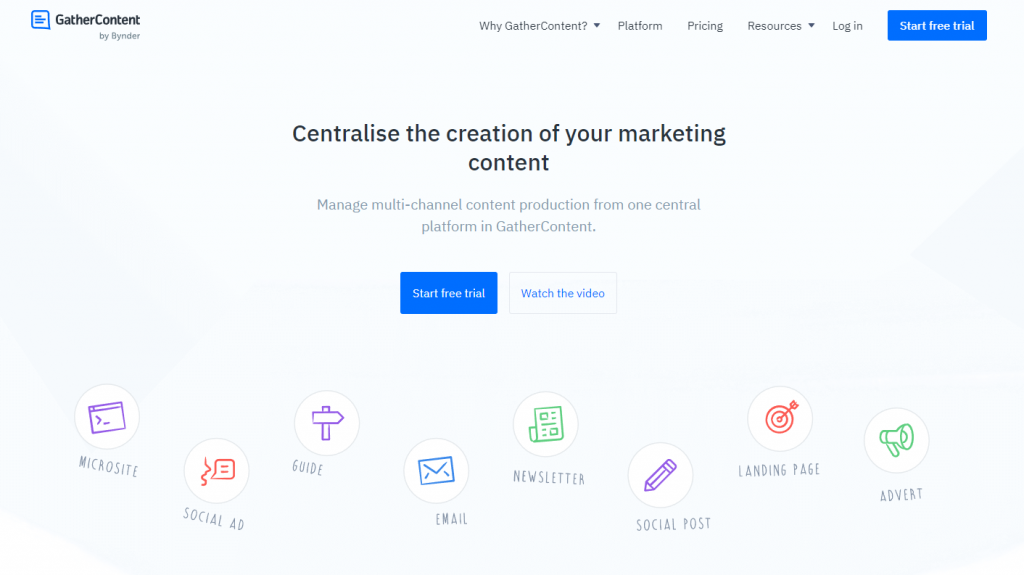 Key features
GatherContent is a content operations solution that helps organizations to speed up content creation, improve content quality, and manage multi-channel content production from one central platform.
First, with GatherContent, you can create content templates that your team can use, again and again, ensuring content is consistently produced in the right structure and style.
Its content workflow feature is great for communicating the key stages your content needs to pass through to get approved for publishing.
Other helpful features
CMS integrations (WordPress, Drupal, and others)
Content collaboration in real-time
Customized templates for any type of content
User permissions
Pricing
GatherContent has 3 plans: Start, Scale, and Transform, starting from $99 per month (billed monthly) or $1069 per month (billed annually) for unlimited users. See full pricing here.
Use case: making content KPI dashboards & automated reporting
Free trial: yes, 14 days. Sign up here. Free-forever plan available too.
Starting price: free. Paid plans from $72/month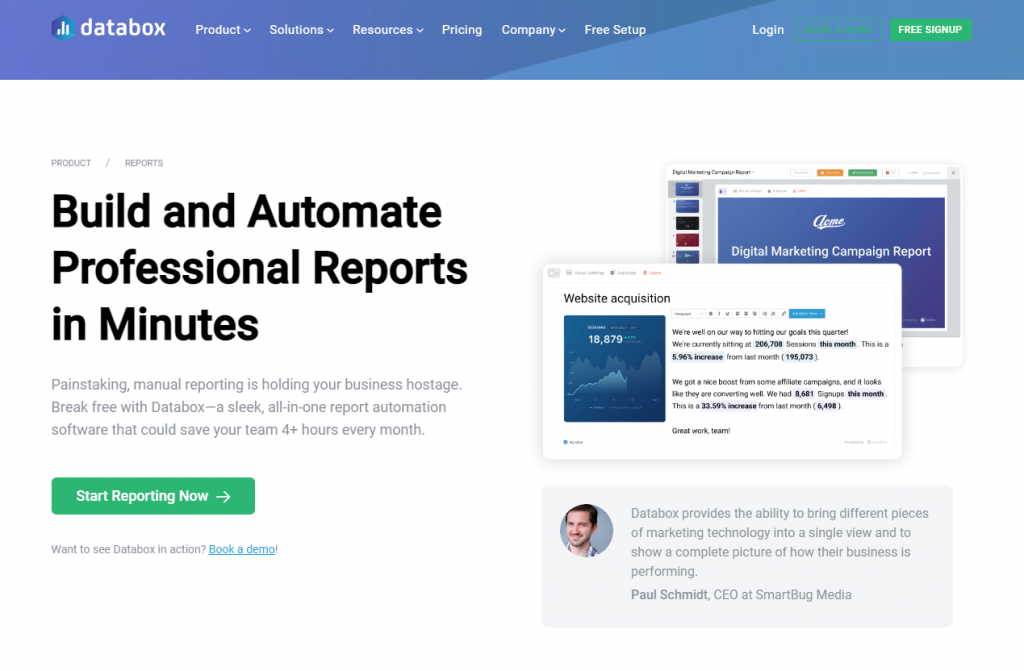 Key features
Databox is a reporting dashboard software that pulls all of your data together. You can create automatically updating dashboards and share a live URL with stakeholders for KPI tracking.
You can automate email reports or goal tracking updates to be delivered on a daily, weekly, monthly, or quarterly basis.
One of the best things about Databox are their templates. You can get going very quickly, without any experience. There are even lots of dashboard templates specifically made for content marketing. See them here.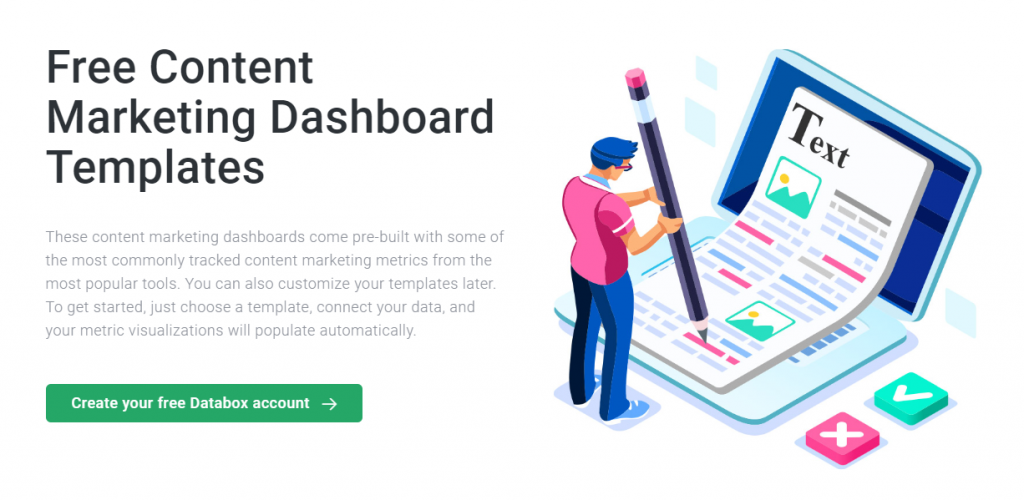 Other helpful features
Goal tracking
Permission / access control
Dashboard customization
PDF downloads
Automated reminders
Over 60 integrations
Pricing
Databox has a free-forever plan that allows you to create 3 dashboards only. The paid plans start from $72 per month (billed annually) and allow the creation of 4 dashboards. See full pricing here.
Use case: screening candidates to hire content writers
Free trial: yes. Sign up here.
Starting price: from $41/month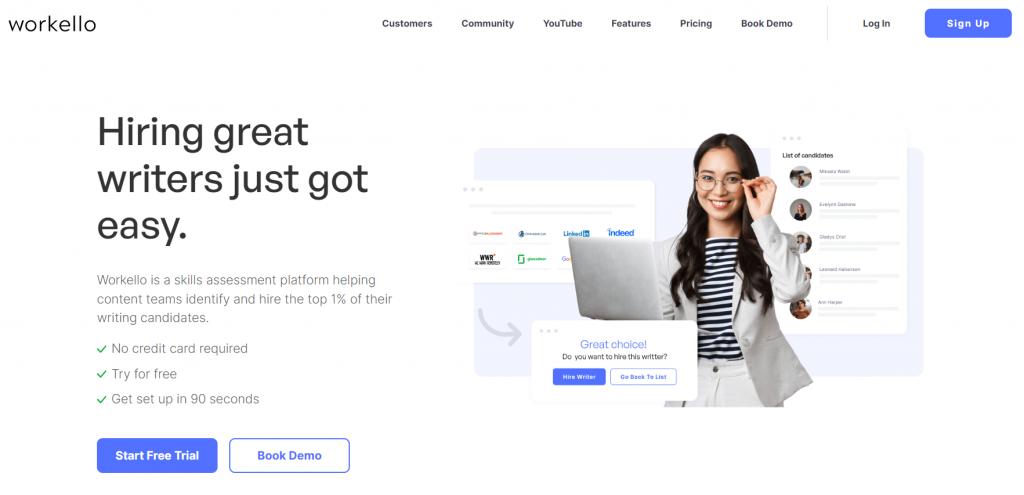 Key features
Workello is a pre-hire assessment platform (not a writer marketplace) helping content managers and teams filter through 100s of writing candidates to hire the top 1%.
Workello comes with a fully automated hiring funnel which you can set up in minutes. The tool automates everything from skills testing, to interview scheduling, and email correspondence with candidates.
The tool comes with templates for things like job descriptions, candidate emails, & send pre-hire assessments (which can be sent in one click).
There's also a hiring analytics feature is for tracking your hiring performance to iterate on your writers' and editors' quality.
Pricing
Workello's lowest plan costs $41 per month for unlimited job ads and candidates. View full pricing here.
Use case: automatic content sharing across platforms
Free trial: no, but free plan available
Starting price: from $4.30/month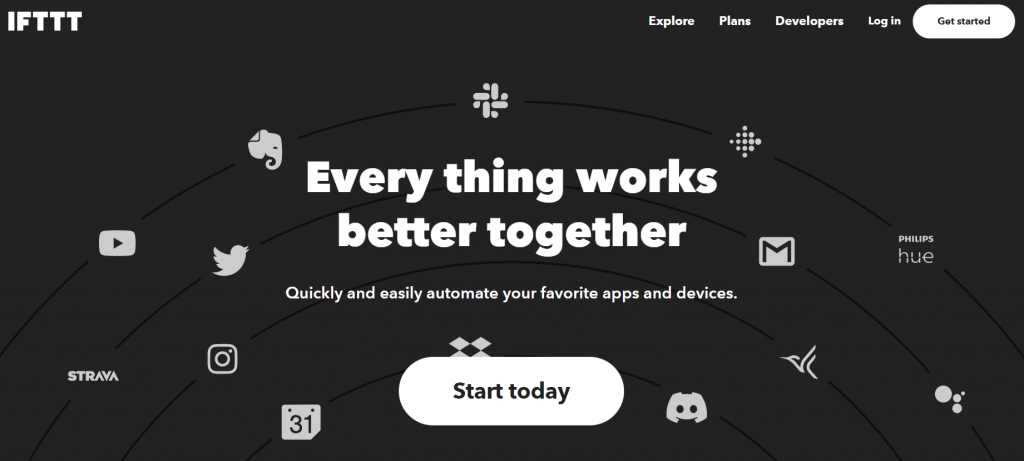 Key features
IFTTT is an automation solution that allows you to easily script actions that link together a wide variety of devices and services. One single IFTTT integration connects your product to over 700 APIs.
You can do a lot with IFTTT: tweet a link to your WordPress blog posts, publish your blog posts to your Facebook page, automatically share posts with specific tags to LinkedIn, log Twitter mentions on a Google spreadsheet, send Twitter hashtags to a Google Sheet, get alerts when your company is mentioned on Reddit, publish new videos as WordPress posts, and many more.
Pricing
IFTTT has a free plan that comes with 5 outlets or integrations. Its paid plan starts from $4.3 per month for 20 outlets. View full pricing here.
Use case: content authoring, collaborating, and publishing automation
Free trial: unknown
Starting price: unknown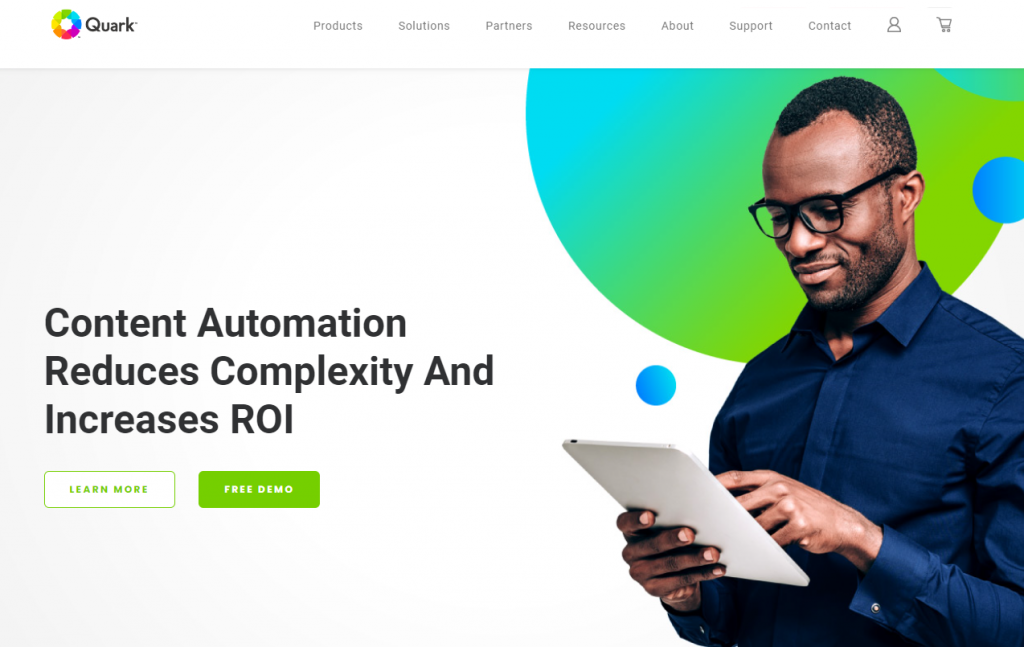 Key features
Quark is a content automation platform that helps to automate every stage of content lifecycle management with powerful capabilities.
The first feature of Quark is to create layouts for various content templates that are conformed to your brand guidelines for styles, colors, and themes.
Second, it comes with strong collaboration features. Leave comments and track changes as part of review-and-approval workflows, and see the collaboration history to see the context of changes over time.
Other helpful features
Multichannel previews
Streamlined workflow
Omnichannel publishing
Pricing
Quark doesn't provide pricing information on its website. You can request a demo here.
Use case: internal linking automation
Free trial: get a free account here.
Starting price: from $39/month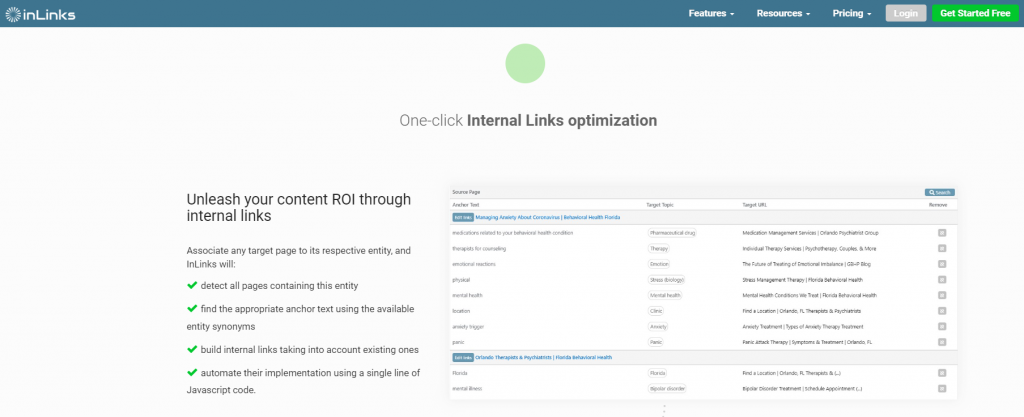 Key features
InLinks is a semantic SEO and content optimization solution that helps to rank higher and get a holistic vision for top-ranking pages.
Its automatic internal linking feature gives you full complete control over your internal linking—you can ON/OFF all internal links in a single click, add new links directly from the editor, change anchor or target pages from the editor, and even monitor the statistics of your internal links.
Other helpful features
Schema automation
Content optimization
SEO API
Pricing
InLinks has 3 paid plans that start from $39 per month for 1 user up to $1999 per month for unlimited users. View full pricing here.
Use case: social media content curation and automation
Free trial: yes, 14 days. Sign up here.
Starting price: from $106.25/month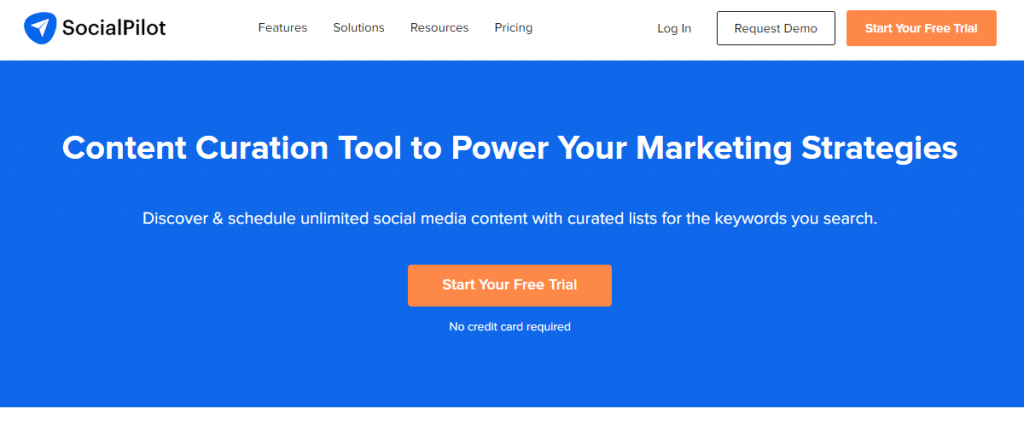 Key features
SocialPilot is a social media scheduling and automation tool that helps to manage social media content, schedule posts, and improve engagement.
With its content curation tool, you can discover and schedule unlimited social media content with curated lists for the keywords you search. SocialPilot allows finding the most recent and updated content suggestions by just filtering your search for content published in the past few hours or day.
This tool assists your efforts with curated content and smart scheduling options to share your social media content in the most efficient way.
Other helpful features
Bulk content scheduling
RSS feeds automation
Browser extension
Pricing
SocialPilot has 4 plans to choose from: Agency, Studio, Small Team, and Professional, starting from $125 per month (billed monthly) or $106.25 per month (billed annually) for 50 social media accounts and 9 users. See full pricing here.
Use case: automatic transcriptions
Free trial: yes, with 3 hours of transcription. Sign up here.
Starting price: from $12/month

Key features
Descript is an automatic transcription solution with Google Docs style commenting and live collaboration.
Podcasts are an incredible storytelling tool, but you'll likely increase accessibility and reach a wider audience when you provide your users with podcast transcriptions. Descript helps convert podcast episodes into text format so listeners can discover you more easily.
Descript allows automatic transcriptions in over 20 languages. All you have to do is drag your audio file into a blank composition window, and it automatically begins transcribing.
Pricing
Descript has 4 plans that are Free, Creator, Pro, and Enterprise. The paid plans start from $12 per month for 10 hours of transcription and watermark-free video export. See full pricing here.
It is one of the better free transcription tools available, offering 3 hours audio transcripts per month.
Use case: content discovery and social media analytics
Free trial: yes, 30 days. Sign up here.
Starting price: from $79/month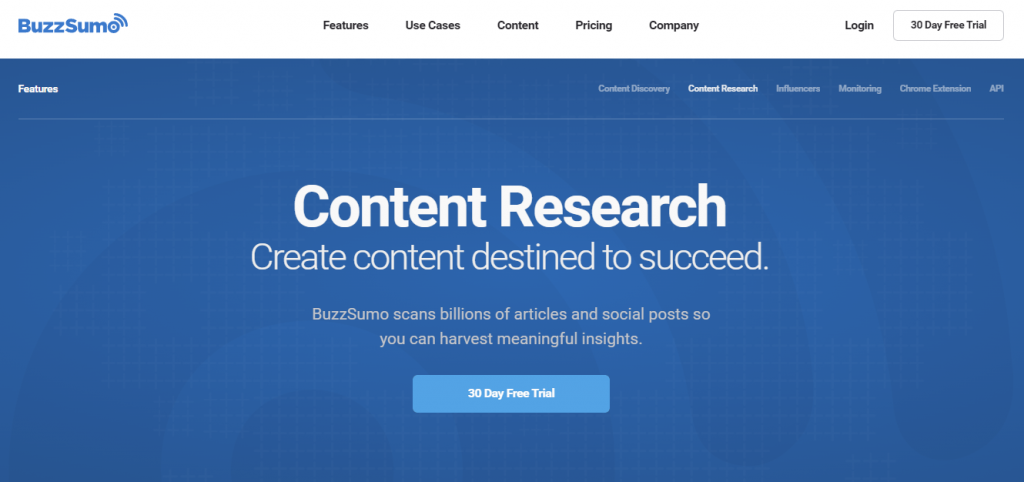 Key features
BuzzSumo is social media analytics and content curation platform that allows you to discover engaging pieces of content and uncover new potential outreach opportunities.
Via its 'Discover' feature, you can generate thousands of content ideas, questions, and keywords to target in your next campaign. Its 'Mentions' feature is great for keeping track of web brand mentions and finding out who's talking about your brand, so you get alerted automatically.
In case you need to get a deep competitive analysis, BuzzSumo will give you tons of insights into your rivals' content strategy: see their most powerful backlinks, analyze their best-performing content, and monitor their social media performance.
Other helpful features
Chrome extension
BuzzSumo API
Influencer finder
Pricing
BuzzSumo offers a FREE plan that can be used by 1 user only. Its paid plans start from $79 per month (billed annually) or $99 per month (billed monthly). View full pricing details here.
Use case: lead generation automation and email marketing
Free trial: yes, 15 days. Sign up here.
Starting price: from $15.83/month

Key features
Platformly is a reliable marketing automation solution that allows businesses to automate email campaigns, increase customer engagement, and nurture individual leads.
Attracting people to your website is essential, but it's only the beginning. Once they're on your website, you turn them into a customer. Platformly is one tool that converts your page visitors into leads with a complete lead generation tool stack.
First, Platformly offers all the marketing tools, including generation forms and advanced tracking, you need to generate leads and close sales from one central location. It also allows you to personalize your campaigns for higher conversions as you can segment based on behaviors, actions, and location.
Other helpful features
Pre-built templates for different campaigns (e.g. onboarding campaigns)
Link tracking
Advanced analytics
Marketing CRM
Push notifications
Pricing
Platformly pricing is based on the number of contacts you have: for 1000 contacts, you'll have to pay $15.83 per month (billed annually). See full pricing here.
Use case: automated proofreading and grammar checking in real-time
Free trial: no, but free plan available
Starting price: from $12/month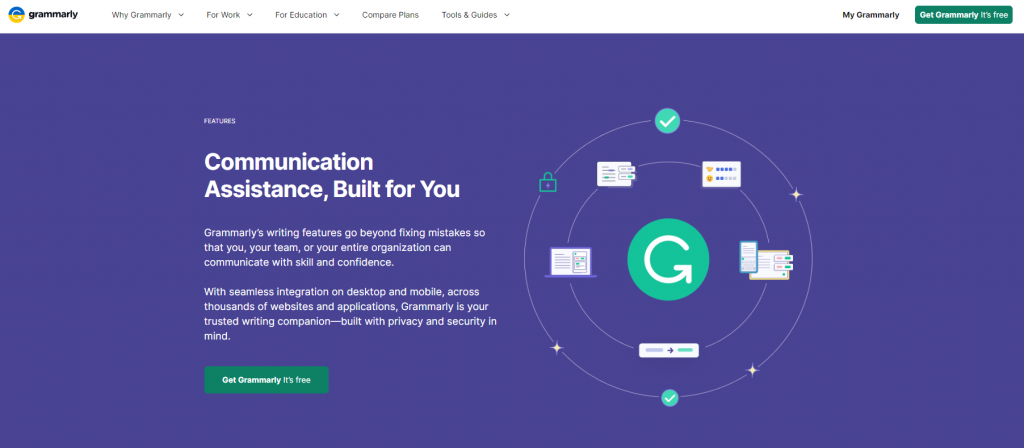 Key features
Grammarly is an automated proofreader and writing assistant that helps you improve your writing and grammar. It offers spelling and grammar-checking explanations in real-time so you can see and learn from your mistakes while you write.
Grammarly has Chrome, Firefox, Safari, and Edge browser extensions. You can also use Grammarly in Google Docs. Just set goals within your document, and get custom recommendations on your way to achieving your desired writing style.
Other helpful features
Plagiarism checker
Tone adjustment
Fluency and formatting suggestions
Pricing
Grammarly offers a FREE plan with basic writing suggestions and tone detection. Its paid plans start from $12 per month. Get pricing details here.