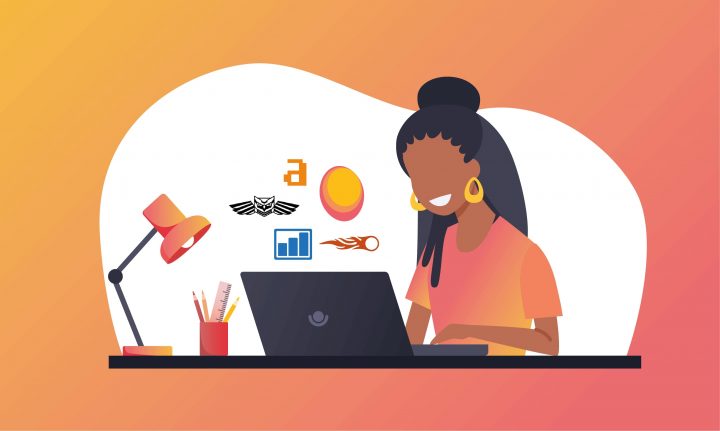 Mangools have a good low-cost offering in the SEO tools space, but it's not right for everyone.
In this post I'm going to recommend 4 alternatives for different reasons. This won't just be a random list of SEO tools with the features copy/pasted from their websites. Rather, I'll endeavour to find the most likely factors that would affect your buying decision, and give you the details & some things to think about.
Naturally, there are more options out there than just these 4 tools. That being said, these are the ones that I would recommend in various cases depending on your needs/budget.
There's no point in me listing out 10 tools to waste your time with, since these are the 4 that I'd recommend.
I'm also not going to spell out every tiny detail of each tool. To keep this concise, I'll mention the key details, and relate that back to how it compares with Mangools as a prospective alternative.
Let's get into it!
Why look for a Mangools alternative?
Mangools offer a good SEO toolset for a good price, and in many cases I do recommend it. KWFinder is excellent for keyword research — in particular due to having great accuracy on keyword volumes and good suggestions (read more here).
Outside of that though, the other features are pretty average. Again, fine for basic needs and a tight budget, but:
The rank tracker & reporting is basic
The link database isn't as comprehensive as some other tools
There's no site audit function
Depending on your needs, it's definitely worth considering spending a little more to get a site audit tool, and to improve some of the other functions. I have a strange (and arguably excessive) setup right now where I'm using Ahrefs, but also Mangools (for better keyword volumes) and Nightwatch (for better rank tracking)
Here's a high level view of the alternatives I'll be suggesting, and reasons to choose them:
For reference, Mangools pricing starts at ~$36 (annual) / ~$60 monthly, converted to USD
Tool
Compared to Mangools
Starting Price
Nightwatch
Lower starting price
Better rank tracking & reporting
Has a site audit tool
No keyword research tool
UI isn't as beginner-friendly
$24 (annual)
$39 (monthly)
SE Ranking
Lower starting price
Better rank tracking & reporting
Has a site audit tool
Comprehensive feature set
Not as good with keyword search volumes
$25 (annual)
$32 (monthly)*
Ahrefs
Much more expensive
Best-in-class link database
Not as good with keyword search volumes
Better for everything else
Has a site audit tool
$82 (annual)
$99 (monthly)
Semrush
Much more expensive
Biggest SEO & marketing feature set
Not as good with keyword search volumes
Better for everything else
Has a site audit tool
$99 (annual)
$119 (monthly)
4 SEO Software Alternatives To Mangools (& Who They're For)
Without further ado, let's get into it.
These are roughly in price order. The first two (Nightwatch & SE Ranking) being more budget friendly, and Ahrefs and Semrush starting in a higher price range.
1. Nightwatch
Starts from $24 per month. 7 day free trial.
Nightwatch.io started as a rank tracker, and have since built out other features, making them a worthwhile Mangools alternative to consider.
Here, you're effectively substituting excellent keyword research (with Mangools) for better rank tracking (with Nightwatch).
I'll provide a brief overview of how Nightwatch compares, and what might impact your buying decision.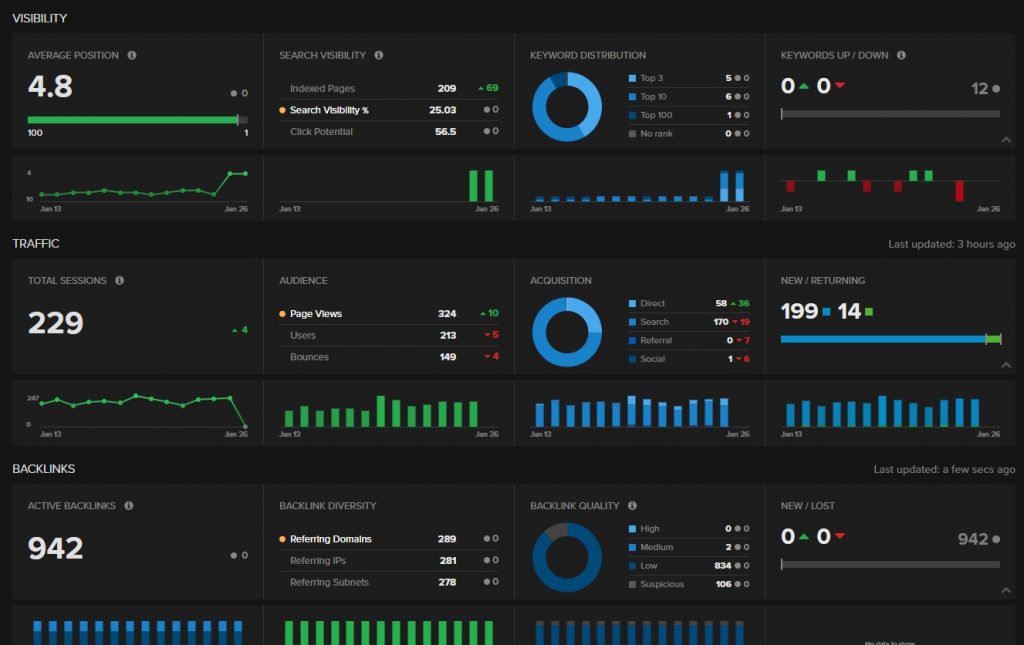 Rank tracking & reporting are the best features
The Nightwatch rank tracker is superior to Mangools' SERPWatcher overall.
They both cover your absolute basics perfectly well. I'm talking about things like having daily rank tracking updates, simple UI for adding keywords, nice graphs to track movements, and options for email alerts.
Here are the ways in which Nightwatch's rank tracker is better.
1. Excellent accuracy for local rankings (including map packs)
A lot of rank trackers either struggle with local ranking accuracy, or simply choose not to offer it. Local rankings are a specialism that Nightwatch excels in.
You have the option to choose quite a precise location, which makes it an excellent option if you're working with small local businesses.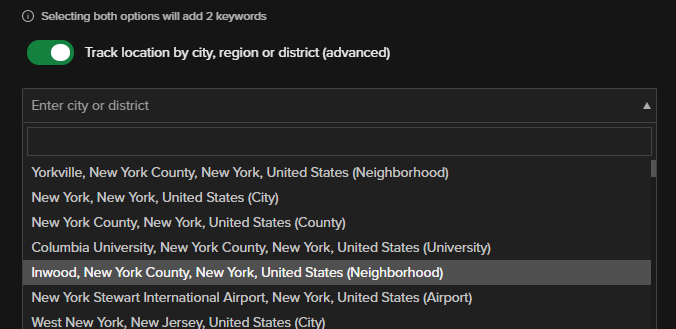 2. Adding Google Analytics & Search Console data to ranking graphs
This useful feature lets you correlate other data with your ranking gains.
For example, if you could overlay Google Analytics traffic on top of a ranking graph to show more tangible results to a client.
There's also a one-click export to download the graph to send to whoever needs to know: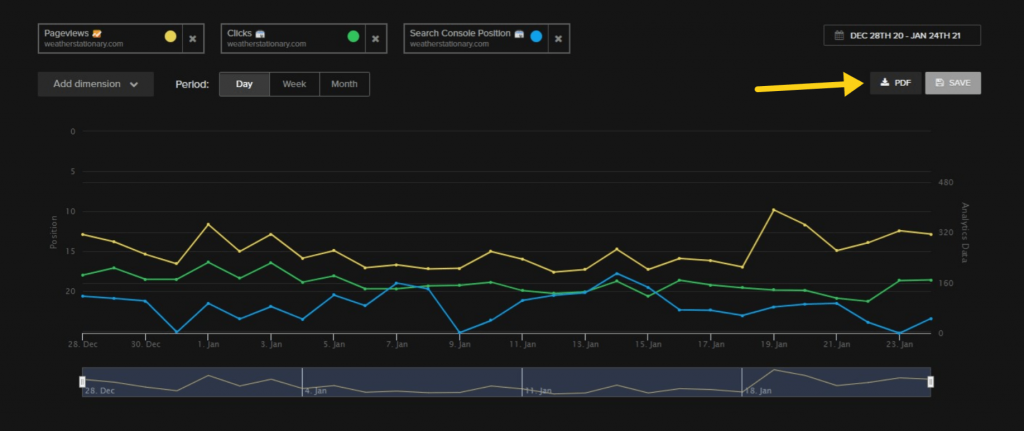 3. More useful (and customizable) data in the UI
As a Nightwatch user you'll spend a lot of time looking at this rankings dashboard: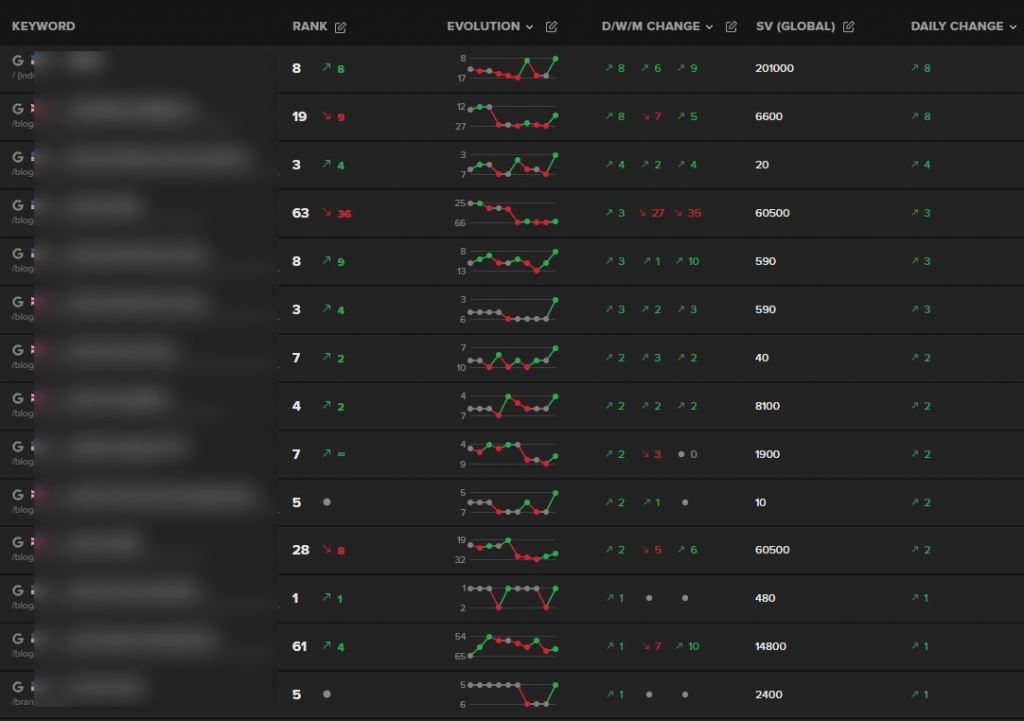 Each column is customizable, and contains useful information. For example here, you see not only the ranking, but also the day/week/month change for every keyword at a glance. That helps you understand, without any additional clicks, whether your position is fluctuating or steady.
I also have a column set for search volume, which helps me understand quickly the significance of a ranking improvement (what kind of traffic boost to expect).
These are the columns I find the most useful, but you can choose all kinds of data points to have in your columns: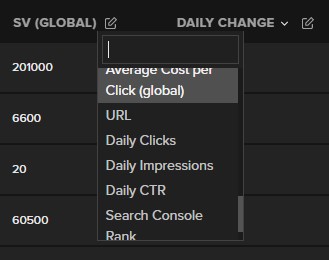 Moving on, the next thing to know is that…
There's no keyword research tool
Nothing more to say on this one, just know you can't do keyword research properly in Nightwatch.
It does give search volumes for the keywords you add to your rank tracker, and suggest new ones to add, which is nice. It's not the same as properly doing keyword research though.
Backlink monitoring & site auditing are good
'Good' is how I'd describe the backlink monitoring & site auditing tools. Not bad, not mind blowing, but good. They do the job you need them to do.
Site audits cover all the basics such as:
Titles, descriptions, h1s (missing, too long, duplicate, etc.)
Load speeds per page
Internal links (e.g. orphan pages, or pages with only 1 internal link)
Missing image alt text
Check for redirects, 404s, and other response codes
Noindex tags
… etc.
And the backlink monitoring tool also does what you would expect it to. It isn't as comprehensive a backlink database as Ahrefs, but it's at least on par if not better than LinkMiner. It can:
Identify 'suspicious' or low quality links
Export data
Get alerts for new or lost links
Filter by DR, status, first seen, page, anchor, and more

The UI isn't as user-friendly as Mangools
Overall, the Mangools UI is a little nicer for beginners. The main thing that makes me say that is that there are helpful tooltips throughout.
Here's an example:

If you're unfamiliar with any metric – what it means, how it's calculated, and so on – this is often explained in the Mangools features. That's not the case in Nightwatch.
No big deal if you know what you're doing, just something to be aware of if you're less experienced.
Pricing is comparable
Mangools and Nightwatch both have a budget-friendly starting price.
| Plan | # Keywords tracked | Monthly price | Annual price | $ per 100 keywords tracked (monthly) |
| --- | --- | --- | --- | --- |
| Nightwatch Starter | 500 | $39 | $24 | $7.80 |
| Nightwatch Optimize | 1000 | $99 | $59 | $9.90 |
| Nightwatch Agency | 5000 | $369 | $221 | $7.38 |
| Mangools Basic | 200 | $49 | $30 | $24.50 |
| Mangools Premium | 700 | $69 | $40 | $9.86 |
| Mangools Agency | 1500 | $129 | $80 | $8.60 |
When it comes to rank tracking specifically, Nightwatch is generally cheaper per keyword overall. Mangools starts off pretty expensive with only 200 keywords included in Basic, but becomes comparable on higher plans.
Outside of rank tracking, it's tricky to compare pricing head-to-head since the tools are different. For example, much of Mangools pricing is based on keyword lookups & suggestions, which aren't present in Nightwatch. On the flipside, Nightwatch's pricing considers things like site audit pages, which aren't present in Mangools.
Check out their pricing pages to see for yourself: Nightwatch pricing, Mangools pricing.
Both Nightwatch & Mangools offer a generous 40% off on annual plans.
Nightwatch.io offer a 7-day free trial. Link to website 🔗
2. SE Ranking
Starts from $25 per month. 14 day free trial.
In relation to Mangools, you'll gain a lot more features with SE Ranking. Pricing is comparable, though SE Ranking have a highly customizable (but somewhat confusing) pricing model.
Keyword volumes & trends data are much less accurate than KWFinder, but this is the only notable feature downgrade. SE Ranking has better reporting, it has a site audit tool (and several other additional tools). There are also some great 'micro features' like being able to re-check ranking data once per day manually.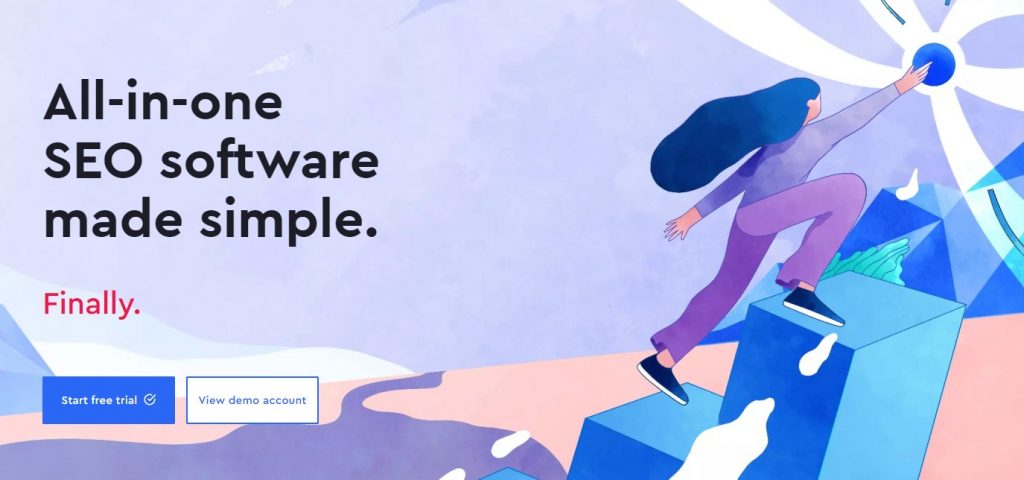 A comprehensive feature set
SE Ranking have, I believe, the broadest feature set for an SEO tool at this price point. They cover all the basic SEO needs such as rank tracking, keyword research, site auditing, and backlink monitoring. Beyond that, they also have features for:
Marketing planning / task management
Social media analysis & scheduling
A 'lead generator' tool (on higher pricing tiers)
Personally, I have no need for those three additional features. I've always had a separate project planning tool, and I don't need a social media scheduler. If you're using something separate like Hootsuite though, I can see that being an attractive cost saving.
Regarding the lead generator tool, this is a form you can embed on your site. Visitors can then request an on-page audit and get it delivered via SE Ranking. Once again, I can see the value for this for agencies & freelancers working with small local businesses, but I wouldn't use it myself.
SE Ranking now also have an SEO monitoring feature to help track page changes & prevent drops (the only tool in this list that does).
The rank tracker has some great 'micro features'
At a high level, SE Ranking's rank tracking feature is pretty good. It does a fine job of the basics, and in my experience so far ranking data has been accurate.
In terms of UI, I prefer Nightwatch at this price point, but that isn't to say SE Ranking is bad.
For example, I'll quickly show the 'detailed' rankings overview here from SE Ranking: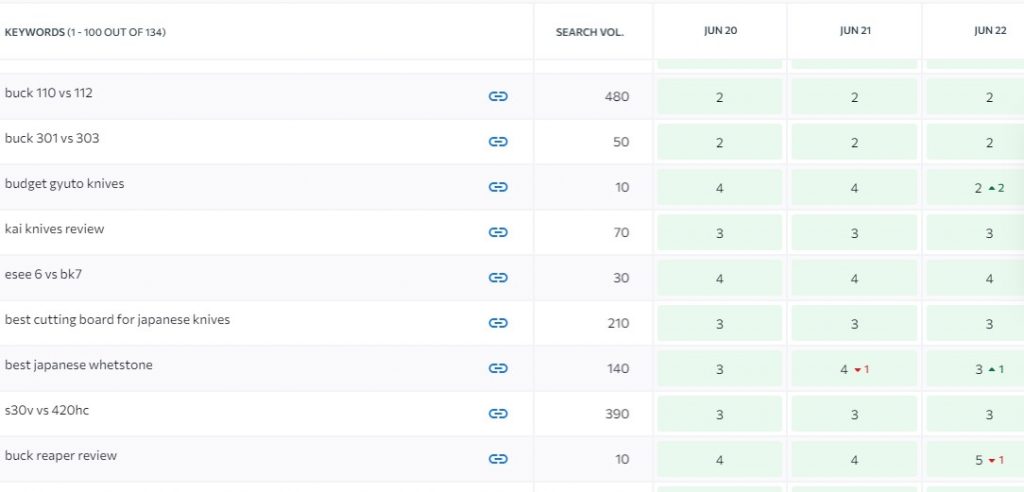 Not bad, but I prefer the mini evolution graph that Nightwatch shows: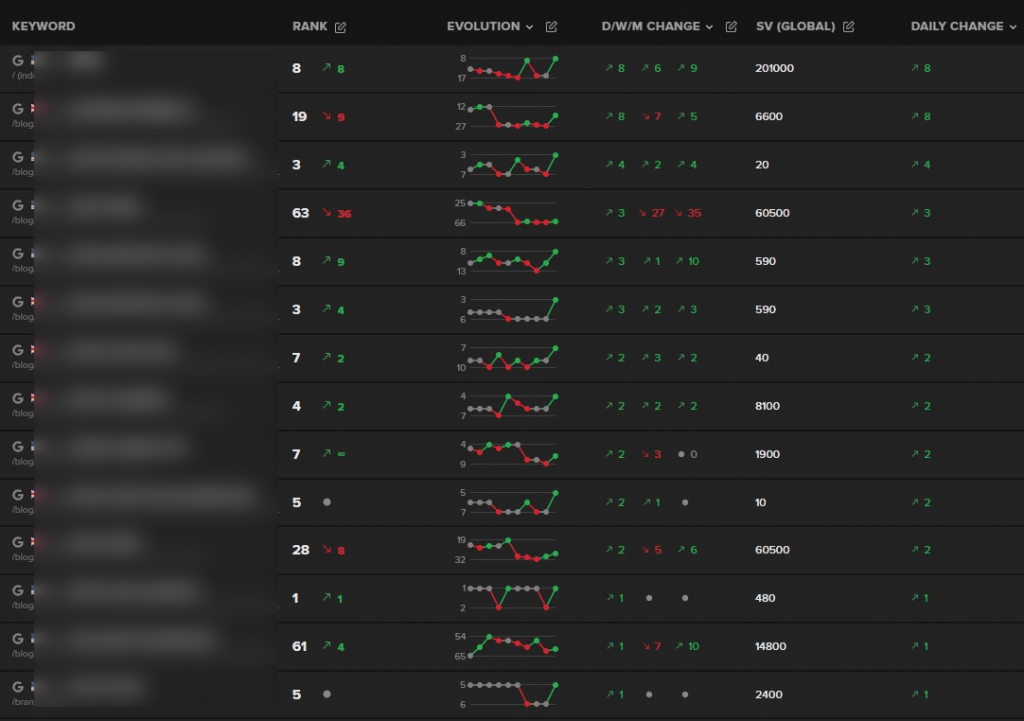 I also find that the options to customize columns are more useful in Nightwatch compared to SE Ranking.
That being said, there are two little things here that I really like.
1. Manually edit search volumes in the rank tracker. A ton of rank tracking tools try to give data like 'search visibility' or 'share of voice' to represent your overall performance. It's useful, but they are never (literally, never) 100% accurate. In SE Ranking, they let you manually update volumes so that your traffic forecasts are better.
Some of the volume estimates are really awful, for example here 'best gut hook knife' is displaying at 0 searches per month.

KWFinder displays hundreds of searches per month for this keyword, and I can confirm it in the Search Console:

2. Manually re-check rankings. Although you can only do it once per day, the ability to manually re-check rankings is very nice. It's previously something that was only seen in much more expensive tools. Great for getting a quick last check before a client call/update.
The report maker is great
SE Ranking have a nice drag-and-drop report builder tool. It has several pre-set blocks which you can rearrange to customize the data you choose to show a client.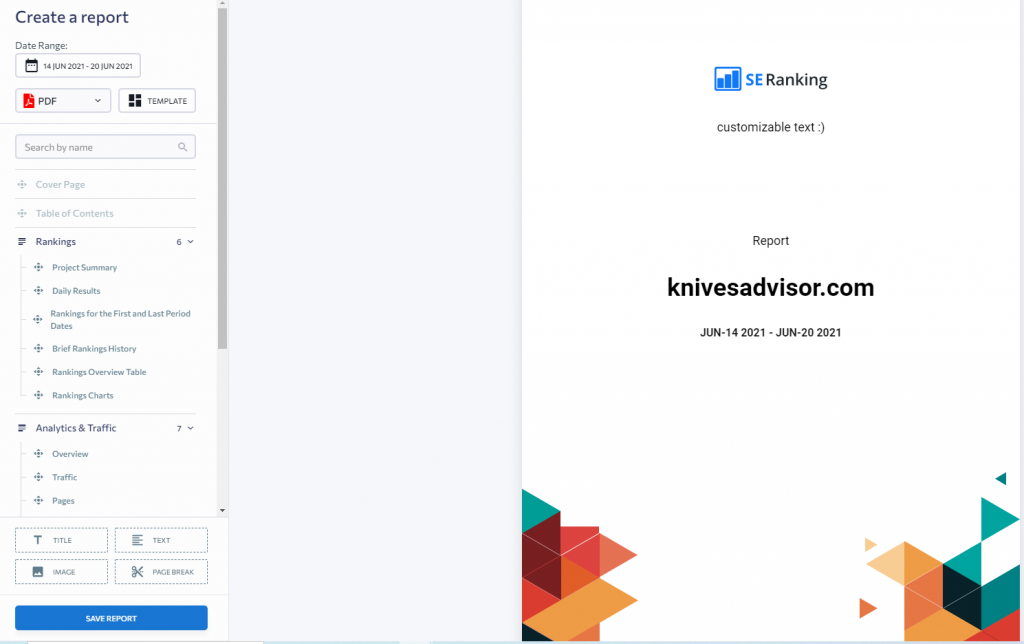 White labelling for this is available on the higher tier pricing plans.
You can pull in blocks that cover data such as:
Ranking information
Google Analytics data (traffic & conversions)
Social media analytics
Site audit data
There are some improvements I'd like to see within those specific report blocks. Regardless though, this report builder is good for the money.
If you're comparing to Mangools or Nightwatch, this report builder is the best you'll find in the 'budget all-in-one tools' space.
Integrations are promising, but can be improved
At a glance, seeing that SE Ranking has integrations with Google Analytics, Search Console, and Zapier all sound like big selling points.
In practice though, you may not find them very useful.
Unlike in Nightwatch, you cannot use the GA/GSC integrations to overlay traffic data over your ranking graphs. The only use case for the integration seems to be to consolidate data, and have it accessible in the reporting feature. Nice to have, but it could be improved.
Would be great to see some way of correlating ranking increases to traffic & conversion gains.
And regarding Zapier, there's only one trigger available at the time of writing. That's to pull new leads from the lead generator tool. Nothing else currently, but perhaps that will change.
Pricing
SE Ranking have a low starting price, and a highly customizable pricing model. That's an advantage overall, I'd say, but it can make it a little confusing too.
You can modify the price based on things like:
Ranking check frequency (e.g. every day , every 3 days, every 7 days)
Number of keywords tracked
The plan you choose (some features are locked into higher tiers, e.g. white label tools)
Payment frequency (e.g. monthly, annual, quarterly)
Number of user seats
Backlink monitoring credits
For that reason, it's tricky to draw a head-to-head comparison vs Mangools. The best thing to do would be to visit the pricing page and use this quote tool: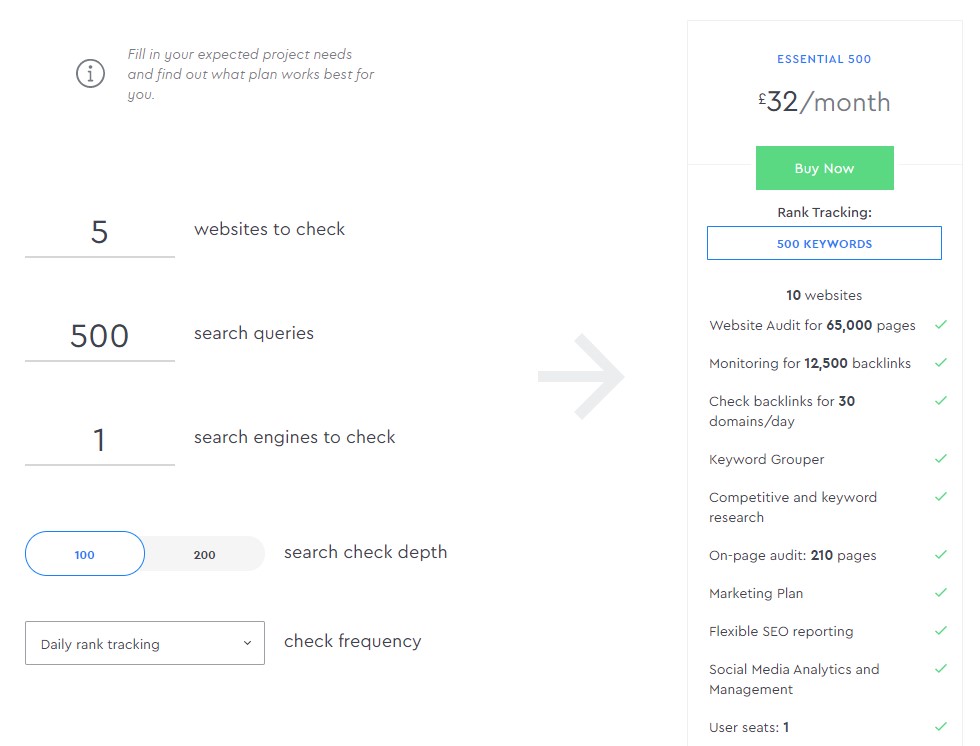 SE Ranking offer a 14 day free trial. Link to website 🔗
3. Ahrefs
Starts from $82 per month. 7 day trial for $7.
With Ahrefs, we're moving up a lot in price, with plans starting from $99 monthly or $82 when paid annually.
As you would expect, we're also moving up the ladder in terms of the amount of features available. Ahrefs has a comprehensive SEO toolkit.
I've written a detailed Mangools vs Ahrefs comparison before, which you may find useful too.

The short version
In summary, if you chose Ahrefs over Mangools, you'll find:
Ahrefs has far more features overall
Mangools KWFinder tool is superior for keyword volumes accuracy & trends over time (especially small low-competition stuff)
Ahrefs is generally better for everything else, but comes at a higher cost
Ahrefs have a best-in-class link database
Their big data page has all the numbers. Ahrefs have indexed nearly 3 trillion backlinks 🤯.
A quality link database matters in your SEO tool.
For me, the most common application of this knowledge is in checking keyword difficulty. And I don't mean just looking at the KD score out of 100, but manually looking at the backlink profile of a site.
When comparing Mangools LinkMiner tool to Ahrefs, it's common that Ahrefs finds a couple more backlinks per page. Not always, but it's common. And when you're assessing how difficult a keyword should be to rank for, not having a complete picture of the current SERPs backlink profiles is a disadvantage.
A solid, user-friendly site auditing tool
Mangools doesn't have a site audit tool, but Ahrefs does. And a good one.
It's quite similar to the audit tools previously described (e.g. with Nightwatch), but there are some extra bonuses.
The main improvements are:
1. Being able to cover some extra technical checks. For example, Hreflang tags, Javascript generated content (see here), CSS files (e.g. large CSS file sizes).
2. Having a more user-friendly UI. There are lots of helpful tooltips throughout the site auditing tool. Each issue is explained well, and has guidance on how to solve them.

Competitor research
Competitor research is an area in which Ahrefs excels.
It's something that Mangools can do too, but not quite to the same level. Once again, the main advantage that Mangools has in this regard is with accuracy for keyword volumes and trends.
Let's compare the two real quick.
Here's what it looks like when you search by domain in KWFinder: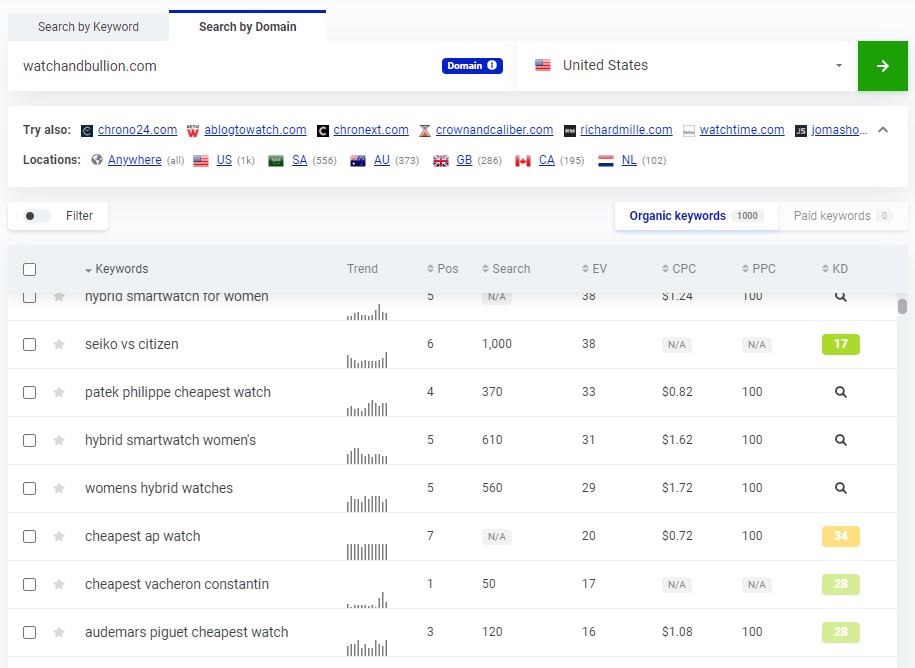 And here's what it looks like when you put a domain into Ahrefs Site Explorer: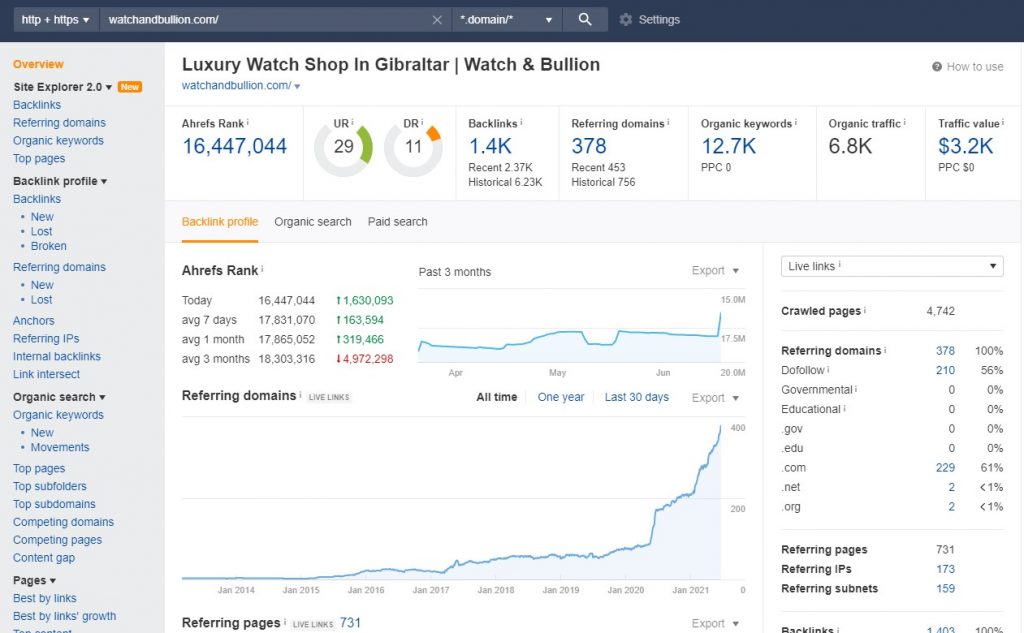 With Site Explorer, you get a ton more useful information.
Being able to quickly identify top pages, best pages by backlinks, and have the high level overview is really valuable.
To be clear, you can get some of this data in Mangools too by clicking over to SiteProfiler. But firstly, that's annoying to have to switch between tools/tabs. Secondly, there's still more information in Ahrefs, and it's displayed more nicely from a UI perspective.
Pricing
Ahrefs is much more expensive than Mangools.
In fact, if you look at the annual prices, the most expensive Mangools plan is still cheaper than the cheapest Ahrefs plan.
To help you compare pricing, here's a table showing the mid-tier packages — Mangools premium vs Ahrefs standard.
The cost saving for using Mangools is considerable. Over $1k per year for these plans. It's up to you to decide whether or not the additional features are worth it.
| | Mangools Premium | Ahrefs Standard |
| --- | --- | --- |
| Cost (monthly) | €70/month | $179/month |
| Cost (annual) | €40/month | $149/month |
| Keywords tracked | 700 | 1500 |
| Ranking update frequency | Daily | Every 5 days |
| Backlink rows | 500,000 | 1,000,000 |
| Site audit pages crawled | N/A (0) | 500,000 |
| Keyword lookups per 24h | 500 | Unlimited |
| Simultaneous logins | 3 | 1 |
Ahrefs offer a 7 day trial for $7. Link to website 🔗
4. Semrush
Starts from $99.95 per month. Get a 7 day free trial.
Semrush is similarly priced to Ahrefs, which makes it the second of the higher end options we're considering as a Mangools alternative.
I've written a detailed Ahefs vs Semrush comparison which you can check out for more detail, but I'll pull out the key details here for choosing between Mangools, Semrush, and Ahrefs.
My summary here of Semrush vs Mangools will probably be the least adequate of all 4, simple because Semrush just has so many features. It would take a dedicated article to get through them all.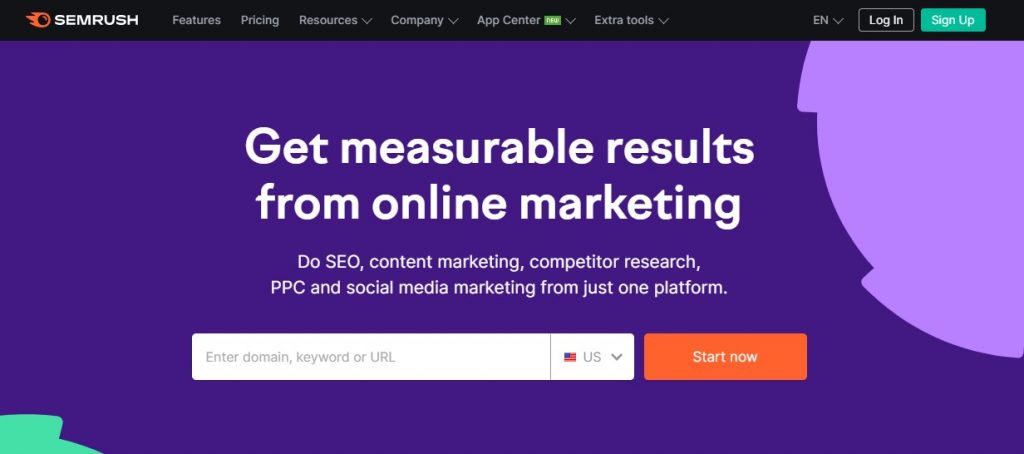 The short version
If you choose Semrush over Mangools, here's a summary of what to expect:
You'll pay a lot more
You'll get the broadest feature set of any of these tools (and not only for SEO)
Semrush is quite user-friendly, but it'll still take more getting used to (Mangools is simpler)
It's better for basically everything other than keyword volume + trends accuracy
Some features (e.g. white label reporting) are additional upsells
Semrush offer a huge feature set
And not just for SEO.
They fill the obvious gaps that Mangools have, for example with a great site audit tool.
Beyond that though, their PPC features are far superior to Ahrefs'. Ahrefs & KWFinder do both include some basic PPC data, such as estimated CPC for keyword research, but it's rarely accurate and isn't a focus.
Some other noteworthy non-SEO features Semrush offer include:
A brand listening tool (replaces something like Brand24)
A shared team planning calendar (could replace your task management tool)
A social media scheduler (replaces something like Buffer or Hootsuite)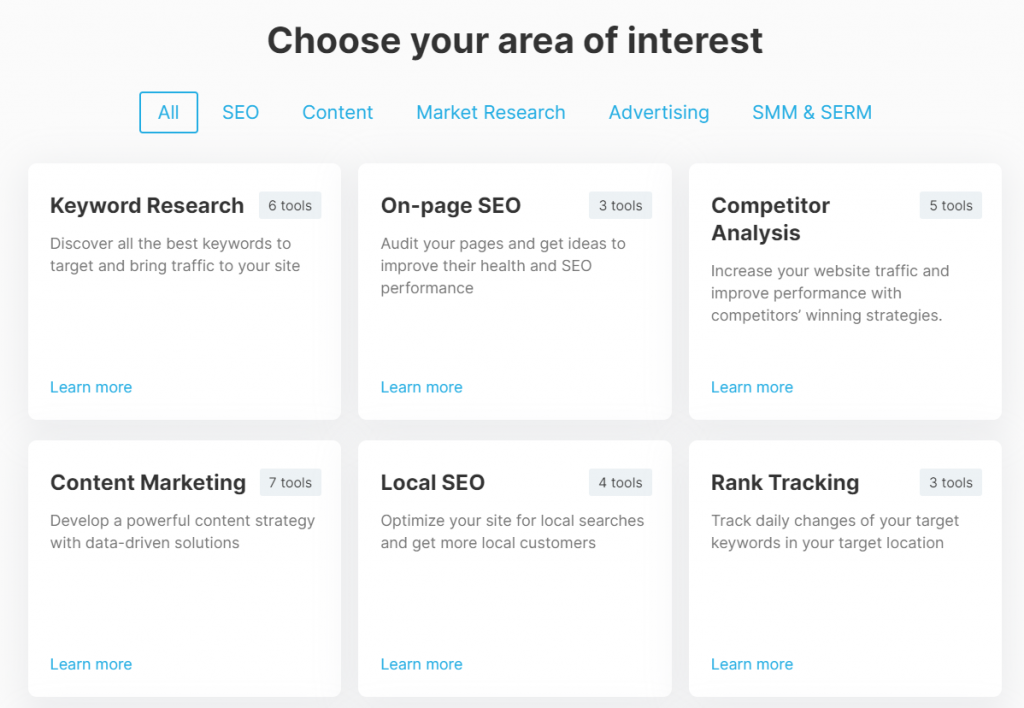 Semrush caters better to local SEO
For starters, their rank tracker works regionally, which already makes it a better choice than Ahrefs at this price point for local SEO.
In addition though, they offer some specific local SEO features. For example, a local directories listing management tool.
This feature could replace something like Yext which helps you manage your citations across different sites. It costs extra (another $20-40/mo on top of the subscription price), but it's optional. If you were going to spend that anyway, it's nice to keep it in your main SEO tool.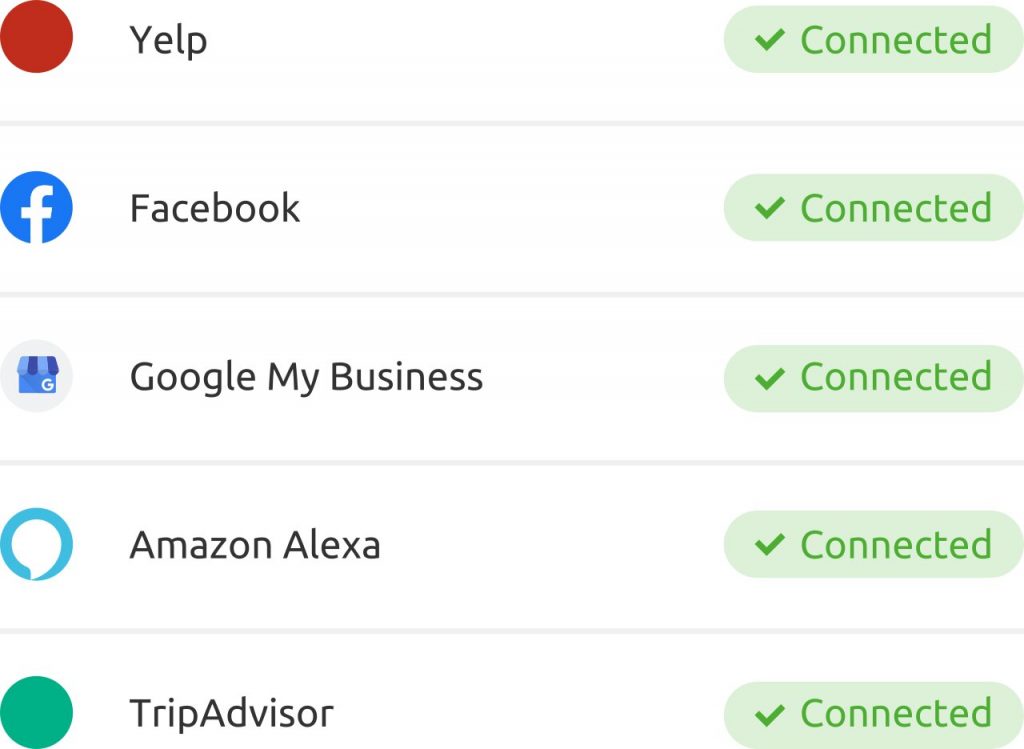 Semrush reporting is a lot better than Mangools (or Ahrefs)
Similar to what we saw earlier with SE Ranking, Semrush have a super nice drag-and-drop report builder.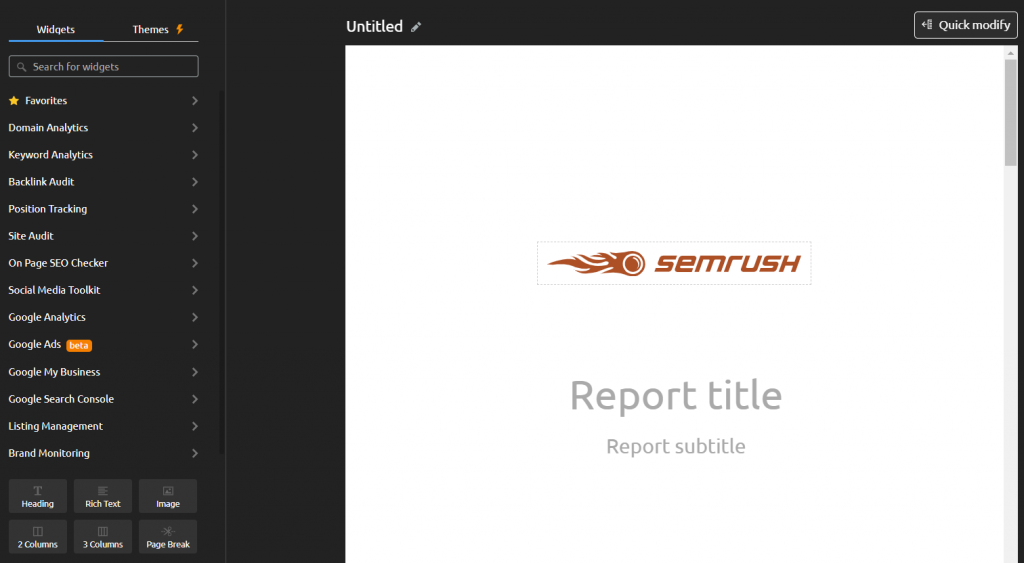 There's a block for basically anything you can think of to add to your report & customize.
It's pretty intuitive to use.
One minor pain point with this is that you can't white label your reports unless you pay extra for the Agency Growth Kit for +$100 per month. That's not the only feature you get for your $100 (see here), but it could still be a lot of money depending on your budget.
Semrush also connects to Google Data Studio, which opens up some new opportunities for you in reporting (on the Guru and Business plans, not the starter plan).
The UI is user-friendly
Semrush is a big tool. There's a ton of places to get lost, so naturally it'll take more getting used to than Mangools.
That being said, wherever you're working in Semrush, you will find helpful tooltips to give you a nudge in the right direction.
That includes both help to find your way around, and to understand what different metrics mean.
For example, this screenshot is full of unobtrusive tooltips which are there if you need them, but otherwise are not in your way.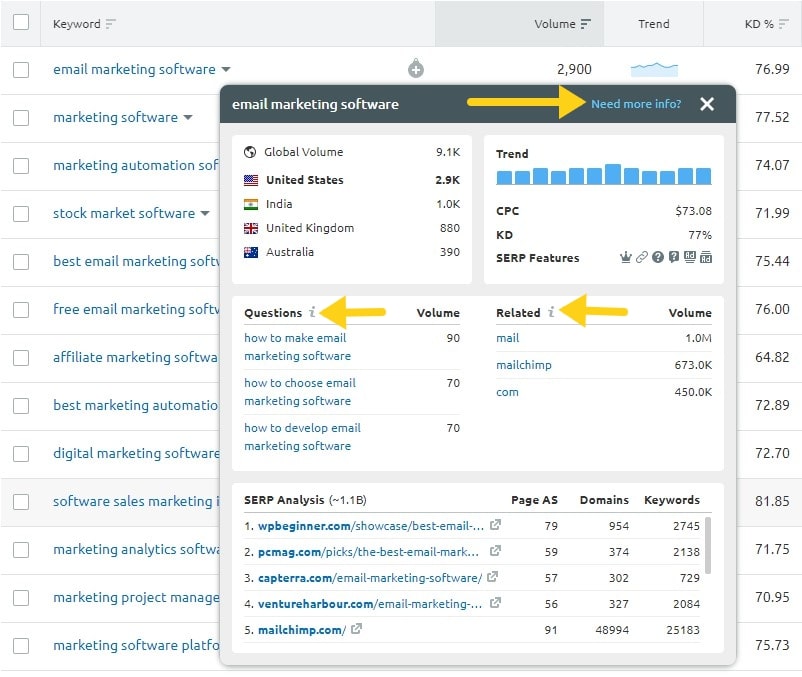 Pricing
Like Ahrefs, Semrush is much more expensive than Mangools. As you've seen, you do get a ton more features for your money. Once again, it's down to you to decide what you need.
This time, the difference in cost for a middle tier plan is around $1,700 per year. Pretty significant for a small operation.
| | Mangools Premium | Semrush Guru |
| --- | --- | --- |
| Cost (monthly) | €70/month | $230/month |
| Cost (annual) | €40/month | $191/month |
| Keywords tracked | 700 | 1500 |
| Ranking update frequency | Daily | Daily |
| Site audit pages crawled | N/A (0) | 300,000* |
| Keyword lookups per 24h | 500 | 5000 |
| Simultaneous logins | 3 | 1** |
| Social media profiles | N/A (0) | 30 |
| Data Studio integration | No | Yes |
This table doesn't show the sheer amount of features Semrush offer though, I admit.
The best thing to do is visit their features and/or pricing page, or get a free trial to see for yourself.
Semrush offer a 7 day free trial. Link to website 🔗