If you're looking for a content optimization tool, you'll likely come across SurferSEO & PageOptimizer Pro.
Here, I'm going to help you understand the differences so you can buy the right tool for your needs.
Let's get rolling!
Differences between Surfer SEO and PageOptimizer Pro
The main difference between Surfer SEO and PageOptimizer Pro is that SurferSEO is more comprehensive content marketing toolkit, but costs more. PageOptimizer Pro has fewer features, but comes at a lower cost.
SurferSEO is an on-page optimization tool to analyze and compare your website to those that are currently at the top of search engine results. The main Surfer SEO use cases are keyword optimization, keyword discovery and density, and SERP analysis. It's also a popular choice for content teams and marketers wishing to benefit from the advanced features mentioned above.
PageOptimizer Pro is an alternative to optimize your web pages for better ranking. It's best suited for those who want an increased emphasis on running unlimited optimizations and downloading unlimited reports each month and don't need the advanced features that Surfer SEO offers.
Here are more high-level points for your comparison:
PageOptimizer Pro costs less. Surfer SEO costs $588 per year (billed annually) whereas PageOptimizer Pro costs $264 per year (billed annually) — that's $324 saved per year with PageOptimizer Pro.

Surfer SEO's SERP Analyzer is more advanced. Surfer SEO retrieves reliable information based on 500+ factors, such as page speed, NLP sentiment, meta tag structure, referring domains and URLs, keyword density, number of headings, and text length.

Surfer SEO comes with better support for users. It has an Academy that offers tons of tips and tricks packaged into training videos as well as live sessions. Furthermore, it has an active Facebook group – SEO Surfers – with over 13K users.

Surfer SEO has extra features. For example, its AI tool creates content outlines with unique paragraphs categorized into the proper headers which you can edit to match your tone. Furthermore, its content audit capability gives you a step-by-step recipe for higher rankings in search engines and shows you the important terms your content is missing.
Keep scrolling to see the finer details.
Content editor comparison
In this section, I'll provide a detailed rundown of the content editing features of Surfer SEO and PageOptimizer Pro. Let's dive into it.
Surfer SEO overview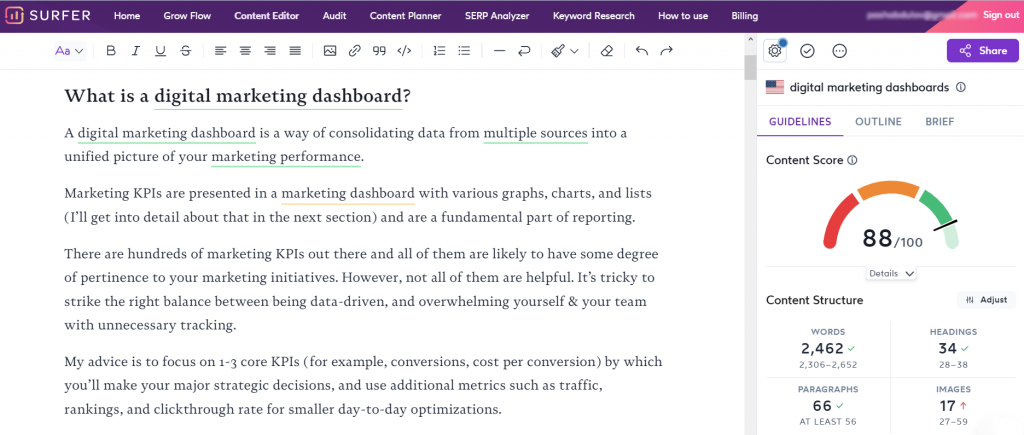 Once you've logged into your Surfer account, you'll see the content editor in the navigation bar. Click on it, and type the keyword you want to rank higher for, like "digital marketing dashboards". It loads and gathers all the relevant keyword variations within a minute, and you'll end up with a blank document. All the keywords suggested by Surfer are related to your primary keyword, so try to use them.
To begin with, using Surfer's content editor is a lot simpler than you might think — think of it like Google Docs, but it's developed with on-page SEO in mind. Its content editor lets you write or import your text just like any other platform. You can also adjust the font size, style, and color. You can also include images and add links as you write your content.
The real beauty of the editor is that it shows you all of the keywords you should use in your writing for better optimization. On top of that, you can see how many times your keywords should appear and where you fall behind. Besides keyword density, Surfer's editor will suggest some questions to answer in your writing to make it even more optimized.
PageOptimizer Pro overview
Once you launch the PageOptimizer Pro, you'll notice a tab in the top left corner titled, "new project". Click on it, and a dialogue box will appear where you have to enter the URL of your own page. Enter the keywords you're looking to rank for. Then, you'll be asked to select up to 10 competitor page URLs where you have to pick the ones that match your page. Feel free to eliminate the pages like forum pages in case you don't compete with forum pages.
In terms of PageOptimizer Pro's content editor, it works in real-time. Using the content editor, you can make the suggested changes to your copy in the report card view. Once you make all the key changes, copy the page's HTML code and paste it into your WordPress editor. That way, you'll save time as you won't need to make the changes manually in the WordPress editor.
PageOptimizer Pro's content editor gives you all the information you need to write the perfect page structure for your content. It tells you word count, headings, paragraphs, lists, images, and image alt texts. Just like Surfer SEO, PageOptimizer Pro also gives you a score out of 100 for your copy. Firstly, the score depends on the competitors you've chosen and you can choose the wrong competitors.
Content editor comparison: the verdict
Although PageOptimizer Pro makes content optimization cost-effective, you can't use it for keyword research and other SEO activities. Yet, it really helps with enhancing the structure of your web pages.
You will need to manually add each of your competitors in PageOptimizer Pro — unlike Surfer SEO — which automatically compares your webpage with the top 50 ranked websites. In short, if you're looking for a tool that finds the best keywords, tells you the traffic potential, and shows you how difficult it might be to rank, Surfer SEO is what you need.
Other features
Apart from the content editor, Surfer SEO comes with the following features which you need to know about:
SERP analyzer. Surfer challenges your keyword against hundreds of factors that may impact your Google position. Furthermore, discover optimal keyword density and see what's proper density for your primary keyword.

Keyword research. Discover keyword matches and longer search terms that contain the keyword you want to rank for. One more reason to fall in love with Surfer SEO is the opportunity to see topic-related questions and answer them within your content.

SEO audit. Surfer's all-in-one auditing tool will analyze your top pages and calculate how your content is actually performing. It also checks for the most common website errors and delivers an in-depth report about your website performance.

Content outline builder. With Surfer, you can produce the best content for your website from built-in outlines, complete with keywords, headings, questions to answer, and more. Its content builder will guide you through brainstorming and planning your new content ideas with ease.

Collaboration. Surfer SEO has more useful collaboration features overall. For example, it allows for shareable URLs to work with external writers. Also, it has user permissions and lets you invite non-admin team members to work on the documents.

Some of the noteworthy PageOptimizer Pro features include:
Secret key access. With PageOptimizer Pro, you can give your writers a secret key to see your recommendations without having to log into the tool.

Latent Semantic Indexing (LSI) terms. PageOptimizer Pro gives you the list of LSI terms — phrases that are closely related to your target topic.

Chrome extension. With its Chrome extension, you get your PageOptimizer Pro recommendations directly in the place where you edit.
Integrations
Both PageOptimizer Pro and Surfer SEO integrate with WordPress and Google Docs so that you can unlock the power of content optimization directly from within Google Docs. Surfer SEO integrates with Jasper AI, an AI-powered writing assistant for copywriters and marketers. This integration will come in handy if you want to create better content in less time.
Additionally, Surfer SEO connects with Semrush, so you can use this combo for strategic link-building opportunities.
Things Surfer SEO can do that PageOptimizer Pro can't
Surfer SEO stands apart from PageOptimizer Pro in a few ways.
First of all, Surfer SEO's interface is well-organized and user-friendly, whereas PageOptimizer Pro has an awkward interface at first use.
Surfer SEO is equipped with a free keyword research tool that you can use to see the keyword volume and similarity of keywords tailored to your industry and location. By contrast, PageOptimizer Pro doesn't offer a keyword research tool. Thus, it won't work for you if you're looking for page optimization software with a keyword research tool.
Another feature that Surfer SEO has but PageOptimizer Pro doesn't is a content planner, which is highly useful in generating a complete content strategy with relevant topics and keywords in a matter of minutes. Surfer organizes hundreds of keywords into groups you can easily target with one content piece, streamlining your content efforts.
Surfer's content planner leverages the power of machine learning to uncover search intent for each search term so you get to see if your prospects are ready for purchase or search for general information.
Things PageOptimizer Pro can do that Surfer SEO can't
There isn't much to say here since PageOptimizer Pro has fewer features overall.
One notable point, however, to touch on is that PageOptimizer Pro uses a US-patented ranking factor scoring system which gives you the most crucial things to optimize on your content for higher Google rankings.
Pricing comparison
PageOptimizer Pro is a more affordable solution. Its cheapest plan starts from $22 per month (billed monthly), whereas you'll have to pay $59 per month (billed monthly) for the cheapest Surfer SEO plan. Surfer SEO's white-label reports are available for $239 per month (billed monthly). However, on PageOptimizer Pro, you'll pay only $87 per month (billed monthly) to download white-label PDF reports.
If you have a low budget for SEO tools, then PageOptimizer Pro is the right choice for you. But be aware that it lacks some SEO-related features, like a keyword research tool that you can find on Surfer SEO.
Use the table below to see how the 2 tools compare when it comes to scalability.
Surfer SEO pricing
| | | | |
| --- | --- | --- | --- |
| Plans | Price (monthly) | Users | Audit (monthly) |
| Basic | $59 | 1 | 20 pages |
| Pro | $119 | 3 | 60 pages |
| Business | $239 | 10 | 140 pages |
View Surfer SEO's pricing page.
PageOptimizer Pro pricing
Alternatives
If you're still not convinced that either of these solutions is perfect for you, I mention 10 alternatives below that you can use for content optimization to get better rankings. They include:
Frase

Clearscope

Dashword

SimilarContent

Marketmuse

Content Harmony

WriterZen

ClickFlow

RankScience

Topic

For more in-depth details, see SurferSEO alternatives, Clearscope alternatives, and Frase alternatives for extra notes on the features and differences.
Conclusion
Surfer SEO and Page Optimizer Pro are reliable tools that are useful in different ways. But, after thoroughly evaluating both page optimization solutions, I would recommend Surfer SEO more. In the first place, it's very easy to use and allows you to design, update, and optimize your content for top rankings in the Search Engine Result Pages (SERP). On the other hand, Page Optimizer Pro is a mid-tier solution that can only improve your web pages.