Content not ranking? Organic traffic dwindling? Users bouncing? This is just the beginning if you're just winging your SEO content marketing.
Search engine optimization becomes more complex by the day as Google places more worth on valuable content and user experience than keywords and black hat tactics.
This is where a winning SEO content marketing strategy comes in — merging two of the most effective digital marketing tools: content and SEO.
As a content specialist working at a B2B SaaS SEO agency, I've helped develop SEO-driven content strategies that have skyrocketed business growth for clients and, admittedly, some that have missed the mark. I've learned how to build a strategy that is user-centric, aligns with business goals, and supports long-term success — and I'm sharing the steps here!
What is SEO content marketing?
SEO and content marketing are not mutually exclusive and work together very well to achieve site-wide goals. An SEO content marketing strategy is an effective combination of SEO best practices and creative content strategies used to scale brands.
The art of content marketing is to subtly promote a brand by stimulating the interests and solving the challenges of a target audience. SEO ensures that the target audience will find and click on this content by increasing content visibility on search engines.
SEO content zeroes in on what users are searching for, instead of what you think they are searching for, to create a targeted content strategy.
However, the standard practices of keywords and backlinks simply don't cut it anymore, as the online space becomes more competitive and Google becomes smarter. This is where the power of content comes in — to deliver valuable, authoritative, and relevant content to users.
How to set search engine optimization and content marketing goals
The goals of SEO and content marketing, when stripped away, are to grow a website, business, or brand. But, to create a strong SEO-driven content marketing strategy, it's best to set granular SEO content targets that align with the overall business goals.
Most importantly, these targets need to be based on your resources and budget. Working at an SEO agency, I can't tell you how many times we've delivered incredible and ambitious SEO content strategies for clients only to see them flop because there is a lack of client resources to execute them.
So, work with what you have to manage expectations and goals.
Begin by defining your key business metrics — for example, increasing leads and MQLs. These are your north star KPIs which your SEO content marketing strategy will ultimately pursue.
When it comes to setting SEO content targets, consider the why. Why do you want to increase organic traffic by a certain number of clicks? Why do you want to rank for those three targeted keywords? It's important to think about how these specific goals will contribute to your north star metrics.
Need a little more help? Check out this guide to setting SEO targets to ensure that your strategy always ties back to SMART business goals.
How to create an SEO content strategy in 11 steps
Below are 11 steps to create an SEO content marketing strategy that focuses on creating valuable and relevant content that is optimized for search engine visibility and conversions.
These steps guide you through creating a reusable process as well as an actual strategy
1. Define your ICP and target audience
Your content marketing strategy revolves around your target audience. ICP research forms the foundation of an effective content strategy and always serves as a reference point when making content decisions.
It's important to know who your customers are and what their interests, challenges, and pain points are. Fleshing out ideal customer profiles gives you deep insight into your target audience so that you can create relatable content to communicate with them.
Consider these questions to help flesh out your target audience:
Who are your current customers or users? Run onsite surveys, collect CMS data, and scrape online reviews to find out as much information as possible about the people currently supporting your site and brand.
What problems are you solving? Consider what your services, products, or site have to offer and who would benefit from it.
Who does your competition appeal to? Gather data by scraping online reviews and checking out comments and interactions on social media platforms.
Once you have a good idea about your target audience you can start creating thorough ideal customer profiles and buyer personas. Deep dive into forums and online review sites and conduct market research surveys to find out about your audience's interests, pain points, and challenges.
2. Define key topic clusters
If you haven't yet jumped on the topic cluster bandwagon, there's no time like the present. This will drive your SEO content marketing strategy and is a key factor in its success.
A topic cluster consists of individual pieces of content that collectively cover a broad subject. This is the best way to improve your topical authority within your niche and assert yourself in the SERPs for important keyword categories.
There are three core components of a traditional hub and spoke topic cluster:
A pillar page: This is a piece of content, often a guide, that covers a topic at a top level and links out to all of the cluster content. For example, a guide on email marketing.
Cluster content: These are supporting pages that will cover the topic in-depth. Each page will be dedicated to a deep-dive into subtopics such as the benefits of email marketing; email marketing strategies; email marketing platforms, etc
Internal linking: Internal linking between all of the cluster pages and pillar pages, on relevant anchor text, is important. It helps users find the information they're looking for and it helps search engines identify your content.
The topic clusters relevant to your site may be easily identifiable, perhaps based on services, products, or use cases.
If not, you can identify key topic clusters by determining the main challenges or interests of your target audience. Then, group these into broad categories to flesh out your topics.
Of course, you can also simply choose a topic within your niche you'd like to focus on. However, it should complement your user or buyer journey.
3. Conduct keyword research
Love it or hate it, you can't escape keyword research — it's the core of your content marketing strategy and deserves a lot of attention. Luckily, there are plenty of tools out there for SEO newbies and aficionados alike.
Once you've nailed down who you're writing for and the topics you'll be writing about, you can start to narrow it down with keyword research. Look for opportunities within your topic clusters by thinking about:
Long-tailed variations
Customer pain points and challenges
Top sellers
Product features
Common questions
Industry trends
There are plenty of nifty features on tools such as Ahrefs and it's alternatives to help you narrow down your keyword list. But which keywords should you prioritize?
First of all, keywords should be relevant — why do you think audience research and topic clusters are the first steps?
Then, it's important to consider intent, search volume, and keyword difficulty. The sweet spot is to find low-difficulty keywords that are super relevant to your ICP, with decent search volume.
That being said, search volume is becoming less and less important. Ultimately, keyword research tools don't provide a very accurate representation of search volumes and can't keep up with trends.
We're seeing more cases of ICP-relevant keywords bringing in a lot more traffic than the tools assumed.
The end goal of your keyword research is to have groups of cluster content that represent each stage of your user journey.
4. Run a basic CRO audit
What's the point of publishing killer content that snags some of the top spots on Google and brings in plenty of organic traffic if it doesn't convert users? To make the most of incoming traffic, all of your web content should be optimized for conversions and this should form an element of your overall SEO content strategy.
A good place to start is with a basic CRO audit to identify bottlenecks, well-performing factors, and user needs. You need to consider every page of the entire user journey, from the first visit to the completed purchase/final action.
Are there any gaps where users are dropping off? If so, how can you entice them to stick around and move on to the next step in the funnel?
Gather research about user behavior so that you can tailor your CRO strategy based on:
Goal and event tracking in Google Analytics
Heatmaps
Scroll depth
This will give you insight into where users are clicking, scrolling, and dropping off so that you can see what CRO elements work well and where better techniques need to be implemented.
5. Analyze existing content
There are lots of little nuggets of gold hidden in your archives. Some pieces of content deserve a dusting off of cobwebs. Updating existing content often produces much better results than producing new content.
It's easier to improve rankings of existing content quickly than to get new content onto the first page of Google.
So, a well-rounded SEO content marketing strategy will include new content opportunities as well as existing content opportunities.
You may come across keywords in the keyword research phase where the topic is covered by an existing page but not optimized for that keyword — the best keyword. This serves as a good driving factor for updating content.
Other driving factors for updating content may be traffic drops, outdated content, or high-intent and priority pages that haven't yet been optimized for SEO.
6. Create a content plan for new and existing content
Okay, so you've completed your keyword research and audited existing content and there are hopefully plenty of great opportunities. Now is the time to create the content plan.
This plan should represent a pathway to your business goals — whether that be an organic traffic increase or specific conversions. It should also be realistic and based on the resources and time that you have available.
Most importantly, this plan should focus on building out your topic clusters. It's too easy to fall into the trap of creating only bottom-of-the-funnel content which often results in publishing pieces on scattered topics. This isn't a strategy and while it may initially move your KPI needle, it won't be sustainable.
Use your keyword research, target audience research, and ICP data to determine the most important topic clusters. Then, work on building each of these out, starting with the pillar page and then the blog post cluster content.
For example, this might look like publishing one piece of content a week, covering an entire topic each month.
Determine sprints that make sense to your internal teams and create a content plan around these time frames. This will likely result in a monthly, quarterly, biannual, or yearly strategy.
Use a Google Sheet document to outline your content plan with the new topics and the optimization targets. Keep track of the drafting, editing, and publishing of this content in the Sheet.
7. Implement a concurrent CRO plan
I'm going a tad off-piste here, but creating content includes well-written CTAs, so there's a place for basic on-page CRO as a part of your SEO content strategy.
Use the CRO audit to determine the highest priority content that would benefit from updated CTA copy or target pages.
When drawing up a CRO plan, it's very important to consider your user journey so that you recommend the next logical step for a user to take on your page.
Once you've chosen pages for CTA optimization, create a basic user journey map that outlines each step from that priority page to the final desired action. This will help you determine which pages your CTAs should lead to and the copy of the call-to-action.
8. Create SEO content brief templates
SEO content briefs are an imperative element of a content marketing strategy. These briefs form the bridge between content marketing and SEO and are important for creating content that is on-brand and SEO optimized.
As you roll out your SEO content marketing strategy, briefs will become a regular occurrence. So, it's best to nail down a perfect reusable template that covers all bases and is easy for your SEO and content teams to use and understand. Check out how to create an SEO content brief that covers everything you should include.
Once you have a content brief template, you can consider the SEO tools that will support your SEO strategy and the creation of these briefs. I find SurferSEO to be a fantastic tool to support content briefs and content creation.
I use it to build out a structure that covers all the relevant content subtopics, questions, and keywords.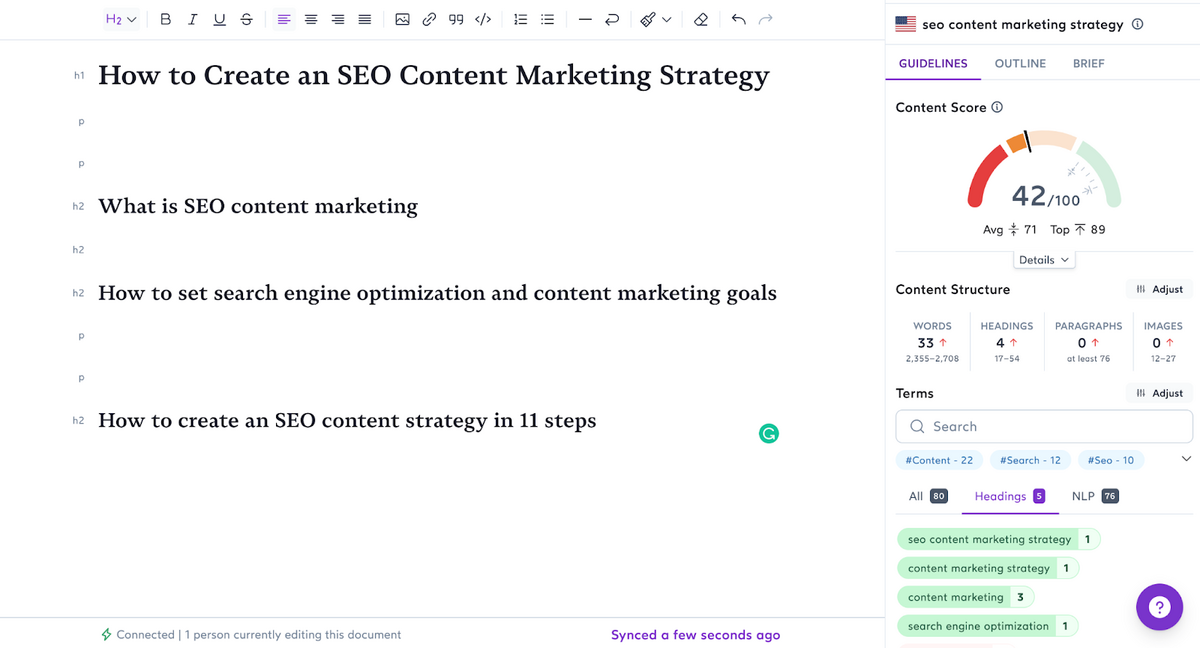 It's a good idea to use a Google Sheets document (or Excel doc, if you're so inclined) to keep track of new and optimized content. This sheet should record all of the important content brief fields.

9. Create a review and edit cycle
Hopefully editing is already a part of your content process, but an SEO review cycle should be too. Whether you're working with an in-house content team, freelancers, or producing the work yourself, it's important that the final draft goes through a content quality control phase.
Set up a process where the final written draft is sent back to an editor and the SEO team to be reviewed. Otherwise, assign this review process to someone within the content team who can simply check that everything in the SEO content brief was implemented.
Ensure that there is adequate time allocated for the review process and any editing that might need to be done. This is the best way to make sure you stay on the publishing schedule without compromising the quality of the content.
Here are some quick tips to create and execute a smooth review process:
Create drafts in Google Docs for easy collaboration
Create a style guide to complement the SEO content briefs and reduce edits
Editor should provide feedback, suggestions, and approval within Google Document
Use Wordable to automate CMS upload
10. Track performance
It's important to implement a process of continuously tracking the performance of your SEO content strategy based on some key KPIs, these include
Organic search traffic
Keyword rankings
SERP visibility
Organic click-through-rate
Backlinks
Bounce rate
Conversion rate
You don't need a bunch of fancy tools to track your performance, you just need to make the most of Google Search Console (GSC) and Google Analytics (GA).
In GSC, you can easily track KPIs such as traffic and keyword rankings. GA is best for tracking performance after users have already landed on your sites — such as bounce rate and conversions.
The best part about Google Analytics is that it's relatively easy to set up and you can immediately create and track conversion goals. You can use GA goal templates or create custom visitor goals — anything from downloading a brochure, to watching a video or subscribing to your newsletter.
Once you've set up your goals, you'll need to do more than sporadically check GSC and GA to see how your pages are performing. To effectively track performance and spot trends and issues, it's best to put together a monthly performance report using data from G Suite or other tracking tools.
Create a report template that covers all of your important KPIs and input data manually each month. Or, use tools such as Google's data studio that automatically pulls in Google data and presents it in an easy-to-understand format.
11. Revisit and refresh existing content
A powerful SEO content strategy is an ongoing process that includes revisiting and refreshing content to ensure it's always relevant to search intent, updated according to the latest information, and high-quality content.
Monthly performance reports will make it easy to identify pieces of content that aren't performing well or have suffered other issues such as significant traffic drops and conversion drops.
Once you've identified room for improvement on your original strategy, based on the performance, you can take action. Ideally, your strategy should include resources for Ad Hoc tasks, such as responding to a massive traffic drop.
However, depending on urgency, you can also consider adding pages to your future content plan.