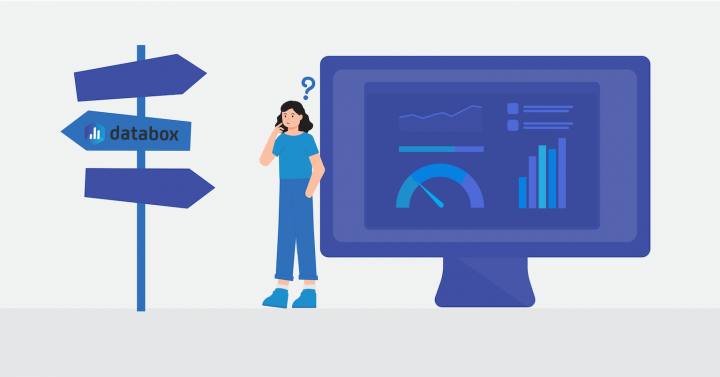 Digital marketing reports. A laborious and time-consuming task for many marketers and agencies. Many tools change this, and one of them is Databox, which allows you to bring together data from various marketing channels and build professional dashboards in minutes.
However, Databox has its limitations and may not be a perfect fit for your reporting and dashboard needs. So, to manage your marketing efforts holistically, you need a more robust solution. In this article, I'll review the top 8 proven Databox alternatives that you can try today to create reports quickly.
Here are the 9 best Databox alternatives
DashThis

Google Data Studio

Klipfolio

NinjaCat

Conversific

GoSquared Analytics

ClicData

Vitally

Glew
We'll start by clarifying the reasons to look for an alternative in the first place.
Or, click here to skip straight to the tools 👇
Databox drawbacks: why look for an alternative?
Some basic features are locked into higher pricing plans
The best example of this is custom date ranges. If you're on the 'Free' or 'Starter' plans, you'll only be able to select date ranges like 'Month to date, 'Last week', and 'This quarter', and you can't choose a specific date. This makes reporting challenging, and you need to upgrade to the $169/month plan to unlock this basic feature.
Limited dashboards per account
Some limits apply to all Databox plans, like the number of dashboards per account. For example, in the $91/month plan 4 dashboards are available, and 9 are available in the $169/month plan. There are other tools that allow more dashboards for a lower price, if that matters to you.
White labeling is expensive
While some other tools include white label features on every plan, Databox charge a flat +$250/month to get white label dashboards. That's pretty steep.
With these things in mind, let's look at alternatives to Databox that might suit your use case.
Best suited for: marketers and agencies who need to make & share KPI dashboards easily
Free trial: yes, 15 days. Sign up here.
Starting price: from $33/month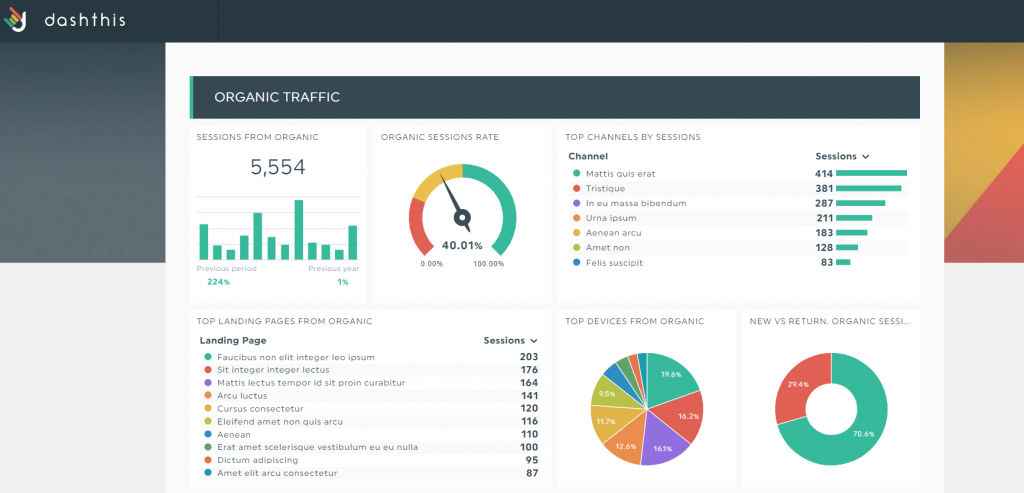 Key features
DashThis is a dashboard tool for marketing that prioritizes ease of use.
It connects data from a wide variety of marketing platforms across channels like PPC, SEO, social media, and email.
There are more than 50 report templates and 1000 widget templates pre-populated with the most common KPIs. Every dashboard you create can include data from any combination of integrations you need.
For sharing, you can either generate a shareable link and/or schedule automatic report emails to ensure your team or clients have full visibility & access to KPIs.
In the professional plan ($129/month) DashThis allows you to completely brand your reports, including the subdomain URL, the logo, fonts, layout, and color theme. It's cheaper for agencies to get many white label dashboards for clients with DashThis vs. with Databox.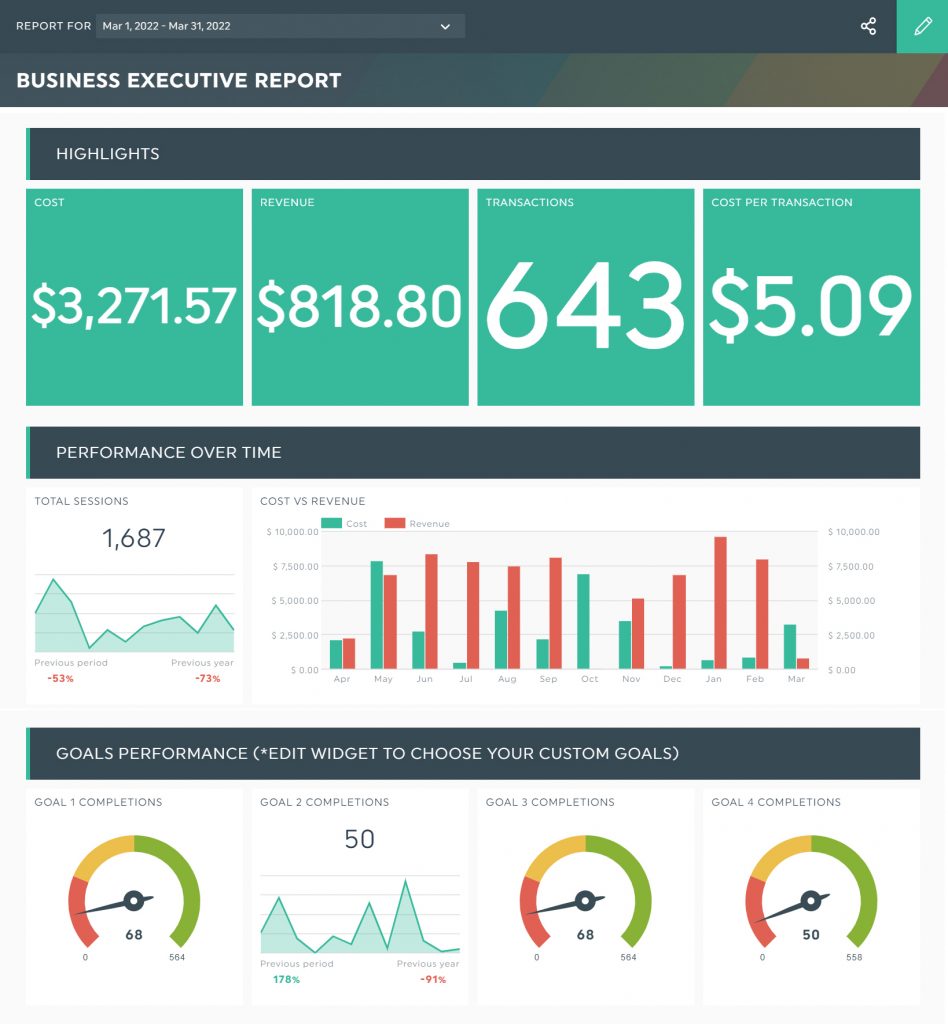 DashThis vs Databox
DashThis offers unlimited users on all plans. Databox $72/month plan allows only 5 users.

DashThis allows white labeling at a lower cost vs. Databox.

Databox offers a freemium plan with no limit on integrations and the opportunity to create up to 3 dashboards, unlike DashThis.
Pricing
DashThis offers 4 plans: Individual, Professional, Business, and Standard. The 'Individual' plan costs $33 per month (billed annually) or $39 per month (billed monthly). Although it's the cheapest DashThis plan, it offers unlimited users and integrations. See full pricing here.
Best suited for: those who need a free tool, and don't need support to use it
Free trial: free forever. Sign up here.

Key features
Like Databox & other tools, Data Studio is a tool for creating & sharing dashboards. You connect your data sources, and build charts & other visualizations as per your needs.
Sharing can be done via permissions, or via a shareable URL.
There are lots of good native integrations for Data Studio; especially Google's other products: Analytics, Search Console, Ads, etc. — but some are missing. A popular example would be Facebook ads. In those cases, you need to use a 3rd party data connector, like Supermetrics or something similar.
Data Studio is widely used, so there's lots of support, tutorials, and templates available online. If you're willing to invest a bit of time into learning a tool, Data Studio unlocks a lot of reporting power for free. Remember though, there's no customer support. If you prefer to save time, it can be worth spending a few $ per month for a faster/easier tool that comes with support.
Data Studio vs Databox
Databox comes with some native integrations which require a 3rd party connector in GDS

Databox comes with customer support, whereas GDS does not

Google Data Studio allows you to do a lot more for free vs. Databox's limited freemium version
Pricing
Free!
Best suited for: businesses who need customizable dashboards
Free trial: offers freemium version. Sign up here.
Starting price: free. Paid plans from $99/month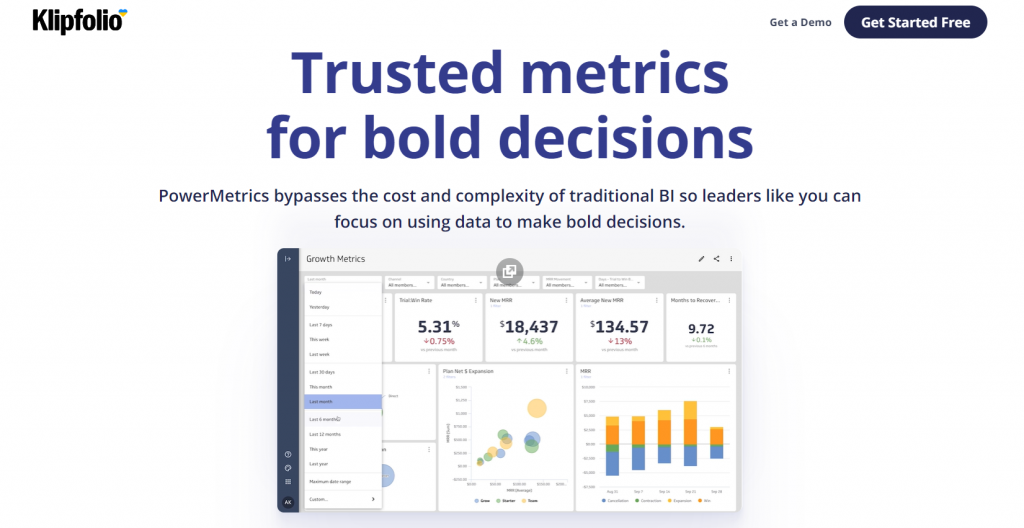 Key features
Klipfolio is a reporting tool to build and share business dashboards. The noteworthy Klipfolio features are its pre-configured visualizations, dashboards, and data-source connectors for different platforms.
Klipfolio syncs with many data sources, including Shopify, WooCommerce, Facebook/Google ads, Google Analytics/Search Console, HubSpot, and many more. Its automatic scheduled reporting eliminates the hassle of integrating the data every single time manually.
Furthermore, Klipfolio's client management solution – called Klips – is good at pulling useful statistics on a recurring basis and putting them in context for your clients. Its white-label options will allow you to maintain your clients' style and branding. You can even have your users log in through a domain that you specify (for example, 'dashboard.yourcompany.com'), and apply custom theming through CSS.
Like Databox, Klipfolio supports several use cases (not only marketing, as with DashThis).
Klipfolio vs Databox
See a full comparison of Databox vs Klipfolio here.
Klipfolio integrates with over 100 platforms, including some that Databox lacks. For example: Google Drive, OneDrive, Asana, Jira, and Buffer. Databox supports around 70 integrations.

To build sophisticated dashboards with Klipfolio, you would need to hire a developer with some technical and programming knowledge, unlike with Databox.

Databox's free plan allows 3 data sources, whereas Klipfolio's allows only 2.
Pricing
Currently, 4 plans are available on Klipfolio: Free, Plus, Pro, and Custom. The 'Free' plan comes with unlimited dashboards and metrics, which is great for those getting started. View full pricing here.
Best suited for: mid and large agencies who need dashboard customization options tailored to different client requirements
Free trial: Unknown
Starting price: Unknown. Request a demo here.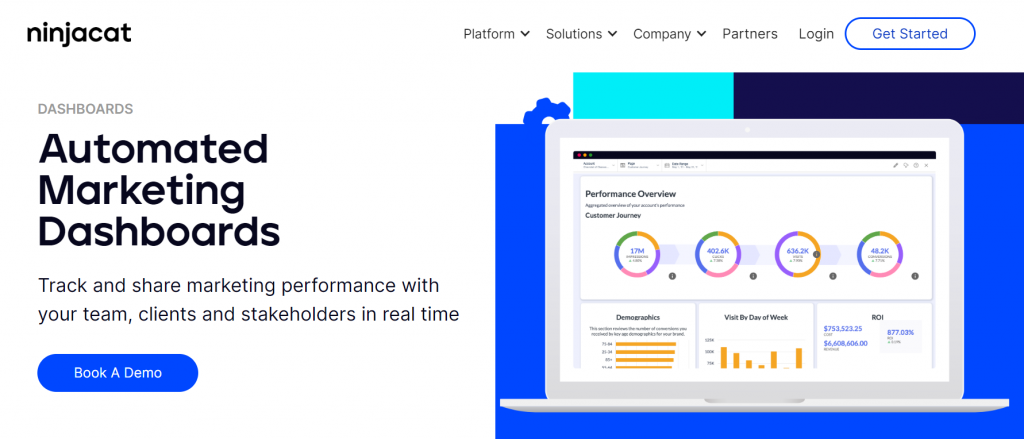 Key features
NinjaCat is a marketing performance management, reporting, and dashboard solution that can aggregate data across multiple accounts and help you simplify your reporting process.
With its data aggregation feature, you can see all your marketing data from every channel on a single board, so there's no need to create a separate dashboard for each integration. Furthermore, its daily dashboard updates allow you to assemble quick insights on your accounts and stay proactive with your campaign optimisations.
With its white-label feature, you can create a unique experience by incorporating branding into all client-facing reports and dashboards.
NinjaCat vs Databox
NinjaCat integrates with over 100 platforms, including some that Databox lacks. For example: Bing ads, Google Analytics 360, and Snapchat Ads. Databox supports around 70 integrations.

Databox allows you to try a freemium version of the tool for up to 3 dashboards, but NinjaCat doesn't offer such a plan.
Pricing
NinjaCat doesn't provide pricing information for its product. You can request a demo here.
Best suited for: eCommer businesses who need to collect, monitor, and visualise data on the entire online buyer journey
Free trial: yes, 14 days. Sign up here.
Starting price: from $24/month ($290/year – 2 months off)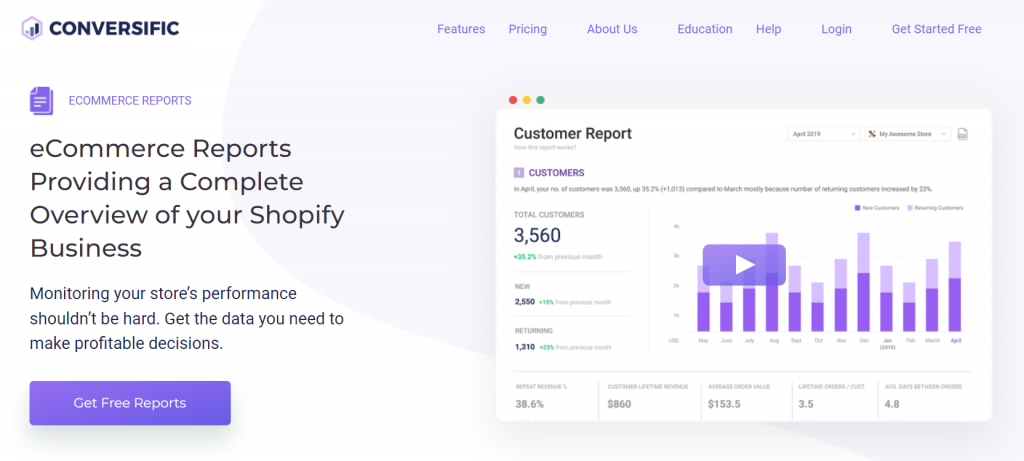 Key features
Conversific is a reporting and analytics solution for Shopify and WooCommerce businesses to scale eCommerce revenue.
Through Conversific dashboards, you can drill down into your eCommerce via multiple dimensions. It'll enable you to better understand how your online store is doing and discover what's influencing its performance the most.
With Conversific, you can see all your important store metrics – acquisition strategy, conversion, product performance overview, SEO, Facebook ads, and profit metrics – in one place.
Conversific vs Databox
Conversific is a great alternative for multi-product eCommerce businesses as they can track data on which products to push more.

Databox offers some eCommerce integrations which Conversific doesn't such as BigCommerce, PrestaShop, and Amazon Seller Central.

Databox caters for non-eCommerce users too.
Pricing
Conversific offers 4 plans: Free, Business, Growth, and Scale. The 'Free' plan allows you to create up to 5 reports and connect with 1 store only. The next tier is called 'Business' which lets you connect with unlimited stores and create as many reports as you want. View full pricing here.
Best suited for: SaaS and eCommerce businesses who need to see real-time analytics and KPIs with historical reporting
Free trial: yes, 7 days. Sign up here.
Starting price: from $9/month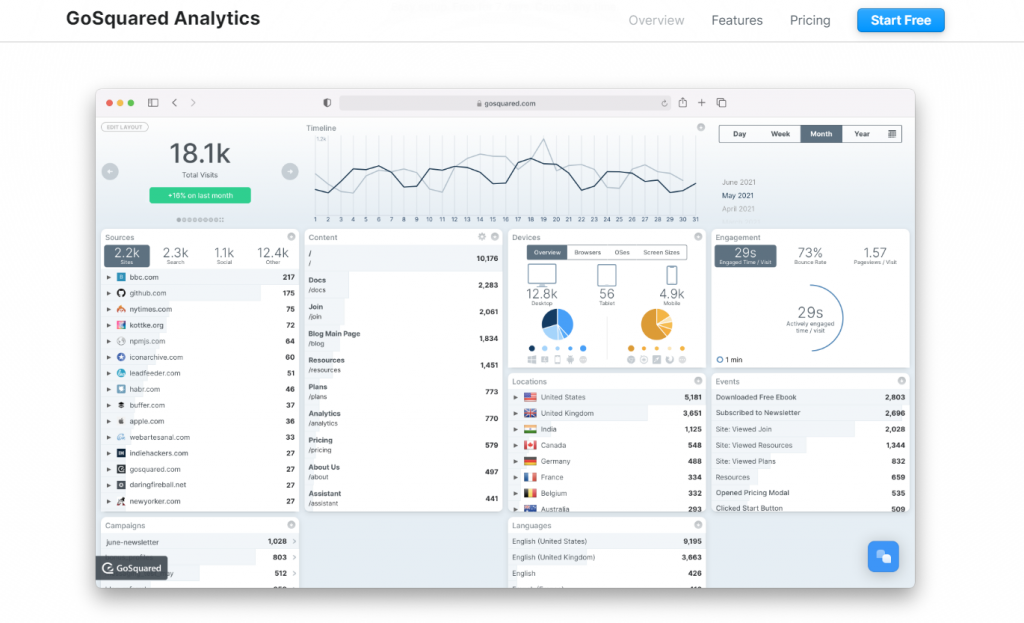 Key features
GoSquared Analytics is a web analytics solution that helps you understand the effectiveness of your digital marketing efforts without the complexity. GoSquared Analytics integrates with over 100 tools, including WordPress, Google Tag Manager, Slack, and Shopify.
This tool is built from the ground up to be real-time, so you'll always see the most recent data, and you don't have to wait to query a report.
Its 'Smart predictions' feature intelligently estimates your daily/weekly/monthly traffic levels based on historical data. With its daily email reporting feature, you can get important insights like top traffic sources and the best-performing pieces of content directly into your inbox.
Last but not least, GoSquared Analytics respects the privacy of your visitors, as it prevents the collection of personally identifiable information (PII) from your website visitors.
GoSquared Analytics vs Databox
GoSquared Analytics dashboards are more visually appealing and intuitive compared to Databox.

Getting started with GoSquared Analytics is much easier. As soon as you install GoSquared on your website, you can see insights instantly. The Databox setup process is more time-consuming.
Pricing
GoSquared Analytics offers 4 plans: Starter, Standard, Pro, and Scale. The 'Starter' plan costs $9 per month and it comes with features like email reports, unlimited data retention, and data sharing. See full pricing here.
Best suited for: small to medium-sized companies who need a versatile tool for quickly building professional-looking reports and dashboards
Free trial: yes, 15 days. Sign up here.
Starting price: from $73/month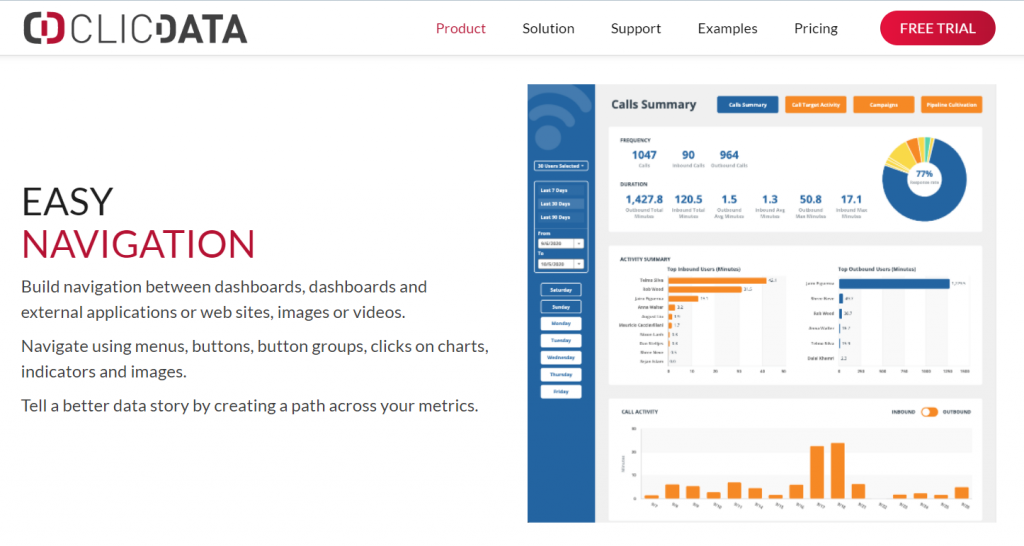 Key features
ClicData is a data management and dashboard solution with hundreds of connectors (Google Analytics, Google Sheets, MailChimp, Salesforce, and many more) to improve business efficiency through quick and easy reporting.
With its drag-and-drop dashboard creator, you can turn data into dashboards in a few clicks. ClicData dashboards are highly interactive: you can add drill-down interactions to your charts, indicators, and tables and display sub tables, other dashboards, and even websites.
Additionally, with ClicData's white-labelled and embedded dashboards features, you can provide self-service analytics to your customers with real-time data.
ClicData vs Databox
It's much easier with ClicData than Databox to get the first dashboard set up or update a complex dashboard.

In terms of speed, ClicData may perform slowly at times, especially if you apply several filters to your dashboards.
Pricing
ClicData offers 4 plans: Personal, Team, Business, and Enterprise. The 'Personal' plan starts from $73 per month (billed annually) or $79 per month (billed monthly) and comes with unlimited dashboards with over 50 types of visualization widgets. View full pricing here.
Best suited for: early-stage startups and SMBs who need a robust customer engagement and analytics platform
Free trial: No
Starting price: from $299/month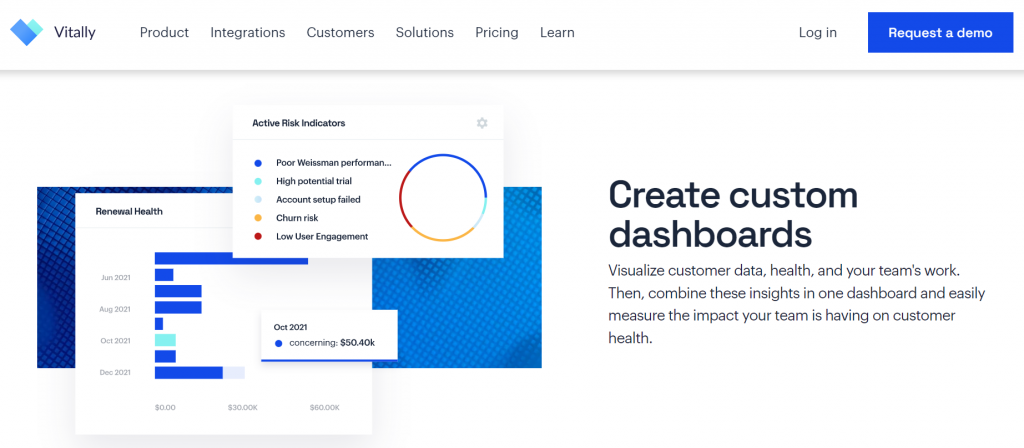 Key features
Vitally is a customer reporting, dashboarding, analytics, and customer engagement solution which helps you drive a high-level customer experience and eliminate churn with the least effort.
Vitally is a great tool to capture the holistic view of how your clients interact with your product, so you can better monitor data and understand trends. It allows you to sync customer data from many tools, including Zapier, Mixpanel, Salesforce, HubSpot, Gmail/Outlook, and many more.
With its out-of-the-box trial analytics capability, you can make sure your trial base continues to enhance and generate a positive return over time.
Vitally vs Databox
Vitally is for standardising customer success operations and centralising all customer data in one place.

Since Vitally offers a rich set of features such as project management, analytics, and automation, it's relatively complex to use and includes a learning curve.
Pricing
There are 3 Vitally plans to choose from: Performance, Custom, and Startup. The prices for the first 2 plans are provided. The 'Startup' plan starts from $299 per month which comes with advanced automation and analytics capabilities. See full pricing here.
Best suited for: eCommerce businesses and product teams who need a custom analytics solution
Free trial: yes. Sign up here.
Starting price: free. Paid plans from $79/month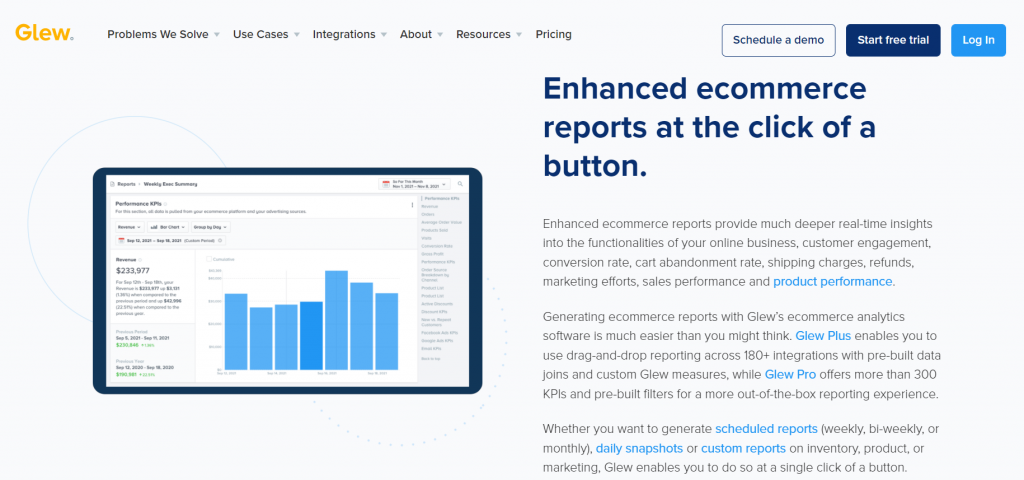 Key features
Glew is an Extract, Transform and Load (ETL), analytics, and reporting solution to get better insights into customer behaviour and channel performance.
Its eCommerce analytics feature offers in-depth real-time insights into your online business functionality, customer engagement, conversion rate, shipping charges, overall marketing efforts, and product performance.
Glew allows you to use drag-and-drop reporting across over 180 integrations (Google Analytics, Facebook ads, Shopify, Hubspot, and many more) with pre-built custom measures.
With Glew, you're free to send one-time reports any time you wish or to schedule your reports to be delivered later to any email address. Add notes to your reports for additional context.
Glew vs Databox
Glew offers vast capabilities like product analytics, customer analytics, and inventory analytics, which open the door to greater eCommerce and product insights.

Databox integrations are easy to set up and simple to use than Glew integrations.

Databox is much easier to use for basic reporting.
Pricing
3 plans are currently available on Glew: Starter, Pro, and Plus. The 'Starter' plan is free to use. If you wish to benefit from more advanced data insights and integrations, you'll have to upgrade to the 'Pro' plan which starts from $79 per month. See full pricing here.
Final thoughts
There are many reporting and dashboard solutions on the market, one of which is Databox. But, although it's a reliable tool for combining all your data from different sources in one place, its limitations will make you look for an alternative. Hopefully, this article will help you decide which Databox alternative I discussed above is the best fit for you, as each of them has its specialisations in certain areas.