Dashboard tools can be hard to choose. They require a little effort to get setup, and it can be a pain to switch down the line if you make the wrong choice.
I've tested Databox and Klipfolio; both fantastic tools in this space. They have notable differences, however. I'll help you to understand when/why it makes sense to choose each in this comparison.
Let's start with the main differences between Databox and Klipfolio summarized!
The difference between Databox vs Klipfolio
The main difference between Databox and Klipfolio is that Databox is generally easier to use, offering more templates & design options, but Klipfolio offers more flexbility, advanced analytics , and data modeling.
For an average marketing or sales team looking for a user-friendly dashboard tool that's quick to use, Databox is a good bet.
For teams with more technical data & development resources, Klipfolio allows for more advanced customization, catering for very specific data/reporting requirements.
| | |
| --- | --- |
| Reasons to choose Databox: | Reasons to choose Klipfolio: |
| Easier to use for non-technical people | More native integrations & API |
| Data stories (better automated reporting) | Enables more advanced analytics & data modeling |
| Faster support responses & free setup assistance | Allows more flexibility for specific needs |
| More templates & dashboard design options | |
| Try Databox for free | Try Klipfolio for free |
Here's a few other comments elaborating on key differences that might matter to you.
Databox has more ready-made templates. They're also available in-app, whereas Klipfolio's have to be accessed via the website. If you want an out-of-the-box solution to work quickly, it's a big advantage. No-code design options are better too.
Klipfolio has more native integrations. Databox has 70+ one-click, native integrations, and others can be made via SQL, spreadsheets, or Zapier. Klipfolio has API & Zapier too, but has 300+ native integrations.
Databox has faster customer support. With Klipfolio, you can pay separately for a Data Hero plan to get extensive hands-on support. Without that, you're relying on submitting tickets. Databox have a well-staffed live chat, and proactively reach out to offer setup assistance.
Comparing Databox vs Klipfolio
Let's compare the features, pricing, and other decision-making factors to help you pick between Databox and Klipfolio. We'll look at:
Using & sharing dashboards
Data visualization
Metrics
Pricing
Customer support
Using & sharing dashboards
Summary: Databox has better pre-built templates & no-code design options, while Klipfolio allows more customization for technical teams with HTML/CSS/JavaScript.
Databox
Databox dashboards are easy to build, and easy to share.
Their template library is a big selling point for Databox. There's 400+ ready-made templates, which cuts down a lot on implementation time. They cover marketing, sales, support, finance, and several other use cases.

You can customize the templates, or start from scratch. There's a drag-and-drop editor that is straightforward to use — just pick a metric, and drag it into your report. No coding or design skills required.
Dashboards are responsive. They can be made available for desktop, TV, mobile, and even Apple watches.
There's a ton of sharing options. You can:
Create a shareable link
Send reports via email
Send reports via Slack
Embed dashboards on a web page
Display dashboards on a TV
Klipfolio
Klipfolio's platform has two different parts: Klips and PowerMetrics.
Klips provide a platform for custom dashboards building and distribution — this is where Klipfolio excels.
The Klip Editor uses a rich, built-in library of formulas, filters, and functions to streamline complex data; you can filter, group, aggregate, and sort it as needed.
Dashboards can be customized further with HTML, CSS, and JavaScript — something that isn't possible in Databox.
With PowerMetrics, you can build self-serve dashboards for teams with the following features:
Date ranges and filters
Sharing with specific access rights for different groups and roles
Auto-refreshing and updating every 15 minutes
Design customizations: colored labels, branding, company logo
Klipfolio shares the same sharing options as Databox:
Shareable links
Web page embeds
Slack integrations
Email reports
Displaying on a TV
Data visualizations
Summary: Both tools cover all the major visualizations, but Klipfolio more options overall. Extras include scatter charts & pictograph.
Whichever tool you choose, the basics are covered:
Numbers
Line graphs
Bar graphs
Pie charts
Tables
Funnels
There are a few differences, which might be relevant depending on your use case.
Visualizations which are available in Databox, but not Klipfolio are:
Progress bars
Leaderboards
Pipeline visualizations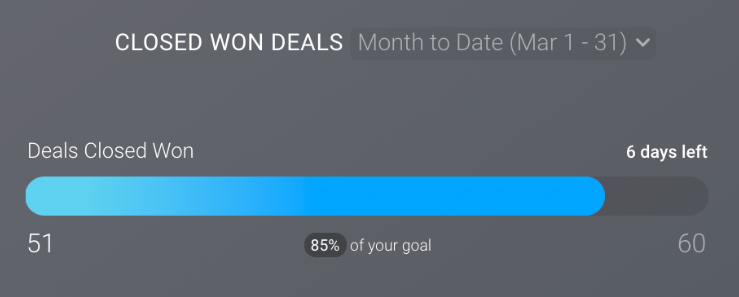 Visualizations which are available in Klipfolio, but not Databox are:
Scatter chart
Radar chart
Tree map
News
Map
Pictograph
Separator
Layout grid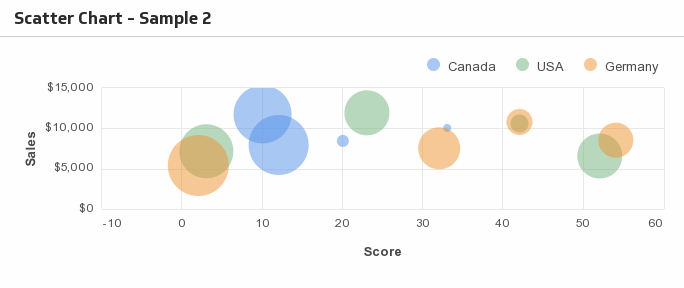 Metrics (& custom metrics)
Summary: Both tools allow pre-built metrics, custom metrics, and calculated metrics. Databox makes this easier to do, without connecting a spreadsheet or database.
Databox & Klipfolio have a whole bunch of ready-to-go metrics. Nothing noteworthy to mention there.
Equally, both tools have pretty similar functions for calculating metrics. You can combine any existing metrics to make a new one.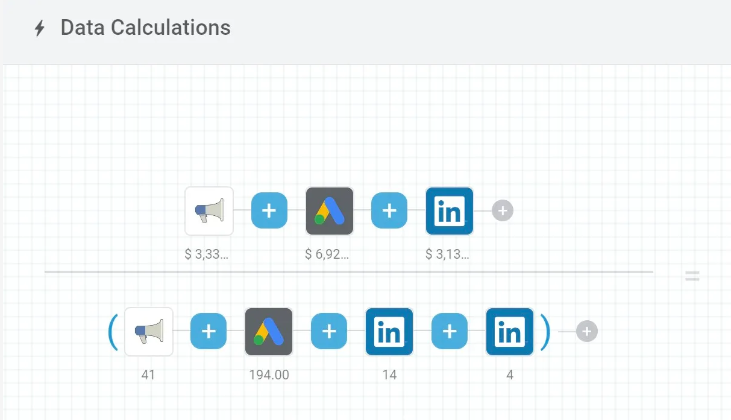 To my knowledge, the only noteworthy difference is in Custom Metrics.
Custom Metrics pull in new data from a data source to create a brand new metric. An example of this might be 'mobile-only link clicks from X & Y Facebook Ad campaigns'.
In Databox, there's a dedicated feature for this called Query Builder. It doesn't work for every data source, but it does work for most popular use cases like ad platforms, CRMs (e.g. HubSpot), Sheets/Excel, SQL, and others. That makes it possible to create Custom Metrics directly within the UI.
In Klipfolio, custom metrics are possible too. The difference is that you can't do this directly within the UI — so it's a little less beginner-friendly. Generally, you'll have to connect a spreadsheet, database or use an API.
Pricing
Databox
Databox has a Free-forever plan that provides the users with:
All of the standard Databox features;
3 data source connections;
More than 60 integrations.
There are 3 paid plans available, starting at $72/month:
Branding & White-labeling add-on is available for $250/month.
The free trial lasts for 15 days and allows the users to explore all the Databox features without entering credit card info.
Klipfolio
Klipfolio has a free plan that includes:
Unlimited metrics, dashboards, and viewer users
2 editor users, 3 data services, 5 dimensions
Up to 2-month data range window
4-hour data refresh
Paid plans start at $99/month, and there are 3 tiers:
Klipfolio provides several white-labeling services, priced separately:
Branding+ — $299/month to remove all Klipfolio branding;
SSL Domain Alias — $99/month to use your domain name;
Custom Theme — $99/month to upload custom CSS and JavaScript.
Klipfolio offers a 14-day free trial, no credit card required.
Customer support
Summary: Both tools offer basic support with priority support available at a higher price. Databox offers the addition of live chat support for a quicker average response time.
Databox provides live in-app support, and a dedicated customer support team. Priority Support add-on is available for all paid plans: it grants users one hour of phone support monthly and moves your ticket to the top of chat and email support queues.
Klipfolio lets you create a ticket via Help Centre or Support Team — Business plan users get priority support. The other way to resolve the issues is by looking them up on the community forum, or knowledge base, or taking a look at the recorded webinars and YouTube videos.
Data Hero services are available separately for everyone having custom support needs, with interactive sessions for design, setup, architecture, and more.
Final thoughts
Klipfolio is an advanced, expert data tool. Complex features and formulas it uses can gather and transform the data in a myriad of ways, which requires some backend and data knowledge. Once you get ahead of the learning curve, there's few things it can't do on its own, or powered by numerous integrations.
Databox is easier to use than Klipfolio. The platform doesn't require any coding knowledge, for any feature it provides: every functionality is intuitive and you won't need onboarding courses to figure it out. Databox team is ready to help get you started with custom dashboard fast, for free. Feature list is above-average, and capabilities are well-rounded to service businesses of all sizes, empowering them to harness the power of data to grow.