LinkedIn's own ads manager is okay, but it has some limitations. There are additional tools out there which can help you to do things like:
View all your campaigns in one dashboard
Produce white label LinkedIn ads reports
Combine your LinkedIn ads data with other marketing KPIs
Share ads data more easily (without messing around with LinkedIn user permissions)
Automate email updates/reporting
… and more
Here's 5 such tools, including some free/freemium options.
Here are the 5 best LinkedIn ads dashboard software:
1. Google Data Studio
2. DashThis
3. Klipfolio
4. Databox
5. Geckoboard
Let's get into it!
1. Google Data Studio
Free trial: Free
Starting price: Free

Data Studio is a completely free dashboard tool that's much better than LinkedIn's built-in reporting for visualizing data, and combining / sharing KPIs.
The catch is that, at the time of writing, there's no native connection between LinkedIn Ads and Data Studio. That means you'll need a connector, like Supermetrics or an alternative.
Even so, it's fairly straightforward to connect, and if you're already using Data Studio for other marketing reporting, it's worth considering. Otherwise, keep scrolling to see some Data Studio alternatives (paid tools) which have native integrations already built.
2. DashThis
Free trial: yes, 15 days. Sign up here.
Starting price: from $33/month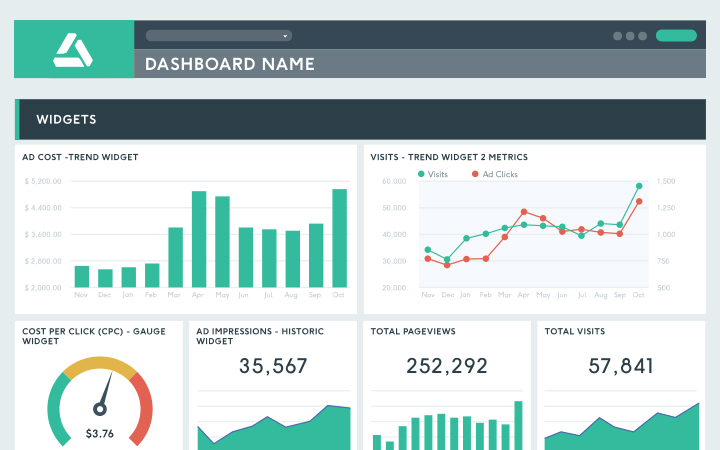 DashThis is another marketing dashboard tool you can consider. It comes with the native integrations for LinkedIn ads that Data Studio lacks. Plus, it has some other bells and whistles:
White label / custom branding (e.g. the dashboard design, and URL for sharing reports)
Superb customer support
Dashboard comments for collaboration
It also integrates with all of your other marketing tools. For example Facebook ads, Google ads, SEO (Ahrefs, Semrush), email marketing (Mailchimp, ActiveCampaign), and so on. It's a great dashboard tool for bringing all marketing KPIs together.
It's arguably easier to use than Data Studio & other tools too.
3. Klipfolio
Free trial: offers freemium version. Sign up here.
Starting price: from $99/month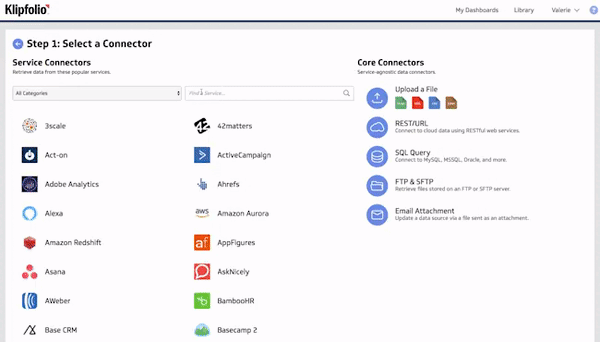 Klipfolio allows for more complex setups (e.g. customizations with extra coding), but it can also cater for simpler use cases.
Like DashThis, it has a LinkedIn ads integration which doesn't require a third party connector.
There's a free version with some limitations (e.g. only 2 month data range, longer data refresh, fewer users etc.), and paid plans from $99/month.
While DashThis is focused on marketing dashboards, Klipfolio can serve a broader use case. For example, you could combine your LinkedIn ads data with sales data from Salesforce or HubSpot.
4. Databox
Free trial: yes. Sign up here
Starting price: from $72/month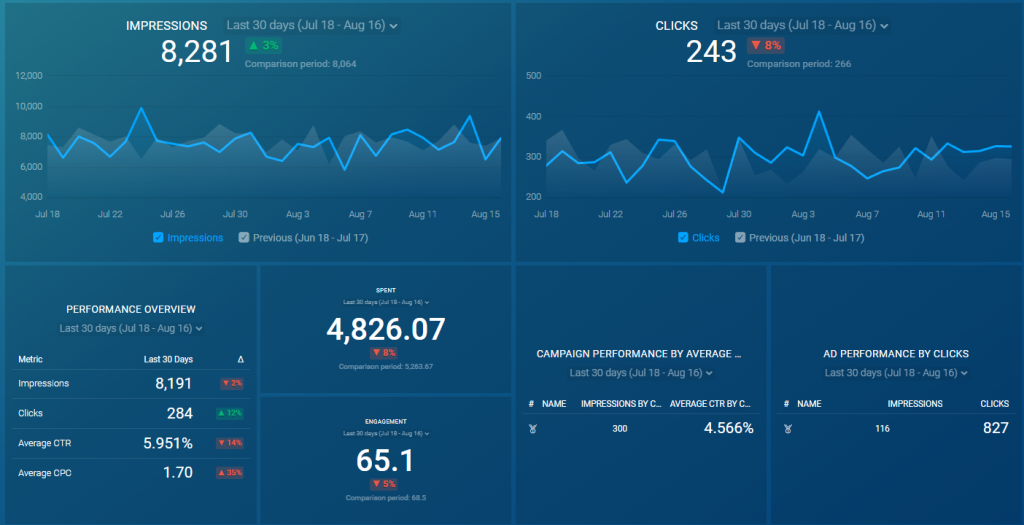 Databox is another popular dashboard tool, which has a generous free version (for up to 3 data connections).
Naturally, there is a LinkedIn ads integration too. It's available even on the free plan.
There are plenty of LinkedIn ads dashboard templates available to get started, and all the KPIs you'd expect (CPCs, conversions, impressions etc.) are included.
Similar to Klipfolio, Databox can be both a simple or an advanced tool depending on what you need. Out-of-the-box solutions are user-friendly & good, but advanced customization is possible. There's also integrations outside of marketing (e.g. sales, finance).
5. Geckoboard
Free trial: yes, 14 days. Sign up here.
Starting price: from $39/month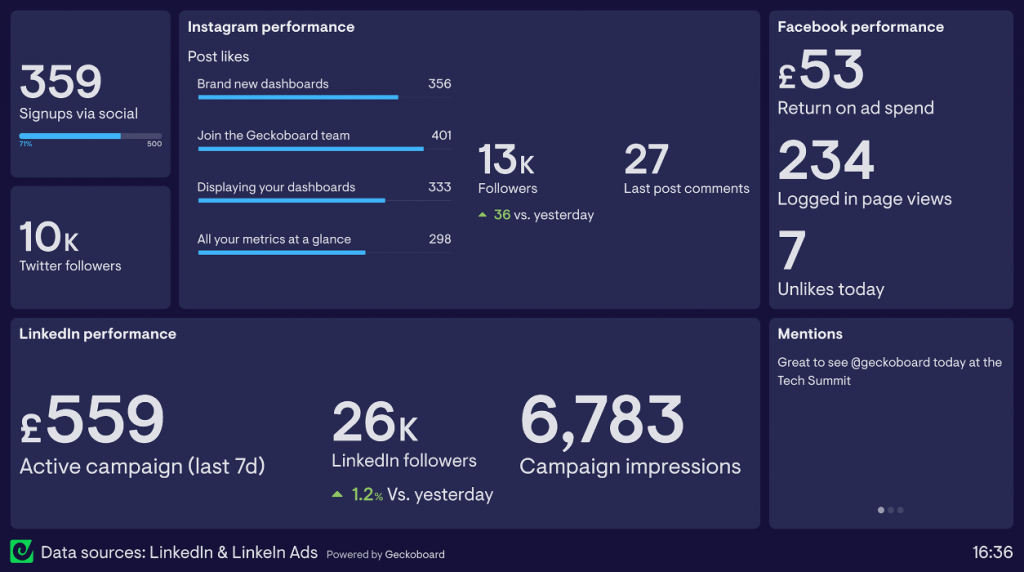 Lastly, Geckoboard is another option. There's a free trial, and a limited free version for 1 user.
When it comes to LinkedIn ads functionality, Geckoboard is remarkably similar to the previously mentioned tools. It has an integration which pulls in all the standard metrics. Once again, all the expected metrics can be displayed, and LinkedIn ads data can be combined with other marketing/ KPIs.
Geckoboard has specific features built for displaying dashboards to a TV screen too, which might be relevant for you. Like Databox, they also cater for multiple use cases outside of marketing (sales, HR, finance, etc.).
Other than that, nothing special to report specifically related to LinkedIn ads.
Choosing a dashboard software
If you're looking for a completely free tool for displaying LinkedIn ads, I'd personally opt for Databox. It's templates are good, and the free version is generous enough to be useful.
If you have a budget of $30 – $100/month, your options open up a lot. DashThis is a great choice for a simple tool with great support, specifically for marketing. Databox too. If you want to enable more advanced customizations, consider Klipfolio.
If you're already using a tool like Data Studio for other things, it's probably worthwhile buying a connector to keep your analytics stack simple.