As content marketers, our biggest challenge isn't always producing great content. Based on what I hear in communities, and content folks I speak to, their biggest struggle is to analyze content performance, and justify the value it provides.
A content marketing dashboard is an excellent step towards being able to do this effectively.
I'll share some proven ideas & methods that you can implement to do this for your team.
First things first…
(Click here 👇 to skip down to making your content dashboard!)
What is a content marketing dashboard?
A content marketing dashboard lets you pull together all of your content KPIs in one place. It's a simple overview of the important data that is easy to digest & share.
What is the goal of your content dashboard?
Sounds basic, but it's a necessary thought process to go through. Let's look at some of the common reasons to build a content dashboard.
3 things you can do with a content marketing dashboard
1. Separate groups of pages for easier analysis
With your typical Google Analytics setup, it's pretty annoying (or in some cases impossible) to segment groups of pages ready to be analyzed. With a dashboard, it's possible to do things like:
Separate branded traffic from non-branded traffic
Separate sub-folders (e.g. view only blog pages, or only product pages)
Make custom page groups (e.g. only pages with 'marketing' in the URL)
2. Reduce the noise, and focus on specific metrics
You might only care about page views and conversions. If that's the case, you can remove all the fluff (bounce rate, pages per session, time on page etc.) and create a more impact-focused view.
Once you achieve this, it's easier to use data to see what's working & inform your content strategy.
3. Make content metrics shareable & accessible
A well-designed dashboard makes KPIs & metrics easy to understand. Combine that with a simple shareable link, and a content marketing dashboard can really change how teams/clients perceive the impact of content.
Your motivation is likely a mix of multiple factors, but keep in mind which are the most important for you.
Okay, I promise we'll get into making the actual dashboard soon. One more question though.
Who will be looking at the dashboard?
You may wish for differing levels of detail depending on the seniority of the audience. If your dashboard is for managers / C-suite only, then it pays to keep things high-level. Business impact only, unless something is specifically requested (ask what they want to see!).
For you & your team, operationally, you can dig a bit deeper. I'd suggest that you keep all the same stuff, but add a few more granular metrics which may support day-to-day analysis.
Manager's Dashboard
Metric Examples
Team's Dashboard
Metric Examples
Total views
Everything in the other one, plus…
Total conversions / leads
Views by traffic source
Average conversion rate
Time on page
Attributable customers
Pages per session
Attributable revenue
CTA engagements
Scroll depth
Keep in mind, these will vary a lot company-to-company, and depend on your attribution model.
5 ways to make a content marketing dashboard
We'll look at:
Use Google Data Studio
Use a paid KPI dashboard software
Create segments in Google Analytics
Use a product analytics software
Build a custom solution with APIs
1. Use Google Data Studio
Let's start with an entirely free option: Google Data Studio.
In a nutshell, Data Studio is used to connect your data sources (e.g. Google Analytics, Google Search Console) & customize what you want to see. It doesn't collect any data of it's own.
I've personally used Data Studio often as a content analysis tool. Here's an example.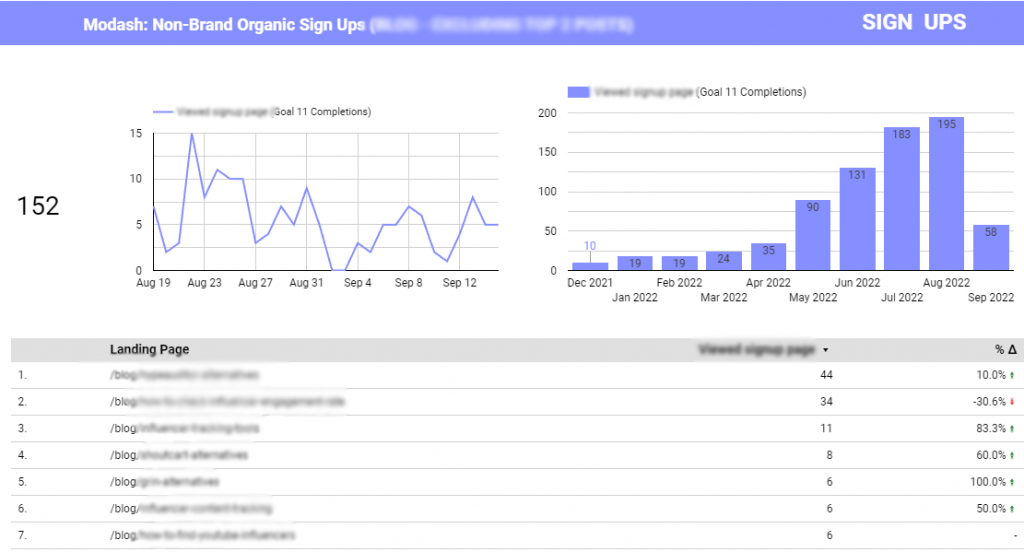 In this case, I've selected a subset of blog posts (e.g 'URL contains xyz'), and pulled out:
The landing page
One specific conversion (a Goal completion from GA)
The change vs previous period
Total conversions per month from this group of pages
It removes all the fluff, and lets me look at a specific group of pages in isolation.
You can make as many of these as you need for different website sub-folders, data points, or anything else and share them with a link.
There are lots of Data Studio templates out there. For example, MarketLytics have some free Data Studio templates for content marketers which you can access here. You can also hire a freelancer to build dashboards if you have a budget.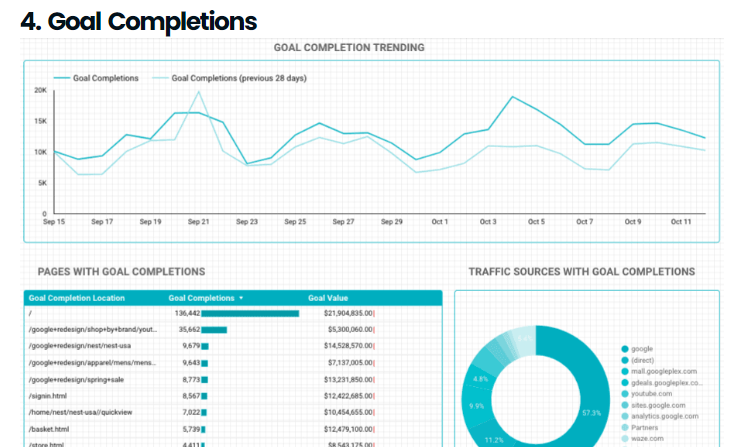 There are a few potential downsides to Data Studio that might cause you to look at alternatives:
There's no customer support if you get stuck
Data Studio may miss some native integrations that you need
It has a bit of an initial learning curve
2. Use a paid KPI dashboard software
One way you can solve the potential downsides is by using a paid tool. Databox is a popular one that I recommend (that actually has a free plan too). It has a bajillion templates, it's arguably easier to use, and their support & success team is really proactive.
They're actually offering free dashboard setups (even to users on the Free plan) — so if you're not comfortable with this kind of thing, requesting that assistance could be your best bet.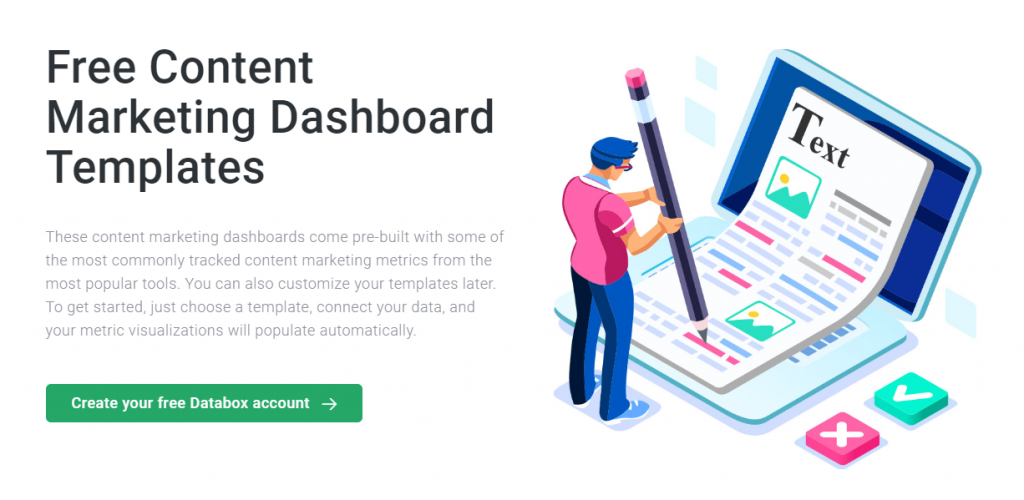 There are one-click integrations for most common content marketing tools, from SEO (Ahrefs, Semrush) to social media (all major platforms, organic & paid), video platforms, HubSpot, and so on.
See all their content-related dashboard templates here: https://databox.com/dashboard-examples/content-marketing.
3. Create segments in Google Analytics
While Google Analytics isn't an ideal dashboard tool, you can create some useful views to analyze your content more easily using the segments feature.
You can do this by clicking on '+Add Segment' near the top of the UI, and naming your custom segment.

For example, you could specify that you only want to see a particular traffic source (maybe a social channel, or organic search).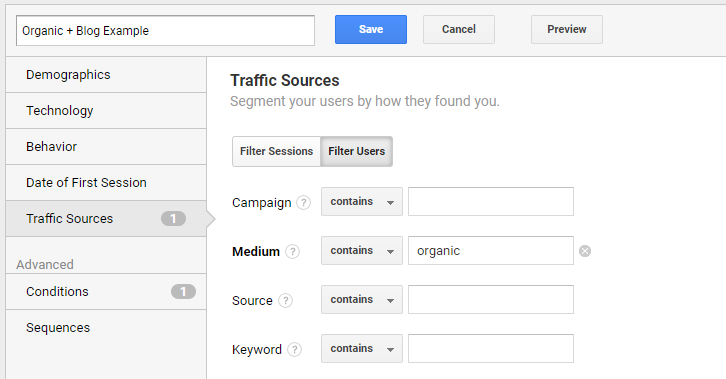 And combine that with URL rules like in the Data Studio example above. E.g. all traffic that entered the site through a URL containing /blog/:

Again, you can repeat this as many times as you need. Some major downsides to this:
You can't segment based on search query easily (no Search Console queries data)
You can't send a shareable URL, so everyone needs Google Analytics access
You can't customize the layout/design in any way
Still, it might do the trick (for free) for some solo content marketers who don't need customization & sharing.
4. Use a product analytics software
If you're working in a SaaS team, there's a good chance that a product analytics software like Amplitude or Mixpanel is set up.
If that's the case, depending on the setup, you might be able to get great content insights from that. Such tools can give you data past the point of sign up (think activation, product usage, trial-to-paid) based on the sign up page. Doing this will get you closer to reporting on actual revenue.
I'll show you a quick example that uses the free version of Amplitude.
We could create a funnel, and say we want to see everyone who did these events, in this order:
Viewed a page (specifying the URL rules)
Signed up for a trial account
XYZ activation events (e.g. invited a teammate)

Such charts in Amplitude can be saved and shared (via URL) to people in your organization. Even if you have Data Studio or Databox set up too, this one will be important for SaaS content marketers.
5. Hire an agency or freelancer
Outsourcing the setup is always an option, especially if any of the following are true:
You don't have the skills in-house
You prioritize speed of getting set up right
You have a complex tech stack to integrate with
You need a highly customized dashboard
There's lots of places you can go to find talent in this scenario. Simply look for data analysts, consultants, and agencies that are skilled with typical dashboard software like Power BI, Tableau, Excel, or any of the tools previously mentioned. SQL & Python skills could be useful too, depending on your requirements.
You can expect to pay anywhere between $50 and $500 per hour, or a fixed equivalent price per project, to hire externally. Here's some Upwork freelancers to give you an idea: https://www.upwork.com/hire/dashboard-freelancers/.
Is your data is as 'clean'?
One quick note here, whichever route you take. Almost every team I've worked in has data problems. Unless you have a dedicated person available for cleaning data, it's probably going to be the case for a long time.
A mistake I've made in the past is getting paralyzed by lack of 'perfect' data. Sometimes it really is better to just go with your gut, rather than delay projects for months trying to wait for perfect content data (which might never arrive).
That being said, try to double-check your basics. Make sure Google Analytics goals are firing as intended, for example. Make sure there's no tags double-firing skewing your data. The whole point of a content dashboard is to make better decisions, so you don't want your data leading you astray.