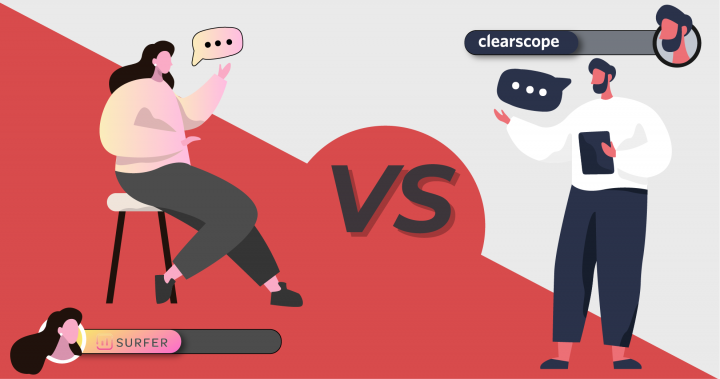 SurferSEO & Clearscope offer some of the same fundamental features, but they're pretty different beasts. Both of these teams have done a great job building content optimization tools. Kudos!
This article will help to summarize the key differences that will matter to you & your team.
I'll start with a tl;dr, then break it down further. Let's go!
Differences between Clearscope and SurferSEO
The main difference between Clearscope and SurferSEO is that SurferSEO costs less & has more features, but Clearscope is easier to use & arguably suits enterprise teams better.
In terms of their content editing tools, you won't find any deal-breaking differences. Writers will have an easy time using either of them and both interfaces even look very similar.
SurferSEO is a popular choice when it comes to marketing agencies, and it works in more languages. It's also a popular choice for content teams in general. Its content and editing features are similar to Clearscope's but its collaboration features are slightly better for teams, plus white labelling is available on the business plan.
Clearscope offers a level of simplicity and writer-friendliness that makes it useful for those who aren't interested in the extra utility SurferSEO offers. Where any confusion may exist, Clearscope's customer support & onboarding is excellent, which helps justify the higher price in some cases.
Here are more high level points for your comparison:
Clearscope is simpler. The platform focuses on writer-friendly interfaces and clear grading. Having fewer features means it's cleaner & easier to use.
SurferSEO costs less. Clearscope's cheapest plan is $170 per month, while SurferSEO's is $49 per month (paid annually) or $59 per month (paid monthly).
More user seats (e.g. 10) are more affordable with SurferSEO. After 3 user seats, Clearscope's price steeply climbs to $1,200/month, whereas Surfer allows 10 seats for $199.
SurferSEO has extra features. For example, Grow Flow, their AI growth platform, or their Chrome extension.
Let's dive into the finer details.
Content editor comparison
The content editor interfaces are the flagships of both respective SEO tools. They're also the interfaces you or your writers interact with the vast majority of the time.
At a glance, both content editors deliver what they promise. You use the suggestions they gather from Google and their AI infrastructures to rank your content higher.
Clearscope overview
Clearscope's content editor simplifies SEO writing by providing simple recommendations. The tool translates AI data from the SERP into simple recommendations for writers.
Clearscope differs from SurferSEO in approach. While SurferSEO analyzes your top competition for specific keywords, Clearscope has a slightly wider scope. Search volumes and search intent are key factors in Clearscope's keyword selection process.
Once you choose a keyword, Clearscope's content editor provides the guidelines for your writing. They score your work both on SEO and readability. These factors are given metrics:
A "report card" grade (B, B+, etc.) for your content's SEO
A "year" grade (Grade 8, Grade 10, etc.) for your content's readability
So, Clearscope guides writers to write content that's highly SEO-optimized and easy to read and understand.
Clearscope's content editor does a great job in breaking down the recommendations, helping you see which are the highest importance.
SurferSEO overview
The SurferSEO content editor is also straightforward to use.
To use SurferSEO, you simply type in the search phrase that you want to rank higher for. SurferSEO then automatically creates a new "project" for you. That project comes in the form of a writing interface while you view all suggested keywords on the other side of your screen. Your suggestions include specific phrases for headings and for the main content. As you write, you see your score (on a scale of 0 to 100) updated.
The goal is simply to follow SurferSEO's suggestions to maximize your score. The suggestions SurferSEO provides you with are based on the top ranking pages for competitors for the same search phrase. Importantly though, it allows you to customize these, remove outliers, and manually edit the recommendations if you're an expert.
Naturally, you then start outlining your article based on the suggestions. For additional context, SurferSEO provides an intuitive feature. If you click on a suggestion, you see "EXAMPLES OF USE," which are real examples of the keyword used in one of your competitor's articles. You want to keep that context in mind while drafting a unique, SEO-optimized article.
Content editor comparison: the verdict
Clearscope's editor is cleaner, simpler, and easier to use, but comes with fewer features overall.
SurferSEO offers great data accuracy, collaboration, and a few extra features for a lower price.
They function in a similar way, and I'd suggest that your writing team wouldn't have a problem using either tool.
If cost is a major decision-maker for you, go with SurferSEO.
Collaboration and teamwork comparison
For individual professionals, this category is less important. However, even freelance SEO writers must often collaborate with their clients.
Both Clearscope and SurferSEO offer collaborative tools.
Clearscope
Clearscope has features to support team collaboration:
Shareable URLs can be generated for writers to work in the content editor
There are user permissions available to invite team members
3 team seats are allowed on the $170 plan
Google Docs & WordPress integrations make it possible to use Clearscope's data on other platforms
Clearscope also has some reporting & task management built in with their Content Planner tool. It can be used by writers to keep colleagues updated on a project's progress. For in-house writers, that is (this is not relevant to shareable links & external writers).
While there are fewer unique collaboration features overall in Clearscope, the ones they have do the job very well.
SurferSEO
SurferSEO too has some great collaboration features. Similarly, they:
Allow for shareable URLs to work with external writers
Have user permissions, to invite non-admin team members
Allow for various numbers of team seats depending on the plan (it's a lot cheaper to get 10 seats with Surfer vs. Clearscope, for example)
Have the Google Docs & WordPress extensions available for external usage
SurferSEO is also better for creating quick outlines. They have an AI outline builder feature, and there isn't a similar equivalent in Clearscope right now.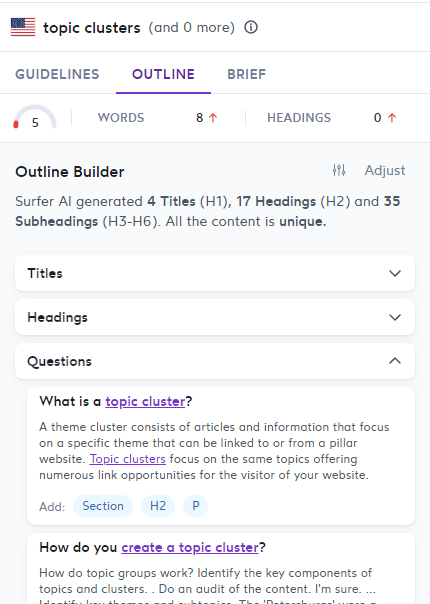 There's also a section to leave notes & additional misc. instructions for writers.
Multiple logged-in users can work together in the Content Editor simultaneously.

Lastly, SurferSEO's Grow Flow platform is good for teams too — since there are regular task recommendations available, teams can jump in and divide up the tasks according to roles & availability.
Integrations
Both tools offer WordPress & Google Docs integrations that are super useful for fitting the tools into your existing content workflows (and for working with external writers).
SurferSEO also has a notable integration with Jasper.ai, which gets you the best of both worlds (one of the leading AI writing tools, plus content optimization/SEO editing).
Outside of that, there are no major integrations to be aware of (to my knowledge).
Things Clearscope can do that SurferSEO can't
While SurferSEO is far more feature rich, Clearscope stands apart in a few ways.
Clearscope's reporting capacities and the mechanisms for sharing them across your organization aren't matched by SurferSEO. Their content planner is more comprehensive and gives live updates so teammates can keep up with changes as they happen.
Clearscope also offers a readability feature that SurferSEO doesn't. It's a default feature in Clearscope's content editor. If you want something similar out of SurferSEO, you need to copy your content into Hemingway or a similar tool.
Things SurferSEO can do that Clearscope can't
There's a little more to say here, since Surfer has more features overall. I'll touch on a few notable things.
1. Grow Flow
'Grow Flow' is a AI content growth platform. The short explanation is that it connects to your Search Console account, and comes up with task ideas every week that can help you grow your organic traffic. Task examples might be:
Internal link ideas to implement
Recommended content updates (with specific recommendations)
New keyword ideas to create articles for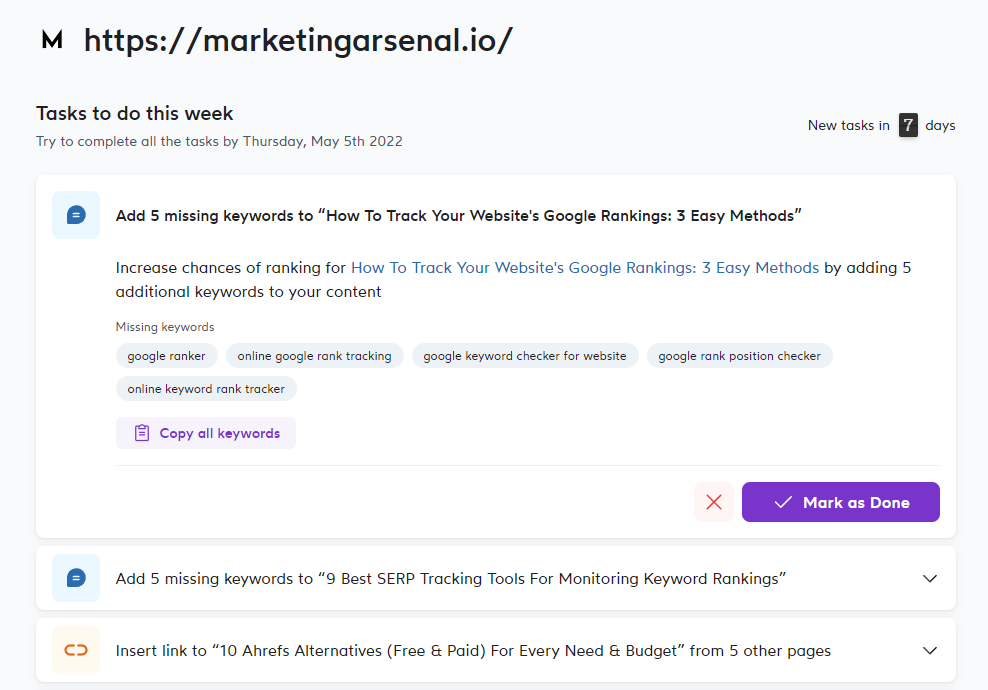 2. SERP Analysis
SurferSEO has a dedicated tool for SERP analysis. You can use it to manually review the competition & expected difficulty to rank for a keyword.
You can get an overview of things average word counts, common keywords used, questions, common backlinks, and more.
Personally, I don't often use this feature since most of this data is readily available in the Content Editor, but it's there if you want to dig deeper.
3. Content optimization in more languages
Clearscope works in 5 languages: English, Spanish, French, German, and Italian.
For SurferSEO, we have differing definitions, but the content optimization tool in general works for every language. For NLP specifically, it's a little different. They have Google NLP in all 11 languages that are supported by Google's API, which includes Chinese, Japanese, Korean, and Russian.
SurferSEO are starting to develop their own NLP which is available in 4 languages: English, Danish, Dutch, Polish.
4. Educational content & community engagement
This isn't something the tool 'does' exactly, but I deemed it worth mentioning. SurferSEO prioritize content for customer success, and they have a big bank of content available (both video + written) in:
The Academy
The blog
Their Facebook community group (which is actually very active)
Their SEO writing masterclass course
Pricing comparison
SurferSEO is more affordable for a similar level of functionality offered by Clearscope. However, Clearscope is clearly meant larger teams. At scale, use cases where Clearscope may even be more affordable are easy to imagine. For your typical SEO / marketing team though, Clearscope's entry ($170) plan, or any of SurferSEO's plans, should more than suffice. Therefore, SurferSEO is probably the better option for smaller teams where budget is a factor.
Use the table below to see how the two tools compare, particularly when it comes to scalability.
Clearscope pricing
| | | | | |
| --- | --- | --- | --- | --- |
| Plan | Price (monthly) | Users | Content Reports | Customized Onboarding |
| Essentials | $170 | 3 | 20 | No |
| Business | $1,200 | Unlimited | 100 | Yes |
| Enterprise | Customized | Unlimited | Customized | Yes |
View Clearscope's pricing page
SurferSEO pricing
| | | | | |
| --- | --- | --- | --- | --- |
| Plan | Price (monthly) | Users | Content Editors | Content Audits |
| Basic | $59 | 1 | 10 | 20 |
| Pro | $119 | 3 | 30 | 40 |
| Business | $239 | 10 | 70 | 140 |
View SurferSEO's pricing page
Alternatives
If you're not convinced that either of these tools is perfect for you still, there are a few other options in the content optimization space you could check out. They include:
Frase
Outranking
MarketMuse
Scalenut
WriterZen
Semrush Writing Assistant
Page Optimizer Pro
Dashword
For more in-depth details, see SurferSEO alternatives, and Clearscope alternatives respectively for extra notes on the features & differences.
Conclusion
Overall, SurferSEO is the more versatile and inexpensive option. It provides more value for each dollar you spend while steadily updating its roster of features to keep up with developments in the industry. However, we don't want to write off Clearscope entirely; it's a simple, useful and scalable SEO writing tool that's good for larger businesses with a narrower scope of needs.