Informing your clients via reporting about their business and marketing growth is essential to building long-term trust. Preparing marketing reports takes several hours per week – per client – and sometimes even more. One of the reporting tools you'll come across is Agency Analytics, a solution to automate client reporting.
Although it's a reliable and affordable tool, it isn't without its limitations. Your clients want to see results, and you don't want to leave your clients with a lot of unanswered questions. In this article, I'll review the 9 AgencyAnalytics alternatives to satisfy client needs.
Let's get rolling!
Why consider alternatives to AgencyAnalytics?
Fewer customization options
AgencyAnalytics visuals are not very customizable. For example, if you change the date range, the chart will automatically set to weekly or monthly, without the ability to manually change the view. Also, design customization only applies to the logo, backgrounds, and some colors. You can't change fonts either.
Occasional performance issues
Users of AgencyAnalytics often report performance issues of varying nature. Examples could include an integration that isn't pulling or displaying data as intended, or very slow data upload.
Entry pricing
Although it may not be an issue for most agencies, Agency Analytics have a minimum purchase of 5 dashboards, which is $50/month on the cheapest plan. There are other similar alternatives to AgencyAnalytics which allow fewer dashboards or a free plan for smaller teams to start out.
Here are the 9 best AgencyAnalytics alternatives
DashThis

Klipfolio

ReportGarden

Swydo

TapClicks

Whatagraph

Reportz

Adverity

Databox
1. DashThis
Best suited for: marketing agencies creating quick & easy dashboards to share with clients
Free trial: yes, 15 days. Sign up here.
Starting price: from $33/month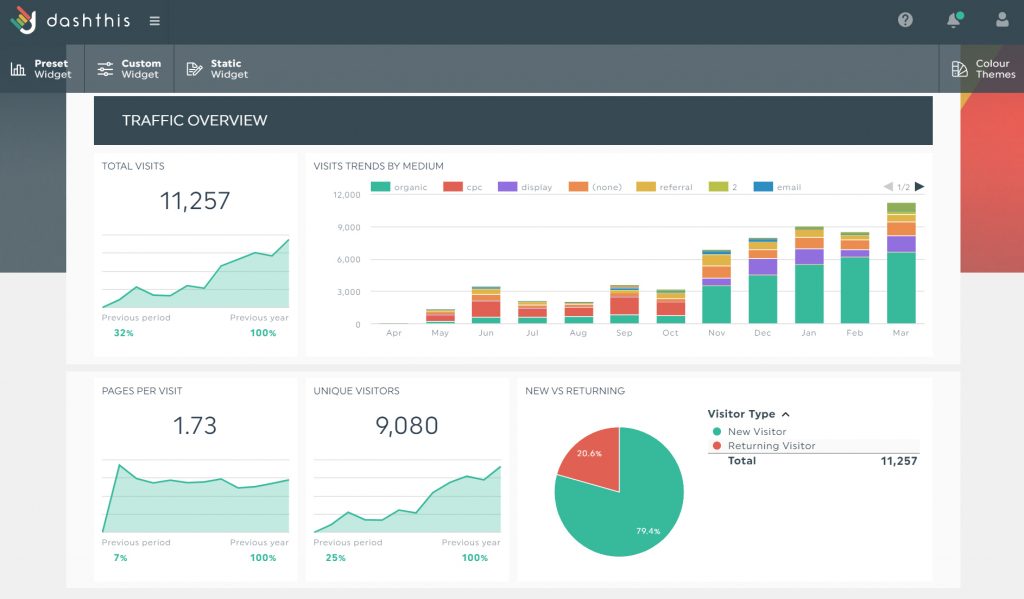 Key features
DashThis is a marketing reporting tool to create custom dashboards for SEO, email marketing, social media, and PPC campaign reports. Like AgencyAnalytics, it's used to connect up all your data sources, and make a single KPI dashboard to share with your clients.
It has all the common marketing integrations you'd need, including Google Ads, Bing Ads, all paid social ads like Facebook/Instagram/LinkedIn, SEO tools like Ahrefs & Semrush, and more.
DashThis is white label software, which makes it ideal for marketing agencies. You can customize your dashboard to demonstrate your own branding, and even replace the default DashThis URL with one that's branded to your organization, like 'reports.yourbrand.com'.
All DashThis plans come with unlimited users. You can add as many users to your account as you wish, letting your entire team access your dashboards and manage them.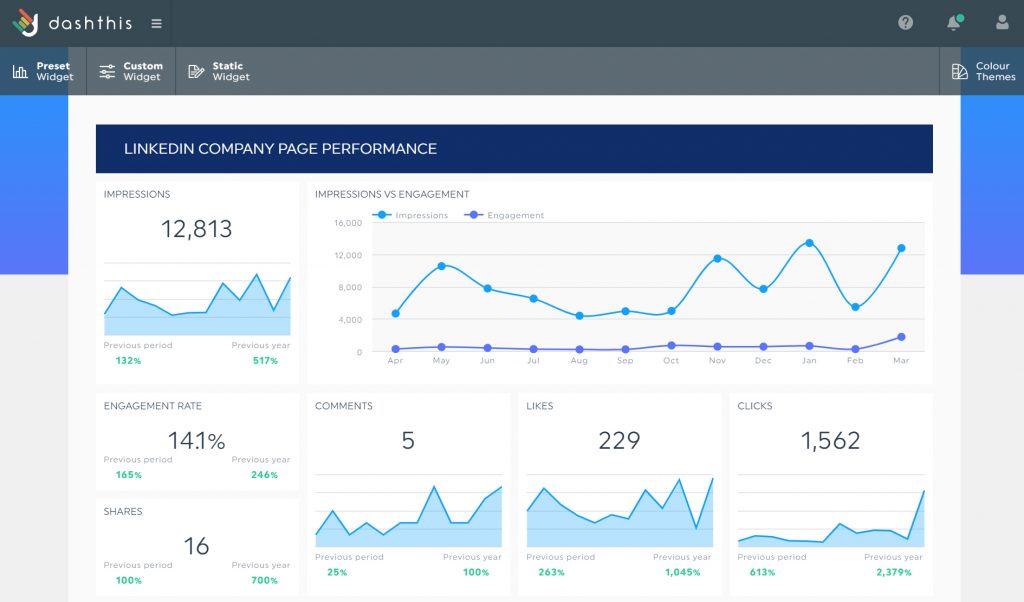 DashThis vs AgencyAnalytics
DashThis has a lower entry price, with 3 dashboards at $39/month. With AgencyAnalytics, the minimum purchase is 5 dashboards at $50/month.

DashThis report templates cover more use cases than AgencyAnalytics. Examples that DashThis offers that AgencyAnalytics doesn't includes: content reports, sales reports, organic LinkedIn reports, and Mailchimp report templates.

DashThis provides a simpler, easier to use setup & UI.

AgencyAnalytics allows you to export your reports in PDF and XLS format, whereas DashThis only supports PDF exports.

In AgencyAnalytics, you can choose to pay extra for rank tracking & site auditing. This isn't possible in DashThis.
Pricing
Currently, 4 plans are available on DashThis: Individual, Professional, Business, and Standard. The pricing starts from $39 per month (billed monthly) or $33 per month (billed annually), with 3 dashboard options and unlimited integrations. View pricing here.
2. Klipfolio
Best suited for: out-of-the-box KPI dashboards with a solid free version
Free trial: offers freemium version. Sign up here.
Starting price: from $99/month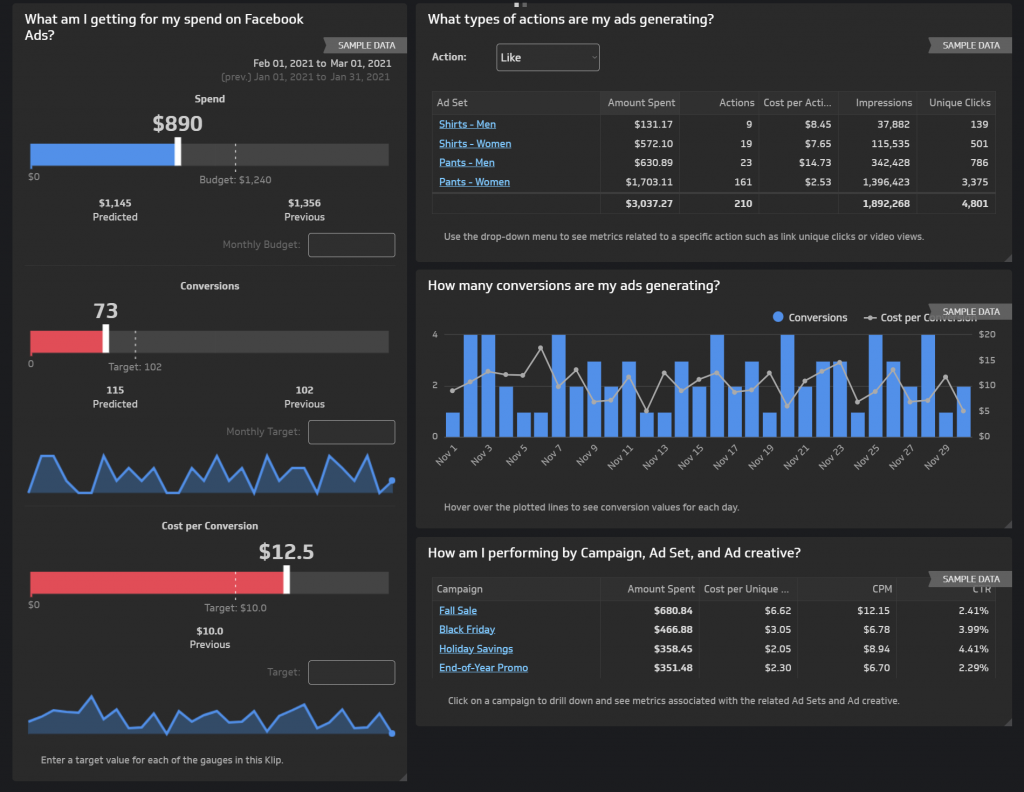 Key features
Klipfolio is a business intelligence and reporting software to build real-time dashboards. The key benefits of Klipfolio are its richness of features, preset templates, and its ability to integrate with many applications.
To begin with, Klipfolio works well with over 100 pre-built connectors, including spreadsheets and on-premise servers. These integrations include Excel, Google ads, Facebook ads, Google Search Console, and others.
Reporting with Klipfolio is easy, thanks to its powerful date and filter options. It lets you dig deeper into your data by adjusting date ranges, switching to monthly or yearly views, and filtering by custom dimensions.
With Klipfolio, you can easily create your own unique metrics from existing metrics via calculated fields, driving more relevant marketing analyses.
Klipfolio vs AgencyAnalytics
Klipfolio provides more data source connections, both online and offline, than AgencyAnalytics.

Klipfolio has a freemium plan and it comes with unlimited dashboards. AgencyAnalytics doesn't offer a freemium plan.

Klipfolio's automatic data refresh comes with an additional fee, whereas AgencyAnalytics data refreshes in real-time.
Pricing
Klipfolio has 4 plans: Free, Plus, Pro, and Custom. The 'Free' plan offers unlimited metrics and dashboards with a 4-hour data refresh interval. See full pricing here.
3. ReportGarden
Best suited for: digital marketing agencies who want to build reports quickly
Free trial: yes. Sign up here.
Starting price: from $89/month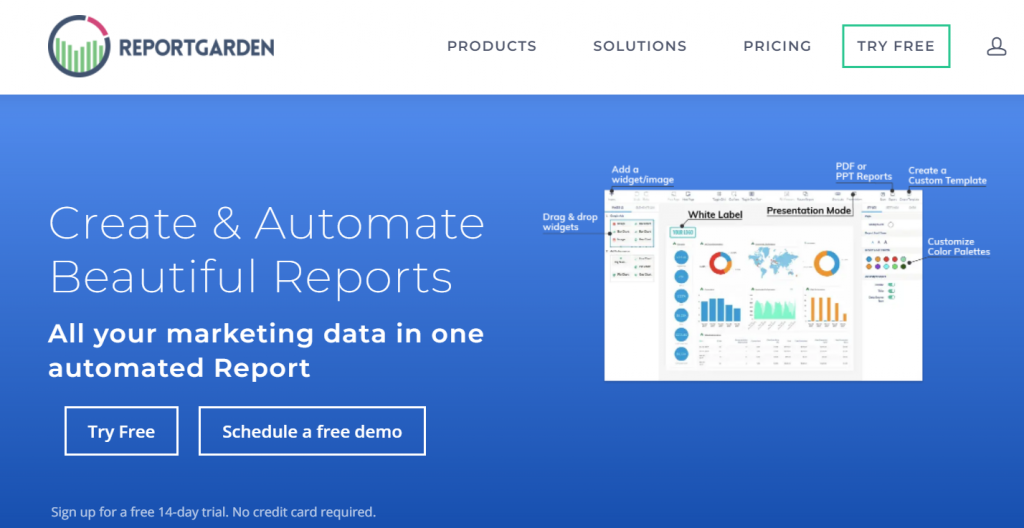 Key features
ReportGarden is a dashboard and reporting solution to automate cross-channel reporting and manage campaign budgets.
ReportGarden helps you build SEO, PPC, and social media reports that are easy to understand. It's easy to automate your monthly reporting by scheduling reports to be emailed directly to your clients.
SEO Audit tool is another solution by ReportGarden that will help you analyze backlinks and competitor data and optimize your client's web pages for enhanced discoverability through online search.
Furthermore, its website analysis tool allows you to perform an in=depth website audit across several data points and get insights on SEO errors you need to fix to boost your search rankings.
ReportGarden vs AgencyAnalytics
ReportGarden is a reporting and SEO solution with keyword position track and website audit features.

In terms of price, AgencyAnalytics is a less expensive tool than ReportGarden.
Pricing
ReportGarden has 4 plans: Basic, Standard, Professional, and Agency. The 'Basic' plan costs $89 per month and allows you to create 10 dashboards. View full pricing here.
4. Swydo
Best suited for: agencies who need to build custom reporting templates for ads campaigns
Free trial: yes, 14 days. Sign up here.
Starting price: from $39/month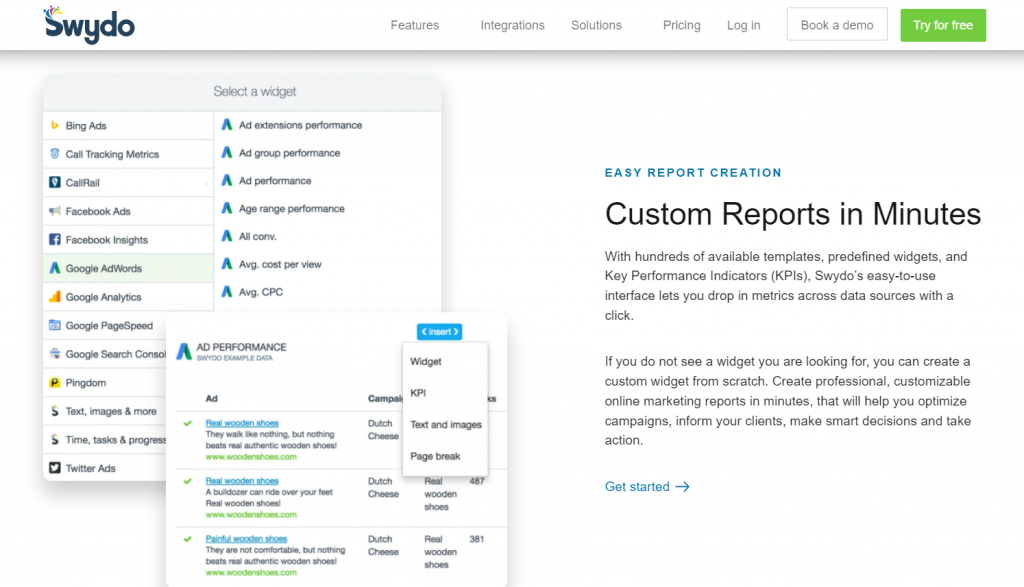 Key features
Swydo is a marketing analytics and automation tool to generate PPC reports and dashboards.
Swydo shows you how your campaigns are performing. Analyze and monitor KPIs to boost your campaigns as well as website performance and make strategic recommendations on budget allocation for marketing.
Additionally, Swydo allows you to add third-party data to your reports, thanks to its Google Sheets integration. In that way, you can combine all your marketing data into one dashboard.
Swydo vs AgencyAnalytics
Swydo is an easy-to-use and highly customizable solution to create custom reporting templates for Adwords and Facebook ads campaigns.

AgencyAnalytics connects with over 70 marketing tools whereas Swydo integrates with only 30 tools.
Pricing
Swydo pricing starts from $39 per month for 10 data source integrations and it offers unlimited users, dashboards, and reports. View full pricing here.
5. TapClicks
Best suited for: big advertising agencies and media companies who need to measure offline and online marketing campaigns
Free trial: yes, 14 days. Sign up here.
Starting price: from $499/month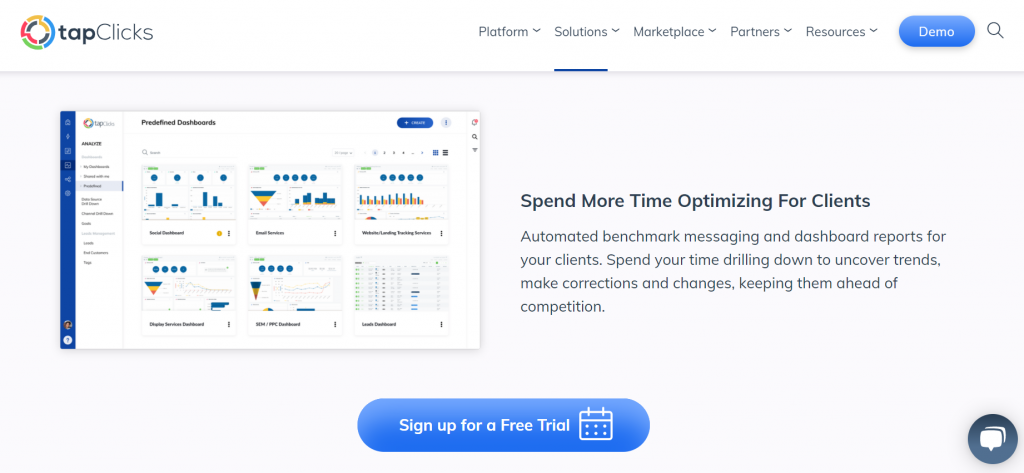 Key features
TapClicks is a marketing reporting tool that combines data from marketing campaigns and performance KPIs into a single dashboard.
TapClicks is really helpful in delivering the dashboards to your clients, letting them see their important metrics in real-time. With TapClicks, you can automate your reporting to focus on campaign optimization and client relationships.
Its competitive intelligence solution is for you if you want to get full visibility into your competitors' search engine marketing conversion funnel. See your competitors' conversion strategies from keywords, and uncover their PPC landing page design in their local campaigns.
TapClicks vs AgencyAnalytics
TapClicks offers more advanced features like analytics and data management.

The number of integrations and API hooks that are present with TapClikcs is excellent.

AgencyAnalytics is a more affordable solution for many businesses since its pricing starts from only $8.33 per month if billed annually.
Pricing
TapClicks has 3 plans: Basic, Pro, and Elit. The 'Basic' plan costs $499 per month (billed annually) or $599 per month (billed monthly) that comes with limited data connectors.
6. Whatagraph
Best suited for: agencies who need to develop automated cross-channel multi-account marketing reports
Free trial: yes, 7 days. Sign up here.
Starting price: from $199/month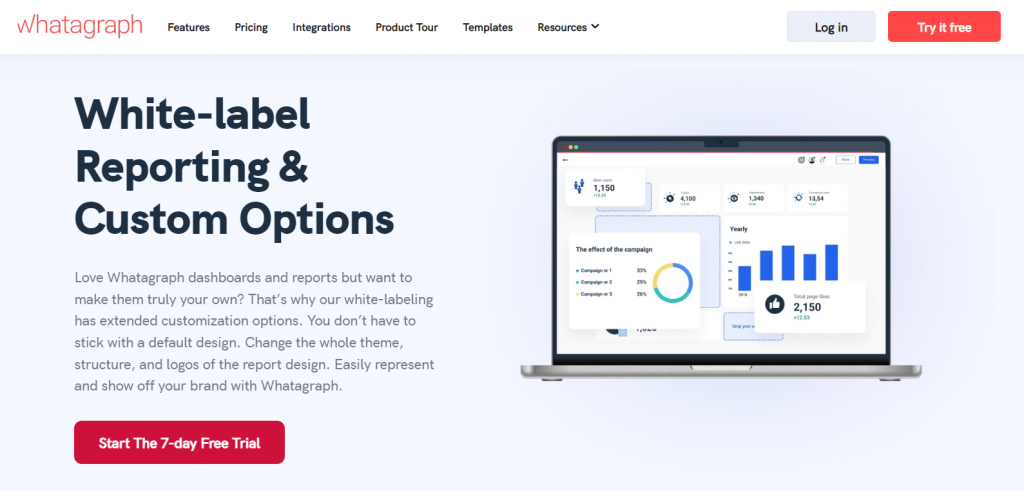 Key features
Whatagraph is a reporting, marketing analytics, and automation solution to build customized and interactive visualizations of various marketing activities.
You can combine data from numerous marketing channels, such as search engine optimization or social media, and offer a holistic performance overview to your clients with Whatagraph. This tool syncs with a variety of marketing platforms, including Google Analytics, Google Sheets, Facebook Ads, Amazon ads, Hubspot, Semrush, Ahrefs, and others.
Whatagraph's automated report delivery will give you flexibility in your reporting processes, eliminating the need for manually generating reports.
Whatagraph vs AgencyAnalytics
If you're looking for a tool that offers a snapshot of monthly performance for clients and a way to document KPIs in a clear manner, Whatagrap is a better option.

Whatagraph plans are more constantly compared to AgencyAnalytics plans.
Pricing
3 plans are available on Whatagraph: Professional, Premium, and Custom. The 'Professional' Plan costs $199 per month and it comes with over 40 integrations, unlimited reports, and report automation. See full pricing here.
7. Reportz
Best suited for: freelancers and marketing agencies who need to monitor KPIs from all marketing channels in real-time
Free trial: yes, 15 days. Sign up here.
Starting price: from $23.86/month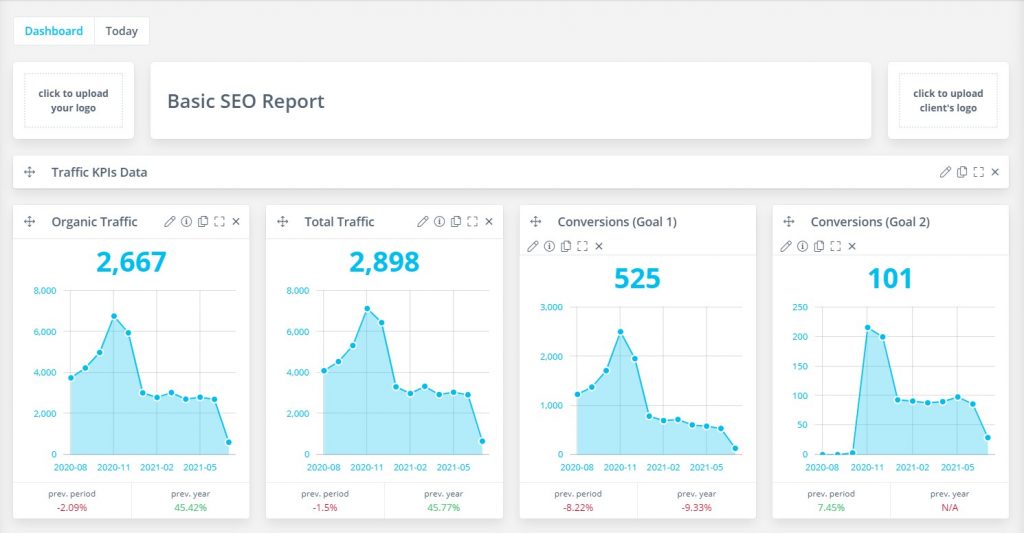 Key features
Reportz is a reporting and dashboard solution to track data and create fully customized reports in one place.
Reportz dashboards have no limit on the number of widgets, allowing you to track even the most complicated projects from one location.
If you want to save more time, use some of the Reportz preset templates for the most popular types of reports. Furthermore, you can easily automate reporting for regular clients, ensuring they receive important updates.
With its SEO features, you can get alerts whenever there's an unusual spike in your backlink numbers, so you can review them before getting a Google penalty. It also lets you stay ahead of your rivals by keeping track of their SEO-related strategies.
Reportz vs AgencyAnalytics
Reportz comes with many different dashboard options for building an analytics dashboard that is more customized than AgencyAnalytics reports.

Reportz's Google Sheet integration may be buggy from time to time, so you might want to use AgencyAnalytics instead.
Pricing
Reportz pricing is determined by the number of dashboards you wish to use. For example, for 3 dashboards, you'll have to pay $9.94 per month. View full pricing here.
8. Adverity
Best suited for: marketing and eCommerce teams who need advanced features like data integration and AI-driven insights
Free trial: unknown
Starting price: unknown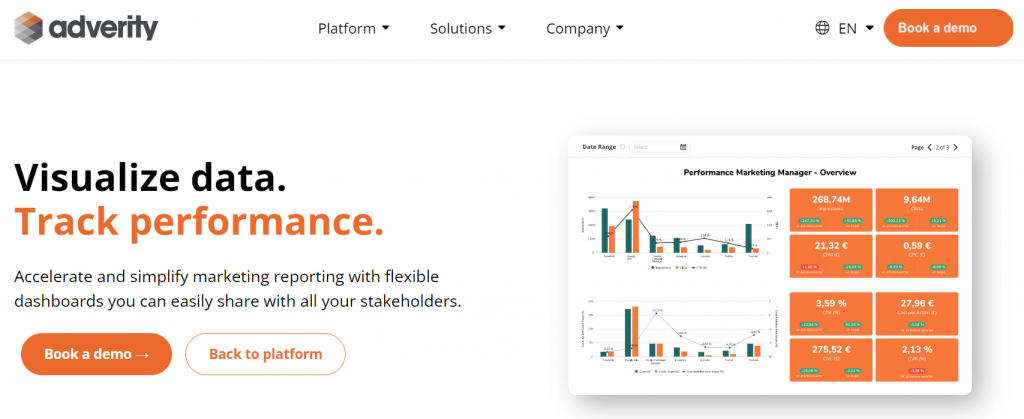 Key features
Adverity is a business intelligence, visualization, and marketing analytics solution to assemble and manage data sources in a single platform.
Create compelling and insightful dashboards with just a few clicks to generate better insights straight out of the box with Adverity. You can easily measure your performance against the rest of your industry to ensure that your campaigns deliver the desired results.
Furthermore, you can detect campaigns that are performing best or are being restricted by budget and get suggestions on how to optimize budget spending to achieve the best ROI. Its forecasting feature allows you to create a full overview of your actual budget spend and forecast position by the end of the period.
Adverity vs AgencyAnalytics
Adverity offers over 600 out-of-the-box data connectors (including Spreadsheets and email attachments) whereas AgencyAnalytics integrates with only 70 tools.

Adverity is a better solution for more advanced users who need scripting capabilities and custom Python code expression to deliver powerful data transformations.

Adverity may not be an affordable solution for small businesses.
Pricing
Adverity has 3 plans: Quick start, Premium, and Enterprise. The 'Quick Start' plan comes with API Connectors, standard data pipelines, and enrichment capabilities. View full pricing here.
9. Databox
Best suited for: marketers who need to track data from many sources with ease and discover insights in real-time
Free trial: yes. Sign up here.
Starting price: from $72/month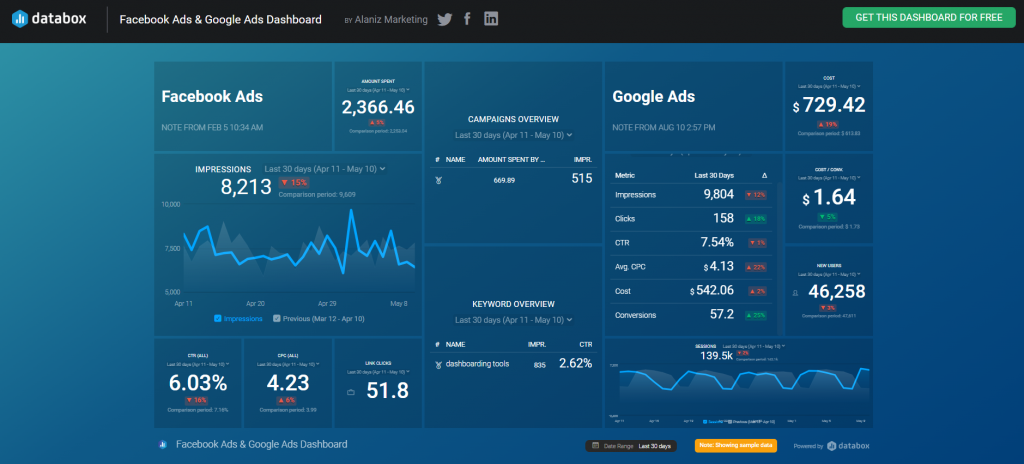 Key features
Databox is business analytics and reporting software to collect all your data in one unified place, monitor KPIs, and build custom dashboards.
Firstly, Databox has hundreds of dashboard templates that are loaded with some of the most common metrics across different departments, including marketing, customer support, and eCommerce.
Databox offers over 70 integrations with classic marketing and sales tools, such as Hubspot, Google Sheets, Facebook ads, and Google Analytics. In case you want to connect your own data, Databox's REST API and SDKs will allow you to connect any data source in minutes.
Databox vs AgencyAnalytics
AgencyAnalytics has fewer styling options than Databox, like the option to change colors within specific widgets.

Databox has a freemium plan, unlike AgencyAnalytics.

AgencyAnalytics offers some paid search integrations which Databox doesn't such as Snapchat ads, Yelp ads, and Spotify ads.
Pricing
4 plans are available on Databox: Free-forever, Starter, Professional, and Performer. With the free plan, you can only build 3 dashboards with no limit on data integrations. See full pricing here.