PPC marketers find reporting to be a major time drain due to complex tools and overwhelming data.

The solution lies in adopting a simpler approach to PPC reporting and using the right tech stack. In this article, I'll review 12 PPC reporting tools that can help you save time, analyze data, and improve your campaign results.
Here are the 12 best PPC reporting tools
DashThis

Whatagraph

Klipfolio

Databox

Google Analytics

Google Data Studio

Raven Tools

Report Garden

Swydo

Agency Analytics

Opteo

Adalysis
Best suited for: creating a PPC dashboard for easy sharing & KPI monitoring
Free trial: yes, 15 days. Sign up here.
Starting price: from $45/month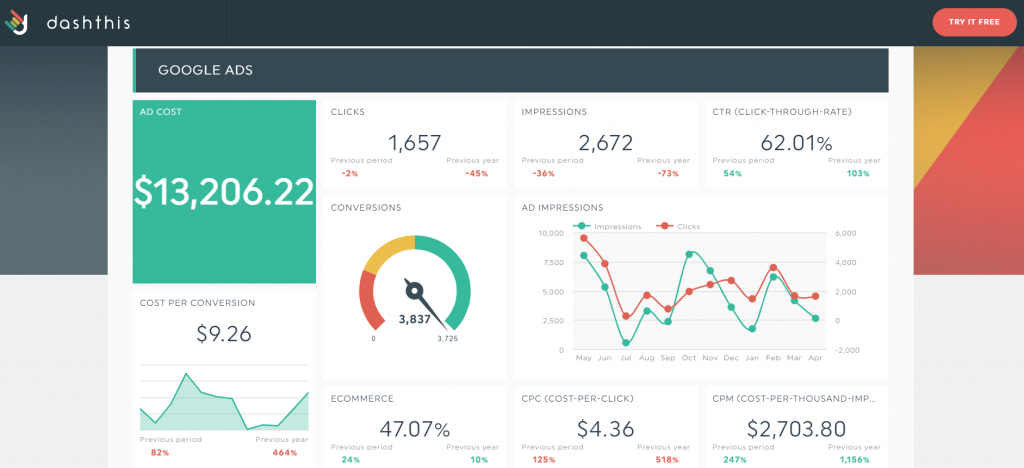 Key features
DashThis is a marketing reporting and dashboard solution to consolidate marketing data from different sources with native integrations and build PPC, SEM, and SEO dashboards.
DashThis seamlessly connects with all the popular PPC channels you love, such as Google Ads, Bing Ads, Facebook, TikTok Ads, and Search Ads 360. You don't have to worry about manual data pulling either, as DashThis automatically handles that for you.
It has PPC dashboard templates to help you get started quickly, too:
With DashThis, you can easily gather data from all your digital marketing tools and channels and view it in one convenient dashboard. This means you'll have access to more insightful PPC reports, helping you make better decisions.
What's even better is that DashThis supports various campaign types in Google Ads, including performance max, local services, and smart campaigns. So, managing your marketing efforts has never been this smooth and effective!
Another cool feature that DashThis offers is its white-label option, which is especially great for PPC agencies. With this feature, you have the freedom to upload your own logo, add a custom domain, and use personalized color schemes to make the reports truly your own
Pricing
DashThis offers 4 plans: Individual, Professional, Business, and Standard. The Individual plan costs $38/month (billed annually) or $45/month (billed monthly), involving 3 dashboards and unlimited users. View full pricing here.
Best suited for: Creating high volumes of PPC reports/dashboards across multiple clients or projects.
Free trial: yes, 7 days. Sign up here
Starting price: from $223/month (billed annually)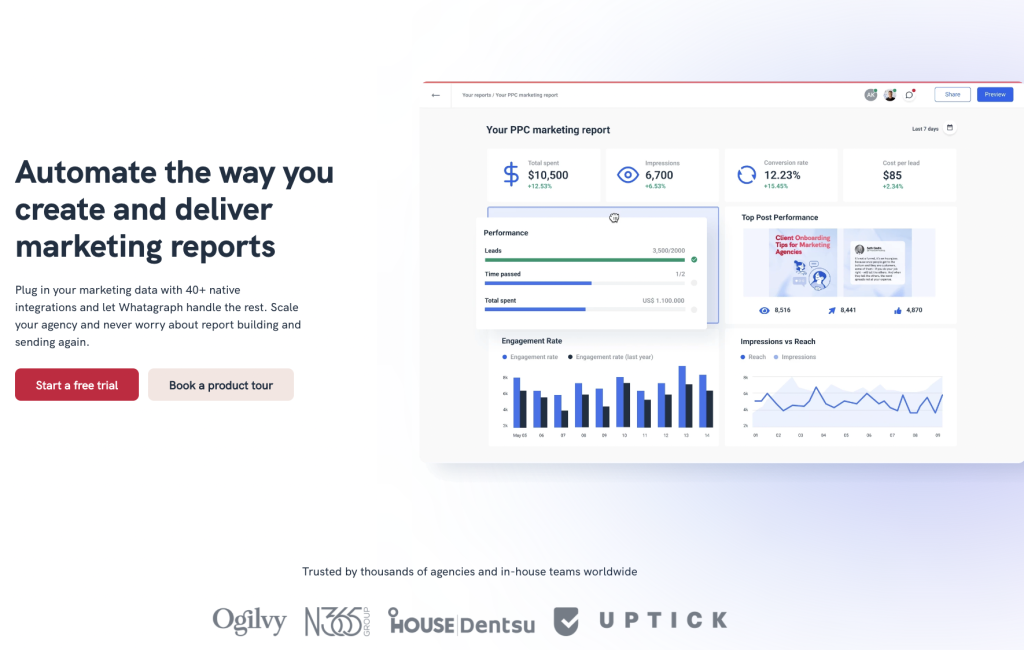 Key features
With Whatagraph, creating a report is a breeze. You won't need to start from scratch. Simply pick a PPC report template, connect your accounts, and watch the data upload instantly. Its PPC report template has all the widgets and metrics you need to keep your client or manager up to date about your PPC campaign success.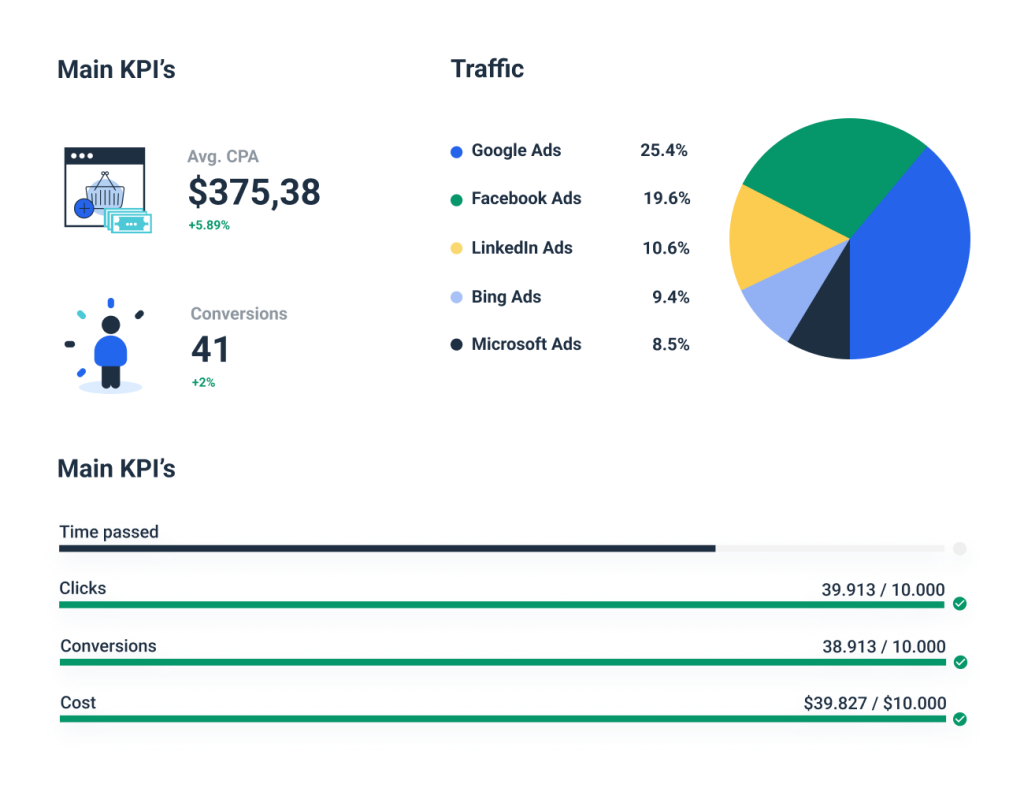 If you're interested in creating a cross-channel report and including various marketing channels alongside PPC, it's also easy with Whatagraph.
They offer over 40 data sources (Facebook Ads, Google Ads, Amazon Advertising, and many more) and 95+ report templates, so you'll definitely find the perfect fit for all your reporting needs.
Pricing
There are 3 plans you can select: Professional, Premium, and Custom. The Professional plan starts from $223/month (annually billed) and includes 45+ integrations. See the full pricing here.
Best suited for: small businesses and marketers who are looking to build PPC campaign reports and prove the ROI of their campaigns
Free trial: offers freemium version. Sign up here.
Starting price: from $125/month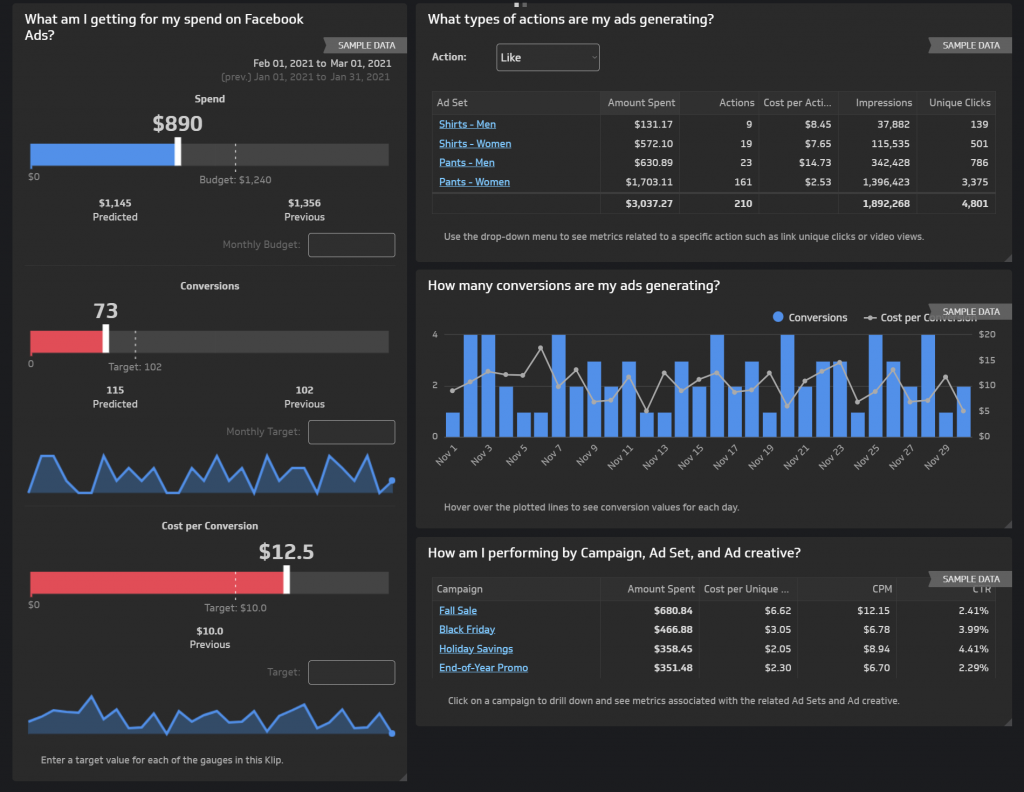 Key features
Klipfolio is a reporting and dashboard solution that's famous for its wide range of pre-built visualizations, agency solutions, and data-source connectors. It supports many advertising tools, including all the major PPC channels for search and social media.
One cool feature of Klipfolio is that it allows you to apply filters to your data so you narrow down the data you're looking for – making your data easier to handle.
With Klipfolio's PowerMetrics, you have the flexibility to use instant metrics from the tool or create your own values using specific equations. Additionally, you can easily download your Klipfolio dashboards as PDFs, making it simple to share your insights with others digitally or in print.
Moreover, Klipfolio offers another product called Klips, designed for client management. It allows you to convert complex file formats into accessible tabular data and automate client reports.
The best part is you can customize everything from the product name to logos with their white-label options, giving your clients a professional and personalized experience.
Pricing
Klipfolio offers 4 plans: Free, Go, Pro, and Business. The paid plans start from $90/month (billed annually) or $125/month (billed monthly) for 4 dashboards. You can check the full pricing here.
Best suited for: marketers and small businesses who need to set up reporting on specific marketing KPIs with one-click integrations
Free trial: yes. Sign up here.
Starting price: from $59/month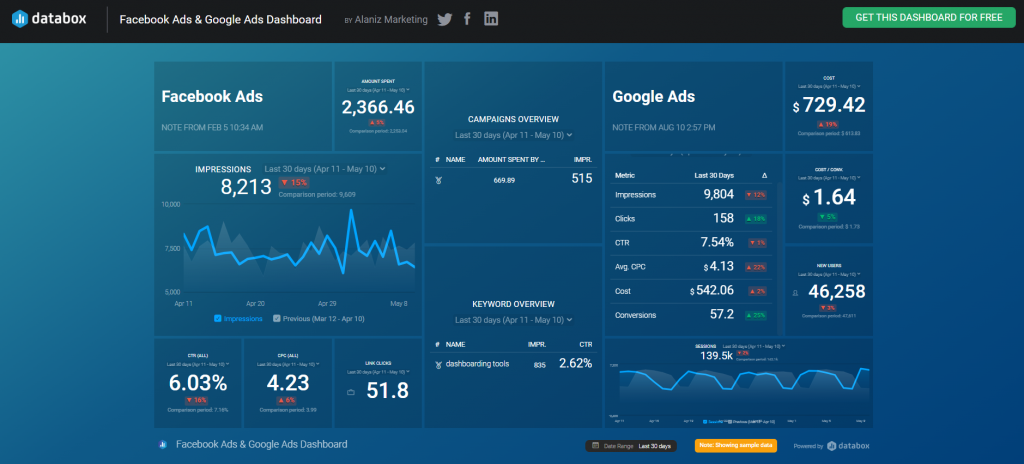 Key features
Databox is a reporting and business analytics solution to monitor marketing (PPC, SEO, social media, and content marketing) performance.
With Databox, you can easily connect multiple dashboards to create a super comprehensive report for all your PPC campaigns. Once you've connected everything, you'll get a single shareable link that hosts your entire dashboard.
It's easy to visualise the data in Databox, thanks to its over 70 integrations which come loaded with many default metrics.
If the preconfigured metrics don't cover everything you need, don't worry. With Databox's query builder, you can easily create custom metrics using dimensions, giving you even more detailed performance insights.
In addition to its core features, Databox also offers some cool agency features! For instance, you can easily manage user permissions for both your team members and client accounts.
Plus, the alerts feature is really powerful! You can set up performance alerts, so your clients will be notified when their important PPC metrics improve by a specific percentage.
Pricing
Databox currently offers 5 plans: Free, Starter, Professional, Growth, and Premium. The 'Free-forever' tier is limited to only 3 data source connections. See the full pricing here.
Best suited for: digital marketers and businesses who need to get better insights into the full value of their PPC campaigns and make strategic improvements
Starting price: free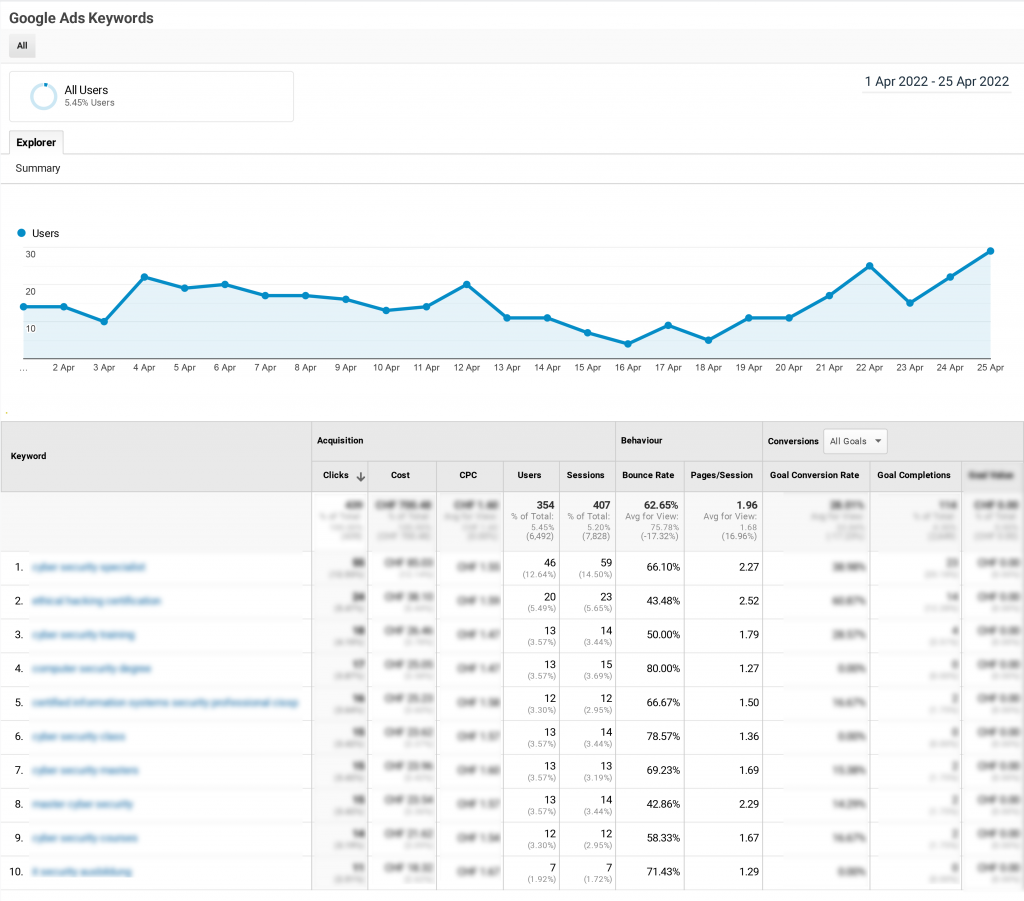 Key features
Google Analytics is an awesome tool that gives you real-time insights into how users interact with your website. You can use tracking codes to keep tabs on your advertising, social, and PR campaigns on your site.
When you combine your PPC efforts with Google Analytics' extra measurement features, it becomes even more powerful for tracking your goals. For instance, the time lag and path length reports show you how many days it takes before a conversion happens on your website. This way, you can figure out how long to wait before seeing the full impact of your PPC campaigns.
Its Source/Medium report provides a valuable overview of the performance of your marketing channels (e.g., google/organic, google/CPC, youtube.com/referral). It is especially useful for PPC specialists.
Pricing
Google Analytics offers 2 plans: Free and 360. The 'Free' plan offers many features such as conversion reporting, event tracking, customer reporting, site search tracking, custom reports, behavior flow, and many more. Google Analytics 360 starts from $12.500 per month or $150.000 per year and comes with advanced options like unsampled reports and BigQuery export.
Best suited for: marketers who need a free marketing reporting tool
Starting price: Free. Sign up here.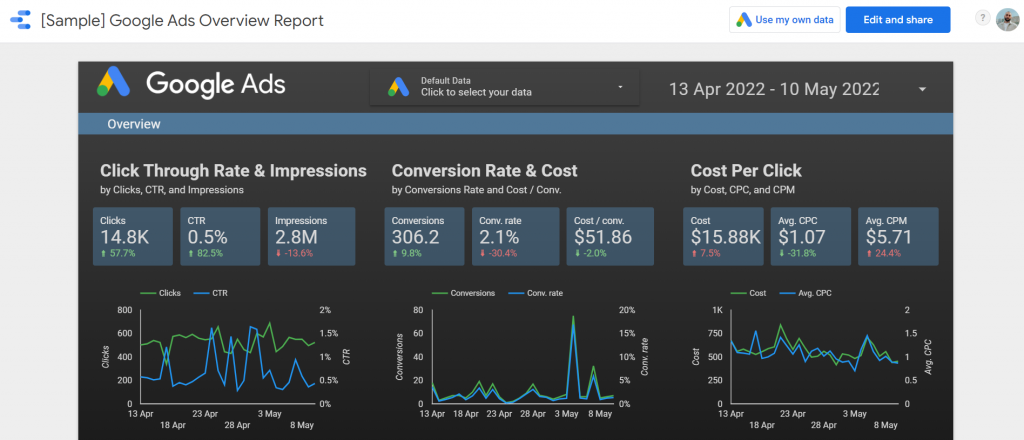 Key features
Google Data Studio is a reporting and dashboard tool that gathers data from diverse sources and displays it in real-time. It seamlessly integrates with all Google-owned platforms, including Google Ads, enabling effective tracking of campaign performance, ad groups, and keywords.
This tool includes 40+ templates to accelerate your reporting. It offers various options for customization, such as colors, fonts, size, and labels. Google Data Studio reports are interactive and easily shareable.
However, being a free tool, it lacks customer support. If that's essential, consider alternatives like DashThis or Klipfolio.
Pricing
Google Data Studio is available for free.
Best suited for: agencies and non-client-focused marketers who wish to perform reporting, keyword research, and social media management with one single tool
Free trial: yes, 7 days. Sign up here.
Starting price: from $49/month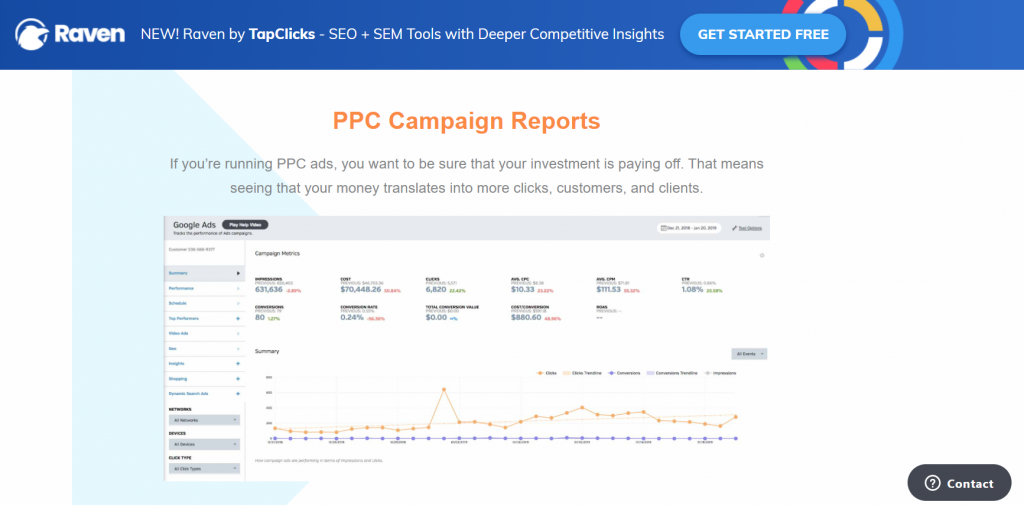 Key features
Raven Tools is a white-label digital marketing solution for PPC and SEO reporting, marketing analysis, website auditing, and keyword research.
Raven Tools consolidates data from 30+ marketing tools and services, such as Facebook ads, Google ads, Google Analytics/Search Console, and Instagram ads.
Create custom PPC reports, view all channels on one board, and adjust budgets in real-time for cost-effective campaigns. Automate weekly/monthly reporting for effortless PPC performance tracking.
Pricing
Raven Tools offers 5 subscription plans: Small Biz, Start, Grow, Thrive, and Lead. The 'Small Biz' plan costs $39/month (billed annually) or $49/ month (billed monthly). See full pricing here.
Best suited for: agencies who are looking for an easy and automated PPC reporting solution
Free trial: yes, 14 days. Sign up here.
Starting price: from $89/month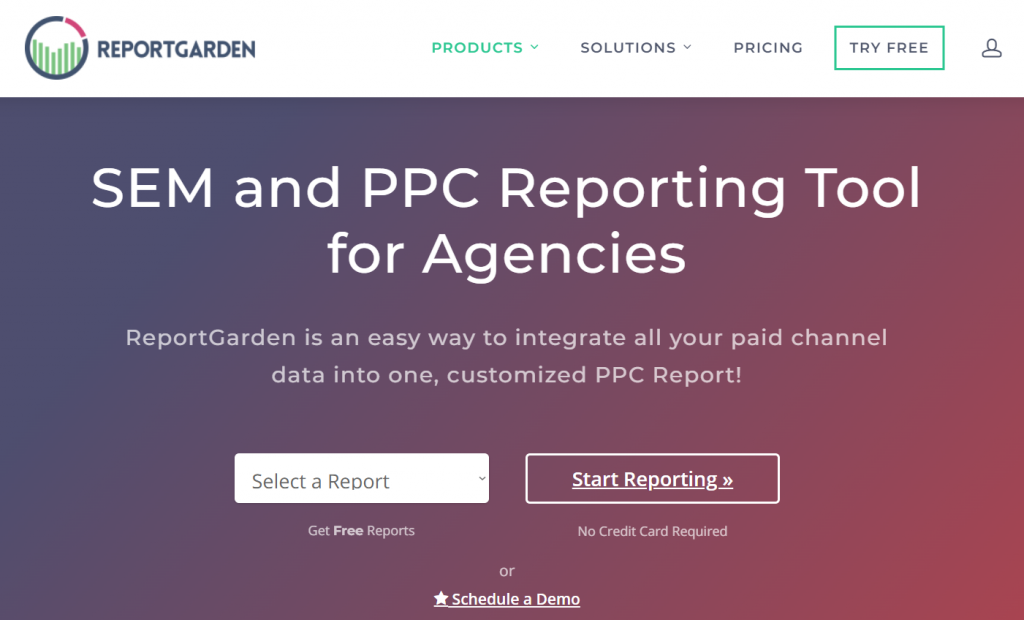 Key features
Report Garden is a multi-channel dashboard and reporting solution to generate and automate client reporting and optimize your PPC marketing efforts.
Setting up reports and widgets on Report Garden takes minutes and linking accounts is simple, thanks to its clean and easy-to-understand interface.
Custom calculations are another feature of Report Garden. Based on a specified formula, it's possible to create your own custom calculations to better interpret data and align your reports to your clients' measures.
With Garden Report, your reports can be scheduled out weekly/monthly so when a client demand reports once every two weeks, a quick schedule can be updated and the tool will send out the report to your client.
Pricing
Garden Report offers 4 subscription plans: Basic, Standard, Professional, and Enterprise. The 'Basic' plan starts from $89/month for 5 users and allows you to create 10 dashboards. Check out the full pricing here.
Best suited for: agencies and small businesses who need custom reporting templates for ads campaigns
Free trial: yes, 14 days. Sign up here.
Starting price: from $49/month for 10 data sources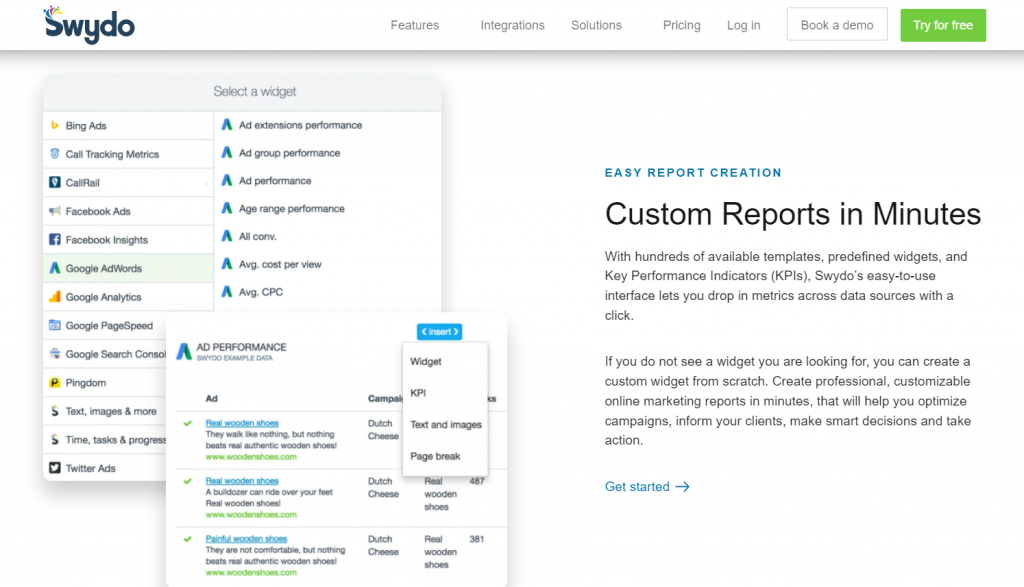 Key features
Swydo is a marketing analytics and automation solution to create PPC reports and dashboards.
Swydo's user-friendly interface allows you to create PPC reports for Facebook, LinkedIn, Google, Twitter, and AdWords campaigns.
It's a great solution that consolidates your marketing data from sources like TikTok Ads, LinkedIn Ads, and others, enabling you to generate customized, powerful reports for your clients. Once set up, you can automatically schedule and send these reports as frequently as you like.
Pricing
Swydo pricing starts from $39 per month for 10 data source integrations and it offers unlimited users, dashboards, and reports. View full pricing here.
Best suited for: PPC specialists or agencies who need a budget-friendly solution to develop automated dashboards with less manual work
Free trial: yes, 14 days. Sign up here (no credit card required).
Starting price: from $12/month (per client campaign)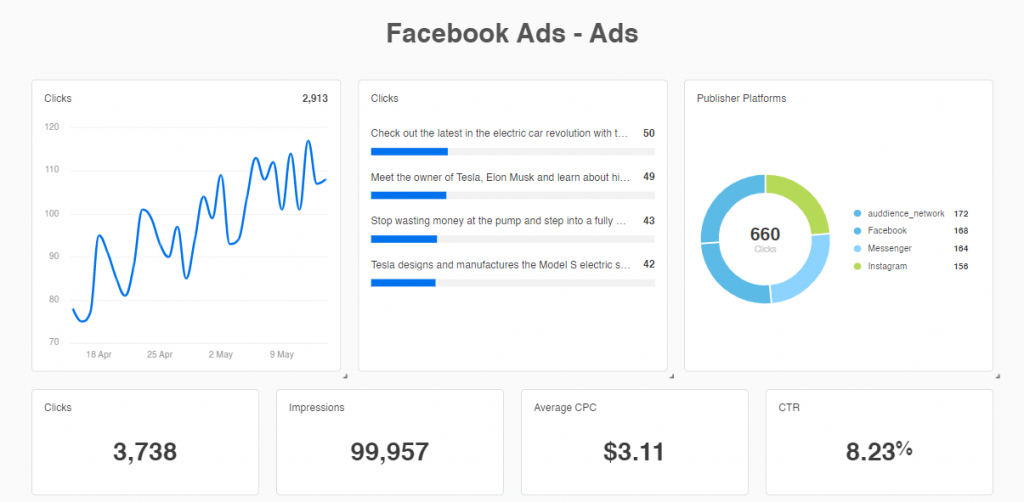 Key features
Agency Analytics provides a comprehensive SEO and marketing dashboard solution, enabling users to effortlessly monitor all marketing channels for their clients through a single platform.
With seamless integration across more than 60 channels, including major PPC platforms like Facebook ads, Google ads, and Twitter ads, it offers a powerful toolset for managing diverse marketing campaigns.
The platform's automated client reporting is particularly advantageous for PPC agencies. By presenting daily, weekly, and monthly data, it empowers agency clients to gain insights into the performance of their PPC campaigns.
Agency Analytics reports are fully customizable. With its drag-and-drop report builder and pre-built report templates, you can easily tweak any parameter and modify reports.
Pricing
Currently, 3 plans are available on Agency Analytics: Freelancer, Agency, and Enterprise. The 'Freelancer' plan starts from $12/month (billed monthly) or $10/month (billed annually). All Agency Analytics plans come with unlimited reports and 60+ integrations. See the full pricing here.
Best suited for: businesses who spend their budget mostly on Google ads and need to manage and optimise their campaigns
Free trial: yes, 1 month. Sign up here.
Starting price: from $99/month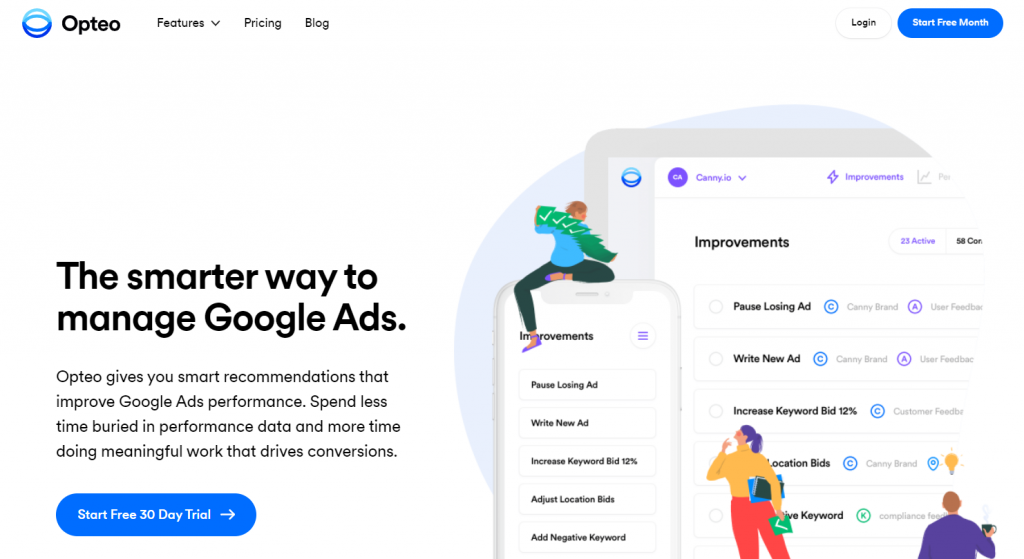 Key features
Opteo is a Google ads campaign management and optimization tool to make Google ads more effective and maximize PPC efforts with data-driven improvements.
By using its user-friendly ad writing tool, you can conduct split tests on your ad creative, leading to improved performance and the generation of fresh text advertisements.
Opteo consistently assesses the performance of your ads, identifying the most effective ones. Once it has gathered sufficient data to make reliable statistical decisions, it will prompt you to remove or replace underperforming advertisements.
Connect with Google Analytics, and understand your ad performance in terms of overall website traffic. Opteo's Google ads reports give you access to key metrics that point to the performance of your campaigns, ad groups, and keywords selected for them.
Pricing
Opteo offers 4 subscription plans: Basic, Professional, Agency, and Enterprise. The 'Basic' plan costs $99/month and allows you to benefit from $50.000 ad spend per month and live chat support. See the full Opteo pricing here.
Best suited for: agencies needing advanced PPC management software
Free trial: yes, 14 days. Sign up here.
Starting price: from $99/month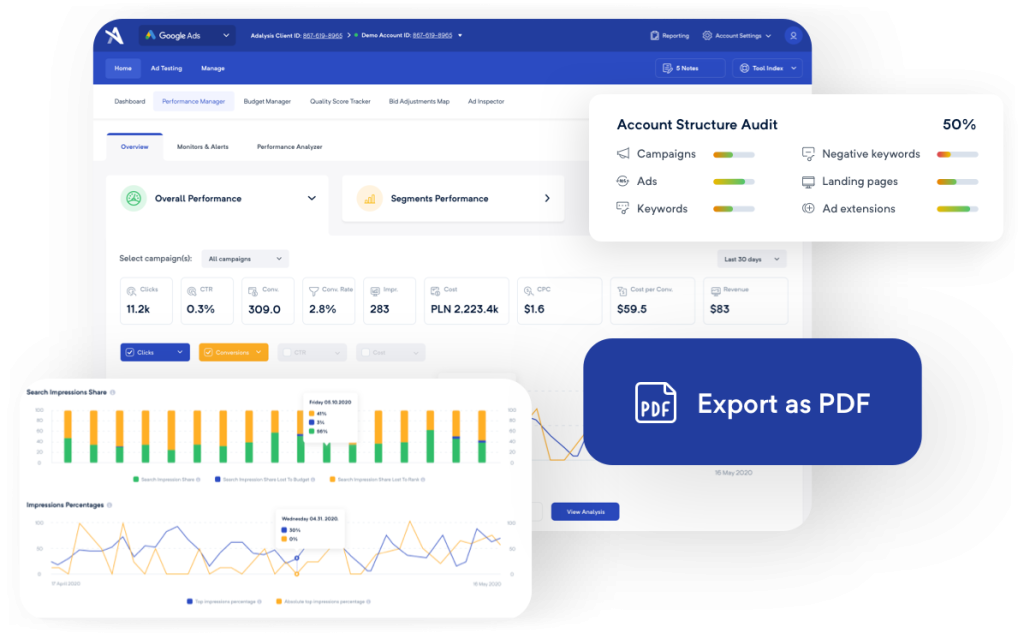 Key features
Adalysis is a comprehensive PPC management platform crafted to assist businesses in optimizing their advertising campaigns on Google and Bing search engines.
With its Streamlined Workflows, Adalysis leverages automation, utilizing an advanced algorithm to conduct 70 daily checks. This constant monitoring ensures that accounts remain under continuous supervision, alleviating the burden on advertisers.
Adalysis also enables swift implementation of exclusions or inclusions and allows users to establish testing parameters for individual campaigns or clients, facilitating seamless adjustments and optimizations.
Pricing
Adalysis has 6 different plans, starting from $99/month for up to $50k monthly spend. See its full pricing here.