Let's put aside long introductions. You want to track your competitors' traffic, and we know how to do it.
Read on and learn:
why competitor analysis is a way to save your time and money;
why brands you might consider your competitors are not your real competitors;
how to identify your competitors' marketing channels;
how to analyze their organic traffic;
how to analyze their paid traffic;
how to identify competitors' partners;
how to set up tracking for your competitors' reach and site traffic.
Why you shouldn't do your marketing without competitor analysis
A decade ago, new companies had a massive privilege – building an online presence didn't require as much research and dedication as it does today.
Due to lower competition, many SaaS brands have taken strong positions by publishing quality content and providing great service.
If you enter the game these days, there are 10x more musts for gaining traction on the web.
You can't ignore the competition that has already won your audience's attention.
Let's look at the Ahrefs website. It ranks on the first page of search results for the overwhelming majority of SEO-related keywords. They're everywhere.
But how have they reached these results? Today, their strategy goes far beyond publishing long-form guides on their blog. It includes link-building, influencer marketing, paid advertising, community marketing, and many more promotion methods.
To compete with Ahrefs for traffic, you need the right strategy. But first, you should understand how each of their campaigns adds to their reach. This is where competitor analysis comes in.
Moreover, tracking your competitors' traffic across different channels is a way to identify benchmarks for possible reach on each of them. Are most of your rivals present on Facebook, but none of them can boast about a large following? It's a good sign you shouldn't waste your time on the channel.
How to track competitors' site traffic
When you turn on the SimilarWeb extension – the tool that's recommended to you first thing after you start looking into the topic – on your rival's site, you discover their estimated traffic.
What are you to do with this data? Is it all information you can access?
First, close the extension, leave the site, and go discover who your real competitors are.
Step 1: Who are your real competitors?
We'll keep referring to Ahrefs as an illustrative example. Say, you've launched a new keyword research tool. The tool focuses on providing the data for a given keyword, related keywords, search questions, and content ideas. Is Ahrefs, the all-in-one tool for SEO experts, your direct competitor?
No, it's not.
Ahrefs' audience includes freelance SEO experts, in-house SEO teams, and marketing agencies.
Look at Neil Patel's Ubersuggest. Their target audience is content marketers and paid search specialists.
It's true that Ahrefs and Ubersuggest both rank for the 'keyword research tool' query. But it doesn't mean Neil Patel should follow Ahrefs' strategy and try to win their audience.
The size and reputation of a competitor's brand are also important.
If you haven't raised capital for your startup, overlooking smaller brands is a huge mistake. Focus on them and their growth strategies before you aim at niche giants.
With this in mind, do competitor analysis carefully. If you're only at the beginning of an SEO journey, pick a keyword that describes your audience's interests the best.
When we search for the 'keyword research tool' query in Semrush, there are both all-in-one platforms and dedicated keyword tools in the top 10 search results.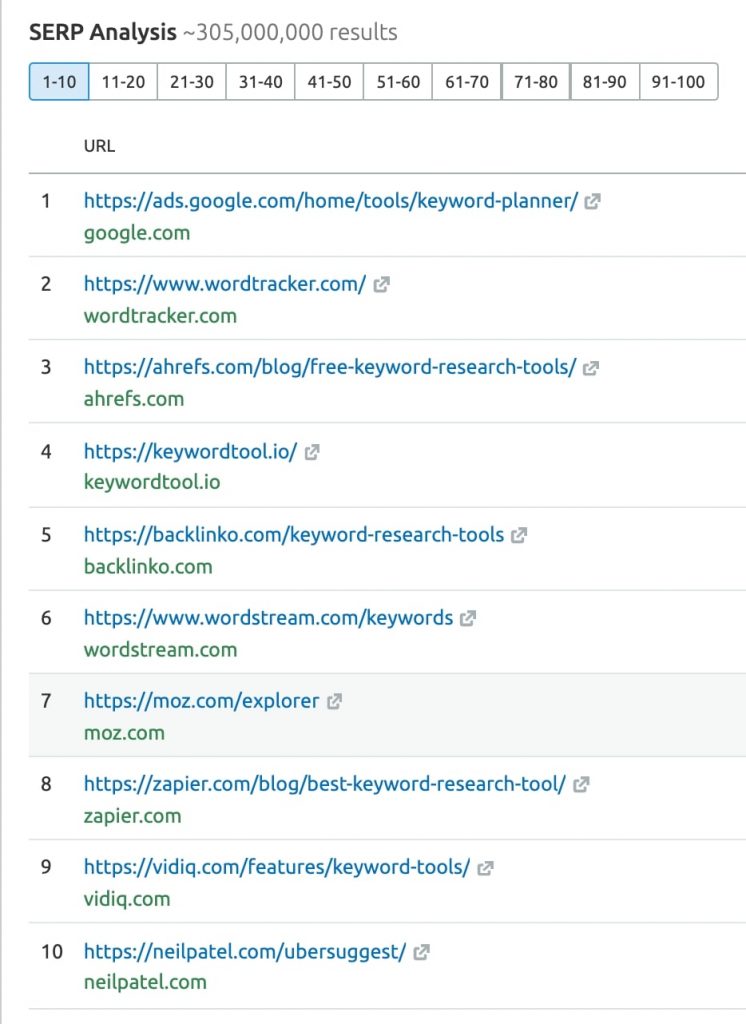 To begin with, let's pick the most relevant ones. These are Wordtracker, Keyword Tool, and a free keyword tool by Wordstream.
We'll add them to the spreadsheet we'll be using to track competitors' traffic.

Next come all-in-one tools that are ranking for the given query with their landing pages. They aren't our closest competitors, but if we want to compete for the 'keyword research tool' query, we should consider them as well.

And finally, we'll make notes on the articles ranking for the given keyword. It's good to know how they've reached the 1st page of search results, but it's also worth trying to get listed in one of those articles.

Ubersuggest didn't get to our list because we're pretending we're running competitor analysis for Neil Patel. In the further sections, we'll compare the domain against the ones on the list.
Note: For highly competitive niches, like SEO, I recommend that you go beyond the first page of search results and expand your list to companies ranking in the top 20 search results.

Step 2: Make a list of their marketing channels
As our goal is to analyze all the traffic of our competitors, we shouldn't limit the analysis to SEO.
It's time to identify your competitors' major marketing channels. Using SimilarWeb is the easiest way to do so. Type the domain name into the search box, and scroll down to the Traffic Sources section.

It's hardly surprising that Wordstream heavily relies on search traffic.
In other niches, your competitors might be focusing on social media or email marketing on a par with SEO. For instance, Dooly, a connected workspace for sales teams, gets a great portion of traffic from their social media channels.

If we dig deeper, we'll discover that LinkedIn is their best-performing social media platform.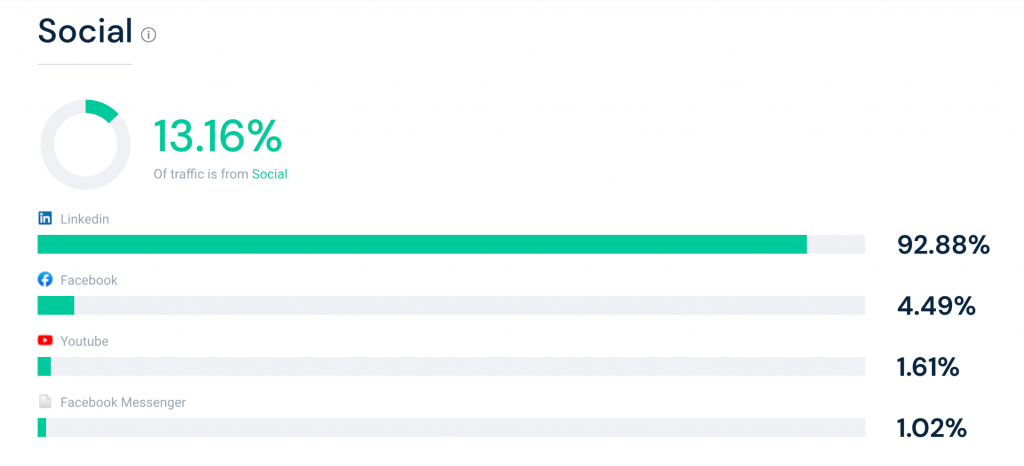 Top Referring Sites is one more interesting tab you should examine thoroughly. Here you'll find sites that are most likely to own audiences similar to yours. Contrary to sites you typically partner with for link-building, these are domains you can partner with to share press releases or run co-branding campaigns.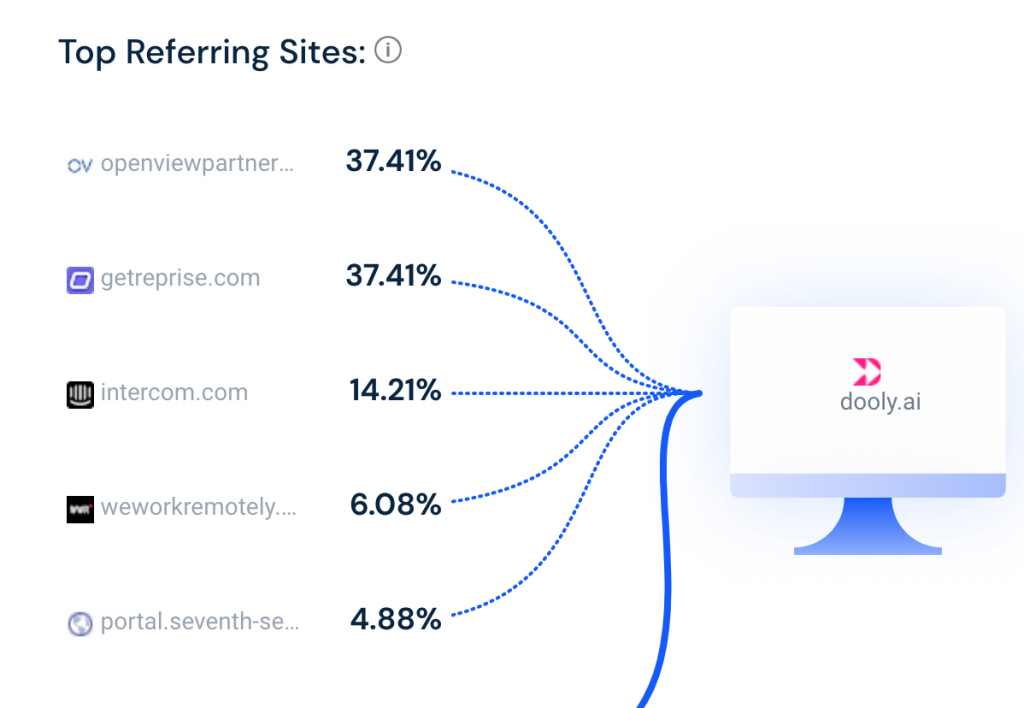 Step 3: Run the analysis of search traffic
Back to search traffic.
Note: From now on, we'll be using Serpstat for illustrating some of the competitor analysis steps. You can take the same actions with Semrush, Ahrefs, or other alternatives. The reason we choose Serpstat is that it allows us to perform analysis right inside Google Sheets (see step 6).
The analysis of competitors' search traffic is a way to discover low-hanging fruit for building an SEO plan from scratch or identify gaps in your current SEO strategy.
Check the domain overview
Simply enter one of your competitors' URLs into the search box of a chosen SEO, and let it do all the work for you.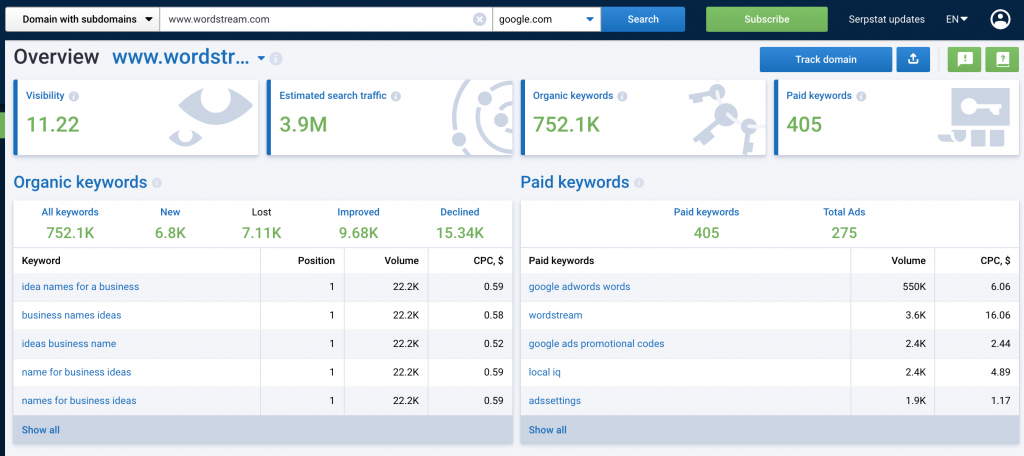 The dashboard provides information on the domain's estimated search traffic, the number of organic keywords, paid keywords, and more. Scroll down to see how the traffic trend has been changing for the last year.

There are many more dashboards, including Keywords Trends, Top Pages, Backlinks Overview, etc., that you can use to form an idea of how strong your competitor's SEO strategy is.
Find keyword gaps
If your site already contains plenty of content, as Ubersuggest does, you can easily detect opportunities you've been missing on.
Even though this step doesn't relate directly to traffic tracking, it does help to identify additional traffic sources of your competitors.
Are your competitors enjoying traffic from keywords you haven't optimized your content for? To learn the answer, go to the URL analysis > Compare URL section (OR Domain analysis > Domain vs Domain to compare entire domains) and enter up to three URLs.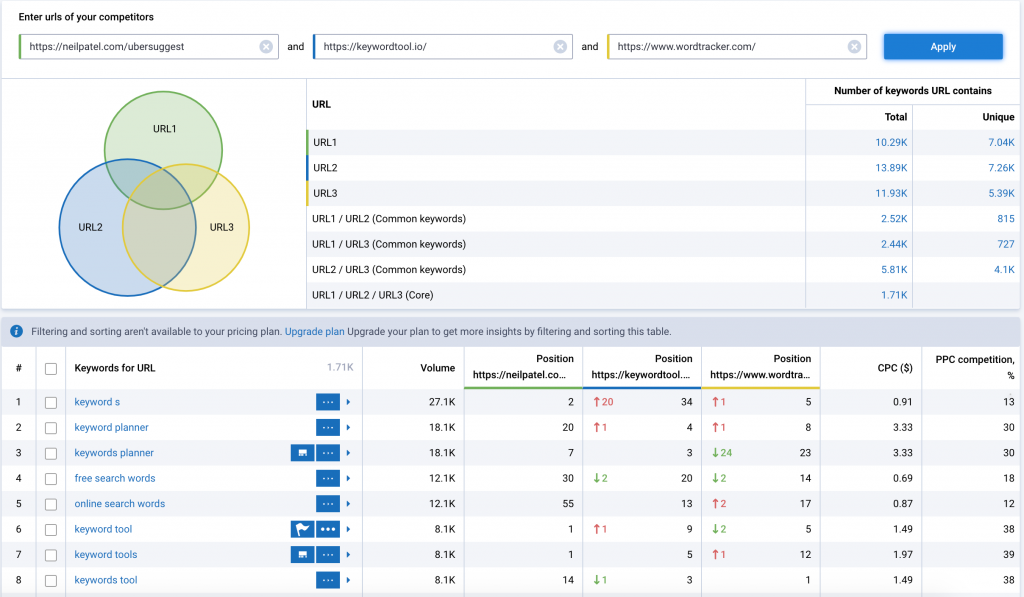 The resulting dashboard will uncover a list of keywords that these URLs get (or might get) traffic from. When you collect a bunch of queries you want to win, tick them and add them to Rank tracker. From this moment, you'll be able to track your site's performance for the selected keywords.
Set up rank tracking
There are two ways you can approach tracking of your competitors' rankings.
The first method involves specifying your domain in the Rank Tracking project and entering competing domains in the Top competitors box.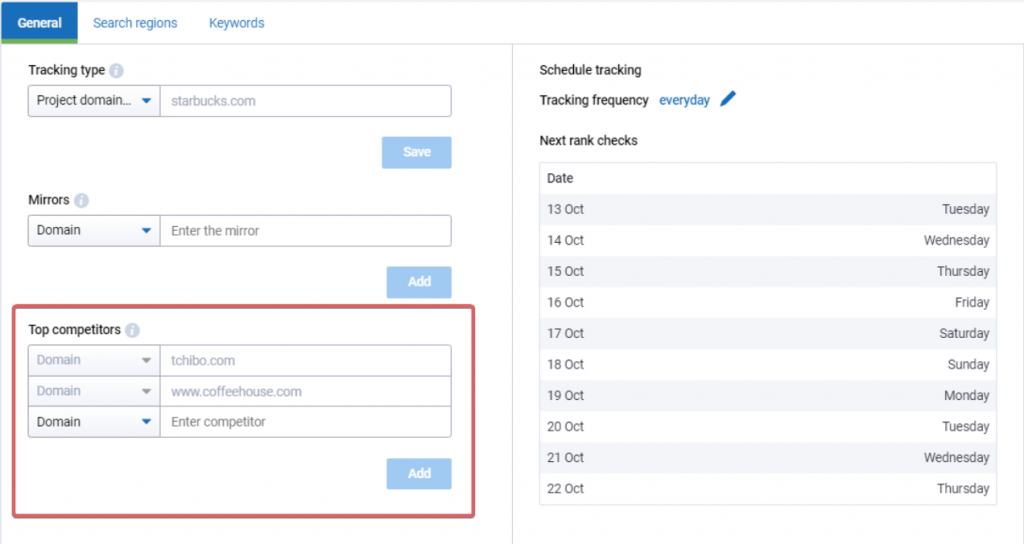 This way, you'll be able to compare your progress to your competitors' changes in positions and traffic for the list of keywords you've added when setting up the project.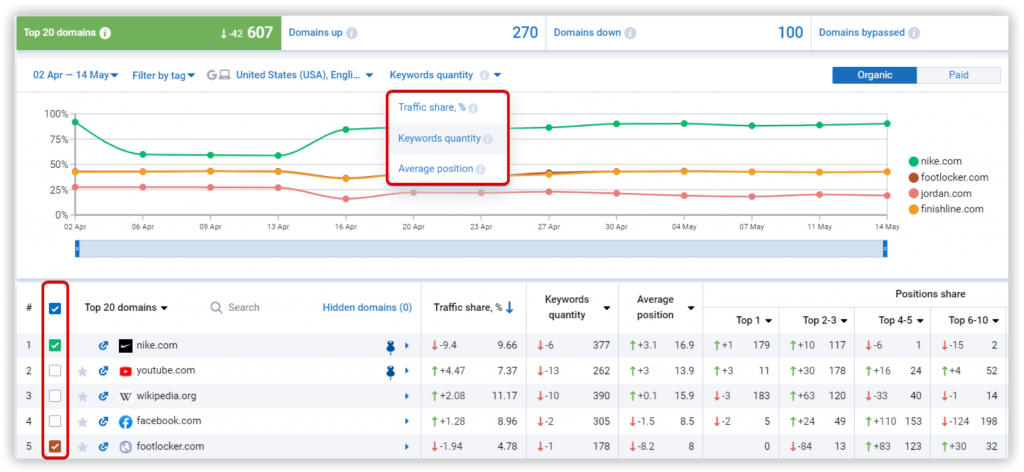 Alternatively, you can run separate rank tracking projects for your closest competitors. With this method, you'll be seeing day-to-day changes in their positions and traffic for the specified keywords.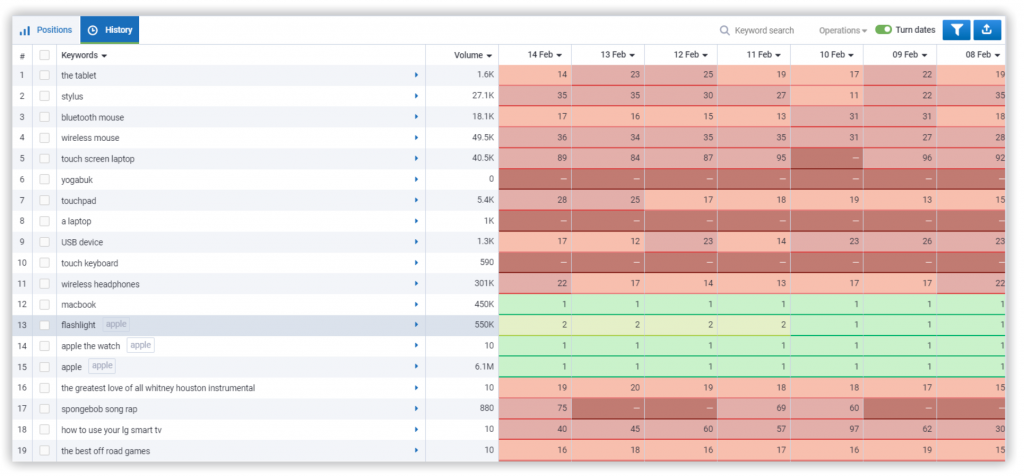 Step 4: Analyze competitors' paid traffic
It's likely that your competition is getting a great portion of traffic from paid advertising.
That's why our next step is spying on competitors' ads.
Review PPC campaigns
In the PPC report, you can find (almost) all the keywords your rival is bidding on. This is invaluable information for those who want to enter the competition for paid traffic.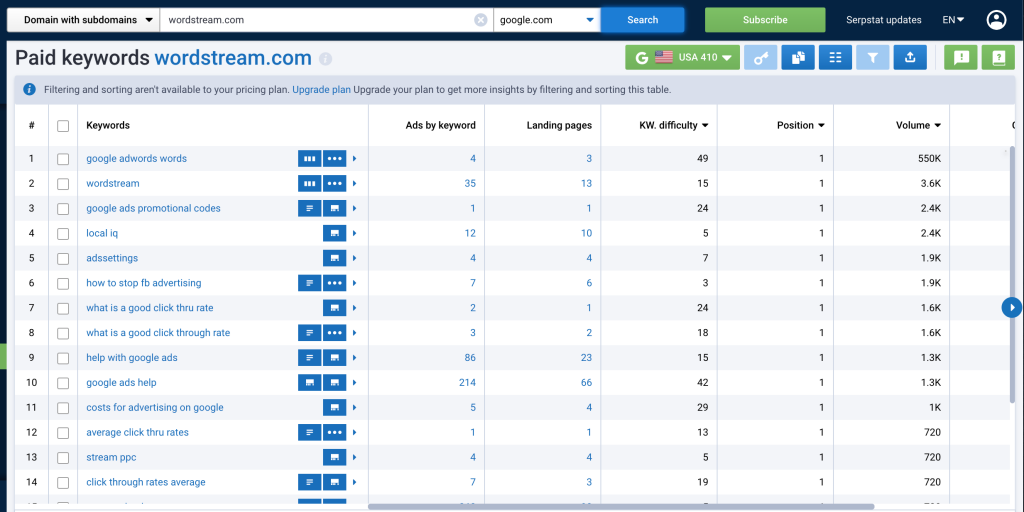 To keep track of your or/and your competitors' positions for specific phrases in paid search results, check the keywords and add them to the rank tracking project.

Note: Serpstat doesn't provide estimates for the domain's paid traffic. You can use Semrush to access this data.

Look into paid social and display advertising
It's likely that your competition is running paid campaigns across channels other than Google Ads. For most of the well-known advertising platforms, there are free and paid solutions allowing you to identify ads by a brand name, industry, or keyword:
Unfortunately, there are no tools that will provide insights into the performance of these ads. You won't be able to estimate the traffic competitors are gaining from paid social advertising, but you can make a conclusion about their effectiveness by how actively they're advertising across specific channels.
Step 5: Keep track of brand mentions
Remember the Referrals graph in the Traffic Sources report by SimilarWeb? We've finally reached the point where we'll show you how to identify sites and people referring to your competition's brand.
There are plenty of tools that track brand mentions across blogs and social platforms. We'll use Awario – like Serpstat, it provides a solution for sending the data to Google Sheets (again, we're referring to step 6).
All you need to do is to specify a brand name, related keywords, and a few more advanced settings: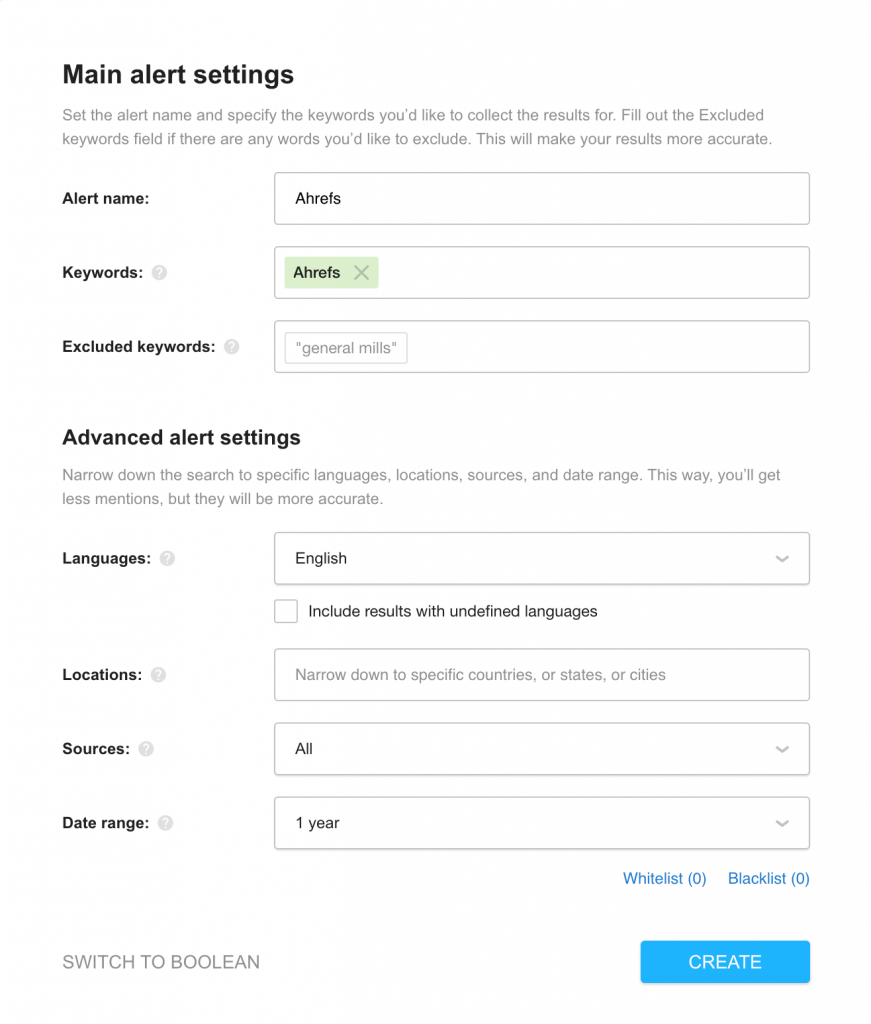 In a few minutes, you'll see all the posts across Twitter, Reddit, Facebook, Instagram, YouTube, and niche blogs where the brand that's being tracked is mentioned.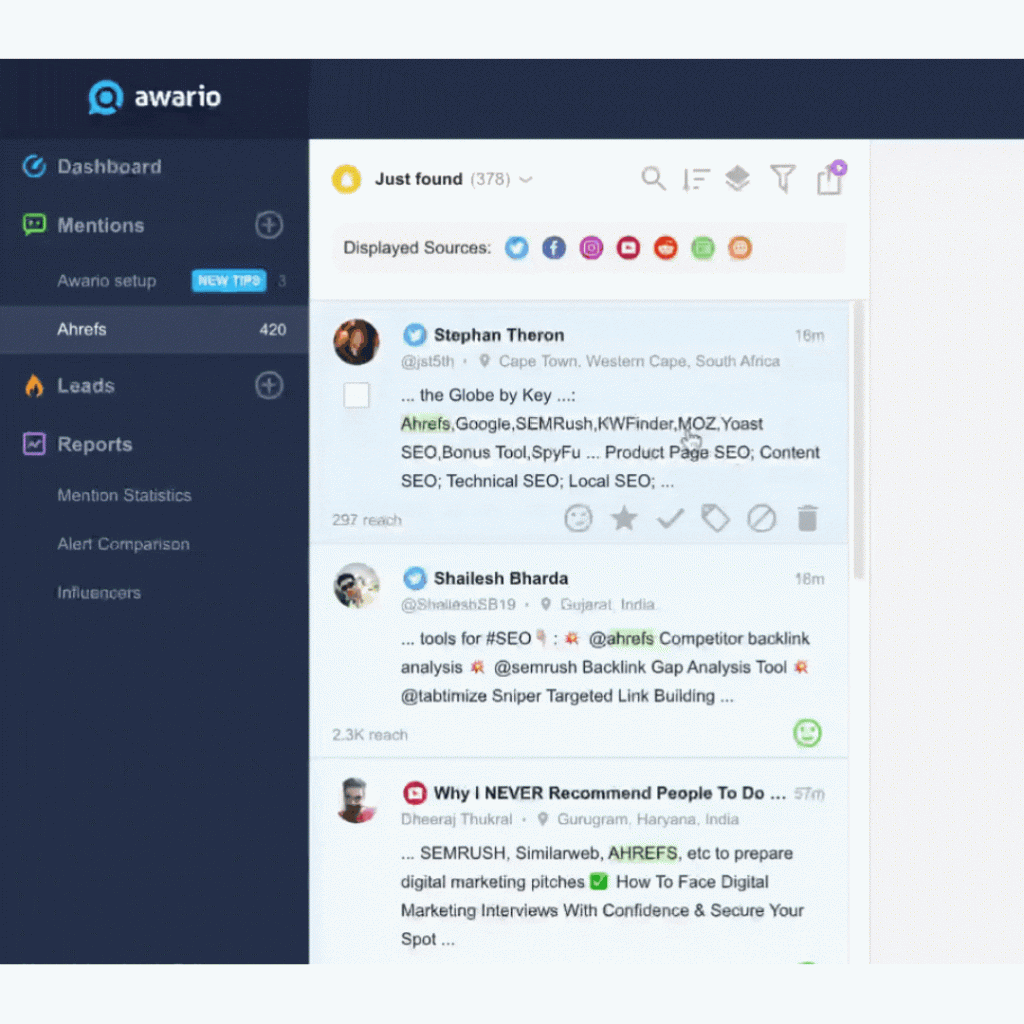 Sort the results by reach to identify publications that drive the most traffic to your competitor's site.
Step 6: Set up tracking
Now, let's find a way to centralize the data. Monitoring the data across different interfaces is an incredibly time-consuming task.
The best way to solve the issue is to set up a spreadsheet where all the data will be compiled.
Unfortunately, most of the competitor analysis tools don't allow for easy integrations and require experience with making API requests from those who want to build custom tracking solutions.
If you aren't comfortable with this option, Awario and Serpstat have an alternative solution.
Awario makes the integration with Google Sheets possible through Zapier. To easily connect Awario and Google Sheets, you need to enter your API key and specify the data you want to export.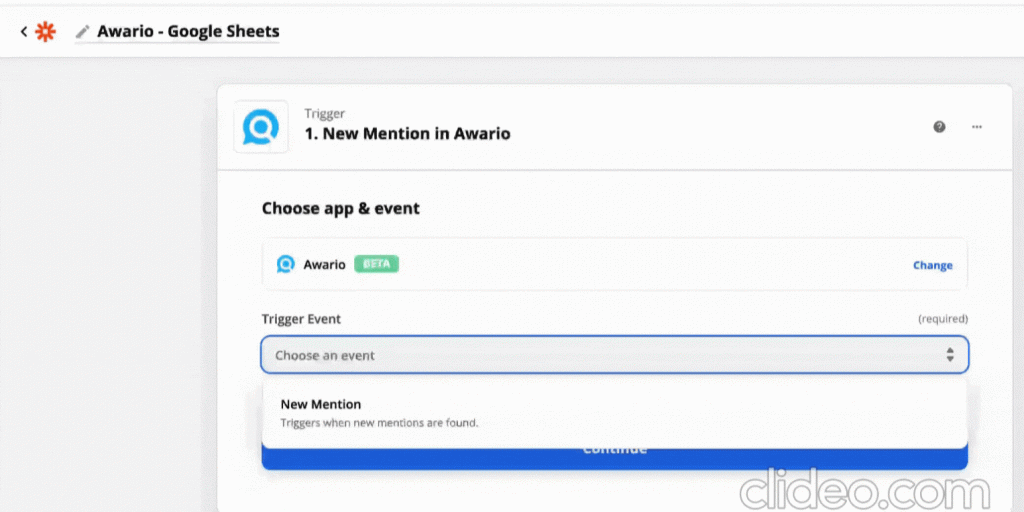 The resulting report will look like the example below. The data will keep updating every time a new mention is added.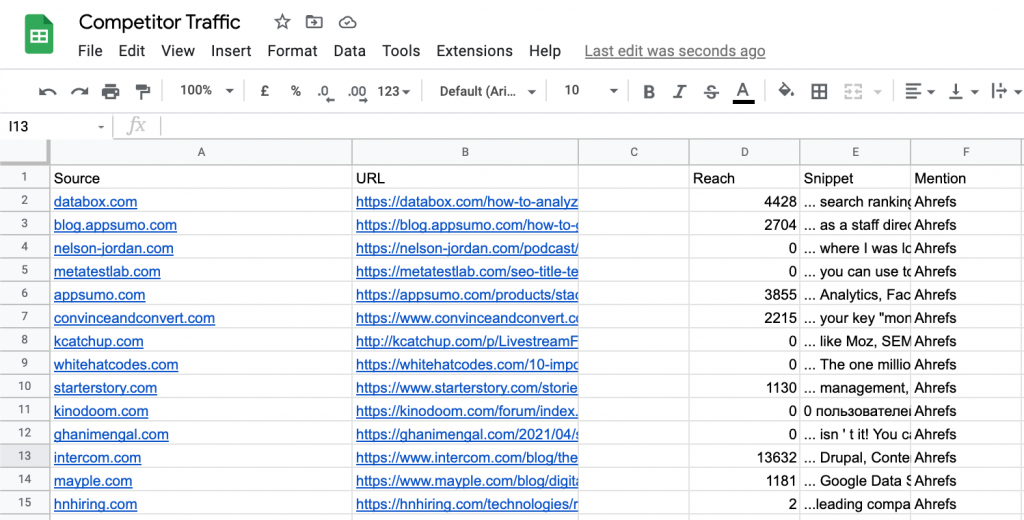 Next, we'll set up SEO monitoring by connecting Serpstat's add-on for Google Sheets to the given spreadsheet. After installing the add-on and entering the API token, select a range of sites you've added to your list earlier and choose from a variety of report options. We go for the Domain history report that's showing how the domain performance has been changing throughout the year.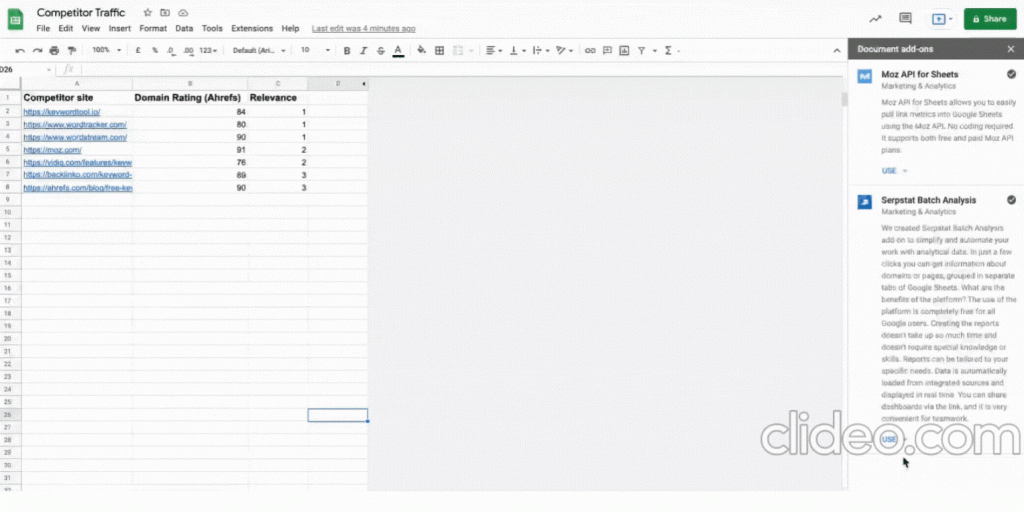 Based on these spreadsheets, you can sort the data the way you want and build custom charts.
There are many more tools for monitoring competitors' backlinks and traffic that you can integrate your tracking spreadsheet with.
Summary
Tracking competitor traffic allows you to discover strategies you're missing out on, identify new collaboration opportunities, and avoid ineffective channels.
There are plenty of ways to monitor and analyze the performance of your competitors' organic and paid campaigns, and we've highlighted the methods that work best for us.
With two or three tools in your stack, you can build an automated traffic tracking system that will keep you informed about all the changes in your competition's marketing strategy.