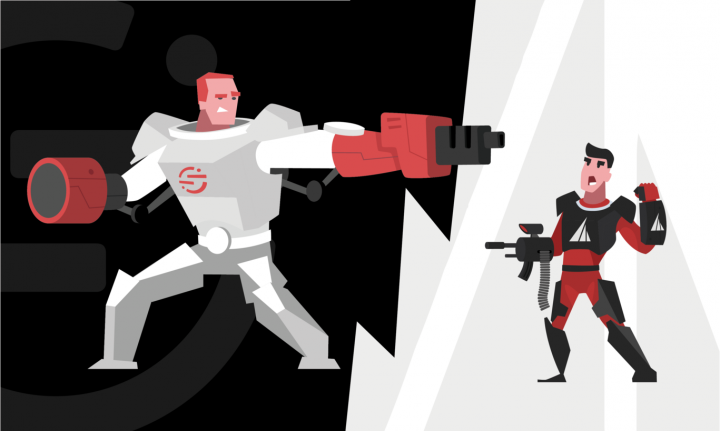 Since you're here, I reckon you are acutely aware of both the importance and challenges of customer data collection. Comparing Segment and RudderStack, you're well on your way to make data collection and use easier all across your marketing, sales, and product stack.
In this article, I'll give you an objective overview of both tools, together with 'stick-to-the-facts' recommendations. As everyone's preferences differ, we'll cover quite a bit of ground from functionality to user experience to pricing—feel free to jump directly into the sections that matter the most to you (or if it's only about price, start with this cost calculator spreadsheet).
Comparisons:
Time to first event
Sources & destinations
Event transformations & filtering
Warehouse support & sync schedule
Security & compliance
Single customer view
Maintenance & upkeep
Pricing
Link to cost calculator spreadsheet
& here's the tl;dr 👇
Reasons to choose Segment
🥇 Supports more Sources & Destinations, especially for non-engineers

🏆 Your revenue per MTU is relatively high, or money is not an issue

🎉 Advanced no-code functionality, such as single customer view (at extra cost)
Segment offers a free plan up to 1,000 monthly tracked users. Link to website 🔗
Reasons to choose RudderStack
🥇 You want to track a lot of website visitors or free users cost-efficiently

🏆 Event filtering and transformations without additional cost

🎉 You can invest some in-house resources to implementation and maintenance
RudderStack offers a free plan up to 500,000 monthly tracked events. Link to website 🔗
The difference between Segment vs Rudderstack summarized
The main difference between Segment & Rudderstack is their pricing models, and how much engineering resources are required to implement.
Segment, as the more mature platform, sets itself apart in the quality of onboarding, unmatched amount of supported source and destination tools, a handy privacy portal, and premium pricing.
RudderStack, as the upstart with its roots in open-source, offers similar functionality with less costs, albeit demanding more engineering knowhow and resources from your team.
Segment and RudderStack are both great tools, offering the same outcome: get data from tool A to tool B without constantly bugging engineers and building one-off integrations.
Now, onto the details.
Introducing Segment and RudderStack
Segment
Segment is a customer data platform that helps companies to "collect, clean, and control their customer data". In practice, companies can collect data from multiple sources, and send that data to various destinations with a single integration.
Segment was founded in 2011, and was recently acquired by Twilio in a multi-billion deal.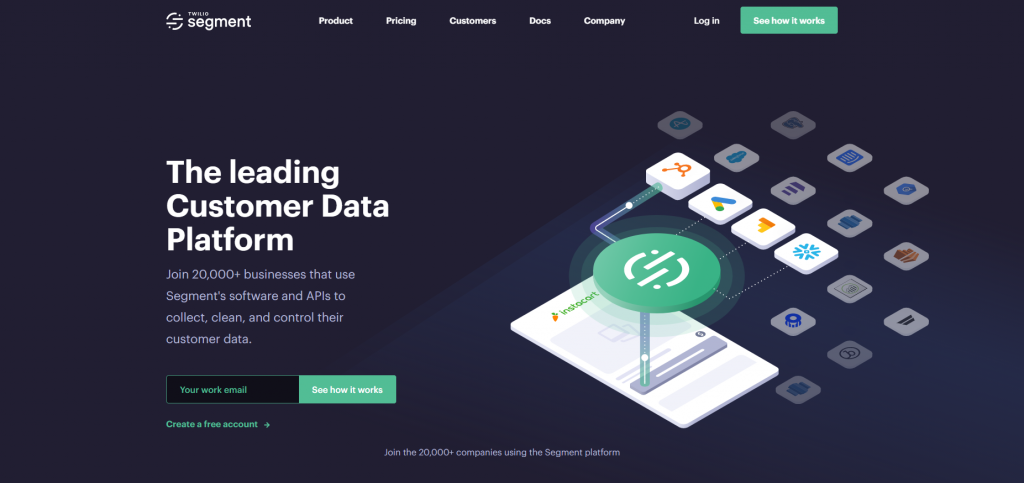 RudderStack
The best way to understand RudderStack is as an "open-source Segment alternative"—they offer similar basic functionality as Segment. A noteworthy difference though, is that they offer event streams, ETL (like Fivetran), and reverse-ETL (like Shipyard & similar tools), so you can manage your customer data pipeline in one place. Otherwise, you may need to use 3 separate tools.
On top of their open-source solution, they have a hosted solution called RudderStack Cloud.
RudderStack is the new kid on the block—it was founded in 2019.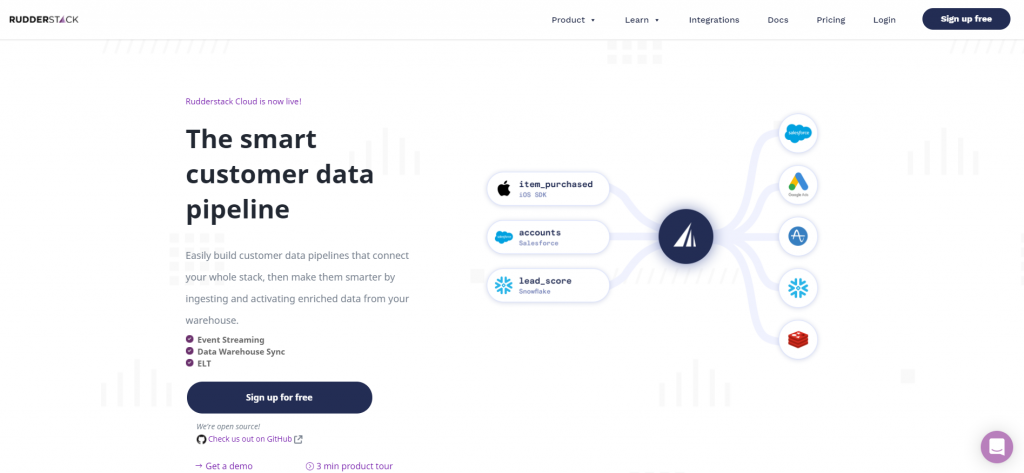 Comparing Segment & Rudderstack
We compare Segment's Team and RudderStack's Pro plans, as they are the most common entry points into both tools. This article primarily compares the tools as data connectors; how to get your data from Source A to Destination B and your data warehouse quickly & easily.
See also: 6 best customer data platforms
Time to first event
Both tools require equal setup time, but Segment offers more guidance & documentation, which will be appreciated if you're new to this.
Both tools require someone with engineering skills to install the required tracking code to your website, application, or both. There is no difference in how quickly you get Segment and RudderStack to track your website and app events from a development perspective. It's not a surprise, as their APIs are 100% compliant—meaning they work the same way.
As the more mature platform, Segment's onboarding experience and guides are well ahead of RudderStack's. Trust me, that's something you will appreciate if you're going through your first (data connector) implementation.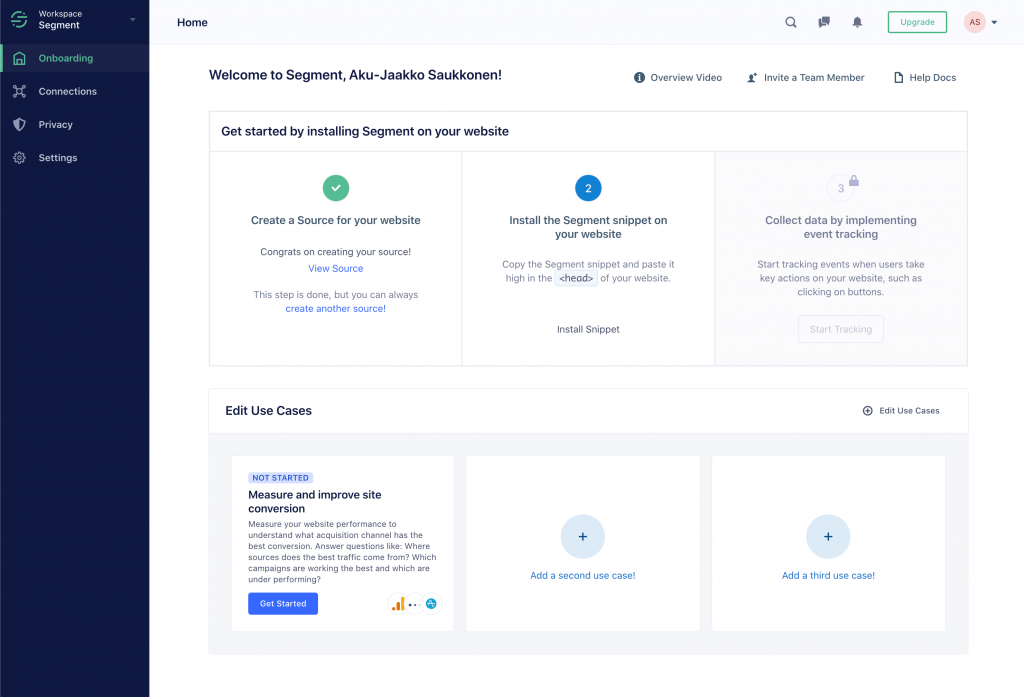 Available sources and destinations
Segment connects to more tools out-of-the box. Rudderstack are quickly adding new sources, and offers ELT functionality that could simplify your data pipeline.
Segment beats RudderStack by a wide margin when it comes to out-of-the-box ability to connect your data stream to 3rd party tools.
At the time of writing, RudderStack supports roughly 80 services, whereas Segment enables one-click integrations to nearly 300. In addition, RudderStack's officially supported services skew towards the technical, meaning there's (relatively) fewer tools people in sales or marketing can utilize without additional engineering work.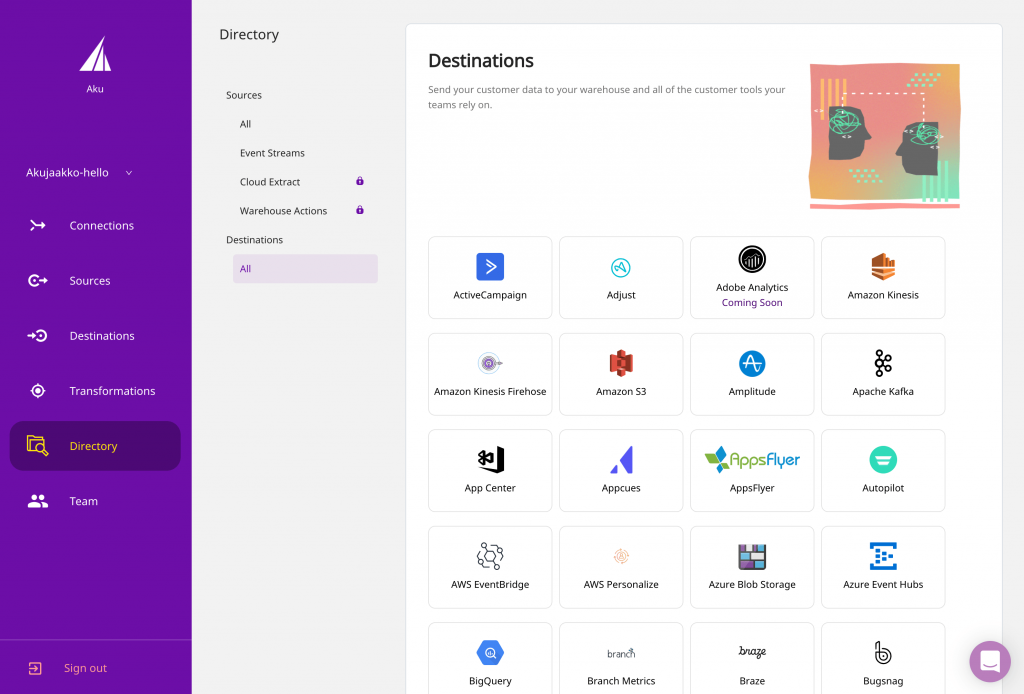 There are a couple of things worth noting here, though.
First, RudderStack adds new sources and destinations on a weekly basis, and also offer to build new integrations for new customers who sign up for an annual plan.
Second, RudderStack offers functionality that aims to replace ETL tools such as Stitch or Hevo Data. These "Cloud extract" sources can move data from A to B in batches and on schedule. Segment doesn't offer this functionality.
What should you make of this? If your main concern is to easily move data between tools and never bother an engineer when deciding to try out a new one, Segment has more to offer. If you're intrigued by the chance to simplify our data pipeline, RudderStack's ELT functionality might come in handy.
In any case, it's best to go and look at Segment's and RudderStack's app catalogues, respectively, and decide for yourself. As of 2023, Segment still do have more native integrations available overall. Categories like customer success platforms have notable differences, with Rudderstack missing some integrations like Totango, ChurnZero, Planhat & Vitally which are all available in Segment.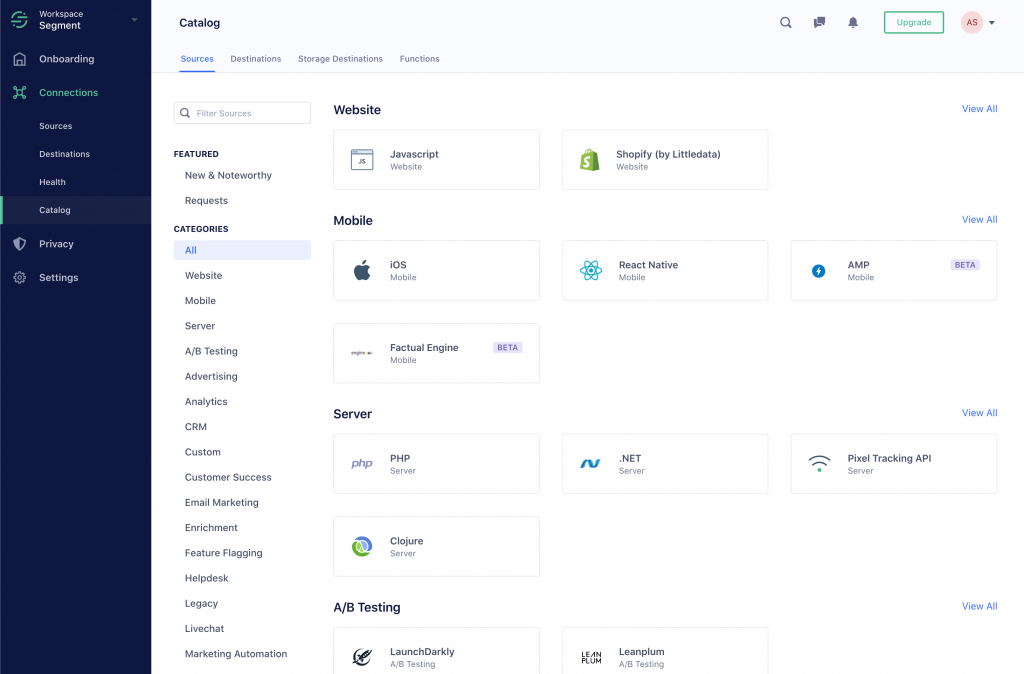 Event transformations and filtering
Functionality is equal. Segment offer a no-code solution for extra cost. RudderStack's transformations come at no extra cost (but need engineering time).
Even if you collect data via a single integration, that doesn't mean all data should be sent to all destination tools as it is. For example, personally identifiable information—such as email addresses—should only go where it's really needed.
For teams with a budget, this is really where RudderStack shines. It offers transformations as part of the pro plan (no additional fees!). The caveat is that transformations are configured in code (JavaScript) inside RudderStack's UI. Even if you don't need to make code-level changes to your sources, you still need to invest some engineering time to take advantage of them.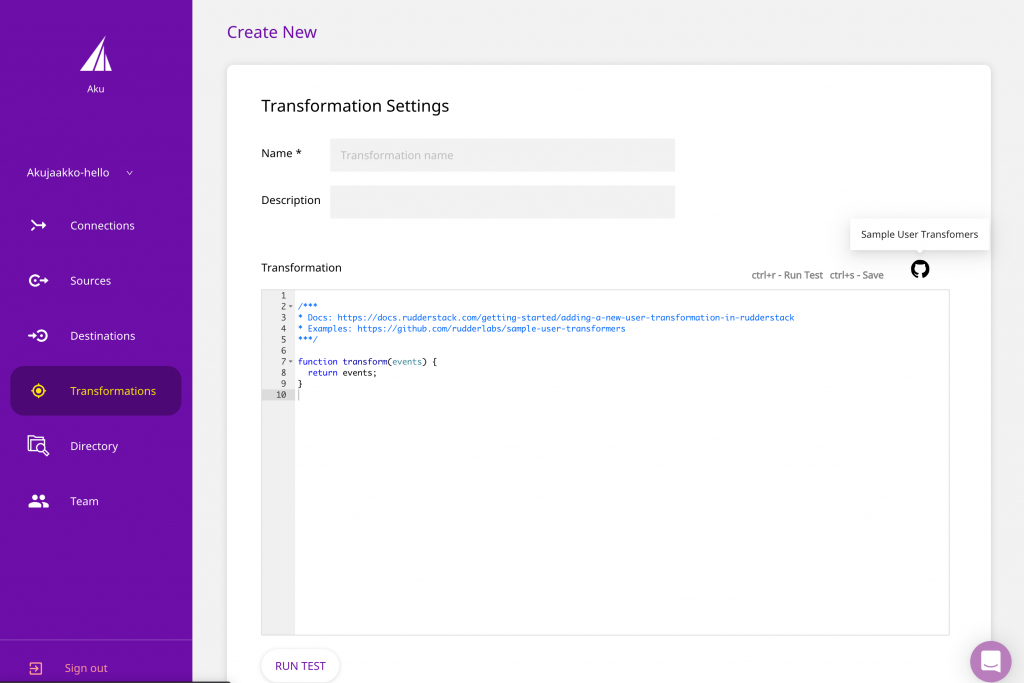 Segment offers similar functionality with something called "Functions". Functions is currently on public preview (available for all, but still under development), and is being marketed as a way to connect Segment data to thousands of—officially not supported—applications. On top of Functions, Segment also offers no-code transformations and filtering. But there's a catch: it's only available as a Business feature (see Pricing for more information).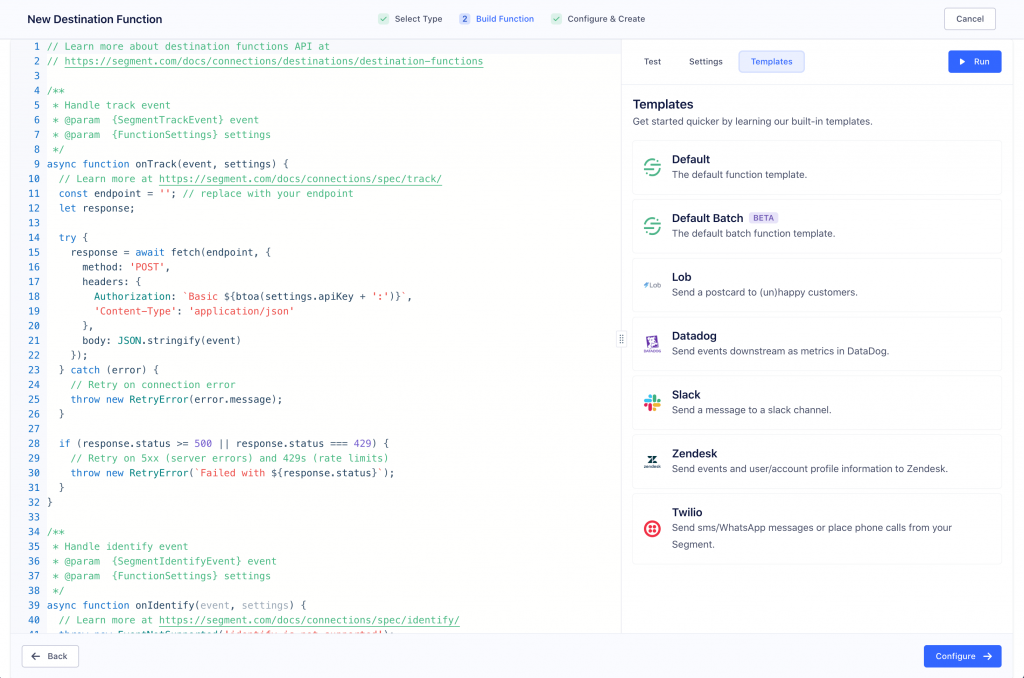 In short: Segment and RudderStack offer equal functionality in terms of event transformations. In case you don't have the capabilities to build transformations yourself, Segment also offers a no-code solution with a non-trivial amount of money on top of their base fee.
Warehouse support and sync schedule
Each tool supports the same warehouses. RudderStack syncs data much more quickly.
There is no difference in the amount and types of warehouses the two tools support, but there are other important differentiators.
First, intermediate event storage. RudderStack doesn't store the events you send there. Since warehouse destinations are only updated periodically, you need to set up your own intermediate storage for all events you track. Segment, on the other hand, does store all the events it collects. This means you don't need to worry about how store event data in-between warehouse syncs.
Second, sync frequency. Segment offers daily sync for workspaces on Team plans, whereas RudderStack will upload fresh data to your warehouse every 30 minutes, if you so desire. Segment's sync frequency can be shortened to once an hour, but as you might expect, this will require you to upgrade to their Business plan, which could cost a lot more.
If frequent warehouse syncs are important to you—if you for example want to run messaging campaigns based on almost real-time data processed in your warehouse, RudderStack is the better option for you.

Security and compliance
RudderStack doesn't store customer data, whereas Segment does. Both handle privacy well though, and Segment's privacy portal is available to all workspaces.
Due to how RudderStack and Segment deal with storing events before they get loaded into your warehouse, there is one crucial point to consider for privacy-concerned decision-makers.
RudderStack's "warehouse-first" approach means that you won't store any customer data on their servers. With Segment, they store all the data you send through them.
Let's be clear: Segment wouldn't be in business, not to mention being short of an industry-standard, if they wouldn't handle their privacy responsibilities seriously.
Still, for those companies that really want to be in total control of their customer data, RudderStack is a better (the only?) choice—one could even opt to self-host RudderStack's open-source platform.
It's not all bad with Segment: their "Privacy portal" is available for all workspaces, free ones included. It offers a nice overview of personally identified information tracked, automated alerts for new unclassified data, and a handy way to comply with "right to forget" requests from your customers.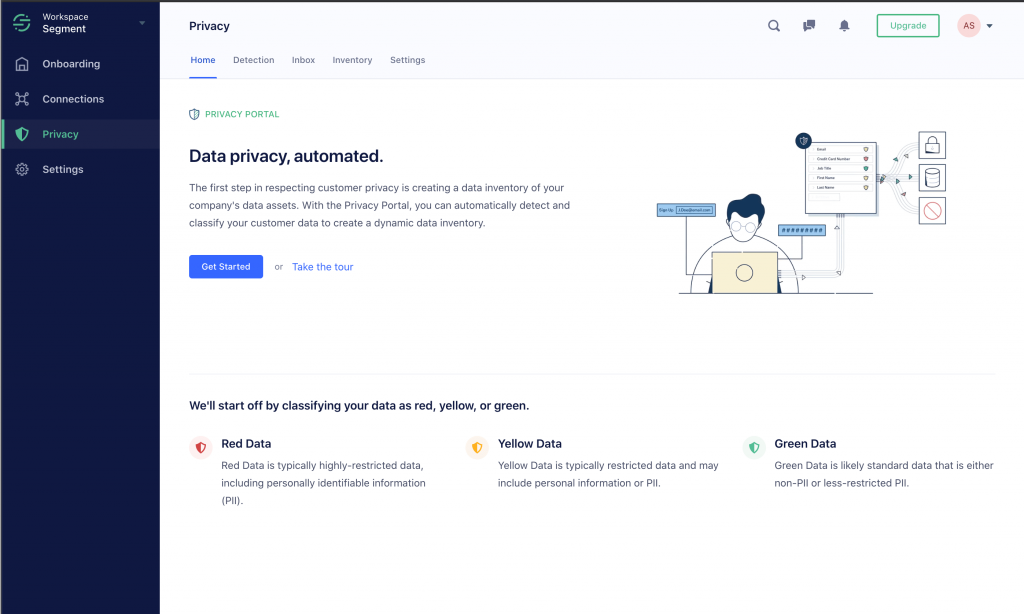 Single customer view
As data connectors, both enable you create a 'single customer view' on your own data visualisation tool. If you're willing to pay more for Segment's Business plan, you get a 'single customer view' out-of-the-box with their 'Personas' add-on.
As data connectors, neither Segment or RudderStack are data analysis tools. Still, often one of the reasons to centralise data collection is to create a so-called "single customer view" (could also be called "360 view"). It's worth considering how both tools support your efforts to create one.
Segment has an add-on called "Personas" that offers single customer view for each of the people you track. As with most of Segment's advanced functionalities, Personas is only available in their Business plan.
RudderStack is a data connector, pure and simple.
There is no difference between Segment's Team and RudderStack's Pro plan, if you (or someone in your company) aims to create single customer views on your data visualisation tool.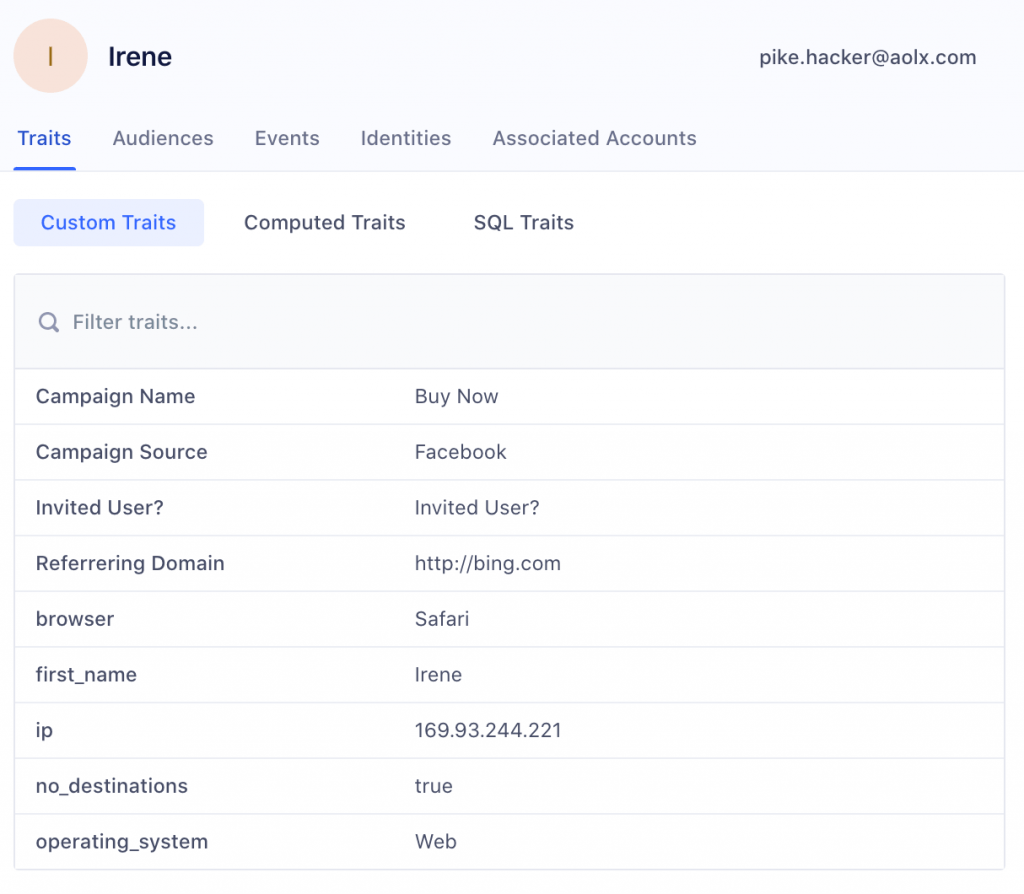 Maintenance and upkeep
Segment's UI & popularity makes it easier to solve problems, which makes it more attractive for teams without a dedicated data engineer.
In terms of maintenance and upkeep, Segment has the upper hand as the more mature platform. Their UI offers an easy way to monitor event delivery, warehouse syncs, and schemas on a detailed level. Also, there is a lot of documentation and online discussions to prevent you from banging your head on the same problem someone else already solved.
RudderStack offers a real-time view of your event stream, and the Rudderstack Dashboard which is powered by Grafana. This is very useful, but again, mainly only helpful for data engineers or those who understand it well.
For those who don't have a dedicated data engineer, Segment is the safer choice as it allows non-technical people to monitor and act on potential issues with events and integrations. If you don't mind engineering involvement or having a visual UI is not on your wishlist, there is not much difference between the two tools.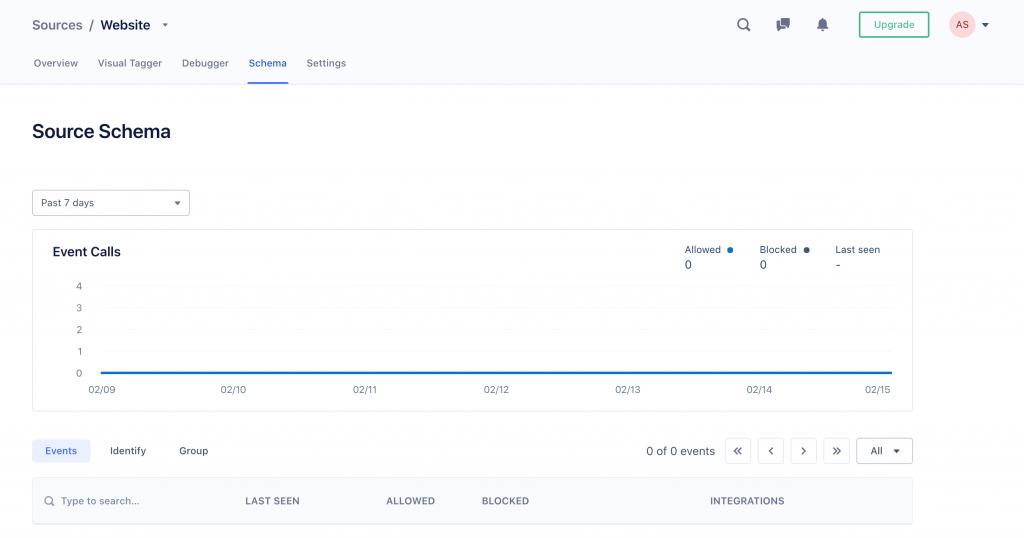 Rudderstack & Segment Pricing
If you have a budget, this is probably the biggest factor in your decision.
There are three things you need to know about your business before comparing costs between Segment and RudderStack:
total amount of people you want to track across all your sources (for example: website and app)
total amount of events you are expected to send each month
revenue per each person you want to track
This is important, as the main difference in pricing between Segment and RudderStack is that they charge you based on monthly tracked users (Segment) and monthly tracked events (RudderStack).
As a rule of thumb:
Segment's pricing suits companies with good unit economics (high revenue per tracked user) and fairly active users (up to 250 events per month). If you track more than 250 events per MTU (on average), you have to upgrade to Segment Business which comes with custom pricing

Rudderstack's pricing is made for companies with less favorable unit economics (for example a high website visitors and free users vs. customers ratio) or who track only a handful or over 250 events per MTU
Two examples to illustrate the point:
You have a news website with 100,000 monthly unique visitors reading on average three articles a month. Segment would charge you $1,000 a month (100,000 MTUs) and RudderStack $0 a month (less than 500,000 events a month)

You have a time tracking app with 5,000 MTUs who record 150 events per month on average. Segment would cost you $120 a month (less than 10,000 MTUs) and RudderStack $750 a month (more than 500,000 monthly events).
Bear in mind, that both tools are eager to offer you volume discounts if your company logo and/or event volume are attractive enough.
It's also worth guesstimating how your volume (and hence, costs) will behave over time. Once set up, both tools easily become "part of the stack" and are taken as granted—making it hard to quit on them. Check out this cost calculator to estimate which tool suits your current and near-term financial situation best.