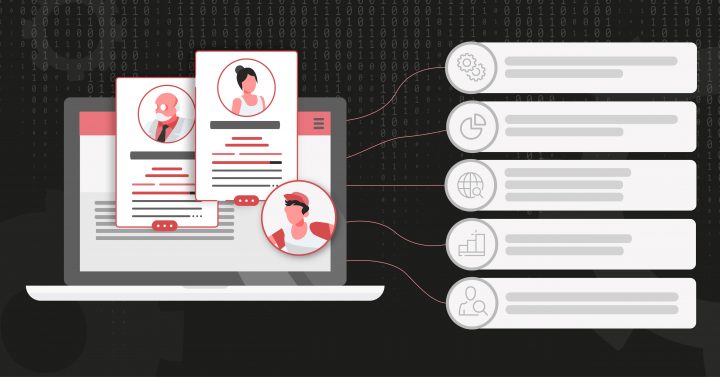 From the perspective of a marketer, having a customer data platform in place is game changing.
It enables you to unlock new information, make better decisions, and it makes switching up your tech stack easier too.
In this post, we'll look at:
I've personally used both Segment and Rudderstack as a SaaS marketer. Insights for the other tools mentioned in this article are gained from talking to other experienced marketers, data folks, and other online sources.
Let's get into it!
What is a customer data platform (CDP)?
I'll keep this brief so we can get to the good stuff.
A customer data platform (CDP) is software that pulls together your customer data from a bunch of different sources (for example your website, your web app, your mobile app). Next, a CDP makes that data available to use, most commonly in marketing activities.
For example, you could collect information about which actions a user has taken (or not taken) within your web app. Passing that data to your email marketing platform would let you trigger relevant emails to the right users at the right time to encourage activation.
One big thing you should understand before proceeding is that you will still need a data visualization / business intelligence tool. Your CDP simply collects and sends data from different places. To actually analyze the data you've gathered, you'll need another tool (e.g. for me that was Amplitude, which has a very generous free plan).
How to choose a customer data platform
A customer data platform can be time consuming and expensive to implement. Both in terms of dollars, and in terms of internal resources to get everything working. As a minimum, you'll need a developer, a marketer, and someone skilled in data/analytics involved. These don't need to be 3 different people, however.
For that reason, it's worth taking the time to make sure you're making the right choice.
Here's some factors which may influence your buying decision.
Integrations (sources & destinations)
Being able to send your customer data to the other tools in your tech stack is usually one of the biggest motivators for buying a CDP in the first place.
Check the catalogues for each tool that you're considering, and see if the other tools that you use are ready & available. Think about tools like your:
Analytics tools (e.g. Google Analytics, Amplitude)
Data warehouse (e.g. Redshift, BigQuery)
CRM (e.g. Salesforce, Hubspot)
Ads tools (e.g. Facebook Ads, Google Ads)
Email marketing provider (e.g. Mailchimp, ActiveCampaign)
Onboarding software (e.g. Userflow, Userpilot)
And so on.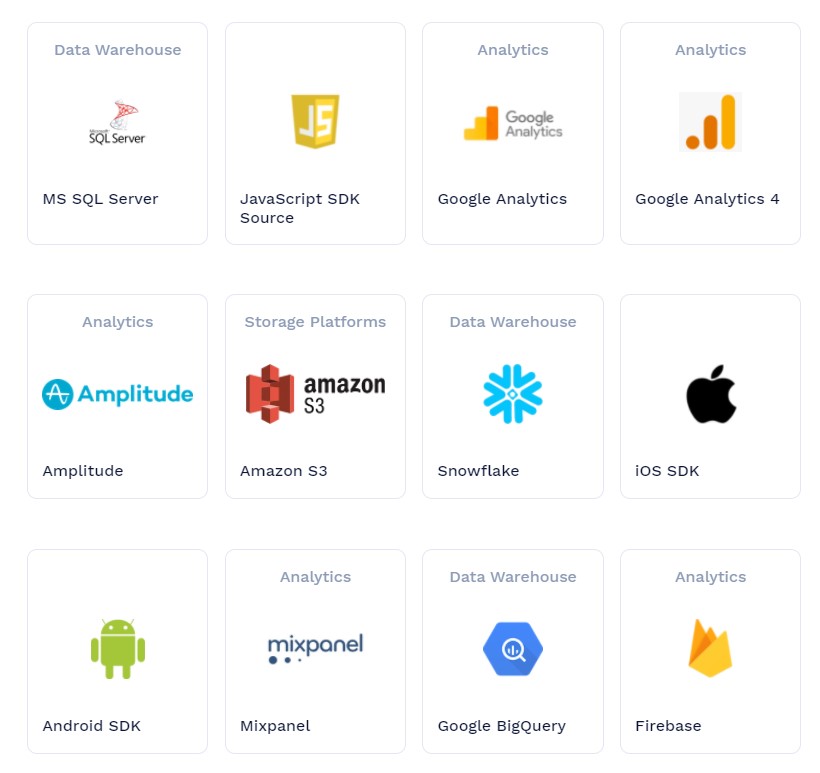 The more out-of-the-box integrations there are, the easier your setup will be.
Keep in mind that many of these tools, especially newer ones, are rapidly adding new integrations. If you don't see the one you're looking for, contact the team and see if it's on the roadmap.
Maintenance
It is unavoidable that having a CDP tool means ongoing upkeep and maintenance. Most commonly, that would be in setting up new sources & destinations, and monitoring for potential issues with your events and intgrations.
Some tools are more novice-friendly, while others require more technical attention from a developer.
Also, the more popular a tool is, the more likely there'll be online forums & discussions where someone else has already encountered (and resolved) an issue you have.
Security & compliance
Security and compliance is always a tricky issue when dealing with data.
Here, you should check how each CDP handles data. Most will store it, in which case you should learn about how they handle privacy.
Rudderstack, for example, has a 'warehouse-first' approach in which they don't store any of your data. That means no additional data storage fees, plus no headache with considering the security implications of saving your customer data in an additional place. Snowplow also doesn't store data. The difference in cost for these tools vs something like Google Analytics 360 is substantial (much less).
Pricing
When it comes to pricing, not all tools use the same model, which makes it tricky to compare. It also means that pricing can be drastically different in certain circumstances.
For example, Segment charges based on monthly tracked users, whereas Rudderstack charges based on monthly tracked events.
That means that Rudderstack's model favors a business that has a high number of website visitors or free users, with a low number of events recorded. On the flipside, Segment's pricing model favors a business which has a small number of highly active users.
With that out of the way, let's dig in and check out some popular CDP vendors.
6 Top CDP Platforms
1. Rudderstack
Free version? Yes- up to 500k events per month.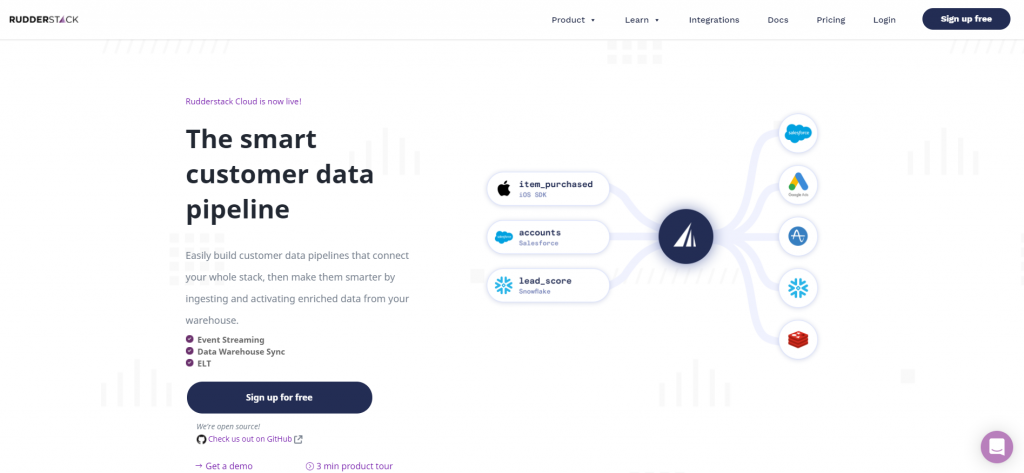 The first tool we have in this list is Rudderstack, an open source solution.
They have the most generous free plan of all the tools in this list (up to 500k events per month), and the Pro plan is reasonable too ($750 per month).
One key way they keep costs down is by not storing your data. Often you'll effectively pay for data storage twice (once in your data warehouse, then a second time at your CDP), which isn't the case here.
Another great feature of Rudderstack worth mentioning is handling transformations. This effectively lets you filter / modify / clean data before it gets sent to your destinations. For example, you may wish to remove personally identifiable information like email addresses for privacy reasons.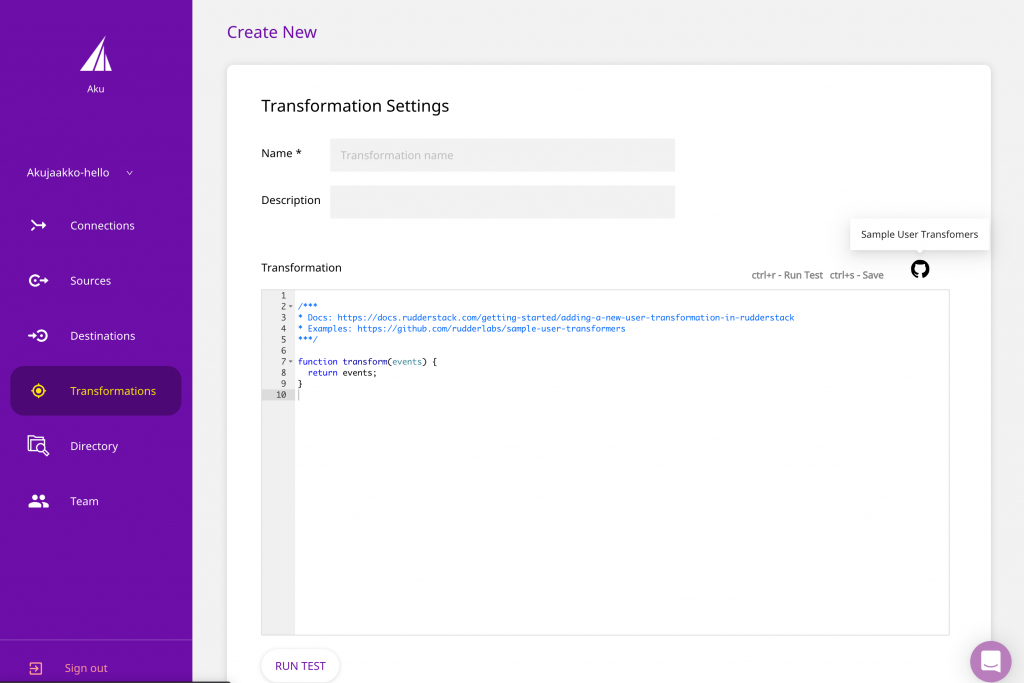 Segment has a similar offering, but it comes at an extra cost. The trade off here is engineering resources (Rudderstack transformations) vs. higher CDP cost (Segment). You'll find that is a common theme when comparing Segment vs Rudderstack.
As mentioned, Rudderstack's pricing model lends itself well to tracking high volumes of users. In my previous role, we wanted to track website visitors as well as app users. We switched from Segment to Rudderstack and got millions more MTUs per month for the same price.
It suited our situation because we had a lot of free users and web traffic, whereas Segment could be more cost effective for a small but highly active userbase (tracking lots of events vs. lots of users).
Once again, you should know that Rudderstack is built primarily with developers in mind. If you're trying to DIY this as a non-technical person (which I wouldn't recommend), it probably won't be much fun.
Rudderstack offer 500k events per month for free. Link to sign up.
2. Segment
Free version? Yes- up to 1,000 tracked visitors per month.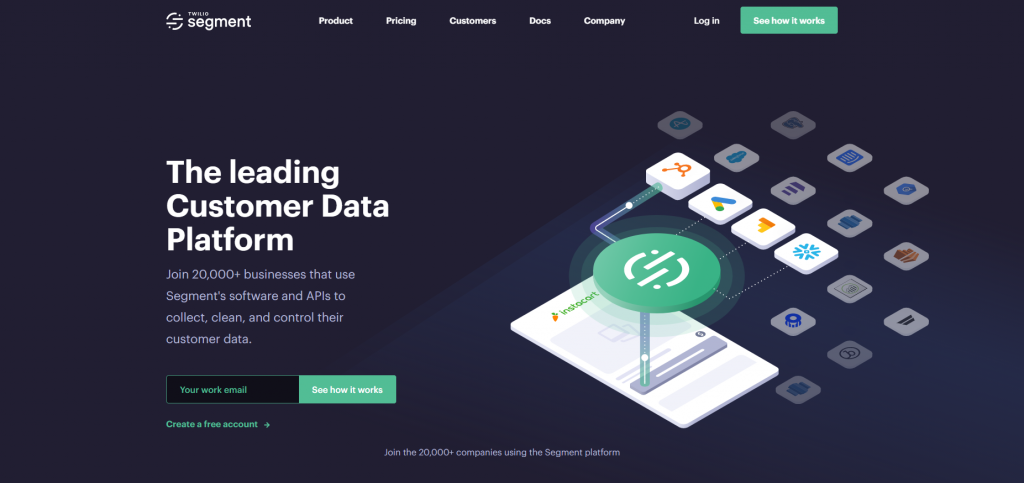 Segment are probably the most well-known brand in this list of CDP vendors.
They're also probably the easiest tool to use for non-technical folks. If you're trying to set up a CDP without a developer and/or data engineer who have experience with this, Segment could be a good bet.
Their catalogue of out-of-the-box connections (sources and destinations) is comprehensive: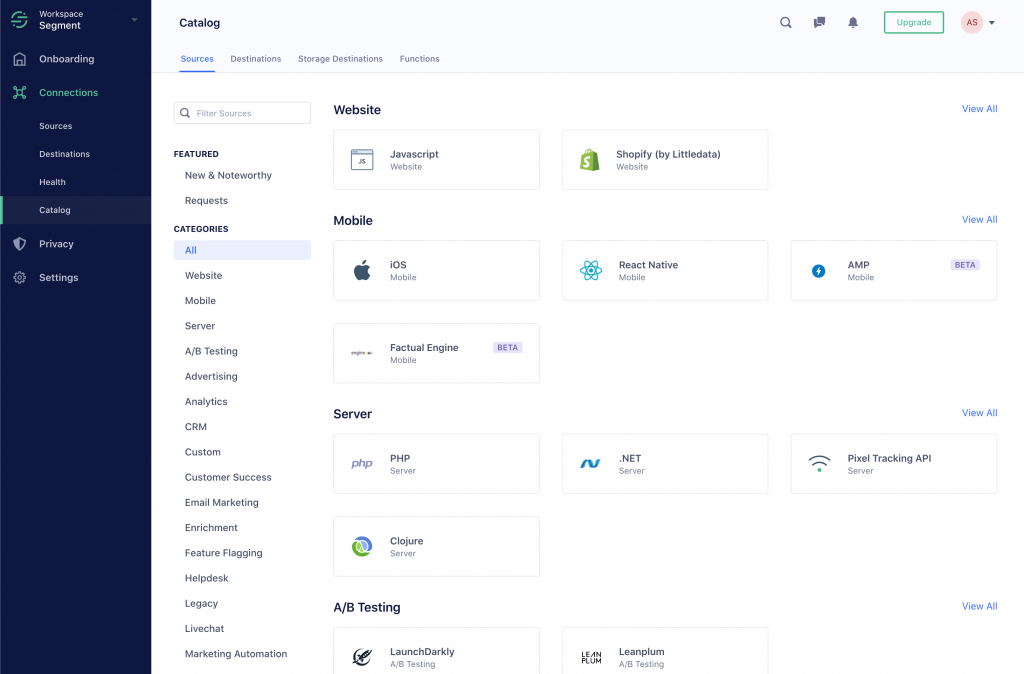 And naturally with it being popular, that means there's a large community and documentation available to assist with problems.
A disadvantage you'll find with Segment is that there's a lot of upsells, and the price can quickly add up to more than it seems upon first impressions.
Some of their most attractive features (e.g. Single Persona View, data validation) are locked away into higher pricing tiers.
Plus, as previously mentioned, Segment's pricing model is based on users, rather than events. That means if you want to track a high number of MTUs (i.e. to include website traffic and freemium userbase), it gets expensive fast.
For an in-depth comparison, see: Segment vs Rudderstack
Segment offer 1k tracked visitors per month for free. Link to sign up.
3. SALESmanago
Free version? No- free trial only (2 months 'proof of concept' trial).
Learn more or request pricing.

SALESmanago's primary best-fit customer are e-commerce & B2C companies.
Like Bloomreach and Blueshift (later in this list), this tool comes with more than CDP. Their marketing automation features include:
Email marketing
Social media scheduling & analysis
Live chat
Data insights for marketers
Loyalty programs
… & more
As you can see, there's a lot going on here in terms of features.
It seems there isn't complete flexibility to pick and choose which features you need, but there are multiple pricing tiers (essential, professional, enterprise) to give some choice & control.
Based on the general sentiment of users/reviews, it seems that SALESmanago:
Is great for e-commerce companies
Isn't as good for other business models
Is quite complex to use, and not very intuitive in places
Has a good support team
A point of note is that their pricing structure is based on the size of your customer database only. That means that there's an unlimited number of:
Emails
Push notifications
SMS messages
etc.
… that you can send. So this pricing model is particularly suited to those who have a smaller list but a high amount of customer correspondence, or complex nurturing sequences. In contrast, if you have a huge list that you contact infrequently, the pricing will not work in your favor.
Finally, it's worth mentioning their proof of concept offering. Their PoC allows you to trial the features you'd like, with dedicated support along the way.
Click here to request a demo & pricing for SALESmanago
4. Snowplow
Free version? No- free trial only.
Learn more or request pricing.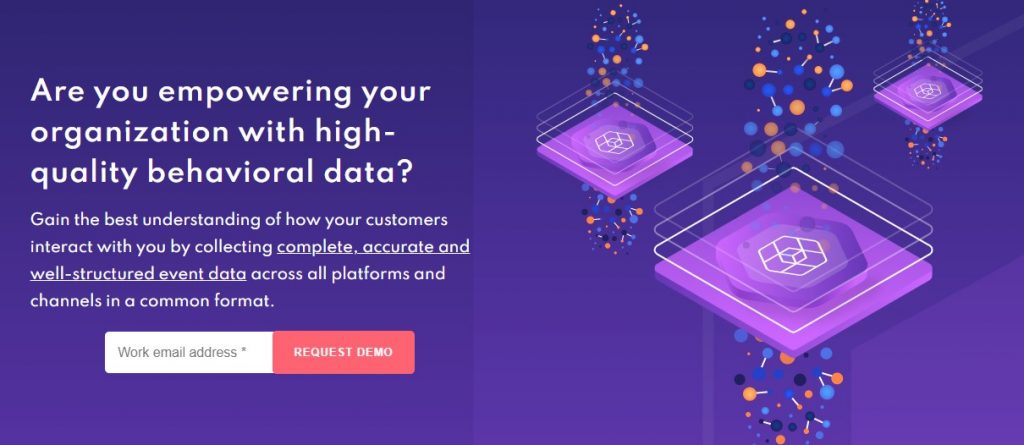 Snowplow is another CDP you may come across on your hunt for the perfect tool.
Their core focus is on behavioral data management, and quality / accuracy of data.
Like with Rudderstack, Snowplow users store their own data. For most scenarios, I'd say that's an advantage. It means keeping costs lower (skipping the data storage fee), and skipping the privacy implications of having another operator storing data.
It's worth noting:
Snowplow does not push data to third party SaaS tools out-of-the-box like Segment and Rudderstack can. That most likely means you'll need a separate ETL tool, like Stitch or Fivetran.
Finally, Snowplow isn't quite as simple as Segment – so it may come with a steep learning curve. Especially if you don't consider yourself 'data literate' already.
Snowplow offer free trials & demo bookings. Link to request.
5. Bloomreach (formerly Exponea)
Free version? No- free trial only.
Learn more or request pricing.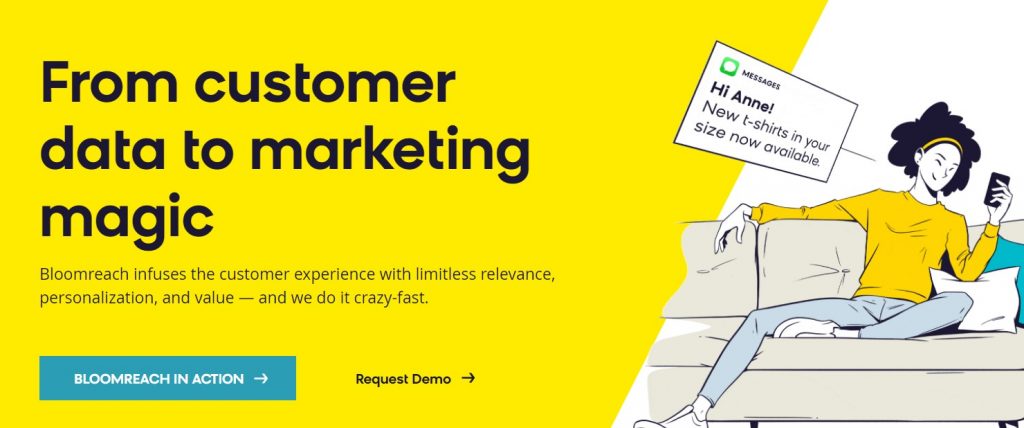 Formerly known as Exponea, Bloomreach is another popular CDP tool to consider. This one focuses specifically on e-commerce, and is widely used.
Exponea (the CDP tool), is just one part of Bloomshift. It now also comes with other features that you may or may not need/want:
Discovery – product/content search, merchandising & SEO
Content – a headless CMS
Engagement – connecting CDP with marketing automation
Like many other CDPs, you'll face a fairly steep learning curve getting to grips with it if you haven't used a similar tool before.
They offer various professional services to help you get up and running. Those range from developer training courses, onsite kickoffs, technical consulting, and other formats.
Costs aren't publicly available to compare, but based on user experiences & popularity, Bloomreach seems a solid CDP choice for e-commerce stores.
Click here to request pricing & book a demo with Bloomshift.
6. Blueshift
Free version? No- free demo only.
Learn more or request pricing.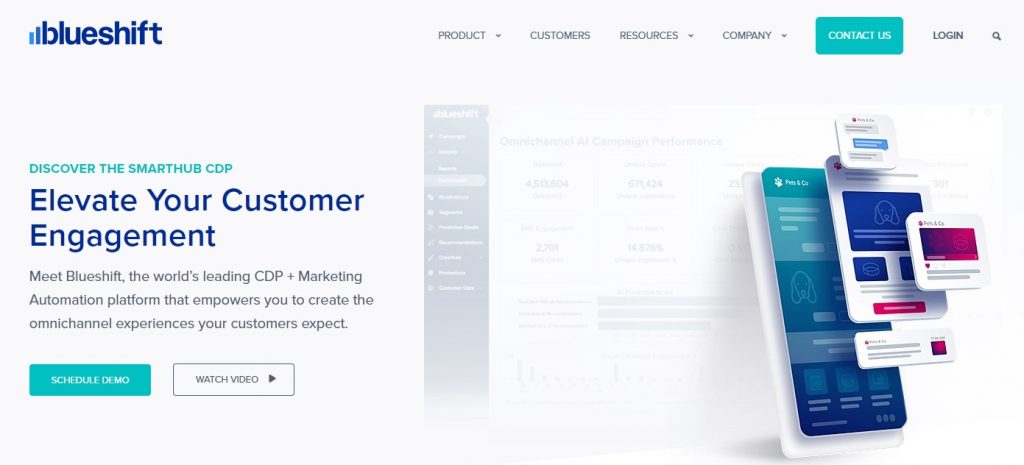 Blueshift is both a CDP and a marketing automation platform in one.
That means instead of sending your customer data out to 3rd party tools, a lot of it can be achieved all inside Blueshift.
They talk a lot about the 'omnichannel journey', which effectively just means giving a consistent experience by passing what you know about customers between tools & platforms.
So, is it a good idea to combine your CDP & MAP into one tool?
The honest answer is: I don't know. It sounds good in theory, but in practice, I don't have the experience with it to comment. If you do, I'd love to hear your experience – let me know!
Costs aren't publicly available to make a comparison between using another CDP + MAP vs Blueshift either.
Click here to request pricing & book a demo for Blueshift.
That's a wrap
A CDP platform can help a lot with marketing & decision making for your business. They are not all the same, so it's worth spending time thinking about your use case, and researching the best fit tool for you.
They all have support & sales teams eager to talk to prospective customers, so go ahead and ask questions, get demos, and make the right call.
Good luck!