Even for seasoned SaaS folks, analytics tools feel like a minefield. Whether you're in product, marketing, sales, or another team — analytics is a common pain point.
Data is often limited, inaccessible, or inaccurate, which makes it hard to make good decisions.
In this article, i'll run through various types of SaaS analytics tools, and show you some of the popular options for each category. Let's go!
Types of SaaS analytics tools
SaaS analytics tools can refer to several different things. Unfortunately, you won't find a one-size-fits-all solution that covers 100% of SaaS analytics needs. Here are some subcategories.
Marketing attribution tools
These tools help you understand which marketing channels, pages, and campaigns perform best. They allow you to go beyond surface-level analytics available in GA/GA4 and connect traffic to product activation and revenue. Examples are HockeyStack or DreamData.
Traffic analytics tools
Website analytics tools help you track & measure website activity. You can see how many people visit your web pages, how long they remain on the site, and what their path to conversion looks like (to an extent). Google Analytics / GA4 is the most common one, though tools like Smartlook fall into this category too.
Product analytics tools
Product analytics tools allow product teams to understand how users interact with products. Measure product usage, feature adoption rate, understand which features are important to the highest paying customers, and more. Examples are Mixpanel & Amplitude.
Sales analytics tools
Sales analytics tools help you understand whether your sales revenue increased over a specific period, how it's compared with previous periods, and who the top-performing sales reps in your team are. Examples are Revenue Grid & Gong.
Revenue analytics tools
Revenue analytics tools help you delve into data to analyze revenue generation activities, assess revenue performance, and build strategies to increase revenue further. Examples are Chartmogul & Profitwell.
Social media analytics tools
Social media analytics refers to analyzing data gathered from social channels to support business decisions, gauge customer sentiment toward products and services, and discover trends. Examples are Sendible & Agorapulse.
Here are the 12 best SaaS analytics tools, with their use cases
HockeyStack

Dreamdata

Google Analytics 4

Smartlook

Mixpanel

Pendo

Revenue Grid

Gong

Clari

Chartmogul

Sendible

Agorapulse
Use cases: Measuring marketing ROI, revenue attribution, and product analytics
Free trial: yes, 14 days. See a live interactive demo here.
Starting price: from $599/month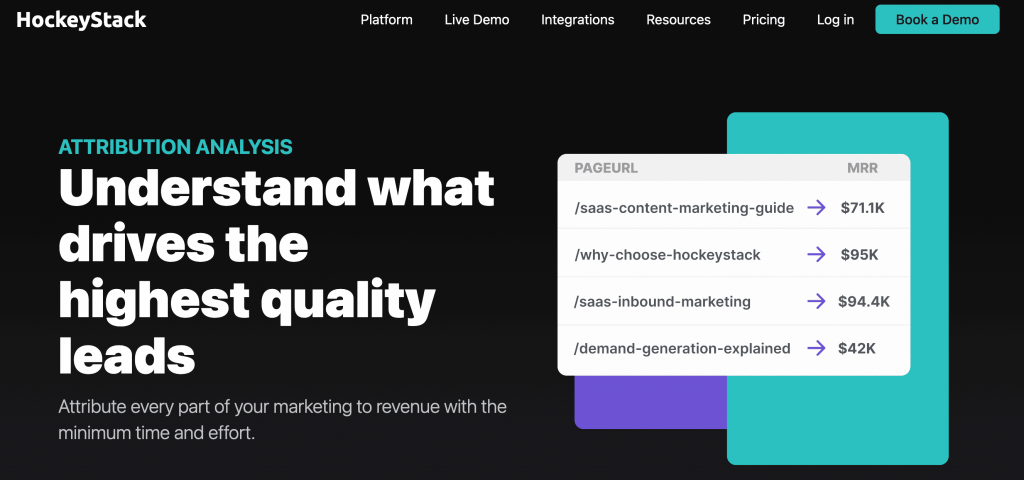 Key features
HockeyStack is a multi-touch attribution and analytics software for B2B companies. It connects all touchpoints (on your website, in your product, and even ad impressions) to help marketers understand what is driving revenue.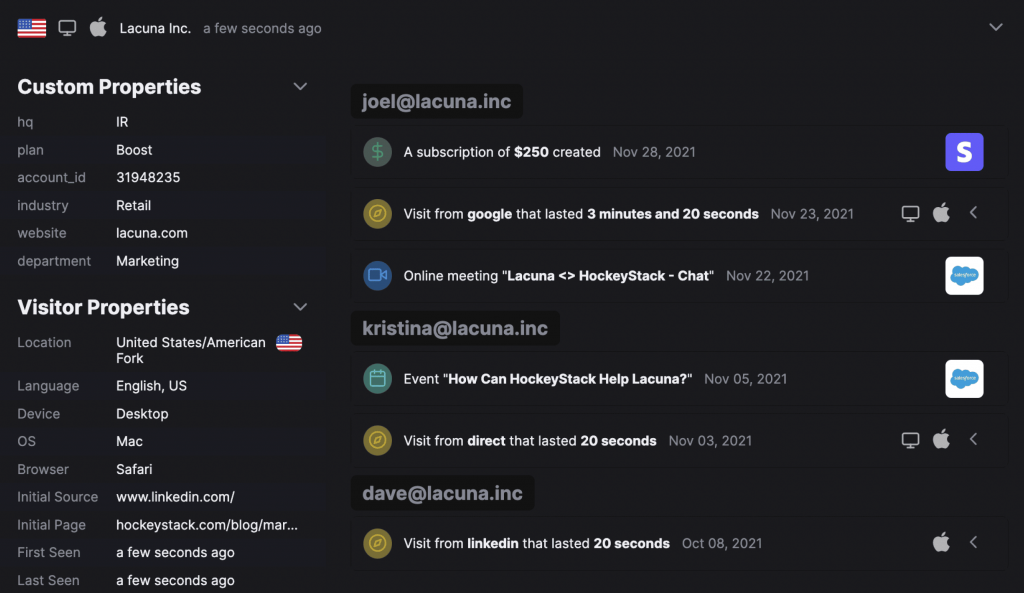 HockeyStack offers a wide range of features, including custom reports, surveys, unified tracking, and multi-touch attribution. It's multi-touch attribution capability allows marketers to understand the value of every user interaction, focus on channels or campaigns with the potential to drive incremental results, and better manage the marketing budget.
For a quicker setup, HockeyStack provides you with easy-to-understand dashboard templates for various use cases.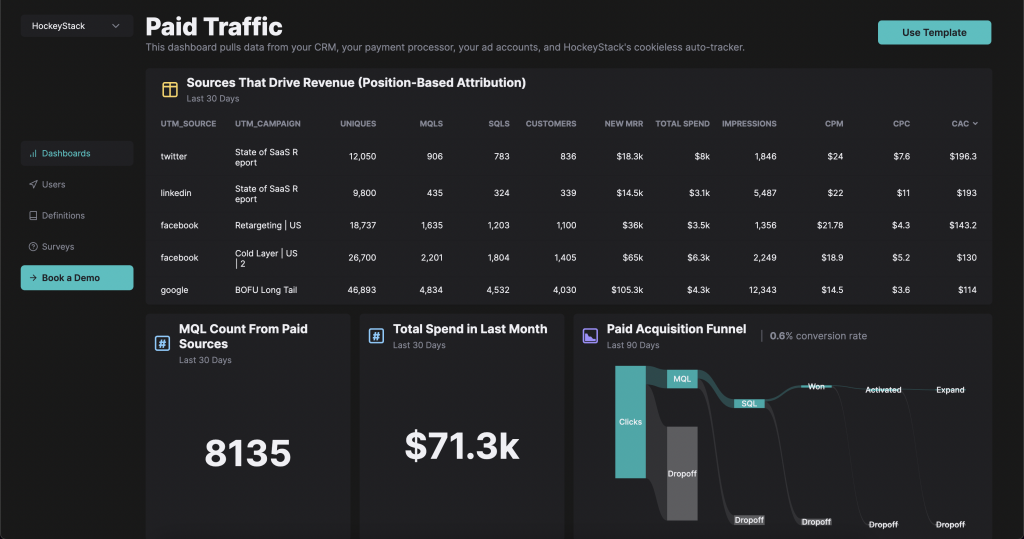 HockeyStack is very simple to use for non-technical users. There's a 2-minute setup with a few one-click integrations with your tech stack, and you'll be good to go. Their team offer support to create your dashboards too.
HockeyStack integrations
HockeyStack integrates easily with most major CRMs, ad platforms, payment processors, and customer support and marketing tools:
HubSpot
Salesforce
Pipedrive
Google Ads
Facebook Ads
LinkedIn Ads
Twitter Ads
Intercom
Drift
Stripe
Mailchimp
Marketo
Pricing
HockeyStack offers a usage-based pricing model, starting from $599/month. Book a demo here.
Use cases: marketing attribution and content analytics
Free trial: yes, free version available. Sign up here.
Starting price: free plan available, then from $999/month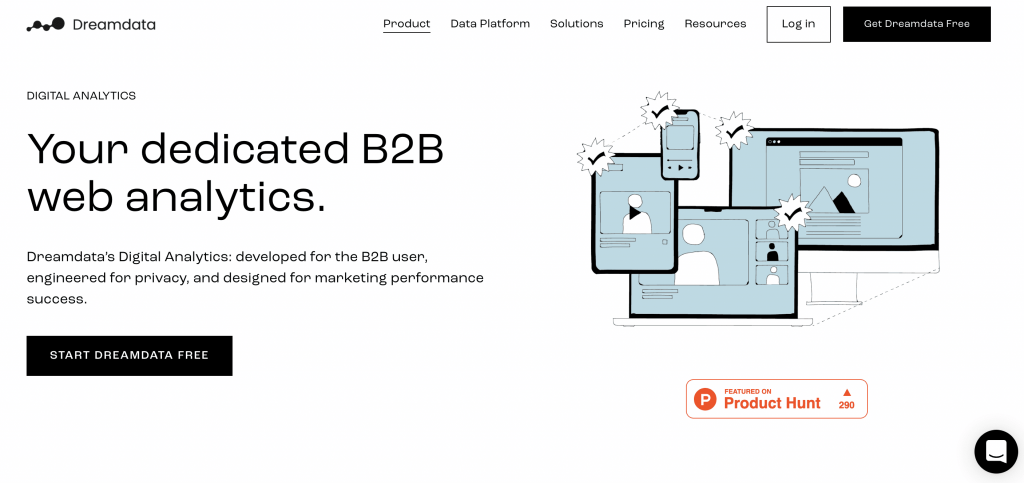 Key features
Dreamdata is a multi-touch attribution and analytics solution for SaaS businesses to measure page and conversion performance data.
Firstly, Dreamdata supports ​​real-time site analytics, so you can track site engagement in real-time and see the direct result of your efforts. Dreamdata's data models only run data gathered through tracking, so no data sampling.
Its cross-channel reporting capability lets you evaluate your paid spending across Google, Facebook, LinkedIn, Capterra, and G2—all in one location—giving you the confidence to scale your best-performing channels.
Dreamdata integrations
HubSpot
Salesforce
Pipedrive
Zoho
LinkedIn ads
Twitter ads
Bing ads
Google Search Console
Pricing
Dreamdata has a free plan. Its paid plans start from $999 per month which comes with account-based attribution. See full pricing here.
Use cases: web analytics, event tracking, and reporting
Free trial: free to use
Starting price: free to use

Key features
Google Analytics is by far the most widely used website analytics tool. Some important GA4 features are predictive analytics, custom reports, anomaly detection, and conversion tracking.
GA4 allows you to understand how people engage with your website, which devices and browsers they use to see your content, what your audience is interested in, and from which cities and countries visitors are coming to your website.
Furthermore, you can delve deeper into the channels that are generating traffic to your website. Here are the default GA channels: organic search, social, email, paid search, referral, affiliates, and direct.
Last but not least, GA4 comes with user exploration templates and advanced techniques (cohort analysis, funnel exploration, and segment overlap) to uncover more in-depth insights about your users' behavior.
GA4 integrations
Google Ads
Google Search Console
Google Optimize
HubSpot
Facebook
Search Ads 360
Pricing
GA4 has 2 plans to choose that are Free and GA4 360. The cost of GA4 360 starts from $50.000 annually, providing BigQuery integration, service level agreement, and a dedicated support team. Sign in to GA4 here.
Use cases: web and mobile app analytics
Free trial: yes, 10 days. Sign up here.
Starting price: from €31/month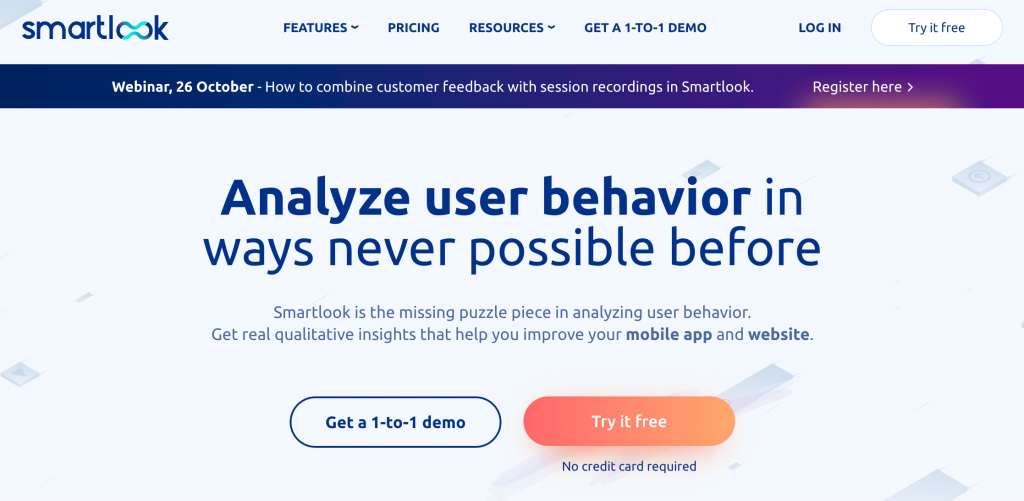 Key features
Smartlook is another SaaS analytics tool on our list. Smartlook is a powerful visitor recording and web analytics tool to analyze user behavior and receive strategic insights that help you improve your users' website experience.
First, Smartlook's session recordings allow you to understand what users do on your website and why they don't take the action you want. You can also apply specific filters to your sessions, such as location-based filters (country and IP), technology-related filters (device and operating system), and event-based filters (add-to-cart clicks and page scrolls).
Second, its funnel analysis feature tells you exactly how many users move from one step to the next, what problems prevent them from converting, and what are your high-exit pages. Uncover valuable insights by segmenting and analyzing user behavior data with the help of breakdowns. Also, you can add your own custom properties to get personalized insights.
Smartlook integrations
Google Analytics
Optimizely
Mixpanel
Unbounce
Shopify
Pricing
Smartlook has a free plan that allows tracking up to 1500 sessions per month. Its pricing plan starts from €31 per month. See full pricing here.
Use cases: product analytics and reporting
Free trial: no
Starting price: from $25/month

Key features
Mixpanel is a SaaS analytics solution to measure user engagement and track website or mobile app conversions.
With Mixpanel, you can easily slice and dice user behavior data to discover trends from various angles. See how often users convert, monitor the growth of the key user cohorts, and understand how current trends compare to previous results.
Another useful Mixpanel feature is that it empowers anyone to build custom properties using Excel-like formulas. You can merge existing property values or develop new properties based on user activity.
Furthermore, with Mixpanel dashboards, it's easy to monitor all of your product KPIs in one place. All Mixpanel dashboards are customizable and the data updates in real time.
LeadsRx integrations
Facebook ads
Google ads
HubSpot
Zoho
Databox
Survicate
Pricing
Mixpanel has a free plan that allows monitoring up to 100K monthly users. Its paid plans start from $25 per month that come with data pipeline add-ons. View full pricing here.
Use cases: product analytics, user onboarding, and feedback collection
Free trial: no, but has a free version
Starting price: available upon request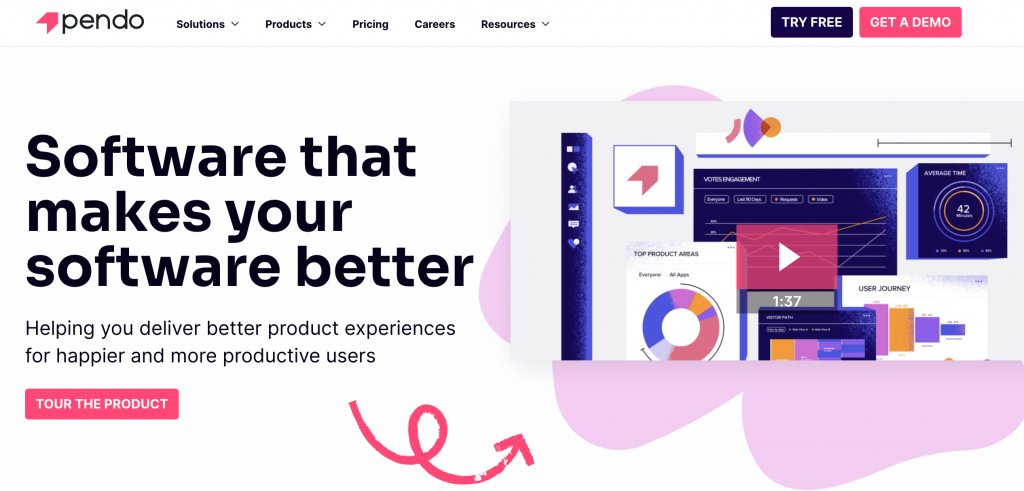 Key features
Pendo is a product analytics and digital adoption solution that helps product teams build products that users love.
With Pendo, you can evaluate user behavior across your web, mobile, and internal apps through its rich analytic capabilities tailored to software products with logged-in users. All user activities across the application can be captured and easily aggregated at both the user and account levels.
Also, it's possible to track how users navigate through the application. You can review the paths the users take through different features and pages, how well they follow expected journeys, and where they drop.
Pendo integrations
HubSpot
Zapier
Salesforce
Tableau
Pricing
Pendo pricing isn't available to the public. You can schedule a custom demo here.
Use cases: revenue intelligence and sales engagement
Free trial: yes, 14 days. Sign up here.
Starting price: available upon request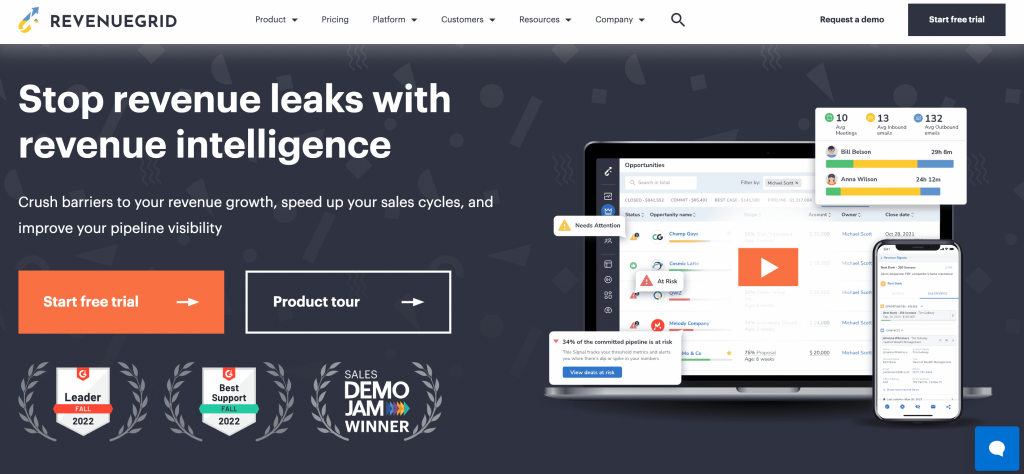 Key features
Revenue Grid is a revenue intelligence platform that allows sales teams to better understand the true state of their pipeline.
First, Revenue Grid gives more control of the sales process and shortens the time required to increase the number of newcomers. Thanks to its AI-based signals, sales teams are automatically informed of any changes in their deals, pipeline, or customer communication.
Its pipeline management feature allows you to check your sales KPIs in a few seconds, see the status of each deal, and track activity flow between sales representatives and their prospects and accounts.
Another noteworthy Revenue Grid feature is its forecasting capability. Based on your complete sales data, you can easily make predictions, perform effective forecast management, and even assess the trends in sales forecast changes.
Revenue Grid integrations
Salesforce
Zoom
Gmail
Office 365
Pricing
Revenue Grid pricing isn't available to the public. You can book a free demo here.
Use cases: revenue intelligence and customer success
Free trial: no
Starting price: available upon request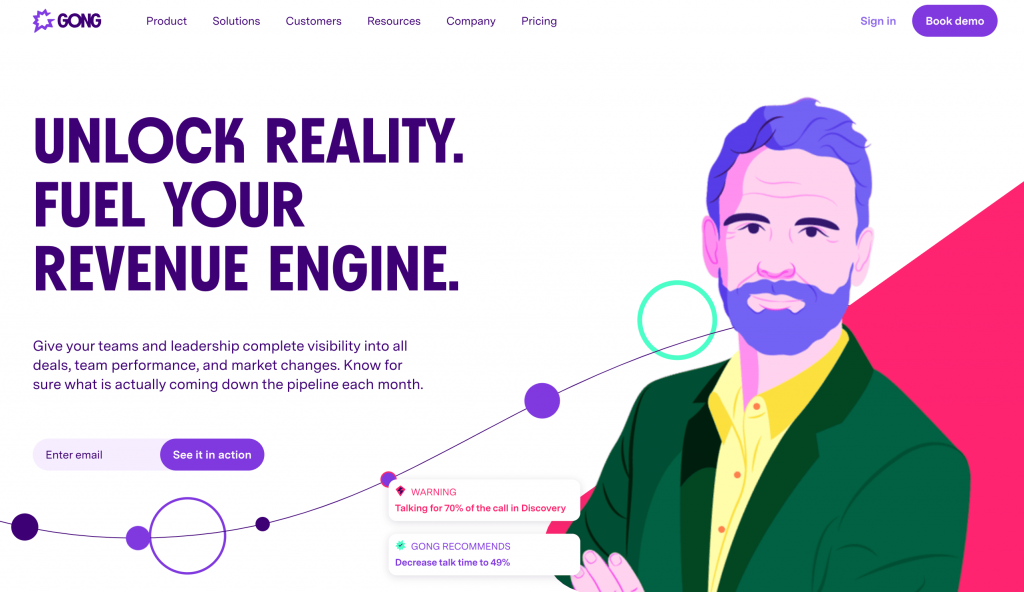 Key features
Gong is a revenue intelligence solution that helps revenue teams capture customer interactions across the web, phone calls, emails, and other communication methods.
Gong's forecasting feature enables organizations to improve their forecast accuracy by capturing and understanding what customers say. With its intelligent insights, you can diagnose and identify precisely why there're changes in your forecast to handle risks early.
Furthermore, Gong gives you complete visibility into customer and prospect conversations to build highly relevant messaging and drive more pipeline.
Gong integrations
HubSpot
Cognism
Salesforce
CallRail
LinkedIn Sales Navigator
Dooly
Zapier
Pricing
Gong has a customized pricing model based on a number of factors specific to your organization. You can request a demo here.
Use cases: revenue intelligence and sales analytics
Free trial: no
Starting price: available upon request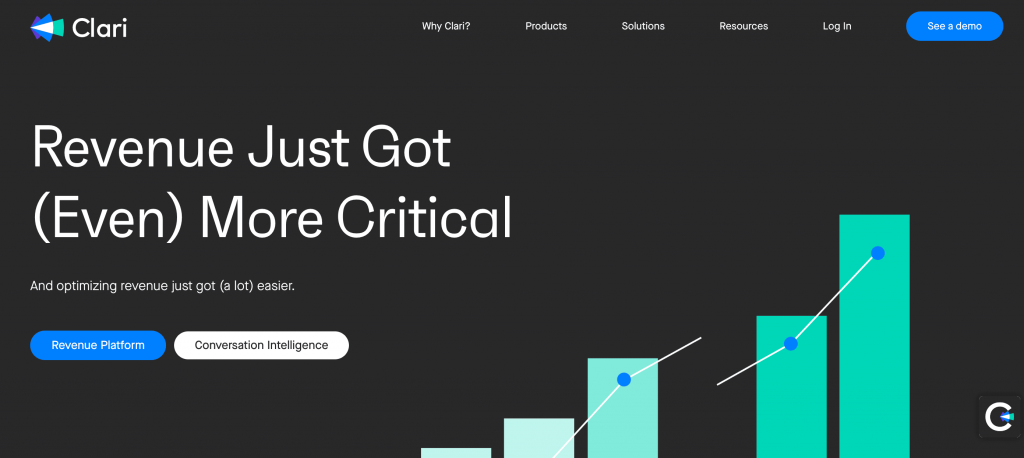 Key features
Clari is a predictive sales analytics and forecasting platform to perform sales forecasting and handle pipeline management.
Firstly, Clari's powerful pipeline management features give you total pipeline visibility so you can understand what coverage you have in current and future quarters. All changes to sales opportunity data are instantly updated, which means you're always looking at the most accurate pipeline data.
Secondly, with Clari, it's easy to understand the true nature of your customer relationships. You can sync your CRM data for a more complete view of your team's activity. Clari uses AI and automation to improve CRM data quality based on email and meeting activities between sales representatives and customers, so every contact and activity gets automatically captured in CRM.
Clari integrations
Pricing
Clari's pricing isn't available to the public. You can get a demo here.
Use cases: subscription analytics and real-time reporting
Free trial: yes. Sign up here.
Starting price: from $100/month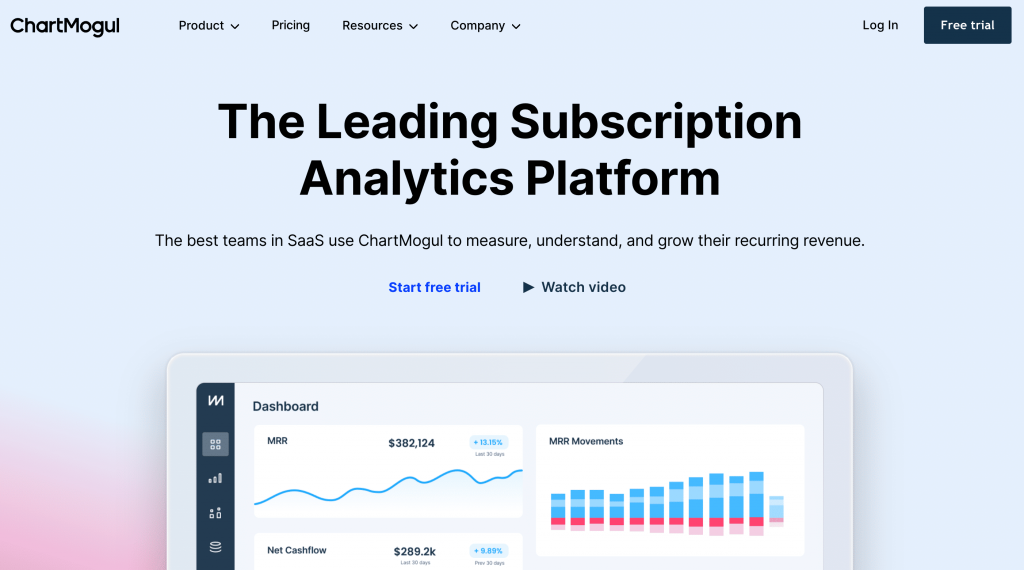 Key features
ChartMogul is a subscription analytics solution that allows SaaS businesses to uncover hidden insights and increase their recurring revenue. It has mobile apps for both iOS and Android, allowing you to track your subscription KPIs on the go.
With its cohort analysis, you can understand how your subscriptions grow over time and anticipate and prevent churn before it happens.
Another great ChartMogul feature is segmentation which lets you determine what pricing plans yield the most revenue, the user profiles that are most likely to convert, and who your great-fit users are.
Chartmogul integrations
HubSpot
Mailchimp
Pipedrive
Intercom
Zapier
Slack
Pricing
Chartmogul offers a free plan for those who generate less than $10K in MRR. Its paid plans start from $100 per month. View full pricing here.
Use cases: social media management and analytics
Free trial: yes. Sign up here.
Starting price: from $21/month (billed annually)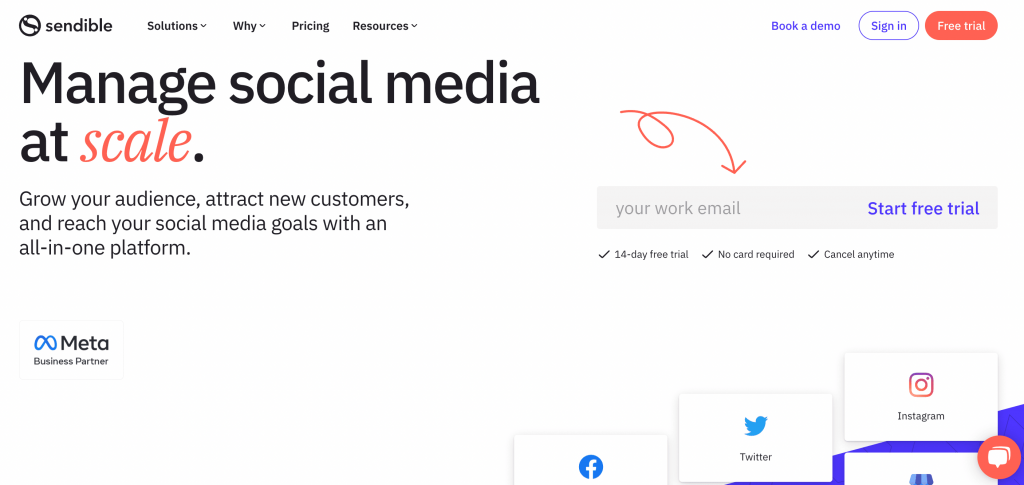 Key features
Sendible is a fully-featured social media management solution tool to manage social media initiatives and reach social media goals with an all-in-one platform.
With Sendible, you can improve your social media strategy by tracking brands, competitors, hashtags, and relevant industry phrases. Also, you can easily respond to comments on social media channels, including Facebook, Twitter, and LinkedIn Company Pages, without leaving Sendible.
Sendible removes the hassle of social media scheduling, as you can schedule social media posts individually or in bulk. The Sendible calendar interface serves as a helpful post planner, allowing you to view all scheduled and published posts.
Sendible integrations
Google Analytics
Facebook
Instagram
Google My Business
Dropbox
Pricing
Sendible pricing starts from $21 per month (billed annually) or $24 per month (billed monthly) which comes with unlimited scheduling. See full pricing here.
Use cases: social media management and reporting
Free trial: yes, 30 days. Sign up here.
Starting price: from €79/month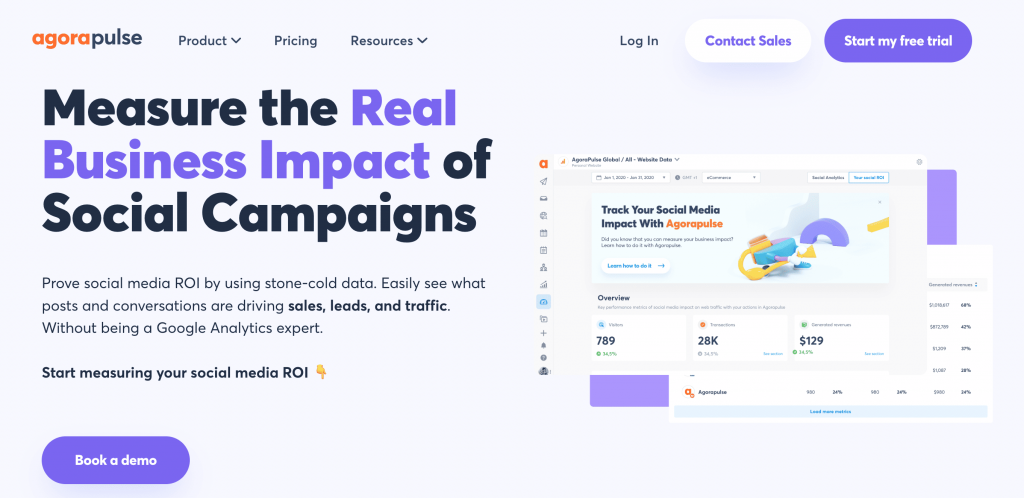 Key features
Agorapulse is a social media management solution with publishing, reporting, monitoring, and team collaboration capabilities.
With its unified social inbox, you can easily manage all your incoming social media messages, comments, and reviews. Add convenient labels to classify users and internal notes to give your team context before contact.
Thanks to Agorapulse's social listening tools, it's easy to jump into online conversations, so you can capture social media mentions and shoutouts and therefore, reply to your followers much faster.
Uncover significant trends in your social media activity with Agorapulse reports. Build custom reports across multiple social profiles based on your selected metrics and date ranges.
Agorapulse integrations
LinkedIn
Instagram
Facebook
Twitter
Youtube
Pricing
Agorapulse offers a free plan which you can use to integrate only 3 social profiles. Its paid plans start from €79 per month (billed annually) or €99 per month (billed monthly). View full pricing here.